Latest posts by Jodie Chiffey
(see all)
A corn dog is the ultimate American comfort food. This snack is so popular that it even has its own national day! Wondering how to make the most delicious corn dog ever? First and foremost, you need a dedicated fryer, and this guide will help you choose the best corn dog fryer for your needs.
Corn dog might look like the simplest snack ever, but if you lack the right equipment, you will most likely struggle to make it as neat and delicious as you would like to. But don't let this discourage you – you don't really need that much to pull off a perfect corn dog. All it usually takes is a good recipe and a corn dog fryer with certain qualities.
First, we'll discuss corn dog fryers generally to help you understand how to recognize a good one when you see it and what to avoid. Then we'll move on to reviewing some specific products emphasizing the pros and cons of each of the machines.
What to Look for in a Corn Dog Fryer
Just like any fried meal, a corn dog can be made in various types of fryers. These machines can differ in size, capacity, input, materials, and mode of operation. Logically, their prices can differ significantly too, but so does their quality.
How to choose the best corn dog fryer for your kitchen? Each seasoned chef probably has individual preferences based on his experience and style of work, but if you've never tried any of these fryers before, you might struggle to choose wisely. This is also the criteria I used to make the product recommendations listed in this guide.
Let's summarize some of the most important factors and features you should consider before making the purchase:
Type of Preparation
Corn dogs can be prepared in several distinctively different ways. Which one you choose usually depends on your personal preferences and the general style of your place.
In traditional brick-and-mortar fast foods with regular-sized kitchens and fair attendance, the sausages are usually dipped into fresh batter and then deep-fried just before being served. This makes corn dogs fresh, warm, full of moisture and aroma, which is something customers usually appreciate a lot.
Nevertheless, if you're running a small stall or a food truck, you might not have space or conditions for preparing everything from scratch. In this case, you might prefer using frozen pre-prepared corn dogs that just need to be heated or browned before serving.
Depending on the preparation style you prefer, your corn dog fryer can look very different. If you're working with pre-prepared dogs, you might not even need a fryer at all since some chefs prefer browning them in a traditional electric/gas oven. Some chefs might even prefer air-frying their corn dogs – it's healthier and more economical.
Size and Capacity
Choosing the right size and capacity of your corn dog fryer can be pretty tricky. Since corn dogs are usually the best when they're fresh and warm, preparing large amounts of them in advance doesn't make much sense.
In this regard, many kitchens will be perfectly fine with smaller appliances that can also be conveniently stored away after every use or carried from place to place as needed.
Nonetheless, if you have a large number of customers queuing up in line for your corn dogs, you want to serve them all as fast as possible. In this case, a small fryer is usually not sufficient, so you should opt for something larger.
Another aspect to consider is the actual size of the corn dog your new fryer will produce. While some of the largest fryers can pull off an impressive 1-foot long corn dog, the smallest appliances usually produce just mini corn dogs (half of a regular size or smaller).
Although you can adapt to the actual size of your corn dog fryer's compartment size quite easily if you're making fresh corn dogs, in case you're working with pre-processed products, make sure that they're compatible with your new machine.
Energy Input
When you're choosing your new kitchen equipment, you must take into account the real technical possibilities of your venue. This mostly applies to the source of energy your new appliance will use to perform. When it comes to corn dog fryers, you basically have just two options: electricity or gas.
Electricity is widely available, so your electric fryer will be universal and easy to replace. On the other hand, its operational costs are usually a bit higher, and some chefs might also argue that these fryers are less reliable.
Gas fryers are considered to be the most efficient and reliable choice. Nevertheless, they are usually quite large and heavy (small appliances are typically electric), and they also need to stay close to gas supply at all times. Their buying price is usually higher too.
Material and Durability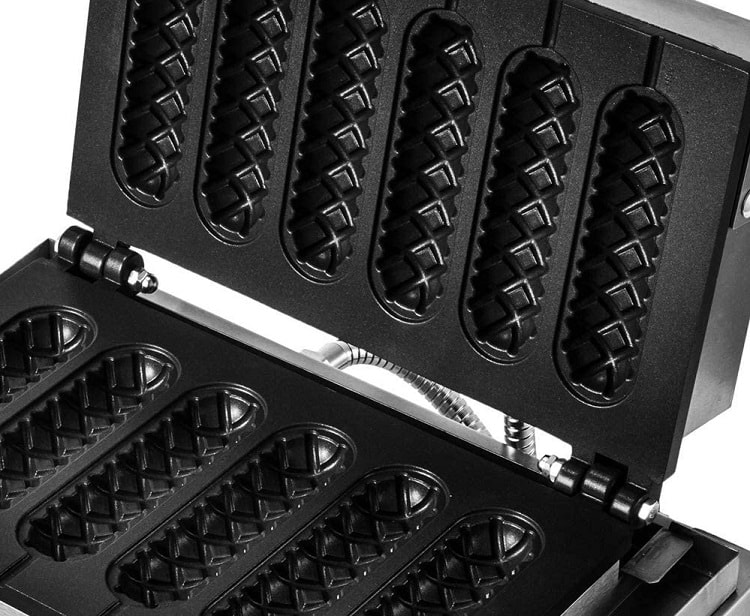 Most commercial-grade kitchen appliances are made of sturdy materials such as stainless steel. Nevertheless, some smaller appliances can also have plastic housing, or even a large all-metal fryer can have knobs and handles made of some less durable materials.
On some occasions, these components can become problematic over time – especially when you're using the appliance intensively on a daily basis. Although plastic devices are usually cheaper than their counterparts with metal designs, the purchase might not turn out to be as advantageous as you thought in the end.
Feedback from Other Users
Shopping in brick-and-mortar stores provides you with a priceless opportunity to see, touch, and sometimes even try the product in person before buying it. This is something you cannot get when you're shopping online. On the other hand, the internet is a great source of first-hand reviews from other users and professional testers.
Grab this advantage and find out as much about the corn dog fryer you're eying as possible. It can save you from the trouble of buying a problematic and unreliable machine. Although we all have individual preferences and tastes, when you see the same complaints over and over again in reviews, there's usually something to it.
Safety
Each kitchen appliance is potentially dangerous. If you want to make sure that your corn dog fryer won't be the source of any accident, look for a fully certified product that comes with numerous safety measures.
A good corn dog maker should also have a thoughtful design that eliminates or at least drastically reduces the risk of coming into direct contact with hot surfaces, boiling oil, or any sharp edges.
Price
Commercial-grade appliances can sometimes be pretty expensive. But you should consider more than just the buying price when you're setting up your budget for a new corn dog maker since these machines, especially the larger models with greater capacity, can also come with considerable operational costs.
If you plan to use these fryers intensively on a daily basis, investing in an effective yet somewhat more expensive machine can sometimes be more economical than going with the cheapest option.
Our Best Corn Dog Fryer Reviews
Once you've considered all the important factors above, you are ready to explore the market and find the best corn dog fryer for your restaurant. To make it easier for you, we have handpicked several recommendations from different categories of corn dog fryers ourselves. Check them out below:
Best Small Corn Dog Fryers
A small corn dog fryer is a great choice for venues that offer corn dogs just on the side and don't expect to sell them in huge amounts.
They are usually perfectly portable, so you can easily store them away after each use or carry them from place to place. This can be particularly beneficial if you're running a food truck or catering agency, but small corn dog fryers are also popular for non-commercial at-home use.
Brentwood TS-601S Non-Stick 6 Mini Corn Dog Maker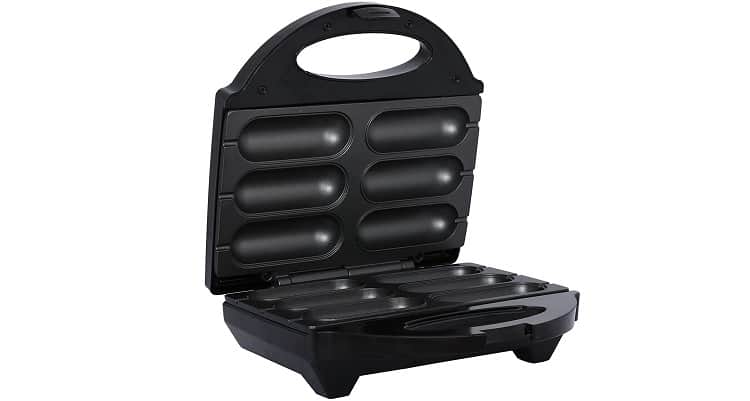 Brentwood TS-601S is a convenient compact fryer for up to six mini corn dogs. It is made of stainless steel (housing) and sturdy plastic (handles) and comes with a non-sticking surface, which makes it very easy to clean.
Thanks to the pair of Power and Heating light indicators, you will always know exactly when the fryer is ready to use and when the corn dogs can be pulled out. This helps you save some energy and makes your workflow more efficient. This handy electric fryer also comes with a 1-year warranty.
Pros
Small, lightweight, and portable
Affordable
Super-easy to use
Simple cleaning
1-year warranty
Cons
Limited capacity
It makes only half-sized corn dogs
Not suitable for larger venues
Smart Planet CDM-1 Corn Dog Maker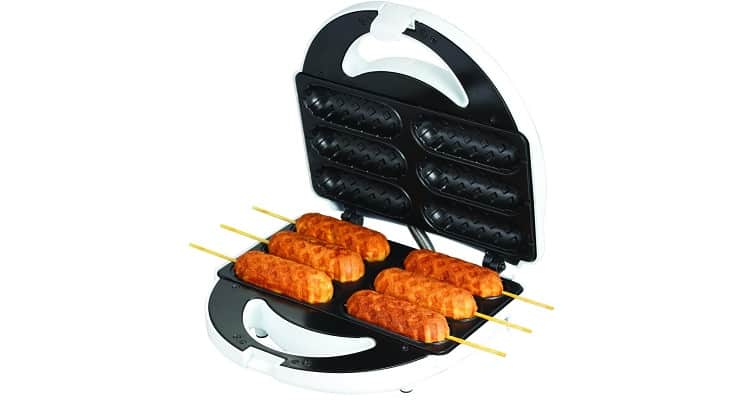 Smart Planet CDM-1 is another pocket-size corn dog maker that will provide you with lots of convenience and flexibility. This machine can produce up to six corn dogs at a time. One batch should be ready in just about 5 minutes.
This fryer is conveniently small and easy to store away, so you can use it almost anywhere and anytime. It comes with a non-stick surface, so it doesn't take much effort to clean it properly. The package also includes a set of skewers and a recipe book for creative inspiration.
Pros
Lightweight and portable design
Easy to clean
Affordable
Very simple operation
Fast preparation
Cons
Small capacity
Plastic housing
Not suitable for larger establishments
Best Large Corn Dog Fryers
The larger, the better – especially if you sell corn dogs in large quantities on a daily basis. Customers always appreciate when they receive their freshly made meal right after ordering it, and your chefs will probably prefer working with large and powerful commercial-grade fryers too. Here are our recommendations from this category:
Gold Medal #8068 King Dog Corn Dog Fryer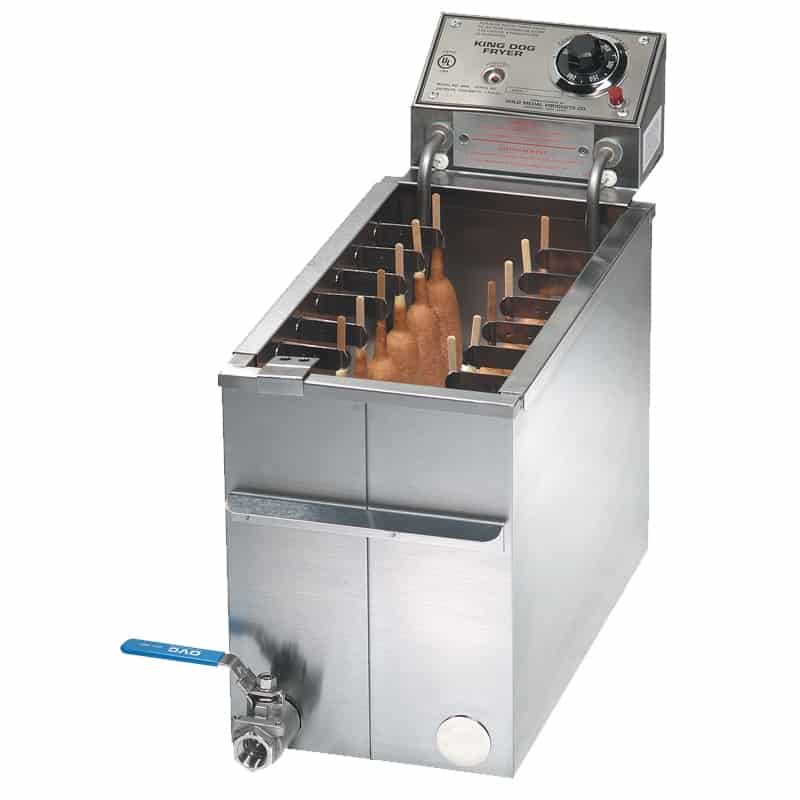 Gold Medal 8068 King Dog corn dog fryer is a wonderful choice for those who need to make loads of delicious corn dogs as fast and efficiently as possible. This professional fryer produces up to 12 one-foot-long corn dogs at once, and it can hold 50 pounds of oil in its tank.
This machine is great for large fast foods, restaurants, or crowded events. Thanks to its electric operation, it can be used almost everywhere. In addition, it comes with 6-position skewer clips and other useful accessories.
Pros
Large capacity
Durable design
It makes large corn dogs
Powerful and efficient
Universal electric operation
Fast preparation
Cons
Expensive
High input (5750 W)
Large and heavy
Comstock-Castle Dog Fryer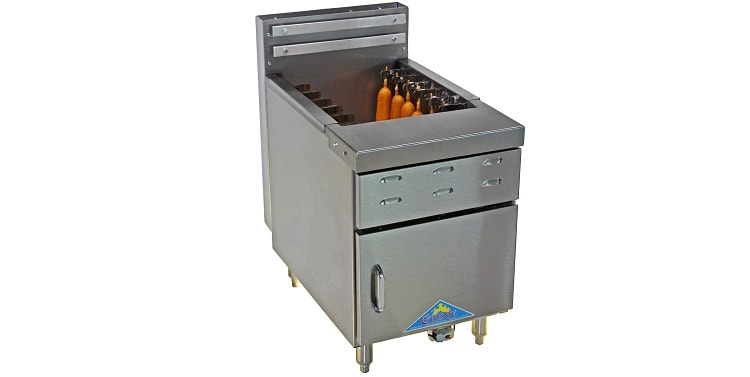 If you're looking for a large-capacity commercial-grade corn dog maker, Comstock-Castle's Dog Fryer is a great choice. This durable American machine consists of corrosion-resistant stainless steel housing and rugged welded inner framing. It's mostly suitable for middle-to-large kitchens.
Keep in mind that this is a gas appliance with 80,000 BTUs input, so it must stand near a gas supply. It provides you with perfectly even professional results and allows you to satisfy even larger crowds fast and effortlessly.
Pros
Large capacity
Energy-efficient gas operation
Professionally even results
Durable all-metal design
Made in the U.S.
Cons
Relatively expensive
Needs to stay near gas supply constantly
Large and heavy
Best Combined Corn Dog Fryers
If you're dealing with limited space in your kitchen or food truck, you can opt for a small appliance or go with a combined machine that can serve multiple purposes at once. If you're intrigued by the latter, check out these multifunctional machines:
TBVECHI Commercial Corn Dog/Waffle Maker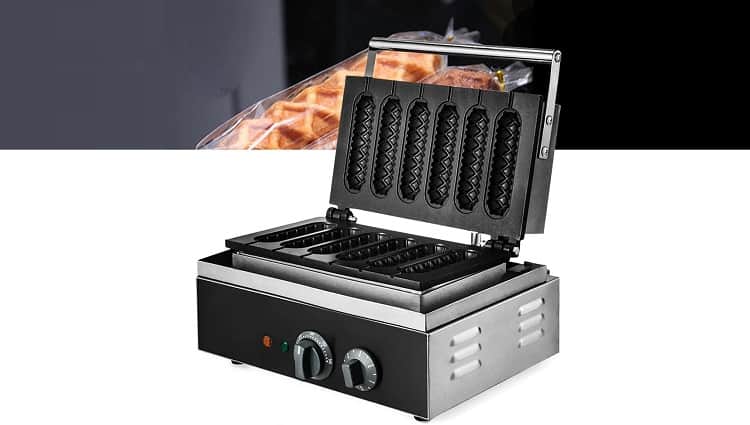 If you forget about the sausage inside the corn dog for a moment, you're basically dealing with a strangely shaped waffle that can be made of all the different types of batter and come with many diverse flavors. How about offering your customers two popular comfort foods instead of one?
TBVECHI Commercial Corn Dog/Waffle Maker is a universal fryer that combines molds for waffles and corn dogs into a single machine. You can make up to 6 corn dogs or waffles at once, and it takes just about 5 minutes. The machine is electric (1500 W) and has a non-stick surface for easy cleaning.
Pros
Dual functionality
Sturdy metal design
Fast preparation
Easy cleaning
Cons
Relatively limited capacity
Somewhat expensive given the small capacity
Cuisinart Multifunctional Airfryer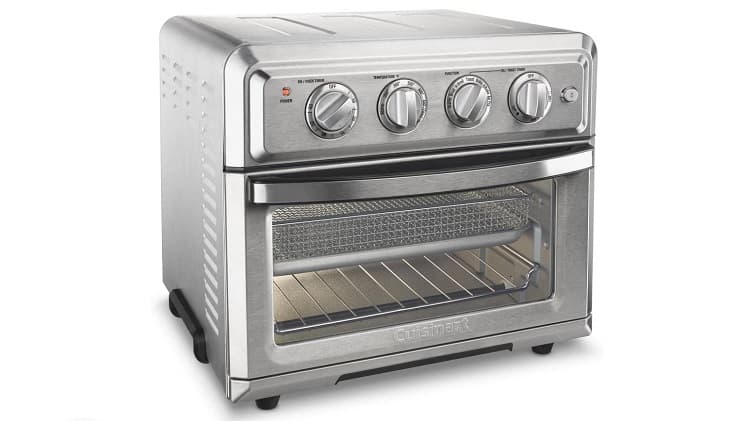 As we've already mentioned at the beginning, corn dogs can also be prepared in air fryers. It is a healthy and convenient alternative to standard deep-frying. It is also usually a bit cheaper since you don't need to use large amounts of oil.
Cuisinart Airfryer is an efficient multifunctional appliance that can be used for many different types of food from toasts to pizzas to poultry – or the corn dogs we're focusing on in this article. It comes with an adjustable thermostat, timer with automatic shutoff, baking tray, basket, and other accessories.
Pros
Multifunctional machine
Healthier preparation
Durable and reliable
Nice design
Numerous useful accessories
Many positive reviews
Cons
Relatively expensive
Steeper learning curve
FAQs
Question: How Do You Deep Fry Corn Dogs in a Deep Fryer?
Answer: Preheat your deep fryer to approximately 350°F. If you want to achieve very crispy corn dogs, you can use even higher temperatures (375°F). Once your fryer is fully heated, put your fresh or frozen corn dogs inside.
Depending on the type of fryer you use, you might need to turn the corn dogs from side to side occasionally to achieve an even result. They should be ready in 3 to 5 minutes – look for a golden surface that indicates that your dogs are ready.
Question: How Do You Prepare Corn Dogs in an Air Fryer?
Answer: Preheat your air fryer to approximately 360 – 400 °F. If you're working with fresh corn dogs, take out the frying basket and put a piece of parchment paper on its bottom to avoid batter drips. Your corn dogs should be ready in about 8 to 10 minutes.
Question: How Unhealthy is a Corn Dog?
Answer: On average, one portion of a corn dog contains approximately 330 calories, 10 grams of protein, and 35 grams of carbs. If you consume corn dogs occasionally and stick to healthy portions, they should not affect your overall health or interfere with your rational weight management.
If you want to make your corn dogs healthier, try air frying them instead of deep-frying in oil. Also, using quality sausages from real meat instead of heavily processed products can make this comfort food much healthier.
Final Verdict
If you're looking for the best corn dog fryer on the market, you should already have some basic idea about what you want, need, and require. This can, however, look very different to different types of entrepreneurs and businesses.
Smaller commercial kitchens, for example, might be perfectly satisfied with some of the compact and affordable electric corn dog fryers such as Brentwood TS-601S, or they can opt for a multifunctional device like the TBVECHI's Commercial Corn Dog/Waffle Maker that will save some space on the counter.
Those who run larger kitchens, on the other hand, will probably prefer something with greater capacity, such as the Gold Medal 8068 King Dog. And those who would like to offer a healthier alternative to their customers might even favor something like the Cuisinart Airfryer, which is also perfectly versatile and multifunctional.
Regardless of your personal preferences, we hope that this article helps you make a wise and informed decision. Need more professional advice on kitchen equipment? Check out our Best Commercial French Fry Cutter guide next!