Latest posts by Jodie Chiffey
(see all)
Are you looking for smart and innovative ways to make your kitchen routine more cost-effective and self-sustainable? The Frymaster PF50 is a commercial-grade portable filter system designed particularly for kitchens producing large quantities of fried goods daily. It promises to save you lots of operational costs and even lengthen the lifespan of your fryer.
But is it really worth the hefty price? Our Frymaster PF50 review and guide will help you decide.
Whether you're running a fast food venue, a restaurant, or an uptown fine dining establishment, once you have a deep fryer in your kitchen, you should definitely consider getting a good fryer filtering machine too.
Although this piece of equipment might seem like an unnecessary expense at first, seasoned chefs would most likely agree that these machines are an unbeatable help when it comes to maintaining your fryer. Moreover, they will also significantly minimize your oil consumption and related costs.
Today we're reviewing one of these handy yet relatively expensive machines: Frymaster PF50. How good is it really? Is it going to suit you and your kitchen well? Let's start with a summary of its technical specifications:
Key Specifications of Frymaster PF50
| | |
| --- | --- |
| Type of equipment: | Portable Filter System for Deep Fryers |
| Suitable for: | Frymaster deep fryers + many other brands |
| Capacity: | 50 lbs of oil |
| Motor: | 115/230V Pump Motor |
| Dimensions/weight | 13-¼" x 13-¼8″ x 30″/85.1 pounds |
| Latest price | Click here for the latest price |
Core Features of Frymaster PF50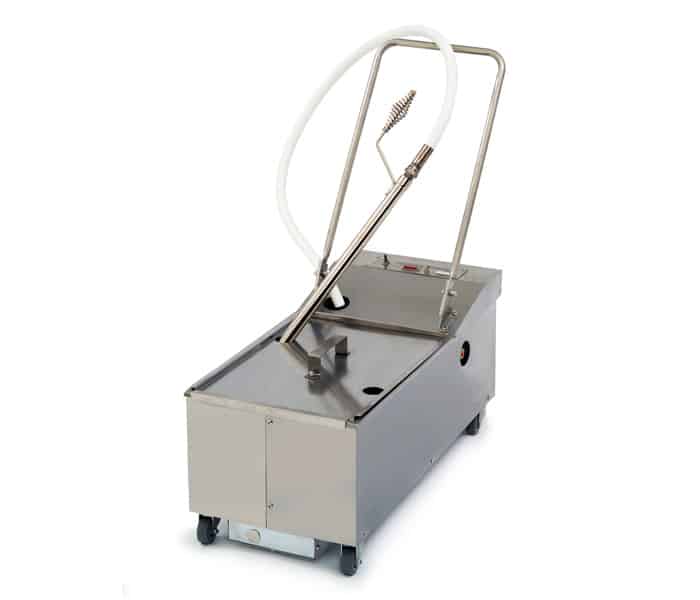 If you're not completely new to the commercial-grade kitchen equipment, you've probably already heard about Frymaster, one of the largest American producers of professional deep fryers.
The company was established in 1935, which means that it boasts almost a whole century of experience, innovation, and development in this specific field. Naturally, the company is also an expert when it comes to the maintenance and cleaning of the frying machines, which makes their fryer filtering systems some of the best on the market.
One of the most popular choices in their portfolio of filter machines is currently Frymaster PF50, which is why we're focusing on this model in our article. Here are its greatest strengths, but also some minor weaknesses evaluated one by one in detail:
Construction and Design
Like all the Frymaster commercial-grade deep fryers, Frymaster PF50 is a heavy-duty, sturdy, durable machine designed to withstand almost anything. If we look at its appearance, it is basically a large metal case with a door and a handle on the top that provides you with easy access to the inner compartment (also known as a filtering pan).
This is the area you will probably access several times a day (in a busy restaurant) for convenient maintenance and cleaning of the filter machine. Talking about convenience, this filtering machine is perfectly portable thanks to the sturdy caster wheels and push bar. This means that you are not required to have your filter machine permanently installed next to your fryer.
Instead, just keep it stored in some nearby place and, when needed, pull it out and use it. This is a great advantage for small and compact spaces and large kitchens with multiple deep fryers since it means that they don't need a separate filtering machine for each of them.
As for the material, Frymaster PF50 is made of top-quality stainless steel. If you put this machine side by side with your Frymaster fryer (Frymaster GF14, for example), you'll notice that the units are made of the same material. Of course, the filter machine is significantly smaller and lighter in comparison with the floor standing fryer. PF50 measures just 13-¼" x 13-¼8″ x 30″ and weighs 85.1 pounds.
Functions and Controls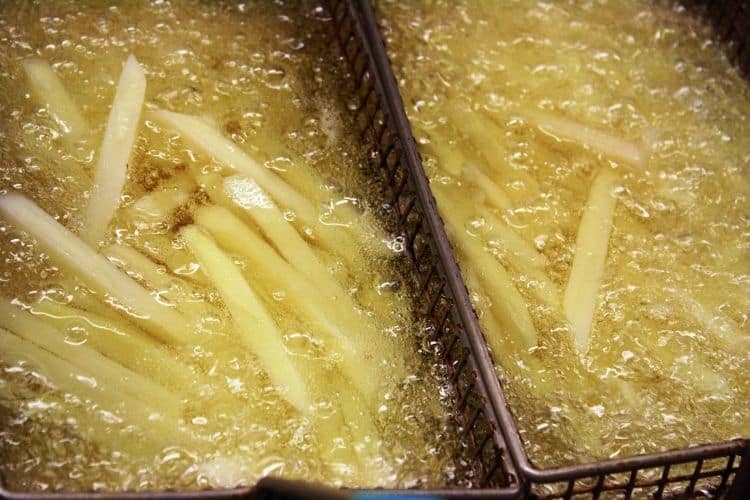 Frymaster PF50 filter machine has a single yet very important function: filtering used frying oil and returning it clean back into the tank of your deep fryer. Although some businesses skip the filtering routine completely, there are many good reasons you shouldn't.
The benefits of oil filtering include reduced operational costs (since you can reuse your frying oil safely many more times), longer lifespan of your deep fryer (as you're keeping it clean and preventing it from clogging day by day), and improved taste and healthiness of your food.
Wondering how it all actually works? The whole procedure is rather simple. The control panel on the top of the machine contains just a few switches that allow you to set the machine to suction/return modes or turn on the heating function that melts the solidified oil residues when needed.
The filter machine is equipped with a hose that must be inserted into the oil tank of your fryer. It sucks the used oil out of it and then returns the oil once it's filtered and clean.
If you're totally new to these machines, you should also know that the filter needs a filtering powder – food grade, odorless and tasteless substance containing magnesium silicate that must be sprinkled over the filtering paper for each session. It is not expensive, and it's widely available though, so this factor shouldn't pose any real problem.
Performance
So, are you wondering how the Frymaster PF50 filter machine performs in practice? According to hundreds of professional chefs who use it daily all over the country, it is a powerful and reliable machine that gets its job done almost effortlessly.
Furthermore, since the whole procedure is so simple and mostly automated, you can assign this task to a less experienced employee too, which is certainly advantageous in a kitchen with limited staff.
One thing you should probably know about before buying this machine is that it's quite noisy. If you have a large or remotely located kitchen, this probably won't be an issue. Nevertheless, if your kitchen is separated from the seating area of your restaurant by just one thin wall, you will probably need to use the filter machine only once your guests are gone.
Another possible drawback is that Frymaster PF50 has just 50 lbs. capacity. If you have a particularly large fryer (e.g., something like the 80 lbs. Pitco 65C+S), this machine will not suit you. If you need such a large capacity, you might want to consider some of the deep fryers with an integrated filtering compartment. They usually cost more, but they're very convenient with large volumes of oil.
Safety
Unlike the gas fryer itself, the filtering machine does not pose any particular threats to your staff or property since it doesn't work with the gas at all, and the oil in it should never be sizzling hot when it's being filtered.
Nevertheless, rest assured that PF50 still has some useful safety measures that should effectively eliminate even the few remaining hazards. For example, there's a thermal-overload switch on the pump motor protecting against overheating. If it's triggered, you should let the machine cool down for about 45 minutes and then press the reset button on the side of the machine to make it work again.
Of course, keep in mind that the overall safety of any kitchen equipment also depends on your carefulness and compliance with the instructions provided by the manufacturer.
Reliability
Frymaster machines are, in general, considered to be highly durable and reliable. Moreover, they all come with a warranty that should protect you in case of any malfunction caused by the unit's faulty materials, mechanical parts, or electronics.
The user manual that you get along with your machine also contains a practical troubleshooting guide that should help you resolve some common issues on your own.
According to experienced users, these filtering machines can work well without major issues for at least 5+ years. But, of course, their lifespan also depends on the intensity of use and your maintenance routine.
Price
Frymaster PF50's high price is definitely its biggest drawback. The fact that this portable filter machine with a somewhat limited capacity will most likely cost you more than the fryer itself certainly discourages many potential buyers from this purchase. Is it going to scare you away too? For its latest price quote, click here.
Pros of the Frymaster PF50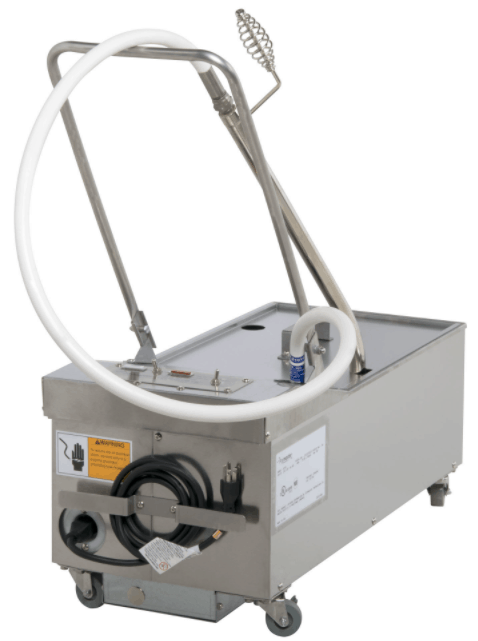 Still not decided if this is the right investment for you? Let's briefly review PF50's biggest assets once more:
Convenient Portable Design
If you have limited space in your kitchen or more deep fryers that need filtering, you will surely appreciate a portable filter machine that can be easily moved from place to place.
Versatility
Frymaster PF50 is compatible with most of the Frymaster deep fryers and many other commercial fryers you can have in your kitchen. So even if you eventually get a new fryer, you won't have to automatically replace your filtering machine.
Ease of Use
Even if you've never operated a filter machine before, Frymaster PF50 will be totally easy for you to handle and use. The whole filtering process is, after all, mostly automated.
Durable and Reliable
Frymaster is a reputable manufacturer known for producing quality equipment for commercial kitchens. Their filter machines are sturdy, reliable, and come with a warranty.
It Cuts Your Operational Costs
Oil filtering machines are, in general, very useful machines. They will make your fried foods taste better, prolong the life cycle of your deep fryer, and cut your expenses on frying oil by allowing you to reuse it more times.
Safe
Frymaster PF50 is a safe machine equipped with some useful features, such as the excessive temperature sensor that triggers the shutoff whenever your unit is at risk of overheating.
Cons of the Frymaster PF50
Frymaster PF50 has some weaknesses too:
Mediocre Capacity
Although this filter machine will easily suit most small-to-medium capacity deep fryers, if you have a large fryer with more than 50 lbs of oil capacity, PF50 will be too small for you.
Noisy
When you turn the suction mode on, PF50 gets quite noisy (as do most other filter machines, to be fair). If your kitchen has paper-thin walls, you will probably be able to use this machine only when your customers leave or before they arrive.
Price
Commercial-grade deep fryers are far from being cheap, but fryer filtering machines can, unfortunately, be even more expensive. Although a good filter can eventually cut your operational costs, it is still a pricey machine to invest in.
Are There Any Alternatives?
Not entirely sure if Frymaster PF50 is truly your best option? Here are some other filter machines you might want to consider instead:
VEVOR 300W Mobile Fryer Filter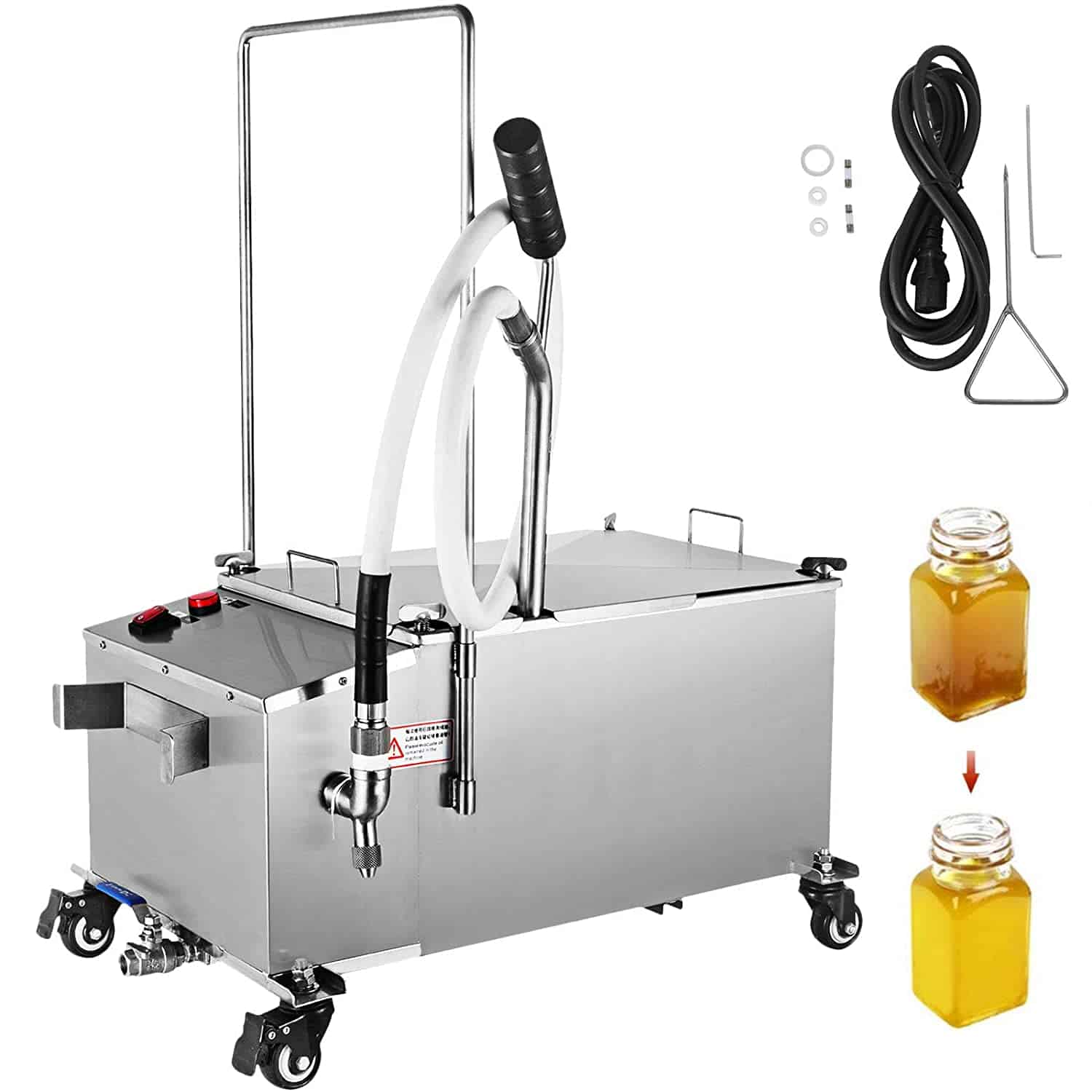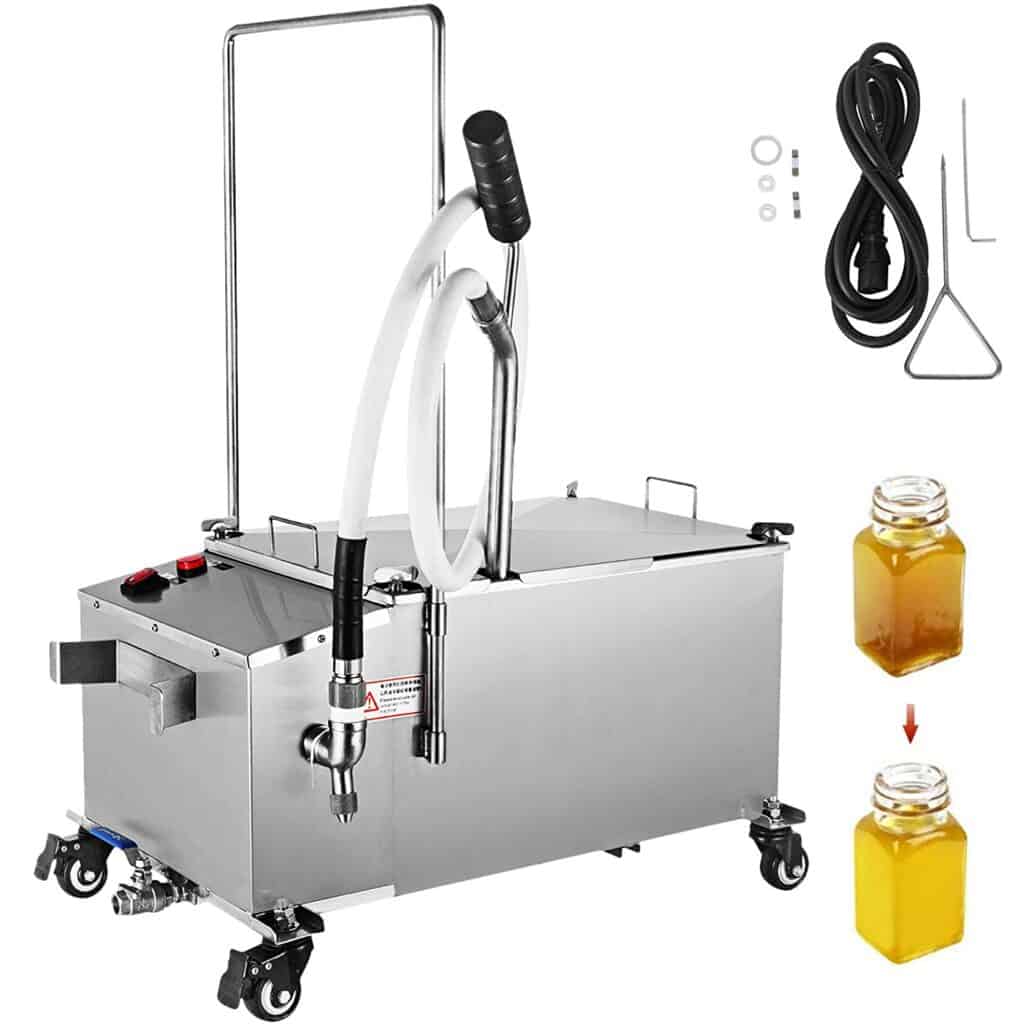 Is Frymaster PF50 too expensive or too small for you? VEVOR 300W Mobile Fryer Filter is a handy machine that resolves both your problems. This portable fryer filtering unit has a capacity of 116 lbs., which makes it perfectly suitable for larger fryers too. It comes with a 300W pump motor, a conveniently flexible hose, and a set of practical accessories. It also costs considerably less than Frymaster PF50.
On the other hand, note that this filter machine is made in China, and getting it replaced or repaired if something goes wrong might be quite complicated.
Frymaster PF95LP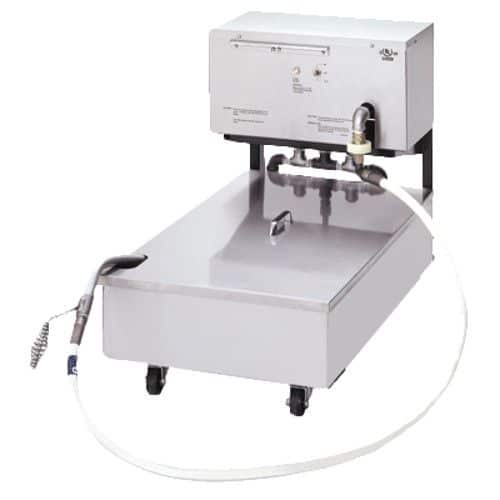 Don't mind paying more for top-quality equipment, but need a filter machine with a larger capacity? The Frymaster PF95LP is a larger alternative to FP50 that can accommodate up to 80 pounds of oil at once.
Otherwise, it comes with all the qualities and advantages you would expect from any of the Frymaster's mighty machines: it's reliable, powerful, easy to use, and fully compatible with 95% of deep fryers you can currently find on the market.
Of course, given its large capacity and reputable brand, PF95LP is a pretty expensive piece of equipment.
FAQs
Question: How Does A Frymaster FP50 Fryer Filter Work?
Answer: The portable fryer filter uses an integrated pump to draw all the used oil out from the fryer's tank. Once the oil passes through the internal filter paper, which captures most of the food residues and debris in the oil, the machine will pump the oil toward the filter hose and back into the tank. The pressurized flow of oil further cleans the fryer pot by loosening any possible sediments from its walls.
Question: How Often Should Fryers Be Filtered With Frymaster FP50?
Answer: The recommended frequency of oil filtering mainly depends on how often and intensely do you use your fryer. In general, if you're using a fryer for long hours every day and produce large volumes of fried goods in it, you should consider filtering the oil at least once or twice a day. If you use the fryer only occasionally, the frequency can be lower too, but keep in mind that leaving the oil in your tank for long periods of time is not recommended either.
Question: How Do You Clean A Frymaster PF 50 Filter Machine?
Answer: In general, recommended cleaning operations fall into three categories: procedures you should execute after each filtering session; end-of-the-day cleaning and preparation for the next day; and weekly maintenance. First, make sure to wipe the unit's filtering pan clean after each session to avoid fatty residues. Then, when the business closes for the night, always change the filter paper and clean the pan again, this time more thoroughly. You may also need to change the filter paper more often if it gets clogged during the day.
As for the weekly maintenance, besides the cleaning, check the hose connection too and fasten it when needed. The detailed cleaning instructions can be found in the PF50 user manual provided by the manufacturer.
Final Thoughts: Frymaster PF50 Gets the Most out of Your Deep Fryer
If you're looking for a good fryer filter machine, the Frymaster PF50 will probably pop up as one of the most recommended and popular choices in this category. These machines are made directly by one of the largest American producers of commercial deep fryers, so you can rest assured that they won't cause your fryer any harm and fit it perfectly.
Moreover, besides the vast range of Frymaster fryers, they are also a perfect match for most other brands and types of fryers on the market. This makes them a remarkably versatile choice in the long run. So, to round it up, if you want to get the most out of your deep fryer by cutting its operational costs and extending its lifespan, PF50 is certainly a good choice.
Nevertheless, keep in mind that PF50 is a relatively small filtering machine that can accommodate just up to 50 lbs. of oil. If you have a larger fryer, maybe you should consider buying a Frymaster PF95LP instead, which offers the same quality and features but with 80 lbs. capacity.
On the other hand, if you find Frymaster units too expensive, check out the likes of VEVOR 300W Mobile Fryer Filter – an affordable alternative from China.
We hope that this article helps you make the best decision, and you find a fryer filter that will suit your needs. Want to learn more about professional deep fryers in general? How about reading our detailed Commercial Fryer Guide next?