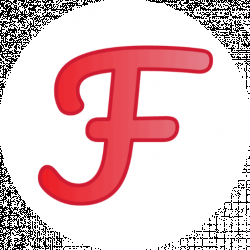 Latest posts by Food Service HQ Team
(see all)
Anyone who works as a butcher knows that their most important tool is a meat slicer. A good meat slicer will make your life much easier knowing you can cut a piece of meat as thin, as thick, or as fine as you want it.
There are of course many ways in which you can judge the quality of a meat slicer and there are many options out there for you to choose from. One top brand out there you can buy however is Chef's Choice. This best Chefs choice meat slicers model guide will explain to you each of their main models.
In addition, this article will also show you:
All the abilities of a standard meat slicer
What to look for in a good meat slicer
Why you should choose Chef's Choice
And common meat slicer facts
Read on to find out more.
What Can a Meat Slicer Do?
As the name implies, the primary job of any meat slicer is first and foremost to slice meat. However, it can also be used for cutting much more than meat. You can also use it to cut cheese, vegetables, or other types of food.
A meat slicer can cut foods when they are hot are cold and allows for much greater control over the thickness and exactness of the cut as opposed to simply using a knife. For those working professionally, it is also much more clean and efficient.
On the whole, most butchers choose to use meat slicers both for their ease of use and exactness.
How Does a Meat Slicer Work?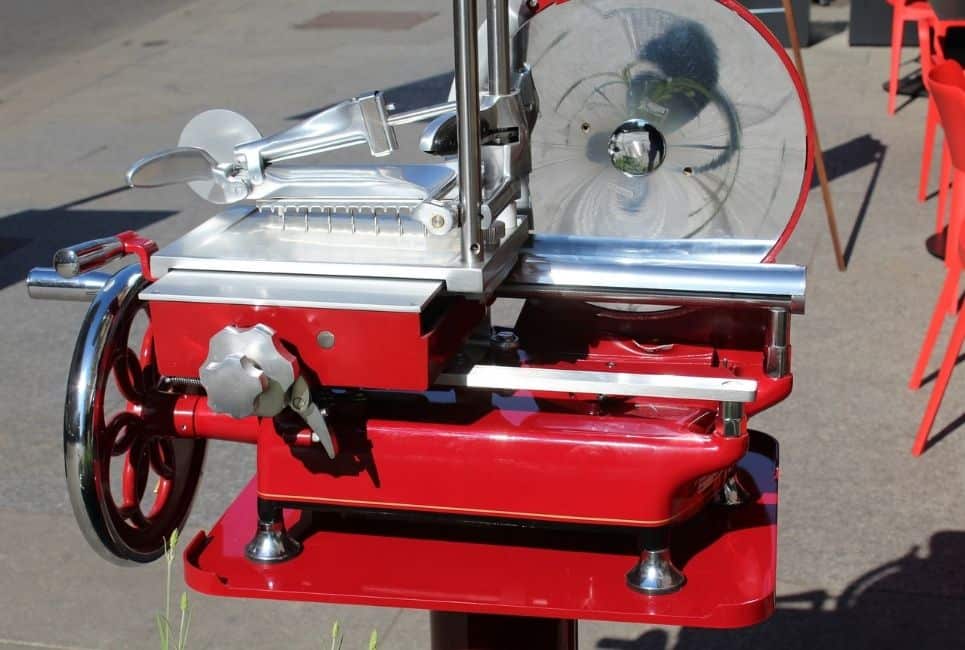 In addition to being easy to use, a slicer is also very easy to set up and maintain. In terms of setup, most slicers today are electrical and you simply have to plug them into a power outlet to get them to start working. Also, make sure you place it in a large enough space that is dry and not likely to get too messy. A few models you can purchase may require some assembly but most will be fully assembled for you.
Actually using the meat slicer is a bit like using a sewing machine. The central component is a circular, rotating saw blade which is usually powered by electricity. Underneath this is a metal platform on which you set your meat or other food items you want to slice.
Sometimes there is also a device where you can lock your meat onto the platform and slide it through with a crank, handle, or button. In other cases, you will have to slide the meat through by hand. While there may occasionally be a model that diverges from the one described here, most will follow this basic design and process.
What Makes a Good Meat Slicer?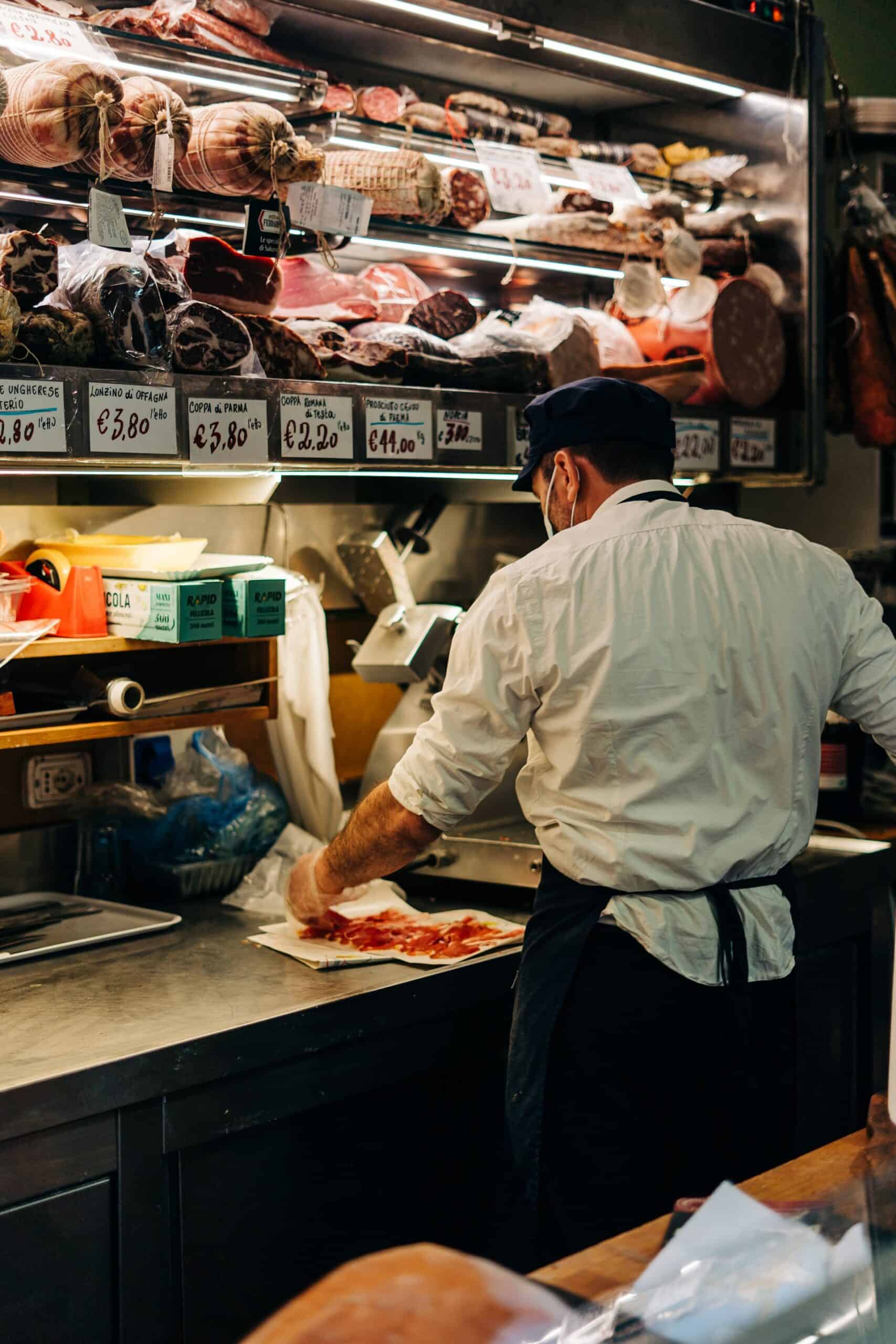 There are a number of things you should consider when shopping for your meat slicer. Some of them may be down to personal taste and needs but there are several objective factors that you need to think about.
First of all, the number one priority when it comes to assessing meat slicers is the material from which they are made. Any good meat slicer will be made using high-quality steel components. Ideally, you want a model that is made using stainless steel because this means it will stay sharp over time and not rust.
Two other important qualities you want to look at are power and blade size. A meat slicer that's advertised as having more power will be able to function for longer hours at a time. Meanwhile, a slicer with a larger blade will also be able to cut for longer periods of time and cut a large variety of different foods. However, if you plan on using the slicer less frequently, a smaller less powerful model will work just as well.
The next thing you need to think about is the ease of use of the slicer. No one wants to buy a slicer that will be a hassle to operate every time they turn it on. But beyond actually cutting the meat, the slicer should be simple in other ways as well. In particular, it should be built easy to clean up and disassemble.
Yet another thing to consider is the size of the machine itself. Certainly, you don't want to buy a slicer that ends up being too big for the space you plan to use it. By contrast, you also don't want one that's too small for what you plan to cut either.
One thing that should always be on your mind when buying a potentially dangerous piece of equipment is safety. Check to see if the model of slicer you want to buy comes equipped with things such as blade guards, safety locks, and is steady enough to not slip or slide while being used.
Of course, you should take into account your own budget as well. Some slicers will cost less than a hundred dollars while others will cost thousands of dollars. The price can depend on how many features the slicer has as well as the material it's made of, built-in warranties, and other factors.
Whenever you're shopping for your meat slicer, especially if you're shopping online, be sure to read reviews of the product before you buy. Even if the slicer might have a good overall rating, the reviews might be able to clue you in on whether it has any kind of malfunctions or defects.
Why Chefs Choice is a Great Choice for Meat Slicers?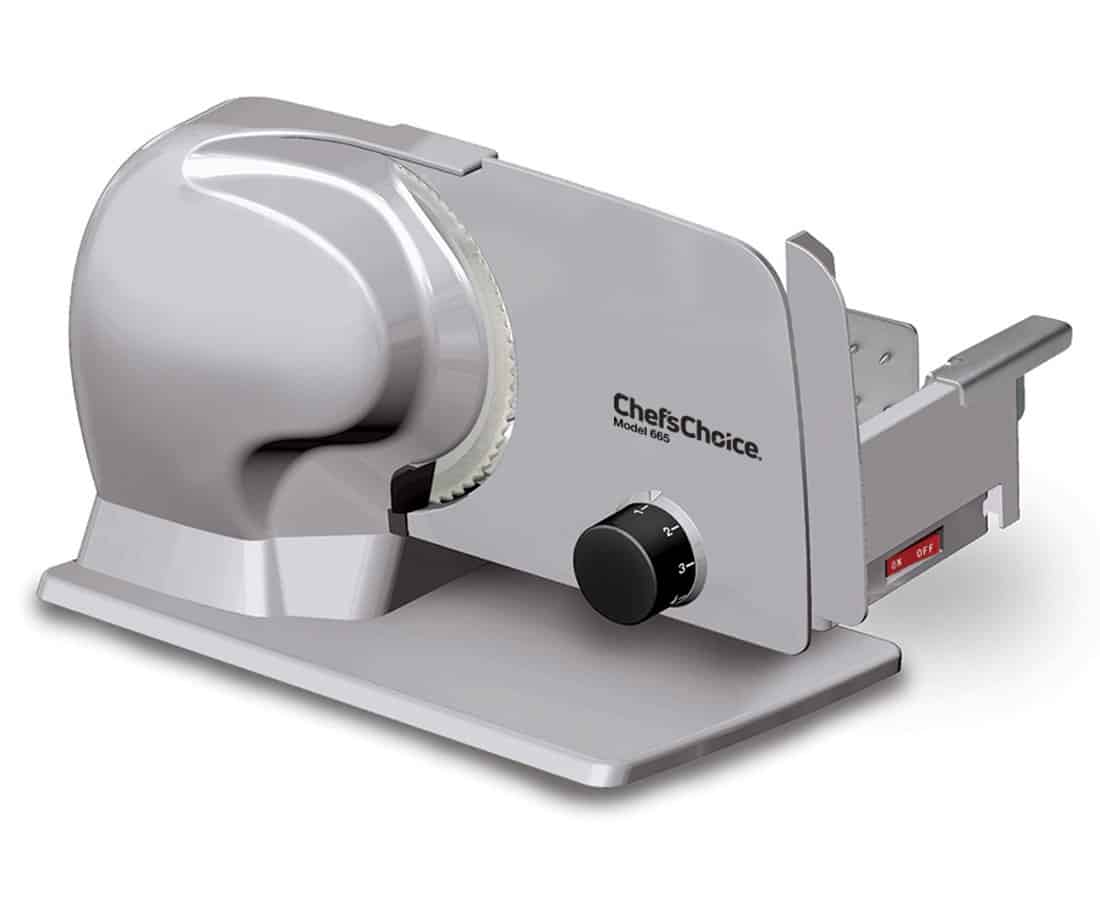 There are many brands and sellers of meat slicers on the market you can choose from, however, Chefs Choice is one of the top brands you can buy from. On the whole, it offers top-quality slicers but at a relatively low price in comparison to the competition. Advertised as being versatile in use and good for both in-home and professional settings, there are a variety of reasons why you will want to buy a Chefs Choice slicer.
First, just like any good slicer, they are built using the best quality metal using a combination of stainless steel and aluminum. This metal combination allows Chefs Choice to both last a long time without rust and at the same time be easy to transport, move, and carry due to aluminum's lightweight makeup.
Second, they are easy to break apart and clean. Many of the components including the blade, the food tray, the food pusher, and other components are all detachable so you can thoroughly and effortlessly scrub away all the leftover dirt and food particles you can find.
Third, the slicers come equipped with a powerful electric engine. This ensures that your machine will be able to cut as much meat, cheese, or another kind of food all day without needing to worry about wearing it down.
Fourth, their specially designed tilted food carriage allows you to slice food as fast and as efficiently as you could want. No more having to worry about having to take the time to properly angle the meat to get the right kind of cut you want.
Fifth, a dial on the side gives you the ability to adjust the thickness of the cut itself. You can have your meat cut deli thin to serve on sandwiches or you can cut thicker one-inch pieces to be served on their own. Sixth, Chefs Choice's models are built with safety in mind. In addition to a well-guarded blade saw, there's also a button on some models that lock the food carriage in place.
Finally, Chefs Choices slicers also come with a warranty for your purchase meaning you can consult the company directly if your slices break down or lose components.
How to Evaluate Chefs Choice Models
When considering which Chef's Choice product is right for you, you should evaluate your choice based on the criteria explained above. That is, you should take into account the items:
• Material
• Ease of use
• Durability
• Safety
• Power
• Cost
• Adjustability
Chefs Choice Slicers: Pros and Cons
There are several major models that Chefs Choice offers on their website. Each one offers something a little bit different. The models they are listed as follows:
• Chef's Choice Electric Food Slicer Model 609A
• Chef's Choice Electric Food Slicer Model 615A
• Chef's Choice Electric Food Slicer Model 665
• Chef's Choice Professional Electric Food Slicer Model 663
• Chef's Choice Professional Electric Food Slicer Model 672
Whichever of these models works best for you depends on your own situation. Read on to find out more about each one:
Model 609A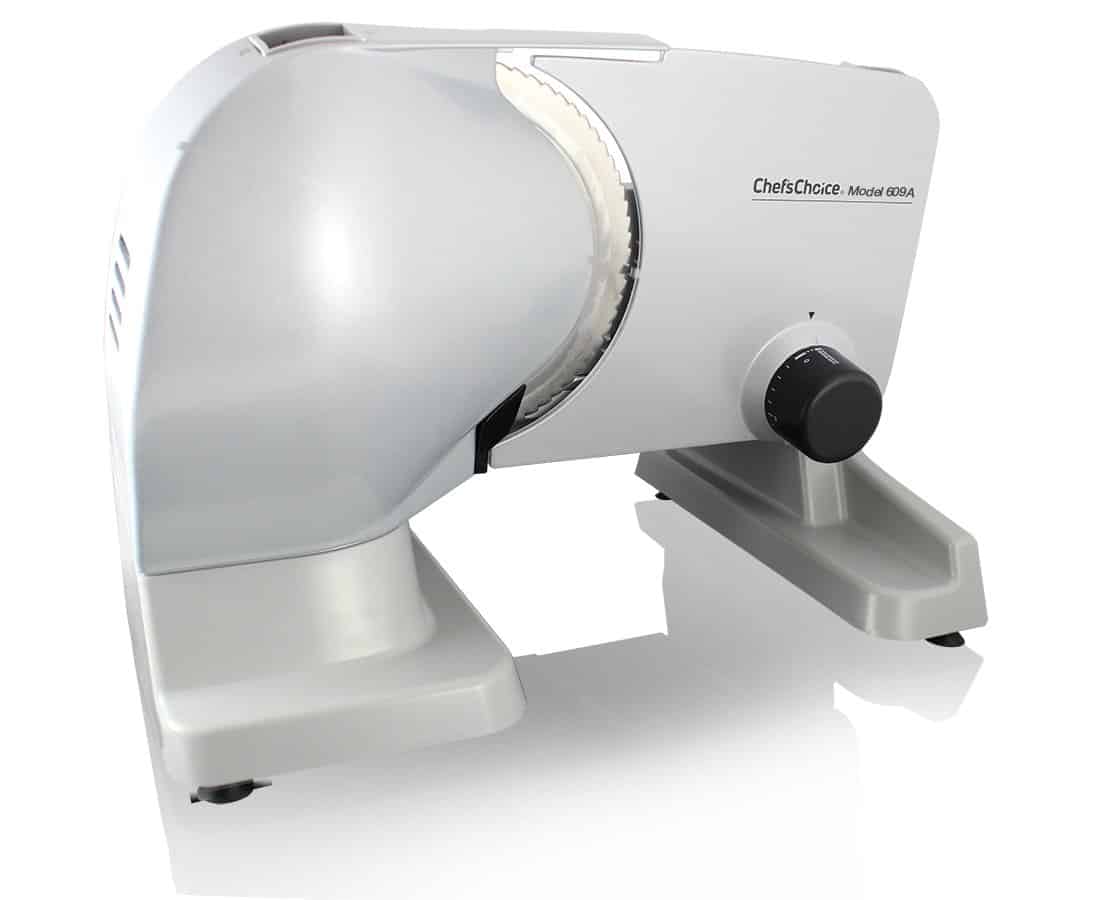 Chef's Choice cheapest model, it offers almost everything that you could potentially want in a meat slicer. The only major downside is that it only allows you to cut up to ¾ of an inch thick as opposed to a full inch like some of the other models. But it still comes with great features such as easy disassembly, a high-powered blade, and stainless steel components.
Pros:
• Cheap, comes with many great features
Cons:
• Cuts aren't as thick
Model 615A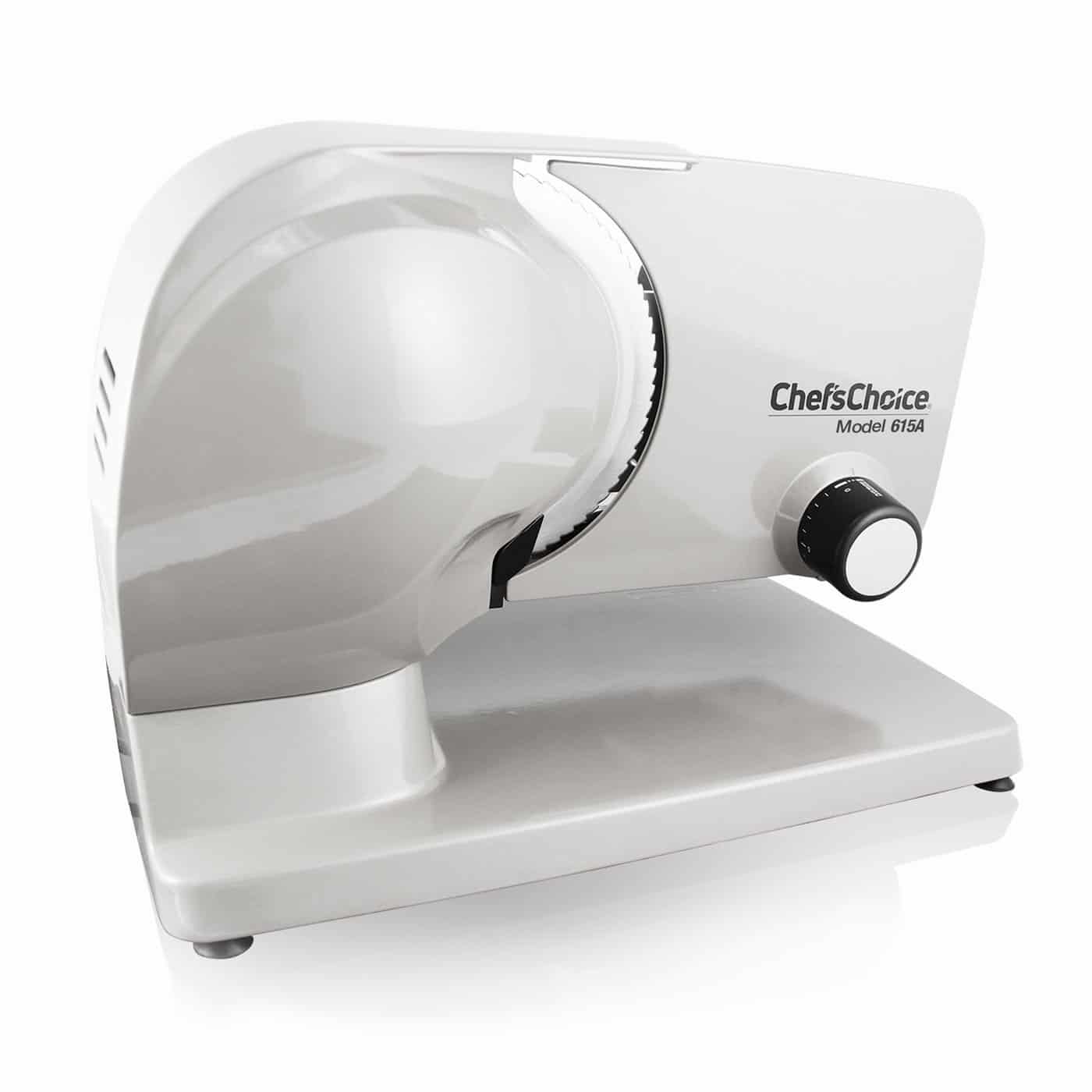 This model is in many ways very similar to the 609A model but also comes equipped with a few unique upgrades. For one, it offers a higher power motor allowing you to use it for longer periods of time than you might use the 609A. It also comes equipped with a serving tray and metal food pusher. In addition, it is also said to be great for use both in the home and in a professional setting.
Pros:
• Higher power engine, more abilities
Cons:
• More expensive than the 609A, does not offer a full inch cut
Model 665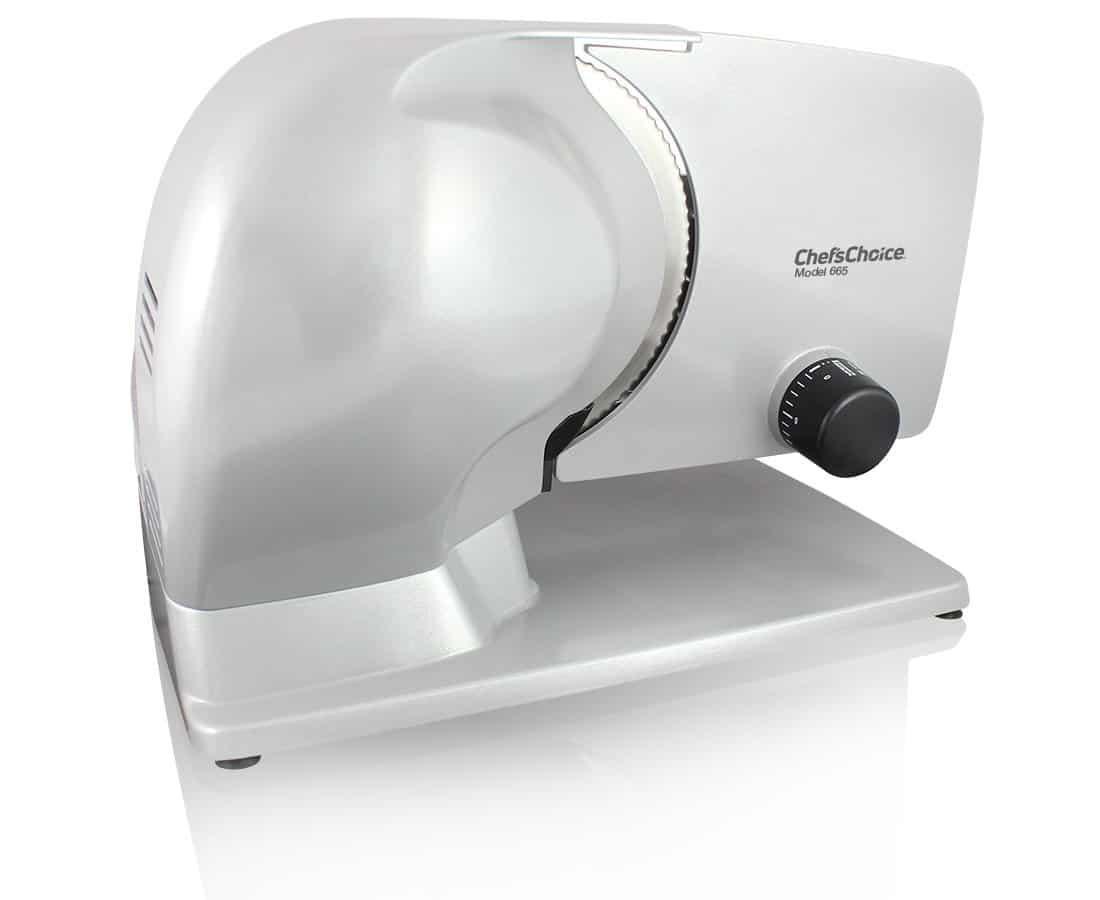 This model in many ways also resembles both the 615A and 609A models. However, it differs in three distinct details. First, it offers a full inch thick cut of meat. Second, it has a larger 8 ½ inch blade allowing for larger cuts of meat. Third, it's built with a higher amount of stainless steel making sure it will last for years to come.
Pros:
• Larger blade and cut, higher quality build
Cons:
• A hundred dollars more expensive than the 615A and 609A
Model 663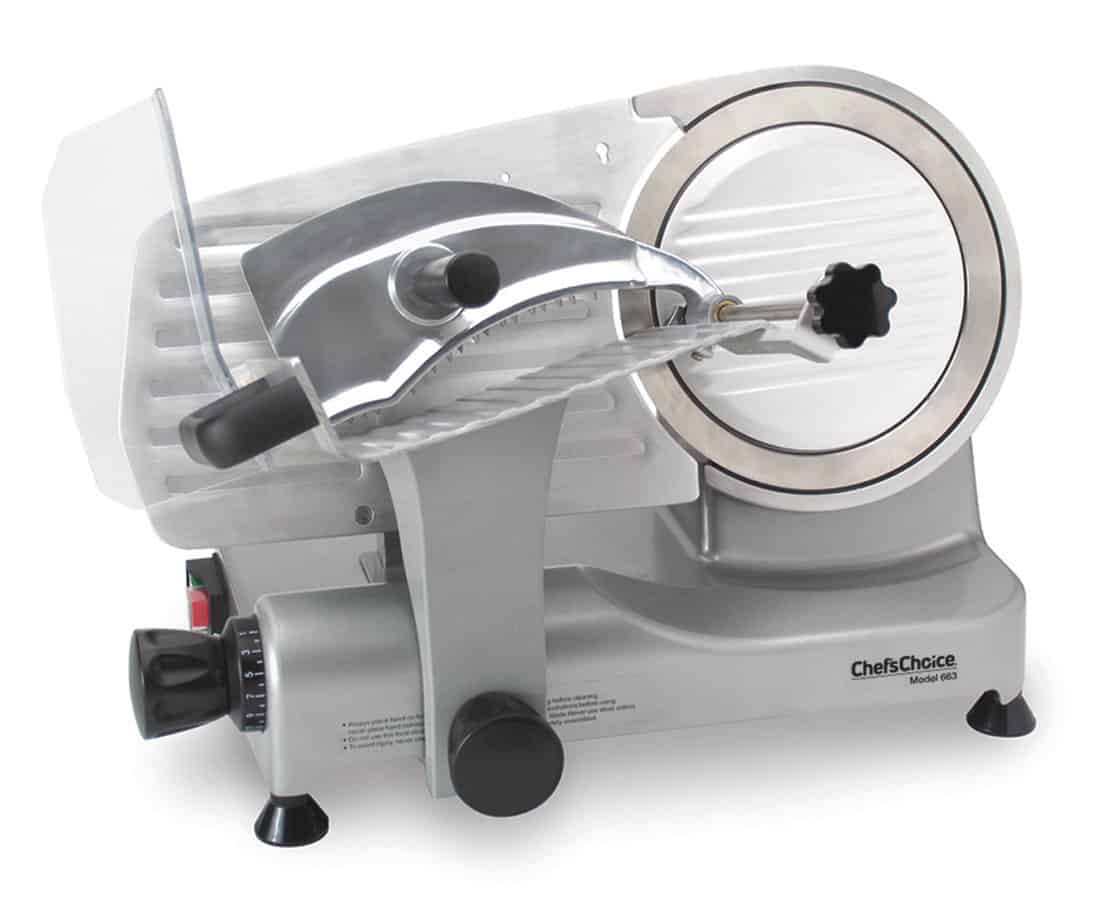 This model offers a distinctly different design in comparison to the previous three listed. Though it comes with all the basic ingredients of a Chef's Choice slicer such as high-quality steel, a large and powerful slicer, and a full cut, it also adds distinctly new components. These include a 250-watt motor making it about twice as powerful as previous models, a blade cover to allow greater control and precision in cutting, and also greater safety controls, and a complimentary blade sharpener.
Pros:
• Extremely powerful engine, added components for safety and control
Cons:
• Twice as heavy, almost twice as expensive as previous models
Model 672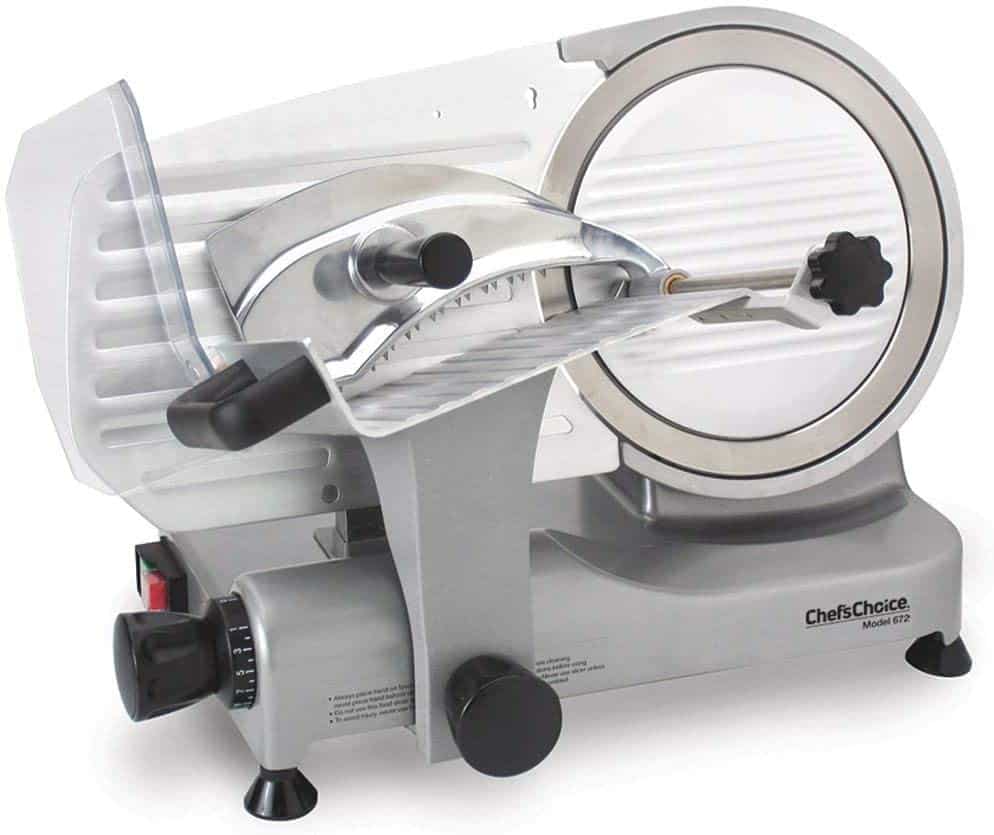 This model is essentially the twin of the 663 models but there are a couple of subtle differences in its design. First, it comes with a larger 10-inch blade allowing for very large cuts of meat. Second, the blade is however made of hard chrome instead of the more durable stainless steel.
Pros:
• Larger cuts of meat
Cons:
• Blade not made of stainless steel
FAQs
Question: How do you clean a meat slicer?
Answer: The first thing to do of course is to take apart your meat slicer into as many individual parts as you can. Once that's done you simply need to wipe all parts done with warm water and some dish detergent. It's a good idea to make sure you don't fully soak the parts in the water though so as to prevent rust. In addition to this, it's a good idea to occasionally spray the slicer with sanitizer.
Question: Should you wear gloves when slicing meat?
Answer: While there is no law that requires you to wear gloves when slicing meat, it's highly recommended that you wear them for your own safety. Ideally, you should wear a pair of steel-mesh gloves as these will be much harder for a blade to cut through.
Question: How do I sharpen my blade?
Answer: If your slicer did not come equipped with a blade sharpener, you will have to purchase a sharpening stone before you begin. Once you have one though, you simply need to make sure your blade is clean, then lock the sharpening stone underneath the blade, and turn the blade on in order to sharpen it.
Best Chefs Choice Meat Slicers: Conclusion
Choosing the right meat slicer for your home or business can take some time. Thankfully, Chef's Choice offers a unique lineup of high-quality and largely affordable models.
Of course, there are a number of distinct differences between these models. Take into account what you really need in a slicer before you choose which one is right for you. These factors can include your budget, what you are using the slicer for, and how long you plan to use it. But no matter which Chef's Choice model you choose, it's sure to service most of your slicing needs.