Latest posts by Alice Smith
(see all)
How much do you know about commercial cutlery? For many people, it's just something that they see in a restaurant. They might not realize how important it is for the success of the restaurant. Commercial cutlery can be used to serve food or drink to customers and staff members. It also needs to have certain qualities so that it doesn't break easily and so it also looks appealing to customers.
Because it's no secret that commercial cutlery is an integral part of any restaurant. But not all commercial cutlery is created equal. There are several things to consider when buying commercial cutlery, including the type of metal it's made from, how many pieces you need, and the style.
If you're looking for some guidance on how to find the best commercial cutlery for your restaurant, then this blog post will be a great resource. We will discuss what types of commercial cutlery are available, what factors you should consider when buying commercial cutlery, and some recommendations for great products!
What is Commercial Cutlery?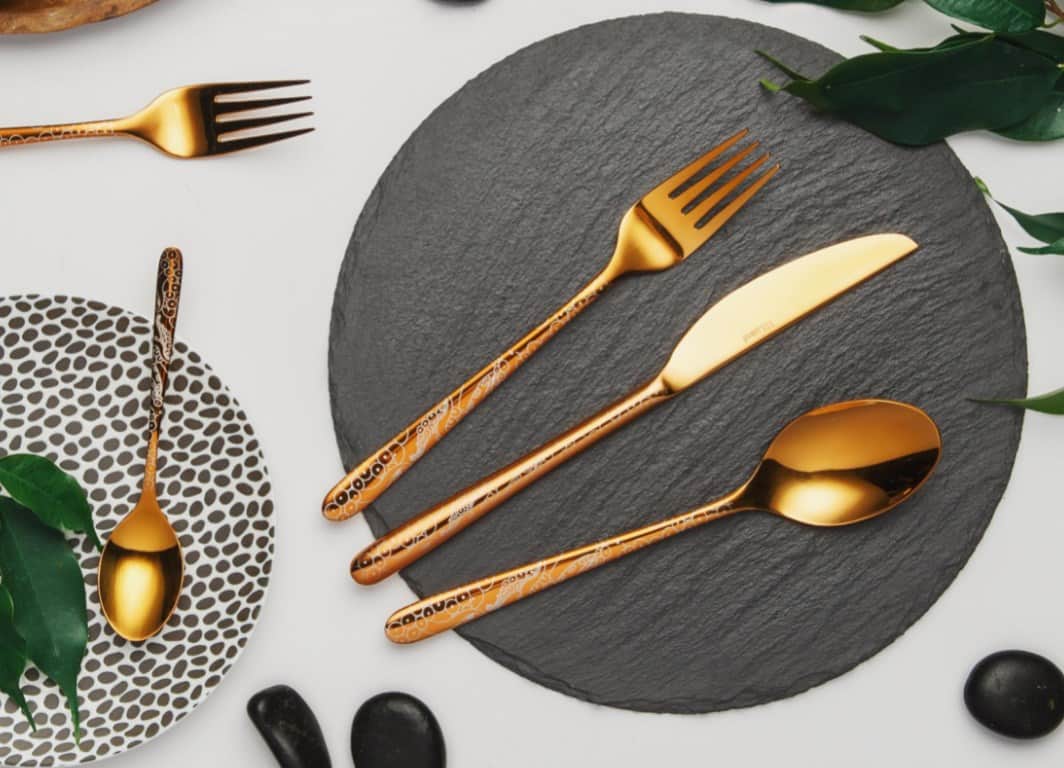 Commercial cutlery is used to serve food or drink in a restaurant. It can be used on the tables, but it is also often used by servers and chefs who are preparing food at stations within the kitchen. For instance, forks may be used by both customers, and chefs to try their food before they serve it to customers.
What Are The Different Types of Commercial Cutlery?
There are many different types of commercial cutlery that you can choose from when looking for products for your restaurant. And we're not just talking about brands – there are also lots of different types of knives, different types of forks, and different types of spoons that a restaurant might need.
Your particular restaurant's needs may vary based on what kinds of foods or drinks you need to prepare or serve or how big your restaurant is, and what scale place you run – if it's a fancy Michelin star establishment, then it's going to need different types fo commercial cutlery to a takeaway fish and chip shop!
So, here's some general information about common types of commercial cutlery you might need for your restaurant:


Butter knives are flat, smooth, and dull. They are typically used to spread butter onto bread or toast to finish the presentation before it goes out for customers.
Dinner Knives
Dinner knives are the most common and standard type of cutlery. They can be used for a variety of different foods depending on what you serve in your restaurant, but they're generally good for any dishes that don't require specialized forks or spoons.
Steak knives
Steak knives are much sharper and intended for eating meat dishes. They usually have a pointed end, which is helpful when cutting tougher food items like steak or lamb chops.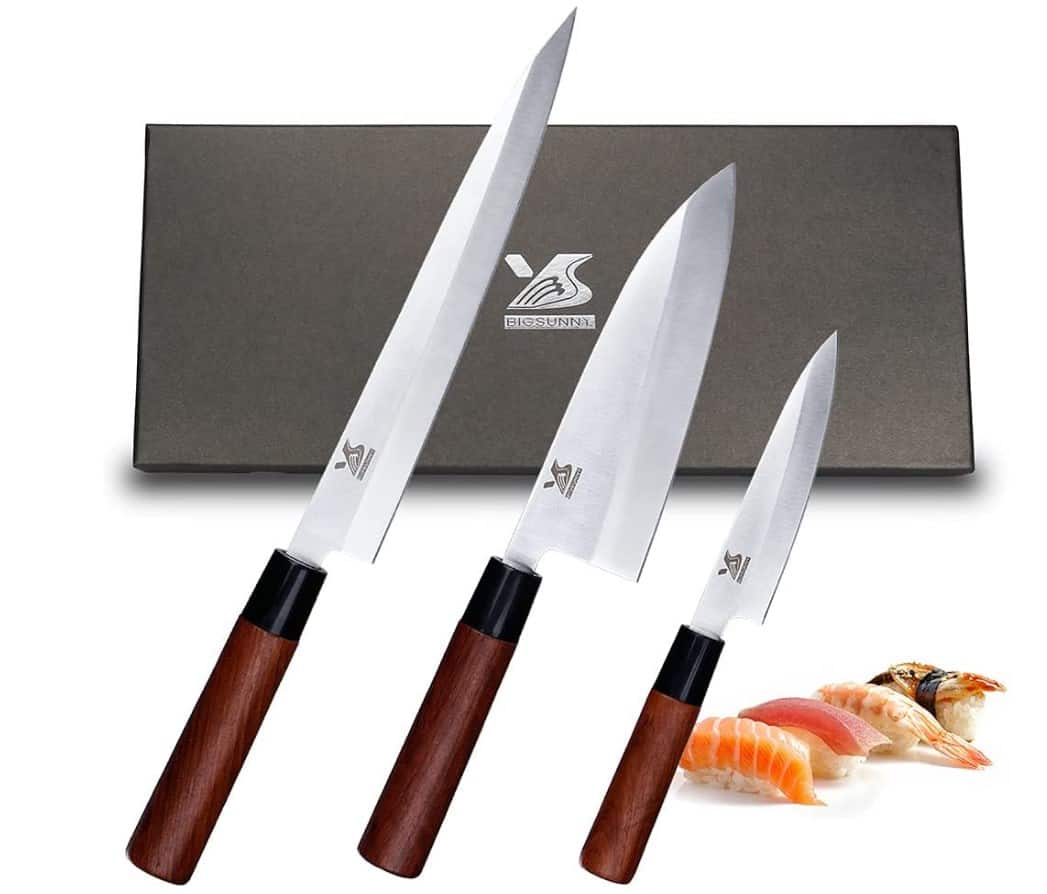 Fish knives are similar to dinner knives, but they have a serrated edge that is helpful when cutting things like seafood.
Dessert Knives
Dessert knives are smaller than dinner knives, and they do not have pointed tips. They're intended for eating desserts like cake or pie if you offer them in your restaurant.
Cheese Knives
Cheese knives are typically small and have a variety of different shapes. They can be used to cut soft or hard cheeses, which is helpful when your restaurant offers both kinds of cheese options for customers to choose from.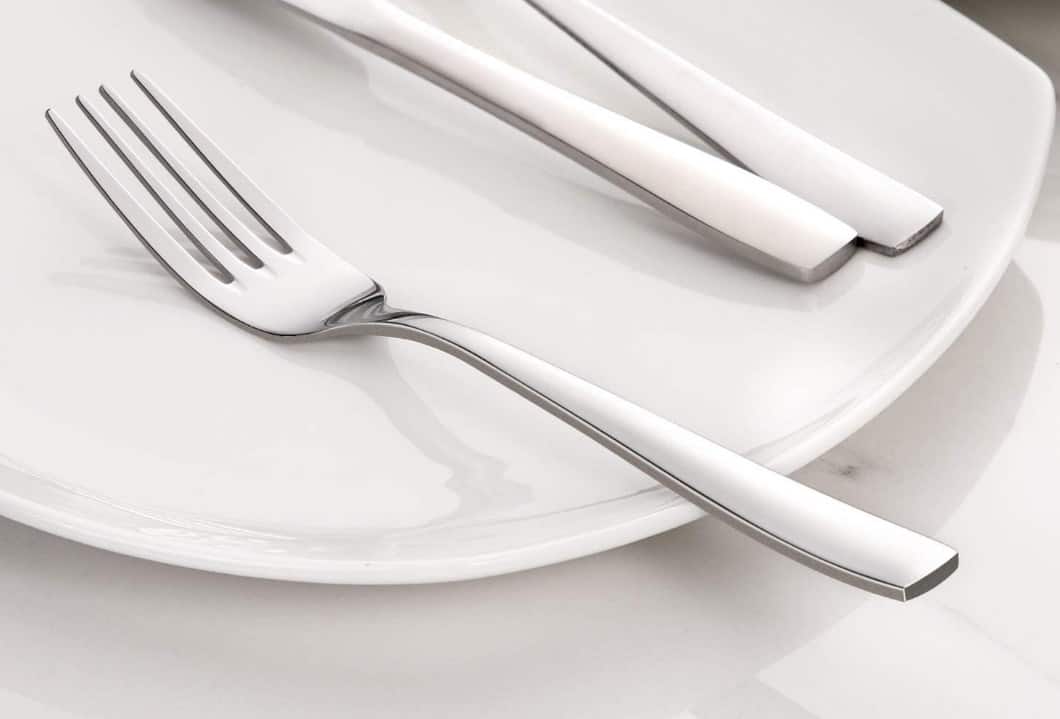 Dinner forks are the most common type of fork in a restaurant setting. They can be used for many different foods, but they're typically good for anything that does not require specific serving utensils like spoons or knives.
Salad Forks
Salad forks have smaller tines than dinner forks and are intended to be used specifically with salads or cold dishes.
Dessert Forks
Dessert forks are the same size as dinner forks, but they do not have any pointed tips on them. They're intended for eating desserts like cake and pie if you offer them in your restaurant.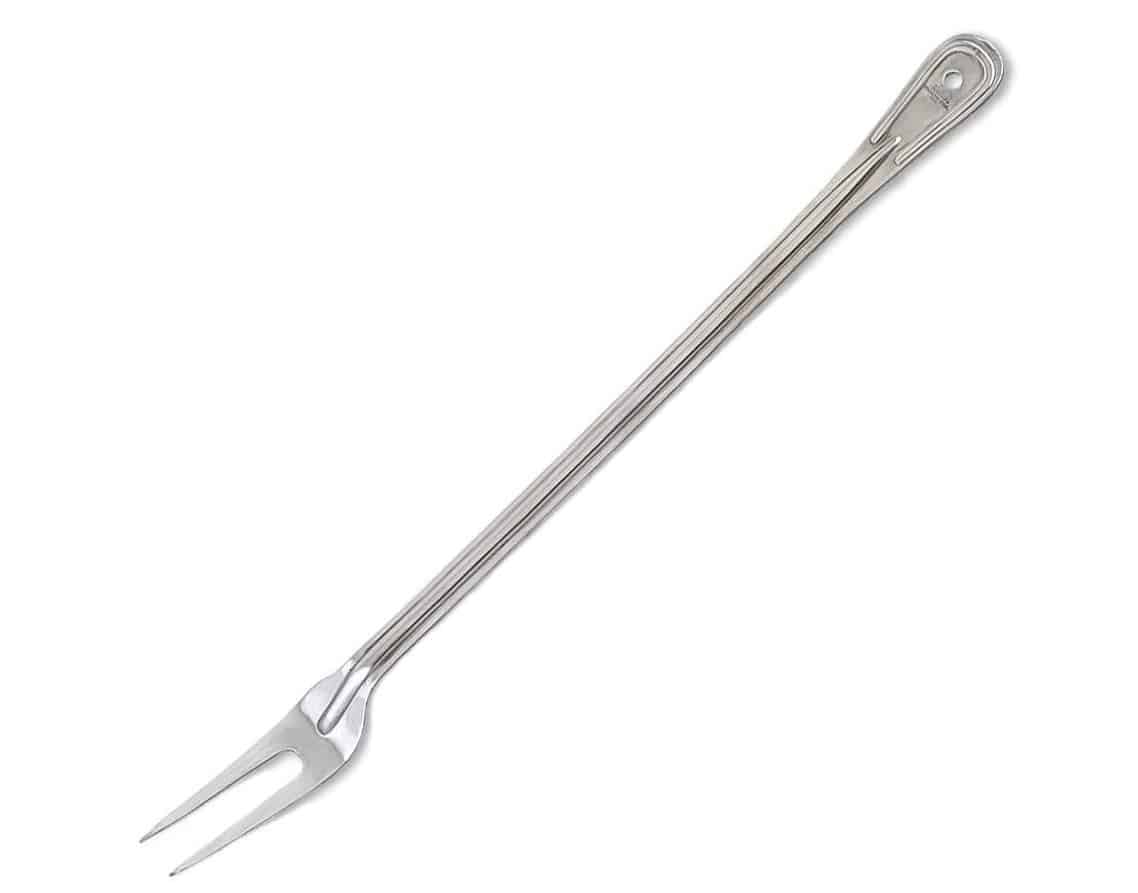 Long-pronged forks are intended for cooking meat items like steak or fried chicken. They typically have a single, long prong on the end which allows customers to easily pick up their food without dropping it back onto the plate.
Seafood Fork
Seafood forks are similar to long-pronged forks, but they typically have two prongs instead of one. They're intended for eating seafood like shrimp and lobster if you offer them in your restaurant.
Fish Fork
Fish forks are similar to seafood forks, but they typically have a serrated edge on the end. This is helpful when cutting things like fish or tuna if you offer these types of dishes in your restaurant.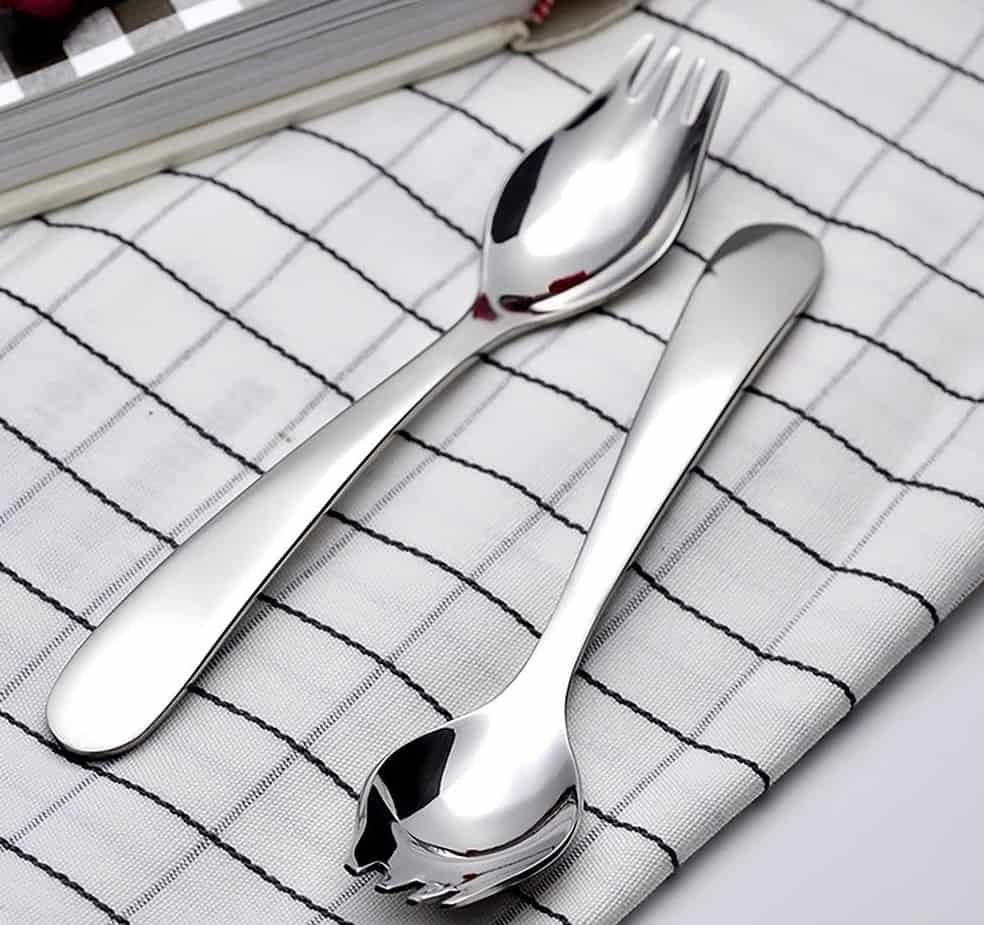 A spork is an interesting combination of both spoon and fork features. It's typically used for foods that require either one or the other (like soup). They're also great items because you can serve them in a bowl of food or on the side without guests having to use their hands.
Soup Spoons
Soup spoons are typically curved and deeper than other types of cutlery, making them perfect for eating soup. They can also be used with certain foods like ice cream or cereal if you decide to offer these in your restaurant.
Teaspoons
Teaspoons are the smallest type of spoon in cutlery, and they typically have one handle instead of two. They're intended to be used with tea or coffee if you offer these items in your restaurant.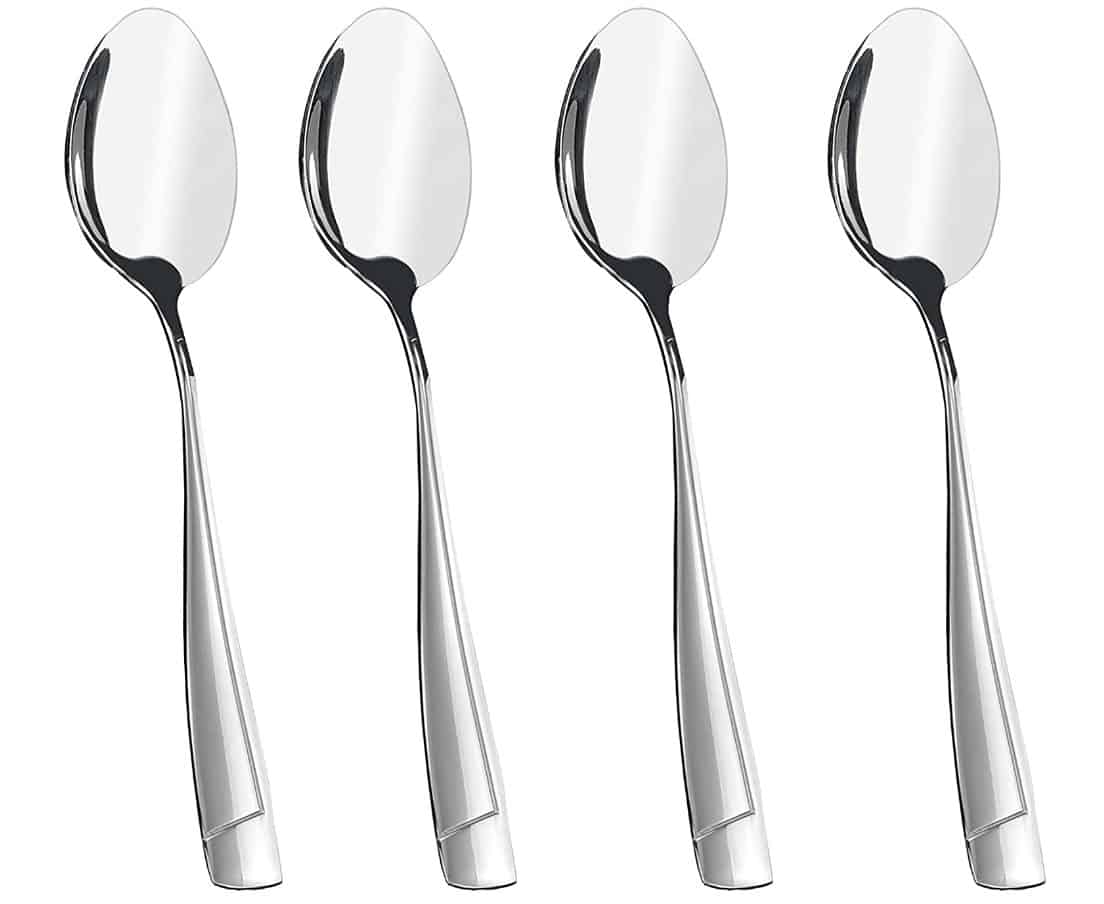 Dessert spoons are larger than teaspoons, but they have a flat edge on the end instead of being curved. They're intended for eating desserts like ice cream or pudding if you offer these in your restaurant.
Latte/sundae Spoons
Latte spoons are the same size as dessert spoons, but they have a flat edge on one side and a scooped or curved edge on the other. This is helpful when eating dishes like milkshakes or sundaes if you offer these in your restaurant, where it can be tricky to reach the bottom of the glass.
Tablespoon
Tablespoons are one of the largest types of spoons in cutlery. They're intended for eating large portions or dishes that might require more, like pasta or soup.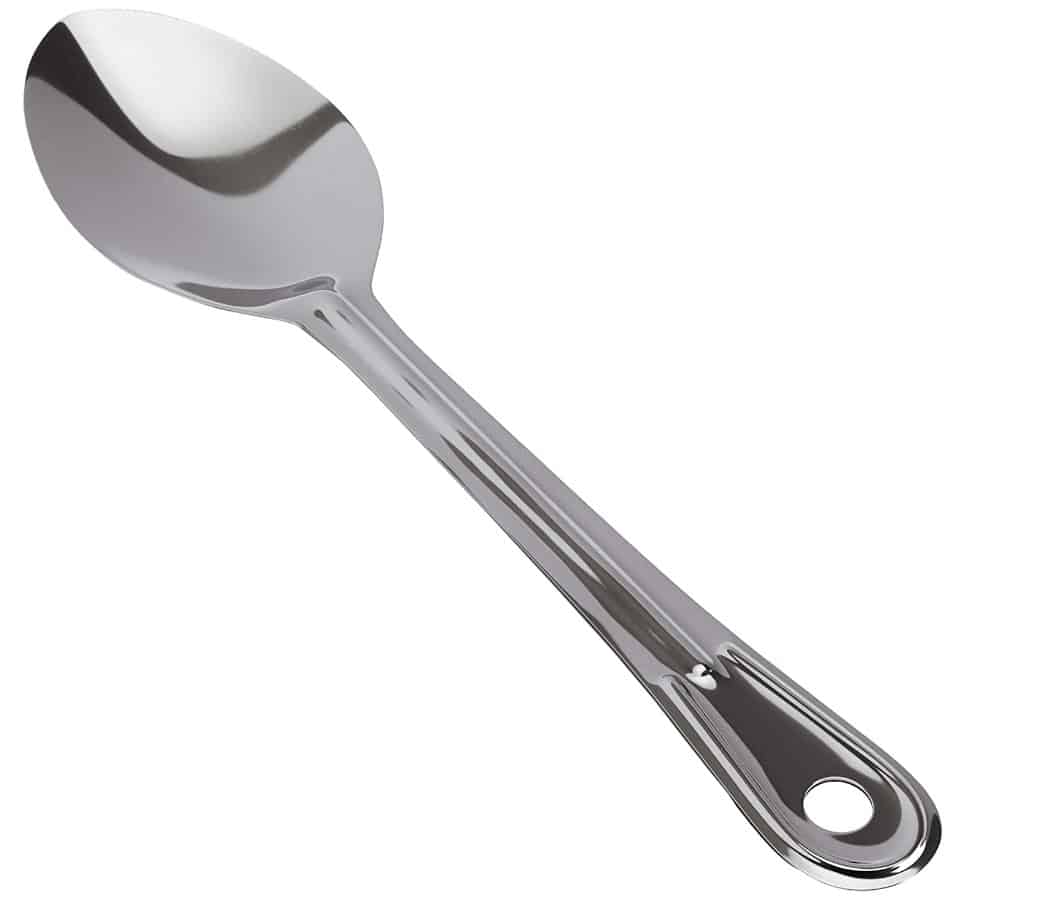 Service spoons are typically larger than tablespoons and have a rounded edge on the end. They're intended for serving soup, salads, or desserts if you offer these items in your restaurant.
Disposable Commercial Cutlery
Disposable cutlery is typically made of plastic. It's helpful when you have a lot of customers in your restaurant at one time because it means that you won't have to worry about washing the dishes afterward. This type of commercial cutlery is also commonly used at takeaway restaurants and food trucks where customers will be eating somewhere other than the restaurant itself.
What Should You Look For In Commercial Cutlery?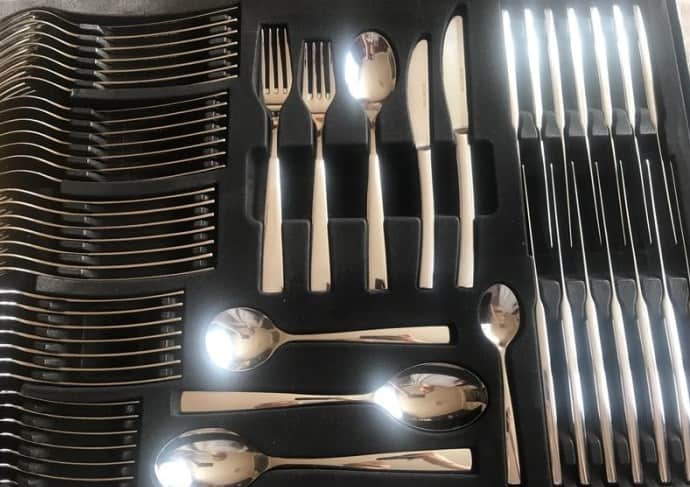 There are several different things that you should be looking for when shopping for commercial cutlery. These include:
Durability
The best way to ensure that your commercial cutlery will last is by getting stainless steel options. This type of material offers durability and it's also easy to clean after each use, which means no food stains or bacteria build-up.
Size
Make sure that the size of your cutlery is appropriate for the type of food you're serving. You don't want to purchase items that are too small, nor do you want them to be so large they won't fit in a customer's hand comfortably.
Design and Color
You can choose from many different colors and designs when shopping for commercial cutlery. Some of the most common options include standard silverware, white plastic utensils, and pink or blue-colored alternatives if you want to add a little bit of flair to your restaurant's theme.
Amount in the set
Most sets come with between 12 and 40 pieces – which is quite a large difference. You can choose either option, but keep in mind that you'll need to purchase more if your restaurant is frequently busy and serving large portions of food.
Think about, how much cutlery you will need if the restaurant is full and the dishwasher is broken – and that is roughly how much you should account for. So, the more pieces in a set, the better.
Materials
It's also important to think about what material your commercial cutlery is made out of. You can choose from a variety of options including plastic, steel, and even bamboo.
Ease of Cleaning
You'll also want to think about the ease of cleaning that your commercial cutlery has. Some options are dishwasher safe while others aren't. It's worth paying particular attention to this with regards to your knives because knives can blunt in a dishwasher if they are not suitable and this means it will take you and your customers longer to cut the food.
Price
Price is always an important consideration. You do not want to go too cheap with your cutlery because it will feel flimsy and customers might think that the food tastes bad as well! But, you also don't need to break the bank when shopping for commercial cutlery. Look at all of your options before making a final decision.
What Is Commercial Cutlery Made From?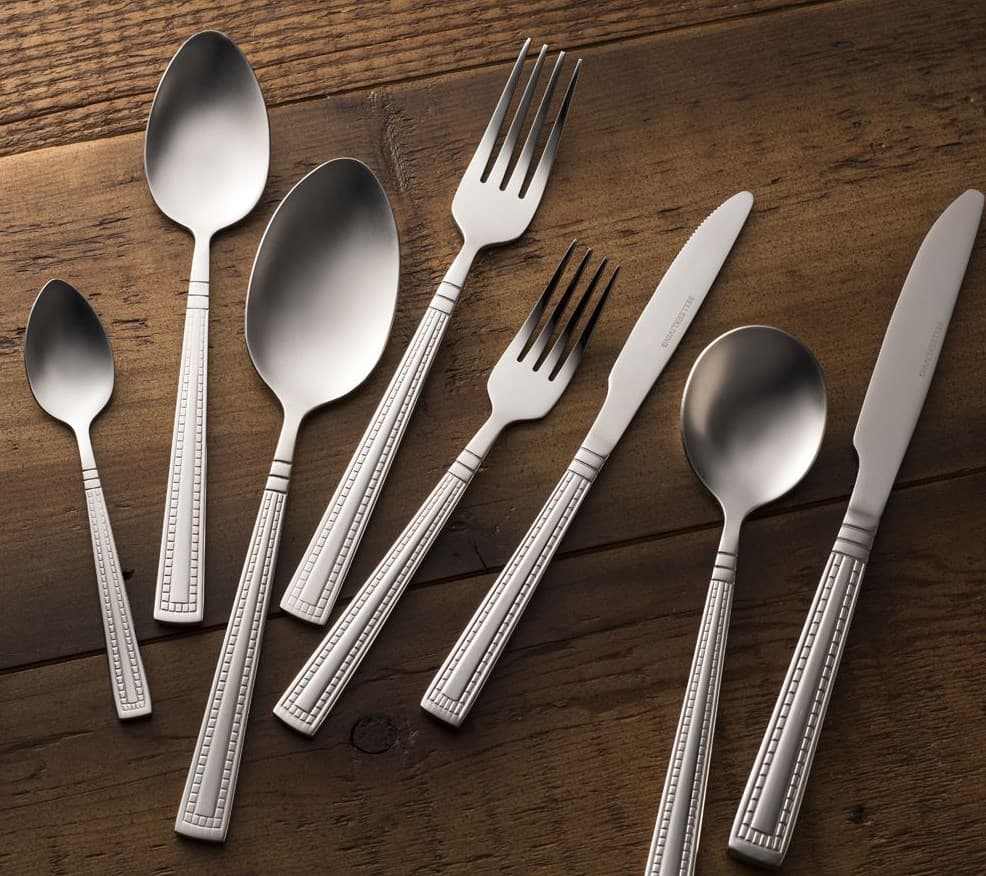 There are a few different materials that you can choose from when shopping for commercial cutlery. They include:
Plastic – The most affordable option, plastic is lightweight and durable enough to handle constant use in a restaurant's dishwasher if it comes with one. However, these items also tend to retain stains or odors over time. Disposable cutlery is also usually made from plastic.
Stainless steel – These items are incredibly durable and often dishwasher safe. They also don't retain stains or odors, which is a great benefit if you're using the same set for multiple customers without washing in between uses.
Bamboo – This material has a beautiful appearance that can make your restaurant feel rustic and inviting to customers while still being affordable enough to fit within tight budgets. However, it's not as heavy-duty as other types of commercial cutlery so these products do need more careful treatment throughout their lifetime. Bamboo is usually used for handles of cutlery or cutlery that is used for serving.
Wooden utensils – Wood items have an antique feeling to them that will add sophistication to any setting. They are typically used for serving spoons, but they aren't always safe for use in restaurants because they tend to break down over time. Plus, they can become stained or develop odors if you allow them to soak in water for too long.
The Major Differences Between Commercial And Household Cutlery
There are several differences between commercial and domestic cutlery. Commercial cutlery is usually made from a single spot of metal instead of two pieces, which gives it more durability. It also comes with one-piece handles that are built to withstand the wear and tear associated with use in restaurants while household items often have removable pieces for washing purposes.
Commercial knives will be heavier than standard knives because they need to feel substantial enough for customers who aren't used to having light utensils at their mealtime. They might also come with serrated blades or rounded tips so that food doesn't slip off while cutting, but this isn't always the case either.
There are also much more types of cutlery used in a commercial setting than what is used every day in a household. A standard hose will only really use a standard knife, fork, spoon, and teaspoons for drinks, whereas a restaurant might use these items as well as steak knives, butter spreaders, cake forks and spoons, bread knives and cutters, and much more.
Commercial cutlery is also typically more expensive than household items are, but this usually comes down to the material used for it as well as how many pieces you decide to purchase. If the set is heavier duty with more features, then it will likely cost you a bit more than if you were to buy a lighter duty set without as many features.
Our Top Commercial Cutlery Recommendations
Olympia Steak Knives Wooden Handle (Pack of 12)


The Olympia Steak Knives are designed to be able to handle even the biggest steaks and are perfect for steak restaurants or any place that takes big. This is a great choice for your client if you're looking for an affordable, yet high-quality knife with good durability. The heavy-duty serrated blades will make cutting through your steaks a breeze.
Pros:
Heavy-duty, serrated blades are perfect for cutting through big steaks
Affordable price point
Rounded tip ensures that food won't slip while cutting
Cons:
The wooden handle is less durable than metal steak knives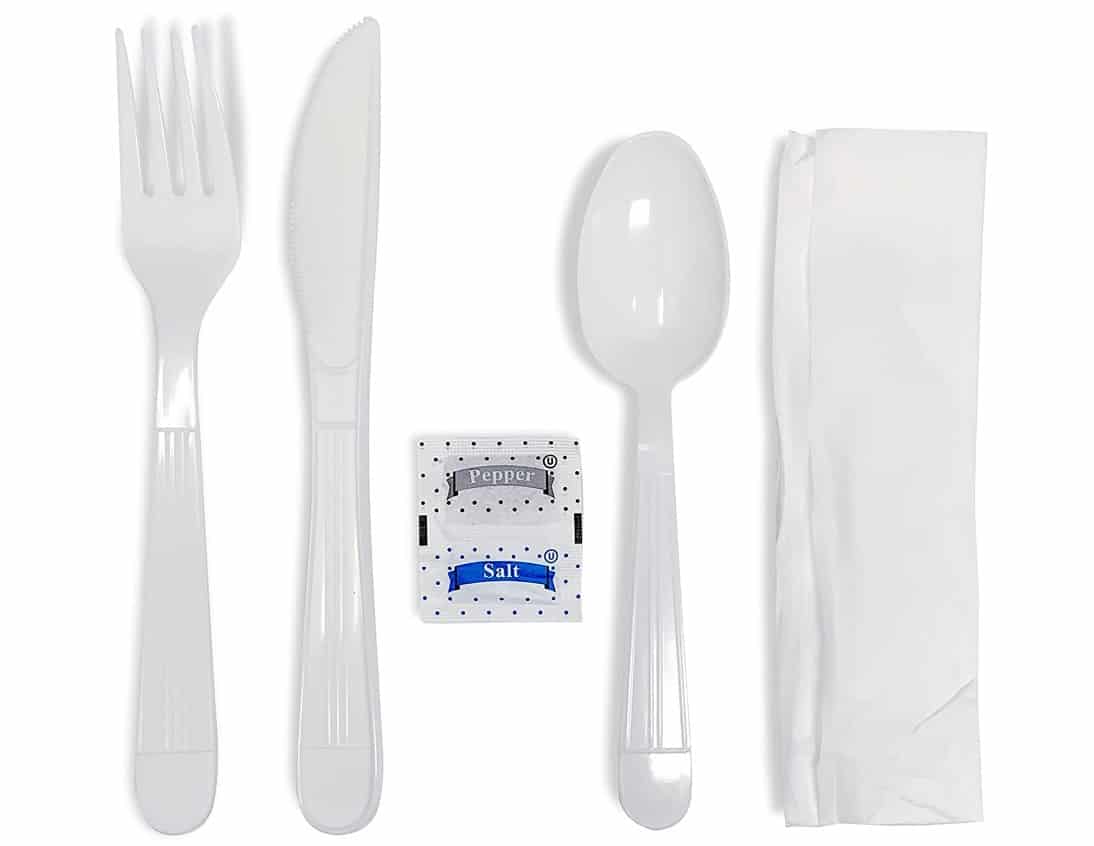 Offer your clients this 250 x eGreen Deluxe wrapped disposable cutlery set bundle, which is ideal for on-the-go eating. When each of these packages is individually wrapped, there's no chance that they'll become contaminated while being stored or during delivery, so you may improve food safety while also being safely disposable and environmentally friendly.
This cutlery set's disposable design minimizes the time employees spend cleaning, allowing them to pack away faster after service. These heavy-duty cutlery sets are made from tough polypropylene and have enough strength to endure rigorous use without breaking or bending.
Pros:
Heavy-duty cutlery will hold up to rigorous use in a restaurant
Each set is individually wrapped for added safety and convenience
The disposable design cuts down on clean-up time
Cons:
It's not a one-time cost which means it's more expensive than traditional cutlery sets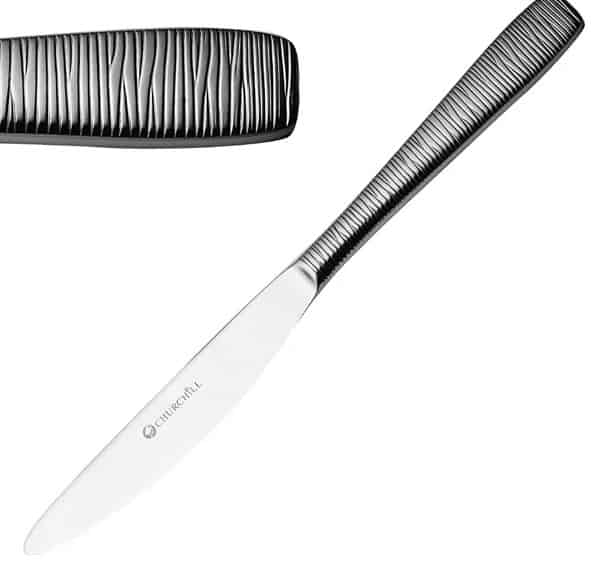 The Bamboo Table Knife's embossed handle is inspired by bamboo's natural beauty. It's cutlery that's cut to impress, suitable for adding a touch of flair to the table or combining with Churchill's stunning Bamboo crockery range.
The Bamboo Table Knife is a great choice for any restaurant that wants to add some style and sophistication with its serving pieces, but it's also an excellent choice for any client who wants to reduce their footprint on the environment by using more sustainable items.
Pros:
Bamboo has a natural beauty that is captured in this cutlery set
The eco-friendly and sustainable design uses fewer materials than traditional sets
The stylish and sophisticated design adds a touch of flair to the table
Cons:
The price point is higher than traditional cutlery sets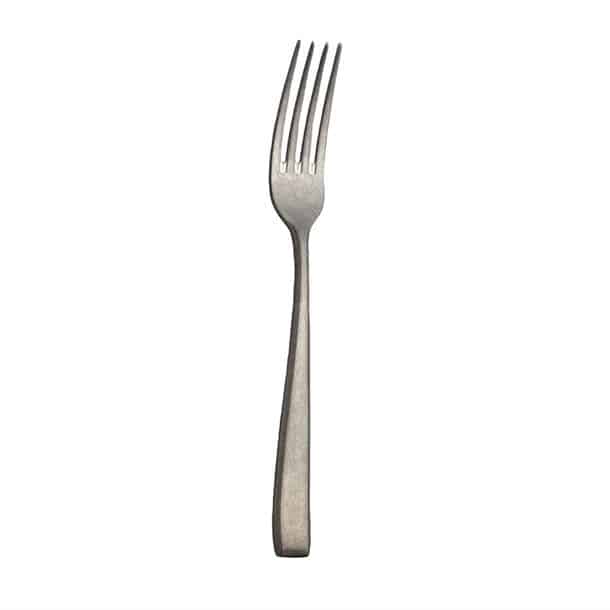 The Cooper Table Fork is a grown-up look for any table. It's sleek, simple, and effortlessly elegant. It's understated enough to go with any crockery set, yet it's also versatile. The cutlery is made to endure the demands of commercial usage in the busiest of environments, and it's designed by Churchill, one of the world's most trusted names in commercial cutlery.
Pros:
Sleek, simple, and understated design that will go with any crockery set
Cutlery is made to endure the demands of commercial usage
One of the most trusted names in cutlery worldwide, ideal for any restaurant client
Cons:
The price point is higher than traditional cutlery sets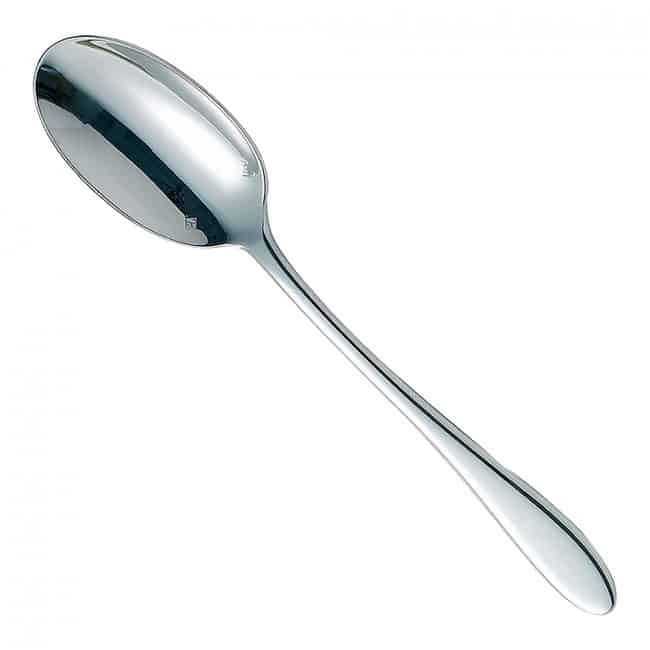 Chef & Sommelier have garnered worldwide acclaim for their exceptionally high-quality production methods after producing some of the greatest stainless steel cutlery available.
The magnificent feeling and appearance of each spoonful of dessert is evident in the overall feel and look of each component, which is made entirely out of the finest stainless steel. It's a great choice for any restaurant that wants to add some extra style and sophistication to its table settings.
Pros:
Extremely high-quality production methods make these spoons exceptionally stylish and sophisticated
The material used is the finest stainless steel
Perfect for adding extra style to your table settings
Cons:
The price point is higher than traditional cutlery sets
What Criteria Did We Use To Come Up with These Selections?
We used a range of criteria to come up with our recommendations for the best commercial cutlery, including what is used in most restaurants and how durable the materials are.
We considered price points in order to recommend items that were affordable while still maintaining a high standard of quality. We also took into account what materials were used and how strong they are so we could ensure that they would not bend or break under rigorous usage.
The criteria we used included:
Quality of materials used (including stainless steel, polypropylene, and bamboo)
Ease-of-use/ease of cleanup  (how easy it is to wash off any food residue after use)
Overall cost as compared to traditional cutlery sets
Where the product is made  (in order to recommend items with a good track record of quality and use)
Overall appearance (for those who want their table settings to look stylish and sophisticated)
We also looked at reviews from other buyers and considered what they had to say about the product in order to help ensure that we recommended only high-quality and useful items.
fAQs
Question: What kind of cutlery do you need for a restaurant?
Answer: You will need a few different kinds of cutlery depending on what you will be serving and how formal your restaurant is. However, in general, you will need to have a set of knives, forks, and spoons that will work for your needs, as well as drinks spoons, and steak knives.
Question: How do I choose between disposable or non-disposable cutlery?
Answer: This is a decision that will depend on your restaurant's specific needs. If you have a casual or family-style setting, disposable cutlery might be the best choice for you while if you operate in an upscale environment with fine china and crystal glasses, non-disposable options could be more suitable. In fact, if you offer both eat-in and takeaway options, you might need both types of cutlery.
Question: Where can I buy commercial cutlery online?
Answer: There are lots of places that you can purchase commercial cutlery online. Look for one that has a range of options available including types, brands, and prices to find something that will work well with your restaurant's needs. Catering brands or wholesales like Caterwik or Alliance are good places to start.
Question: What is the standard cutlery for the main course?
Answer: The standard cutlery for the main course is a fork, knife, and spoon. Some other items like spoons or steak knives may be included depending on what you are serving. For example, if it's soup, you will need to have several soups spoons available that can be used by each guest at their place setting.
Question: How do you place cutlery in a restaurant?
Answer: You will want to place the cutlery in a neat and orderly fashion that is easy for your guests or patrons to reach without disrupting other diners. Start with putting the fork to the left of the plate, then add knives on the right making sure that the blades are facing inwards. Spoons should be placed on the right side of the knives with the dessert cutlery placed above the plate with the fork facing right, and the spoon facing left. Steak knives can be added to the right of the standard dinner knife too if you are using them.
Question: What is the best kind of cutlery to use for a commercial kitchen?
Answer: The best type of cutlery in a commercial environment will be high-quality stainless steel that can stand up against daily usage without becoming damaged or warped. Brands like Churchill, Oneida, and Chef & Sommelier are good options because they have been trusted for their high-quality stainless steel construction.
Question: What cutlery should you use for takeaway food?
Answer: For takeout, paper or plastic disposable cutlery is the best choice because it's easy to clean and will not be damaged by regular usage like metal options. Paper items are lightweight so they won't weigh down your guests' bags while plastic cutlery can stand up to casual usage without becoming warped or tarnished.
Question: What is the best cutlery for a high-end restaurant?
Answer: High-end restaurants will need all of their silverware and flatware items such as forks, knives, spoons, and steak knives to be made from fine materials that are elegant and sophisticated.
Question: What is included in a cutlery set?
Answer: This largely depends on the set, however, it is typically a set of forks, knives, spoons, and steak knives. Some sets may also include other items like soup spoons or teaspoons depending on how formal the restaurant's setting will be.
Question: How much does commercial cutlery cost?
Answer: The cost of commercial cutlery is typically dependent on quality, brand, and size. However, in general, it will be more expensive than traditional silverware sets because the materials are higher grade to stand up against daily usage in a busy restaurant environment.
On average, you should expect to pay between $15 and $60 for a set of 15 pieces of commercial non-disposable cutlery, and around $5 for a pack of 50-100 disposable pieces.
Question: What is the life expectancy of commercial cutlery?
Answer: You should expect items of non-disposable commercial cutlery to last anything from 5-10 years depending on usage and how well it is cared for.
Conclusion…
The best commercial cutlery for your restaurant will depend on a variety of factors which include the type of food you serve, the ambiance of the space, and whether or not you want disposable options.
You can find great deals online from reputable retailers like Caterwik that offer more than just cutlery – they also provide tableware and other supplies to help make operations easier for any chef. If you're unsure what kind is right for your establishment, this blog post should serve as a reliable guide.
The options we've recommended above are great choices when it comes to their affordability, high-quality materials, and versatility. However, overall, we prefer the Churchill Bamboo range because it is built to last with high-grade materials that will not warp or tarnish.
We hope this article has helped you find the best commercial cutlery for your restaurant!