Latest posts by Jodie Chiffey
(see all)
Pitco 40D is a natural gas freestanding fryer with 40 to 45 lbs capacity and a good reputation among many chefs and owners of various gastronomic venues. Are you planning to buy a new fryer and wondering if you should consider this popular choice too? Our Pitco 40D review and guide will help you decide if this is the best option for you.
These versatile gas fryers are great for any type of breaded food products and popular fried snacks and side dishes such as french fries. If your kitchen specializes in such meals, these friers can easily become the most important pieces of equipment in your kitchen setup.
So, is Pitco 40D worth your money? Let's evaluate the unit in detail to uncover all its strengths and weaknesses. First, a brief overview of Pitco 40D's basic parameters:
Key specifications of Pitco 40D
| | |
| --- | --- |
| Type of fryer | Commercial freestanding floor natural gas fryer |
| Heating technology | Tube-fired technology |
| Capacity | 40-45 lb. oil capacity |
| Frying area | 14"x 14" |
| Input | 115,000 Btu/hr. |
| Dimensions/weight | 15.1 x 47.25 x 30.25 inches/181 pounds |
| Latest price | Click here for the latest price |
Core features of Pitco 40D
Now, let's review Pitco 40D's characteristic features, functions, and parameters one by one in detail:
Construction and design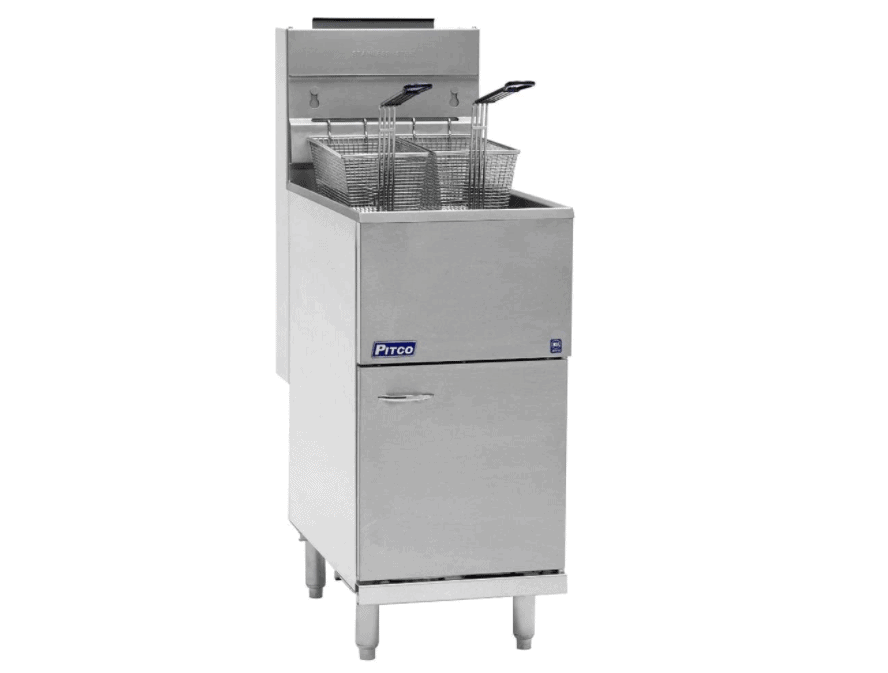 Pitco 40D is a heavy-duty, high-capacity deep fryer designed mostly for small-to-middle commercial kitchens. It is a freestanding floor type of fryer with a relatively small footprint (15.1 x 47.25 x 30.25 inches), so you should be able to fit it even in tighter spaces. Compared to some other commercial fryers, this unit is also relatively light, which might come in handy if you need to move it from place to place.
As you would surely expect from this type of equipment, the fryer has an all-metal housing made of durable and easy-to-clean steel (a combination of stainless steel front and galvanized steel sides and back). The tank is made of welded stainless steel with an extra smooth peened
finish that provides for exceptionally easy cleaning.
This fryer has 40 to 45 lbs capacity (18 to 20 kg of oil), which should be just enough for most smaller restaurants or fast food stalls. Large establishments, however, might probably want to look for some of the larger fryers that would help them work through their list of orders faster and more efficiently (we will discuss one such option in the Alternatives section).
Pitco 40D comes with a set of 6″ height-adjustable legs, ​​two twin-size baskets, and a removable basket hanger for easier cleaning. The company also offers a vast range of useful extras and interesting additions in their official shop, including the splash guard, caster wheels, etc.
Functions And Controls
Pitco gas fryers are perfectly user-friendly, making them a great solution for total beginners or super-busy venues where every second counts. Nevertheless, it has some technical specifics you probably might want to know about before placing the order.
First, many customers of Pitco probably recently got used to their convenient Solstice burners – a modern and popular technology that does not require any additional blowers or ceramics. However, Pitco 40D does not have this technology. Instead, this unit has so-called tube-fired heating. This means that the fryers feature several tubes that transfer the heat to the oil, which comes with some benefits and downsides.
Tube fryers, for example, feature somewhat more spacious cold zones, which makes them more suitable for breaded foods that are losing crumbs easily (e.g., cheese sticks, etc.). Your oil will stay clean much longer, which certainly saves a lot of time and energy. Nevertheless, these large cold zones created by the tubes at the base of the frypot must be constantly filled with oil, so you should expect to invest more in oil for this kind of fryer.
Pitco 40D also has a convenient automatic thermostat regulation which maintains the selected temperature anywhere between 200°F (93°C) and 400°F (190°C). The fryer is also quite energy-efficient, thanks to the high-temperature steel heat baffles mounted directly in the heat exchanger tubes to allow maximum heating and combustion efficiency.
Safety
Pitco 40D has several useful safety features that make it a perfect choice for those who are a bit reserved when it comes to gas fryers due to the possible risks they potentially pose. The fryer's integrated gas control valve, for example, prevents the entrance of gas flow into the main burner until the pilot is well established, and it shuts off the gas flow completely in case the pilot flame goes out suddenly.
Furthermore, there is also a temperature limit switch that safely shuts off all the gas flow if the temperature in the fryer exceeds the highest safety limits.
Of course, you still shouldn't underestimate the potential hazards associated with any gas-operated kitchen equipment. Ensure that your unit will be properly and professionally installed, follow the recommended maintenance schedules, and train your staff to use the fryer correctly.
Reliability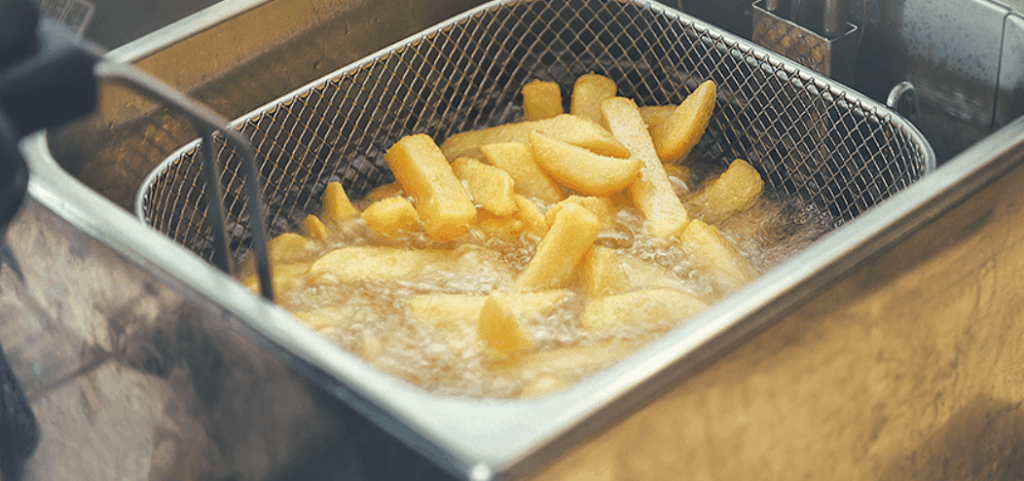 As I've already emphasized above, all commercial-grade fryers need, above all, to be cleaned, maintained, and checked meticulously and professionally regularly. These simple precautions should be enough to keep your Pitco 40D safe, fully operational, and in perfect shape for many years to come.
Pitco is, in general, known as a reliable and trustworthy brand – users often have had their Pitco fryers for 10+ years without any major technical problems or failures, which makes these machines a very reasonable investment. Moreover, Pitco also offers a comprehensive warranty on its fryers, so you should be covered in case of any serious malfunction.
As for the smaller faults and errors, you should often be able to troubleshoot the issue independently. Most problems like the inability to turn the device on, clogging, or sudden shutoffs are just bringing your attention to the simple maintenance issues. Replacing a filter or restarting the circuit can often resolve the situation in a few minutes.
Price
If you are looking for a super-cheap deep fryer, the market currently offers many options that can easily suit even the tightest budget. However, the cheapest devices often come from some nameless (or at least not very well-known) brands that might or might not be good and reliable.
In comparison with these budget-friendly options, Pitco fryers might look pretty expensive. But, on the other hand, many entrepreneurs just can't afford the risk of the hit-and-miss purchases from Asia because their business fully depends on the reliability and efficiency of their equipment.
Investing in Pitco 40D (or any other Pitco fryer of your choice) gives you the benefit of a reputable producer, readily available spare parts & servicemen, and a comprehensive warranty applicable directly in the US.
In my opinion, these advantages, along with the great functional and constructional characteristics of this machine, make this gas fryer a good investment. For its latest price, click here.
Pros of the Pitco 40D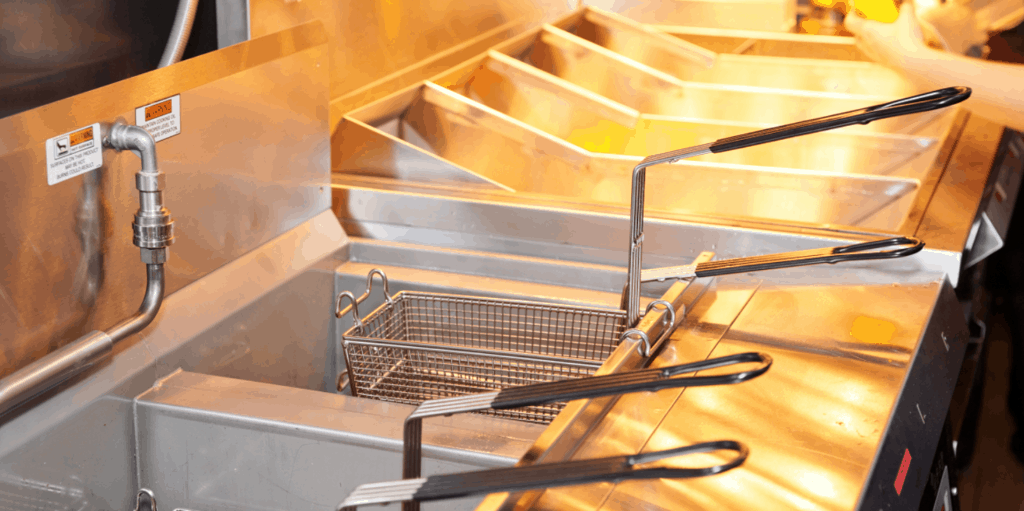 Still in doubt whether Pitco 40D is a good choice for you and your kitchen? Here's a brief summary of all the qualities and strengths this fryer boasts:
Durable construction
Pitco 40D is a heavy-duty professional deep fryer that is certainly built to last. Each component feels firm and sturdy and withstands even harsher handling, which is often hard to avoid in a busy commercial kitchen.
Easy to use and maintain
Pitco 40D's open-pot design, large cooling zone, and smooth oil tank with peened finish provide a simple and fast cleaning and maintenance. Operating this tube-heated gas fryer is also very easy, and it can be mastered fast even by total beginners.
Safe and reliable
This gas fryer comes with several useful safety measures to effectively prevent any possible gas leakage or potentially dangerous overheating. It is also considered to be one of the most reliable and durable machines in its class.
Temperature control
Pitco 40D has ​​ automatic thermostat regulation, which maintains the chosen temperature (200°F – 400°F). This makes perfectly even frying pretty much effortless.
Energy-efficient
This commercial-grade fryer consumes just around 115,000 PTU per hour thanks to the high-temperature heat baffles that ensure maximum heating and combustion efficiency.
Large cold zone
Tube-style gas fryers come with a larger cold zone, an ideal solution for food products prone to loose crumbles to avoid excessive amounts of burning particles in the oil.
Reputable brand
Pitco is a reputable American producer of top-quality kitchen gear. It is trusted by thousands of professionals all around the country, and there is a high chance that you will be satisfied with it too.
Small and light
If you're dealing with a small kitchen or you plan to relocate your fryer from time to time, you will surely appreciate that Pitco 40D is a bit lighter and smaller than most commercial fryers from the same category.
It comes with two twin-size baskets
If you prefer frying smaller doses of food separately to making large batches altogether, you might be pleased to know that this fryer is equipped with two twin-size stainless steel frying baskets out of the box.
Cons of Pitco 40D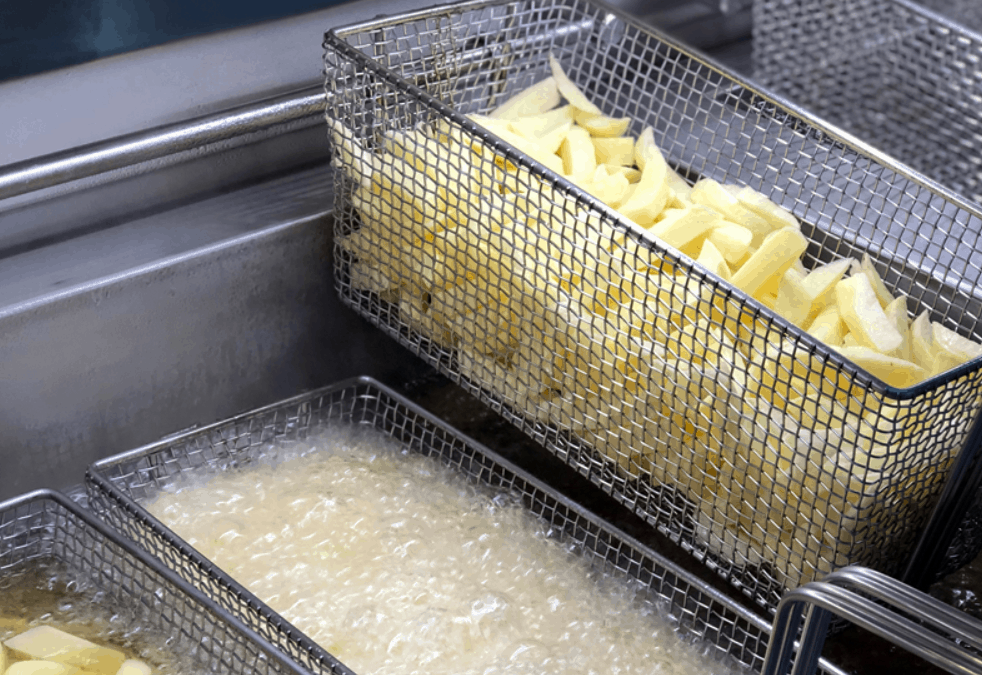 Pitco 40D is a great unit, but it has some downsides and weaknesses too:
Quite a small capacity
For a heavy-duty commercial-grade deep fryer, Pitco 40D has quite a small capacity (40 to 45 lbs. of oil). As a result, owners of large kitchens specializing in fried food will probably need to look elsewhere.
The large cold zone needs more oil
Although the oil tanks are relatively small, you will still use quite large volumes of oil with this fryer due to its tube-heating design. This will probably increase your operational expenses somewhat.
Not your cheapest option
In case you need a super-cheap fryer, you might be a bit discouraged by Pitco's prices. Although they are definitely not the most expensive products on the market, they are not the cheapest either.
Are There Any Alternatives?
Would you like to explore more options before making your final decision? Here are some other fryers you might find interesting:
Pitco Frialator SG18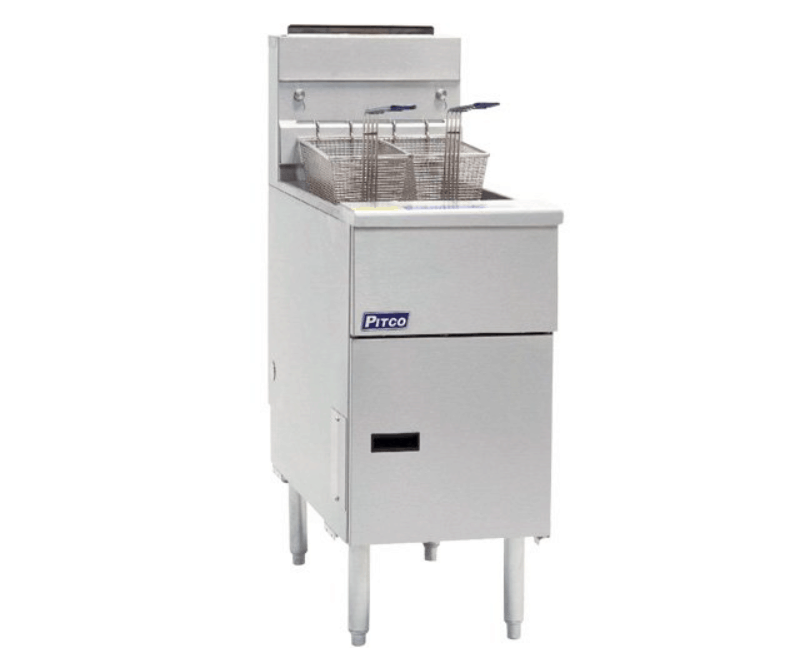 If you need a large-capacity gas fryer, Pitco certainly has some interesting options to consider. Their Pitco Frialator SG18, for example, is a freestanding deep fryer with 70-90 lbs capacity, a convenient Solstice burner, and sturdy stainless steel housing. It also has an integrated gas control valve, a 1¼ " drain valve, and 140,000 BTUs of heating power.
This is a great solution for large restaurants specializing in all sorts of fried food products. Of course, it also costs significantly more than the much smaller Pitco 40D.
VIVOHOME 20.7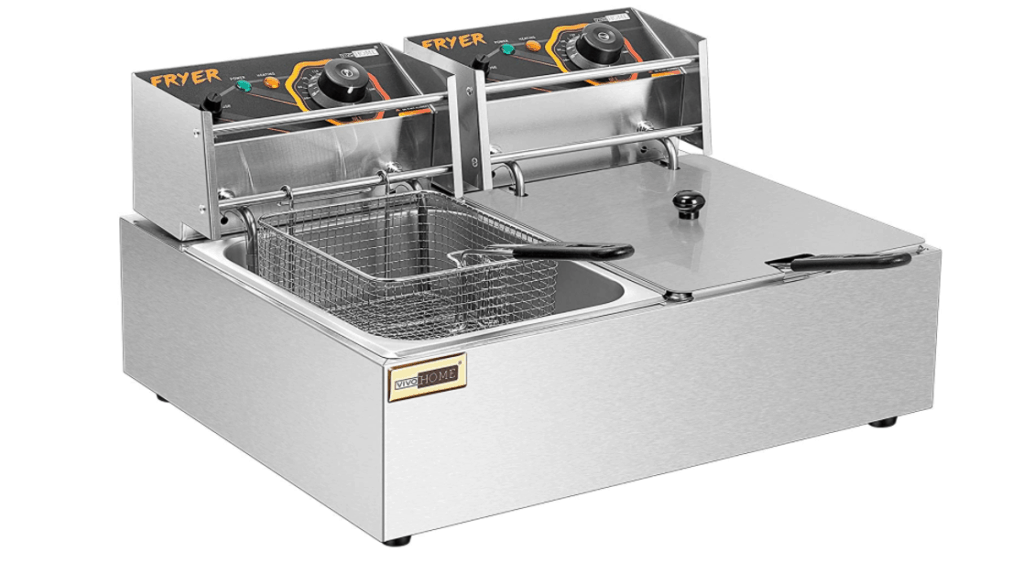 If you don't really need an extremely big or powerful fryer and you want to stick to the limited budget, maybe you'd like to consider VIVOHOME 20.7 – a reliable little electric fryer for both commercial and at-home use. It comes with 2 x 6.35 QT removable baskets, a temperature limiter, and a conveniently small footprint.
This small, handy unit is great for catering events or food stands where fried food plays a secondary role. It will cost you only a fraction of the price of large-capacity fryers from the brands like Pitco, but keep in mind that it also requires 2500W of energy per fryer.
FAQs
Question: Are Pitco 40D fryers any good?
Answer: Pitco is currently considered to be one of the most reputable American producers of commercial-grade deep fryers. Although the company gets its parts and components from various manufacturers worldwide, its products are all being assembled and quality-checked right in Bow, New Hampshire, where Pitco resides.
Question: Is Pitco 40D suitable for crumbling breaded foods?
Answer: Yes, Pitco 40D is a tube-heating gas fryer, which means that it has a larger cold zone where all the little crumbles and residues falling off the food can gather without spoiling the hot oil in the main frying pot. This extends the lifespan of your frying oil and keeps your breaded food clean and healthy.
Question: Is Pitco 40D a good gas fryer for a large restaurant?
Answer: Pitco has a wide range of gas fryers that should fit all types and sizes of commercial kitchens. Pitco 40D, however, belongs to their smaller units. With 40-45 lbs. capacity, this fryer will likely be the best choice for smaller-to-middle kitchens. Nevertheless, it might also work well with larger restaurants that offer fried food only as one of many options on their menu.
Final Thoughts: Pitco 40D Is A Small Yet Powerful Tube-Fired Fryer
If you're looking for a versatile natural gas fryer that will serve your smaller or middle commercial kitchen well for many years to come, I believe that Pitco 40D should definitely be on your radar. This fryer is very easy to use, exceptionally reliable and durable, and small enough to fit even in tighter spaces.
Unlike some other gas fryers, this unit has a tube-heating system, which comes with various advantages such as a larger cold zone or improved energetic efficiency. On the other hand, this type of fryer also requires quite a large amount of oil despite its smaller capacity, which can increase its operational costs a bit.
Just like all Pitco fryers, this device is surely not the cheapest one you can find on the market. Nevertheless, it comes with a comprehensive warranty, lots of optional extras and additions, and some other benefits associated mostly with branded products made in the US. Of course, if you're not entirely sure about this purchase, you have many alternative options on the market that should serve you well too. I've covered some of them in the Alternatives section above (the large capacity Pitco SG14 or the portable and budget-friendly VIVOHOME 20.7).
If you need more tips and advice on how to choose the best fryer for your commercial kitchen, check out our comprehensive fryer buying guide here.