Latest posts by Alice Smith
(see all)
We all know how important it is to have a refrigerator in the kitchen. Not only does it help us store food, but it also helps keep our drinks cold. But what about when you want to freeze some leftovers? That's where a freezer comes in. And a combination of both can kill two birds with one stone!
A commercial refrigerator freezer combo is an appliance that has both a refrigeration and freezing compartment. This type of cooling unit is great because they are designed with restaurant kitchens in mind.
They are built to withstand heavy usage so they will last longer than your typical household fridge or freezer unit, plus they combine two appliances in one, so save plenty of space in your kitchen. The best commercial refrigerator freezer combos can be an excellent option for those who have limited room in their kitchen, but still want the convenience of a fridge and a freezer.
In this blog post, we will discuss what a refrigerator-freezer combo is, what the different types of refrigerators freezers are, and some product recommendations that you might like!
What Is a Commercial Refrigerator Freezer?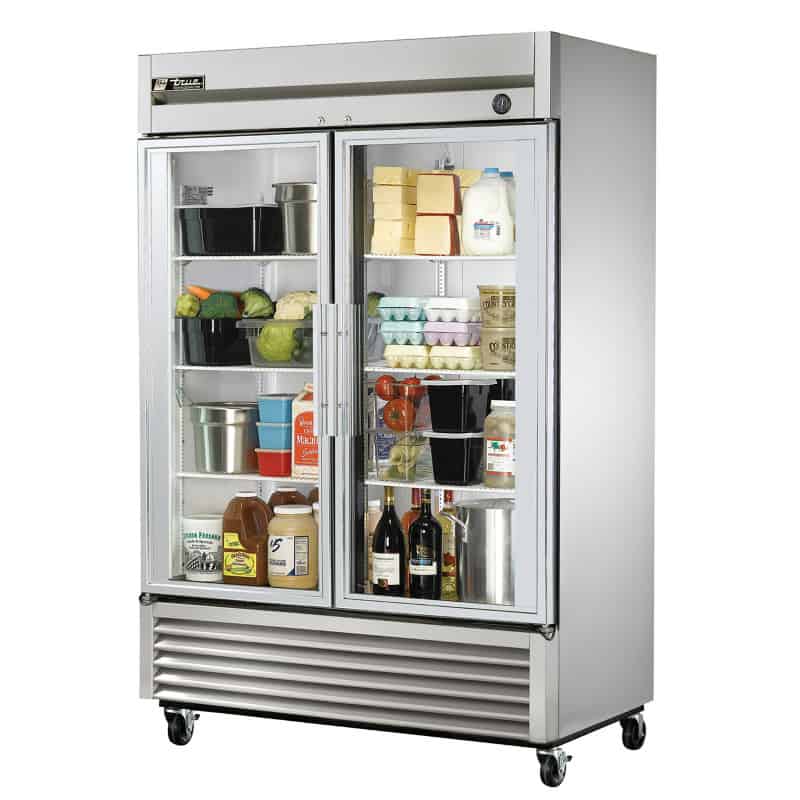 A commercial refrigerator-freezer is a combination appliance that provides cold food storage and frozen food storage in one unit. It is a good option for any business that needs to store both perishable foods and frozen products, such as restaurants or grocery stores. It's also useful for anyone who has limited space in their kitchen and wants the convenience of both a refrigerator and freezer in one appliance.
Both full-size refrigerator-freezer combo and separate stand-alone fridges and freezers work well when you need cold food storage plus frozen product capacity. However, there are some benefits to using a refrigerator freezer combo instead of two separate appliances.
Aside from taking up less valuable floor or countertop real estate in your commercial kitchen, a combination unit can also save you money. You can save on energy costs because both units share one compressor and condenser unit, which means less electricity is used overall than with two separate appliances.
How Do Commercial Refrigerator-freezers Work?
So, how do refrigerator-freezer combos work?
A refrigerator works by cooling the air inside, which in turn keeps your food cool. The cold temperature stops bacteria growth and slows down spoilage. This appliance uses a compressor system with an evaporator coil to pull heat away from the room when it is operating. Typically there are two coils for this process–one on top of the unit that removes hot air, and one on the back bottom of the unit that pulls in cold air.
A freezer works by removing heat from its inside surfaces to maintain a sub-freezing temperature for your food storage needs. Once again, there are usually two coils–one at the top and another near the back or underneath depending on where you place it within your kitchen.
How Do They Work Together?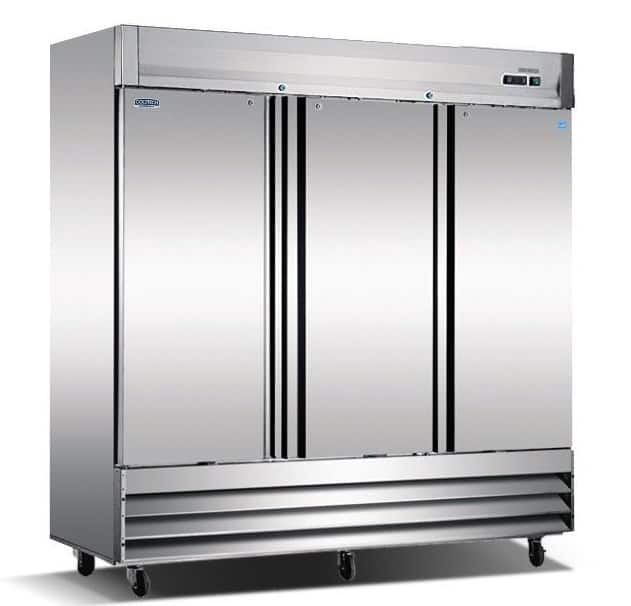 A refrigerator-freezer combo works by compressing and condensing the gases inside the appliance in order to make them cold. This cooling effect is transferred from one side of a heat exchanger (often copper) to another until it reaches an area that isn't cooled yet.
Both appliances in a full-size refrigerator-freezer operate independently of one another, but the heat exchanger ensures that there is no warm air from your fridge leaking into your freezer and vice versa–keeping food fresh for longer periods of time.
This also helps save energy by not having to cool down two separate compartments within each appliance separately. This means you get efficient use of electricity, and because there's only one motor running instead of two or more, there's less noise.
What Are The Different Types of Commercial Refrigerator-freezers?
When it comes to refrigerator-freezers, there are several different types you could purchase for your commercial kitchen.
Here are some of the most popular options to consider:
Double Refrigerator Freezer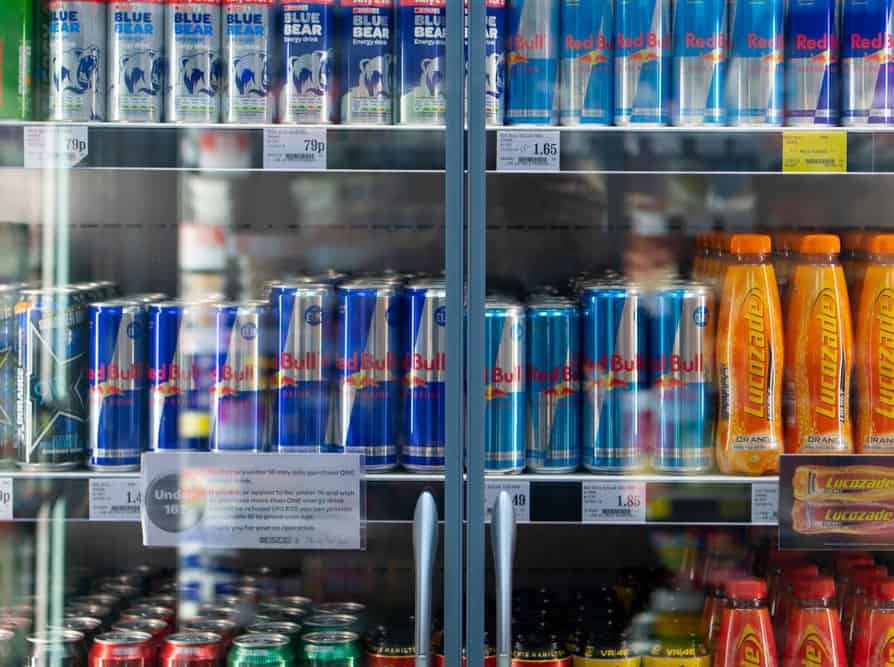 This looks like an American-style fridge freezer that you would typically get in a home. It's a great option if you want to maximize space, but it can be a rather bulky unit and it doesn't have as much height clearance on the top shelves. It has two full-length doors – one side is for your fridge, and the other side is for your freezer.
Stacked Refrigerator-freezers
This type of combo offers less space than a double fridge-freezer, as it's effectively the width of a single-door unit. Instead of being side by side, the units are stacked on top of each other – the top unit is usually a fridge, and the bottom is a freezer. It is also cheaper to purchase one of these units over the double door above, but there is pretty much half the space, so it's more suitable for smaller kitchens.
Portable refrigerator-freezers
Unlike the previous two options, this one is not fixed and can be moved around as needed. These units work best with a drain plug so you can empty any water that accumulates at the bottom of your unit after use or during cleaning.
This type of refrigerator-freezer combo works well in convenience stores, food trucks where there isn't a lot of space, and in areas where there is no plumping.
Under-counter refrigerator-freezers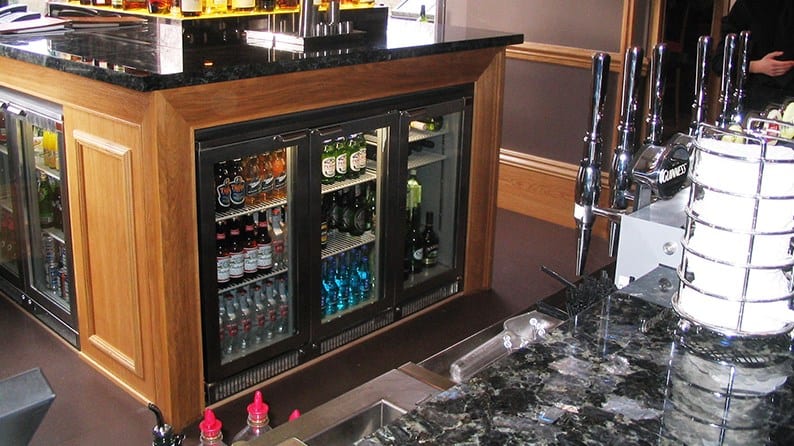 This type of refrigerator freezer can also double as an additional workspace. The appliances themselves are integrated into the unit, the top can be used as a workbench and sometimes has a chopping board built into it, whilst the doors underneath are for a refrigerator-freezer combo.
What Should You Look For In a Commercial Refrigerator-freezer?
There are plenty of things to consider before purchasing your commercial refrigerator freezer.
Some important factors include:
Size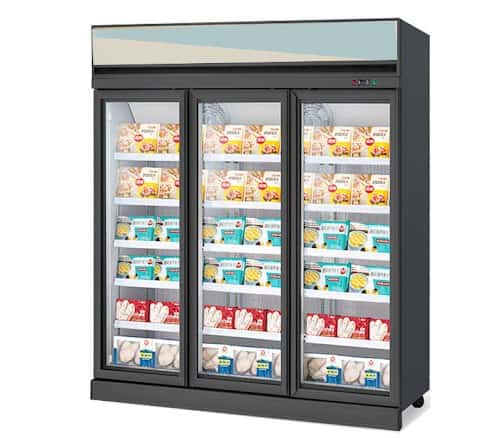 The size of your commercial refrigerator freezer will ultimately depend on the space you have available. If you have quite a small kitchen, then you might not have enough space for a full-size double unit. On the other hand, if your kitchen is smaller and you still want to maximize your storage capacity, then it's worth considering one of the smaller options available – such as stacking refrigerator-freezers or units that double as worktops.
Cleaning
You'll need to clean your commercial refrigerator freezer regularly, so it's important that you select one with an easy-to-clean interior – especially the door liners and gaskets (the seal around each of the doors). Some models come with these parts dishwasher safe; others might only be able to be wiped down.
Ice-making Capability
If you have a soft drink or alcoholic beverage dispenser or want to use your fridge-freezer unit for a bar area, then it's important to get one with an ice maker. This way, you can keep your drinks chilled without needing expensive bags of ice every day.
Capacity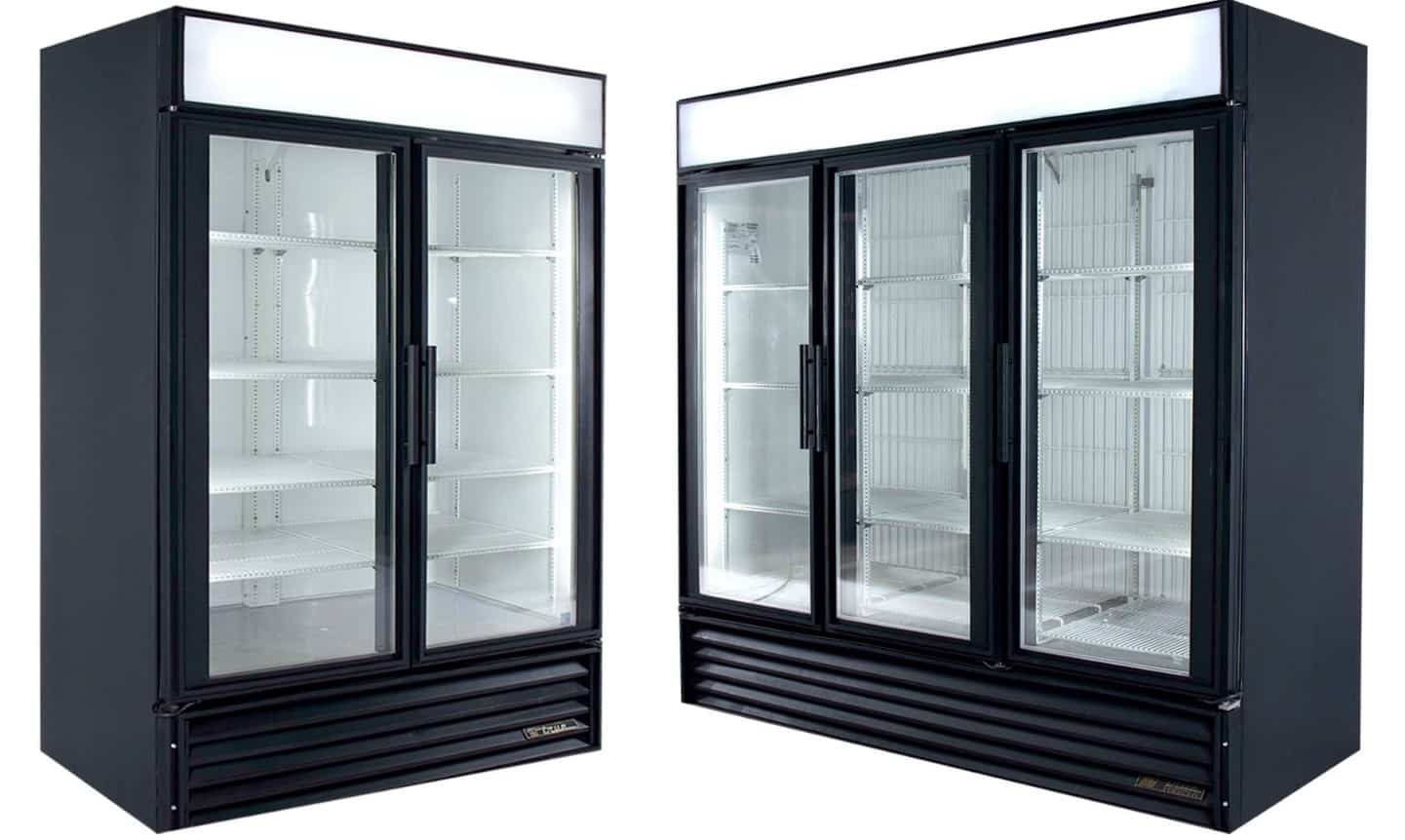 As well as the size of the unit itself, you'll also need to think about the internal capacity. This will determine how much food you can store, and if you have a large staff or cater for larger events on a regular basis then it's worth getting one with higher storage capacity.
Energy efficiency
Most commercial refrigerator-freezers use an energy-efficient compressor system. This means they are able to achieve the same cooling performance as many standard units – but without being so harsh on your electricity bills. It's important to think about, not only how much your refrigerator freezer combo will cost to buy, but how much it will cost to run long term. And this is where the energy rating will be crucial.
Durability
A durable commercial refrigerator freezer is a good investment for your business – it will last longer and be more reliable, even with high traffic every day. A solid stainless steel exterior will give you an extremely solid unit. It also looks professional in any kitchen or food service area, which can give you an edge over the competition if that's what you're looking for.
Do You Need to Defrost?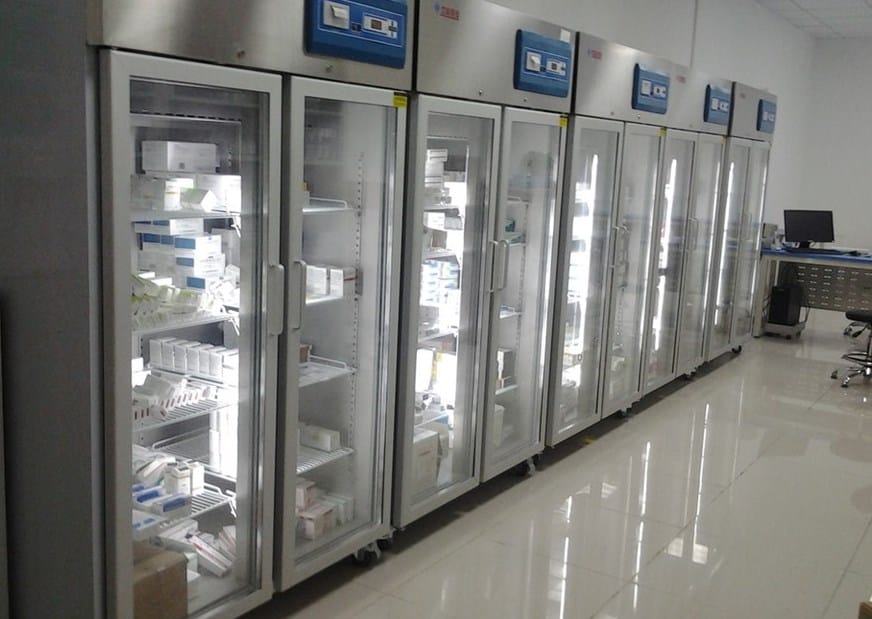 If you will regularly need to defrost your freezer, it's worth getting one with a defrost drain. This means that instead of having to manually defrost the unit every so often, you can simply pour out any excess water through this opening – which makes things easier for your staff and reduces the chance of accidents occurring.
Security
Particularly in a commercial catering setting, fridge, and freezer security are paramount. You'll need to keep your food safe from unwanted visitors, so it's important that you choose a model with an advanced locking system. This will make sure no one can get inside and access all of the food – even if they manage to break in through a window or door.
Power Rating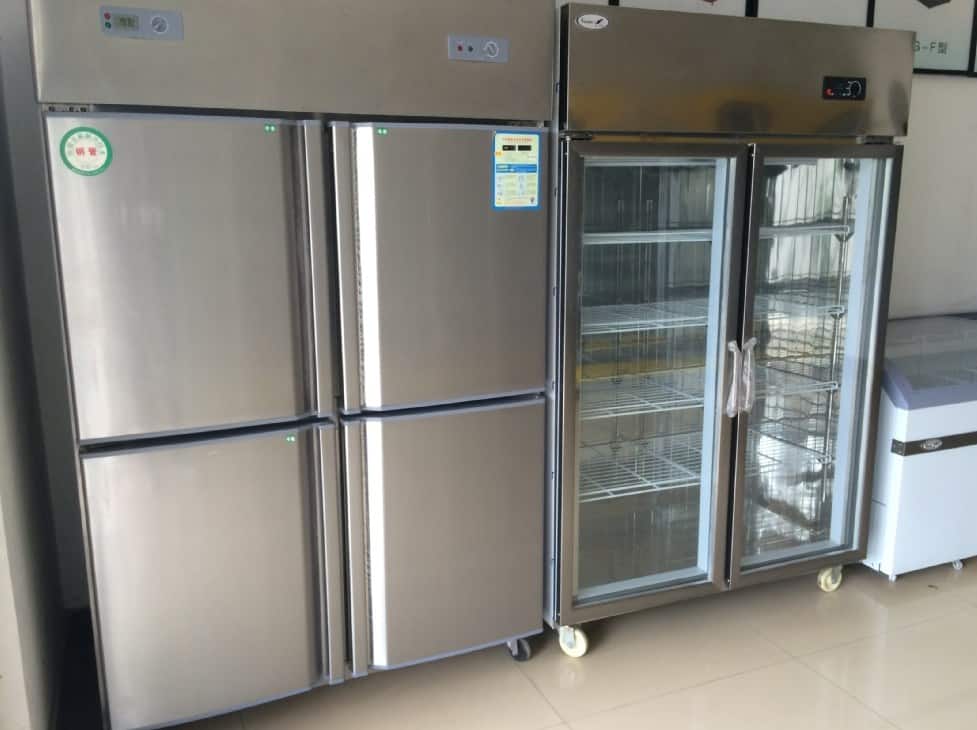 Just like energy efficiency, a power rating shows how powerful the appliance is at cooling down your food. For commercial refrigerator-freezers, look for one with a power rating of more than 0.75 kW/L per hour – this will ensure your fridge freezer has enough power to keep all of your stock nice and cool throughout most days.
Does It Come With a Warranty?
When you're buying a commercial refrigerator freezer it's important to check that they come with a warranty. This will give you peace of mind knowing your investment is protected – and can be fixed if anything goes wrong in the future. A commercial unit will usually come with a much better warranty than household appliances, so it can be well worth spending a bit more to get one that will last longer.
Doors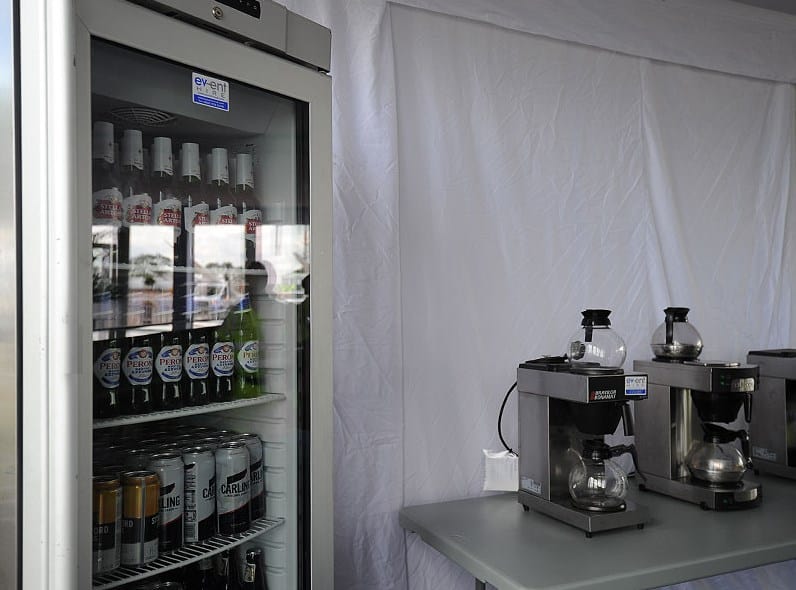 The doors of your refrigerator freezer combo are another vital factor when it comes to your unit's performance. Look for one with strong, durable doors that will stand the test of time – especially if you have a busy kitchen or restaurant and need to open and close them frequently throughout the day.
Price
Of course, price is another important factor when it comes to commercial refrigeration units – as well as household appliances too. Make sure you get a good deal on your refrigerator freezer combo and don't be afraid to negotiate with the seller if they're not willing to lower their price. It's a good idea to work out your budget for this appliance before you start looking.
Other Features
There are a number of other things that you might want to consider which can include whether or not the shelves inside have dividers, what kind of lighting is available, whether or not it has a digital temperature gauge, and how robust the exterior design looks – especially if this unit will be placed outside in an exposed area, or an open kitchen where it could be visible to customers.
The Major Differences Between Commercial And Household Refrigerator-Freezers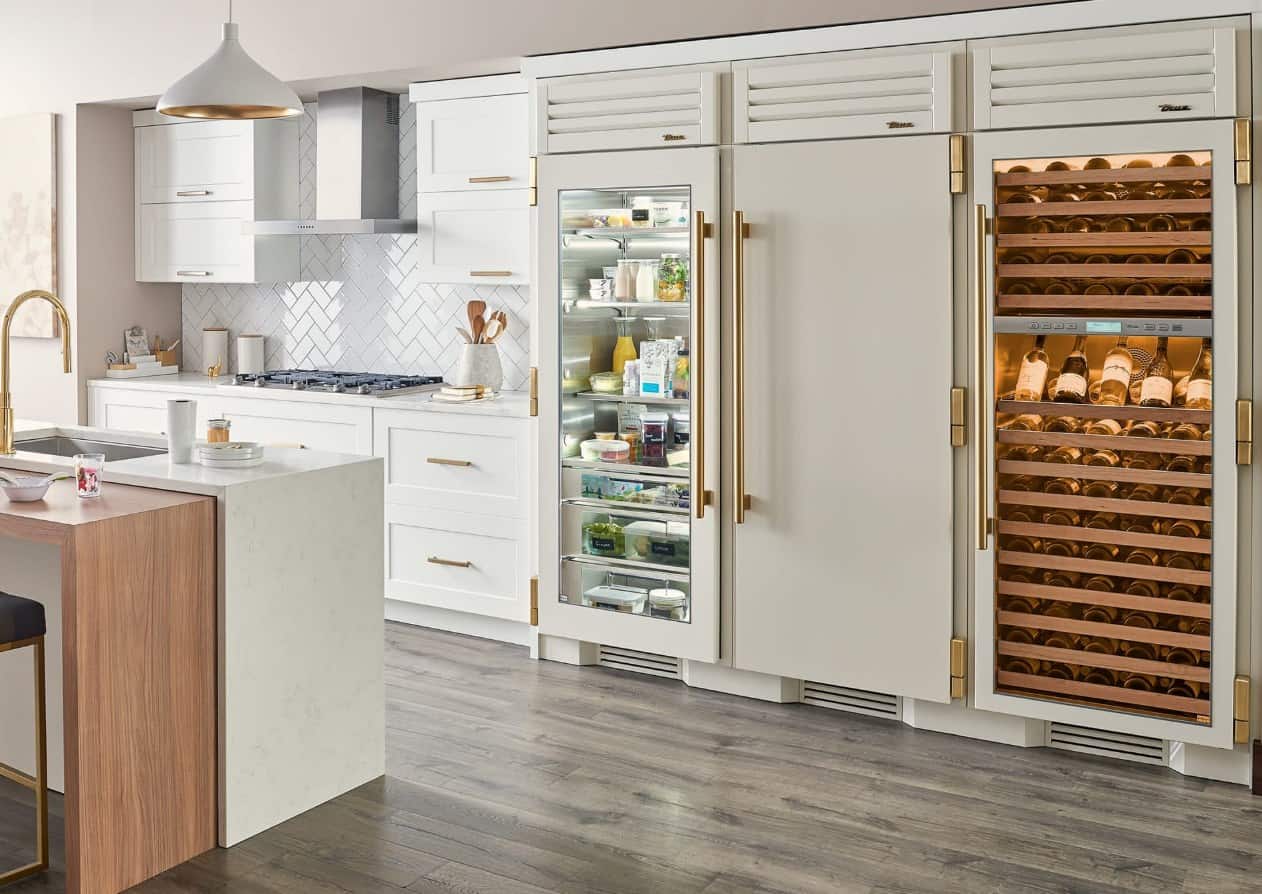 There are plenty of differences between commercial and household refrigerator-freezers, which means it's important to choose the right kind for your business.
The main difference between commercial and household units is that a commercial fridge freezer will be much more durable. They are designed with tougher materials that can withstand high levels of usage every day. A professional unit also has better security features, such as advanced locking systems and stronger doors – making sure they're less likely to get damaged by vandalism or break-ins from thieves looking for quick cash.
Commercial fridges are generally larger than domestic appliances too. This is because, of course, businesses need to purchase much more stock than households, and they need it to last longer, and not spoil quickly, or else their business will be losing money. This can also mean that they don't have to constantly restock throughout the week as other people might do at home or in an office environment.
Commercial fridge freezers may also come with more advanced technology, such as digital temperature controls and alarms – which will help you to keep track of what's going on inside your appliance at all times.
Finally, the warranty that you get with a commercial fridge freezer is likely to be much better than one for household use too. It will usually come with a specialist commercial warranty. This means if anything goes wrong in the future it can easily be fixed by an expert company without having any financial impact on your business or wallet.
A home unit may come with up to 12 months' parts and labor cover while businesses could receive longer warranties such as 5 year's coverage instead.
Are There Any Similarities?
Now that we know about some of these differences between commercial fridges and freezers there are still many similarities between them when it comes down to their features:
They both need to have a good seal,
They both need to be able to keep the temperature low enough so food remains fresh for longer periods of time,
They should also come with shelves or compartments inside them that are removable to make them easy to clean.
Both commercial fridge freezers and household appliances can also come in a variety of sizes depending on how much stock you want your business to hold at any one time. From compact units that are ideal for smaller kitchens to larger models that work well if you're running a bigger restaurant or hotel.
As mentioned above it's important not only what size unit will fit into your specific space but also what type is best suited to your particular business needs. This includes whether or not you'll need extra features such as humidity control which would make more sense if storing things like cheese, or door alarms if you're concerned about the fridge freezer being opened too often.
As customers become more health-conscious businesses are also taking advantage of this by offering fresher products that aren't kept in a deep freeze state until they're needed for cooking. Fridges with glass doors allow clients to see exactly what's on offer before purchasing so it saves time and money while reducing food wastage. Another reason why commercial units may be better than household appliances when thinking about these features.
Our Top Commercial Refrigerator Freezer Recommendations
Gram Eco Twin 2 Half Door Combi Cabinet 82
If you're looking for a refrigerator-freezer combo with incredible flexibility, this unit by Gram is the one for you. It's a commercial refrigerator and freezer in one, so it has enough space to store all your food items at both cold and frozen temperatures.
This is a sleek stainless steel machine – its flawless design means that it will fit into any existing kitchen design seamlessly. You can use it as both a refrigerator or freezer, depending on what you need. If you're looking for something with more space and better insulation, this may not be the best option for your business.
The shelves in this fridge-freezer are dishwasher safe, and it follows the idea of "no broken surfaces" – both of which allow for simple, easy cleaning. It also has stainless steel doors, which are ideal for keeping the fridge clean and free from contaminants, and a powerful motor for keeping cool in and the heat out.
Each of the four shelves has enough space for 2 gastronorm pans, which is great for easy access, and convenience.
This is a good option for those with slightly larger businesses who want to keep multiple food items in one place – it's also great if you only need your fridge freezer part of the time (such as between meals or when there isn't much business) because it can be turned on and off as needed.
Pros:
Can be used as a refrigerator or freezer
Dishwasher safe shelves that are easy to clean
Flexible for different needs and businesses
Stainless steel exterior
Cons:
Expensive
Might still be too small for larger kitchens
Vestfrost SW311M Fridge/Freezer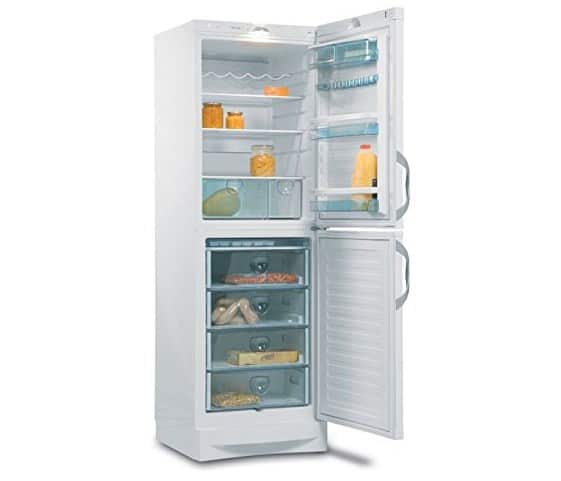 This fridge-freezer combo by Vestfrost is a great choice if you're looking for a reliable, well-priced option that will look good in any kitchen. Although it has a fairly small capacity, it's great for smaller kitchens with limited space. It also has the ideal features to make up for this including an impressive energy rating of A+.
With its clean white exterior and interior, this fridge freezer is very easy to keep spotless due to the laminate construction, while the adjustable shelves are an added bonus for those who like to rearrange their fridge freezer regularly.
What's more, this unit is also great if you're looking for an affordable way of storing your frozen goods. It can be used both as a commercial refrigerator-freezer and a home one too.
This fridge-freezer combo by Vestfrost is a great choice if you're looking for a reliable, well-priced option that will look good in any kitchen.
Pros:
Great value, and affordable
Easy to clean and maintain
High energy-rating
Internal illumination
Cons:
Small internal capacity for a commercial unit
Not as high-quality construction as others on this list
Foster EcoPro G2 Dual Temp 600Ltr Cabinet Fridge Freezer EP700HL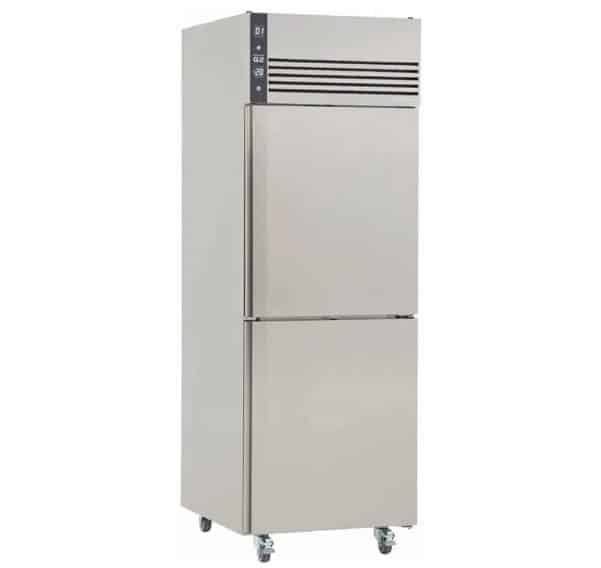 This cabinet refrigerator-freezer combo by Foster is the perfect addition to any kitchen. It features a stainless steel exterior with an aluminum interior, making it easy to clean while also keeping your food fresh for longer periods of time thanks to its moist retention properties.
It features a heavy-duty hinge and stainless steel door frames, which help to prevent accidents such as people getting their fingers caught when the fridge-freezer is opened. This unit has a temperature range of -18 degrees Celsius for its freezer compartment and +4 degrees Celsius in the refrigerator section, making it perfect for storing food items like meat and cheese that require lower temperatures.
It's also a rather clever unit. The temperature control panel features a smartphone-like touch-sensitive hidden-until-lit control panel with an incredibly sophisticated high visibility temperature display, the shelves feature anti-tilt technology to prevent toppling over, and it has a lockable door for added security.
Pros:
Touch sensitive control panel display
Anti-til shelves
Durable stainless steel and aluminum design
Easy to clean
Cons:
Polar U-Series Double Drawer Counter Fridge Freezer 4xGN
This under-counter fridge freezer combo is another example of superb kitchen equipment quality by Polar. It has an excellent capacity of up to 80 liters and is a high-quality appliance. It has casters for easy movement and uses forced air cooling to keep the food cold without wasting power.
The Polar U-Series refrigerator-freezer is highly adaptable, combining a robust worktop with two extremely flexible independently controlled food storage drawers. Each gastronorm compatible drawer can be configured as either a fridge or a freezer, allowing you to utilize most of your kitchen area.
The drawers of this counter provide ample storage for large quantities of stuff while maintaining excellent accessibility during a busy shift. Furthermore, the drawers are long enough to easily accommodate a standard-size Gastronorm pan.
The standard counter is designed with castors, making it simple to move and maintain. It's an exceptional industrial-grade workstation.
The pinnacle of the Polar kitchen refrigeration range is the U-Series, which is designed to keep your most precious fruits securely. These units are high-quality commercial equipment with strong forced air cooling, allowing you to preserve food flavor while reducing food waste. If you plan on using the refrigerator frequently, it will stay consistently cool with Polar U-Series refrigeration.
Pros:
Independently temperature-controlled drawers
High-quality material and construction
Digital temperature controls and display
Automatic defrost
Cons:
Might be too little space for larger kitchens
Infrico AGN602MIX Fridge Freezer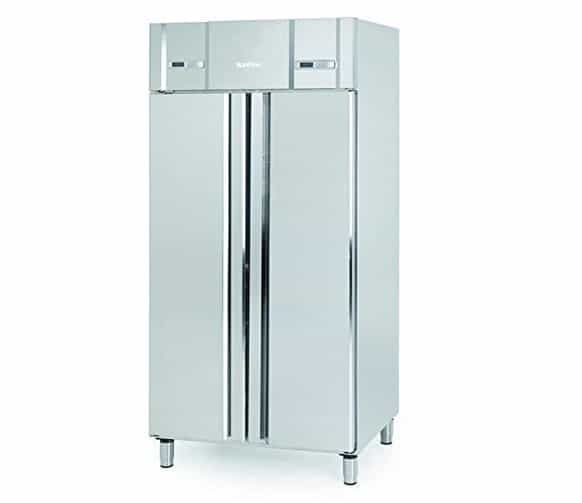 This large, double-door fridge-freezer by Infrico is a commercial fridge freezer that is perfect for bars, restaurants, and pubs. It features two large doors with sturdy, built-in handles for opening and closing the appliance.
The high-quality, AISI 304 stainless steel looks great in any kitchen or bar area while also being easy to clean after use by staff members. It runs on a fully automated operation and has a digital temperature display that is easy to read and adjust. The fridge has a large capacity of 325 liters, making it perfect for storing lots of stock in one place.
The internal LED lighting provides great illumination inside the fridge, allowing you to quickly see what you need, and it has a wide temperature range of between +6 degrees and -22. This commercial refrigerator/freezer combo would allow any business owner looking for more storage space within their establishment that they could use for both cold drinks and fresh produce alike. It also comes with a 2-year parts and labor warranty.
Pros:
Internal led illumination.
Rounded internal corners for easy cleaning.
Wide temperature range: +6°C to -22°C
Durable stainless steel construction
Cons:
What Criteria Did We Use To Make These Selections?
To make the above selections, we looked at a range of different features and specifications of the four products. The most important factor we looked at for this selection was how well each product fulfilled its purpose, which in this case is to be a commercial refrigerator freezer combo that can store large quantities of food safely and effectively.
Next, we looked at each appliance's design and construction. We wanted to ensure that each refrigerator freezer combo was made from high-quality materials so as not to break down after a few months of use, but also ones that were easy for staff members to clean.
Next, we considered the size of each product being reviewed in comparison with their price tag. Having a larger capacity is always preferable if you have many people working within your establishment at once or plan on storing large amounts of food at one time since it will limit how often you need to go through stock rotation procedures.
However, there are limits as far as cost goes when looking for commercial equipment such as this unit; smaller establishments may want something more affordable that still meets their needs.
So, finally, we also considered the price tag itself to ensure that each product was reasonably priced for the features it offered.
FAQs
Question: What is a refrigerator-freezer?
Answer: A refrigerator-freezer is an appliance with two separate sections: one for storing frozen food, and the other for fresh items such as meat or vegetables that need to be kept in a chilled environment. The single unit can store both types of food, and this can make it ideal for smaller commercial kitchens or businesses that want to save space or money.
Question: How can I find spares for my freezer?
Answer: To find spares for your freezer, look at the model number. Most manufacturers provide replacement parts for their products, and many of them will have a website listed on the manual where you can order these spare parts. This usually works quite well, because if your freezer is out of warranty then it's likely that they won't be able to sell you any other items – so this would give them an opportunity to make some money back from spares instead!
Question: How much does an industrial freezer cost?
Answer: Industrial freezers can cost anything between $500 and over $20,000 – depending on the size of your business or how many items you need to store at once. If you buy online then it's possible to get some really good deals because these days manufacturers are selling direct rather than through retail stores that will mark up prices in order to make a profit.
However, you should always double-check this price against the cost of buying from a retailer. Because if they have any special offers or deals at the time then these could be better value for money than going direct to the manufacturer.
Another thing to consider is whether your freezer will need extra features such as door alarms and humidity control. These will add to the cost of a unit and you should factor this into your budget before making a purchase.
Question: How do I find out if my refrigerator-freezer is working?
Answer: To check that your refrigerator freezer isn't working, you'll need to first plug it into the wall and leave it for a few hours. By this point, the appliance should start to get cold. If it doesn't then there may be something wrong with either its thermostat or compressor – in which case you would need to call out an engineer.
If your refrigerator-freezer does seem like it's working okay but isn't keeping things cool then you could try the following:
Check to see if there's any ice building up on the back wall – this could indicate that it isn't pulling in cold air properly. Just wipe away any ice so that it doesn't start dripping onto other items inside your freezer and causing further damage.
Another issue may be caused by dirty filters. Sometimes the refrigerator freezer will be pulling in too much air and this can cause a drop in temperature.
Check to see if there's any residual ice remaining from when your appliance was packed – you may need to let it melt before using but do make sure that water isn't dripping onto other items inside of your fridge freezer because this could damage them too.
If you have a glass door, check to see if it's covered in condensation – this can indicate that your thermostat needs adjusting so try turning it up a notch and seeing if the problem disappears.
Question: What is freezer burn?
Answer: Freezer burn is where the food in your freezer has started to dry out and it looks like there are little ice crystals all over its surface. This tends to happen if you've left too much air inside of your fridge freezer, or if something's gone wrong with the seal on one of its doors – which means that warm moist air can get inside and damage food.
Question: Is it better to buy a refrigerator-freezer or two separate appliances?
Answer: It all depends on the size of your kitchen and what you're going to be using it for. If you have a lot of space then buying two separate appliances might work better because this would give you more flexibility and more storage space. But if not, then it's likely that a fridge freezer combo will save space instead.
Question: How cold should a freezer be?
Answer: Ideally, a commercial freezer should be between -18 and -20 degrees celsius. If your freezer gets too warm, it could cause problems with your food which could potentially contaminate your kitchen – which is why it's a good idea to invest in a temperature alarm. This will ensure that the appliance isn't too hot or too cold and can alert you immediately if there are problems with its temperature levels.
Question: Do I need an energy-efficient refrigerator freezer?
Answer: Yes, it's definitely worth looking for an energy-efficient option because this will help to keep your running costs down. However, you should also make sure that any appliance you buy is "A Energy" rated or higher – otherwise, the savings might not be as great as expected.
Question: Can freezer food go bad?
Answer: Freezer food can go bad if it's not wrapped properly and little air gets inside – which is why you need to make sure that all items are tightly sealed before putting them into your freezer.
Question: Do commercial refrigerator-freezers use a lot of electricity?
Answer: Yes, it is possible for commercial refrigerator-freezers to use a lot of electricity – although this largely depends on the size of your fridge freezer and how often you've got it switched on. If you're concerned about running costs then opting for an energy-efficient model might be best because these are more likely to have lower usage levels.
Question: What is the life expectancy of a commercial refrigerator-freezer?
Answer: The life expectancy of a commercial refrigerator-freezer will vary depending on what make and model it is. But, in general, you can expect them to last between ten and fifteen years.
Conclusion…
Overall, a refrigerator-freezer combo can be incredibly useful for a commercial kitchen. It will save space instead of using two separate appliances and save money and energy costs too.
Overall, we think the Gram and Polar U-Point refrigerator-freezers are the best options because they're a good size, have lots of storage space, and are well priced. We would recommend them to anyone in the market for a commercial refrigerator freezer combo.
We hope this post has been helpful and given you a few pointers to help you decide which appliance is best for your kitchen!