Latest posts by Jodie Chiffey
(see all)
What would a banquet be without a banquet table, right? But choosing the right one can be a bit tricky. So whether you're entirely new to this business or you need a little guidance and inspiration to update your existing setup, we're presenting you with some of the best banquet table options you can currently find on the market.
Are you wondering how to choose the best banquet table for your hotel, restaurant, catering service, or event agency? There are several important factors you should consider before placing your order. This article will explain all the essential characteristics of different types of banquet tables and provide you with our recommendations.
First, let's start with a brief introduction to this type of equipment. Here are some of the factors you should definitely keep in mind when looking for a new banquet table.
What To Look For In a Banquet Table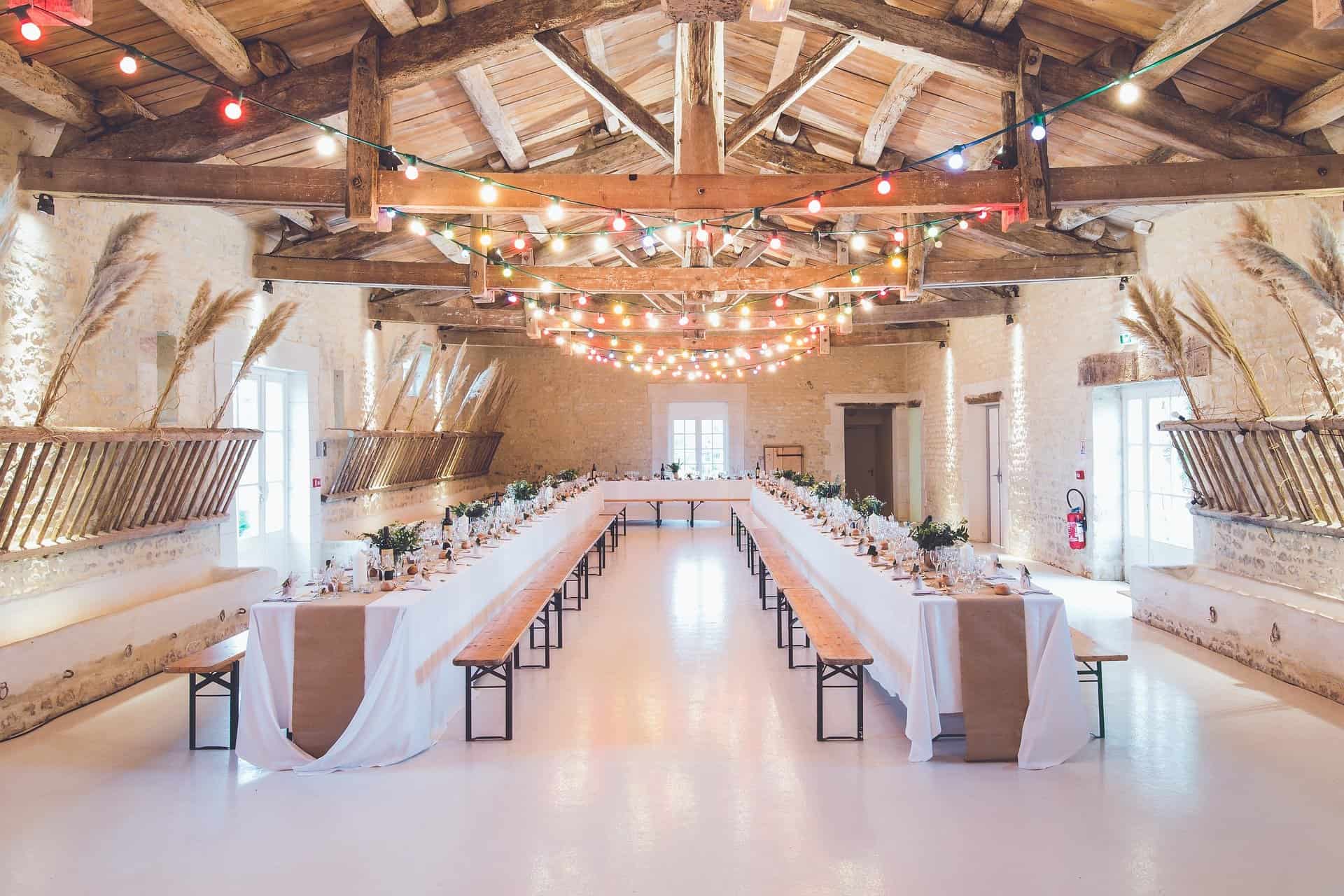 Banquets boast a rich history and strong tradition all around the world. These large formal feasts could probably be traced all the way back to the Ancient Greek symposiums – popular social gatherings full of opulent meals, good wine, art, and conversations.
Modern banquets are actually not that different in their core. What has changed entirely throughout the years is the visual presentation of these events, which is, after all, one of the key aspects of all successful banquets.
High emphasis on design applies to the modern banquet tables too. Their function is, after all, both practical and esthetical, and their shape, size, and layout can also significantly affect the dynamics of the whole event. In order to choose the best banquet table for a particular event, you should consider the following factors:
Shape
The shape of a banquet table has two major consequences: First, it determines how these tables look and what options you will have in regards to their layout within the space. Secondly, it also defines how your guests will be distributed around the table and how convenient their interaction and conversation will be.
Typically, banquet tables are round, since this allows everyone to have direct eye contact, creating an atmosphere of equality among guests. Round tables are also a great choice if you have an odd number of guests.
But square banquet tables are popular too – some people even favor them as a more comfortable alternative since they often allow more space for elbows when the guests are eating.
Rectangular banquet tables are also very common, but they require a particularly thoughtful seating plan. They come with some specific advantages too: These tables are great, for example, when you want to pull the tables together and create a U-shape or T-shape layout.
Size and Capacity
The size of your banquet table, logically, determines the number of guests they can accommodate. Some events work better when the crowds are distributed to smaller groups, so it's good to have numerous smaller banquet tables. At other times, it's better to go with just a couple of larger tables that will keep your guests close.
Wondering how many people can comfortably sit behind a single table? When it comes to square or rectangular tables, it's usually quite easy to determine, but round tables are tricky. Here's a small hint you can use:
36″ table accommodates 4 people
42″ table accommodates 5 people
48″ table accommodates 5 people
54″ table accommodates 6 people
60″ table accommodates 8 people
72″ table accommodates 10 people
Material
Banquet tables can be constructed of various materials. Each of them comes with some advantages and also some downsides, so you should consider your choice well before making the purchase.
Traditionally, people prefer wooden furniture since it is widely known for its elegance, warmth, and durability. Nevertheless, solid wooden tables are relatively heavy and also a bit pricey. Plywood is a cheaper lightweight alternative, but it doesn't last so long, and it also lacks the sleekness of wood.
Plastic banquet tables, especially those made of high-quality ABS, can now be found at all types of events. Again, they might not be as durable as their solid wood counterparts, but they are pretty light and affordable, and they are also not much affected by humidity, making them great for outdoor events.
Design and Color
If you're buying a banquet table for some particular event, make sure that the design and color will fit well into the overall decor of the venue. For example, wedding banquets and events organized during the daytime usually work well with lighter colors. Evening or night events can go better with darker colors instead.
Of course, if you're planning to reuse your furniture on more than one type of occasion, look for something universal. The natural color of wood, for example, looks well almost anywhere and at any time.
Legs Stability and Load Capacity
One thing you would surely like to avoid is an unstable table with shaky legs – especially if you plan to use heavy centerpiece decorations, candles (or other sources of open flame), heavy loads of food, drinks, and cutleries. Paying good attention to the stability and material of your table's legs is therefore always important.
This applies particularly to foldable tables since repeated folding and unfolding will reveal any constructional weaknesses of your table very soon. In this case, your best option is probably steel – steely legs are thin, durable, and perfectly compatible with heavier loads and frequent manipulation.
Price
Like with all the professional hospitality equipment and furniture, you should not expect your banquet tables to be very cheap since this only rarely indicates high quality and durability. But, on the other hand, you don't usually have to go with the most expensive option either to get a decent piece of a fitting.
Ideally, the price should adequately reflect the size, material, and overall quality of the purchased banquet table. However, if you need to stay on budget, sometimes you can buy these tables in bulks of 5 or 10 pieces at a discounted price. Another option is to buy a second-hand table. Just make sure that it is in a good visual and technical state.
Our Best Banquet Table Reviews
Looking for the best banquet tables for your restaurant, event venue, or catering service? Once you've considered all the factors above, check out our product recommendations below. We have divided them into several categories based on their dominant shape:
Best Round Banquet Tables
As we've already mentioned above, round banquet tables are probably the most popular and universal choice. They come in many different sizes, materials, and styles, though, so you still have some choices to make when you decide on this shape. Here are our recommendations:
Lorell Banquet Folding Table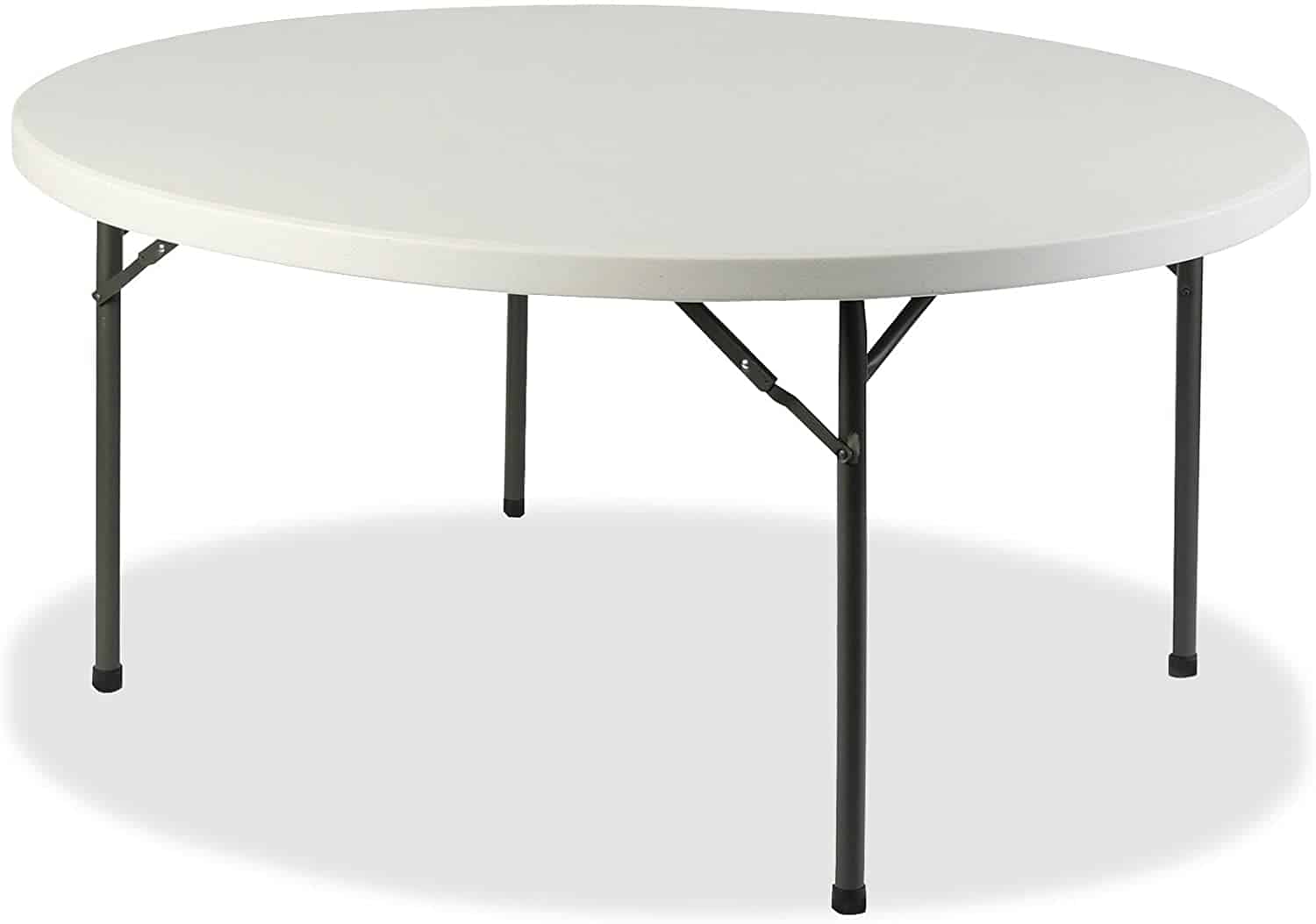 Lorell Banquet Folding Table is a very popular and universal choice. It consists of a blow-molded, high-density polyethylene top supported by four strong steel legs that are able to support up to 900 lbs. of evenly distributed static weight load.
This table comes in three different sizes: 48″, 60″, and 71″ in diameter and a combination of platinum and charcoal gray colors. Although you cannot choose any different color and style here, this is a perfectly versatile choice for a wide range of occasions.
Folding and unfolding is easy, so it's very convenient to store this table away after each event. Lorell is considered to be a reliable manufacturer and boasts many good user reviews. It also provides a great 5-year warranty on its banquet tables. The price of this table is not the lowest, but it's still one of your most budget-friendly options if you don't want to compromise quality.
Pros
Lightweight
Foldable
Sturdy and durable
Three sizes to choose from
Quite affordable
5-year warranty
Cons
Not everyone likes plastic
Just one color/style on offer
Flash Furniture 60RND Wood Fold Table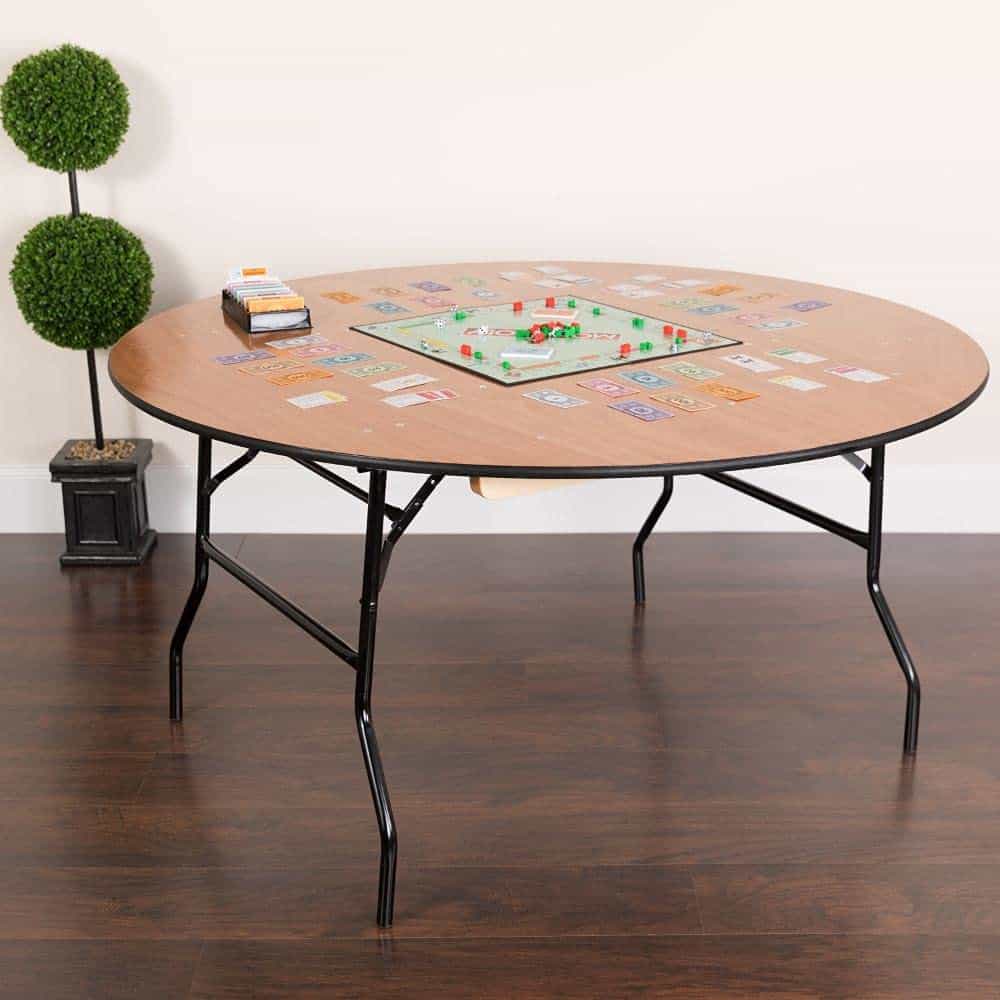 If you prefer a somewhat more natural look, Flash Furniture 60RND is a lovely foldable banquet table made of a .75″ thick plywood top rounded by a black T-mold edge band. It looks sleek and provides versatile usability from family gatherings to charity banquets to business meetings, etc.
The table measures 60″ in diameter, so it comfortably seats eight adults. Thanks to its 18-gauge solid steel black powder-coated wishbone legs, this rounded banquet table can hold up to 930 lbs. of static load. The legs also come with protection caps so that you can use this table safely, even on wooden floors prone to scratches.
Flash Furniture is a reputable company that has been making commercial-grade fittings for more than two decades now. In addition, its tables come with a 5-year warranty. Just be warned that this table is quite expensive.
Pros
Foldable and portable design
Sleek wooden look
Accommodates up to 8 people
Stable steel legs
Great load capacity
5-year warranty
Cons
Quite expensive
Hardware slightly protrudes the top in places
One size only
EventStable Titan Series Wood Folding Table 10-pack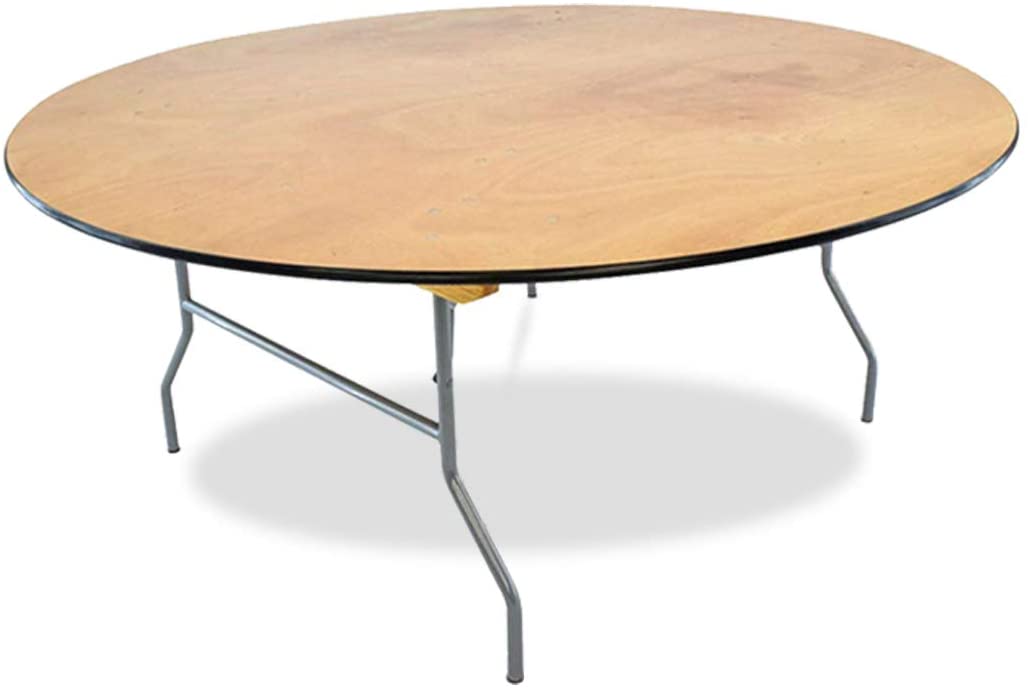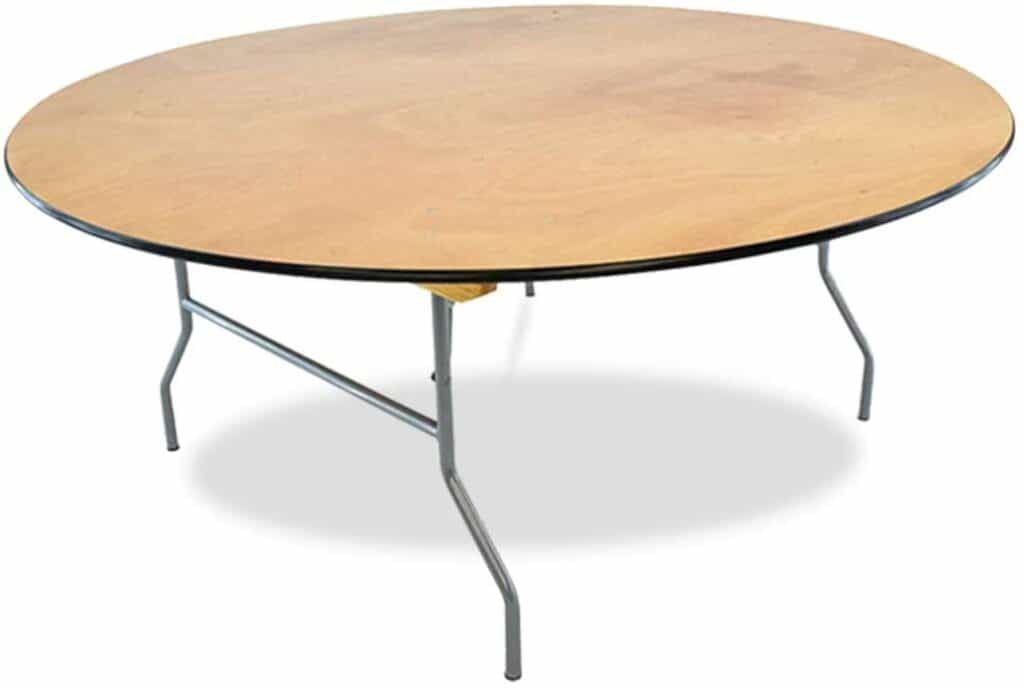 If you're planning to use your banquet table commercially, you're most likely going to need more than one piece. So buying this furniture in bulk can be financially advantageous, and it also eliminates the risk of not getting enough matching tables separately. Are you intrigued?
EventStable Titan Series Wood Folding tables come in super-advantageous 10-pack, but you can also opt for a smaller 5-pack or order just half-round banquet tables from the same series to build even more creative layouts. You can even choose between 60," and 72″ sizes – one 10-pack of these tables can accommodate up to 100 guests!
EventStable tables consist of an engineered wood top, wooden frame, and steel legs. The tables also boast a polyurethane scratch-proof coating that protects the surface from fading and mechanical damage.
Pros
Foldable and portable design
Versatile wooden look
Budget-friendly bundle
Large capacity
Scratch-proof surfaces
Various sizes to choose from
Cons
Relatively heavy
Visible nails
Best Square Banquet Tables
Square banquet tables might not be as popular as their round counterparts, but they are perfectly suitable for many types of social events and gatherings – some modern types of layouts even require them specifically. Check out our recommendations from this category:
ZenStyle Heavy Duty Portable Plastic Folding Table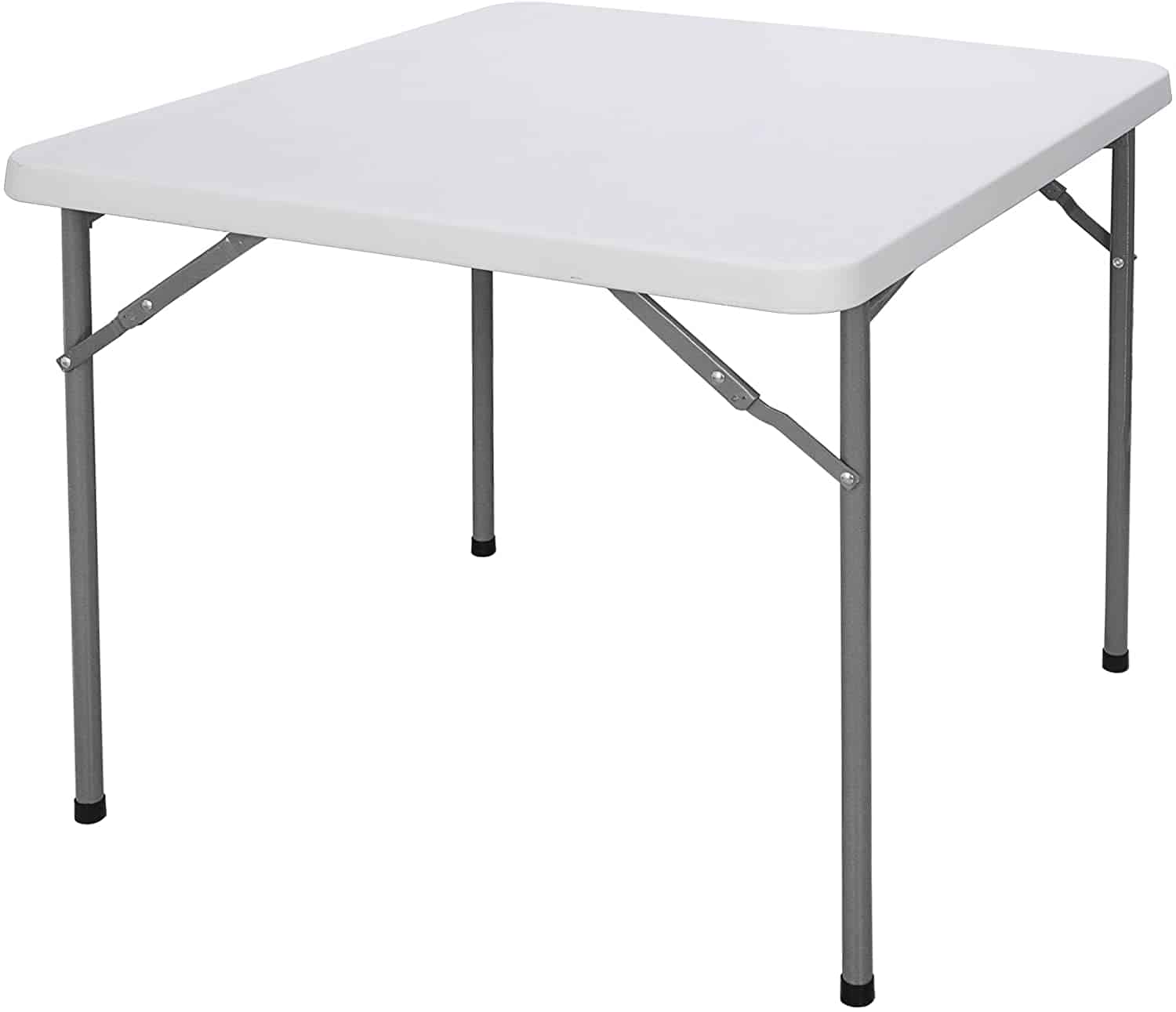 ZenStyle 3 ft plastic folding table is a simplistic yet very efficient and versatile choice for those who want to stay on budget. Its top is made of heavy-duty plastic (HDPE), which might not be the most sophisticated solution visually, but it makes the table perfectly suitable for both indoor and outdoor use.
This table folds to flat, so there's no need to assemble/disassemble it before and after use. It comes with four powder-coated steel round tubing legs with bracing for extra stability. The tabletop measures 34″ x 34″.
The ZenStyle table will carry up to 300 lbs. of weight without any issues. Just beware that the braces must be locked properly for stability – and this takes some physical effort and strength. The legs are equipped with safety caps too – they prevent scratches on the floor and eliminate the unwanted movement of the tables.
Pros
Affordable
Portable and foldable design
Legs equipped with safety caps
Universal application
Conveniently lightweight
Cons
Smaller capacity
Plastic surface
Securing braces properly is quite difficult
BizChair Commercial Grade 31.5″ Square Table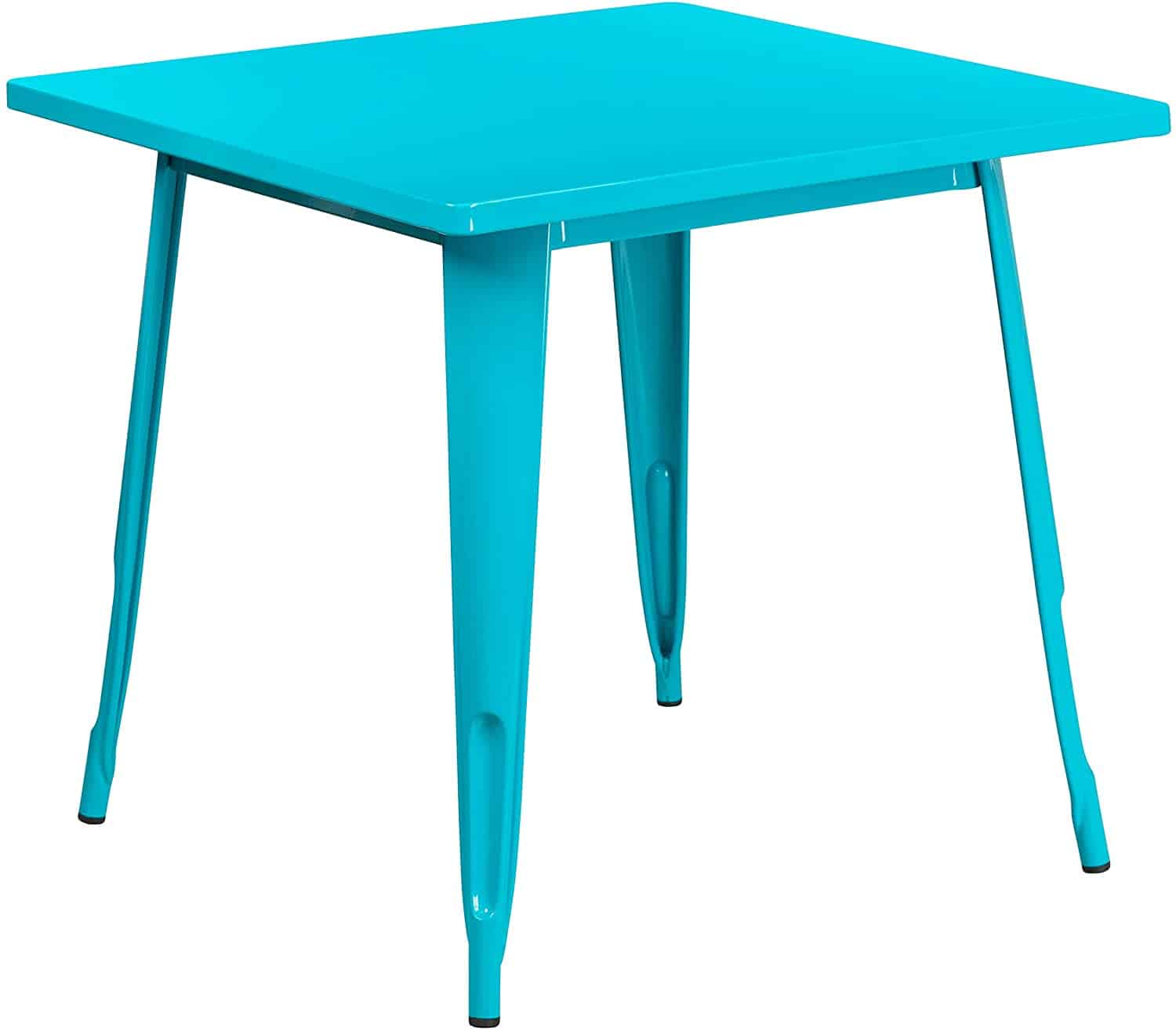 How about an all-metal square table full of colors? Although metal is a relatively rare material when it comes to the top of banquet tables, it comes with some undeniable benefits.
First of all, it withstands almost anything and feels extremely sturdy and reliable. It is suitable for both indoor and outdoor use and copes well with humidity and extreme temperatures too. Secondly, it looks unusual and bold, perfectly matching with a modern industrial-style approach to design.
This 31.5″ square table from BizChair also draws attention with its fresh, bright colors. If you want your banquet to be fun and original, a teal-blue, orange, or purple table can certainly do the trick. Note that this table does not have a foldable design, yet it can be moved safely and easily thanks to the floor glides.
Pros
Durable and stable all-metal design
Fresh contemporary look
Several bright colors to choose from
Reasonable price
Provides good legroom
Cons
Not foldable
Guests must be careful around the edges
One size only
Best Rectangular Banquet Tables
Rectangular banquet tables are typically used mostly for U-shape and T-shape layouts. They are very popular at weddings and family gatherings since they keep all the guests close to each other while providing them with just enough space and comfort. Here are our tips:
Ontario Furniture 8-Foot Plastic Folding Table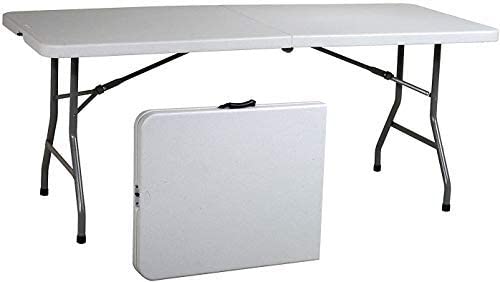 Convenient, very easy to fold, move, or store away, affordable, and reliable. Ontario Furniture's 8-Foot Rectangular Table is simply a great choice for all the event agencies, banquet venues, and catering services that need versatile and simple solutions.
The table boasts an impact-resistant resin surface that is waterproof, scratch-proof, and easy to clean and maintain. It is supported by a powder-coated steel frame with arched rails. The table measures 30″ x 96″, but the whole range offers other sizes too. Once folded, the table can be easily carried away as a light flat square with a handle.
These tables have been on the market for quite some time now, and they were associated previously with some doubts regarding their load capacity; placing heavy objects in the center where two foldable parts of the table meet was particularly problematic.
Nevertheless, the manufacturer has reportedly upgraded the design with reinforced bracing, so it should be perfectly stable now. Given the great price, it's surely worth trying.
Pros
Large capacity
Easily foldable design
Many sizes to choose from
Scratch-resistant resin surface
Budget-friendly
Cons
Some history of stability issues
A thin resin top might not impress everyone
Iceberg ICE55324 Wood Laminate Folding Table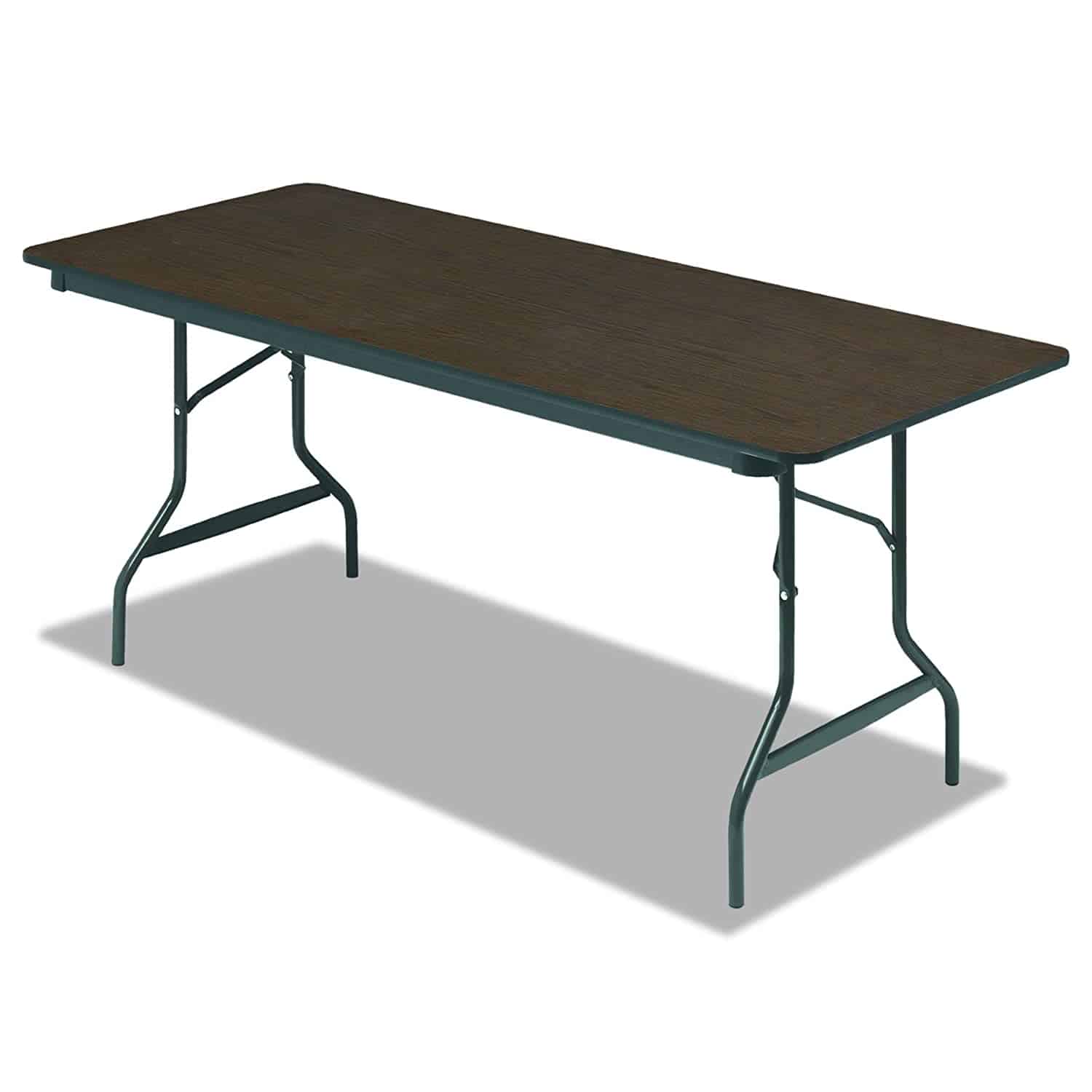 Iceberg ICE55324 is an affordable yet luxurious-looking banquet table consisting of a combination of a wooden frame and a laminated melamine top. With its sleek walnut finish, this table really leaves a great impression, so you can safely use it even for the most special occasions. Moreover, the top is also stain and scratch-resistant.
This table comes in three sizes ranging from 24″ x 48″ to 30″ x 72″. It has sturdy 1-inches in diameter steel legs with protective foot caps. It's easy to fold and transport or store away, and since it's waterproof, you can also use it safely outdoors.
One thing you will surely appreciate about this large banquet table is its reasonable price. That is especially advantageous if you need to buy a whole set of them. Just make sure that you check your table immediately when you receive it – some customers claim they have received chipped products and had to ask for a replacement.
Pros
Sleek design with walnut finish
Large capacity
Easy to fold and carry away
Stable and sturdy steel legs
Three sizes to choose from
Scratch, stain, and moisture resistant
Reasonable price
Cons
History of damaged-on-arrival incidents
Some people might not appreciate the dark color
FAQs
Question: How many banquet tables do you need for 100 guests?
Answer: The total number of tables you will need to accommodate 100 guests varies greatly depending on the size of your venue and the chosen banquet tables. With larger events like this, it is recommended to seat at least 6 to 8 people per one table. This way, you will need between 13 and 17 tables to seat all your guests.
Question: What is the standard height of a banquet table?
Answer: Since banquet tables should feel comfortable for seated eating guests, they are usually high, just like a standard dining table, which is approximately 29″ to 30″. Some banquet tables come with adjustable height legs that allow you to regulate the height manually.
Question: How far apart should banquet tables be placed?
Answer: Each type of venue and event requires an individual approach to the banquet tables layout. In general, however, you should always aim to allow at least 5 feet of space between the tables for chairs and walkways.
Final Verdict
A good banquet table is reliable, stable, yet also easy to move around or store away when not needed. It must be sleek enough to contribute to the overall esthetics of your event, but it should also look versatile and adapt to different styles and environments.
Then, of course, you must also consider your budget – especially if you're buying a whole set of banquet tables at once. Although the cheapest products can sometimes be less durable or look unprofessional, you can certainly find beautiful and trustworthy tables at reasonable prices too.
The rest is more or less preferential. Whether you like the simplistic rounded products like the Lorell Banquet Folding Table, original colorful Square Metal Table by BizChair, or elegant wood-imitating Iceberg ICE55324, we hope that this article provided you with all the information and inspiration you needed.
Are you looking for more expert advice on commercial gastronomic and hospitality equipment? Check out our Best Bakery Display Case guide next!