Latest posts by Alice Smith
(see all)
Under-counter refrigerators are a great option for those who want to save space in their commercial kitchen. They can be installed under existing counters, or purchased fitted into new units and provide an efficient way to store and preserve food items. The size of these refrigerators varies, so it is important that you know what your needs are before purchasing one.
If you are looking for a quality under-counter refrigerator, the first thing to look at is what they have to offer. These refrigerators can be used in many different settings and their features will depend on your needs.
For example, some models come with lockable doors that allow for security in a public setting or an office break room. Other models have shelves that run all the way up the door so you can store large items flat rather than upright which saves space.
In this blog post, we will discuss what an under-counter refrigerator is and how they differ from normal refrigerators. We will also cover some of the most popular models on the market today.
What Is An Under-counter Refrigerator?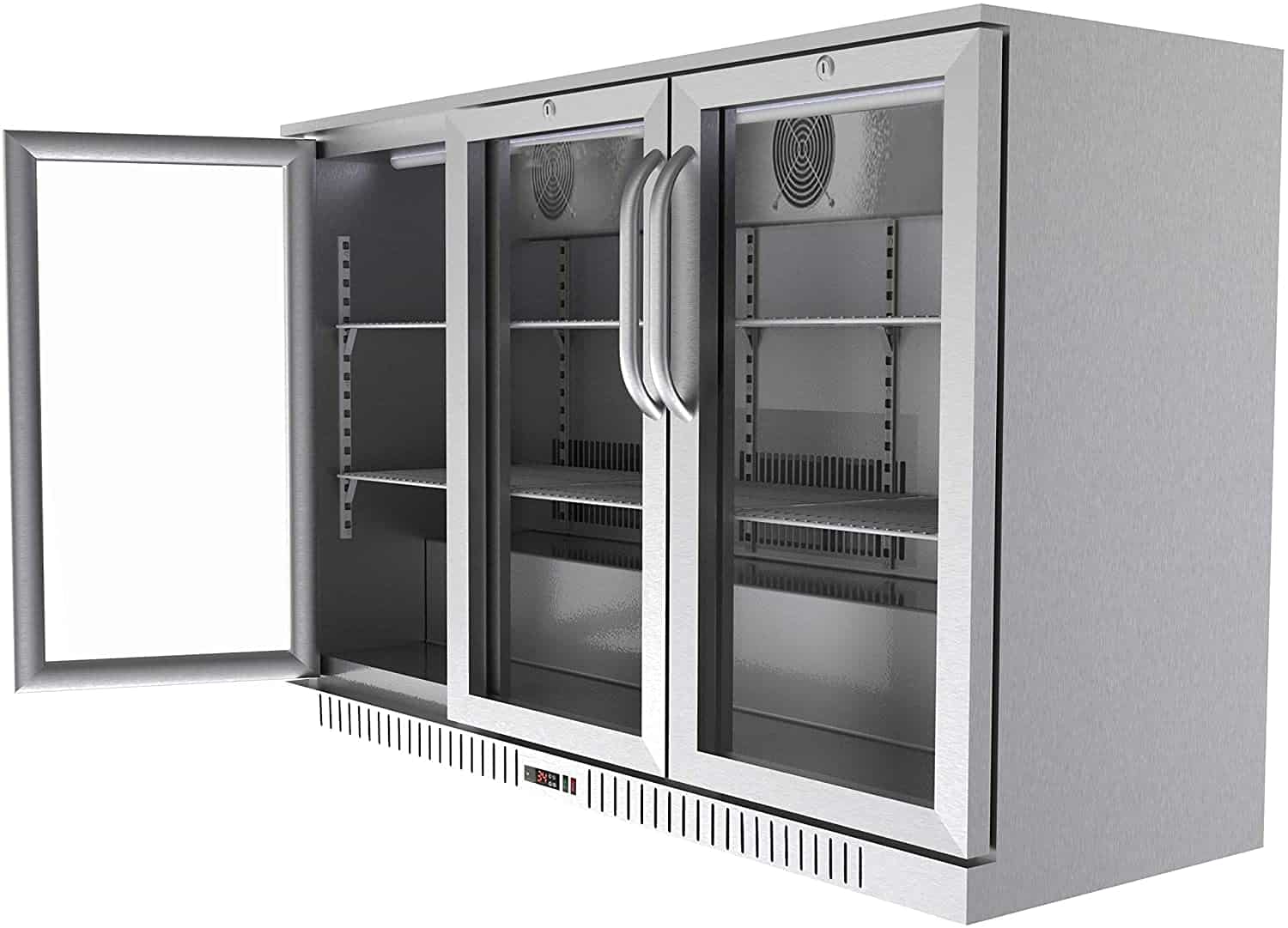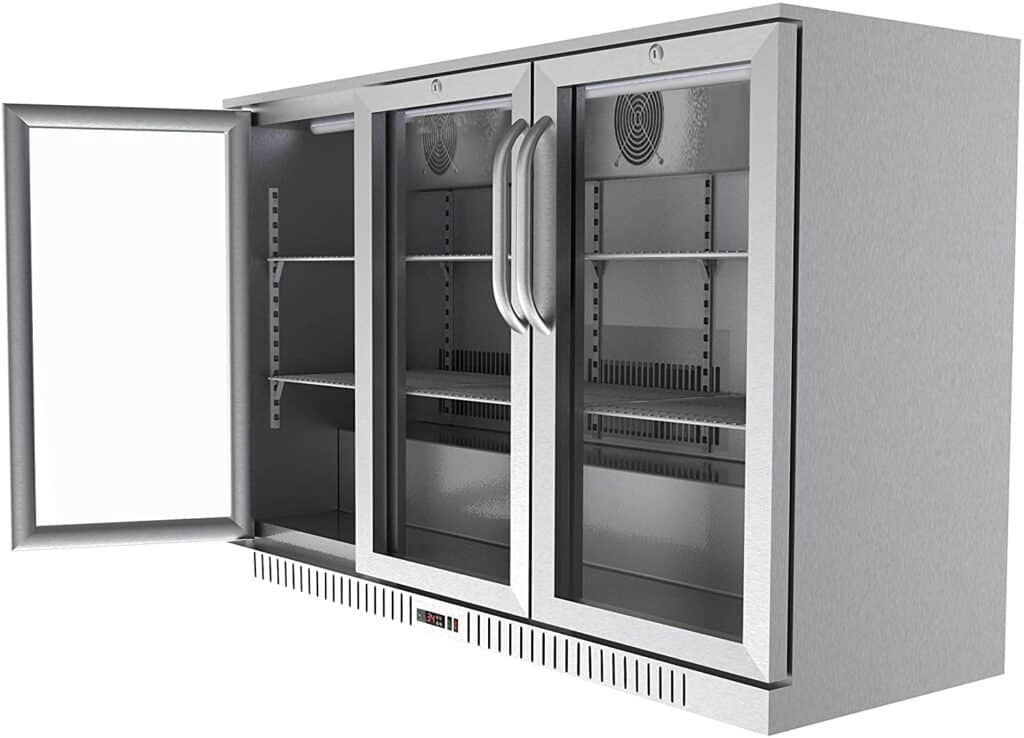 An under-counter refrigerator is a smaller version of a full-sized refrigerator that is designed to fit under your kitchen or bar counter. In a commercial kitchen, these refrigerators are often used in the back to store ingredients needed for food preparation. They can also double as a workbench and come with attached sinks and cutting boards.
You also get freezer models of these. Many people like using them to store cold drinks or snacks outside, but you can even use them to store ice for an outdoor bar.
How Do Under-counter Refrigerators Work?
An under-counter refrigerator works mostly the same as any other type of refrigerator: they remove heat from the space inside and release it outside. The main difference is that they are smaller so they don't need as powerful a compressor or cooling unit to accomplish this task.
Of course, a refrigerator is designed to cool down food and keep it below the temperature danger zone. It does this by changing a liquid refrigerant into a gas, which absorbs heat from the air surrounding it. This makes your food cold. The refrigerant then goes back into a liquid to become cold again!
Under-counter refrigerators usually only have one cooling unit, which runs very quietly. The compressor is inside the refrigerator and works together with several fans that spread cool air throughout your space. This makes them safe for use in commercial settings where noise can be an issue.
What Are The Different Types of Under-counter Refrigerators?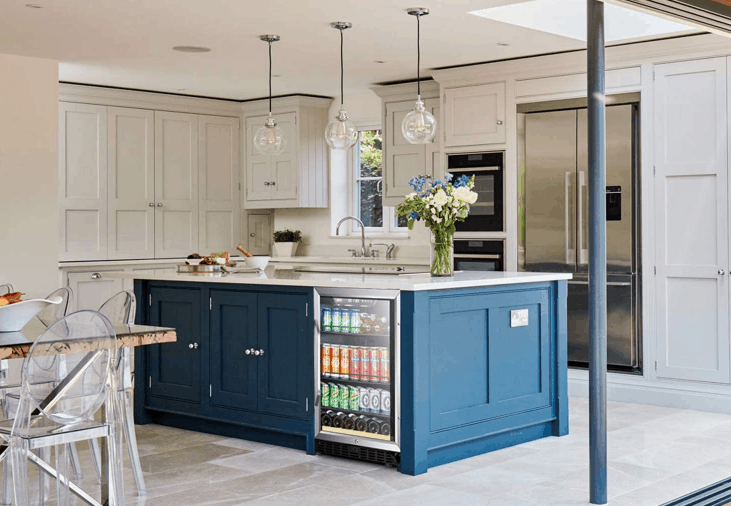 There are several different types of under-counter refrigerators. One type is called a "reach-in" refrigerator, which means that it has doors on both sides so you can access the entire contents from either side.
This makes them ideal for bars and restaurants where bartenders need quick access to ingredients while still being able to serve customers at their bar or tables. These units also come in a variety of colors and finishes, so you can choose one that fits with the rest of your bar or restaurant.
Here are some of the different types of under-counter refrigerators you can buy for your commercial kitchen:
Multi-door Under-counter Refrigerators
As well as simply coming as a single-door unit, under-counter refrigerators can also come in multi-door designs. This can be a 2 door fridge, a 3 door, a 4 door, or even a 5 or 6 door drawer unit.
Portable Under-counter Refrigerator
A portable unit is a smaller, under-counter refrigerator that can be wheeled around from place to place. This is useful in places like an office break room where it may need to go back and forth every day or week depending on how often the space gets used.
Built-in Under-counter Refrigerators
A built-in unit means the refrigerator is built directly into your kitchen unit. This is a good option if you want to keep food separate from drinks, or just don't have enough room on one side of your bar or kitchen.
Cube Slide-out Under-counter Refrigerators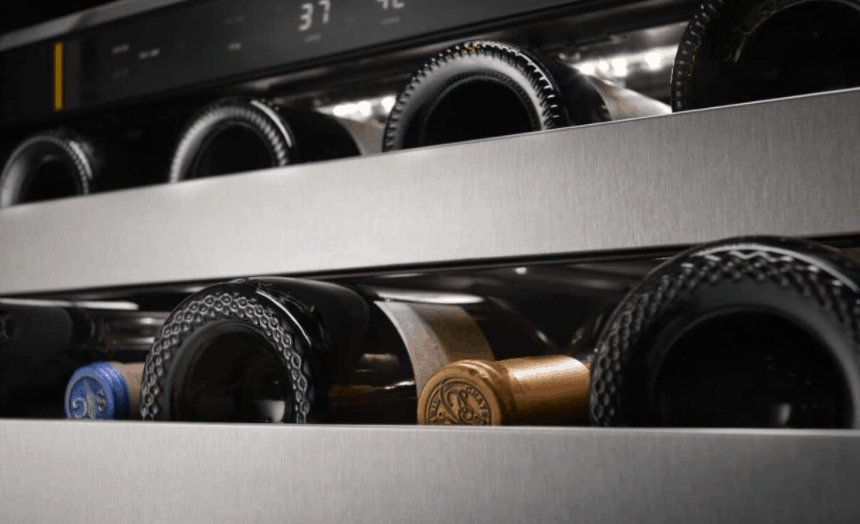 This type of refrigerator easily slides out so that it can access the contents of the refrigerator with ease. This is especially helpful for bars and restaurants where bartenders need to access ingredients regularly, but can't always have their backs turned to customers.
Workbench Under-counter Refrigerator
This type of refrigerator comes with an attached workbench on the front side. This is great for most catering services where food may need to be cut up before cooking. It can also be incredibly useful in smaller kitchens where staff need the extra workspace to prepare food.
Draw under-counter refrigerator
This type of refrigerator has drawers instead of doors like normal fridges. It has pull-out shelving inside and the interior looks similar to a standing freezer in that it has several drawers where you can store food. They are incredibly useful in bars and restaurants where bartenders need easy access to ingredients. Although the stacked nature of the food inside is a little harder to access than a door.
Under-counter Refrigerator Freezer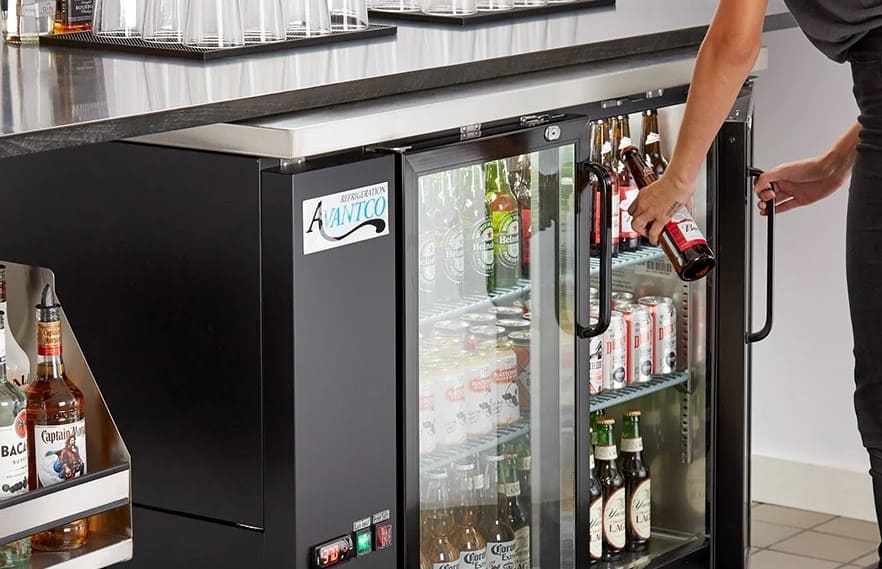 As well as standard under-counter refrigerators that slot under existing units, you can also buy units with a built-in freezer as well as a fridge. These are great for restaurant kitchens where chefs need to store prepped fresh ingredients alongside frozen and be able to access both of them easily. These types of units take up less room than a separate fridge and freezer cabinets while still allowing easy access.
Drinks under-counter refrigerator
This type of refrigerator is designed to store and chill drinks. This can be a great option for bars, restaurants, catering companies, or anywhere else where you need easy access to lots of different types of drinks at any given time. You can also get dedicated under-counter refrigerators with built-in wine racks, ideal for bars.
What Should You Look For In An Under-counter Refrigerator?
There are several factors that affect the performance of an under-counter refrigerator, these are the most important ones to consider:
Size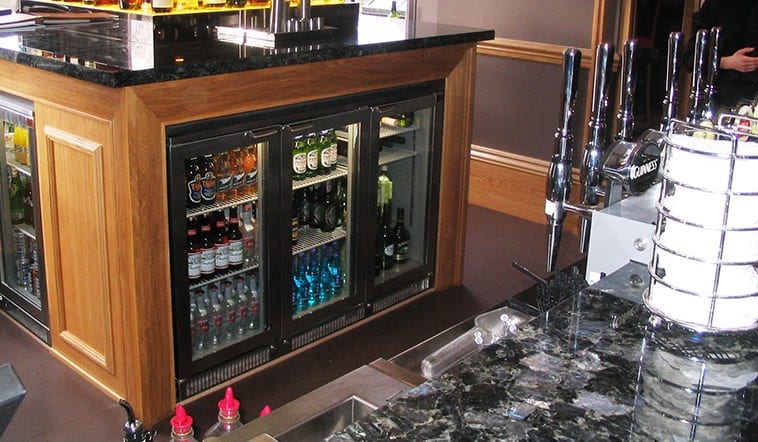 The first thing you need to think about is how much space you have in your kitchen. To make sure that your under-counter refrigerator fits in nicely with any existing cabinetwork or other appliances already there, it's best if you measure up before buying. You will also need to consider how much food you will be stored in it.
The Performance
This is measured by the energy efficiency rating (the more stars, the better) and also how quickly it can cool its contents down as well as maintain a consistent temperature throughout. The size and type of compressor unit inside your fridge will also affect this.
Capacity and Storage Options
It's important to consider how much your under-counter refrigerator can store, as well as what types of shelves or drawers it has inside.
This will vary widely depending on the type of appliance you buy so read up on any features that are included. You may need a fridge with adjustable wire shelving if you have tall items to store in there. Or maybe containers for drinks would be useful? It depends entirely on your needs!
Another thing to think about is whether the unit comes preinstalled. Some units come attached directly underneath an existing countertop while others do not but can easily be installed by custom cabinetmakers instead.
Ease of Use
You'll also need to think about how easy it is to use your under-counter refrigerator. These units are designed to be simple to access, particularly the ones under workbenches, so make sure the interior is easy to see and access. Some models have pull-out drawers or shelves for this purpose.
Noise Levels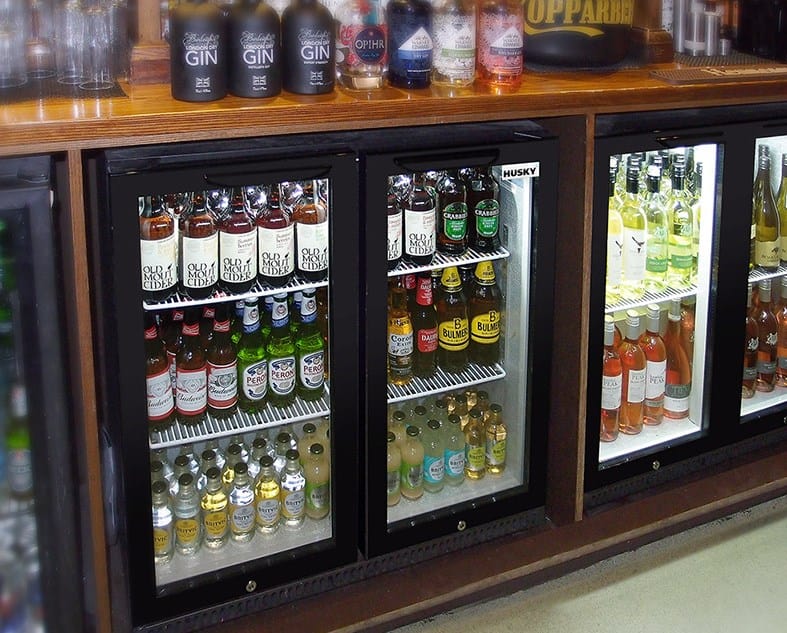 In a busy commercial kitchen, it's important to consider how noisy your under-counter refrigerator is. In a restaurant, you don't want a noisy kitchen appliance disrupting the atmosphere, so bear this in mind when choosing a refrigerator.
Installation
You will need to consider how your under-counter refrigerator is installed. Some are sold as separate units that can be fitted by custom cabinetmakers while others are preinstalled directly underneath the countertop for ease of use. But some need a professional to install them, so you'll need to consider this before you purchase one.
Ease of Cleaning
You should also think about how easy it will be to clean your under-counter refrigerator. You may want shelves that are removable for instance or even a fridge that can be taken apart and reassembled in order to clean thoroughly inside it.
Some models come with stainless steel interiors, which are easy to wipe down but don't hide dirt, as well as other types of lining, might do. The exterior may also require regular cleaning depending on what's around it. Also, how difficult is it to move for when you need to clean behind it.
What It's Made Of
Most under-counter refrigerators are made from stainless steel, which is a very durable material that's also easy to clean. This makes it ideal for busy commercial kitchens where you need something that can be kept looking nice and also be hygienic at all times.
Security
Security is also worth considering. Make sure that the lock on your under-counter refrigerator has a good, strong mechanism to keep it secure and hold items in place safely inside.
Doors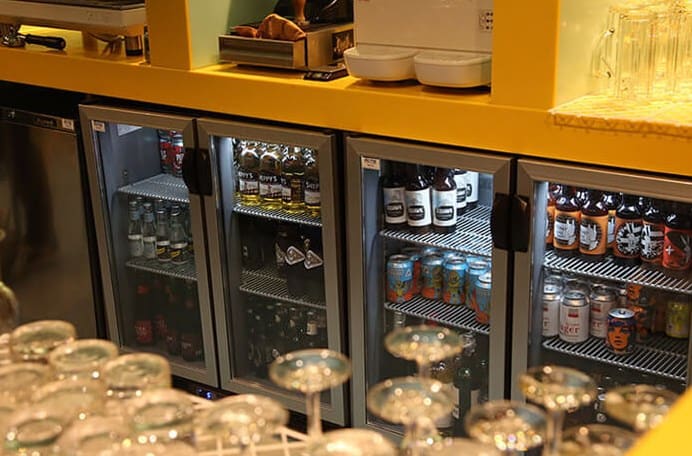 The doors on your under-counter refrigerator are also a key factor. Think about the size and placement of them, as well as how they open – will you need to swing out or slide in? Some models have reversible doors so that you can change this easily depending on your kitchen layout. You'll also need to think about the handles. Full-length handles are much more sturdy and long-lasting than built on ones.
Price
The price of an under-embedded fridge can vary depending on its size and features but also whether or not they come preinstalled. We recommend comparing prices between brands and retailers before buying.
Warranty and Customer Care
Finally but still importantly, you'll want to look at the warranty and customer care offered by any under-counter refrigerator manufacturers. This will vary depending on where you buy from but it's worth looking around just in case.
Features To Look For In An Under-counter Refrigerator
Under-the-counter refrigerators are very simple appliances so there aren't many features you need to consider when looking for one.
Here's a few things that might be useful though:
Adjustable wire shelves – this is a feature that most standard under-counter refrigerators have. It makes them easier to clean and use.
Built-in spill trays for easy cleaning and fewer spills.
Removable hinges – this allows you to take the fridge apart for a thorough clean every time it's needed. Hinges that are removable will also allow you to adjust the height of your refrigerator easily if necessary, or change its direction from one side to another depending on where you need it to be.
Lockable doors with strong locks and hinges for security purposes – this is especially important if you're using an under-counter refrigerator in a commercial kitchen. Make sure the lock on your fridge has good quality screws and a sturdy mechanism to lock it in place.
Drawers, shelves, or other features that make it easy to access items inside the refrigerator without too much hassle.
High-quality insulation that keeps your food cold but also reduces noise levels as well as energy costs over time.
The Major Differences Between Commercial And Household Refrigerators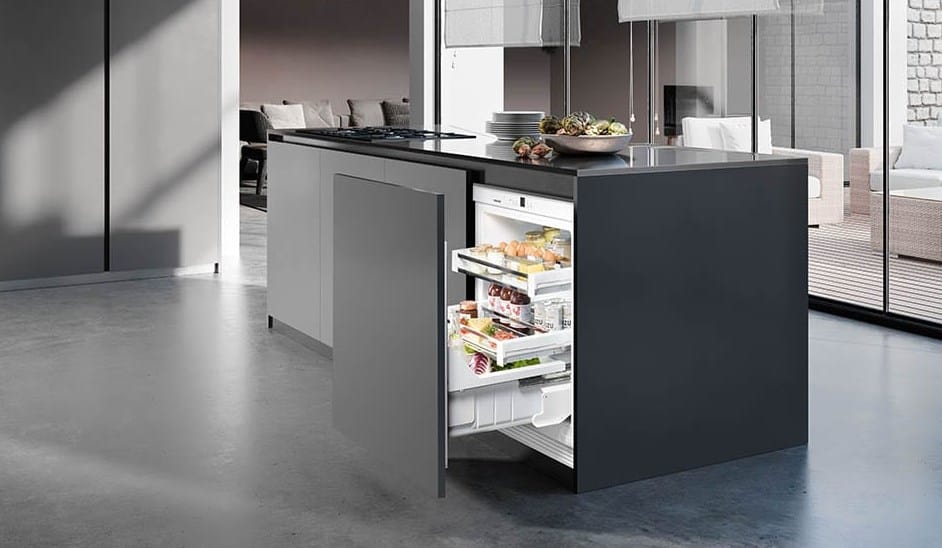 There are several differences between commercial and household refrigerators. These include the following:
Easier To Clean
Commercial refrigerators tend to have features that make them easier to clean and maintain. For example, a built-in spill tray that catches any liquid as soon as it's spilled and can be removed or wiped clean. This makes them much easier to keep looking nice without too much effort from the user.
Stronger Hinges
Commercial refrigerators also have strong hinges made from durable materials so they last longer than those in standard household refrigerators. This allows them to withstand constant opening and closing.
Insulation
Commercial refrigerators are better insulated which means they can keep items cold for longer without losing too much energy over time. This also means they can keep food cold despite the constant opening and closing that comes with commercial use.
Build Materials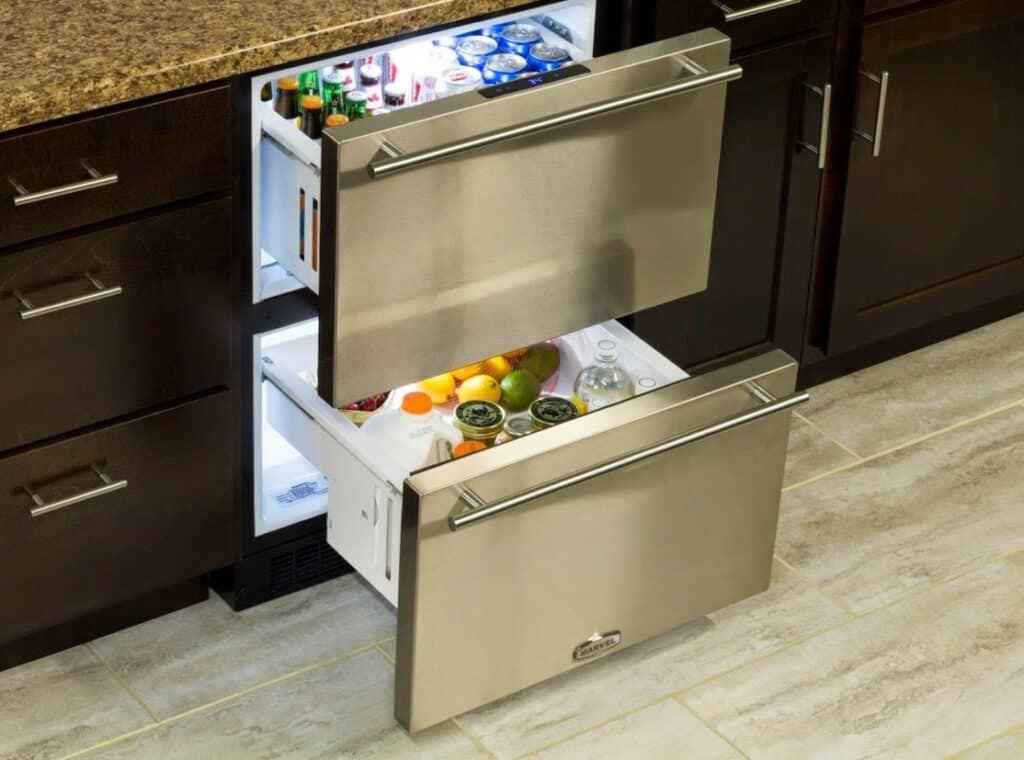 Commercial models are also built from higher quality materials, which makes them sturdier and less likely to break down over time compared with their household counterparts which often use cheaper materials in order to maximize profits when selling for home use.
Compressor
The compressor is another difference between commercial fridges and those designed for households. This is an internal component that's responsible for keeping the temperature inside your refrigerator constant at all times by transforming liquid into a gaseous state then back again as needed. Commercial refrigerators have a compressor that's designed to last longer and provide more cooling power.
Temperature Controls
Commercial fridges tend to have wider temperature zones than household models, which makes them ideal for storing different types of food at once without it all going bad or getting too warm while being stored.
For example, you might want your meat in the bottom compartment while vegetables are kept on top shelves to keep them fresh and crisp. Household fridges often only come with one zone – this means they're not suitable for many commercial uses due to their inability to store multiple items within one fridge safely. If you need extra storage space then having an industrial refrigerator will allow you to do so easily.
Efficiency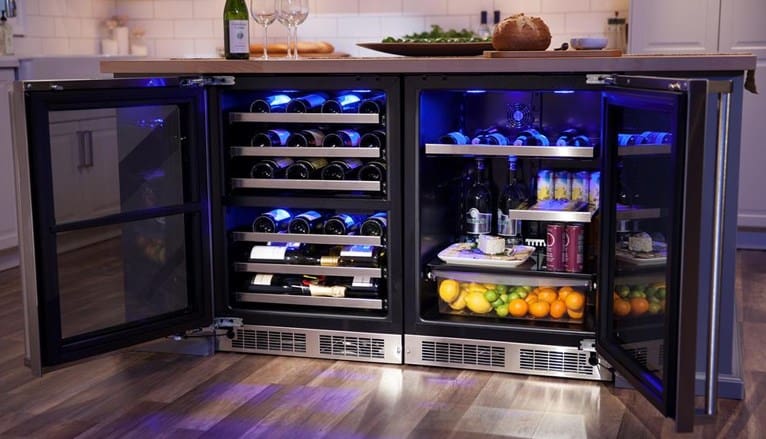 Under-counter refrigerators used in homes aren't as energy-efficient as those made for commercial use. This is because the demands placed on a household refrigerator are typically lower than those required from a commercial fridge – they simply don't need to be as powerful or have extra features like adjustable shelves and better insulation.
Price
The final difference between commercial fridges and under-counter refrigerators is the price. Commercial refrigerators are usually more expensive, but they also offer a lot of extra features and benefits that make them the best choice for commercial kitchens. They also typically come with a warranty of at least one year, while household fridges may not offer anything more than a standard one-year guarantee.
If you need to keep food fresh in your restaurant or cafe, then having an under-counter refrigerator is going to be far better than using a household fridge! These fridges come with many great features that are specifically designed to provide the best storage experience for commercial kitchens.
Our Top Commercial Under-counter Refrigerator Recommendations
Polar U-Series Four Door Counter Fridge 553Ltr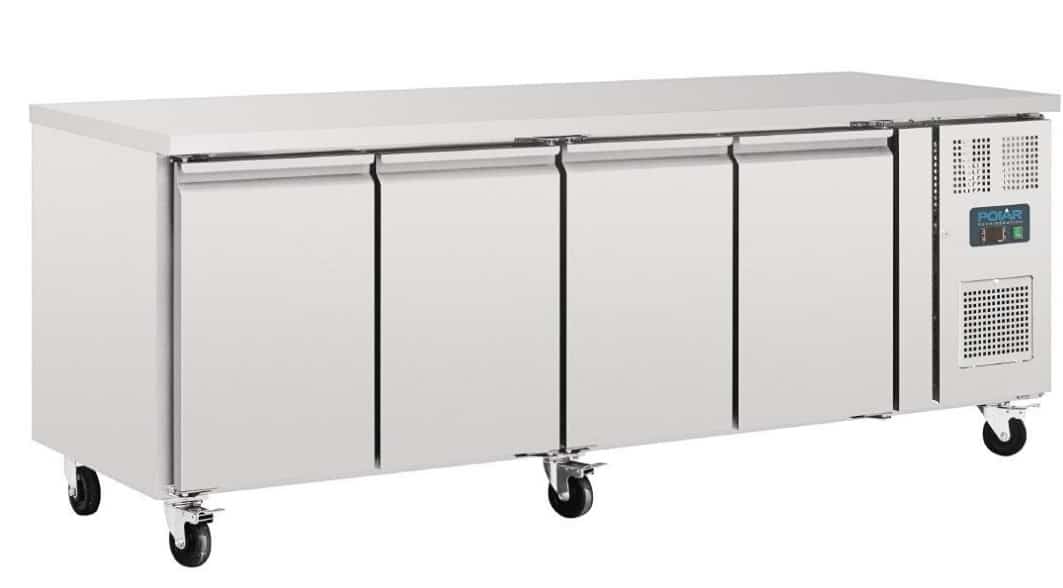 The Polar U-Series counter fridge is a highly dependable counter with a workspace top that is both quick and robust.
There's enough capacity for busy prep times and the heavy-duty casters and stainless steel construction make cleaning fast and simple at the end of service. The digital panel and display, as well as the integrated controls, make it easy to manage. The fridge has movable shelves that can be quickly changed out for gastronorm pots – ideal for short-turnaround ingredients.
The Polar U-Series is the pinnacle of the Polar kitchen refrigeration collection, designed to keep your most essential produce safe and fresh. These units are built to rigorous commercial standards and come with powerful forced air ventilation, which may be used to reduce food waste while also preserving taste. Even in extreme heat, such as 43°C, the Polar U-Series refrigeration unit maintains a consistently cool temperature for lengthy periods of time.
Pros:
Removable shelves
Adjustable lids
Maintains a cool internal temperature even in external temperatures of up to 43
Cons:
Pricey compared to other under-counter refrigerators on the market.
Cater-Cool CK0500LED Single Door Black Bottle Cooler With LED Lighting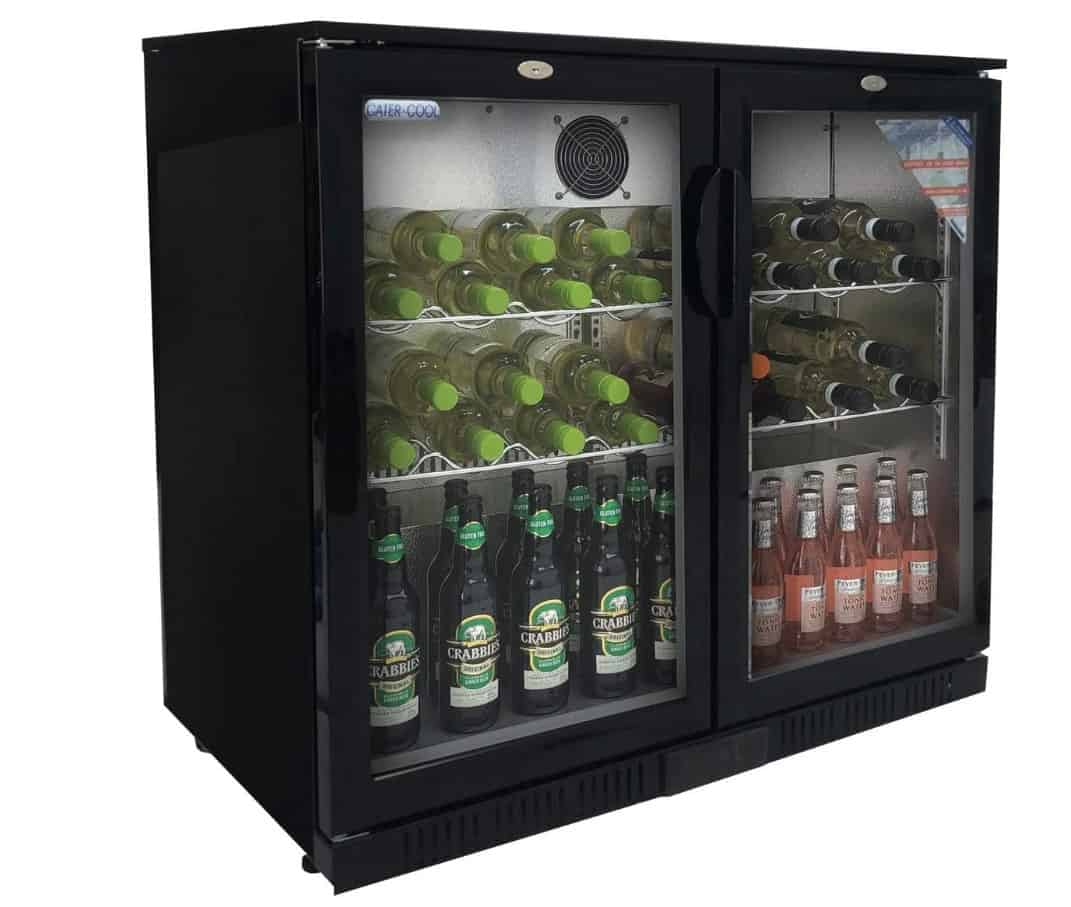 This sleek and elegant bottle cooler is a stylish addition to any bar, club, or restaurant.
This bottle cooler has a HUGE 124 Bottle Capacity with Fan Assisted Cooling and it can be fitted vertically or horizontally for flexible installation under bars of counters. It's Frost Free so you don't have to worry about defrosting this unit ever again – just plug in the power cord and walk away.
The electronic controller will allow you to set your preferred temperature quickly & easily on the adjustable digital display which is located on top of the door front. This sleek single door model features double glazed safety glass panels complete with a lock as standard (lock fixed on the inside) ensuring that bartenders, waiters, and customers alike remain safe from harm at all times.
The extra-thick insulation guarantees that the noise level remains low at just 60 decibels. Meanwhile, the high-quality stainless steel interior makes sure it's easy to clean and will provide a long-lasting solution in any bar environment.
The electronic controller allows you to set your preferred temperature quickly & easily so all you need to do is place items inside and they'll stay cool until needed again.
Pros:
HUGE 124 bottle capacity
Fan assisted cooling – rapid cooldown.
Frost-free interior.
Durable construction, including a double glazed glass door.
Excellent LED internal illumination.
Lock as standard for added security.
Cons:
There's no rack for wine or prosecco bottles so you would need a separate cooler
Blizzard UCR140 Single Door Undercounter Refrigerator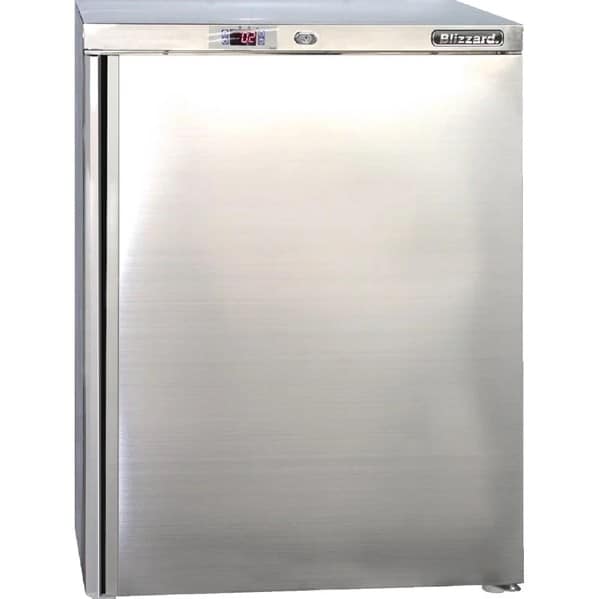 This small, single-door under-counter refrigerator by Blizzard is an affordable and reliable choice for the catering industry. It has a sleek stainless steel design that fits under worktops, prep units of bars thanks to its sturdy construction.
It can even be stacked for added storage potential. With this powerful compact fridge unit, you'll have access to more applications in both commercial catering and medical areas due to its lockable door with a fan-assisted cooling system that keeps food fresh at consistent temperatures throughout the day.
The UCR140 comes equipped with three adjustable shelves, making it versatile enough to accommodate all types of items including packaged goods.
For those who need flexibility with their opening options, the door on this model is reversible from left-to-right operation while locks are included as standard giving peace of mind if valuable goods or medical goods are to be stored within this exceptional small fridge. The UCR140 also sports a simple digital display that allows you to monitor temperature at any given moment.
It is easy for placement and positioning of the under-counter refrigerator with its convenient size while it includes height-adjustable feet (up to 30mm) for precise, level positioning whether on countertops, prep units, or bars. Complying with EU regulation, this model has an A-rating meaning low operational costs and high-temperature retention for safe storage throughout the day.
With all these features in mind, if you're looking for a commercial application refrigeration unit then the Blizzard UCR140 single door under-counter refrigerator will not let you down!
Pros:
Can be stacked for added storage potential
Powerful, compact fridge unit
Fits under worktops and prep units or bars with its sturdy construction
Lockable door
Fan assisted cooling system keeps food fresh at consistent temperatures throughout the day
Three adjustable shelves make it incredibly versatile
Cons:
The single door has restrictive storage space
Foster 3 Drawer 150Ltr Under Counter Fridge HR150 13/106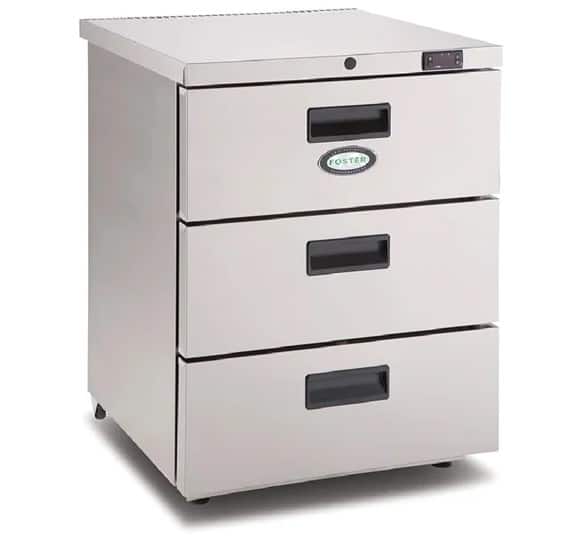 This 3 drawer fridge by Foster is great for small kitchens or to use as an additional fridge in larger spaces. It provides that extra storage for food prepared in the kitchen, which helps to avoid having too much waste.
The under-counter fridge has three built-in gastronorm drawers and front breathing refrigeration with magnetic gaskets so it is great for ensuring optimum hygiene when placed next to other appliances or close to ingredients. It also has easily accessible digital controls so you can easily adjust the temperature for food safety.
This under-counter refrigerator has s sturdy stainless steel and aluminum design, an A energy rating, and a front-breathing system meaning it can be used in enclosed spaces.
Pros:
Extra storage space
3 handy drawers
Modern, compact design
Can be used in small, enclosed spaces due to its front-breathing system
Cons:
Might not be suitable for larger kitchens or areas due to their size
Williams Aztra Double Door Undercounter Refrigerator 234Ltr HAZ10CT-SA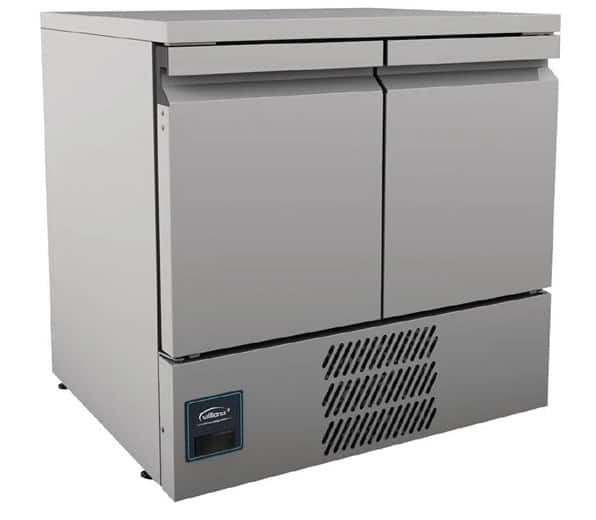 This double-door under-counter refrigerator by Astra is a great option for commercial kitchens. It is capable of temperatures between +1°C to +4°C, which ensures you'll be staying out of the danger zone. It's also very energy efficient, which will save you money on electricity bills.
This under-counter refrigerator for commercial use is a great option because of its wire shelves that are coated with nylon—which means they're easy to clean and won't rust or corrode. Plus, the refrigerant used in this fridge has zero ozone depletion potential and low global warming potential.
This refrigerator also has an automatic air-cooled condensing unit and fully automatic defrosting system, along with other features like a front-mounted digital controller (that can reduce energy consumption), self-closing doors that keep out the heat, and a magnetic balloon door gasket with 100% tight seal, racking system inside the fridge
And it comes with a two-year warranty as well! If you are looking for an under-counter refrigerator that will do its job well but won't cost you too much in electricity bills then this model by Astra could be a perfect choice!
Pros:
High ambient temperature
Easy to clean wire shelves with nylon coating
Digital controller for reduced energy consumption
100% tight seal magnetic balloon door gasket
Cons:
A larger kitchen might need more than one
A bit expensive
What Criteria Did We Use To Make These Selections?
The criteria we used to come up with these selections are features, reviews, and price. First, we looked at the features the units had to see if they were beneficial for commercial use. This included things like how many doors each unit had, the size of storage space, and what material it was made out of.
Then we looked at reviews to see if customers were happy with their purchase or not. We also considered the brand of the unit because some brands have a reputation for being more reliable than others. We looked at the size of each unit, as well as what material it was made from to ensure that you get a good product.
Lastly, we took their price into account as well since it is important that your purchase will be worthwhile.
FAQs
Question: How do I choose a commercial refrigerator?
Answer: To choose an under-counter refrigerator, it's essential that you consider the commercial environment it will be used in. For example, are there going to need to store many different types of food at once? What's the capacity of your fridge going to be by volume and weight? Is it important that you have a refrigerator with adjustable shelves?
Question: What are the advantages of an under-counter refrigerator?
Answer: An under-counter fridge offers many benefits over normal household fridges if you need to store food in a commercial environment.
These benefits include higher capacity due to larger internal volume and weight capacity (although this does vary depending on model); larger temperature zones, which means you can store more types of food inside the one fridge without having to worry about them going bad; and better insulation, which means your food will stay fresher for longer periods of time before it starts to go off or needs to be thrown out.
Question: Are commercial under-counter fridges more efficient?
Answer: Commercial under-counter refrigerators are more efficient than household fridges. This is because they're designed to provide more cooling power and last longer, which means you won't need to replace them as regularly – saving costs in the long term. These types of refrigerators also tend to have wider temperature zones that allow for better insulation.
Question: What is an industrial refrigerator?
Answer: An industrial refrigerator is an under-counter fridge that's designed for commercial use. This means it offers many benefits not offered by household fridges, like high capacity, adjustable shelves, and better insulation capabilities to keep your food fresh even longer.
Question: How long can you keep food in a refrigerator?
Answer: As a general rule of thumb, you should be able to keep food in your under-counter refrigerators for around three days. However, this does vary depending on the type or quality of the product that you're storing inside – fruit and vegetables will usually last anything from 5 days to a week before they start to go bad whereas, with meat, you'll need to be a lot more careful.
Question: How cold should a refrigerator be?
Answer: Under-counter refrigerators should be kept at between 1-4°C, which is the industry standard for commercial fridges. This ensures that your food stays fresh and doesn't go off before you need to use it, but also makes sure that it doesn't freeze.
Question: How much does an under-counter refrigerator cost?
Answer: The cost of under-counter refrigerators varies greatly depending on the brand and model that you're looking at. For example, a small fridge from a minor manufacturer might set you back around $500 whereas, for serious high-end brands, it's more likely to be anywhere between $1000-$2000.
Question: What is the life expectancy of a commercial refrigerator?
Answer: The life expectancy of a fridge depends on the brand and model that you choose, as well as how much it's used. For example, if you're using your under-counter refrigerator in a commercial kitchen with high turnover throughout the day then they will need to be replaced more frequently than one that is just being used at home by family members. However, on average, an under-counter refrigerator will last between 6 and 10 years.
Best Commercial Undercounter Refrigerator:  Conclusion…

The best under-counter refrigerator for commercial use will depend on the capacity of your fridge, what type of food you're storing inside it (vegetables vs. meat), and how much space is available in your kitchen. The life expectancy also varies depending on these factors – an industrial refrigerator may last 6 to 10 years while one used at home by family members might only need replacing every decade or so.
Overall, our favorite under-counter refrigerators for commercial use are the Polar U series refrigerator and the Williams Aztra Double Door Undercounter Refrigerator because they provide the best value for money, come with useful features like adjustable shelves and temperature zones that can be set to different levels.
We hope this blog post has answered all your questions about the best under-counter refrigerators for commercial use and that you'll consider these brands when it's time to replace your old refrigerator.