Latest posts by Jodie Chiffey
(see all)
Commercial freezers come in many different shapes, sizes, and price ranges. Choosing the one that will fit your place perfectly can therefore be a bit complicated. Struggling to make a sensible choice? We're here to help. Today we'll discuss Kelvinator, one of the most popular freezer brands on the market, and evaluate how good it really is.
The aim of this comprehensive Kelvinator freezer review is to help you decide whether a Kelvinator freezer is right for you.
Freezers are among the most important and widespread types of commercial kitchen equipment. Regardless of whether you're running a small restaurant, large fast-food, snack bar, ice-cream parlor, or a grocery store, you're most likely going to need one (or even multiple) too. But no two freezers are the same, and maybe the one your friend praises won't suit your specific needs at all.
Nevertheless, searching for your new freezer in the vast range of Kelvinator products is (almost) always a good idea. This renowned brand has an extensive catalog of reach-in, chest, under-counter, and fridge freezers that offer great solutions for many different types of users and places.
Today we'll try to summarize all the general qualities and even some potential drawbacks of these products. Nevertheless, we'll also focus on one particular Kelvinator freezer that is considered to be one of the most versatile and popular choices: Kelvinator Commercial KCCF210WH, a universal mobile chest freezer with good capacity, many convincing features, and affordable price.
Let's check the freezer's most important technical specifications first:
Key Specifications of Turbo Air Refrigerator
| | |
| --- | --- |
| Name of the model | Kelvinator Commercial Freezer KCCF210WH |
| Type of freezer | Mobile chest solid top freezer |
| Capacity | 20.9 cubic feet |
| Temperature | Adjustable range from -15°F to 10°F |
| Controls | Thermostat dial with eight temperature setting |
| Dimensions/weight | 29.5 x 70.7 x 36 inches / 240 pounds |
| Refrigerants | Hydrocarbon refrigerant gas R290 |
| Latest price | Click here for the latest price |
Core features of Kelvinator freezer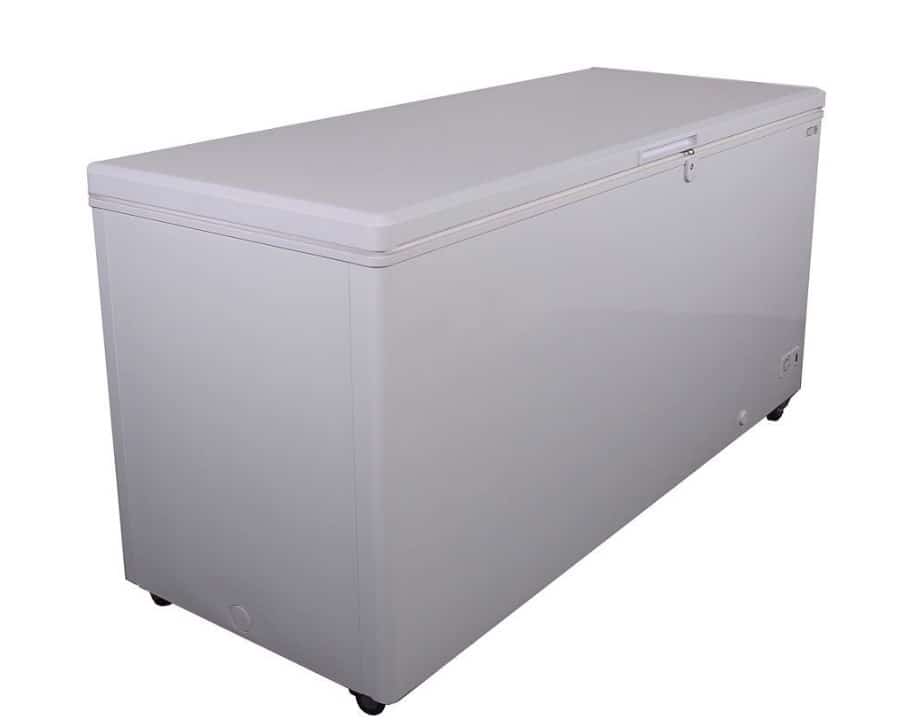 Whether you're a seasoned professional or you're searching for the very first commercial freezer in your life, it's always a good idea to start by creating a list of desired features and qualities before you start browsing through catalogs. Are you looking for a large or smaller freezer? Should it be upright, walk-in, or horizontal? Solid door or transparent display? And what is your actual budget for this investment?
Answering these fundamental questions can make decision-making much easier and faster. Once you know your preferences, compare them side by side with the following characteristics of Kelvinator's KCCF210WH to find out if this freezer fits you:
Construction and design
Kelvinator KCCF210WH is a commercial-grade heavy-duty freezer with a simplistic and versatile chest design. If you've never had this type of freezer before, you can simply imagine it as a large horizontally-positioned cabinet with a hinged upright-opening lid.
This design is very popular in both restaurants and grocery stores, but based on the solid top of this unit (there's no glass display for the customers to see in), it will probably serve the best in kitchens. Many people even reportedly have one of these machines at home – especially avid hunters or fishermen with large supplies of meat can certainly appreciate its capacity.
Talking about size, this chest freezer seems like a good compromise for those who need to squeeze as much freezing area as possible into a somewhat limited space. KCCF210WH's capacity is 20.9 cubic feet, and it measures 29.5 x 70.7 x 36 inches. The unit weighs 240 pounds, but thanks to the included set of caster wheels (the two front wheels even have brakes for more stability), you can move the chest freely from place to place as needed.
An excellent commercial-grade freezer should be exceptionally sturdy to withstand many years of service in the hectic environment of a professional kitchen. Kelvinator freezers are very well equipped for this task since they are all constructed of top-grade stainless steel.
This particular model is also painted white. Although this is primarily a preferential thing, keep in mind that the white unit will be a bit more demanding on cleaning.
On the other hand, the steely surface of the chest is also somewhat protected by the layer of paint, which can be seen as an additional benefit too. Some of the other features of this freezer include the soft closing lid mechanism, lid locks, top-quality foamed insulation, storage basket, and removable rubber bumper guards.
Functions and Controls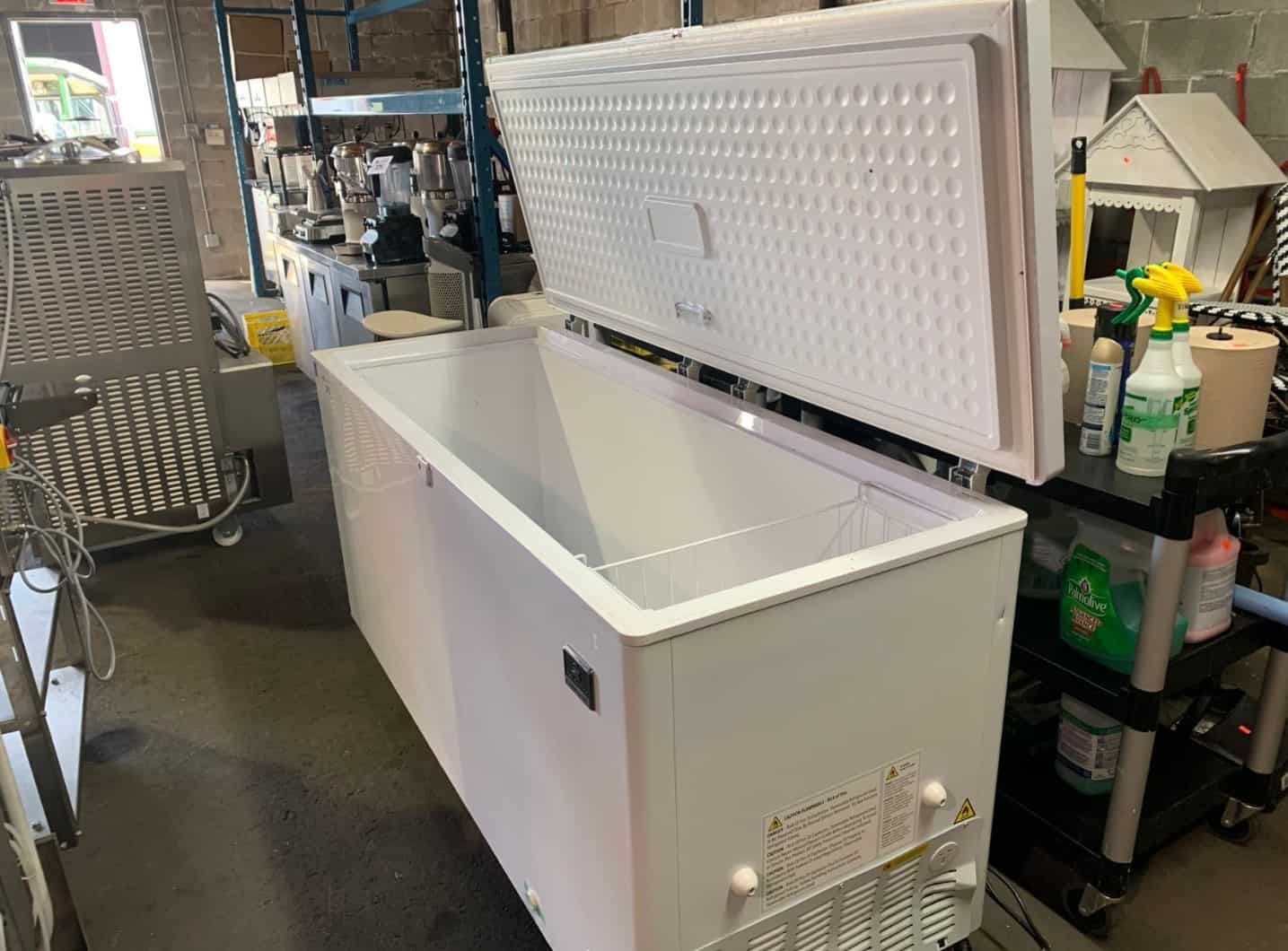 Modern, sophisticated freezers, including the Kelvinator products, are much more than just icy cabinets. Their innovative controls and advanced functionality can help you get the most out of the freezing and improve your overall workflow in the kitchen.
Kelvinator KCCF210WH, for example, comes with an adjustable temperature ranging between -15°F and 10°F. The lowest setting allows a true deep-freezing, ideal for safe long-term storage of some more demanding food types (e.g., some types of meat).
The higher part of this range, on the other hand, allows convenient lighter freezing for products of daily use. In addition, it takes just a little time and effort to defrost these products, so they are readily available when needed.
The 8-position thermostat dial manages the temperature setting: number 1 provides you with the warmest and number 8 with the coldest setting. In practice, this setting works very well, and the freezer doesn't have any problems achieving the desired temperature or maintaining it constantly.
Keep in mind though, that the thermostat shouldn't be tempered more than once every 8-9 hours to achieve full stabilization of the freezer's temperature. Also, given the size of this unit, expect it to take some time until the freezer becomes really cold and ready to accommodate your food.
Besides its adjustability and wide temperature range, Kelvinator KCCF210WH is also sought-after due to its eco-friendliness and energetic efficiency. The freezer uses modern hydrocarbon refrigerant gas R290 with very low environmental impact. It also holds an Energy Star certification. One small downside is that this unit is relatively noisy, which might be an issue if you store it close to the seating area of your venue.
Safety and Reliability
Kelvinator is preferred and trusted by thousands of American entrepreneurs in the gastronomic business due to its reliability and durability. Another important factor is the company's full compliance with the safety standards – these freezers should be perfectly immune to numerous potential hazards, including short circuits, refrigerant leaks, or overheating.
The manufacturer also offers a warranty on all of its products. For example, the Kelvinator chest freezer KCCF210WH includes a general one-year warranty on the whole product plus a 5-year warranty on some critical components (e.g., compressor).
Although experienced users claim that these freezers work mostly flawlessly and can be relied on for many years, it's good to know that there are many experienced servicemen around the country able to repair these freezers if needed. Kelvinator also has a vast catalog of spare parts, so dealing with a potential malfunction shouldn't be too difficult.
Price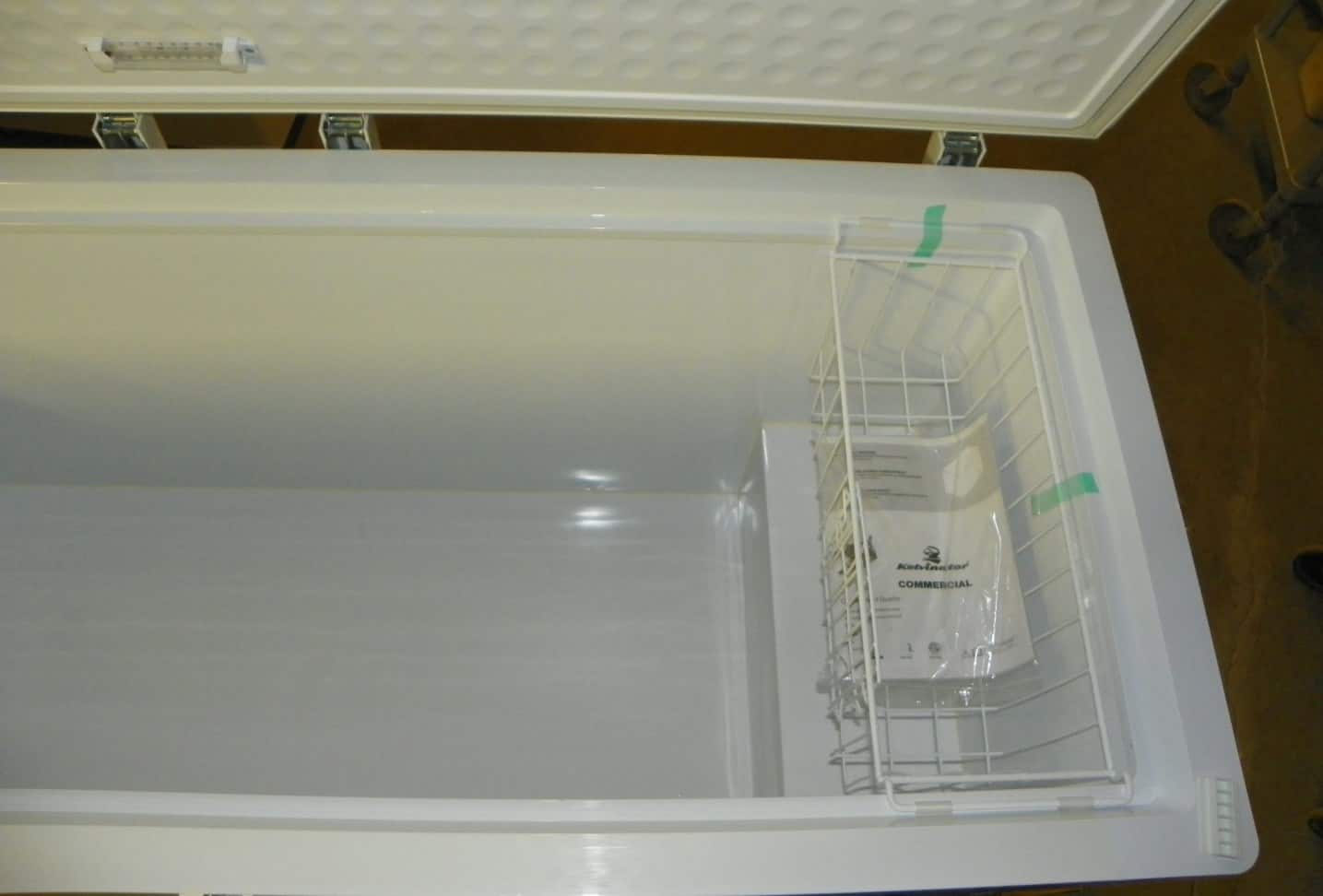 Commercial freezers are, in general, considerably more expensive than standard appliances designed for at-home use. Nevertheless, Kelvinator has many affordable models that can fit pretty well even in tighter budgets. Of course, the price usually depends mainly on the size and included features of your desired unit. For the latest price of Kelvinator KCCF210WH, click here.
Pros of the Kelvinator Freezer
If you're still struggling to decide whether this freezer is your best option, let's briefly summarize the Kelvinator's greatest strengths and assets once more:
Durable Construction
Kelvinator freezers are made of top-quality stainless steel. All of its components feel sturdy and robust too. If you're looking for a piece of kitchen equipment that can withstand the hectic life in your kitchen for many years after the purchase, this seems to be a reasonable choice.
Wide Temperature Range
If you understand the difference between standard and deep freezing, you will surely appreciate that this modern unit can do both. It provides you with a wide range of possibilities and allows you to get the most out of your food supplies.
Precise Setting and Constant Performance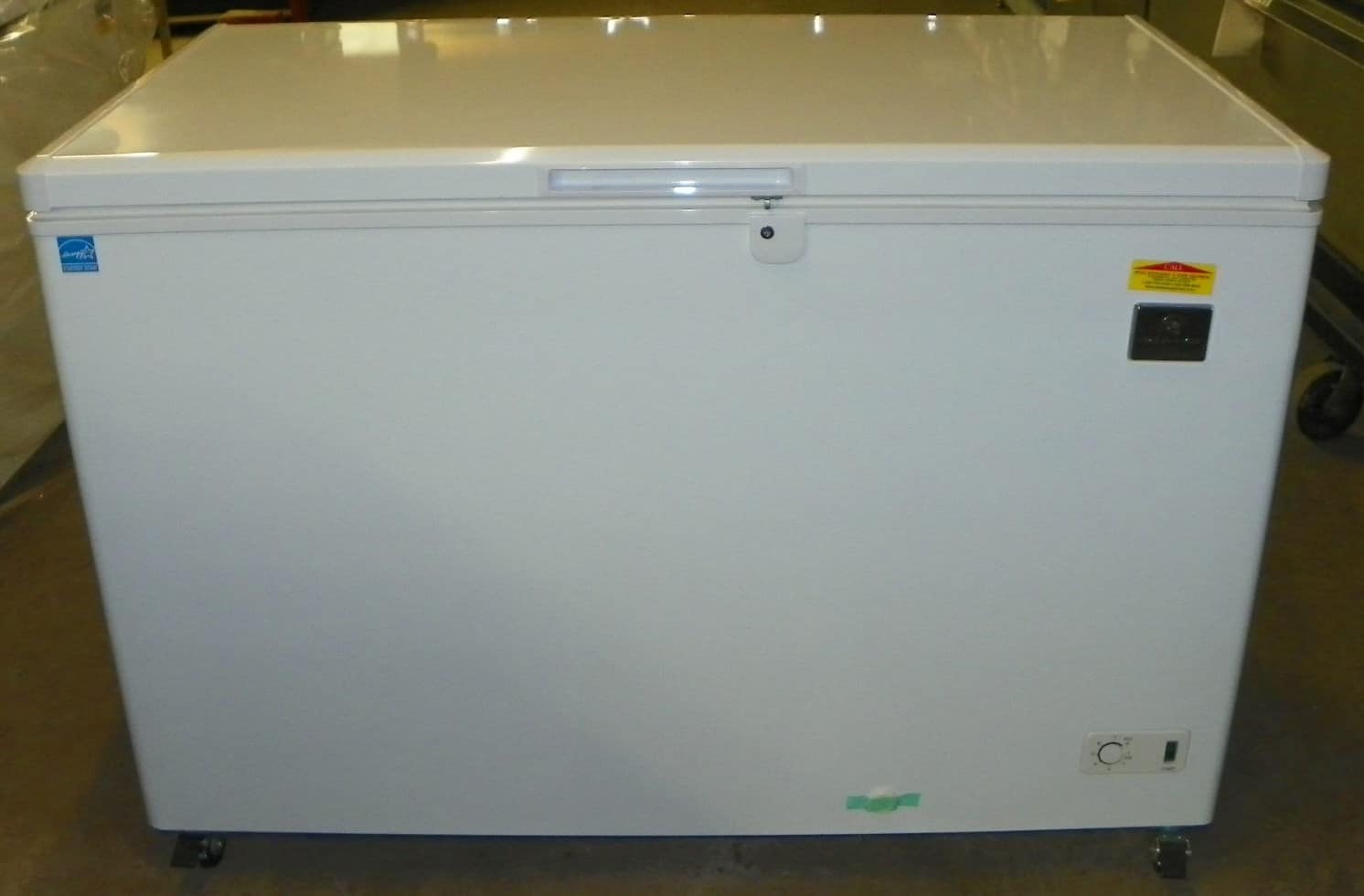 Thanks to the precise mechanical thermostat dial and thick foam insulation, this freezer is perfectly capable of achieving and maintaining the exact temperature you need from it. This contributes to the overall quality and lifespan of the stored food, and it also cuts operational costs.
Green Technology
Refrigerators and freezers are sometimes frowned upon for their considerable environmental impact. Nevertheless, Kelvinator's new range of freezers adopts modern hydrocarbon gas refrigerants technology, which is much more eco-friendly than the standardly used chemicals.
Energetic Efficiency
The operational costs associated with the commercial-grade freezers can be relatively high. Kelvinator's Energy Star-certified units are a great alternative for those who want to keep these expenses as low as possible.
Convenient Features
Kelvinator freezers are much more than just simple ice cabinets. Numerous innovative details such as the soft closing lid, integrated caster wheels, lid locks, included basket, etc., make their everyday use very convenient and user-friendly.
Reliability and Warranty
A broken freezer is certainly a nightmare for every commercial kitchen. If you invest in some of the trusted and reliable freezers from Kelvinator, such a disaster is highly unlikely. In any case, the manufacturer provides you with a warranty. Moreover, finding both experienced repairmen and compatible parts for this popular range of appliances should be a breeze.
Cons of the Kelvinator Freezer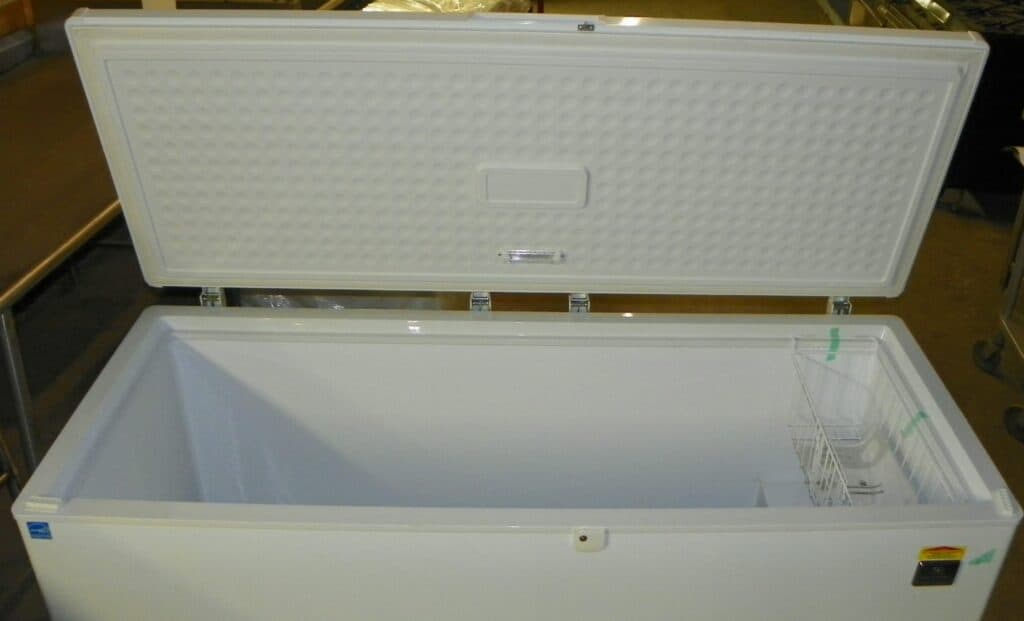 If you search through the whole range of Kelvinator freezers, you'd probably be able to find the right model for you regardless of your preferences and needs. Nevertheless, if we focus just on the versatile Kelvinator KCCF210WH, here are some cons that might discourage you from the purchase:
Chest Design Has Limited Use
Solid-door chest-type freezers might be great for most restaurant kitchens, but they probably won't suit you at all if you're running a grocery store, walk-in deli, ice-cream parlor, or some other types of venues where frozen products should be on display. (Nevertheless, if this is your case, we have some good recommendations for you in the Alternatives section below.)
White Paint Is Not For Everyone
If you're a fan of traditional silver shining steel, white-painted freezers by Kelvinator might not be your cup of tea. Besides the aesthetics, though, white appliances are also more demanding on the cleaning. Even the tiniest spots on them are usually visible at first sight.
Relatively Noisy
Most commercial kitchen appliances do produce some level of noise during their operation, so it shouldn't surprise you that Kelvinator freezers are relatively noisy too. If you cannot place it far enough from the delicate ears of your guests, this might be an issue.
Are There Any Alternatives?
Not entirely sure about the Kelvinator's commercial chest freezer KCCF210WH? Here are some alternatives from the same manufacturer that might suit you better:
Kelvinator KCHUC48F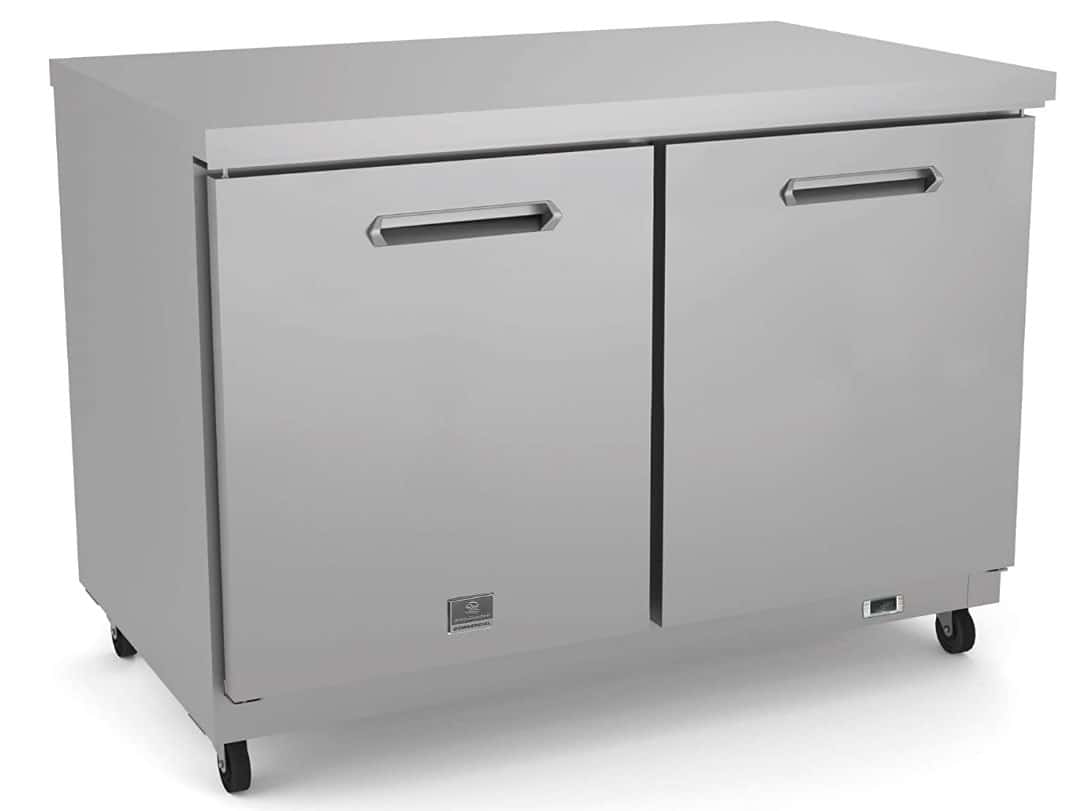 Are you looking for a handy smaller freezer that would fit under the counter and save some space in your small/cramped kitchen? Kelvinator KCHUC48F is a compact under-counter freezer that might suit your needs just perfectly. It comes with a convenient 12 cubic feet of capacity and an optional 1-door or 2-door setup.
You also might appreciate its silver finish, and automatic defrost cooling system, adjustable vinyl-coated shelves, and some other nice details. This is a particularly good choice for smaller venues, bars, or coffee shops.
Kelvinator KCHRI54R2DFE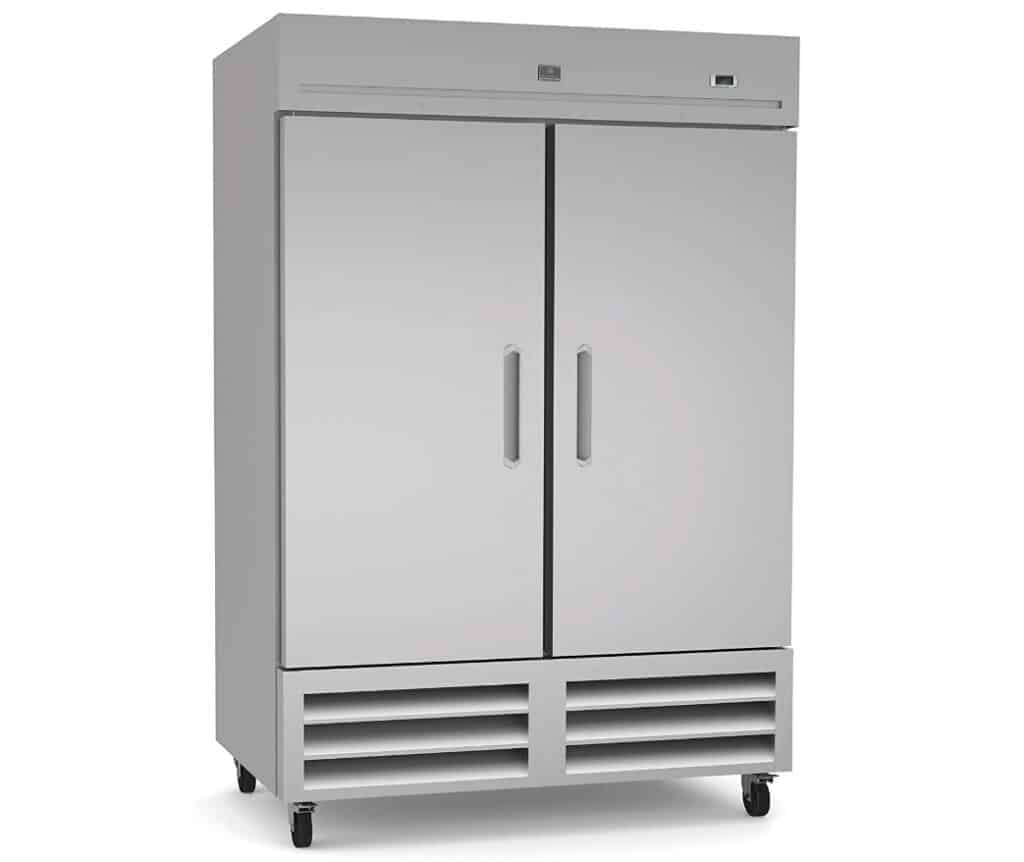 Would you prefer a reach-in commercial freezer with above-the-average capacity? Kelvinator KCHRI54R2DFE is a giant free-standing freezing unit with a capacity of 49 cubic feet that will suit even some of the largest establishments.
It is exceptionally powerful and offers both standard and deep-freezing temperatures. Thanks to using R290 gas refrigerants, it remains environmentally friendly and energy-efficient despite its size and power.
The Kelvinator KCHRI54R2DFE also comes in both 1-door (= smaller capacity) and 2-door designs. It is equipped with an external display for temperature monitoring, a self-closing door with a 90-degree stay-open feature, heavy-duty caster wheels, and some other features and accessories.
Kelvinator KCHRI27R1DRE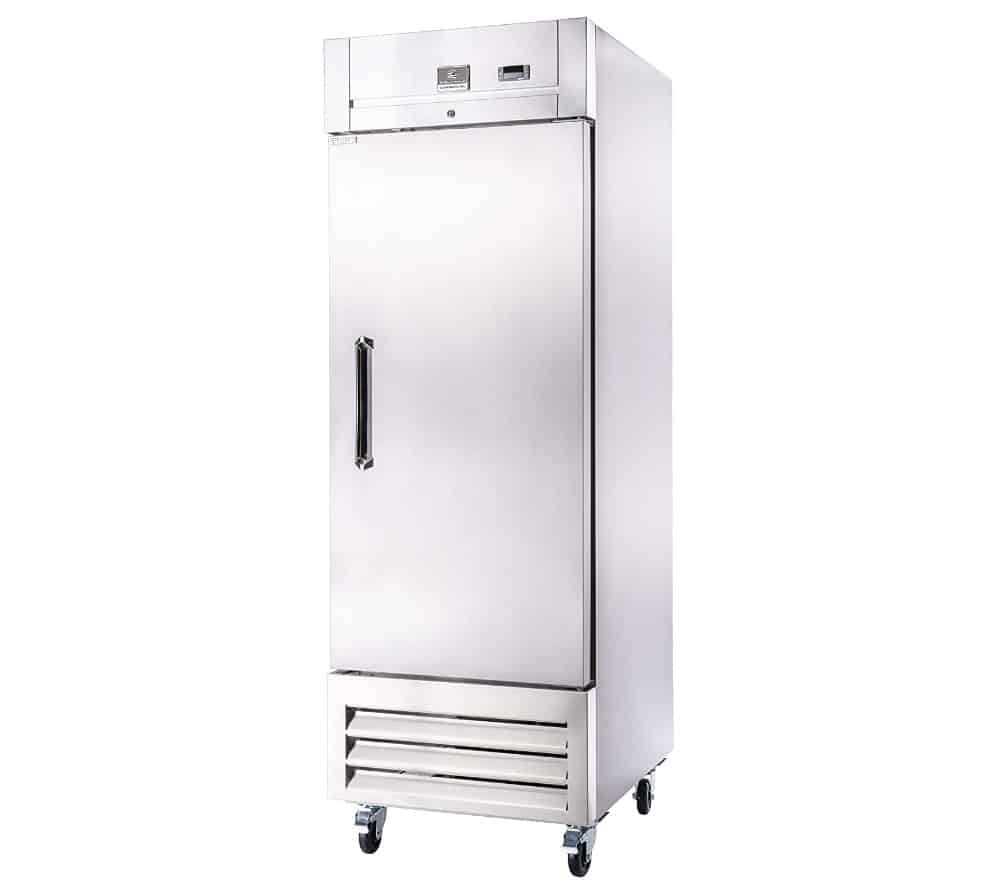 Are you looking for a commercial freezer with a glass door? Kelvinator KCHRI27R1DRE is a sleek and modern unit that will nicely complement any deli, snack bar, grocery store, or cafeteria that needs to keep its products visible.
Again, you can choose between 1-door and 2-door versions. The smaller comes with 23 cubic feet capacity, and the larger boasts more than twice as much. The same model comes with solid and glass doors, so make sure you're ordering the correct version.
This freezer comes with all the qualities you can expect from Kelvinator: it uses eco-friendly hydrocarbon refrigerants, it has an external temperature display, and there's even an interior LED light for better visibility. Moreover, KCHRI27R1DRE is also equipped with an electronic temperature setting for faster and more precise control.
fAQs
Question: What is the coldest setting on my Kelvinator freezer, 1 or 8?
Answer: If you have some of the Kelvinator freezers with a mechanical thermostatic dial, position one will provide you with the warmest temperature, whereas setting your freezer to 8 means that it will cool down to its lowest temperature. Some of the Kelvinator freezers are also equipped with electronic settings. In that case, you can simply set the desired temperature on the digital display.
Question: How do I drain a Kelvinator freezer?
Answer: Thanks to the bottom-mounted drainer, chest-type commercial freezers by Kelvinator can be drained fast, easily, and conveniently. Just turn the freezer off, unplug it from the mains, open the drain, and place something underneath it to collect all the defrosting water. Alternatively, if you have a floor drain in your kitchen, unlock the brakes on your freezer's caster wheels and move them above the drain.
Question: Who makes the Kelvinator freezers?
Answer: Kelvinator as a brand was originally founded on September 18, 1914, in Detroit, Michigan. From the very beginning, the company focused on freezers, refrigerators, and ice cabinets, introducing many experimental and innovative technologies over the years of its existence. Although the original brand officially ceased to exist in 1986, it was resurrected as a separate range of products currently produced and sold by the Electrolux company (division Electrolux Professional Inc).
Final Thoughts: Kelvinator Freezers Are Efficient And Affordable
If you're looking for a robust and reliable commercial freezer, Kelvinator should undoubtedly be on your radar. This brand offers a vast range of professional-grade freezers to satisfy every taste, budget, and requirement.
It contains practical chest freezers such as Kelvinator KCCF210WH, giant free-standing freezing cabinets like Kelvinator KCHRI54R2DFE, handy under-counter models including Kelvinator KCHUC48F, and stylish glass door freezers such as Kelvinator KCHRI27R1DRE.
All of these freezers are energy-efficient, environmentally friendly, and reliable. Moreover, they all come with a warranty that can come in handy if your freezer suddenly malfunctions or, in some rare cases, already arrives damaged.
Who should probably look for some other freezers instead? Well, Kelvinator is sometimes presented as a low-key brand, so if you're after something particularly flashy and luxurious for your, say, uptown establishment, maybe you'll be more pleased with some other options.
Need more advice on how to buy the best freezer for your restaurant or store? Check out our complete guide to the Best Commercial Freezers and learn all the basics plus insider tips.