Latest posts by Jodie Chiffey
(see all)
A good refrigerator plays an essential role in every kitchen. Can you even imagine preparing your food without it? Nevertheless, finding a great refrigerator for a professional kitchen isn't always easy, as your demands are usually much higher than with at-home appliances. Could Turbo Air be the brand you trust? Our Turbo Air refrigerator review and guide will help you find the answer.
Turbo Air is renowned for manufacturing cost-efficient, reliable, and environmentally friendly appliances for commercial food service establishments, mainly focusing on refrigerators, coolers, and freezers of all the different types.
If you are looking for a new refrigerator for your restaurant, deli, or bar, there are many different Turbo Air models to choose from based on the intended type of use or price range. However, to make things clearer, we'll mostly be focusing on the Turbo Air M3R24-1-N, an M3-series solid door refrigerator that seems to be currently one of the most popular choices.
(Note that most Turbo Air fridges use the same technologies and features, so the difference is only in their size, capacity, and design)
Is this the right piece of equipment for your kitchen? Let's start with a brief overview of its key specs:
Key specifications of Turbo Air Refrigerator
| | |
| --- | --- |
| Model of refrigerator | Turbo Air M3R24-1-N M3 Series Solid Door Refrigerator |
| Sections | One |
| Capacity | 21.98 cubic feet |
| Insulation | High-density polyurethane |
| Refrigerants | R290 (Hydrocarbon) |
| Dimensions/weight | 30.75 x 28.75 x 78 inches / 270 pounds |
| Latest price | Click here for the latest price |
Core features of Turbo Air Refrigerator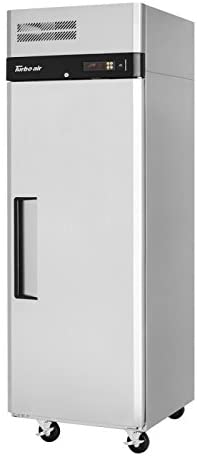 What are you most concerned about when choosing a new refrigerator for your gastronomic venue? Are you looking for a particular size and number of compartments, certain cooling technology, and efficiency level, or does your decision depend on the price and operational costs? Let's evaluate the Turbo Air refrigerator in regards to all of these aspects.
Construction and design
A good commercial-grade refrigerator must possess constructional qualities that your standard at-home fridge probably doesn't need. A busy daily routine in a restaurant's kitchen can be pretty demanding on the appliances, and the last thing you need is a broken fridge in the middle of the rush hour.
In this regard, Turbo Air makes no compromises – these fridges are made of top-grade, partially-galvanized stainless steel, which is immune to corrosion, easy to clean, and withstands the hardship of kitchen life without any problems.
The inner walls are covered by a layer of aluminum, which is considered to be very hygienic and long-lasting too. The fridge also comes with an anti-corrosion-coated evaporator that further adds to its durability.
In comparison with some other restaurant refrigerators, this model is relatively compact. Turbo Air M3-R24-1-N is 78 inches tall, 28-3/4 inches, and 30-3/4 inches deep, so you can easily squeeze it even in a tighter space.
In addition, the solid-hinged door boasts a recessed handle that saves even more space and prevents painful collisions when you're rushing around. Moreover, the unit also comes with practical caster wheels (optional), so it's easy to move it around if needed.
Regarding the refrigerator's interior, this particular model has a single section only, and it is equipped with three adjustable PE-coated wire shelves. The overall capacity of the fridge is 21.98 cubic feet. Although this setup can be a bit limiting, if you're running a small venue or your kitchen has more than one fridge (which is quite common), this mustn't be any real issue.
Of course, if you're not sure about this factor, Turbo Air has refrigerators with more sections, larger capacity, and various separate compartments too. We'll highlight some of them in the Alternatives section shortly.
Functions and controls
Turbo Air refrigerators are considered to be some of the most efficient products in their class and category. M3-R24-1-N uses an innovative, eco-friendly cooling technology with hydrocarbon refrigerants (R-290).
These refrigerants don't deplete the ozone layer, and their contribution to global warming is exceptionally low. Thanks to this technology, Turbo Air fridge meets various energy conservation standards and attracts users who care about the sustainability of their businesses.
Thanks to the high density, CFC-free polyurethane insulation covering the entire structure of the fridge's cabinet and doors, Turbo Air also ensures that all the coolness stays right inside the unit, making the refrigerator cost-efficient too.
Turbo Air refrigerators come with several innovative features that can certainly simplify your workflow. One is a pressure relief door designed to prevent vacuum pressure and allow easy and instant opening. If you or your employees don't shut the door properly, there's also an alarm that will instantly draw your attention to the fact and prevent possible spoilage of food.
Need super-fast deep cooling? Turbo Air comes with a turbo cool-down feature that provides powerful cooling almost instantly.
Another great feature of this fridge is its temperature control and monitoring system with a digital display. This interface allows simple and precise settings, and it also provides valuable self-diagnostics. The early warning alarm mode should even detect a problem before the fridge malfunctions, which can be a vital help for the continuous operation of your busy kitchen.
Safety and reliability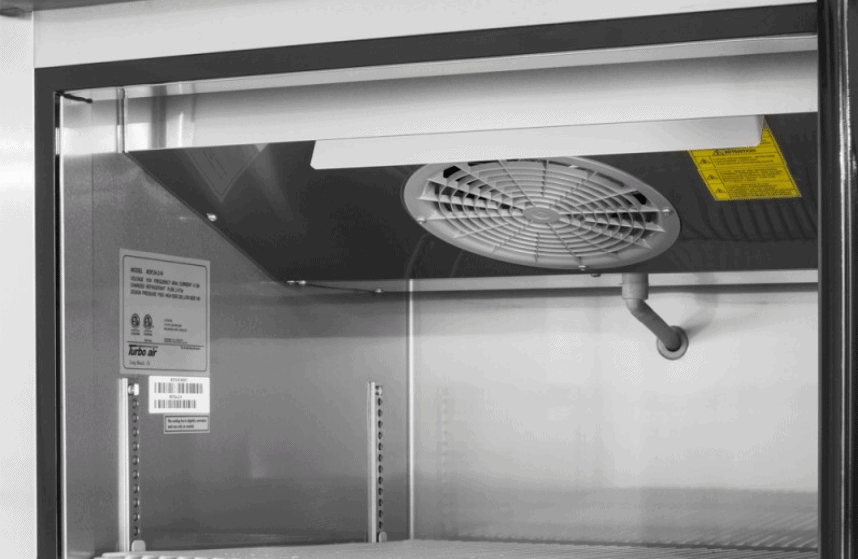 Turbo Air refrigerators strictly comply with all the American safety standards and requirements. This means that these machines have numerous effective safety measures in place, and hazards such as overheating, short circuits, or refrigerant leakage are very unlikely here.
Moreover, the manufacturer also applies various technologies that should prevent the refrigerator from malfunctioning or premature aging in the long run. Turbo Air fridges, for example, have unique self-cleaning condenser devices that automatically brush the condenser clean on a daily basis. This eliminates one of the most common reasons for the failure of the refrigerators – accumulated dust.
Turbo Air M3-R24-1-N also uses an innovative hot gas condensate system specially treated to avoid corrosion, prevent leakage, and block possible overflow of the condensate water.
All these features and modern technologies contribute to Turbo Air refrigerators are believed to be some of the most reliable and trustworthy pieces of equipment for professional kitchens. Moreover, they also come with a warranty (3 Year Parts & Labor + Additional 2 Year Compressor) that should cover you in case of possible factory faults and malfunctions.
Price
A good commercial-grade refrigerator can be pretty expensive. Turbo Air is, moreover, a renowned and trusted brand with a certain prestige, so you cannot expect their products to be cheaper than most of the competition. For the latest price of Turbo Air M3-R24-1-N, click here
Pros of the Turbo Air Refrigerator
Let's summarize the most significant advantages and assets of this professional refrigerator:
Quality materials
Turbo Air refrigerators are made to last. A combination of galvanized stainless steel and aluminum ensures excellent durability, easy cleaning, and prevention of rust.
Compact design
If you have a smaller kitchen (or if you need your new fridge to fit in a particular place), you'll certainly appreciate the relatively compact size and proportions of this fridge which are further complemented by the recessed handle. Moreover, thanks to the optional caster wheels, you can also move the appliance around freely.
Green technology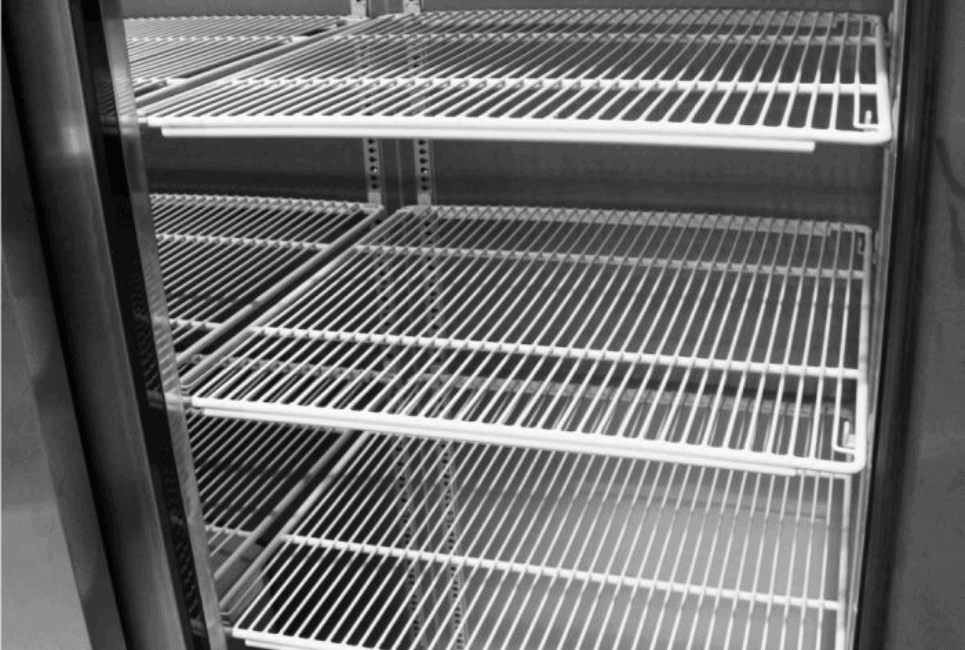 If you care about the environment and sustainability, you'll be surely pleased to know that these machines use innovative and eco-friendly hydrocarbon refrigerants. As a result, their impact on the ozone layer and global warming is significantly lower than with chemical refrigerants.
Precise control and diagnostics
Turbo Air refrigerator comes with a colorful digital display that provides you with complete control and constant monitoring of the unit's function. This interface also serves as a self-diagnostic hub with early detection of possible issues and malfunctions.
Efficiency
If you want to serve top-quality dishes to your guests, you need your ingredients to be in perfect shape. This is conditioned by the constant temperature in the fridge where you store them. Thanks to its robust insulation, turbo-cooling feature, and some other efficient functions and gadgets, Turbo Air provides even and powerful cooling that can be relied on.
Innovative features
These refrigerators come with a variety of small yet very useful details, such as the pressure relief door, open-door alarm, and self-cleaning condenser that can prolong the unit's life. These features help you use the Turbo Air fridge as conveniently and efficiently as possible.
Reliability and warranty
Every kitchen depends on a reliable refrigerator. In this regard, Turbo Air, with all of its safety measures, compliance with the technical and environmental standards, and comprehensive warranty, is a reasonable choice.
Cons of the Turbo Air refrigerator
Turbo Air makes great refrigerators. Nevertheless, these factors might probably discourage you from purchasing their model M3-R24-1-N:
Limited capacity
Turbo Air M3-R24-1-N is certainly not small, but its capacity of 21.98 cubic feet might still be insufficient for some users. If you plan to have only a single fridge in your kitchen or you run a busy place, choosing some larger alternative might be a good idea.
Single compartment
If you, for any reason, need to store some of your products separated from the others, note that this refrigerator has a single inner section only. If it's the only fridge in your kitchen, this might become an issue.
Higher price
Turbo Air refrigerators might not be the most expensive fridges on the market, but they are certainly not the cheapest either. If you need to keep your expenses as low as possible, you will probably find a good alternative somewhere else.
Are there any alternatives?
As we've already mentioned earlier, Turbo Air currently offers a vast range of refrigerators with different sizes, capacities, and prices. If you're not attracted to the Turbo Air M3-R24-1-N, here are some interesting alternatives you might like better:
Turbo Air TSR-72SD-N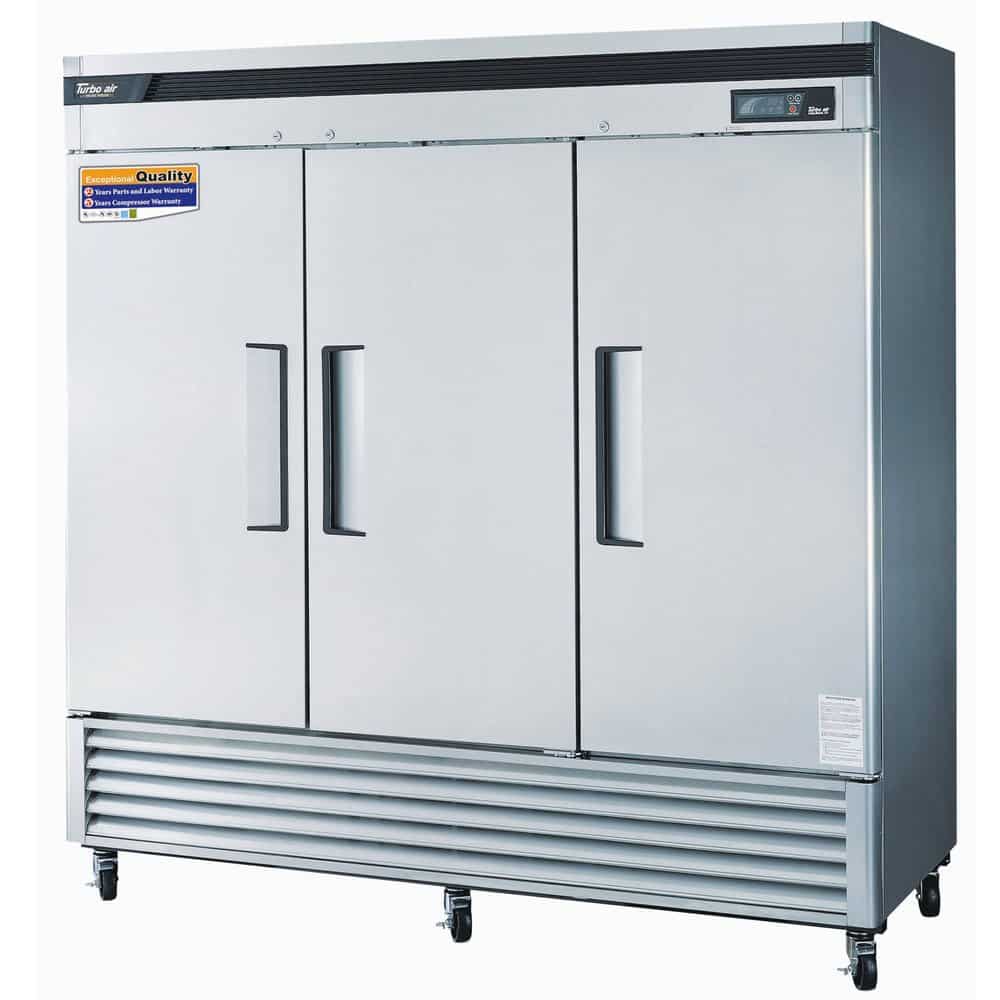 Need more space? Turbo Air TSR-72SD-N is a giant three-door commercial refrigerator that will provide you with plenty of it. This model has an impressive capacity of 72.0 cubic feet divided into three separate sections with a total of 9 coated wire shelves. If you're running a middle-to-large establishment, this fridge will comfortably cover all your needs.
Besides the large capacity, this fridge boasts all the technologies and features of its smaller counterparts: it has a digital display with self-diagnostics, eco-friendly refrigerants, door-open alarms, etc. But, of course, it's going to cost you considerably more than some of the smaller fridges, and it's also going to consume more energy for its operation.
Turbo Air PRO-50R-G-N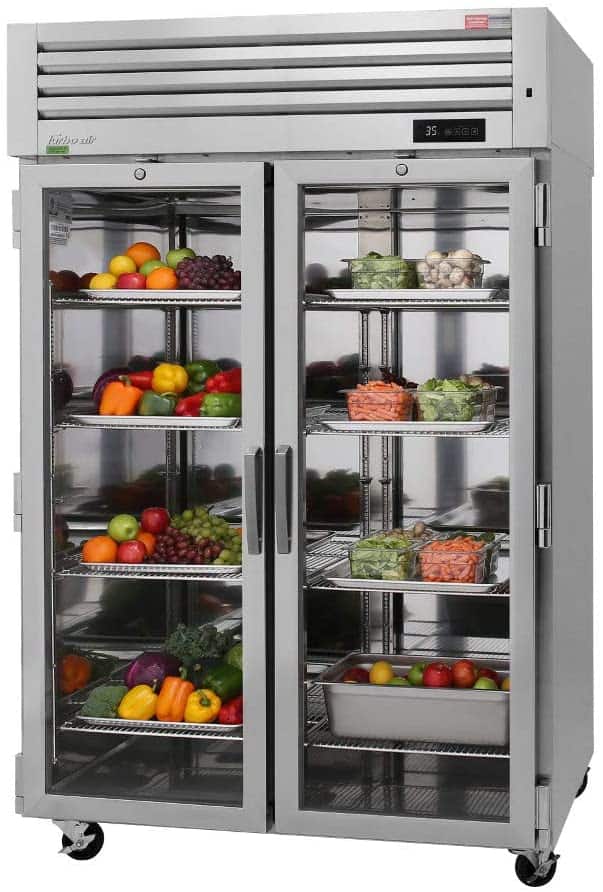 Turbo Air's PRO series comes with even more sophisticated refrigerators for the most demanding users. The popular Turbo Air PRO-50R-G-N is a two-door reach-in-style fridge with a tempered glass design, extra-deep shelves, and interior LED lighting. It comes with a capacity of 47.36 cubic feet, an exterior LED digital temperature controller and many other features.
Glass door refrigerators are sleek and stylish, but keep in mind that they need more cleaning and maintenance in order to look neat. Also, the glass (although reinforced) does pose a certain hazard if your staff does not treat it with proper care. Another factor to consider is the higher price of fridges from Turbo Air's PRO series.
Turbo Air M3R47-4-N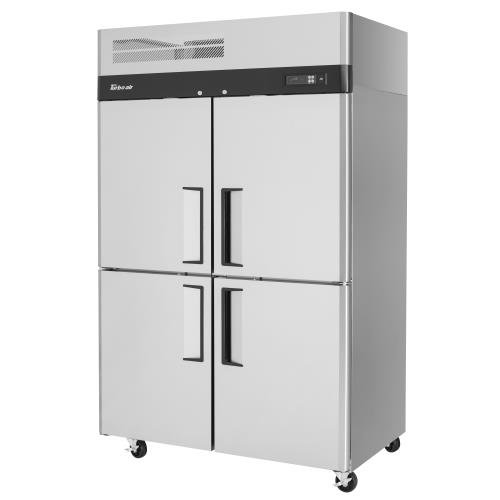 Turbo Air M3R47-4-N is another popular solid-door refrigerator from the M3 series. In regard to the size, it stands somewhere between the aforementioned options since it comes with a two-section cabinet, six adjustable wire shelves, and a capacity of 42.1 cubic feet.
This fridge is equipped with 4″ swivel casters and a top-mounted compressor. Just like all the actual models of Turbo Air refrigerators, it provides innovative features such as the LED display with controls and self-diagnostics, turbo-cooling function, and self-cleaning condenser.
This model will probably be the best choice for middle-size kitchens that could benefit from its decent capacity, great reliability, and relatively affordable price.
fAQs
Question: Can I Use The Top Of My Turbo Air Refrigerator For Storage?
Answer: People often use the top surface of their refrigerators for storing various tools or food products. Nevertheless, Turbo Air warns its customers about this bad habit and recommends keeping the top of the fridge free and clean at all times. The pressure of stored objects can interfere with the functionality of the fridge and affect its ability to work correctly. This is particularly hazardous if you have some of the models with top-mounted compressors.
Question: Are Turbo Air Refrigerators Made In America?
Answer: Turbo Air currently has its facilities in Texas, USA, where it also reportedly conducts some of the technical processes, including the crucial quality control. But the company also has its facilities in China, South Korea, and possibly some other countries too, so it is not entirely possible to say whether all of their products sold in the US are being exclusively produced in America.
Question: Do Turbo Air Refrigerators Come With A Lock?
Answer: Yes. If you want to make sure that your food will stay safe in the after-hours, rest assured that all commercial-grade Turbo Air refrigerators come with security door locks.
Turbo Air Refrigerator Review: Final Thoughts
Turbo Air refrigerator should be a great addition to any kitchen
Turbo Air is a brand with 20+ years of experience. It sells professional kitchen appliances to almost 70 countries around the world, and it has thousands of satisfied users within the US too. Some of their qualities include eco-friendly technologies, innovative features, top-quality materials, and lots of variety that should allow everyone to find the right refrigerator for his or her kitchen.
Still in doubt, whether you would be happy with this choice? Well, in the end, it all depends on your priorities and expectations. Some of Turbo Air's refrigerators, like Turbo Air M3R24-1-N, might probably be too small for you, whereas larger models, such as Turbo Air TSR-72SD-N, are pretty expensive. Maybe your best option lies somewhere in between. How about the two-section Turbo Air M3R47-4-N with six shelves and 42.1 cubic feet capacity?
Regardless of your final decision, we hope that you'll be able to find the best refrigerator for your gastronomic place. If you would like to explore more options before making your final decision, how about reading our guide to the Best Commercial Freezers next?