Latest posts by Sarah Caldwell
(see all)
There's something about crushed ice that just makes a drink better. Unlike ice cubes, the surface area of crushed ice cools your drink down faster. It's also the preferred way to make a fruit cocktail because it can make the alcohol less intense and bring out the fruity flavors of the beverage as it melts.
Unfortunately, making crushed ice without an ice maker is tedious and it turns a lot of people off from using it altogether. You can get hand crank ice crushers but they still require a lot of effort.
The best way to make crushed ice and have it available all the time is with an electric ice maker. It's quick and easy to make drinks when it's already made and ready for you.
However, there are more crushed ice makers than you can count, just like there are many types of crushed ice. Crushed ice varies in size, shape, and texture, so the type of crushed ice maker you get will determine what type of crushed ice you make at home.
There's crushed ice, shaved ice, bullet ice, and so much more. Each type has its own benefits and uses. Shaved ice is perfect for fluffy snow cones while bullet ice's porous texture melts at an optimal speed and soaks up the liquid so they taste good to eat when your drink is gone.
Many types of crushed ice are chewable, so if you're one to eat ice, a crushed ice maker may be something you want to look into. These types of ice makers are compact and portable, so they're ideal for use at home. They're also much less expensive than commercial ice makers.
The criteria used to make the selections in this article include elegant design, useful features, and generous capacity. Each item has its own strengths and is intended for a specific purpose. They're all quality machines you can trust.
Crushed Ice Maker Buying Guide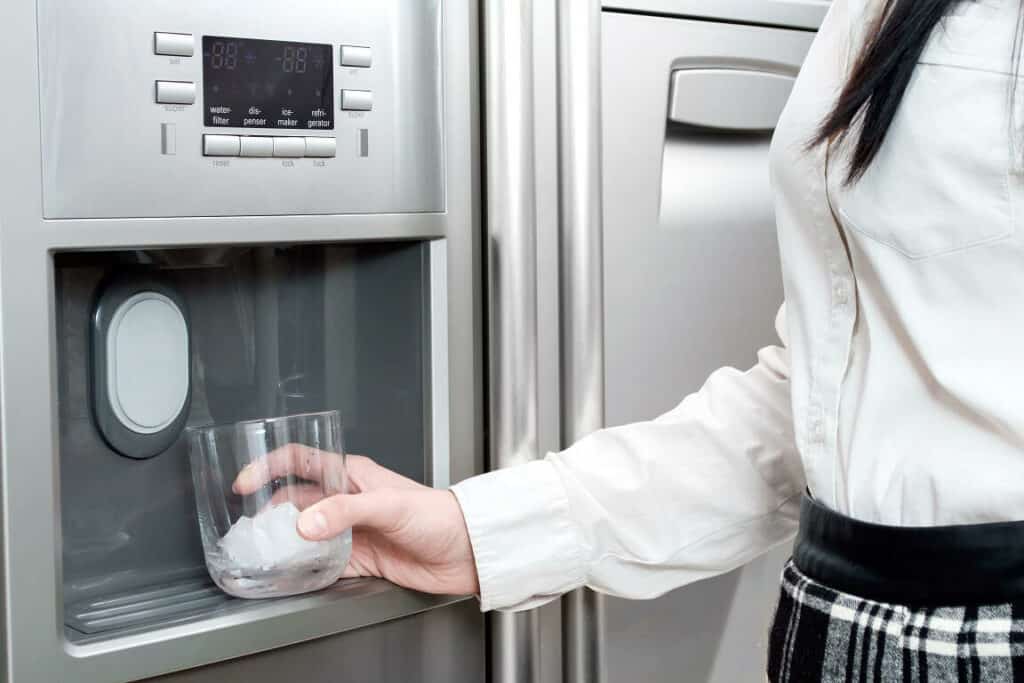 If you're looking for a crushed ice maker for your home, there are a variety of factors you want to consider.
Under counter or countertop
If you use your ice maker all the time and move it from room to room, depending on where the party is, a countertop variety may suit you better. It's not permanent, so you can transfer it anywhere, plug it in, and use it whenever you want, as long as it has access to water. When you're not using it, you can put it away in the pantry, closet, or garage.
However, if you don't have the space or you don't want to deal with the hassle of moving it, an under the counter option might work better. You can install it out of the way, maximizing your space while still ensuring that it's available when you need it.
While there are advantages to both, under-counter ice makers produce more volume, so they're better for large households, those who entertain frequently, or people who use a lot of crushed ice.
Capacity
A countertop crushed ice maker will make at least 25 pounds of ice every day while an under-counter model is capable of more than 40 pounds, so you'll need to determine your needs when deciding which you want.
You may also want to think about how quickly it makes ice, because some will make enough for plenty of drinks in about 10 minutes while others can do it faster. You need to select one that will replenish as quickly as you need it to.
Features
Most crushed ice makers come with some standard features, making it easier for you to operate. One popular feature is the recycle capability that will melt ice back into water and use it again.
LED indicator lights are also useful for telling you when you need to refill the water reservoir, which will be less often if your crushed ice maker recycles the water already in it.
Some manufacturers include other features like Bluetooth connectivity, UV lights, and a toggle between different types of crushed ice. Also, make sure you look for a crushed ice maker with removable bins. These make it easy for you to clean, but you may also find a machine that has a self-cleaning function.
Design
Aesthetics are a personal preference, so make sure you find a crushed ice maker that you think looks good in your space. Some are tall and skinny. Others are short and wide. Like most appliances, you have several color options as well.
You can choose the color that matches the rest of your kitchen or you can pick something that stands out. Just make sure you like the look of it, whether you're going for sleek and modern or old-fashioned.
Warranty
Most crushed ice makers come with a warranty but shop around to see if you can get something better. Pick a reliable brand with excellent customer service and you'll have an easier time returning it if you don't like it or having it replaced if something goes wrong.
GE Profile Opal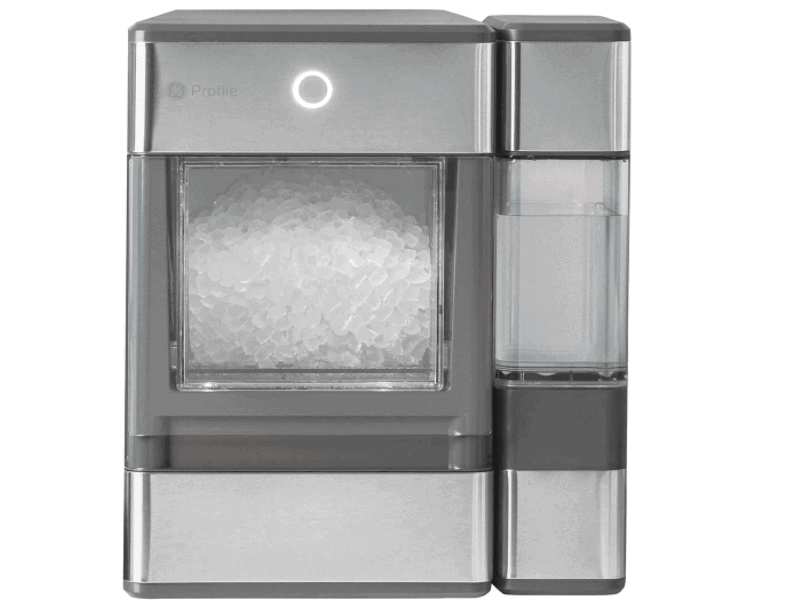 This ice maker produces nugget ice. It's a countertop ice maker that can produce ice in just 20 minutes and can make about a pound an hour. It will make a total of about 25 pounds per day. The ice bin is capable of storing about 3 pounds, so it will need to be emptied every couple of hours if you need it to continue to make more ice.
It's made from plastic and stainless steel, for excellent portability. The side tank will increase ice production by about three times and eliminate the need for a water hookup. It will also recycle melted ice so you don't waste anything.
Built-in smart features include an automatic resume function when it detects that the ice bin is low. It also has Bluetooth connectivity, so you can use your phone to set up a schedule or monitor the status of the ice maker. It's made by a reputable brand that offers a 1-year warranty on parts and labor.
Pros:
UV water treatment
Bluetooth connectivity for scheduling and status update
Recycling feature
Cons:
Expensive
Low bin capacity
Scotsman N0622A-1 Prodigy Plus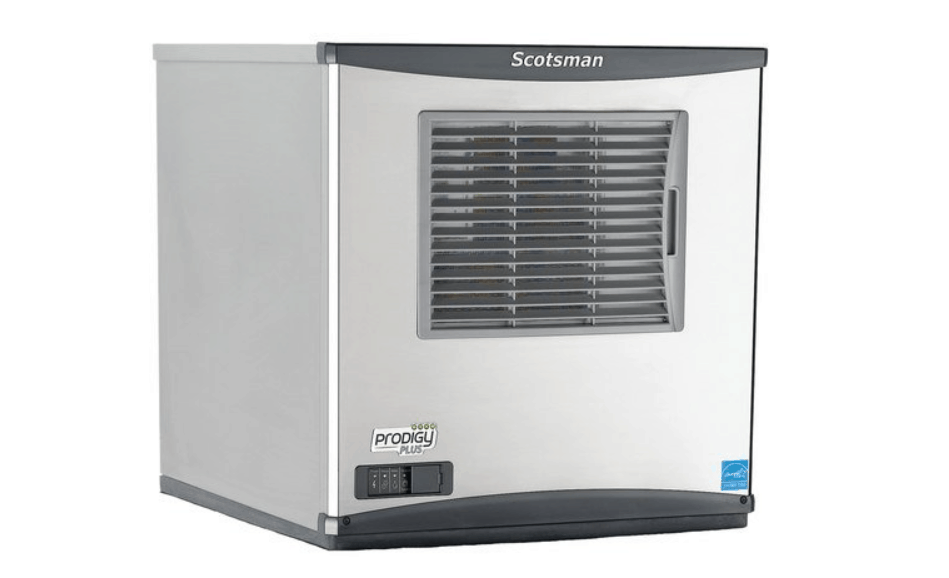 Scotsman was the first manufacturer of the portable crushed ice maker, and they're still in the game. The design of the machine itself mimics an ice cube, with smooth edges and a metallic finish. This is one of the best nugget ice makers you can buy, but it weighs a whopping 172 pounds, so it's not nearly as portable as some other options. However, it's a heavy-duty machine that offers superior reliability.
This ice maker has a huge capacity. It will make 643 pounds of ice per day, so it's the best option for entertaining or for large households. It's one of the most powerful options on the market and features nearly commercial capabilities.
It features an AutoAlert system that will monitor the ice maker and update you on ice production and current operations. It also features sensors that will tell you when it's time for maintenance or cleaning.
Pros:
Huge capacity
Reliable
AutoAlert notification system
Cons:
Heavy and bulky
Expensive
IGLOO 33-pound Portable Ice Maker and Crusher
IGLOO, a big name in summertime fun, offers this stainless steel unit that can make up to 33 pounds of ice per day and will create about 14 bullets in 10 minutes. The reservoir can hold 2 pounds of ice at a time and it has a 2.5-quart water tank that also doubles as a water dispenser, so you don't have to hook up to water.
If you do want access to more water, it comes with a water line so you can connect it permanently to your pipes or temporarily to your faucet. The LED control panel includes settings like a toggle between large or small bullets and an alert to tell you when you need to refill the reservoir.
The transparent lid makes it easy for you to see the ice inside and there's a removable stainless steel drip tray that makes cleaning even easier. It comes with a 1-year warranty.
Pros:
Reputable brand
Water reservoir and dispenser function
LED display
Optional water hookup line
Cons:
May contain materials known to cause cancer (California Proposition 65)
New Air Sonic Speed Nugget Ice Maker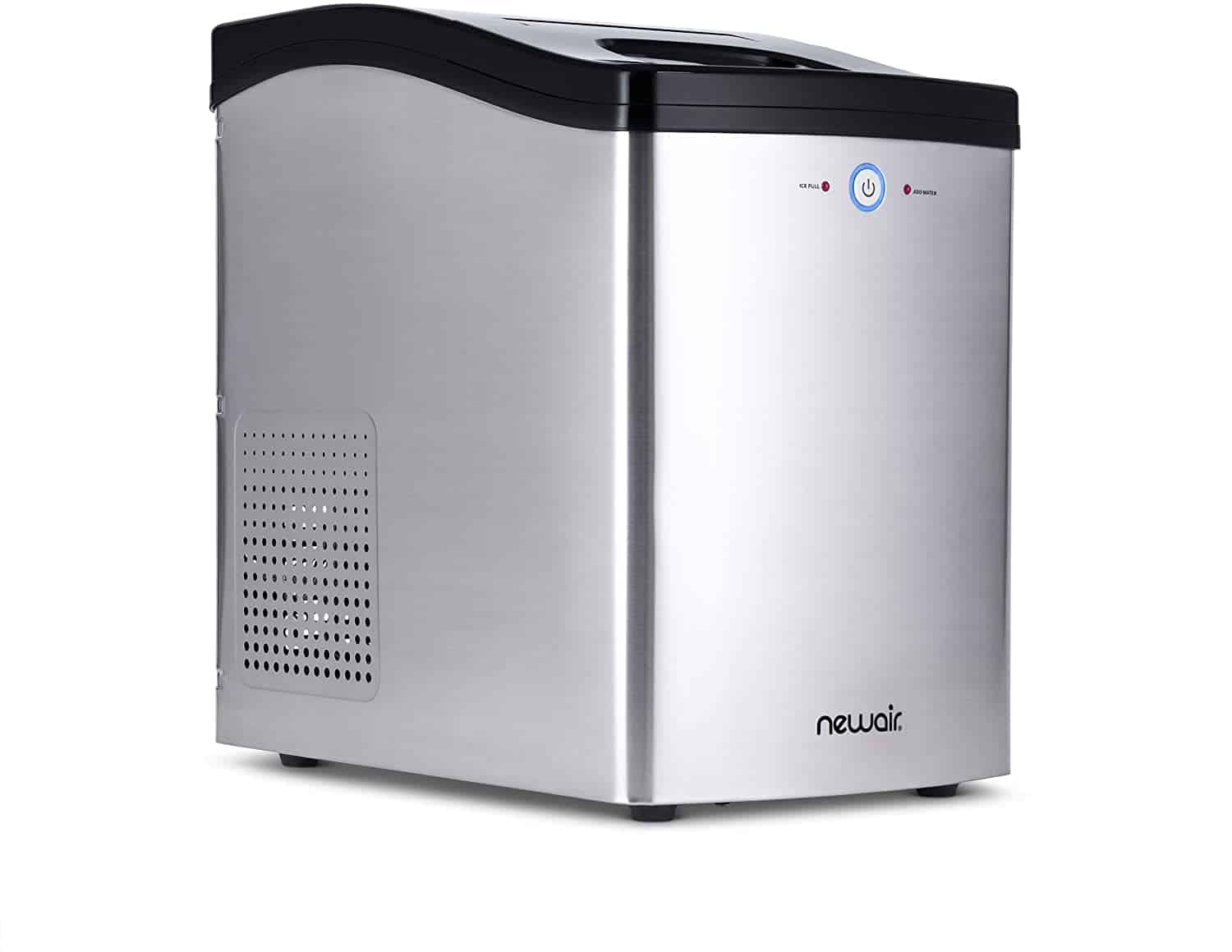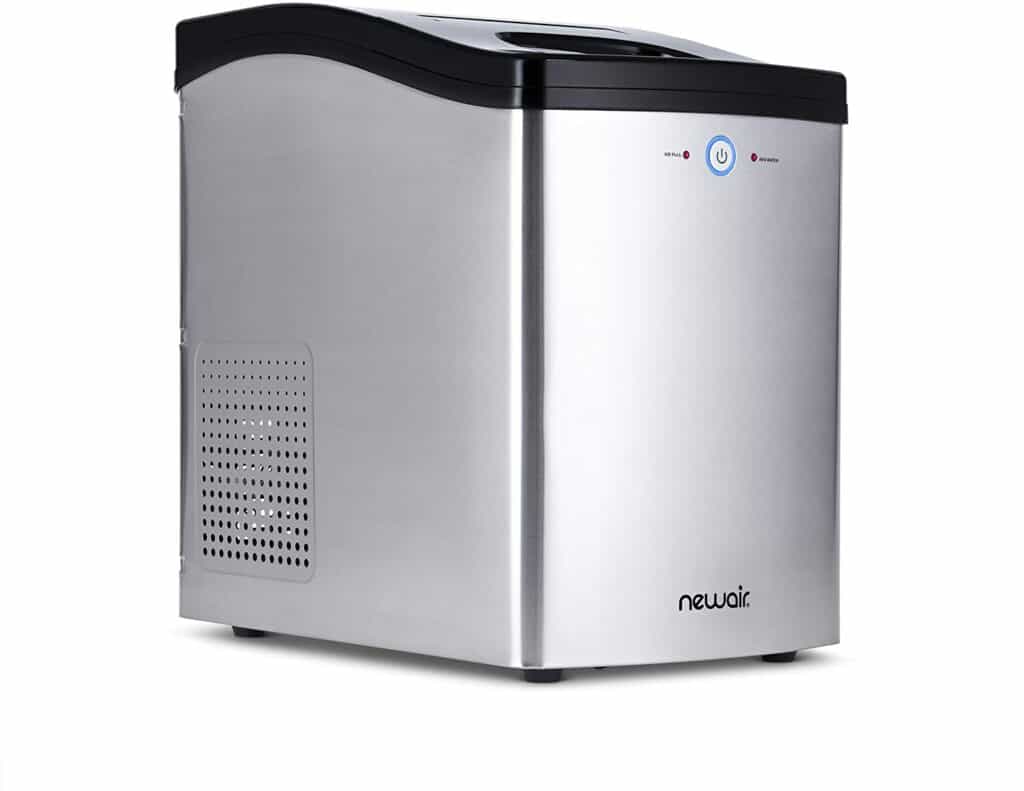 This is a countertop bullet ice maker that can make chewable ice in about 12 minutes. Plus, it can make up to 40 pounds of ice per day and the removable bucket can store almost 5 pounds of ice.
The interior wall is extra thick, which makes the ice melt-resistant for longer. It will also recycle the water when the ice melts and features a self-cleaning function so you don't have to do all the work. The controls on the front are easy to reach, and the lid at the top allows you to monitor ice production.
It has a BPA-free water tank built-in under the ice bin that will catch and recycle the water. It includes an ice scoop and comes with a 1-year warranty.
Pros:
Self-cleaning
Quick production
Large capacity
Cons:
Frigidaire EFIC235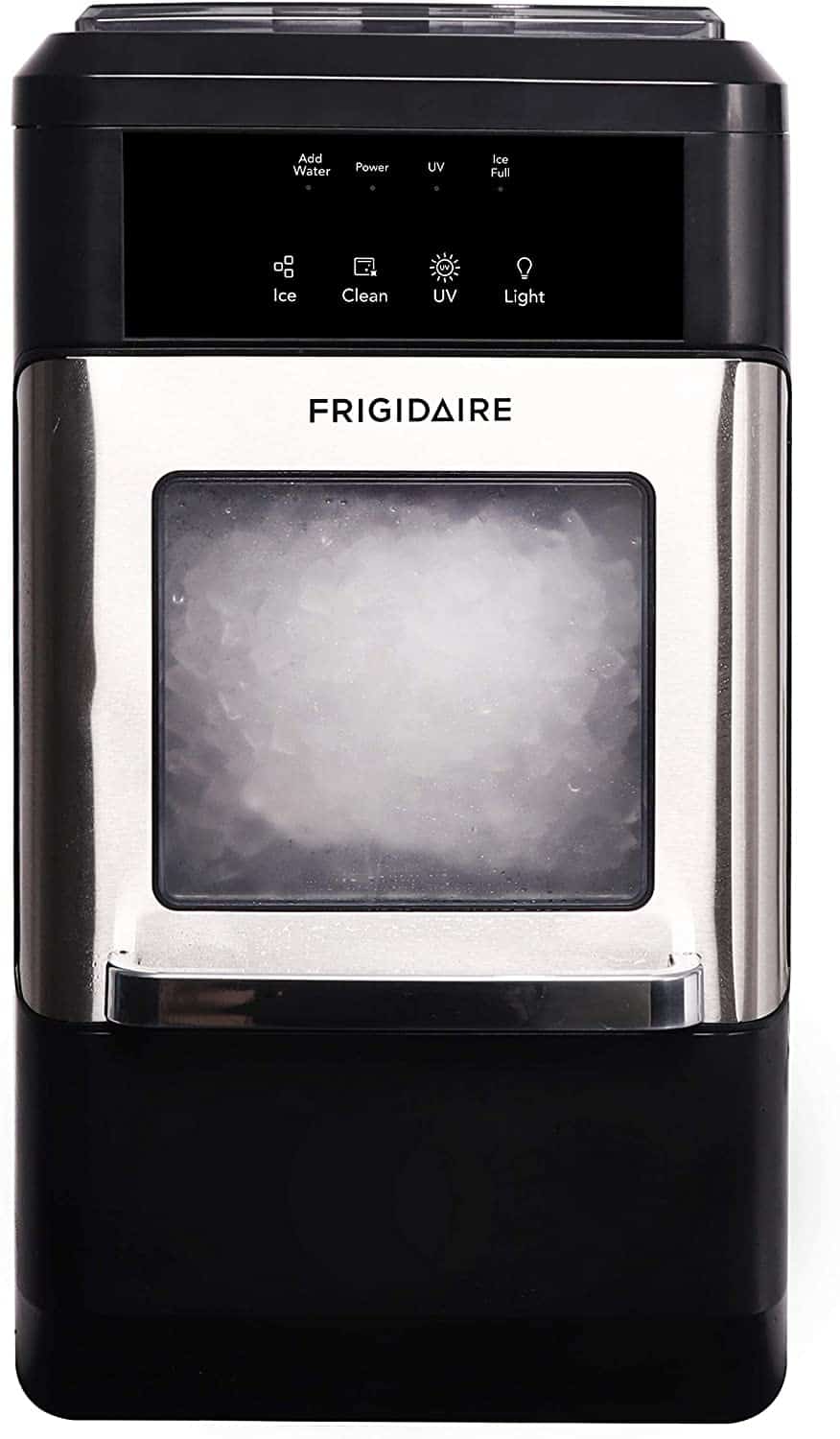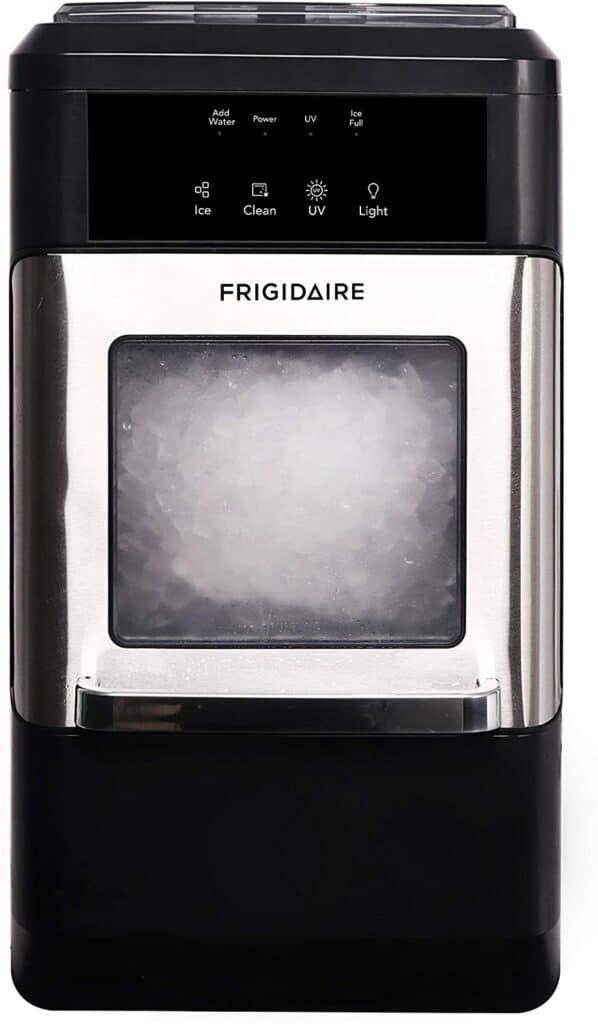 This ice maker can make chewable nuggets in about 15 minutes and will produce 44 pounds of ice every day. It can store 3 pounds of ice in the bin and, despite its huge capacity, is built for portability. You can plug this into any outlet and it has a removable water reservoir for easy filling and cleaning. Plus, it will recycle melted ice to make more.
The UV light helps to kill mold and other bacteria on the inside so it's smart to leave the UV light on when the unit is in use. It's a reputable brand that offers a 1-year warranty, and this machine is perhaps the most portable large capacity option.
Pros:
UV light feature
44 pounds of ice per day
Cons:
TaoTronics Nugget Ice Maker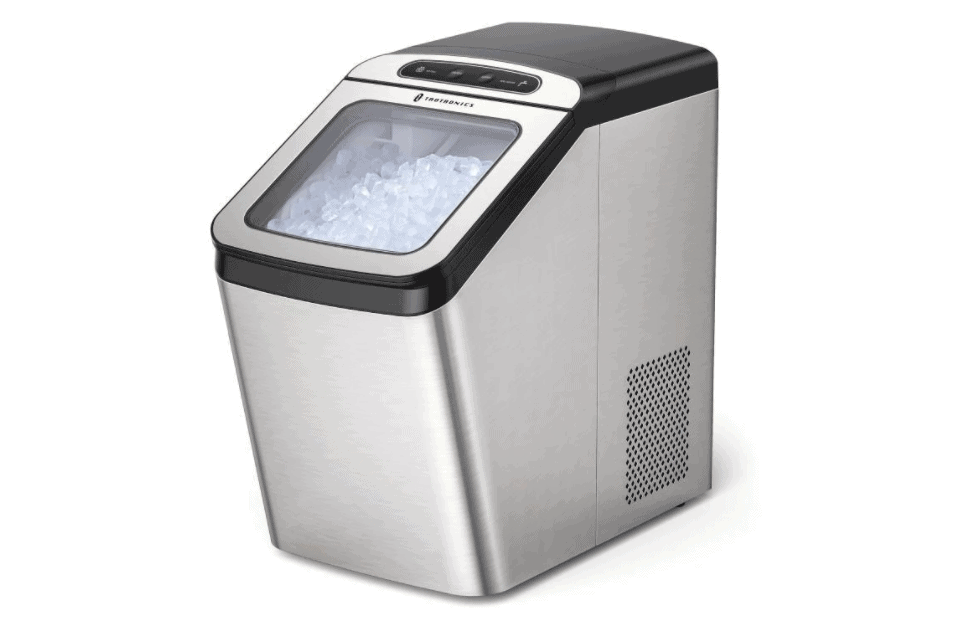 This countertop unit is sleek and attractive, with a stainless steel bin and a clear plastic lid. It takes about 18 minutes to make any ice, which is quite a bit longer than other units, but the bin can hold 3.3 pounds of ice at a time.
It will make 26 pounds of ice per day and has a smart refill function that detects when the bin is empty and makes more. It will stop automatically when the bin is full to give you time to empty it. The recycle feature sends melted ice back through the reservoir to make more nuggets. You can also connect it to a water supply so the unit automatically refills when it's empty.
The unit also features easy maintenance features like a self-cleaning cycle that only takes about 5 minutes. This is by far the easiest ice maker to use because it's mostly hands-off.
Pros:
Self-cleaning
Water supply hookups
Recycle feature
Cons:
Ice-O-Matic Pearl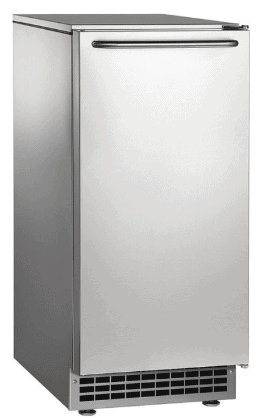 This under counter option produces what it calls 'pearl' ice and can make up to 85 pounds per day. The storage bin can hold up to 22 pounds of ice pearls, so it's a great high-capacity option, but is much less portable than a countertop ice maker.
It weighs 133 pounds, so once you install it, you'll want to leave it there, but it looks like a small refrigerator, so the design blends in nicely with your other appliances. It's also rated for indoor or outdoor use, so you can put it in your outdoor kitchen and use it for pool parties.
The air condensing cooling technology is much quiet than a traditional compressor, which is what most other portable ice makers use. It also features proprietary anti-microbial technology called Pure Ice that will keep the unit free from bacteria and odors.
It plugs into the outlet easily, connects to your water supply line, and features an optional drain pump that will keep your kitchen or bar area free of leaks or messes.
The user-friendly control panel is located right inside the stainless steel door, so you can easily swing it open for maintenance. Adjustable legs ensure that it doesn't sit directly on the floor and you can keep the machine completely level.
It includes an ice scoop and comes with a 2-year warranty on parts and labor.
Pros:
Quiet and efficient
Auto-stop function when full
Pur Ice anti-microbial technology
Rated for outdoor use
Cons:
Should be installed with a water filtration system
KBice Soft Ice Maker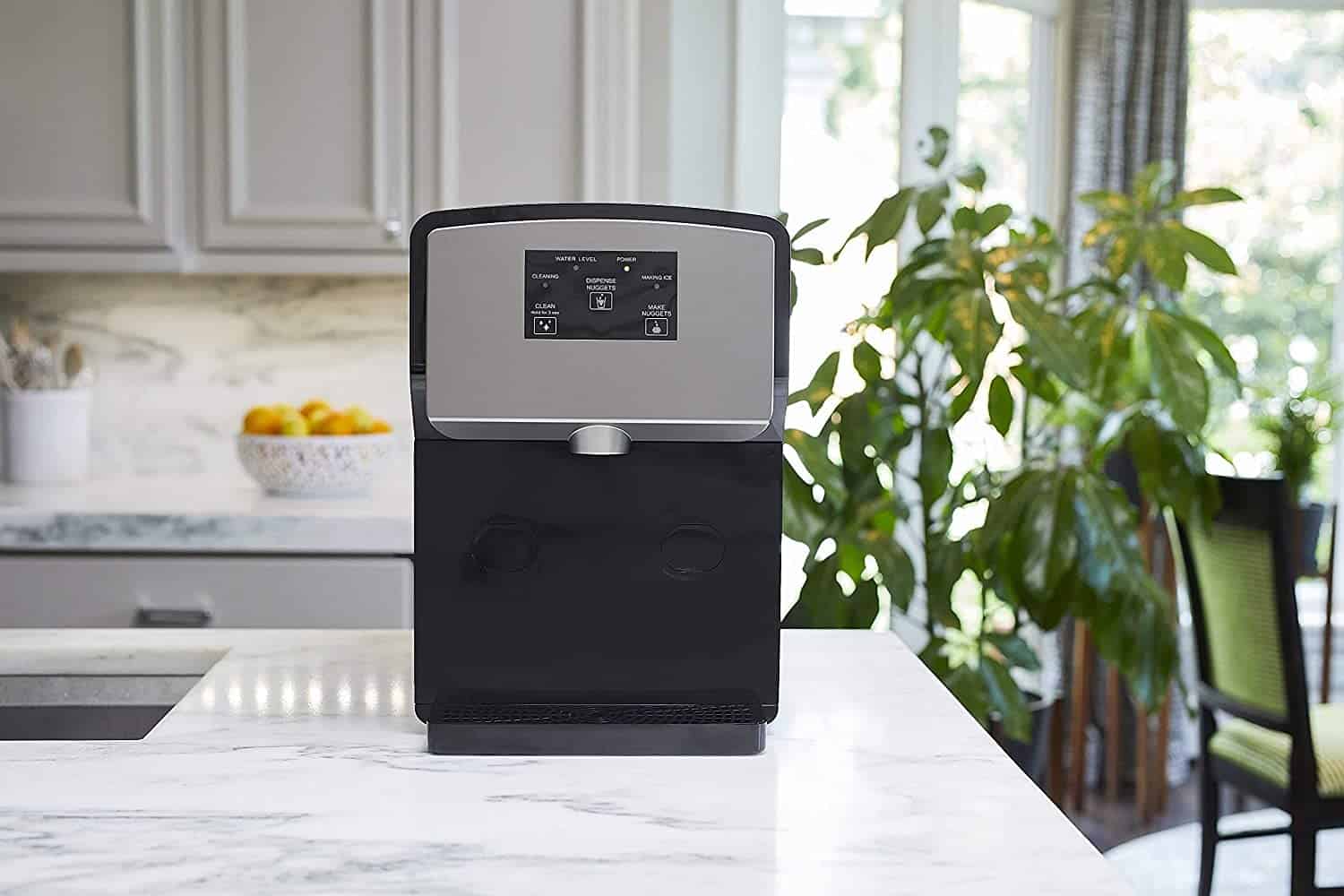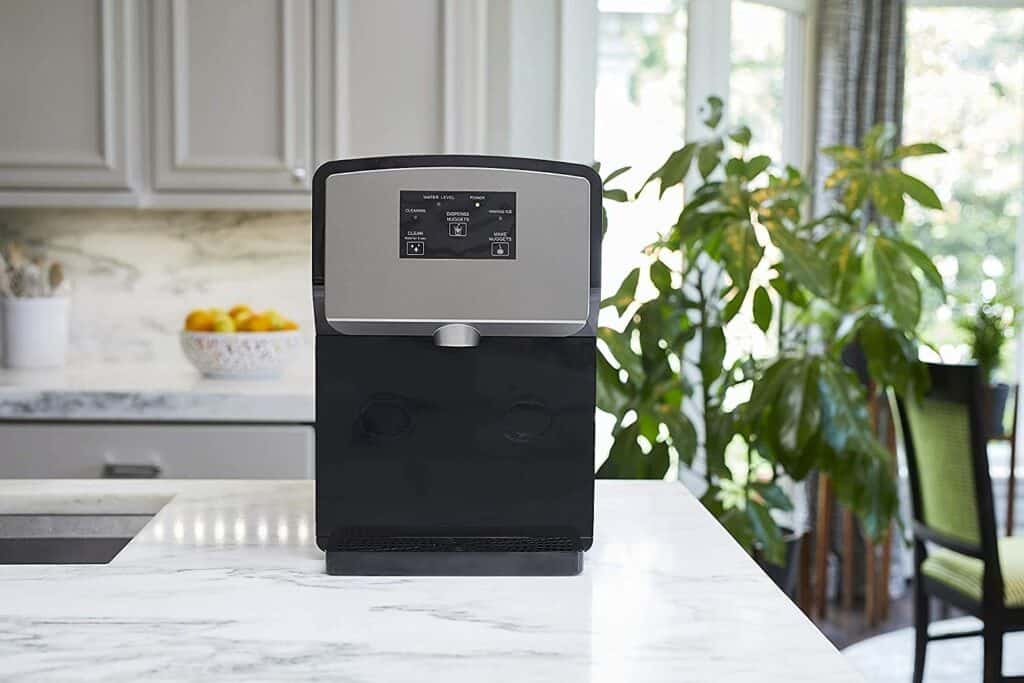 The compact design of this ice maker is what makes it so great. It's small, so you can keep it on the countertop at home or in your office. It features a self-cleaning function as well, so it's low maintenance for you. All plastics contained in the unit are BPA-free and R600, so it's safe and environmentally friendly.
Due to its small size, the unit is extremely portable. You can use filtered, distilled, or bottled water to fill the reservoir. It will take about 30 minutes to make any ice, which is quite a long time, but it can make 30 pounds of ice in 24 hours.
Pros:
Small and portable
Large daily production capacity for a small unit
Safe and environmentally friendly
Cons:
Takes a long time to make ice
FAQs
Question: What ice maker makes ice like Sonic?
Answer: Scotsman is one of the most well-known brands for making crushed ice as they have at Sonic, although there are others. They're generally referred to as bullet ice makers or nugget ice makers, so that's what you should look for if you want this shape and consistency.
Question: Which refrigerator makes the best-crushed ice?
Answer: If you'd rather leave your crushed ice maker capabilities to your refrigerator, there are several brands that do it well including LG, Samsung, and GE. However, keep in mind that these refrigerators make cubed ice and then send it through a mechanism that crushes it on demand.
They produce inconsistent shapes and sizes, so it's not the right solution for everyone.
Question: What is the best nugget ice machine?
Answer: If you're looking for nugget ice, bullet ice, or Sonic ice, there are several machines that do it well. GE Profile Opal, KBice Nugget Ice Maker, TaoTronics Nugget Ice Maker, and Frigidaire ERIC235 are the best.
Question: What is the best countertop crushed ice maker?
Answer: If you need something that sits on your countertop, the best options are the GE Profile Opal, IGLOO, NewAir Sonic Speed, and the Ice-O-Matic Pearl. They are portable varieties that you can keep on your countertop or move around as needed.
Best Crushed Ice Maker Guide: Final Thoughts
If you are looking for a crushed ice maker, these are some of the best options. My personal favorite is the Frigidaire EFIC235 because it makes the ice in just the right size and consistency, plus it's portable with plenty of features.
However, if you need something with near commercial capacity, look into the Scotsman brand. Only you can decide which machine has the right features and capacity for you, and all of these options are fantastic.