Latest posts by Maddy Chiffey
(see all)
The average American will eat 25lb of ice cream and frozen desserts each year. This is an incredibly popular sweet treat with a significant profit margin. If you don't yet have an ice cream freezer, you could be missing out on a considerable amount of money. This guide focuses on the eight best commercial ice cream freezers to help with your purchasing decision.
Commercial ice cream freezers can be countertop, freestanding, under-counter, or on-wheels. Different models will suit different commercial kitchens and establishments, and each style has its advantages and drawbacks. I'll explain these further in this post.
An ice cream freezer has the potential to raise your income considerably when you consider that the ingredients are remarkably cheap to buy. Still, the retail value of an ice cream being considered a treat purchase; if you get the basics right, you could be on to a winning product.
I will discuss just how profitable retailing ice cream is in this post, so even if you're looking to start a bakery business, for example, this guide could make you consider a commercial ice cream freezer installation. But, first, let's see the freezers I have reviewed:
At a Glance: 8 Best Commercial Ice Cream Freezers
Finding the Right Priced Commercial Ice Cream Freezer for Your Establishment 
At Food HQ, we typically discuss products to aid with food prep and cooking, but ice has its place too in the commercial kitchen. And ice cream certainly has its place in the heart of American diners! But, finding the right commercial ice cream freezer for your establishment will depend on many things.
Let's look at the budget factor as a primary purchasing decision.
Price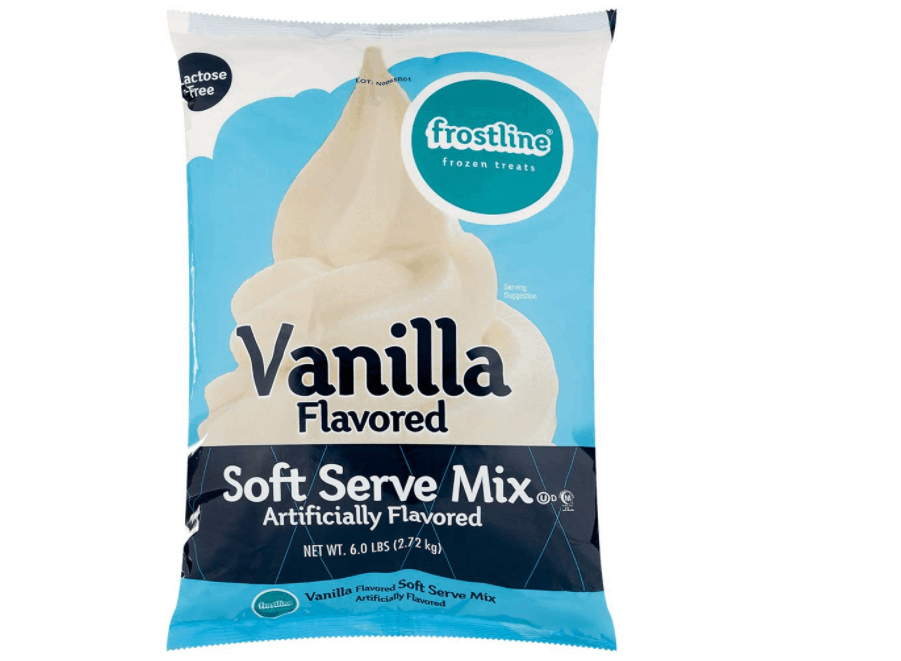 Ice cream business profit margins are insanely high.
The average cost of a dairy product mix is around $0.30 per 5 oz, flavoring syrup is approximately $0.06 per 5 oz, a single cone is $0.05, and the average price for an ice cream cone in the US is $1.85. This means it costs a proprietor around $0.41 per cone, and the average selling price is $1.85, meaning the profit is $1.44 per cone – this is a profit margin of 77.83% – astonishing.
With that being said, you could take it two ways. Buy cheap, as your products are going to sell at a profit, or invest and make that profit margin even larger.
Depending on the kind of establishment you have, could well determine the price you feel appropriate for a commercial ice cream freezer. If you have a high-end restaurant, every appliance is likely to be of a very high standard, so our budget picks ice cream freezer may be detrimental to the restaurant aesthetics.
At the other end of the spectrum, a one-person mobile catering van, or new cafe, is unlikely to want to spend a four-figure sum on a freezer. It is advisable always to buy the highest level of quality that you can afford.
The Benefits of Having a Commercial Ice Cream Freezer
Cross Contamination 
If you already have a large commercial freezer, you may wonder why to bother purchasing one for ice cream. But, the main reason is to take away any cross-contamination between other foods such as meat. This is especially so if you are citing your ice cream as vegetarian or even vegan.
Display
Some commercial ice cream freezers sit on display in a store or restaurant and make decorative and necessary storage solutions. Our top pick is an ice cream cabinet, which holds cones, condiments, and add-ons for ice creams, all neatly arranged to look inviting.
Convenience 
Having a designated ice cream freezer can help to make the commercial kitchen run more productively, as you know exactly where to go for what product. If the freezer is plain in color, you could draw more attention to its front with a vinyl sticker to make it more obvious to new staff members.
Product Criteria
For the freezers to have been chosen for this guide, there were a few things I was looking for. And these are as follows:
Various Models 
As readers could be looking for totally different commercial ice cream freezers, I have looked at a range of models to select the best from each design. I wanted to include various types so that everyone could find a suitable product in this guide.
Customer Reviews
As well as my findings, I was interested in what other consumers thought. And, if in the majority feedback was good, then that model made the cut!
Construction Quality 
I have only included commercial ice cream freezers in this guide that are made of high-quality materials to provide durability and longevity in the kitchen.
8 Best Commercial Ice Cream Freezers 
Avantco Ice Cream Dipping Cabinet – Our #1 Top Pick

Neatly Displays 8 Ice Cream Tubs – Backup Space for a Further 6
Sneeze Guard Included
Easy Assembly

Find it Here
Koolatron Compact Top-Opening Chest Freezer – Our #1 Budget Pick

Large Capacity: 198 L/ 7.0 Cu. Ft.
Customizable Temperature
Removable Wire Baskets

Find it Here
Whynter Lockable Freezer

Energy Star Rated
Low Noise Level
Portable

Find it Here
BLUELINETECH Commercial Ice Cream Display Freezer

Glass Sliding Top
USA standard Energy certification
LED Lighting

Find it Here
Omcan Commercial Ice Cream Freezer

5-Year Compressor Warranty
13 Cubic Feet Capacity
Curved Sliding Glass Top

Find it Here
KoolMore Commercial Ice Cream Display Freezer

Glass Sliding Top Lid
Two Storage Baskets
LED Lighting

Find it Here
Beverage-Air Undercounter Ice Cream Freezer

Durable Stainless Steel Exterior
Corrosion-Resistant Aluminum Interior
Uses Eco-Friendly R290 Refrigerant

Find it Here
Master-Bilt 71″ Flat Top Display Freezer

15.3 cu. ft. Interior With 6 Dividers and Baskets
Curved Glass Sliding Lids
Enamel Steel Exterior and Powder-Coated Steel Interior

Find it Here
#1 Avantco Ice Cream Dipping Cabinet – Our #1 Top Pick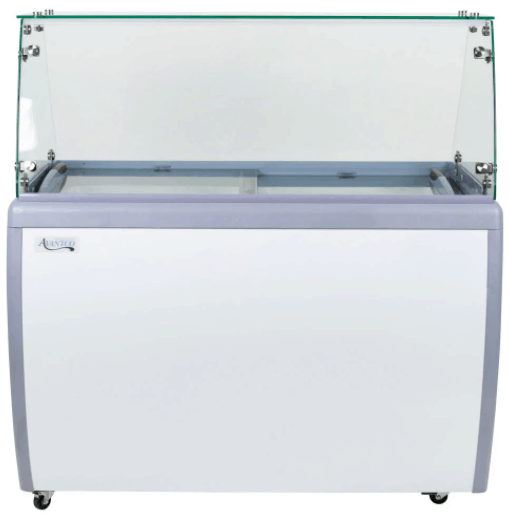 The Avantco Ice Cream Dipping Cabinet is one of the most expensive products in the guide, but with a selection of great features that are sure to benefit most eateries. The space-efficient unit provides storage for a total of fourteen tubs of ice cream, eight on show, six backed-up in the unit, and kept at the perfect temperature to quickly replace an empty tub when needed.
A few of the features I find particularly beneficial are the flat-fronted sneeze guard, the crystal clear visibility for consumers, the convenient sliding cover, and the fact that the heavy cabinet is fully mobile due to the four included casters. I found that the cabinet is reasonably easy to assemble and that pre-drilled holes are apparent if you wish to add a dipper well or towels.
There is a manual control that maintains temperatures from -13 to 0 degrees Fahrenheit, and eco-friendly R290 refrigerant is used within the bottom-mounted compressor, making this unit an environmentally-friendly option, with a global warming potential of just 3. The cabinet is made of rugged steel with a polythene interior. There is a 1-year limited replacement warranty, and the cabinet ships quickly – usually within one business day.
Pros
Large Storage Capacity
Sneeze Guard Included
Pre Studs in Place for Accessories
Fast Shipping
1-Year Limited Replacement Warranty
Environmentally-Friendly Choice
Cons
Expensive
It may be too Roomy for Commercial Kitchen
#2 Koolatron Compact Top-Opening Chest Freezer – Our #1 Budget Pick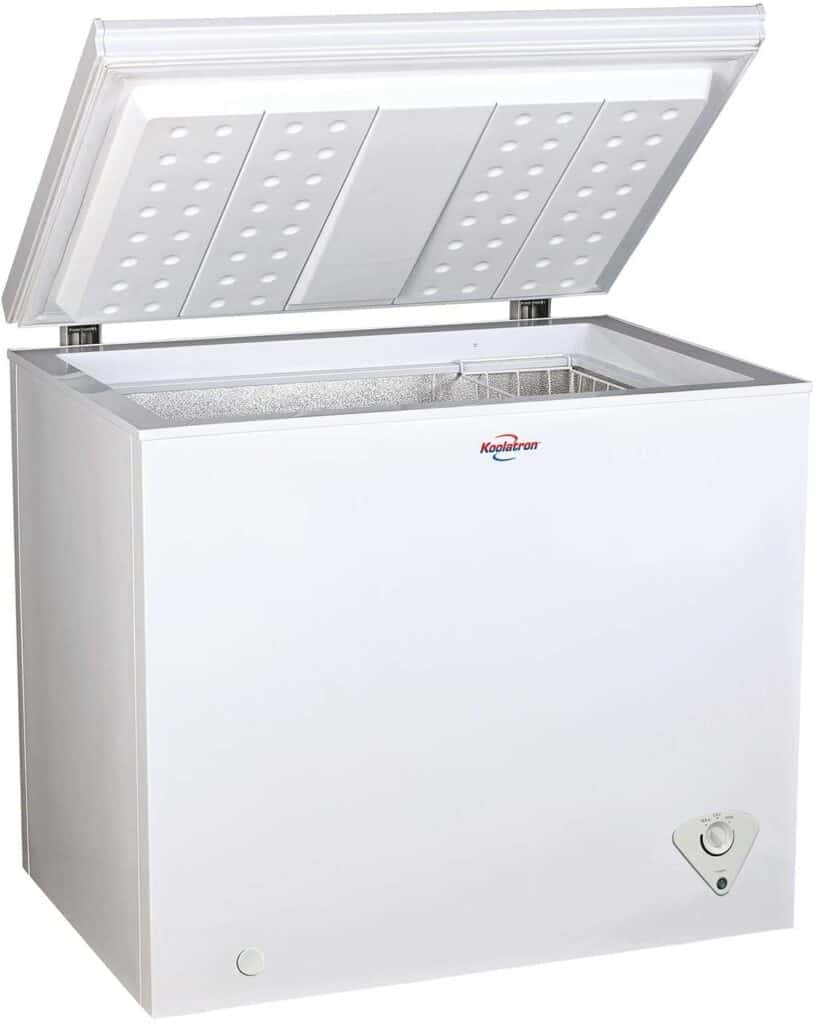 The 7.0 CU. Ft. Koolatron Compact Top-Opening Chest Freezer could make a great addition to a commercial kitchen where a designated ice cream freezer is needed, without there needing to be a significant financial outlay. It is easy to arrange your iced selections to have more popular items closer to hand with two top wire baskets, leaving larger products underneath. The baskets are fully removable.
There is a CFC-free coolant in place, which helps to keep the temperature between 0°C and -24°C. The temperature is customizable by the external thermostat. I like the external defrost drain, which allows for easy draining when cleaning or defrosting the freezer – usually, a tiresome, messy job is not so.
The freezer is made from durable steel and is pretty challenging to move. However, a great feature is a stay-open lid, leaving you hands-free to get the item(s) you need. The door has a magnetic seal to remain airtight, preserving the temperature and products inside. The warranty information isn't easy to access, but I can state that it is only for 90-days which is short for an appliance.
Pros
3 Size Options to Choose From
Stay Open Lid
Removable Top Baskets
Great Price
Cons
#3 Whynter Lockable Freezer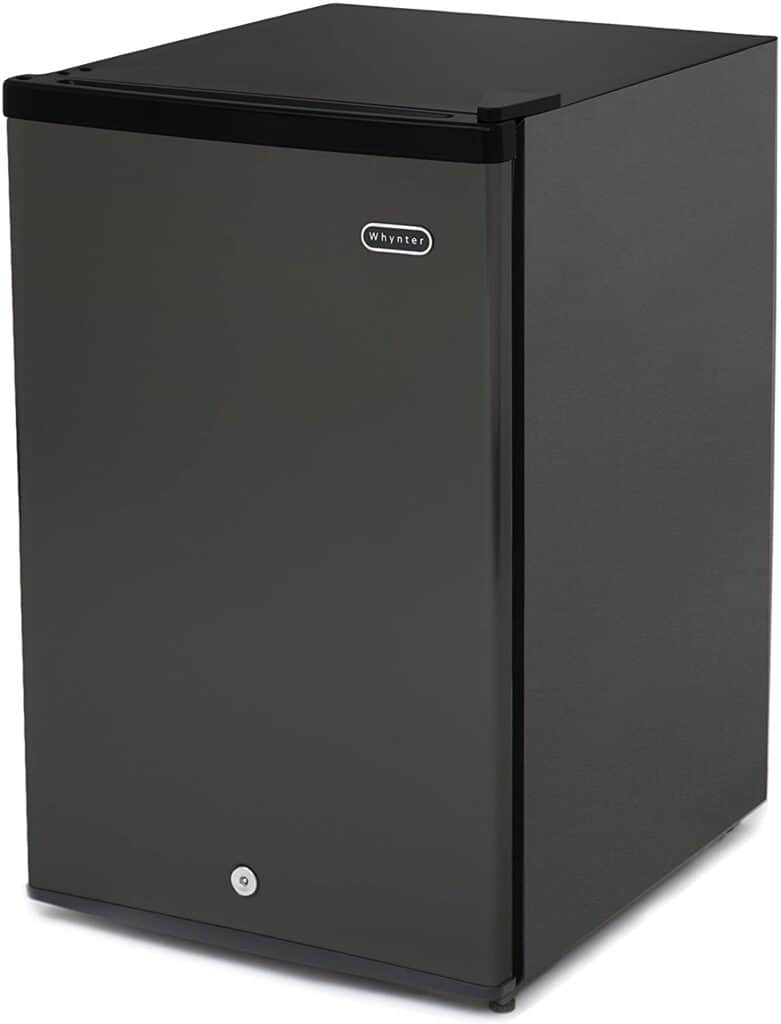 The Whynter Lockable Freezer is small, uses less energy than a light bulb, and is incredibly quiet. I believe this would be a great appliance for a mobile catering van, due to its lightweight, but it also has its place in a commercial kitchen as a small dessert freezer. Taking up little room, the interior design is clever; with two shelves and a bottom pull-out basket, there is ample storage space.
There are three color options, black, stainless steel, and rose gold, so the Whynter freezer can fit in with most popular kitchen color schemes. There is a cylinder lock and two keys for added security, so you can freeze caviar if you wish and know it is safe! Although black, this model doesn't harbor fingermarks and wipes clean easily.
This freezer has an enery_star certification and is incredibly energy efficient. It is a compact, space-saving solution to all your commercial ice cream needs, especially those on the road at carnivals or festivals. This freezer weighs 57 lb, and the dimensions are 15.25-in x 14.25-in x 26.25-in. There is a one-year limited warranty and larger size options available.
Pros
Rated #1 in Upright Freezers on Amazon
Good Price
Great for on the Road
Compact Design
Lightweight
Energy Efficient: Energy Star Certification
Quiet
Cons
Smaller Than Most
Lacking a White Color Option
#4 BLUELINETECH Commercial Ice Cream Display Freezer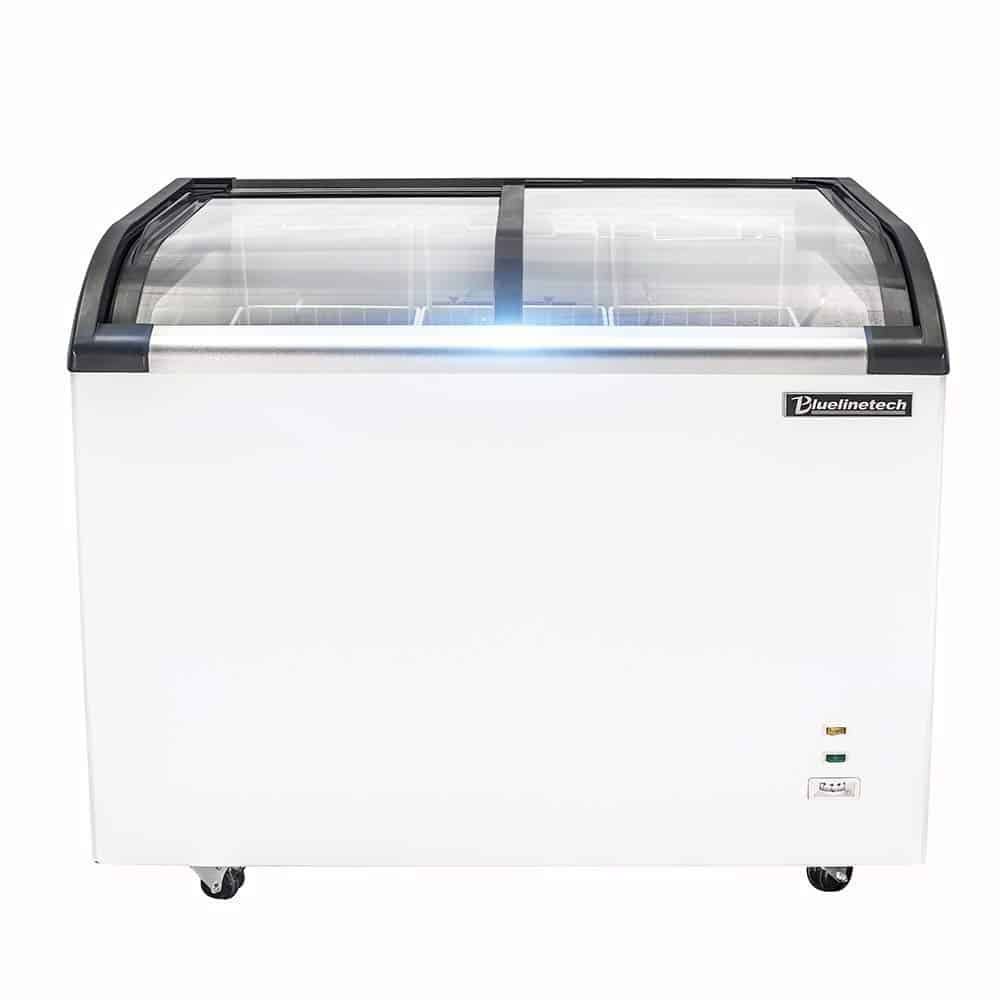 The ETL listed BLUELINETECH Commercial Ice Cream Display Freezer is a high-performance freezer that is environmentally friendly and comes with an excellent 3-year compressor warranty. There is also a 1-year parts warranty and free delivery available.
The dimensions are 41-in x 27-in x 33.5-in, and the freezer is a 10 Cu. Ft. capacity. There are three sliding storage baskets designed for fast access and optimum storage. The temperature is adjustable from -18°F to 10°F, and the freezer has a manual defrosting function aided with the defrosting drain hole.
I like the soft open/close door and curved sliding glass lids, which allow consumers to see the ice cream selection on offer, and easily take out their own choice safely. The interior LED lighting optimizes the display you create, making this freezer an excellent choice for ice cream parlors, concession stands, sorbet shops, and restaurants.
Pros
Great Warranty
Ample Storage, Incl 4 Sliding Baskets
LED Lighting
Certified Energy Freezer with Low Power Consumption
Glass Sliding Lids
Defrosting Drain Hole
Cons
Currently Unavailable from Amazon, Available Elsewhere: Varying Prices.
#5 Omcan Commercial Ice Cream Freezer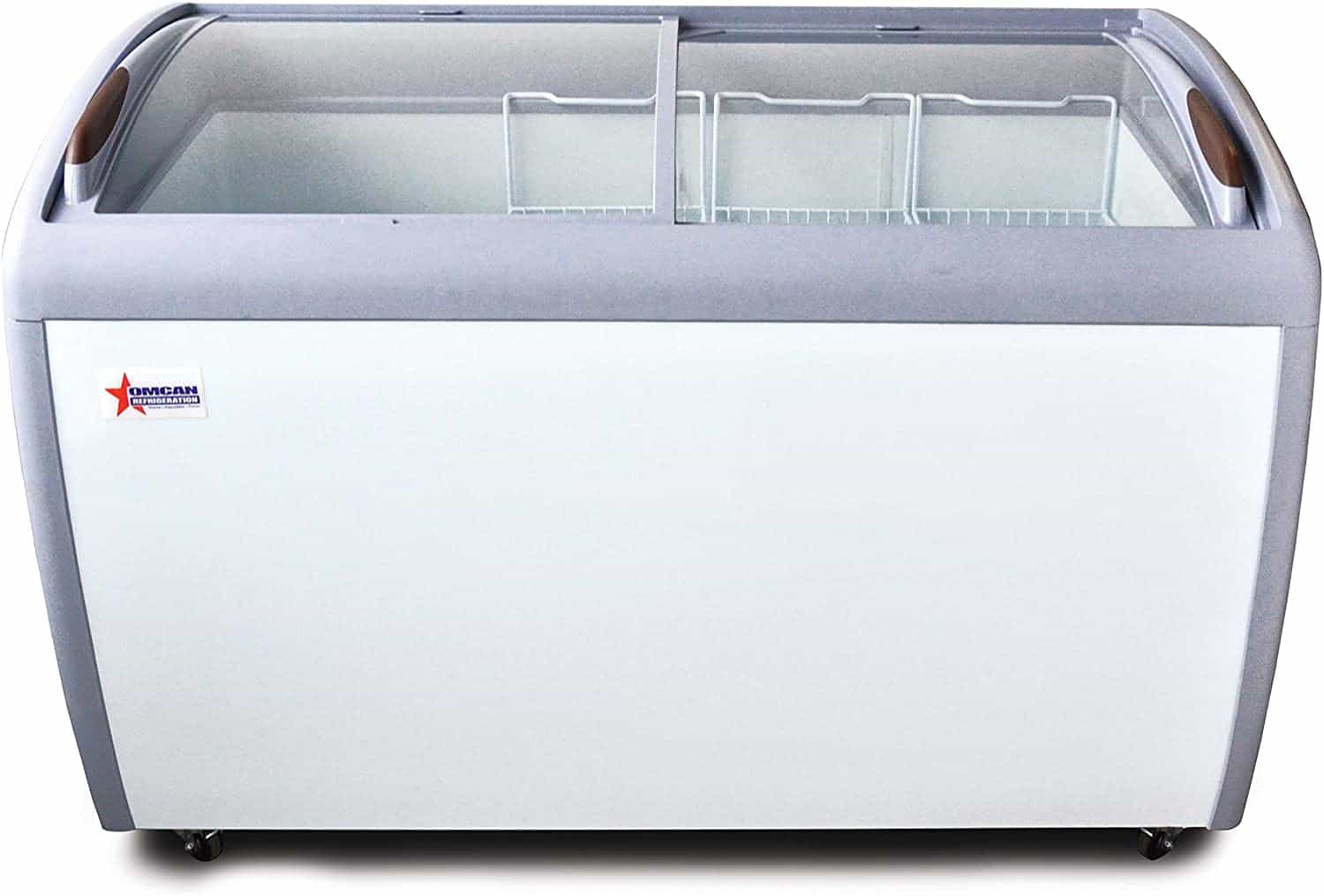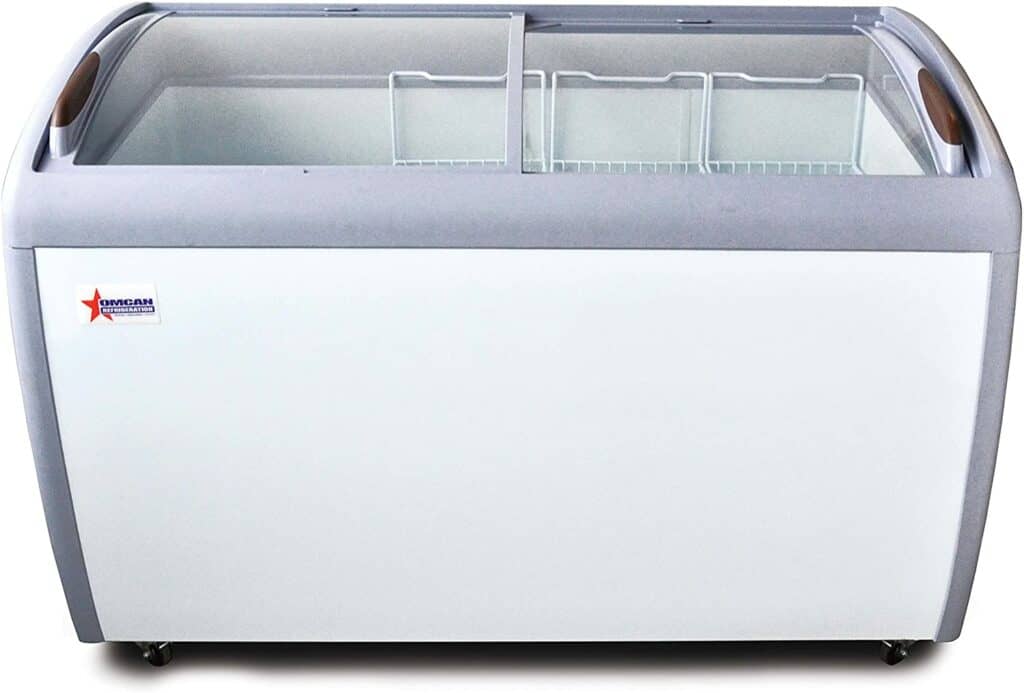 Omcan is a well-known brand for its excellent freezing solutions, and the Omcan Commercial Ice Cream Freezer certainly doesn't disappoint. This freezer has a 13 cubic feet capacity, making it one of the more spacious ones I have reviewed, and the sliding glass lid is an excellent feature for a range of establishments.
I particularly like the fact that the sliding doors can be locked, which is a great benefit for when your restaurant or store is closed, especially if you're considering storing the freezer outside. Despite the heavyweight and large capacity (30-in x 53-in x 38-in), this commercial ice cream freezer comes with four casters (2 lockable) to help with mobility.
The exterior is made from steel, with plastic grey trim; both are excellent materials for durability and easy cleaning. The exterior feels smooth, and the sliding glass top is easy to open and close, although interior lighting would be an advantage. There is a 1-year manufacturer's warranty for parts and labor.
Pros
Lockable Sliding Doors
Glass Top
Good Warranty
Fair Price
Generous Storage Capacity
Cons
LED Lighting Would Be a Good Add-on
Plastic trim may look weathered with long-standing heavy use.
#6 KoolMore Commercial Ice Cream Display Freezer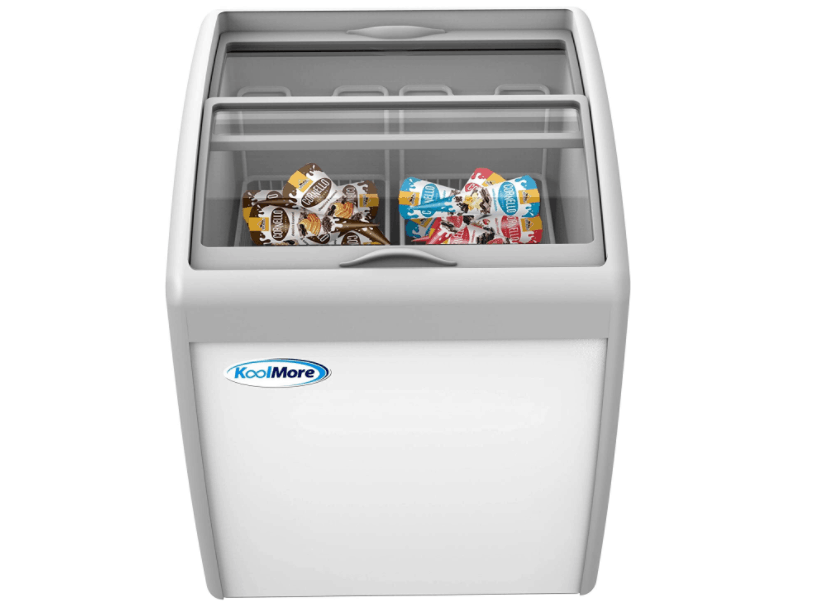 With two different size options, the KoolMore Commercial Ice Cream Display Freezer could make a great display cabinet for ice creams and frozen desserts in a restaurant, store, diner, or concession stand. The temperature is ideal for ice creams to stay firm but soft, at between -15°F and 10°F.
The space-saving freezer baskets optimize the compact storage unit, allowing for more ice creams than you may think. The LED lighting is bright and doesn't have the low buzz sound of other models. It is easy to wheel the unit to where you want it due to the four casters included. Choose between the 5.7 cu. Ft or the larger 9.2 cu. Ft and receive great value for money.
It is easy to keep the exterior clean, particularly the glass lids, due to the ergonomic handles on the side, which means that consumers don't need to touch the glass, reducing smudges and fingermarks. KoolMore commercial ice cream freezers come with 1-year parts and labor warranty, and you have peace of mind that the products are NSF and ETL certified.
Pros
Space-Saving Freezer Baskets
Ergonomic Handles
Ideal Temperature Range
NSF and ETL Certified
LED Lighting
Cons
Some Consumers Mention Baskets Missing on Arrival
Currently Unavailable on Amazon – Retailing Elsewhere with Varying Prices
#7 Beverage-Air Undercounter Ice Cream Freezer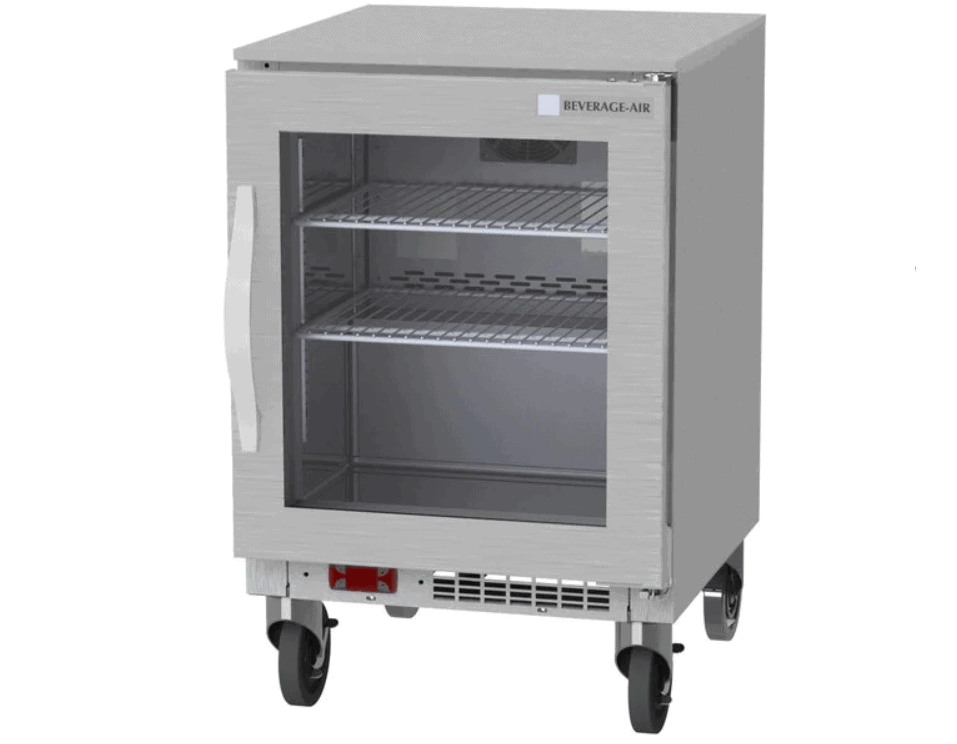 The Beverage-Air Undercounter Ice Cream Freezer could be an excellent choice if you're dealing with limited space. Made of durable, heavy-duty stainless steel exterior with an aluminum interior, this under-counter commercial ice cream freezer is perfect for frequent use in the commercial kitchen.
The door is self-closing and has a wonderful 120-degree stay-open feature, while the magnetic gasket is airtight upon closing, reducing temperature loss. The front of the freezer is glass, so there is excellent product visibility, either for consumers in a restaurant or store or staff members in the professional kitchen.
You can monitor the temperature with fully electronic controls, and there is an eco-friendly R290 refrigerant in place and 2-in thick polyurethane insulation. Two corrosion-resistant shelves are included, and the freezer comes with two ¾-in casters to aid with moving. There is a 3-year part and labor warranty, and this freezer has UL US & Canada certification.
Pros
Made in America
Great Under Counter Storage Solution
Excellent Warranty
Heavy-Duty Materials
Great Longevity
Cons
Prop 65 Warning CA Residents
Different Prices State Depending
#8 Master-Bilt 71″ Flat Top Display Freezer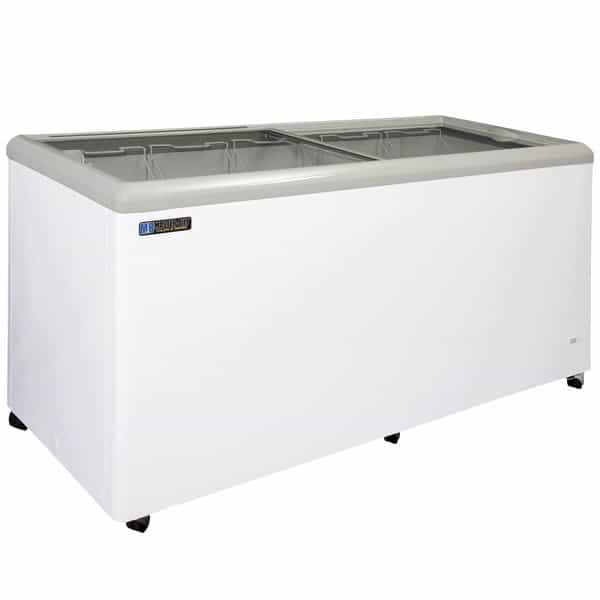 With the Master-Bilt 71″ Flat Top Display Freezer, you can showcase the ice creams you have in stock, and they're fully optimized with the LED lighting and flat slidable glass lids. The visibility is excellent. Inside the freezer, there is 16.5 cu. Ft. of space and five individual storage baskets, with ten dividers. The space is really maximized and has been exceptionally well designed.
The temperature is adjustable by an easy-to-use control panel. There is an analog thermometer on the freezer's exterior, allowing you to monitor the temperature throughout the day easily. The body is enameled steel and built to last for heavy-use establishments such as school cafeterias or convenience stores.
Inside the freezer, the material is powder-coated steel, and it operates with a ⅔ hp system circulating eco-friendly R290 refrigerant. The freezer comes with four casters to aid maneuvering. I found it to be well-lit, energy-efficient, and very quiet. However, it is pretty expensive, and there is a Prop 65 warning for CA residents.
Pros
Easy-to-use Control Panel
Exterior Analog Thermometer
Interior LED Lighting
Flat Glass Sliding Lids (Lockable)
10 Dividers and 5 Baskets
Huge Storage Capacity
Cons 
Fairly Pricey
Prices Can Vary, State Depending
Prop 65 Warning CA Residents
Frequently Asked Questions
Question: What is the Ideal Temperature for Commercial Ice Cream?
Answer: Ideally, ice cream should be stored between -10 and -20 degrees Fahrenheit, thoroughly frozen and hard to the touch. Ice crystals form if the ice cream starts to defrost gradually, resulting in an unsatisfying experience for customers due to a crunchy consistency. When ready to serve, the ideal temperature increases to -10 to 0 degrees Fahrenheit.
Question: How Long Should you Store Ice Cream for?
Answer: Sometimes people presume that ice cream can be stored near indefinitely, but this is a misconception, and although it takes a long time for ice cream to go bad, it doesn't take so long for the taste to be less than it should. If bought, the ice cream will come with a manufacturer's best by' and 'use by; don't ignore either.
Regular ice cream should be stored for no more than three months. Frozen yogurt is the same. You can leave this for up to four months for sorbet, and gelato for up to two months.
Question: How Often Should I Clean a Commercial Ice Cream Freezer?
Answer: If your freezer is open to consumers, there could be hundreds of different fingerprints and possibly bacteria left on it each day. And so very regular cleaning must be done. Ideally, a couple of times a day for the surfaces people contact.
Use top-quality sanitary products to perform a full clean weekly, twice monthly, or monthly depending on the amount of use your commercial freezer has. Every six months, it is recommended to hire a qualified refrigeration engineer to perform maintenance checks – remember, it is always cheaper to prevent a major repair.
The Best Commercial Ice Cream Freezer – My Verdict
If you have a large commercial kitchen and serve diners with ice cream regularly, you may benefit from looking at a larger ice cream freezer, such as the freezers in this guide by Omcan and Master-Bilt. A larger freezer will take up more room, but it will also have a larger capacity, which means serving more and earning more.
Smaller kitchens may find smaller freezers, such as the KoolMore freezer, a better choice. The under-counter freezer by Beverage-Air is an excellent choice for kitchens that are limited with space, and the Whynter freezer is lightweight enough to be portable and used only when necessary.
If you're going to have your ice cream and frozen desserts on display, then a glass-fronted cabinet like the BLUELINETECH Commercial Ice Cream Display Freezer allows consumers to see the product before they buy. If you will serve ice creams solely, then the Avantco Ice Cream Dipping Cabinet is an excellent choice.
For ice cream freezers that will remain in the commercial kitchen, appearance is a secondary factor. The Koolatron Compact Top-Opening Chest Freezer is a budget-buy that could be a great benefit to a commercial kitchen but possibly not the most pleasing looking appliance to sit in front of the house.