Latest posts by Jodie Chiffey
(see all)
Diners, eateries, and restaurants are choosing to be more health-conscious, and this often means including more salads on the menu. The best way to incorporate this healthy meal option is to incorporate a salad station into the restaurant's regular service.
Like every other piece of equipment your restaurant needs, there are many considerations when choosing a salad station. Size and budget seem to be the most important because you want a station that will fit into and not crowd your restaurant without breaking the bank.
The options we will look at in this review will cover these two considerations very well. But before we look at the various options, let's first look at some of the main benefits of choosing to have a salad station.
The Main Benefits of a Salad Station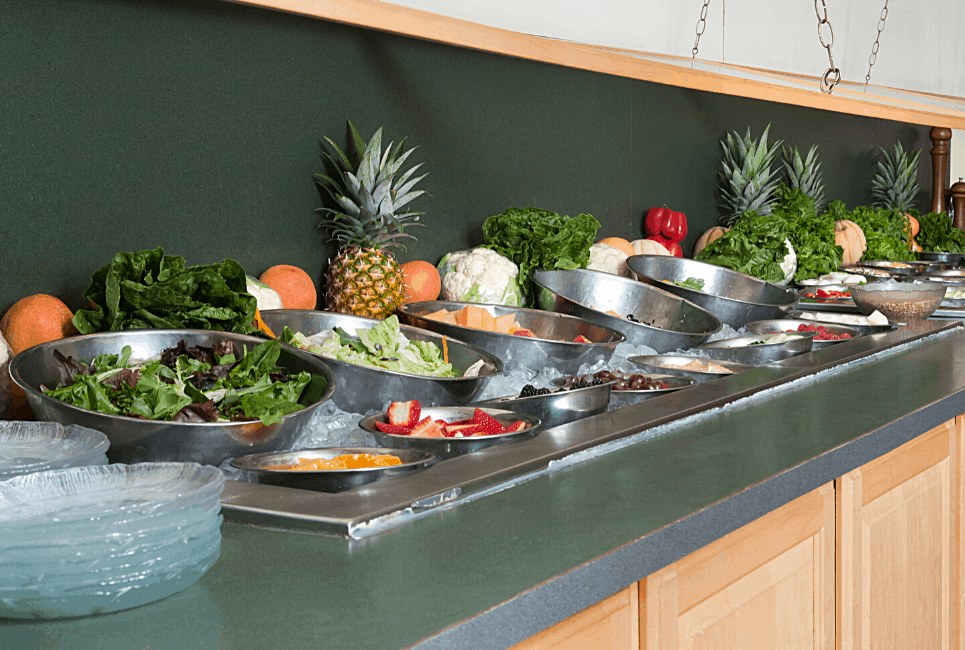 A salad station can add value to your restaurant or establishment in numerous ways. The following are just some of these ways;
Increasing Your Menu Appeal 
Because of the self-service aspect of the salad station, just having one is one of the easiest ways to increase the appeal of your menu by adding a variety of choices. Even if you have a small salad station with room for only 10 ingredients, the combinations of these 10 ingredients can be endless, limited only by guests' imagination and tastes.
A salad station can also be a good way to attract more health-conscious guests who may have stayed away from your restaurant because of your menu choices.
Create an Engaging Dining Experience 
A salad station gives your guests a unique chance to leave their tables to create their own salad from the choices on offer. This simple process has a tremendous effect on the engagement in the restaurant, giving your guests something to look forward to the next time they visit your restaurant.
The process of building a salad can also encourage interaction and conversation among the guests, transforming your restaurant from just an eatery to a social gathering. In addition, when your guests leave their tables, they are also exposed to other parts of the establishment that they wouldn't have had a chance to see otherwise, enhancing their interaction with your restaurant as a whole.
Increasing Check Averages 
To every restaurant owner, increasing check averages are at the forefront of most activities. The most common way to try and increase check averages is to offer limited menu items and upsells. And, while these may work very well, a salad may present a better option as it is often seen as a part of the complete meal.
Salads work because guests may see choosing a salad as a healthier option instead of choosing a condiment, topping, or sauce. If they build their own salad, they may be more willing to try a salad than any other upsell or limited menu item you may offer.
This makes a salad station one of the best ways to increase check averages, even for a small or medium establishment. For example, if the total cost of a meal is $7 to $10, charging $3 to $4 for an additional salad can increase the value by 50%.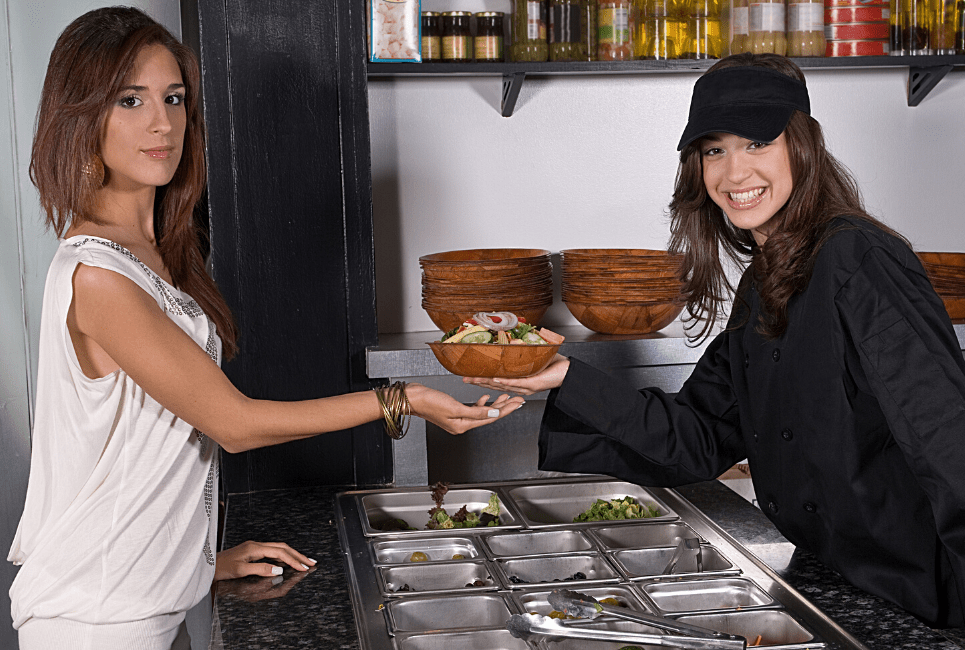 Selection Criteria
Salad stations are plenty, so many that it can be a bit difficult to choose the best one for your restaurant's needs. To narrow down the choices, we came up with the following selection criteria;
Size: All the salad stations here are carefully chosen with size in mind. But we have considered two different sizes; large enough to cover a larger space with more guests to serve and small enough for a mid-sized space.
Food Pans: The number of food pans a salad station can hold is an essential consideration. All the options we highlighted in this review have space for more than 10 food pans, giving you the larger food holding capacity, you would need for a fully functioning salad station.
Cleaning: A salad station that is not easy to clean would hinder more than it would help. Therefore, we have taken extra care to ensure that most of the salad stations here are very easy to clean. Removable shelves and portable stations made of food-grade materials like stainless steel populate this list.
The Best Salad Station Options 
However, it is important to note that a salad station will only work if the presentation is above board. Therefore, in addition to size and budgetary requirements, we've tried to include options that will make the presentation much easier for you.
The following are the best salad station options to choose from;
KoolMore 71" Refrigerated Countertop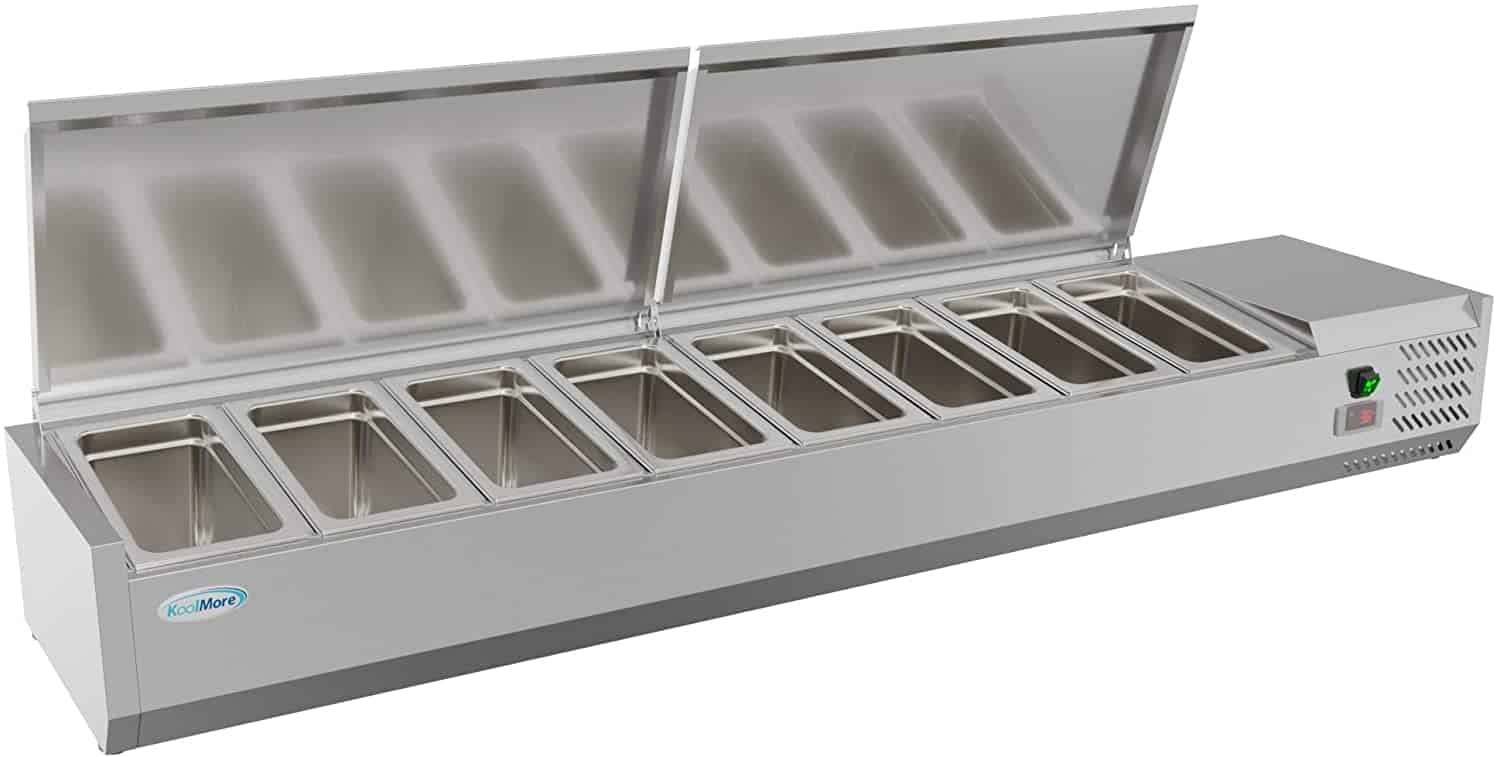 This 71" salad/sandwich station is a good solution if you have fairly limited space. The KoolMore 71 " Refrigerated Countertop's main benefit is that it is refrigerated, ensuring that all your selected ingredients will remain fresh through the service. It is also fairly portable, making it easy to clean and move to a new location when necessary.
The body on this station is made entirely of stainless steel, guaranteeing durability. It can accommodate 1/3 food pans with a capacity of 6.1 qt., holding smaller 1/6 pans. It has a digital temperature display in the front to make it easy to monitor and control the temperature of the ingredients. The stainless-steel lid helps to preserve the freshness of the ingredients until it is time to serve.
Pros
Small enough to fit in a mid-sized restaurant
It is refrigerated
Made of stainless steel
It is easy to clean and move
It comes with s stainless steel lid to keep the ingredients fresh
Cons
There is no offer of after-sales service or warranty
The power cord is in the front of the unit, which may be inconvenient depending on where you place the station.
KITMA 73 Inches 3 Door Mega Top Prep Table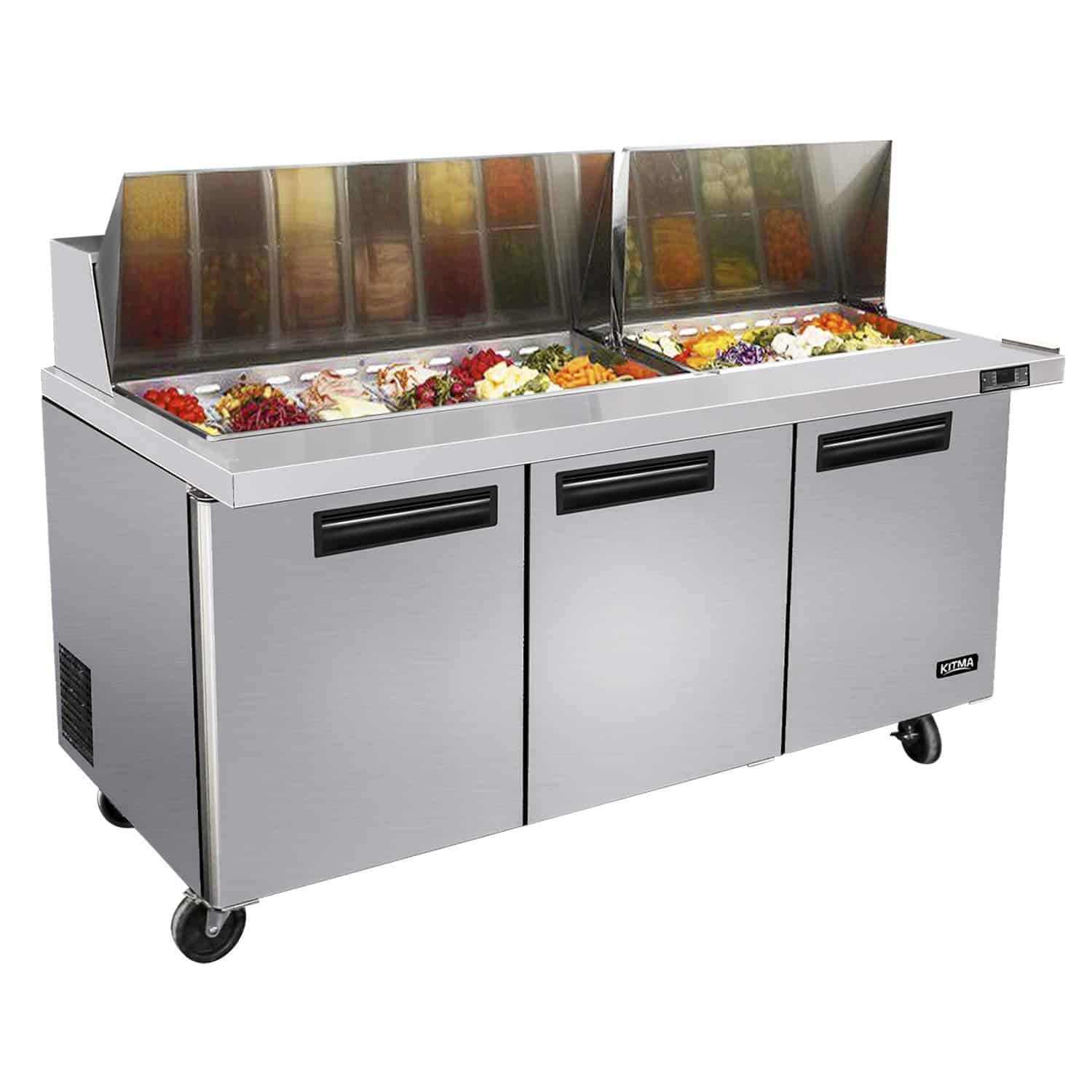 If you are looking for a solution to offer a wide range of ingredient options for your guests and one that will not take up a lot of floor space, the KITMA 73 Inches 3 Door Mega Top Prep Table is a good choice. You get up to 30 deep pans, ideal for holding different ingredients that your guests will need to create their ideal salad.
This station also provided efficiency in terms of storage. There are 3 epoxy coated shelves that you can use to restock the food pans or just as extra storage for some of your ingredients. These shelves are not fixed and can be adjusted in numerous ways to fit your needs.
This station is also fully refrigerated to ensure that you can maintain the ingredients' freshness. It is made of high-quality stainless steel that will withstand the stresses of a busy kitchen and will not rust.
Pros
It is the ideal size for a midsize or small kitchen
With 30 deep food pans, your guests' choices will be unlimited
It is made of high-quality food-grade stainless steel
Refrigerated to ensure freshness
Ahs numerous storage shelves
Cons
It is a bit expensive compared to other similar stations
The lid is solid stainless steel without the added advantage of a glass covering for presentation purposes
Atosa 93" 3-Door Refrigerated Salad Prep Station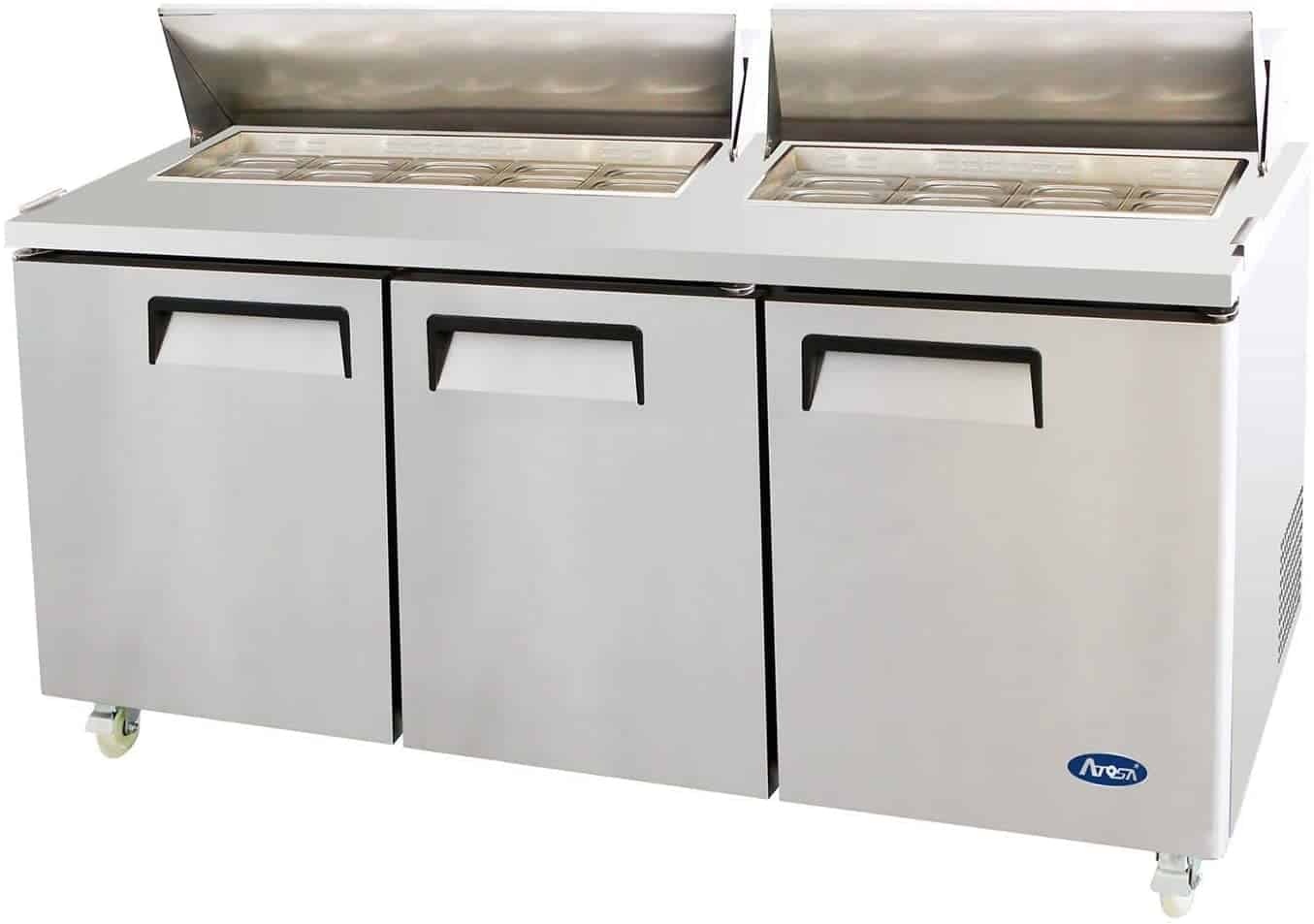 For the fairly larger restaurant, the Atosa 93" 3-Door Refrigerated Salad Prep Station offers the necessary space to ensure all your guests get the chance to create their perfect salad. The whole unit is refrigerated, and although it does have a lot of storage space, there are only a few food pans, limiting you to only a few ingredient options.
However, this station is a sturdy option, made of stainless steel, and unlikely to get damaged easily. Unfortunately, its bulkiness makes it that much harder to move and clean, although it is a good choice if you intend to keep changing the salad ingredients during the service.
Pros
A sturdy, rust-proof, and damage-proof design means that it will be of service to you for a while
It has additional storage compartments.
The stainless-steel finish makes it aesthetically pleasing
It is refrigerated to preserve the freshness of the ingredients
Cons
It is not easy to move or clean
Despite the high cost, the manufacturer doesn't offer a warranty or after-sales service.
True TSSU -48 18 M-B 2 Door Sandwich Prep Table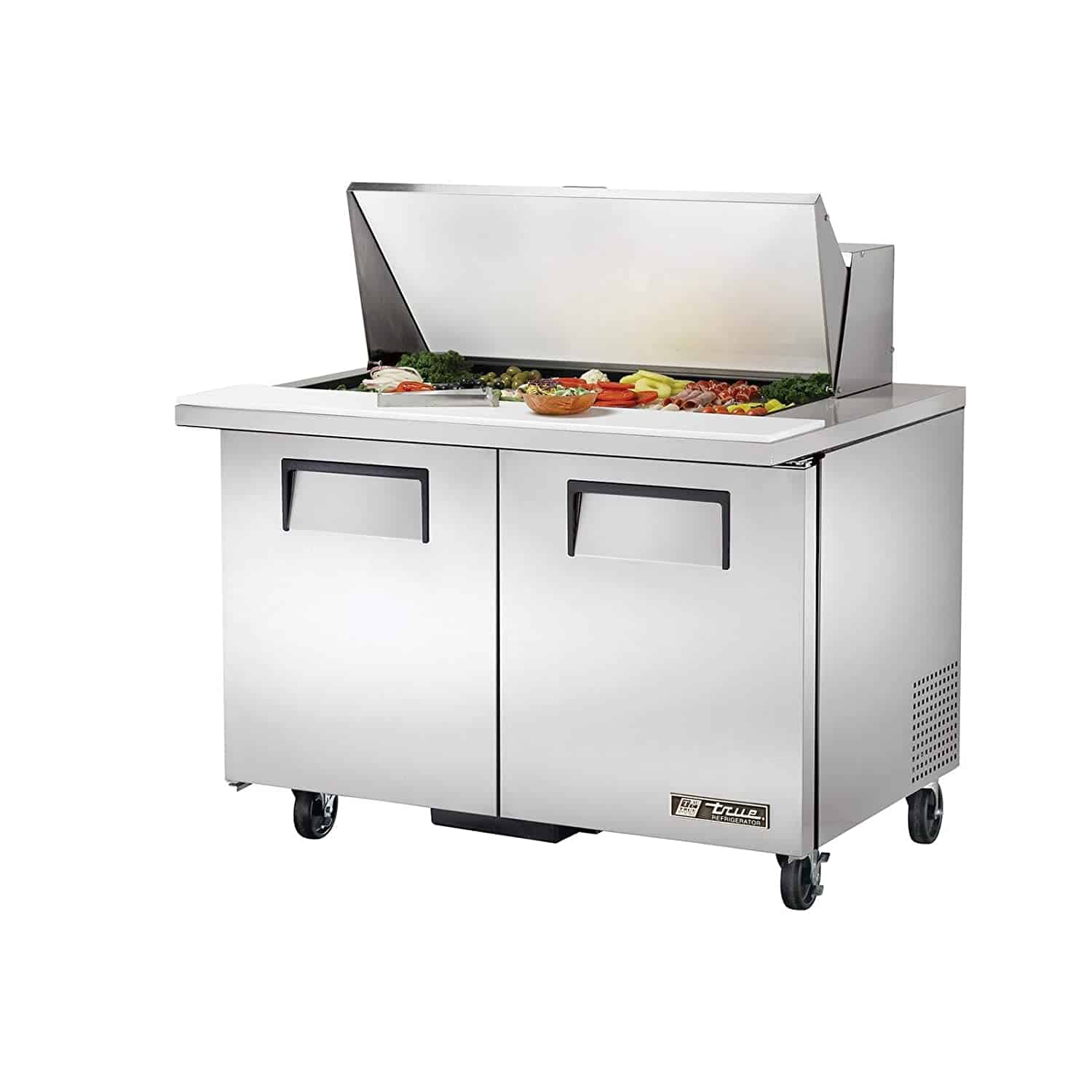 The True TSSU -48 18 M-B 2 Door Sandwich Prep Table is a much smaller option for the restaurant with fairly limited floor space. But don't let its small stature fool you; this station has an 8" cutting board and 18 food pans, making it more than capable of adding as much variety to the salad service as you need.
It is also fully refrigerated and comes with an insulated hood to ensure that all your ingredients will be fresh when you are ready for the service.
This station is made of top-grade stainless steel with PVC-coated wire shelves and a white aluminum interior. This combination of materials ensures that it is rust-proof and durable enough to withstand the needs of a busy restaurant while also remaining light enough to move as needed.
Pros
It is small enough to be easy to move and clean
It is fully refrigerated
It has 18 deep food pans for storage
Made of rust-proof materials
Cons
The fact that it is small means that it can serve only a few guests at a time.
It is relatively expensive for its size.
Cooler Depot 60" Commercial Refrigerated Prep Table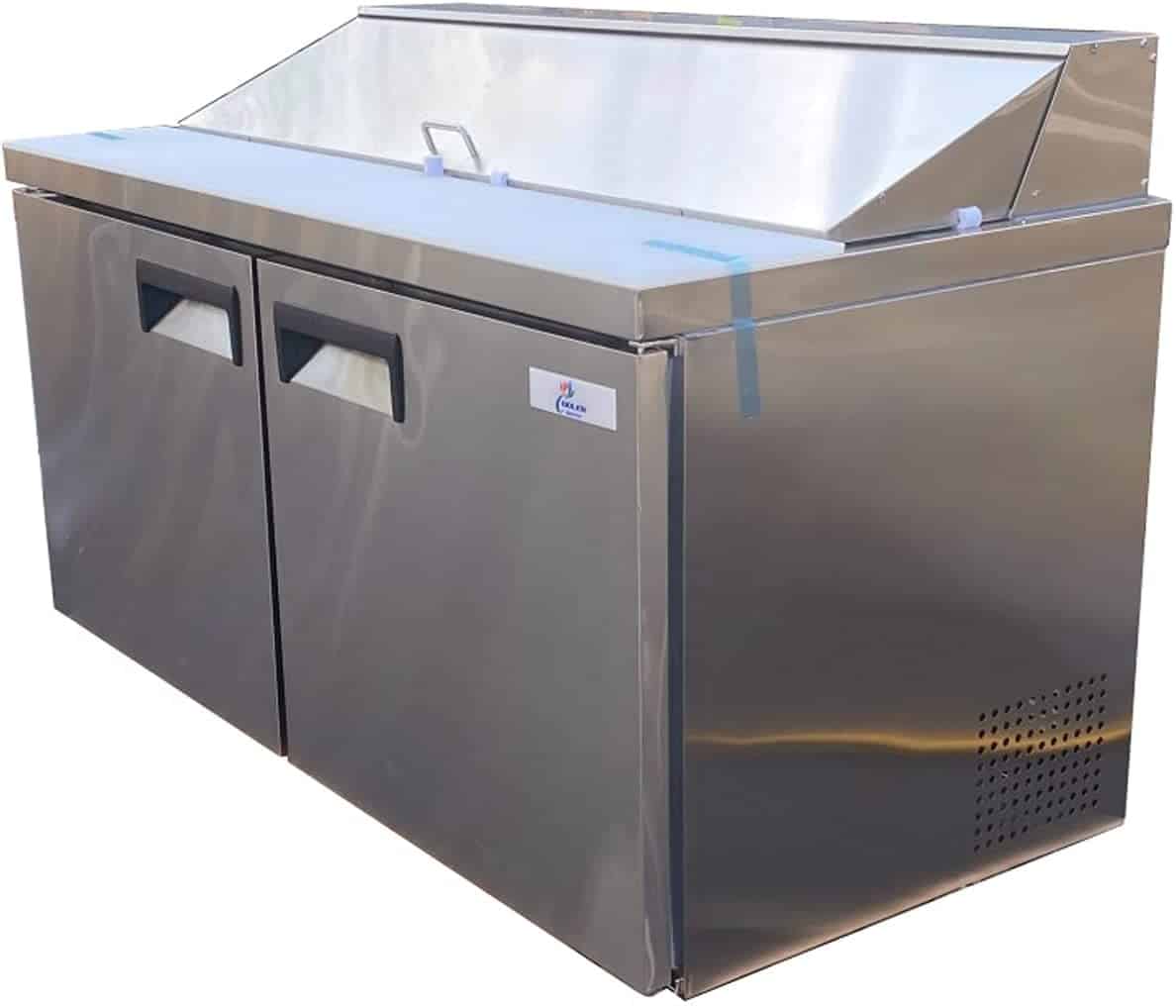 The Cooler Depot 60" Commercial Refrigerated Prep Table is a larger option despite its size is not too bulky. It is entirely made of stainless steel both inside and outside, a factor that makes it one of the most durable stations we could find.
The interiors of the cabinets are sealed and have rounded corners to make cleaning much easier. The storage cabinets are refrigerated with a digital temperature controller and an automatic defrost feature.
One of the best features of this stand is the much larger prep space, allowing for quicker preparation. But the larger prep space does mean that you will have to compromise on the number of food pans it can hold, meaning fewer ingredient options for your guests.
Pros
It has a much larger storage and preparation space
It is made entirely of stainless steel to guarantee durability
It is easy to clean despite its size
Refrigerated to preserve the freshness of the ingredients
Cons
It offers fewer food pans for its size
It can be bulky if space is limited
There is no warranty offer
Xiltek 72" Three door Sandwich Salad Prep Table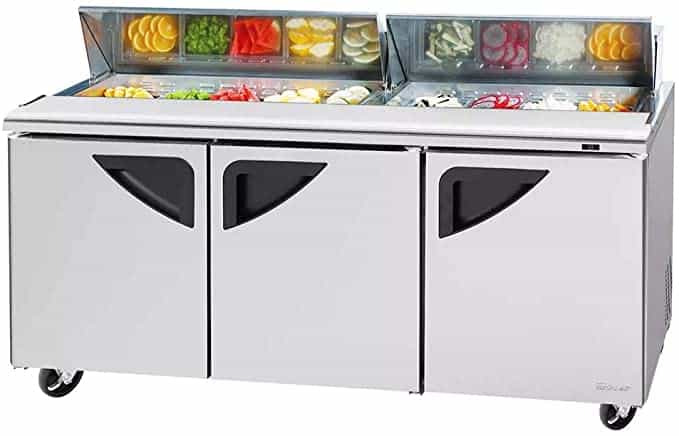 Made of high-quality stainless steel and aluminum, the Xiltek 72" Three door Sandwich Salad Prep Table is a salad station and prep table with a hydrocarbon natural refrigeration system that holds the temperature at an average of 33°F.
The stainless-steel exterior has a matching aluminum finish that is not just meant to make this station look good but is also a good way to prevent the buildup of rust on its surface.
It has 18 deep pans to hold 18 different ingredients simultaneously, giving your guests the variety they need to make the perfect salad. It also comes with large shelves to facilitate storage, and each shelf is adjustable, making them easy to keep clean. The refrigeration and the insulated lid ensure that all food items remain fresh throughout the day.
Pros
It has a refrigeration system that maintains a constant temperature
An insulated lid further maintains freshness
18 deep pans provide a variety of ingredients
It is easy to clean
It is rust-proof and made of durable materials
Cons
It is very big and therefore not easy to move
FAQs
Question: What Size of Salad Station Do I Need?
Answer: The best way to determine the size of the salad station you should purchase is to measure the space you want to place it on. This will give you an idea of the length to choose, although it may also be important to consider the depth of the station when the doors are open.
Choose a salad station that will fit perfectly into the space you have selected for it without interfering with other equipment or furniture around.
Question: Should I Choose a Salad Station with Swivel Casters?
Answer: Swivel casters are meant to make it easier for you to move and clean the salad station. Some stations will come with swivel casters pre-installed, although these tend to be the largest sized. If you purchase a station without swivel casters and later decide you might need them, they can be purchased and installed separately.
Considering that they can make it easier to move even the heaviest of stations, we'd recommend going for an option with swivel casters; they will come in handy during cleaning.
Question: How Many Food Pans Do I Need?
Answer: The answer to this question will depend on the options you want to offer your guests and, of course on the size of the salad station that you have. If you want to offer an unlimited salad combination, then more food pans will be preferable to you, and the larger the salad station, the more space it will have for the pans you need.
Even as you consider the number of food pans, it may be worth choosing a station with additional storage shelves or drawers, particularly if your salad station is popular and the ingredients need to be replenished regularly. This is a matter of preference and how well you know your clientele.
Question: Should the Station Have a Sneeze Guard? 
Answer: While it may not be a requirement, particularly if the salad station you buy has a transparent lid, a sneeze guard can be a great addition to any prep station. When your guests arrive at the station, they can place their order by pointing to the ingredients they would like to include in the salad, and since you anticipate many different people to do so, a sneeze guard can keep the whole process safe and hygienic.
Question: How Do I Make Sure I am Buying a Quality Salad Station?
Answer: Like every other piece of equipment for your business, additional research is needed when buying a salad station. The good quality ones tend to be very expensive, and the last thing you need is to spend a lot of money on a large station that doesn't last through the year. A good indicator is the material used to make the station.
Go for stainless steel or a combination of stainless steel and aluminum. And, take the time to read through the reviews; they are a good way to tell how the station has served other users.
Final Thoughts 
A restaurant, like most other businesses, will greatly benefit from customer engagement. One of the best ways to do that is to make your guests feel like they are a part of the service and nothing does that better than a salad station.
If it is your first time experimenting with this type of equipment, you may want to test the waters with the True TSSU -48 18 M-B 2 Door Sandwich Prep Table. It's a manageable option ideal for smaller establishments.
For a more moderate kitchen with a sizable clientele, the Cooler Depot 60" Commercial Refrigerated Prep Table is a good option. It is large enough to easily carry all the ingredients you want to serve but not too large that it would be difficult to keep clean.
For a larger restaurant that caters to guests with varying tastes, the Xiltek 72" Three door Sandwich Salad Prep Table is a big enough solution, with a unique refrigeration system that will ensure all ingredients in the food pans and the storage shelves will remain fresh throughout the service.