Latest posts by Alice Smith
(see all)
Do you find that it's hard to track your employees' time? Wondering how much they're working and when? There are many benefits of using a time tracking system with your restaurant. In that case, restaurant time tracking software may be exactly what you're looking for.
In the restaurant industry, time tracking is essential for keeping track of labor costs. But, you'll also know that it's hard to keep track of all your hours. This is where time tracking software comes in handy!
Time tracking software is a great way to make sure your employees are being productive and billing the correct hours for their work. Time spent on each task can be tracked easily, as well as time off and breaks. It's also helpful for payroll purposes because you can calculate an employee's hourly rate based on what they've been working on.
In this article, we will discuss the best time restaurant time tracking software – whether you're just starting up or already established. We'll also share some helpful tips about how to use these programs most effectively. So without further ado, let's get started…
What Is Restaurant Time Tracking Software?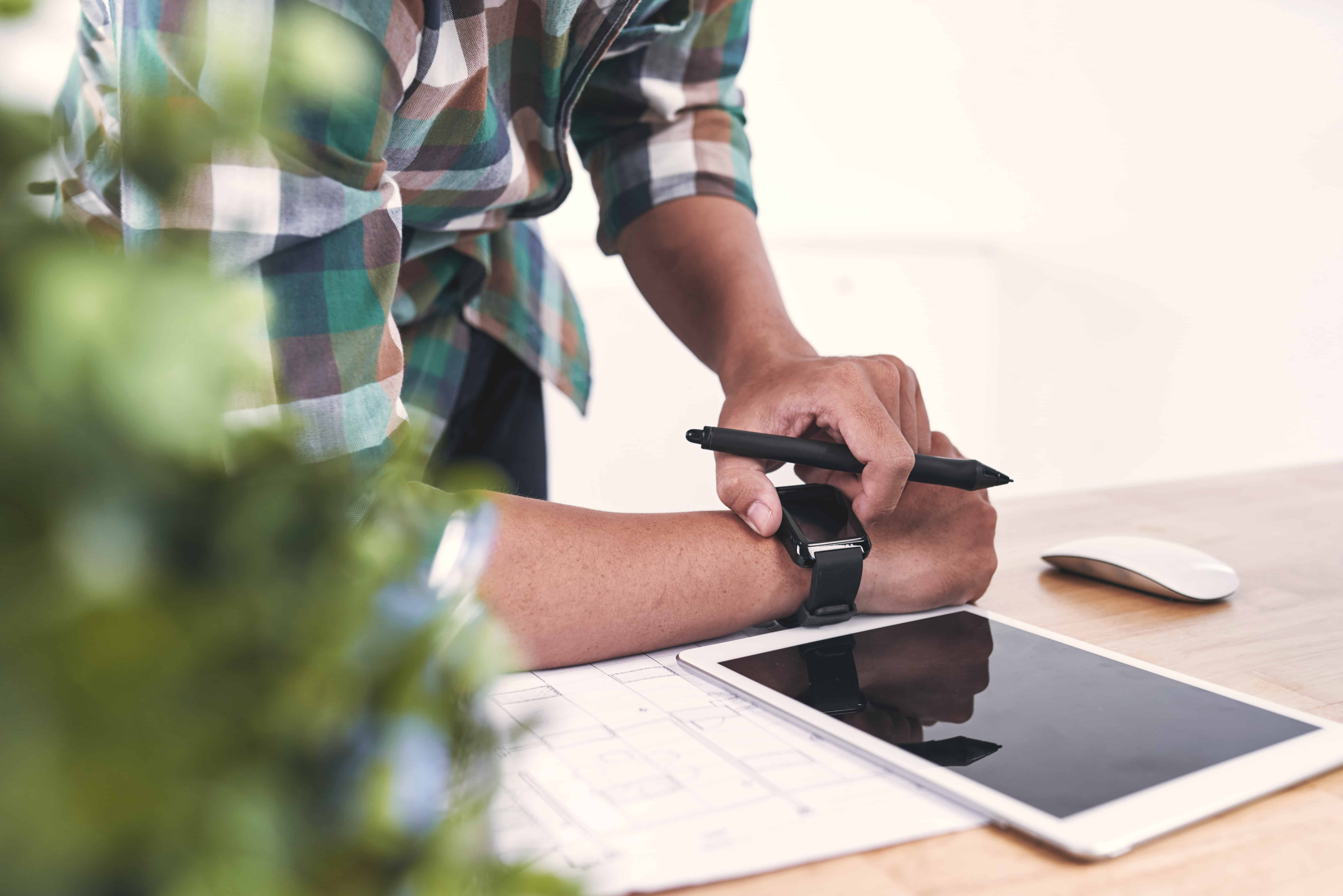 Restaurant time tracking software is a program that is designed to help restaurants keep track of their business hours and related data. It allows all employees to clock in and out of their shifts. It also keeps track of the time spent on each task or customer, tracks their breaks, allows them to easily swap shifts with other employees, and requests time off.
As most of the catering industry works on shift work, with no set hours and employees working all kinds of patterns, time tracking software can be a lifesaver for managers or restaurant owners who need a way to easily see who is working when.
How Does Restaurant Time Tracking Software Work?
A time tracking program can either work as a standalone or it can integrate with your POS system. It's possible to set up permissions for employees so they only have access to the parts of the software that apply to their role in the restaurant, making it much easier to use.
When an employee clocks into their shift, this will open up a new tab on top of your screen where you'll be able to track how long they've been working and what tasks are assigned at any given moment. This is very helpful if someone needs help because then everyone knows exactly who should go and do which task.
They often have apps which employees can download onto their phones enabling them to clock in and out easily during their shift. Some restaurant time tracking software also has rather fancy features like the ability to detect when an employee is on the premises and only let the clock in once they're through the door – preventing people from clocking in while they're running late.
Why Is Restaurant Time Tracking Software A Good Idea?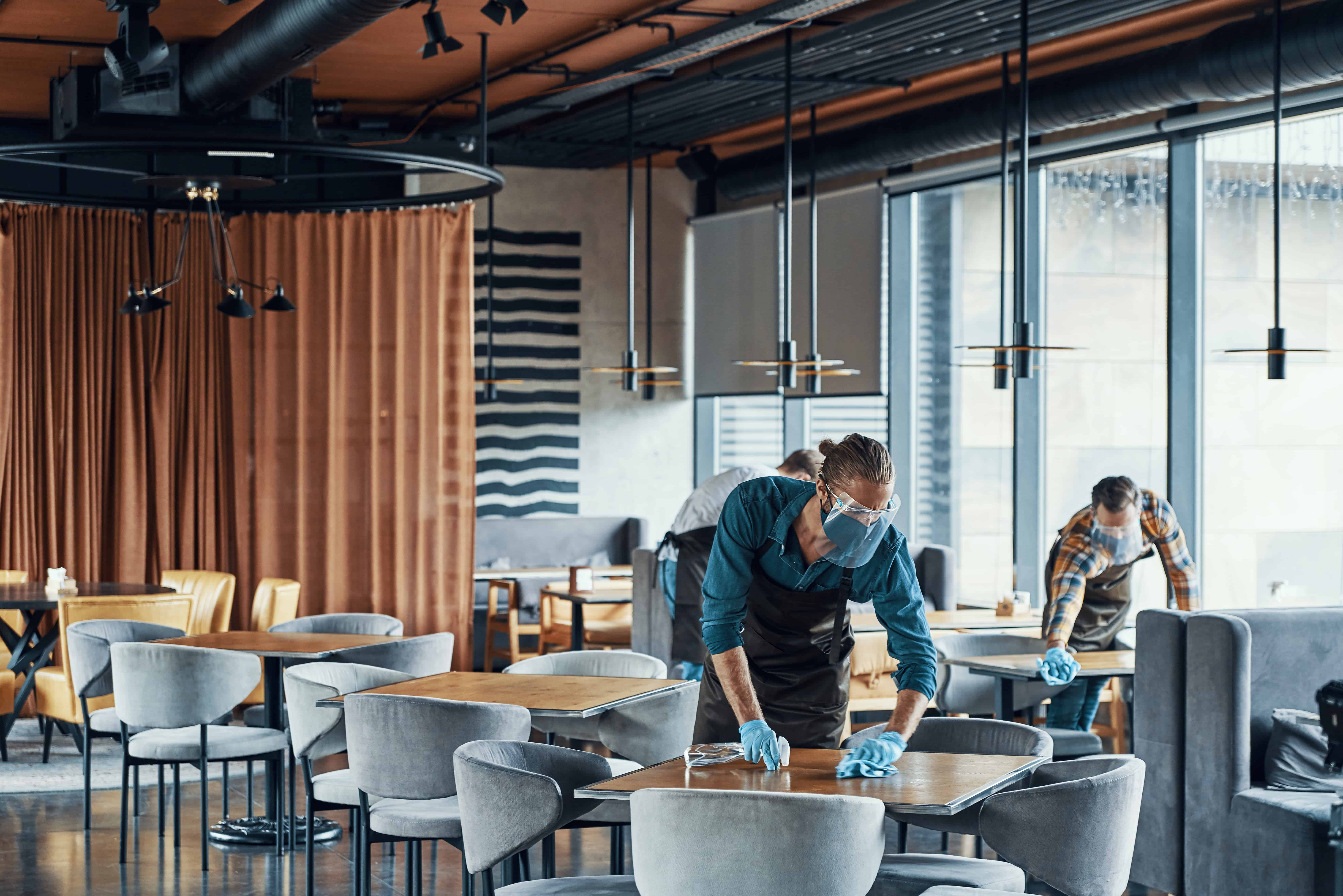 Restaurant tracking software is a good idea because keeping accurate records for your business will help you stay organized and more efficient. You'll be able to easily calculate how much inventory you need at any given moment, which can ultimately save you money.
It's also great for tax season because it automatically calculates sales hours, labor hours, total payroll costs, and more. So, you don't have to worry about calculating these yourself. This saves tons of valuable time that could be used elsewhere like creating new dishes or working on better marketing strategies.
Lastly, these programs are very helpful in managing staff schedules – especially if you're working with an ever-changing schedule. You'll always know who's scheduled for what shift so there is no confusion and you'll be aware of any last-minute changes.
Some Things Restaurants Should Keep In Mind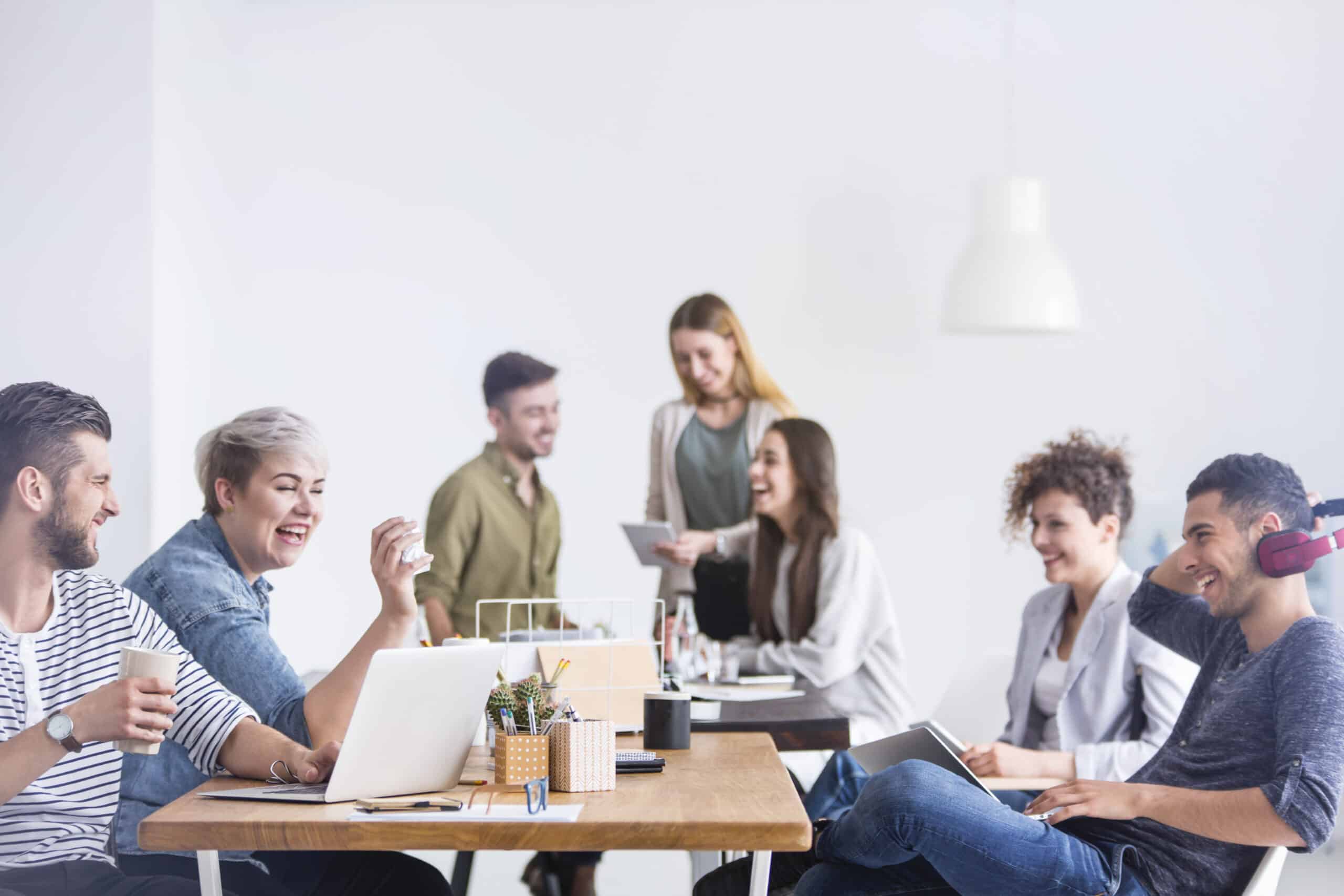 The first thing restaurants should keep in mind if they're thinking about adopting time tracking software is to make sure your employees clock out before leaving work at the end of their shifts. This prevents any confusion or mistakes from happening.
Additionally, you should set up permissions on the app so that they only have access to the parts of the software which apply to their roles in your restaurant. This makes it easier to use, prevents staff from doing things they shouldn't, prevents mistakes from happening (like someone accidentally deleting a record), and this is especially helpful if someone needs help because then people know who should go do what task.
Next, remember that you'll find using this software much easier to keep track of how many hours an employee has worked – this will let you know when they need to take a break, and also give them time off.
It's important not just for lunch breaks but also during other times throughout the day where there is downtime with no tasks assigned at any given moment. This ensures workers stay safe and healthy through working hard all day long without sacrificing their well-being.
What Should You Look For In Restaurant Time Tracking Software?
There are a variety of things you should look out for when buying time tracking software. The first thing is what kinds of permissions you can set up for employees.
You should also consider the features, how the software would integrate with your current processes, and how easy it will be for you to manage. These are some of the most important things to look for in restaurant time tracking software:
Ease of use
You definitely want any software you use to be as simple to figure out as possible. Complicated software will only lead to employees getting frustrated and feeling like they can't do anything right. Plus, if some of your employees aren't so good with technology, they won't want to introduce a process that they aren't able to follow. So ease of use should be one of your top priorities.
Reminders
You might need to set reminders for employees to clock out at the end of their shifts, take breaks when needed (especially during downtime), and keep track of how many hours they have worked. This will make sure that your staff stays safe and healthy through long work days, and ensure that you're compiling with employment law
Capacity
It's also important to consider the capacity of employees that your new piece of software can cope with. If you have a restaurant with up to 50 employees, it might be better suited for something simpler (and cheaper) than software that can accommodate 500.
Reporting
You might want to be able to generate reports with the software you choose. Without them, it's hard to monitor company performance and make sure that all of your employees are getting enough time off or performing well at their tasks. S, be sure to look at the software's reporting capabilities before you purchase.
Mobile use
These days, everything is virtual! If you are looking for a time tracking software that can be used by employees on the go, then it's important to find ones with mobile capabilities. This will make sure they don't have to worry about using clunky laptops or other devices just so they can clock out.
Shift swap with approval
A good piece of restaurant time tracking software should allow managers to approve shifts for other employees. This will make it much easier and faster if there are any last-minute changes, or people falling ill or needing time off.
Integrations
You might want to consider integrating the time tracking software you purchase with your inventory management system or POS system. It'll be much easier to manage your restaurant if you have all the information you need in one place. This will also make it much easier for you to monitor your company's performance.
Cost
Another important thing to keep in mind is the cost of any software you're looking at. If your company doesn't have a lot of money or is a fairly new start-up, then it's probably better to stick with something free or inexpensive.
It can be difficult for restaurants and catering businesses to find time-tracking software that suits their needs without breaking the bank– but there are certainly options available that are worth a closer look.
Built-in communications
Some software offers communication features, which can be a huge help in letting employees know what to do during shifts. This will make it much easier for managers and staff members alike because they'll have a clear understanding of who's doing what.
Messages should also include reminders about when breaks are due or other important information that could affect the safety of your employee.
What Criteria Did We Use To Make The Selections Below?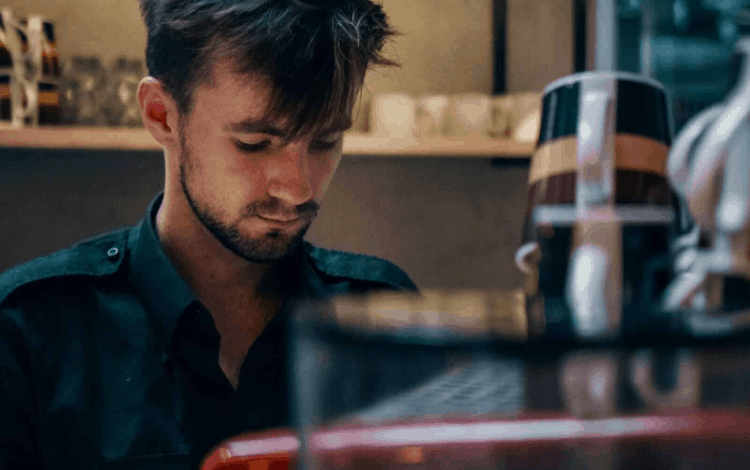 To make these selections, we used a number of different factors. First, we looked at products that would give you the most bang for your buck—features and prices were important to consider in this. We also selected ones that have many features designed specifically for restaurants or catering businesses.
Next, we considered the ease of use and how well it worked. These were two factors that we thought might be important for users to consider, especially those who are less tech-savvy or have never used time tracking software before.
Lastly, we considered ALL of the features on offer—regardless of whether they are specifically for restaurants or not. Which ones did you get with each product? What did you not get with each product? What features do you have to pay extra for? and what features were restaurants most likely to need? We wanted to recommend products that would meet your needs, and we feel that these all will.
Our Top Restaurant Time Tracking Software Recommendations
7shifts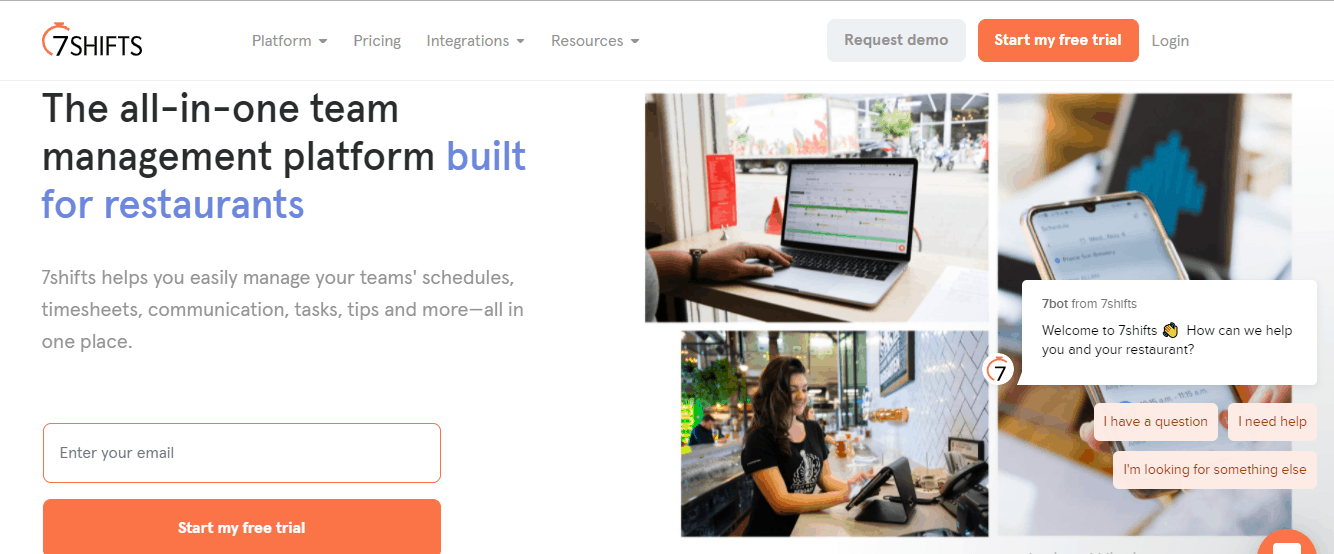 7shifts is a great option for restaurants and catering businesses because it's inexpensive, has a lot of features built-in, and is available on mobile devices.
Designed specifically for restaurants, it's ideal for franchise establishments. 7shifts offers a free plan, making it the perfect time tracking software for restaurants on a budget. However, this plan is pretty basic. For their more advanced features, you'll need to use their paid plans, which start at $17.99 per month, billed annually.
This program charges based on where your employees work rather than how many they are. It can be a cheaper option if you have a large number of employees, but it does still limit the number of employees on each plan (compared to Homebase below, which offers unlimited staff members). Multi-location franchises can also get custom pricing.
Key features:
Very easy to use – the interface is intuitive and does not require any training. Support is also very good with a great support team and fast responses.
Mobile app – employees can clock in, out, and take breaks from their phone or tablet. The app is available on both IOS and Android and has pretty good ratings.
Dedicated restaurant features – this is one of the best time tracking software built specifically for restaurants. As such, it has a bunch of restaurant-specific features like POS system integration, shift trading, and tip reporting and polling features
Pros:
Affordable – the paid plans are very affordable, especially for a time tracking app that works well.
Great mobile apps and access from multiple locations.
Specific restaurant features
Color-coded scheduling makes it easy to visualize
Cons:
The desktop version is slightly simpler to use
Doesn't support timesheet submission
Limited payroll integration
Homebase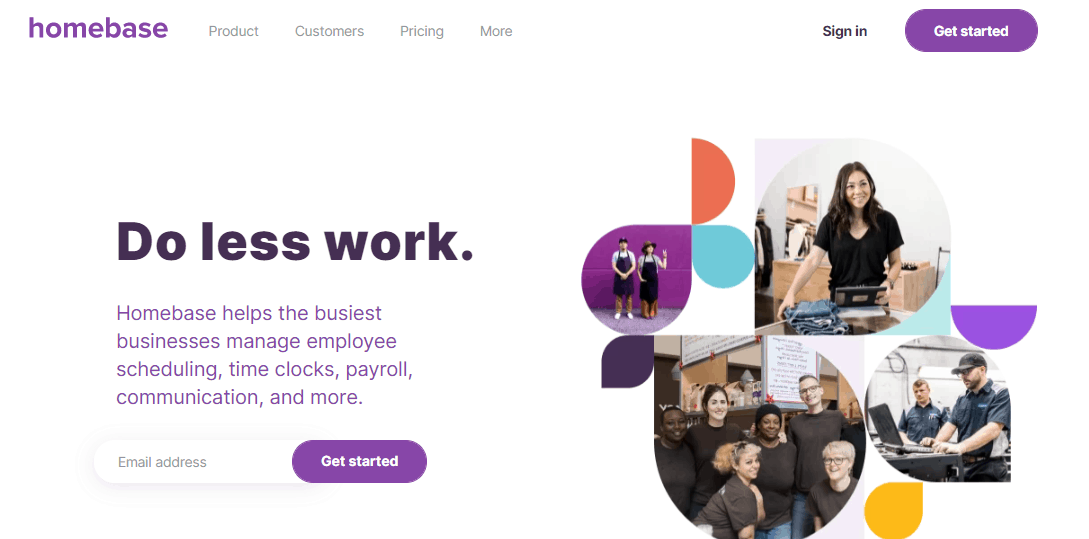 Homebase is a scheduling and time clock system with HR functions that are good for restaurants and catering businesses. It has a great mobile app, but it also offers managers a tool to create schedules. Managers can approve time off and view timesheets as well. It also integrates with a number of popular restaurant systems including POS, payroll, and business tools.
The free version, pricing, and forecasting tools make it especially useful for restaurants, and the hiring features are icing on the cake.
The paid versions start at $14.99 per month for a basic plan that includes team communications and performance tracking. Homebase is also priced per location but, unlike 7shifts above, it offers unlimited staff members on each of its plans.
Key features:
Free plan – Homebase's free plan is excellent. You get basic scheduling and timekeeping, one app per location, unlimited locations to track employees from (vs. just a single office), mobile access for employees, and a basic performance tracking tool.
Employee communications – managers can send announcements, approve employee holiday requests, see availability, and lots more. It will also automatically remind employees of upcoming shifts.
Instant mobile messaging for easy team communications
Pros:
All shift requests (swap, change, etc) are available and easy to access through the app
They offer a very good free plan which is suitable for a range of different businesses
Excellent user experience
Cons:
Limited reporting capabilities
No specific restaurant features
Separating different departments is rather clunky
Sling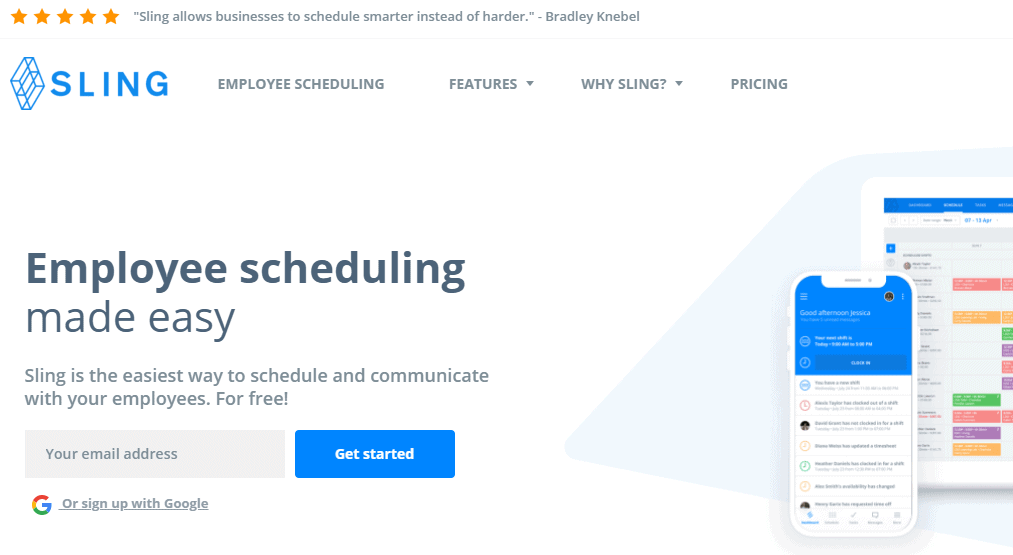 Sling is a scheduling and time-keeping tool that is ideal for smaller restaurants. it does offer a free plan, however, there is no timed clock available on it – for that feature you need to upgrade to their paid option. Nonetheless, it still features a set of comprehensive scheduling and communications tools.
A particular stand-out feature is the task tools. This helps your employees meet the standards and goals of the restaurant while making sure managers are aware of all their work.
Sling offers the ability to integrate with restaurant POS systems, such as Toast, Square, and Restaurant Manager. It also integrates with Gusto for payroll. The price makes it a great choice for small restaurants with limited needs, and it offers both unlimited locations and staff members on all of its plans.
Key features:
Sling has very clever task management features that are designed to align with restaurant standards and goals. They also help your employees meet the standards of their work while also keeping managers informed.
Integrates with restaurant POS systems, such as Toast, Square, and Restaurant Manager.
Offers unlimited locations and staff members on all of its plans
Pros:
Easy to use, simple software
Employees can edit their timesheet from the app
Customer support is excellent
Offers unlimited staff and locations
Cons:
Doesn't record employee clock out time
Some features and views are only available on desktop
Coast

Coast's free employee scheduling app is an easy solution to creating and sending weekly schedules, request shift swaps, and communicating with staff. Coast's customers have often mentioned how easy the phone app is to use.
It has an intuitive interface that helps you to create and send schedules with a quick drag-and-drop feature. It's also incredibly easy for managing staff to oversee and control multiple staff scheduled – even across multiple restaurant locations. Plus, the ability to create schedules for the month in literally minutes is a serious life-saver!
Coast also integrates with all the popular restaurant POS systems, which is perfect for restaurants who want one system to track both their timekeeping and sales data. It also features handy 'read receipts' on staff rotas, so managers will always know if their employees have seen their schedule.
Key features:
Intuitive interface that's easy to use with drag-and-drop features and the ability to create schedules for the month in minutes.
Integrates with restaurant POS systems like Toast, Square, and Restaurant Manager.
Read receipts on staff rotas so managers know who has seen what
Pros:
Easy to use
It has a very good built-in communications system
Automated reminders and changes directly to the app
Read receipts so managers can see who's see the schedule
Cons:
Limited integrations might make it trickier to sync with existing workflows
Deputy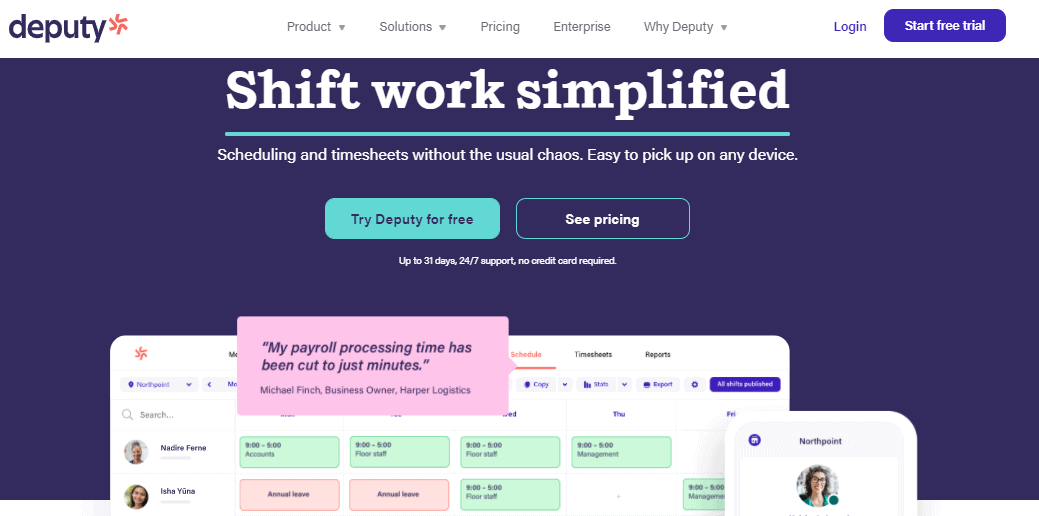 Deputy is a timekeeping and scheduling software that is perfect for restaurants. It's a bit pricier than the other options on this list, particularly if you have a lot of staff, but it has some great features that make up for this. It also offers a reduced-price plan for restaurants with only a few employees.
Deputy has a great mobile app that allows employees to clock in, out, switch shifts with coworkers, and take breaks outside of work hours. It also has a great scheduling tool for managers and superb handling of multiple locations and roles.
Its forecasting features also stand out and allow managers to plan the most efficient staffing for particular shifts. You can also create specific schedules based on your forecast linked to your sales and current budget. However, this is only available on the Enterprise plan.
Key features:
Great forecast features based on sales and budget can make managers lives much easier
Fantastic mobile app with time clocks and role switches.
Reduced prices for small restaurants
Pros:
Sends useful alerts to managers
Simple UI makes it easy to use
Very precise timekeeping features
Cons:
A little more expensive than others on this list
Doesn't sync with Google Calendar
What Are The Benefits Of A Restaurant Time Tracking Software?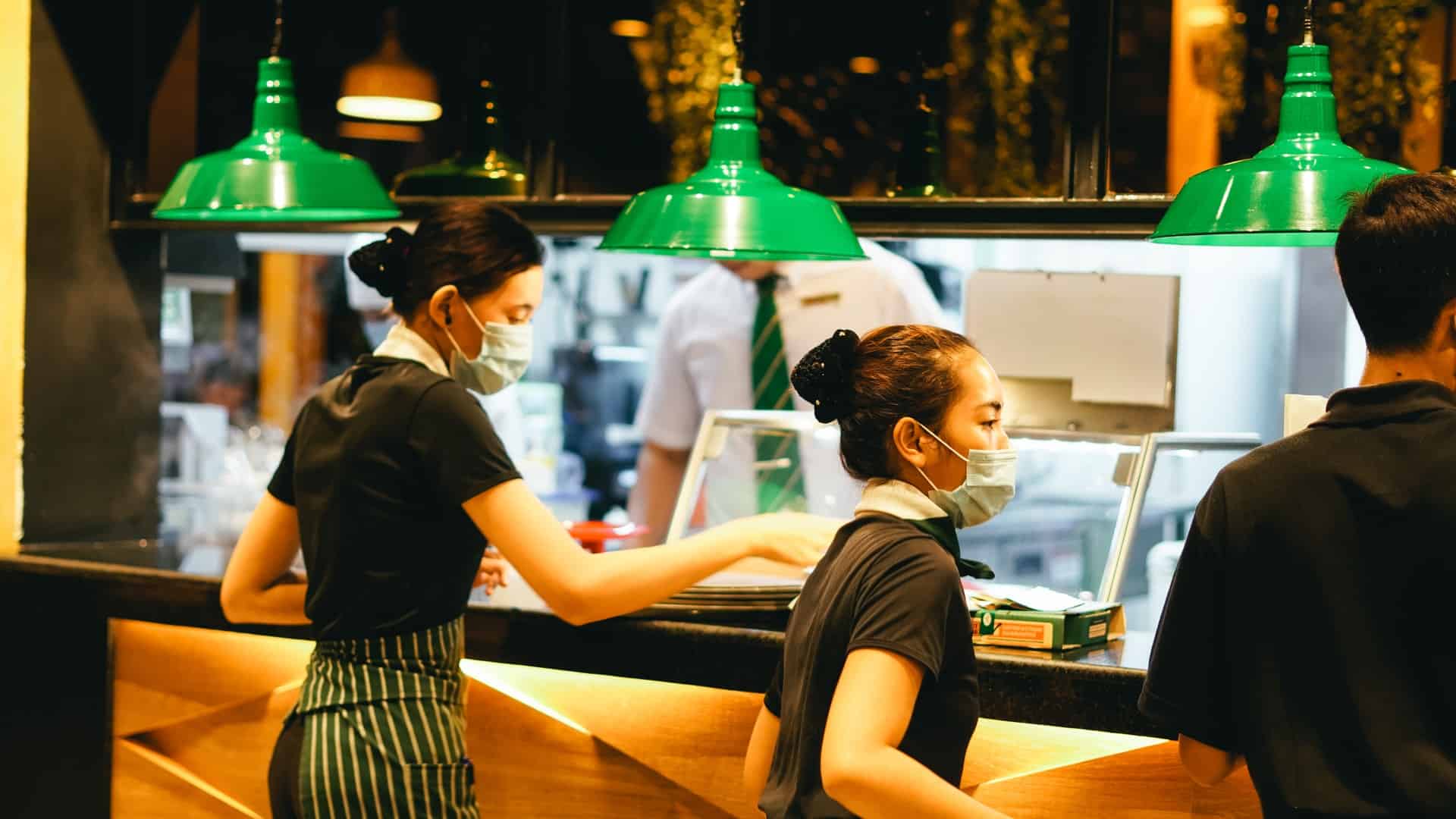 So, now that you know some of the best time tracking software options for restaurants, it's time to decide which one is right for you. Whether you want something that can integrate with your POS system or inventory management, allow managers to approve shifts for other employees, which will make it much easier and faster if there are any last-minute changes, or simply something that will generate reports to monitor company performance, there are literally so many benefits of restaurant time tracking software.
Here are some of the top benefits for you to consider:
Easily see who is due to work
Managers and other staff members will be able to easily see which employees are going to work on any given day. This will make it much easier for them to keep track of the schedule and be prepared for anything that might come up at a moment's notice. They will also be able to see what time staff members are due to start and what time they are due to finish, which makes it easier for restaurant managers and owners to plan their shifts.
Reduce staff no shows
Because staff members are able to easily see when they are due to work, having restaurant time tracking software should also reduce the number of no-shows and the number of staff members who forget to show up to their shifts.
This is a big problem in the restaurant industry because it can create some major issues for management. Not only does this lead to wasted time and money throughout your restaurant or catering business, but you also run the risk of leaving customers without service at peak hours. Time tracking software can go a long way to eliminating this problem.
Easy employee scheduling
Employees should also be able to easily see what shifts they have available. Tracking software will make it easier for them to take time off or request a different shift if one is not suitable for their needs.
No need to create manual employee schedules. Managers and owners no longer need to spend hours creating an employee schedule by hand – all of this can be done within the software.
Easily swap or change shifts
It should also be easier for employees to swap or change shifts with other staff members. This will make it much easier and faster if there is an emergency or last-minute shift switch that needs to happen – something that would usually take a lot of time without the help of software.
Employees may even be able to see how many hours they have available before making a shift to see if they have enough time in their schedule to work.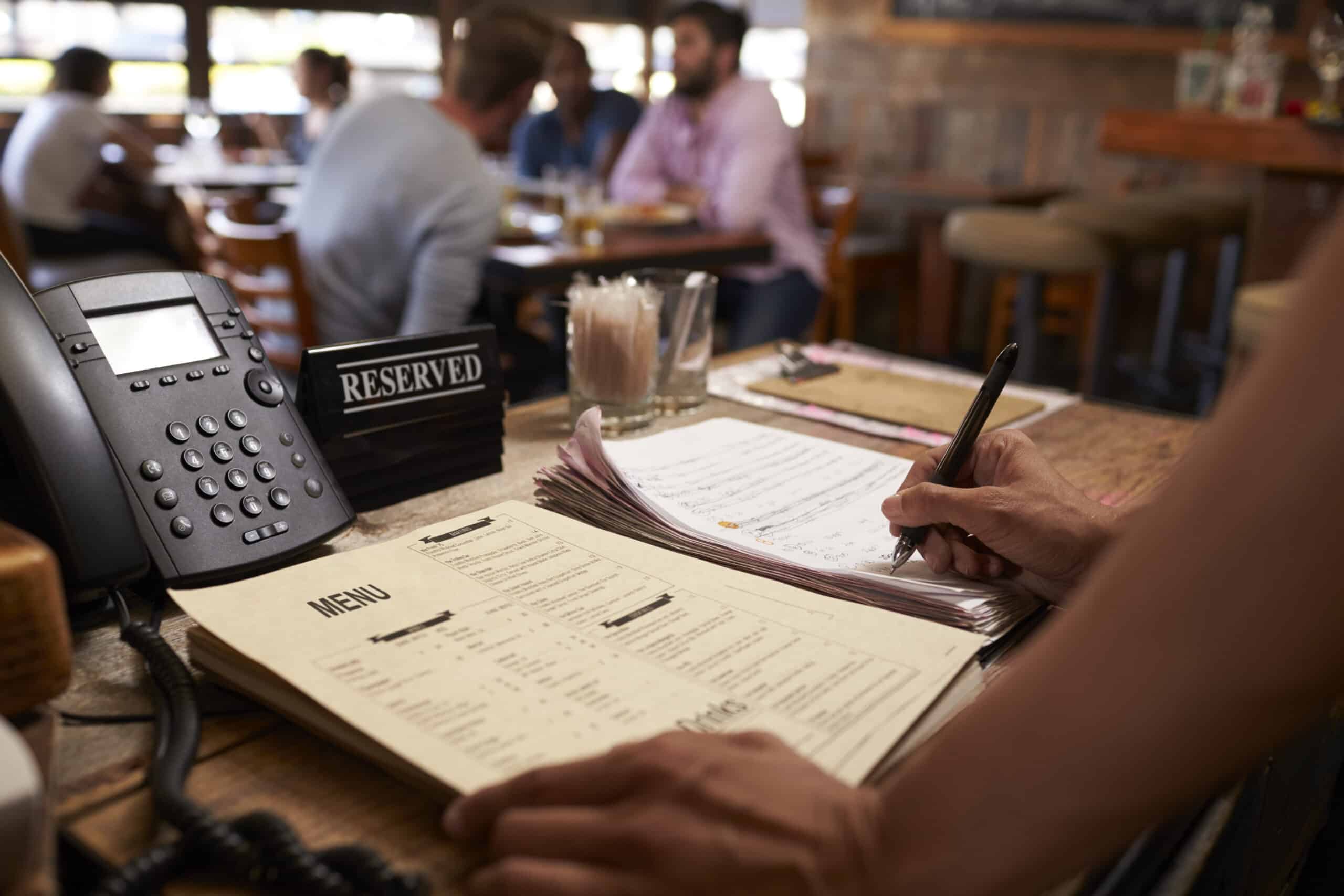 Don't want staff members inside your restaurant without supervision? Some software also offers real-time location tracking, which allows you to keep tabs on your employees that are working outside of the building – this will be especially helpful for restaurants with delivery drivers or out-of-state catering businesses.
Easily request time off
Restaurant managers should be able to easily keep track of how many days an employee has worked, along with any paid time off they have taken– this will help you make sure that all employees are taking enough breaks and what holiday days they have left. It can also prevent scheduling conflicts when it comes to servers or having to ask employees to work extra shifts.
Track company performance
Managers and owners can easily monitor their business's performance with the right software in place. This includes monitoring employee time off, how much money has been spent on food for customers, or what percentage of orders have been completed within a given timeframe.
This type of information is great for planning and managing the business, as well as motivating your employees – they will know how much you care about them when you offer bonuses or extra tips based on their performance.
Easily generate reports
A restaurant time tracking software should also make it incredibly easy to create reports. This is a vital tool for managers who want to monitor employee or company performance.
Reports can be generated for the following:
Employee performance, including how many hours they have worked and their attendance rate. This is great when it comes to rewarding good employees bonuses or incentives.
Food costs and expenditures in relation to the hourly cost of labor in order to budget food orders more effectively.
Daily performance, including average order completion rate.
Weekly performance, including the total number of hours, worked by employees, and the number of orders completed.
Monthly performance, which will show you how much time each employee has spent working in relation to their hourly wage. This is a great way to determine whether or not your team members are being fairly compensated for what they do.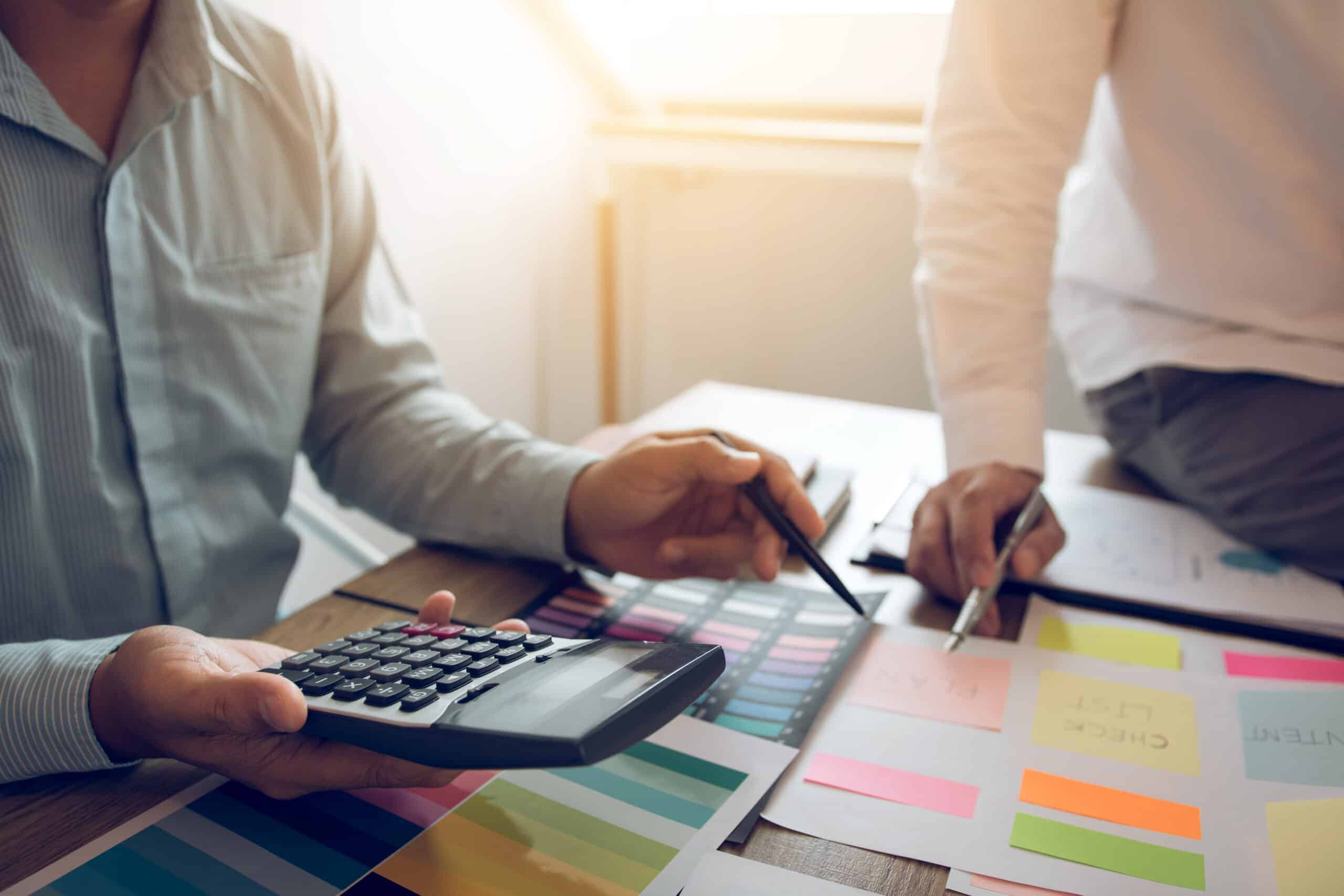 Saves hours of admin time
As you can see, time tracking software has a lot to offer but, perhaps one of the biggest advantages of adopting this kind of software into your business is the number of hours of admin time it will save for management and owners.
This is even more true when it comes to catering businesses that need flexibility in their work schedule or restaurants with employees working outside the building, as keeping track of multiple locations and lots of staff can be tricky. Time tracking software simplifies it all.
Conclusion…
It can be difficult to find the right time tracking software for your restaurant and with such a range of different options available it's easy to see why. So, be sure to take some time to research each solution before making any decisions.
Not only is it important to consider pricing models and features, but you'll also want to think about what type of reports and integrations would be most helpful in your industry or business model. Once you know which program would work well for your operation, take advantage of a free trial period or product demos so you can test it out before you commit.
FAQs
Question: What is the best scheduling app for restaurants?
Answer: Each restaurant needs to find the best time tracking software that works for them – this is often done by comparing each program's features with their own business and workflow. However, our top two favorites are 7shifts and Homebase.
Question: How much does restaurant time tracking software cost?
Answer: It's important to note that there are different types of pricing models for restaurant time tracking software. Some companies offer a monthly subscription, while others may charge per employee, per location, or based on how many transactions you need to be tracked. This could start as small as $2.50 per month, or be as expensive as over $100 per month depending on your specific business. The best way to find out what system is right for you is to reach out and ask each company for a quote– don't be afraid to negotiate, as this will allow many businesses to find the best fit.
Question: How do I choose the right time tracking software?
Answer: The first thing that needs to happen before choosing any type of program is evaluating your own workflow. Focus on what you need to report on, and what type of reports you want to generate, and which areas of the business and your staff you want to manage better. From there, it's about finding a company that matches your needs. This means looking at their features and pricing model before making any decisions.
Question: Can you use any app as time tracking software for your restaurant?
Answer: The answer is no. Not every app is designed for time tracking, and using apps that aren't suitable, or complicated methods like Excel spreadsheets can make things more difficult when it comes to reporting.
Question: What is restaurant scheduling software?
Answer: Restaurant scheduling software is designed to keep track of employees and their schedules. This includes creating a schedule, monitoring what hours an employee has worked, requesting time off for any given day or week.
Question: What are the benefits of restaurant tracking software?
Answer: Time tracking software offers so many great benefits that it's hard to list them all. Some of the top advantages are easy employee scheduling, reduce staff no-shows, save serious admin time, and track your restaurant's overall performance. Nonetheless, the most important thing to do is to find a program that perfectly fits your needs and workflow.
If you're still unsure about whether or not time tracking software would be useful for your restaurant, I recommend testing each of the following programs out – especially if they have a free trial. See which one works best for you!
Question: How does restaurant scheduling work with a shift schedule?
Answer: Shift schedules are set up by the manager or owner based on their business needs. This includes what hours they want to operate for when staff will take breaks, lunch hours for employees who work during the day.
The restaurant scheduling software will then assign shifts to each staff member based on their availability and job role. This includes what days they are available, how many hours per shift they can work, and which position they would prefer, for instance, bar staff or kitchen worker.
Question: Is there a free app for scheduling employees?
Answer: Yes, there are free apps for scheduling employees. Whilst they might not offer as many features as a paid plan, they can be a valuable starting point for small businesses. An example of a free employee scheduling app would be Homebase, but many others on this list also offer a free trial.
What Time Tracking Software Do We Recommend And Why?
Overall, we recommend 7shifts or Homebase for all your time tracking needs. These two options are both incredibly user-friendly, have great features that work perfectly with restaurants and catering businesses, and they're affordable.
We recommend Homebase for large teams because of its reporting capabilities. It also has superb job role management tools which can be a major help when you need to manage multiple employees at once. If your restaurant or business is large, we recommend Homebase.
On the other hand, for restaurants that require specific restaurant features, 7shifts is the way to go. It has a great interface and is easy to use for managers who want all their data in one place. It also offers some handy features like custom reports, location management, shift email templates—which can save you time every single day.
In the end, time tracking software should be considered an important business tool for any catering establishment, be that a busy restaurant, catering wholesaler, or small cafe. Whether your employees work in one location or multiple, we hope this article has helped you discover a few different options for restaurant time tracking software available to suit your needs and help make management easier.