Latest posts by Maddy Chiffey
(see all)
Commercial warming drawers are a time-tested solution used in commercial kitchens to keep hot food safe and ready to serve. This guide of the best commercial warming drawers will include a range of prices, features, and designs so that every reader will find a suitable product.
Buying the right commercial warming drawers can be troublesome; how do you know which is the most suitable for your commercial kitchen?
This guide should help you understand the things to look out for to ensure that you make the best purchasing decision. I have also explained the many benefits of warming drawers and why they can be considered an essential kitchen item for most establishments.
Before we move on to my chosen five, below are the commercial warming drawers I have reviewed and our top 5 picks.
At a Glance: 5 Best Commercial Warming Drawers
What are Warming Drawers?
Warming drawers are electrical kitchen appliances used to keep food at a safe temperature until it is ready to be served. If you run a buffet restaurant or commonly coordinate meals for large numbers of people, or it may be that you're looking for a reliable way to keep staple menu items hot and fresh, then warming drawers offer a great solution.
Commercial warming drawers are a great way of streamlining your operation by helping you to keep up with demand during peak serving times. They're also one of the best ways to retain food's flavor, as there is no freezing or reheating needed – which can tamper with taste.
Warming drawers offer customers a fresh-tasting experience of food that hasn't been freshly prepared. The FDA advises how to store food at the correct temperatures here.
Typically, commercial warming drawers operate at temperatures between 60 and 220 degrees Fahrenheit. The temperature allows for high-volume food products, like bread rolls, to be kept warm for immediate serving when required. It also ensures that easily perishable foods like meat will be stored at safe temperatures while maintaining their freshness.
Users can adjust the temperature via digital or thermostatic controls, and some warming drawers will have automatic heating controls to ensure the temperature never drops.
What Kind of Restaurant Uses Warming Drawers?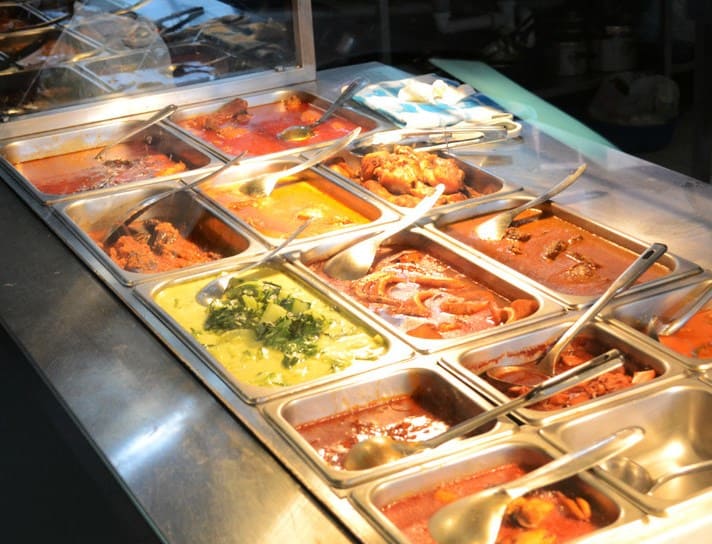 Professional caterers widely use commercial warming drawers in different types of commercial kitchens and restaurants. They are used by prep cooks, executive chefs, servers, caterers, fast food eateries, mobile caterers, and high-end hotels and restaurants. Basically, anywhere that serves food could benefit from this purchase.
Are They Worth The Investment?
If you're considering investing in warming drawers, then a key factor to consider is the quantity of food you serve. If you have a high output of specific items, or a staple food product is particularly high, then being able to cook and store ahead of time will increase your chances of smoothly meeting demand.
If you're a caterer and are finding yourself often preparing for a large number of people, then warming drawers could be a welcome addition to your kit to help you maintain a just-cooked look and taste for your food.
Food warming drawers can be a workhouse in the kitchen. If the demand is there, then the investment will be worth it. In this guide, there are some highly affordable star-buys that will allow you to test the waters with this piece of equipment without having to make a significant investment first.
How to Use Commercial Warming Drawers
With simple training, commercial warming drawers are easy to use for all kitchen staff and servers. Although control options vary across models, the basic functions apply to all. Once you have chosen the right warming drawers for your kitchen, ensure that it securely rests and is away from water sources. The following tips should help you to get optimal results.
Voltage
Ensure that your warming drawers are powered by an outlet suitable for the appliance's voltage rating. Typically, the following voltage ratings apply for this appliance: 120V, 208V, 230V, 240V, 208/240V.
Temperature Setting
Once you have powered the unit on, set it to the temperature you desire and allow it to preheat. This can take up to half an hour for a high setting. By preheating the appliance, your food will not fall below the desired temperature and spoil.
Often, food warmers come with indicator lights to let you know when the correct temperature has been reached. Digital displays will also likely provide you with an accurate temperature reading. Once the unit is at the required temperature, you can then place the hot food in the drawer(s) as soon as possible.
Airflow Control
To control the amount of air entering a specific drawer, you can alter the width of the vents – the more open they are; then the more air will enter the drawer. The more air, the more the moisture level decreases. Certain foods, such as tortilla chips, don't need any moisture, and the vents can aid this when shut, resulting in a perfect crunch. Other foods, such as meats, need more ventilation to prevent them from drying out.
Product Criteria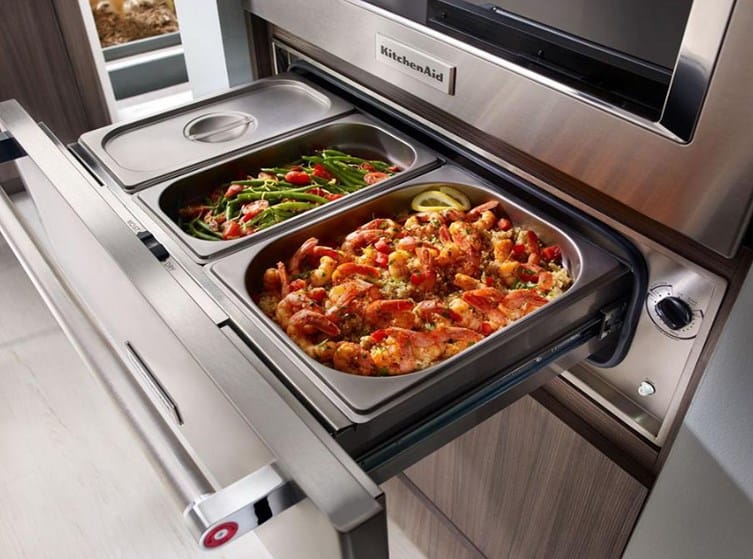 I have researched a wide and varied range in this guide to help you make a more informed decision about commercial warming drawers. The things I was looking for in the products were as follows:
Prices 
If you're starting a business, then you may not want to invest as much in catering equipment (initially) as more well-established restaurants. For this reason, I have included warming drawers across the price points, from the very affordable to the fairly pricey.
Quality
I wanted to look more in-depth at products with a high level of craftsmanship and materials to ensure users would get great durability from the warming drawers featured. This meant that I was looking for high-grade stainless steel, reputable brands, and food-grade materials.
I also wanted the products to be of the safest standard, with the required certification for the food industry.
Designs
Different establishments would benefit from different types of warming drawers. So I included a couple of different designs in this guide, from the countertop to the freestanding and the pull-out drawer to the lift-up lid.
Reviews
As well as my own findings, I was interested to know what other consumers thought of the warming drawers I was reviewing. If I found more negative feedback than positive, then I quickly lost interest in the product. This guide features the very best warming drawers based on user experience and my discoveries.
5 Best Commercial Warming Drawers
Vulcan 3 Drawer Commercial Food Warmer – Our #1 Top Pick

All Stainless Steel Construction
Each Drawer has Separate Heating Controls
Moisture Control Slides

Find it Here
SYBO Commercial Grade Food Warmer – #1 Top Budget Pick

Food Grade 304 Stainless Steel Body
Automatic Shut Off
2-Year New Replacement Warranty

Find it Here
Vevor Commercial Warming Cabinet 

Heavy-Duty Stainless Steel Frame
Transparent Acrylic Doors
Front and Rear Serving Doors

Find it Here
Vevor Countertop Food Warmer

1500W Electric Countertop Food Warmer
Tempered Glass Shield
Ten Large-Capacity Pans in Individual Compartments (Lids Included)

Find it Here
Alto-Shaam 2 Drawer Warmer 

20 Gauge Stainless Steel Exterior
Controlled Humidity
Made in America

Find it Here
#1 Vulcan 3 Drawer Commercial Food Warmer – Our #1 Top Pick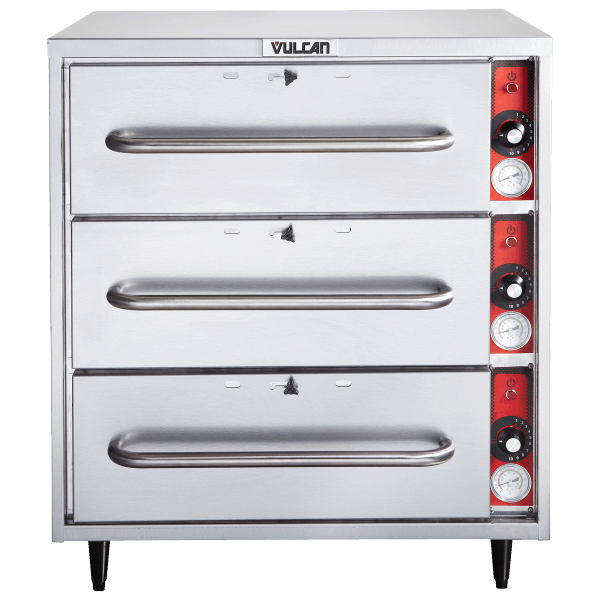 I am a fan of Vulcan kitchen equipment and the brand itself. Known for producing equipment that promotes maximum kitchen productivity at affordable prices, their food warmer doesn't disappoint. The Vulcan 3 Drawer Commercial Food Warmer features 1425W of heating power and three drawers that don't need adapters to accommodate different-sized pans.
The drawers arrive quickly and come with full-sized 12-in x 20-in x 6-in pans for each drawer, so they can be used immediately. There are independent drawer elements, and the exterior analog thermometer is easy to read, making adjusting the temperatures for each drawer really simple. The drawer slides are heavy-duty and offer excellent durability.
I particularly like the moisture control slides, which mean that you can open and shut the vents at the front of the drawers to ensure the correct amount of humidity is in place for warming different foods. The drawers are freestanding, so they fit almost anywhere in the kitchen and are relatively space-saving with dimensions of 27.5-in x 23.5-in x 33.¾-in.
Pros
Accommodating Design
Individual Adjustment
Convenient
Durable
High-Quality Construction
Made in America
Large, Easy-To-Read Analog Thermometer
Complies with UL EPH standards and meets ANSI/NSF requirements.
Cons
Prop 65 Warning: CA Residents
High Investment
#2 SYBO Commercial Grade Food Warmer – Our #1 Top Budget Pick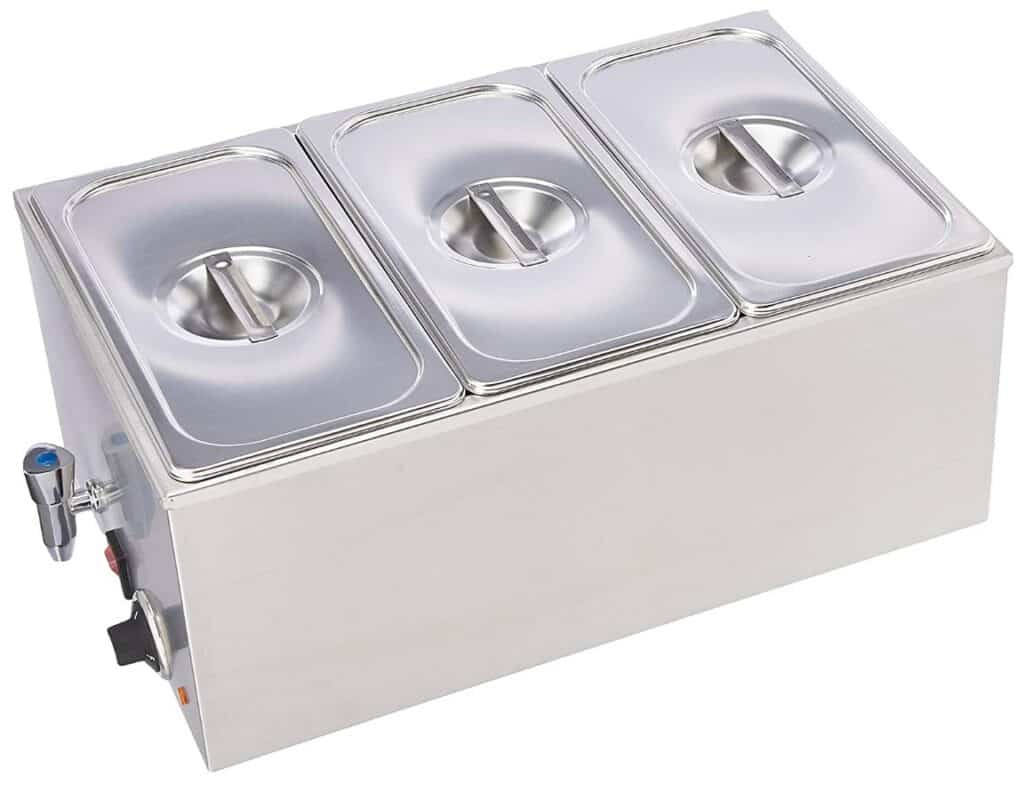 At a little over $200, the SYBO Commercial Grade Food Warmer is a great way to trial if this kind of equipment would be of benefit to your kitchen. The delivery is speedy, and you are able to use the warmer straight away. I like the interchangeable design, meaning you can utilize existing food pans up to 6-in deep.
The body of this food warmer is entirely 304-grade stainless steel, which offers excellent longevity. There is also a 2-year new replacement warranty and 30-day refund on this item, which combined is a highly generous policy that offers great peace of mind. The American brand stocks many commercial kitchens and has a trusted reputation, backed by its high quality and fair pricing.
I found that food tastes just as good 5-hours later as it does when it comes straight from the oven or grill, meat remains tender, and veggies crunchy. I am very impressed with this food warmer and could find little in the form of poor ratings, so this is a hit with most – and with me!
Pros
Easy to Clean
Keeps Food Warm and Fresh for Many Hours
Great Price
ETL Certified
Good Warranty
Returnable
Cons 
#3 Vevor Commercial Warming Cabinet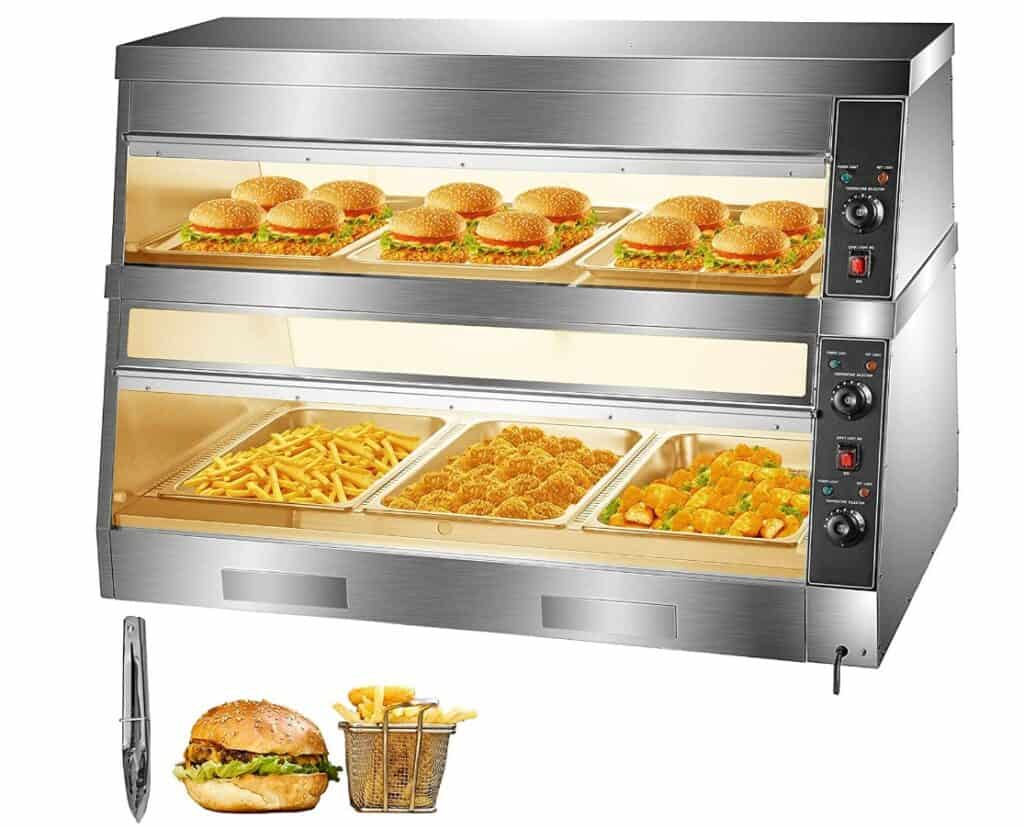 The Vevor Commercial Warming Cabinet boasts heavy-duty stainless steel framing and transparent acrylic doors, which give the unit excellent stability and durability. It is both a warming solution and display cabinet, so suitable for a wide range of establishments such as cafeterias, canteens, hotels, and cafes. Diners can help themselves from the front of the cabinet or be served by a staff member from the back due to the dual doors.
The cabinet includes three stainless steel racks, five trays, and three food pans, so you have a complete setup with one purchase – I believe this helps justify the higher-than-some price. The warming cabinet is a countertop design featuring two bottom water pans to add humidity. I like the decorative light, which showcases the food inside.
There are three independent temperature controllers and an automatic temperature setting. The unit is simple to use, easy to clean and holds many different food types. Vevor is a long-established brand that distributes commercial kitchen equipment globally; you can find out more about them here.
Pros
Convenient Self Service Option
Effortless Temperature Control
Stainless Steel Frame
Even-Heat Distribution
Cons
Reviews Thin on the Ground for This Model: See Here for Reviews of a Similar Vevor Food Warmer
On the Expensive Side
#4 Vevor Countertop Food Warmer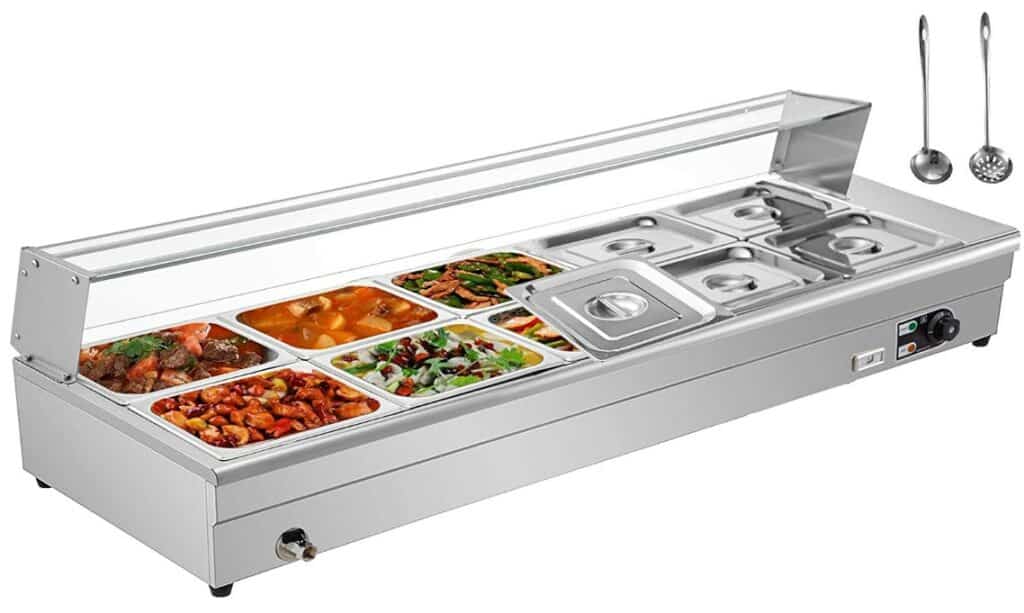 Another unit by Vevor, but one with plenty of consumer reviews, is the Vevor Countertop Food Warmer. I love so many things about this food warmer. Firstly, there are ten large capacity food pans, lids, and compartments – each one 6-in deep, providing copious amounts of space for different food types. It would undoubtedly be a great addition to a busy restaurant.
The body of the food warmer is constructed from heavy-duty, food-grade stainless steel, which will provide great longevity and easy maintenance and cleaning. The tempered glass shield is detachable and offers excellent hygiene as diners can view and select food without any possible contamination.
The heating tube is 304 stainless steel, provides even heat distribution, and you can easily observe the temperature via the thermometer. The design of this food warmer means it is attractive enough to sit front-of-house and serve a buffet meal to diners, as well as being suitable to be installed in the commercial kitchen. Offering great value for money, ample room, and great quality, this is a strong contender for any professional food establishment.
Pros
High Quality
Glass Shield
Large Capacity
Even-Heat
Good Price
Cons
Return Fees are High
A Couple of Consumers Cite Leakages
Often Out of Stock
#5 Alto-Shaam 2 Drawer Warmer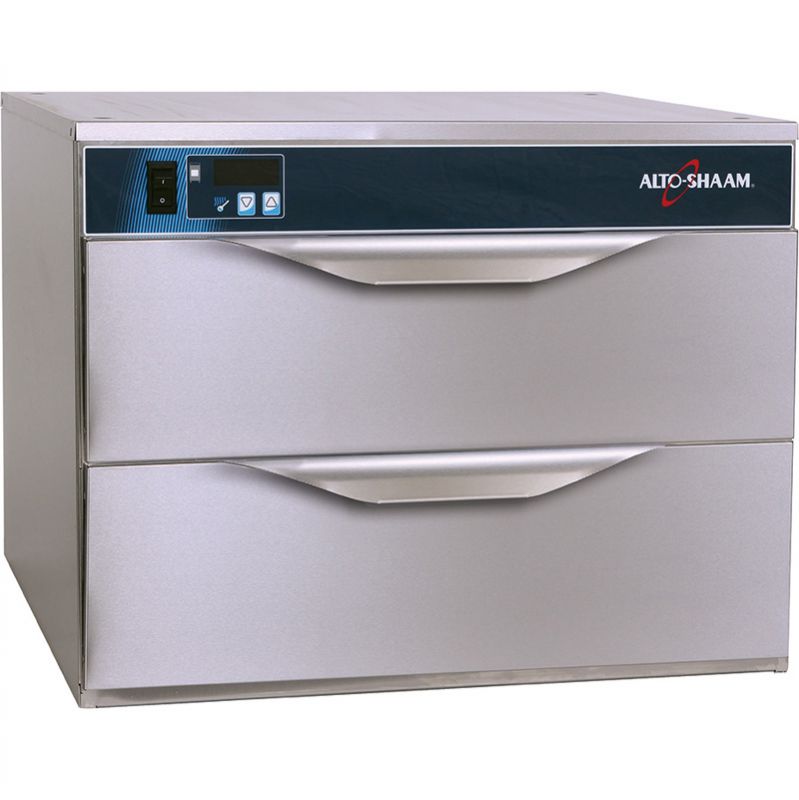 The Alto-Shaam 2 Drawer Warmer is a higher-end product with a matching price tag. Some notable features set this food warmer apart from the rest, none more so than the innovative Halo Heat System. This radiant, gentle heat surrounds food evenly without hot elements, added fans, or humidity. Halo Heat allows food to remain flavorful, moist, and appealing for much more extended periods, with no additional labor needed from the user.
This two-drawer warmer has an indicator light and a unique, canted thermostat knob; the canted placement protects the knob from unintentional disruption and damage. The Alto-Shaam 500-2D features a durable 20-gauge stainless steel body with 16-gauge drawer rails. There are two 12-in x 20-in x 6-in pans included.
I like that these commercial warming drawers are stackable and optimize the space you have in any sized professional kitchen. This unit is also said to save consumers around $30 per day, as it requires no plumbing, drains, filtration, or associated maintenance.
The brand doesn't freely advertise the RRP, and consumers are required to ask for a quote, but I can confirm this product retails for around $1,800 elsewhere.
Pros
Halo Heat Technology
Great Durability
Stackable
Portable
Made in the USA
Complies with UL EPH standards and meets ANSI/NSF requirements.
Cons
Form Filling Required for a Quote from the Brand: No Instant Price.
FAQs
Question: How Do You Clean Warming Drawers?
Answer: The interior pans can be cleaned with soapy water before being well rinsed. They could also go into a dishwasher.
It is essential never to immerse any part of the exterior in water, and when cleaning the body, use a damp cloth with a small amount of warm, soapy water. Alternatively, you could clean the exterior with polishes specifically designed for stainless steel – just avoid any surface that food will come into contact with.
Question: Can You Reheat Food in a Warming Drawer?
Answer: Warming drawers are designed to keep food warm and moist after being cooked; they are not intended to reheat or cook food. It is best to use your traditional oven or microwave only to reheat food.
Question: How Long Can You Keep Food in a Warming Drawer?
Answer: Once food has been cooked, it can be safely stored in a warming drawer or cabinet at a low temperature for several hours. However, food can start to dry out and lose its freshness if it is left sitting for more than four hours.
Best Commercial Warming Drawers Guide- My Verdict
The type of restaurant and the budget you have will likely determine the best commercial warming drawer for you. The SYBO Commercial Grade Food Warmer is an excellent choice for start-up businesses or those with less money to invest. The watt usage is slightly high. However, the price is excellent, the warranty is good, and it's fully returnable if you're unsatisfied.
The Vulcan 3 Drawer Commercial Food Warmer is our top choice but a high investment. It has an accommodating design, high-quality construction and has all the certifications you could want. However, there is a Prop 65 warning for CA residents. There is a lot to like about the Vevor Commercial Warming Cabinet, including the convenient self-service option and stainless steel frame. I liked the tempered glass front and spacious interior, but this is an expensive unit with little in the form of verified consumer reviews.
The Vevor Countertop Food Warmer comes in at a great price and has some highly beneficial features, such as the glass shield, large capacity, and even heat distribution. However, if you wanted to return this product, the fees are high, and the onus is on the buyer.
The portable and stackable Alto-Shaam 2 Drawer Warmer is an expensive but great solution for a range of commercial kitchens. It offers excellent durability and has the innovated Halo Heat technology; however, it does not have an easily accessible price which I feel lets this product down.