Latest posts by Jodie Chiffey
(see all)
Compared with many other types of meals and cuisines, pizza making is relatively easy and undemanding on both staff and kitchen equipment. Nonetheless, one device remains an essential part of every pizzeria: a good pizza oven. Today in this Blodget Pizza Oven Review, we'll focus on one of the most popular ovens on the market – the Blodgett Pizza Ovens. Let's see if they are the best solution for you too.
Did you know that Americans eat as many as 350 slices of pizza every single second? Many of these pizza slices are probably baked in some of the Blodgett ovens that can be found in all types of commercial kitchens. They come in various models and sizes, but their qualities and features remain very similar.
To make this Blodgett Pizza oven review clear and consistent, we will mostly be focusing on Blodgett's 60" stainless steel single deck pizza oven, which is probably the best solution for a small start-up business, a fast-food stand, or a restaurant that offers pizza only as one of many options on the menu.
However, we'll also mention some other popular Blodgett pizza ovens in the Alternatives section towards the end of this article.
First, let's check the basic specifications of Blodgett's 60" Single Deck Oven:
Key Specifications of Blodgett Pizza Oven (Single Deck Type 60″)
| | |
| --- | --- |
| Type of oven | Stackable deck-type pizza oven |
| Fuel | Gas |
| Material | Stainless Steel |
| Consumption | 120,000 BTU/hr |
| Temperature range | 300°F (149°C) to 650°F (343°C) |
| Dimensions/weight | 84 x 54 x 31 inches/1050 lbs |
| Latest price | Click here for the latest price |
Core Features of the Blodgett Pizza Oven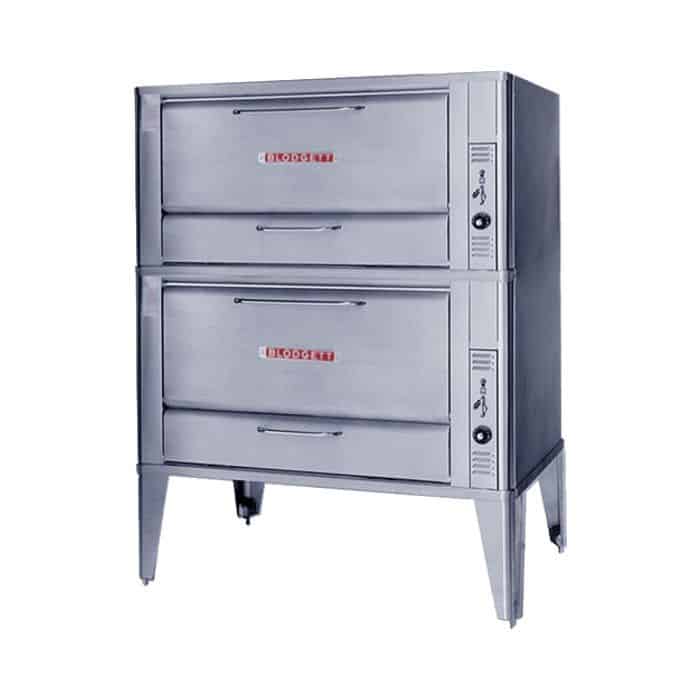 Blodgett Pizza ovens are considered to be reliable all-rounders that can serve perfectly to various types of commercial kitchens.
Although they are, on average, more expensive than most of the other products from the same category, experienced users who can compare these products with some of the competition usually agree that the investment is justified.
Let's focus on Blodgett's popular single-deck gas oven and see how good it really is:
Construction and Design
Pizza ovens are, in general, divided into three major categories based on the type of fuel they use: wood-fired pizza ovens, electric pizza ovens, and gas pizza ovens.
While people usually praise wood-fired ovens for adding characteristic flavor and aroma to the pizza and electric ovens for their ease of use and versatility, gas ovens are considered the most cost-effective solution. However, they do need more careful handling and manipulation.
Blodgett 900 series pizza ovens belong to the gas-fueled category, including the single-deck model we are looking at in detail. However, its consumption is around 120,000 BTU/hr, which makes its operation energetically efficient.
Measuring 84 x 54 x 31 inches, this one-deck oven is ideal for smaller professional kitchens or even amateur pizza enthusiasts who want to have their own pro-grade gas oven at home. Of course, the single-deck model provides quite limited capacity in comparison with various larger appliances. Still, the oven can easily accommodate two standard-size pizzas at once.
This oven is also fully stackable, so if you realize that you need more baking areas or decks at once, you can place another deck on the top of this one while maintaining the same footprint. Just beware that the oven weighs 1,050 pounds, so you might want to put it in a place where it can stay more or less forever.
This oven's outer housing is made of durable and robust stainless steel when it comes to materials. It looks sleek and shiny, and it is also straightforward to clean.
The deck itself is Blodgett's Ultra Rokite, an acclaimed stone deck that absorbs the heat from below, evenly cooking the bottom of the pizza (or other food of your choice). The oven also features a stable dual spring counterbalanced door and a burner door that allows access to the ignition and burned debris that needs to be cleaned.
Functions and Controls
Operating a single-deck pizza oven is usually very simple – and Blodgett's pizza ovens are no different. First, you have to turn the oven on (ignite it) and set the desired temperature. This oven offers temperatures ranging between 300°F (149°C) and 650°F (343°C). It can be easily adjusted thanks to the snap-throttle thermostat.
Once you've set the correct temperature, you need to allow the oven to heat up properly. Some ovens might take quite a long to acquire the desired temperature, but Blodgett's ovens are known to heat up very quickly – it usually takes just about 10 minutes until they are ready to bake.
It also doesn't take long to cool the oven down to lower temperatures, which is very convenient if you need to adjust the oven frequently to different recipes.
Talking about the recipes – you probably already know that pizza ovens can usually do much more than bake the pizza. Thanks to the convenient dimensions of its deck and gauge, Blodgett's gas oven can also be efficiently used for bread baking, roasting, etc.
This is a perfectly versatile gas unit that can readily replace most of the standard kitchen ovens AND bake pizza as a bonus on top of that.
On the other hand, keep in mind that working with any gas-fueled equipment requires extra care, attention, and maintenance. Also, obviously, you cannot place this device in a space that does not have a gas outlet.
Safety
As I've already mentioned before, any gas-fueled oven can be potentially hazardous if you do not treat it with adequate care and perform the recommended maintenance regularly.
Definitely make sure that the oven will be properly installed by a certified professional, and do not underestimate frequent check-ups. Also, make sure that your kitchen is well ventilated – this is a must if you're working with gas.
Additionally, make sure that any person operating this oven is properly trained and understands the potential risks of gas appliances. Otherwise, this stable and well-constructed oven should not pose any further threats.
Reliability
Blodgett is one of the oldest and most reputable manufacturers of ovens and related kitchen equipment on our market.
The company was established back in the late 1800s, and its vast experience in the field surely shows. According to thousands of happy users of Blodgett's products, these are some of the most reliable appliances you can invest in.
In any case, you will also be covered by Blodgett's comprehensive warranty plan consisting of a 2-year parts warranty, a 1-year labor warranty, and a 5-year limited warranty on the oven's doors.
Price
Professional-grade pizza ovens are rarely 'inexpensive.' Nevertheless, Blodgett's pizza ovens are, in general, even pricier than most of the other options you might find on the market. Still, if you consider that this gas oven is energy-efficient, exceptionally reliable, and it also comes with a fair warranty, the investment sounds quite reasonable.
For The Blodgett's single-deck gas oven's latest price quote, click here.
Pros of the Blodgett Pizza Oven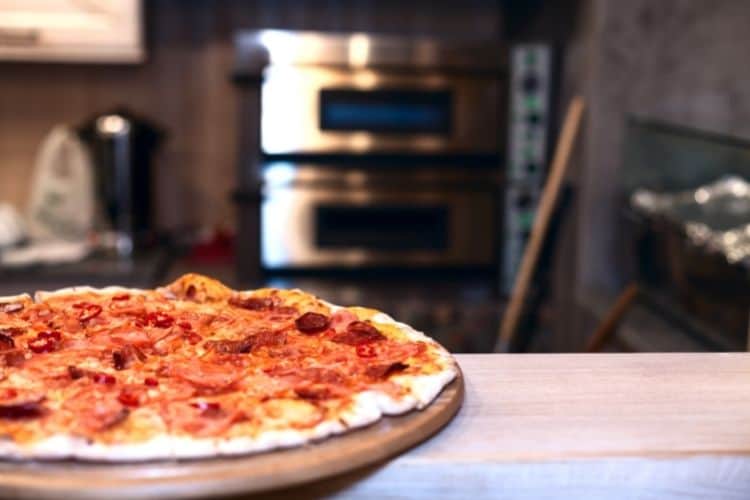 Still not sure if this is the right pizza oven for you and your kitchen? Let's summarize the biggest assets of this gas oven once more:
Durable and Reliable
If you are buying a pizza oven for your commercial kitchen, you surely want it to last without any major issues for as long as possible. Although no oven is perfect, Blodgett's products apparently last exceptionally long, and they also come with comprehensive warranty plans.
Versatile
Although you're most likely buying a pizza oven mainly to bake pizza, these ovens can do much more. In fact, some users buy this pizza oven as a replacement for a standard gas oven and use it besides pizza for all kinds of roasts, baked meals, bread, pastry, etc.
Large Capacity
If you buy a single-deck pizza oven, you usually don't have enough room for a larger appliance, or you need to stay on a budget. Either way, you will surely be pleased to know that this compact pizza oven can accommodate two standard-size pizzas at once – or a reasonable amount of other food products and meals.
Moreover, in comparison with many other single-deck ovens, Blodgett boasts a great capacity.
Energetic Efficiency
Although Blodgett pizza oven is certainly not the cheapest piece of equipment, it is energetically efficient, so some of your initial expenses will return over time. But, of course, energetic efficiency is also desirable from an environmental point of view.
Stackable
If you're at the beginning of your pizza-making journey, you might not yet know how to evaluate your needs and possibilities in the long run accurately. A stackable single-deck Blodgett oven allows you to start with a smaller investment and expand your setup seamlessly in the future as your business strives.
Easy to Use and Clean
Blodgett's gas-fueled pizza ovens are extremely easy to use, which is particularly convenient if you have younger and not-so-experienced staff. The stainless steel design also contributes to the simple and thorough cleaning of this oven.
Wide Temperature Range and Fast Heat-Up
Blodgett single-deck pizza oven can be set to a wide range of temperatures (from 300°F to 650°F), which adds versatility. Moreover, this oven also heats up pretty quickly – it usually takes just about 10 minutes until it gets from zero to the desired temperature.
Cons of the Blodgett Pizza Oven
Even these pizza ovens have some imperfections. Here's a quick summary of their biggest downsides:
Price
Blodgett is considered a high-end brand, and their pizza ovens are indeed some of the most expensive products in their respective category. Although the higher price is somewhat justified by the quality, reliability, and energetic efficiency of these appliances, Blodgett pizza ovens might be inaccessible to you if your budget is limited.
Special Care and Maintenance
Gas ovens surely have many advantages, but they also require extra care and maintenance if you want to ensure that your appliances are always safe and in good condition.
Moreover, apparently, you can't place these ovens in spaces without a reliable and sufficient gas outlet, and they should also always be used in well-ventilated spaces only, which might be limiting.
Are There Any Alternatives?
So far, we have mostly focused on Blodgett's single-deck pizza oven. It is one of the most popular choices, but it's certainly not the only option in the brand's portfolio. Here are some other alternatives you might find interesting:
Blodgett Deck-Type Gas Pizza Oven 951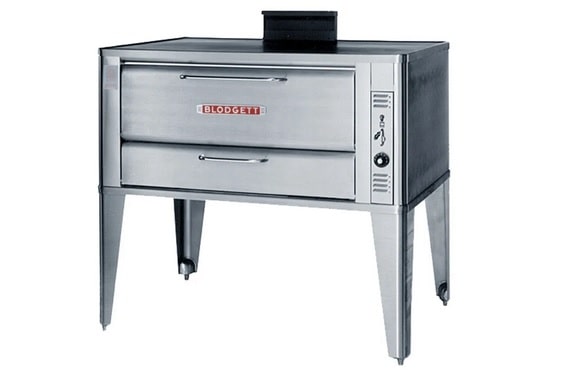 Blodgett 951 Deck-type oven is a great solution for those who need more space and faster workflow – a middle-sized Italian-style restaurant, for example. Each of the deck's interior measures 42″ x 32″ and has two sections. It allows you to make several crispy and perfectly evenly baked pizzas at once.
Like the single-deck alternative, this oven is made of stainless steel and has a stable counterbalanced door with robust chrome handles. The smoothly opening burner door allows easy cleaning and ignition. The temperature ranges from 200°F (93°C) to 500°F (288°C).
Thanks to its vitreous fiber insulation, this oven maintains the desired temperature very accurately and efficiently, and it also doesn't waste energy.
Blodgett Double Deck Gas Pizza Oven 966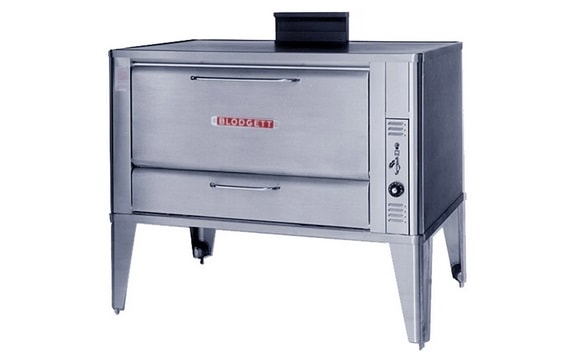 Blodgett's model No. 966 is a gas double-decker made of stainless steel (in and out since this model comes equipped with a stainless deck).
It is suitable for both beginners and experienced users. It boasts a conveniently large capacity, super-simple operation and maintenance, and high energy efficiency: each of the compartments consumes just about 50,000 BTU in an hour.
This pizza oven offers a temperature ranging from 200 to 500°F. An inbuilt liquid pressure thermostat controls it. Just like all the other Blodgett ovens, it is an exceptionally reliable piece of kitchen equipment.
FAQs
Question: Where are Blodgett Pizza Ovens Made?
Answer: Blodgett is a well-known American producer of top-quality ovens and kitchen equipment with 200+ years of tradition. The company is based in Vermont, and all of their commercial-grade pizza ovens should be designed and assembled in Essex Junction, Vermont, US.
Question: How Long do Blodgett Pizza Ovens Last?
Answer: Blodgett is a preferred choice of those who crave reliability and durability and don't hesitate to invest a bit more to get these qualities. According to experienced users, these ovens can easily last several decades in commercial kitchens without any major technical issues.
Question: How Hot Does a Blodgett Pizza Oven Get?
Answer: The temperature of Blodgett's single-deck gas pizza oven can be set to anywhere between 300°F (149°C) to 650°F (343°C). As a result, some ovens from the same manufacturer might have a slightly different temperature range. A snap throttle thermostat allows you to increase or decrease the temperature inside your Blodgett oven anytime, and the oven reacts to these changes fast and accurately.
Final Thoughts: Blodgett Pizza Oven is a Good Choice if You're Ready to Invest in Quality
Whenever you're looking for a new piece of kitchen equipment, you have to decide whether you're primarily looking for a budget-friendly solution or you're ready to spend a bit more for a reliable and well-performing solution. Blodgett pizza ovens clearly represent the latter category. These ovens come in various sizes, types, and models, yet they all provide similarly high quality, energetic efficiency, and versatility.
So whether you're running a pizzeria, a standard restaurant that offers pizza just as one of the options on the menu, or you're eager to make your own pro-class pizza at home, this is a solution that you most likely won't regret. Of course, nothing is perfect. Gas-fueled pizza ovens need to be constantly attached to a gas outlet, and they also require some special care and regular maintenance.
Blodgett's pizza ovens are also relatively heavy and bulky, and their price might surely discourage some users too. All in all, the final decision should always be based on your own preferences, priorities, and possibilities. Have you found all the information on the Blodgett pizza ovens you were looking for? We hope that this article will help you decide whether this is the best option for you.
However, if you need more advice on choosing the best kitchen equipment, how about reading our Best Commercial Tortilla Baker Guide or Best Commercial Burger Press Guide next?