Latest posts by Maddy Chiffey
(see all)
If you're looking to find a commercial dough hook for your current mixer, then this guide has six of the best around. I have discovered dough hooks of varying materials, across the price points, to research and review to make this shopping venture more straightforward.
A commercial dough hook is not an essential kitchen item for every commercial kitchen, but for some, it is important. Buying a commercial dough hook won't require copious amounts of research, but to make the right purchase, there are some considerations to take into account.
I have discussed the things you should be looking at when looking to purchase a commercial dough hook to make this more straightforward.
Dough hooks can range in price considerably, they only can their level of quality and longevity. I have chosen six of the best ones around that tick most of the boxes you may be looking for. If you are eager to get going, you can see the products I find the best just below.
At a Glance: 6 Best Commercial Dough Hooks
Buying the Right Commercial Mixer: A Brief Guide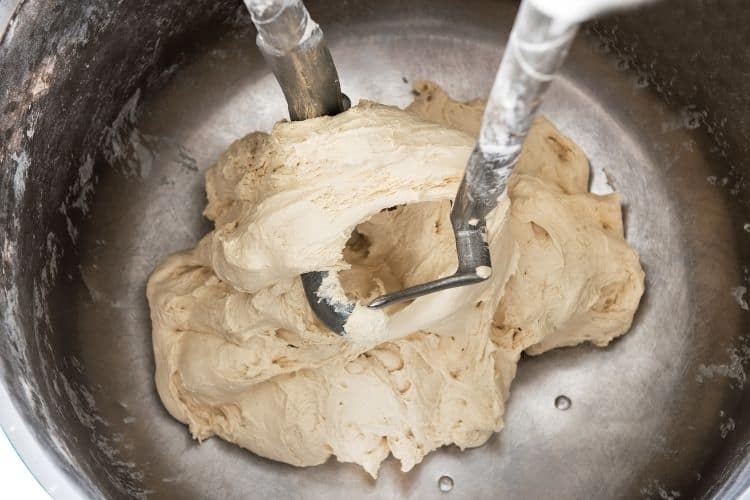 A commercial dough hook is an accessory for a commercial mixer. So, buying the commercial dough hook will depend on what mixer you currently have. Or, it may be that you're drawn to one of the dough hooks in this guide, you want to go on and purchase a compatible mixer.
Different commercial kitchens will benefit from a different type of commercial mixer. To determine the right kind of mixer for your professional kitchen, there are three primary considerations you should make. These are as follows.
What You Will Be Mixing
Different types of batter and dough have different consistencies. As a result of this, not every commercial mixer will be suitable – kneading a batch of stiff, thick dough will need a considerable amount more power than mixing icing or meringues, for example.
A specialized pizza dough mixer and bread mixer will be different from a more lightweight mixer designed to whip delicate egg whites.
Finding the absorption ratio for your most commonly used dough is the best way to learn what type of mixer would be most suitable. This is the lbs of water divided by the lbs of flour. The lower the absorption rate, the more challenging the dough will be to turn and mix; Afterwards, the more powerful mixer would be better for the job.
The Type of Usage You Expect from the Mixer
Commercial-grade mixers are designed to handle the rigors of commercial use. However, some are better equipped than others for certain types of mixing. Look for the terminology used in the owner's manual or product description to see what you can expect from the mixer.
If you see 'Standard Duty,' this mixer should be perfect for a cafe, restaurant, or catering business that makes dough and batter in-house. The standard duty mixer is ideal for cake batter, egg whites, whipped cream, and the occasional pizza dough batch – on low speeds.
If you see 'Heavy-Duty,' this mixer will be durable and reliable for high-volume use, such as within pizzerias, high-volume bakeries, or busy commercial kitchens. A heavy-duty mixer will be a versatile machine, able to prepare various foods such as mashed potatoes, pie dough, cake batter, and pastry.
Americans love their pizza; we buy 350 slices every second! So if pizza is your restaurant's strong, the heavy-duty mixer will likely be the better choice.
The Amount You Will Be Mixing
The amount you will be mixing plays a key role in the size of the commercial mixer you will need. A smaller establishment could be fine with a 5 – 20 qt. Mixer. But, a bakery or pizzeria would benefit from a 40 qt or larger mixer.
Buying the Right Commercial Dough Hook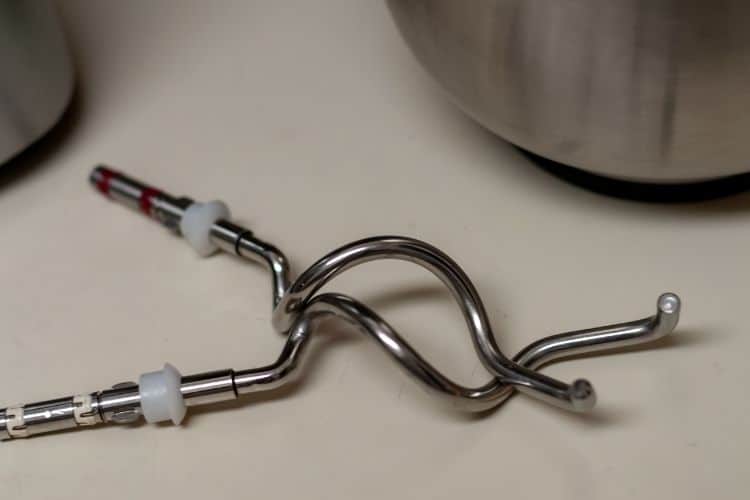 It is most likely that the commercial dough hook you need is a replacement part for your current mixer. Here are a few things to consider to ensure that the purchase of a dough hook is the right one.
Compatibility
Not all dough hooks will fit all mixers. I have included the model numbers for the mixers that the dough hooks will fit in this guide. If you're unsure of your model number, you can find this in the owner's manual or on a plate affixed to the product.
Even though the parts may look the same, there will likely be variations in similar parts, so it is essential to buy the part that will fit your specific model.
Material
Commercial dough hooks are made from three primary materials; plastic, aluminum, and stainless steel. Each material has its own advantages and drawbacks.
Plastic will likely be cheaper and easy to clean, but it may not have the required strength for heavier doughs. Aluminum is a good choice; strong, reliable, and long-lasting, but it can rust or corrode if not properly cared for. Stainless steel is the most expensive option and possibly the best metal for a commercial kitchen due to its longevity and durability.
Price
If you have a commercial mixer worth thousands of dollars, then buying a commercial dough hook that is less than $10 may not be suitable. Conversely, a lower-priced commercial mixer may not be of the required strength and quality to operate a high-end dough hook.
The brand compatibility will likely determine the price; although there will be cheaper alternatives, they may not be up to the test.
Our Criteria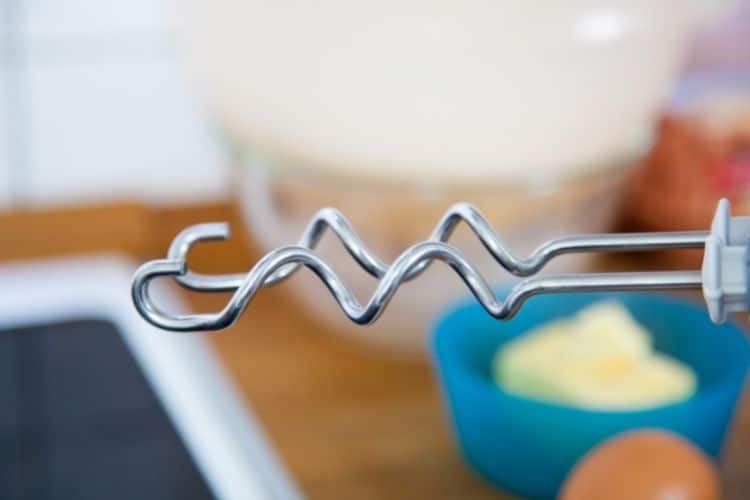 Before we break down our list of recommendations, we want to show you the criteria we used to choose the specific dough hooks we've listed. The commercial dough hooks we've created here weren't randomly chosen. Instead, we carefully vetted each of the dough hooks in this list.
All of the dough hooks we put in this list had to be:
Affordable
We wanted to make sure we recommended commercial dough hooks for a variety of price ranges. That way, you can be certain to find a dough hook that fits perfectly in your price range.
Positive customer

reviews
Besides our own positive testing experiences, we made sure other customers using these dough hooks also had a generally positive experience.
Sturdily made
We vigorously tested all of the dough hooks in this list in a variety of different conditions. This way, we could ensure the dough hooks recommended in this guide will withstand the wear and tear your business puts it through.
6 Best Commercial Dough Hooks
Avantco Dough Hook

– Our #1 Top Pick

Cast Aluminum

Compatible with 4 Avantco Mixers

Fast Shipping

Find it

Here

PartsBroz 5 Quart Dough Hook

– Our #1 Budget Pick

Lifetime Warranty

Money-Back Guarantee

Compatible with 9 KitchenAid Mixers

Find it

Here

Nevku Spiral Dough Hook

Coated Metal

Dishwasher Safe

Compatible with 6 Mixers

Find it

Here

UP2WIN C Dough Hook

Compatible with Kitchenaid Tilt-Head Lift Stand Mixers with 4.5qt/5 qt Bowl

Coated Aluminum Metal

Dishwasher Safe

Find it

Here

Globe Spiral Dough Hook

For 30 Qt. Globe Mixers

High-Shine Aluminum

Fast Shipping

Find it

Here

KitchenAid Plastic Dough Hook

Designed, Engineered, and Tested by KitchenAid

1-Year Limited Warranty

Compatible with 9 KitchenAid Mixers

Find it

Here
Avantco Cast Aluminum Dough Hook – Our #1 Top Pick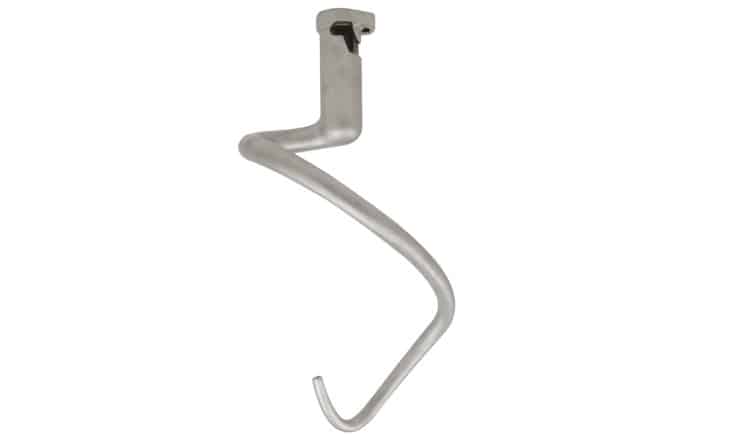 The Avantco Dough Hook replacement dough hook, specifically for the Avantco commercial mixer brand, including Model Numbers: MX20, MX20WFB, MX20SHSLK, and MX20MGKIT. These commercial mixers are all highly-rated, the 'must-haves for any high-volume bakery or pizzeria.
This commercial dough hook makes light work of kneading high volumes of bread and pizza dough and is sturdy enough to use with a 20 Qt. Mixing bowl. It is made from cast aluminum, which has a non-stick finish, so the dough easily slides off the hook. This material is also easy to wipe clean afterward.
The Avantco Dough Hook feels exceptionally sturdy and durable. I like the flat point, which helps to scrape any remaining dough out of the bowl without leaving any scratches or marks behind. Shipping is fast, within three days, and the Avantco brand has superior customer service based here in the United States.
Pros
strong and sturdy

Flat End

Non-Stick

Wipe-Clean
Cons
Price May Vary Depending on the Vendor

Cannot Buy Direct from Avantco
PartsBroz 5 Quart Dough Hook – Our #1 Budget Pick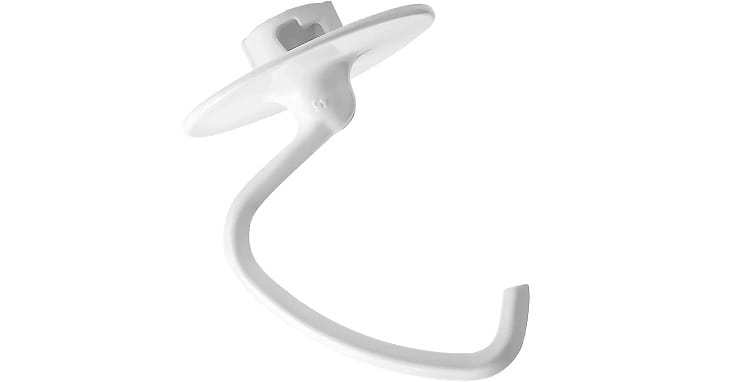 For less than $10, the PartsBroz 5 Quart Dough Hook offers incredible value for money. It is a plastic dough hook, which has some significant advantages (namely the excellent price). This dough hook is compatible with KitchenAid Tilt-Head Mixers, including models starting with K45 and KSM , but also works with some other brands, including Whirlpool.
This dough hook offers excellent durability at a highly affordable price – a fraction of the cost of many alternatives. It meets or exceeds the original manufacturer specifications and comes with a lifetime warranty and a 100% money-back guarantee.
I found that the PartsBroz dough hook is straightforward to install and feels very secure once in place. It makes kneading light, medium, and even heavier doughs simple, and the plastic coating is a non-stick finish which is a great benefit. For a lower-priced dough hook that is incredibly efficient, this is a top choice with a few negatives.
Pros
Excellent Price

Works with a Range of Makes and Models

Non-Stick Coating

Lifetime Guarantee
Cons
Less Sturdy than Branded Dough Hooks

Feels a Little Thin
Nevku Spiral Dough Hook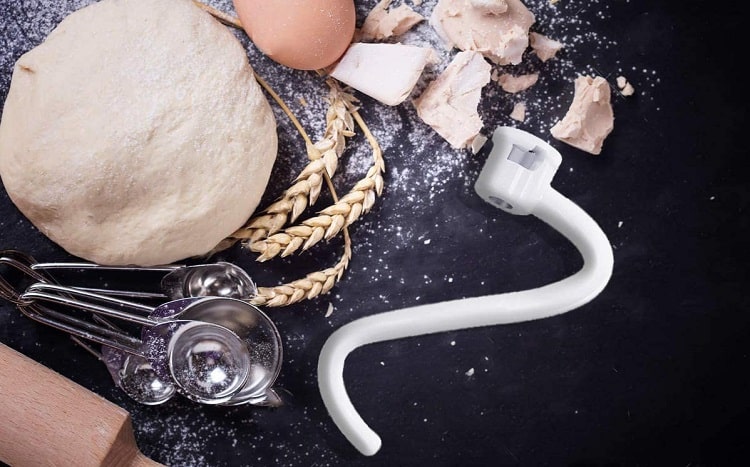 The Nevku Spiral Dough Hook boasts a highly attractive price of less than $20 and features a unique spiral design, which is said to knead 25% more than the brand's previous models. This dough hook is compatible with KitchenAid models: KL26M8X, KP26M8X, KP26M1X, KV25H0X, KV25G8X, and KV25G0X only.
I like the sturdiness of this dough hook, and it feels beyond its price point for durability. It is straightforward to assemble and disassemble and easy to clean. Although it states that you can put the Nevku Spiral Dough Hook in the top rack of the dishwasher, it is advisable to wash or wipe by hand to aid longevity.
Nevku manufactures a range of commercial equipment at highly competitive prices and has a good reputation for quality and customer service. This spiral dough hook is returnable if you aren't satisfied, making it a risk-free purchase.
Pros
Great Price

Spiral Design – Cuts Mixing Time

Fully Returnable

Easy to Assemble
Cons
Bright White Color Could Look Mismatched with a Stainless Steel Bowl
UP2WIN C Dough Hook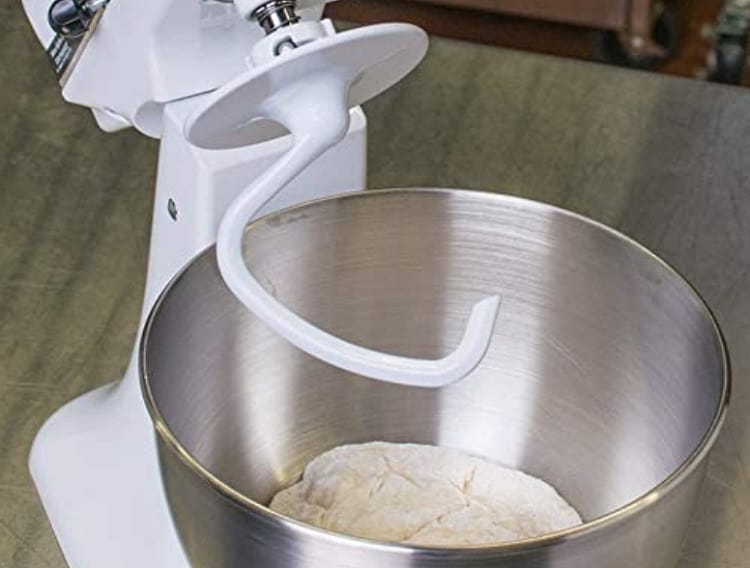 The UP2WIN C Dough Hook works with KitchenAid tilt-head lift stand mixers with a 4.5qt/5 qt bowl, including model numbers beginning with K45 and KSM. The dough hook is made from two high-quality materials; internally, there is aluminum metal, and the outside is coated with anti-oxidant enamel making it easy to clean and non-stick.
The inner metal increases the strength and makes this hook able to knead heavy bread and pizza dough. It feels sturdy and unbreakable, and many consumers mention its outstanding reliability and durability. It is dishwasher safe, but hand washing is recommended to extend the service time.
Because the metal is inside the dough hook, there is no scraping sound or loud banging when the mixer is turned on. This also means that the mixing bowl is protected from metal-on-metal damages. I found a reasonable price and believe this product is a great choice for a KitchenAid mixer replacement part.
Pros
Double Material Construction

Almost Silent Mixing

Good Price

Non-Stick Enamel Coating
Cons
Is Priced Higher than Similar Products
Globe Spiral Dough Hook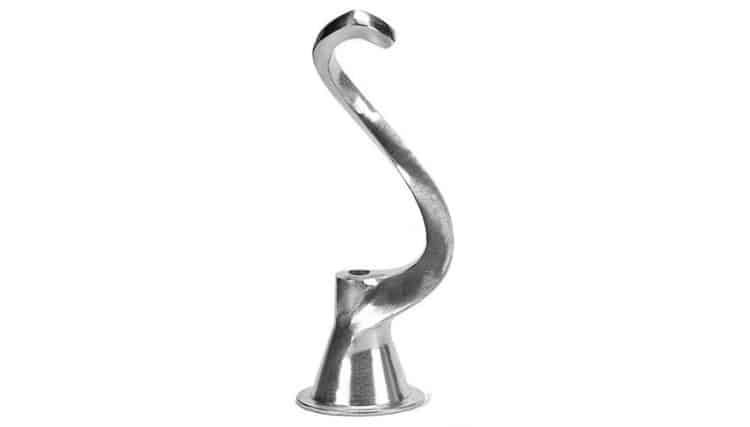 Globe Spiral Dough Hook is at the higher end of the price spectrum, and for high-quality commercial 30 qt. mixers: The Globe SP30 and Globe SP30P only. It is a top-of-the-range product but offers exceptional durability and longevity. If you own one of the Globe Commercial Mixers, this spiral dough hook is really the only choice.
For those who are purchasing at Globe Mixer, there is free shipping and financing available via their website. These are two of the best commercial mixers around, designed to last. They also come with a 2-year part and labor warranty.
The downside to the Globe Spiral Dough Hook is that it does come with a Prop 65 Warning for CA residents.
Pros
Exceptional Durability

Free Shipping

Financing Available
Cons
Only Compatible with Global Mixers

Prop 65 Warning for CA Residents
KitchenAid Plastic Dough Hook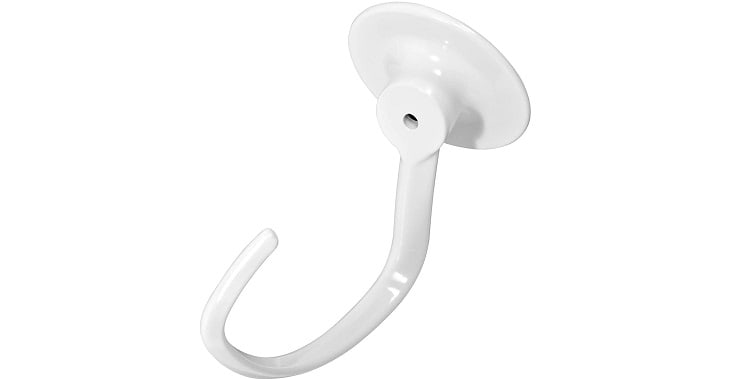 The KitchenAid Plastic Dough Hook is relatively similar to the Dough Hook I have featured that are compatible with KitchenAid mixers. However, this dough hook is designed by and comes from the KitchenAid brand. This may give more peace of mind to some but also means a higher price – possibly for the same results.
This dough hook has been in circulation since 2003, and to still be going today without any updates or improvements can only mean one thing: it works. Often plastic is a good choice for dough hooks, as it is durable, easy to clean, and non-stick. In addition, it doesn't scrape, mark or damage the metal mixing bowl.
Consumers seem impressed with the durability of this dough hook, although it isn't without its critics. It feels strong and sturdy, but when first assembling, there is little residue left on the hands – rinsing before use should solve this.
Pros
Designed by KitchenAid

Compatible with KitchenAid Mixers

Long-Standing Product

Durable
Cons
Cheaper Alternatives are Out There
FAQs
Question: Why Does Dough Climb up The Hook?
Answer: If your dough is climbing up the hook, this is an indication that kneading is complete. It could also mean that the speed setting is too high for your dough consistency.
Question: Can I use a Flat Beater Instead of a Dough Hook?
Answer: Each mixer attachment is designed for a specific purpose: a dough hook is to knead the dough, whereas a flat beater is designed to mix the batter, heavy cream, and egg whites. A flat beater may not be up to the job of heavier doughs.
Question: Is a Spiral Dough Hook or a C-shape Dough Hook Better?
Answer: It is really down to personal preference, whether a spiral dough hook or a C-shape would be better; both fundamentally do the same thing. Some people feel that the spiral shape is more effective at cutting through the dough and kneads it more thoroughly. But top chefs use both dough hooks in equal amounts.
Question: What do I do if the Dough Hook Stops Kneading?
Answer: Like all attachments and appliances, things can break – but it is rare amongst dough hooks to experience breakages that result in the dough stopped being kneaded. Your mixer will have a set screw that adjusts how close you can get the dough hook to the bottom and sides. Try adjusting this to barely touch the bowl; if there are still issues, it is likely the dough and not the dough hook.
Question: For How Long Should I Use a Dough Hook?
Answer: Using a dough hook to knead bread should take around three minutes on a low-speed setting. It is recommended not to go higher with speed, as this can result in inconsistent dough.
The Best Commercial Dough Hook – My Verdict
All of the products I have listed have unique advantages, and all can bring something valuable to the commercial kitchen. Some extra benefits, such as the Nevku Spiral Dough Hook being a risk-free purchase and fully returnable if you aren't satisfied.
The UP2WIN C Dough Hook boasts interior aluminum and exterior enamel coating for great durability. This is 100% non-stick and feels exceptionally strong. I like how silent it is when using and that the mixing bowl is protected from scrapes and marks due to the enamel coating. However, I did find similar products and more affordable prices.
For a product with a lifetime guarantee, the PartsBroz 5 Quart Dough Hook is a great choice. This model is very affordable and works with a range of mixers from different brands – mainly KitchenAid. I liked the price and the non-stick coating, but it does feel a little thin compared to others, so I am uncertain how much heavy use this dough hook could withstand.
If you have a KitchenAid mixer and are looking for a replacement dough hook, then the KitchenAid Plastic Dough Hook comes from the same brand, giving greater peace of mind. However, it is more expensive than the non-branded dough hooks with the same compatibility and features.
Globe Spiral Dough Hook is the most expensive in the guide and is only compatible with two commercial mixers from the same brand. If you own one of the Globe mixers, then this dough hook is your only choice. It comes with financing options, free shipping, and a great warranty. However, it is a high price.
Our top pick is the Avantco Dough Hook, which is a replacement hook specifically for Avantco commercial mixers. It is made from cast aluminum and has a non-stick finish. It feels incredibly sturdy and does a great job of protecting the mixing bowl while making light work of the bread and pizza dough. Prices can vary for this product, as you can't buy direct from the brand.