Latest posts by Jodie Chiffey
(see all)
Whether you're running a standard pizzeria or you're offering pizza just as one of many meals on your menu if you're reading this article, it probably means that you're looking for a reliable pizza oven. So today, we'll be taking a closer look at Bakers Pride, in our Bakers Pride Pizza Oven review and explain all of its characteristics in detail to determine whether it's truly a great option.
Pizza ovens represent a distinct, highly individual category of kitchen equipment. If you've never used or owned one of these ovens before, you might not know what to look for and what to avoid. In that case, focusing on some of the renowned and reputable brands like Bakers Pride is surely a good idea.
However, even if you've already decided to buy a Bakers Pride pizza oven, you still have to choose from their wide selection of models. To make it all a bit easier, we'll mainly be focusing on Bakers Pride Y-800, a Super Deck-series pizza oven that is currently one of the most sought-after models in the brand's catalog.
Ready? Let's check the basic specifications of Bakers Pride Y-800 first:
Key specifications of Bakers Pride Pizza Oven
| | |
| --- | --- |
| Type/model of oven | One baking chamber deck-type freestanding pizza oven / Bakers Pride Y-800 |
| Fuel | Gas |
| Material | Stainless steel exteriors, aluminized steel interiors |
| Consumption | 120,000 BTU/hr |
| Temperature range | 300°F (149°C) to 650°F (343°C) |
| Dimensions/weight | 84″ W x 55.12″ H x 51″ D / 1604 lbs |
| Latest price | Click here for the latest price |
Core features of the Bakers Pride Pizza Oven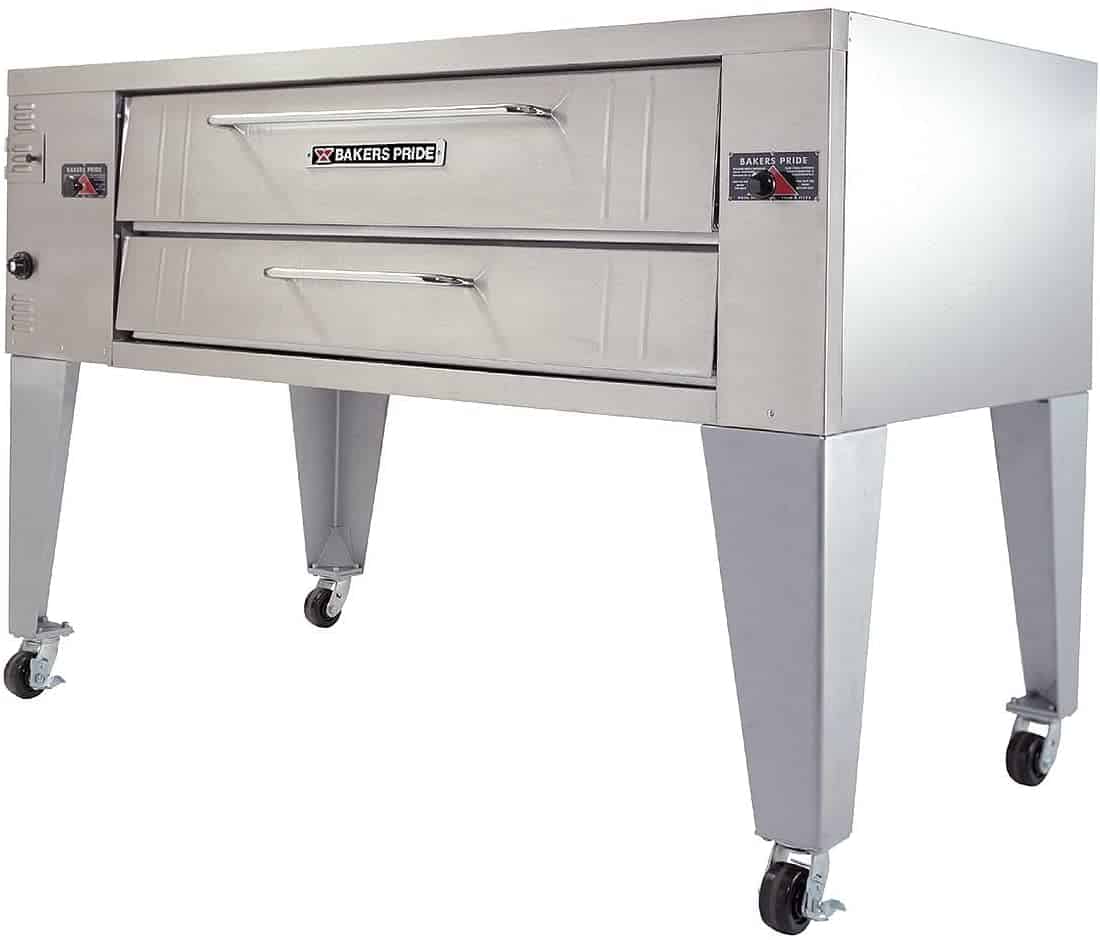 Although individual models of Baker Pride pizza ovens may have different dimensions, energy consumption, and prices, their most important features and overall qualities are usually very similar.
Let's start with a review of the oven's constructional qualities and design:
Construction and Design
When choosing a new pizza oven, construction and design should be high on your list of things to check and consider. In both regards, Bakers Pride Y-800 seems to be a reasonable choice – especially if you're looking for a great balance of compactness, versatility, and durability.
Regarding the size and proportions, Bakers Pride Y-800 measures 84 x 55 x 51 inches, so it can fit even in tighter spaces. It is a single-deck type oven, though, so it doesn't offer a huge capacity.
Nevertheless, this oven boasts an extra-wide pizza compartment that can accommodate even several standard-sized pizzas side by side. Moreover, this model, seated on a set of four heavy-duty steel legs, is also assembled with a sturdy .25″ angle frame, which is completely welded and allows for stacking above or under another Bakers Pride pizza oven. This means that you can easily expand your setup in the future without having to sacrifice more precious space in your kitchen.
Bakers Pride pizza ovens are designed exclusively for commercial use, so they boast some of the sturdiest materials on the market. The outer housing of Y-800 is made of regular stainless steel, whereas the interior is built of aluminized steel. These materials are immune to corrosion, easy to clean, and very durable.
Moreover, the baking chamber is brick-lined and contains a Lightstone fibrament deck with 8″ height and individually controlled top and bottom heat dampers. All of these constructional qualities add to the oven's convenience of use and perfect versatility.
Functions and Controls
If you're choosing your new pizza oven, you should first consider the type of fuel it's going to consume. It's not that hard, though, since you have just three options:
Wood-fired ovens are acclaimed for adding distinct flavor and aroma to your pizza. They also tend to look stylish and feel natural. Electric pizza ovens are highly versatile since you can place them almost anywhere. They are also cheap, easy to use, and pretty safe. Gas ovens boast the lowest operational costs and great performance. They are also highly universal, so you can use them to prepare many other meals besides the pizza too.
Bakers Pride Y-800 pizza oven belongs to the last category, so if you have access to natural or LP gas, it is undoubtedly a sensible choice to consider. Y-800 consumes just around 120,000 BTUs per hour, which means that it's quite an energy-efficient machine, and thanks to its excellent insulation and sophisticated heat dampers, the energy will genuinely be used effectively.
Operating this pizza oven is also very simple – just turn the oven on, ignite the main burner (following the included operational manual), and set the optimal temperature with the thermostat. You can set this oven to any desired temperature between 300°F (149°C) and 650°F (343°C), which is convenient for both thin crust and deep-pan types of pizza. The oven responds quickly and heats up perfectly in just a few minutes, which saves your time and allows you to speed up your workflow.
Pizza can be baked either directly on the deck, on a screen, or in a pan using this oven. If you're doing everything right, the results should always be perfectly even, which is important if you want to treat your clients with the standard quality they expect at each of their visits.
Moreover, you can also be creative and use this oven for baking your bread, roasts, etc. This is a versatile gas unit that can potentially even serve as your main oven in the kitchen if you don't need an open flame.
Safety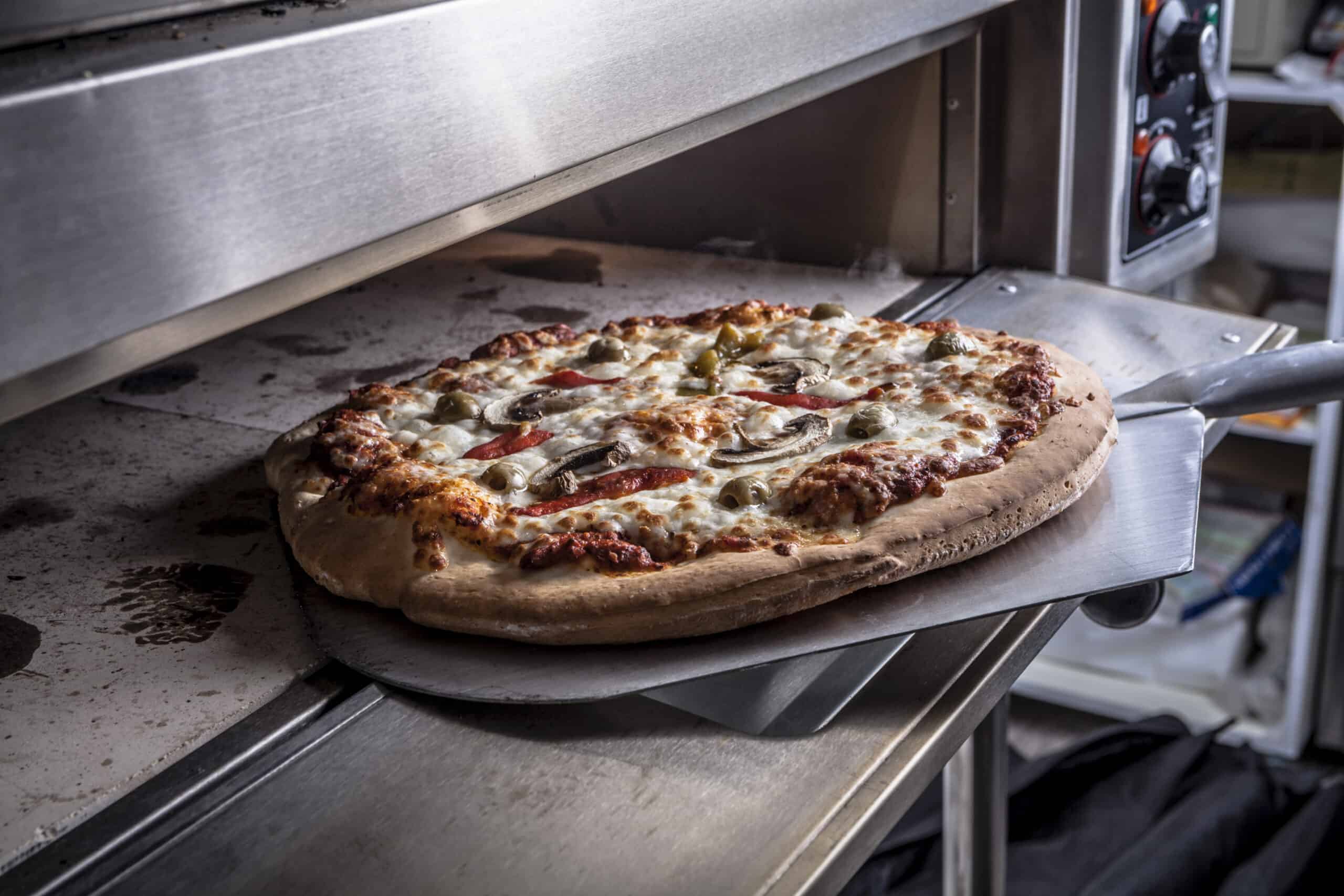 Although pizza ovens do not usually pose any significant safety hazards, any gas-fueled kitchen appliance can be potentially dangerous. Some of the most common issues include overheating, short circuits, or gas leakage, particularly dangerous.
Of course, every serious manufacturer of equipment for professional kitchens will do anything to ensure that their products will not become an emergency source. Bakers Pride is no different – its pizza ovens contain various safety shut-off valves, fuses, and other safety measures that should prevent any severe hazard.
On the other hand, you must play your part here too by observing some basic safety precautions like venting the room thoroughly to avoid overexposure to fumes and smoke, avoid any open fire (matches, candles, etc.) near the oven, and instruct all your staff on the proper use of the oven. Also, make sure not to underestimate regular maintenance and cleaning.
Reliability
Bakers Pride pizza ovens are, in general, considered to be very reliable and serve well for many years without any major issues. Nevertheless, user reviews do occasionally mention issues with receiving faulty units or units that were damaged on delivery, which, however, seems more like a problem with the distributor than the manufacturer.
In any case, most of these problems should be resolved to your satisfaction thanks to Bakers Pride's two-year limited warranty. If you experience some serious malfunction, make sure not to tamper with the unit yourself and contact the manufacturer or reseller immediately.
On the other hand, as with all kitchen appliances, you should also be prepared for some minor day-to-day issues that can usually be resolved even without professional intervention. If the oven starts baking unevenly, turns off on its own, or fails to reach the desired temperature, it often requires just resetting or replacement of some minor component (fuse, etc.). Thanks to the included troubleshooting guide, you can resolve many of these hiccups on your own.
Price
Commercial equipment for pizza preparation can be pretty expensive. Finding a good and reliable unit that would also be 'cheap' is very unlikely. Nevertheless, in comparison with some of the other renowned American brands (e.g., Blodgett), Bakers Pride pizza ovens are still relatively affordable. Check out the latest price quote for Bakers Pride Y-800 here.
Pros of the Bakers Pride Pizza Oven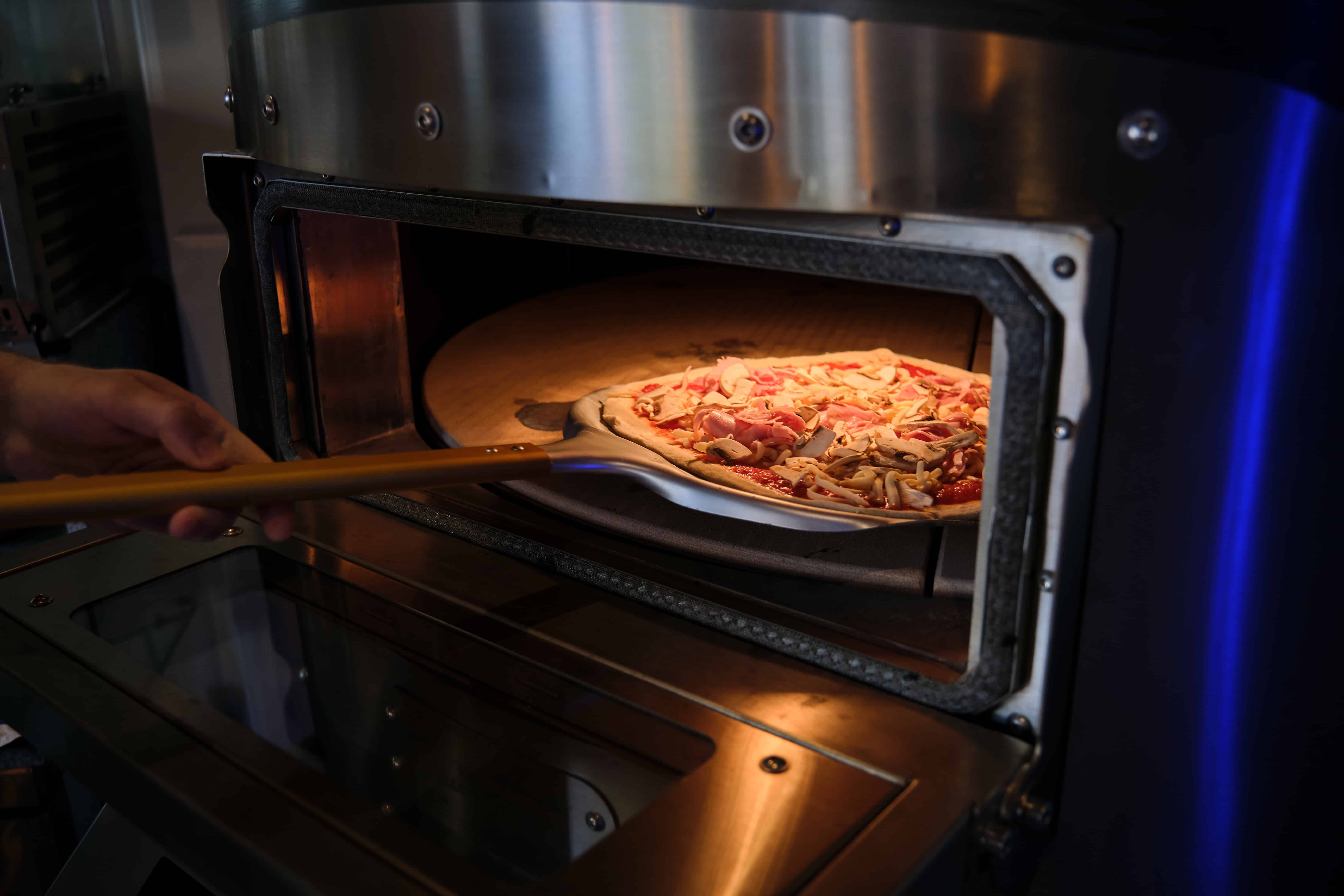 Let's summarize the biggest assets and strengths of this gas oven once more:
Convenient Design
Bakers Pride Y-800 comes with a convenient stackable configuration and extra-wide baking chamber. This thoughtful design provides you with a perfect combination of small profile, decent capacity, and opportunity for future expansion.
Quality Materials
If you're looking for reliable commercial equipment, first-class materials are a must. Bakers Pride seems to know it well – these heavy-duty pizza ovens are made of top-grade stainless + aluminized steel and contain top-quality insulation.
Energy-efficient Gas Operation
Gas-fueled pizza ovens are usually considered to be more economical than their counterparts using different technologies. Moreover, Bakers Pride ovens are even more energy-efficient thanks to their quality insulation, fast responsiveness to temperature adjustment, and precise thermostat.
Versatile
Bakers Pride ovens can be used for any style of pizza baking: on the deck or in a pan – the choice is yours. Moreover, these versatile ovens can also be used for many other types of meals, including pies, roasts, bread, vegetables, pastry, etc.
Easy to Use
Mastering your pizza baking skills with some of the simple and user-friendly Bakers Pride pizza ovens is very easy. The whole system consists of just a few controls and settings, so it's pretty simple to find your perfect working routine. This is particularly advantageous if you're completely new to pizza ovens or if you're employing younger and less experienced staff.
Affordable (Relatively)
Commercial pizza ovens can be pretty expensive, but Bakers Pride products are, in general, slightly more affordable than some of the comparable competition. So if you're on a budget yet don't want to compromise on quality, this brand is an excellent option for you.
Cons of the Bakers Pride Pizza Oven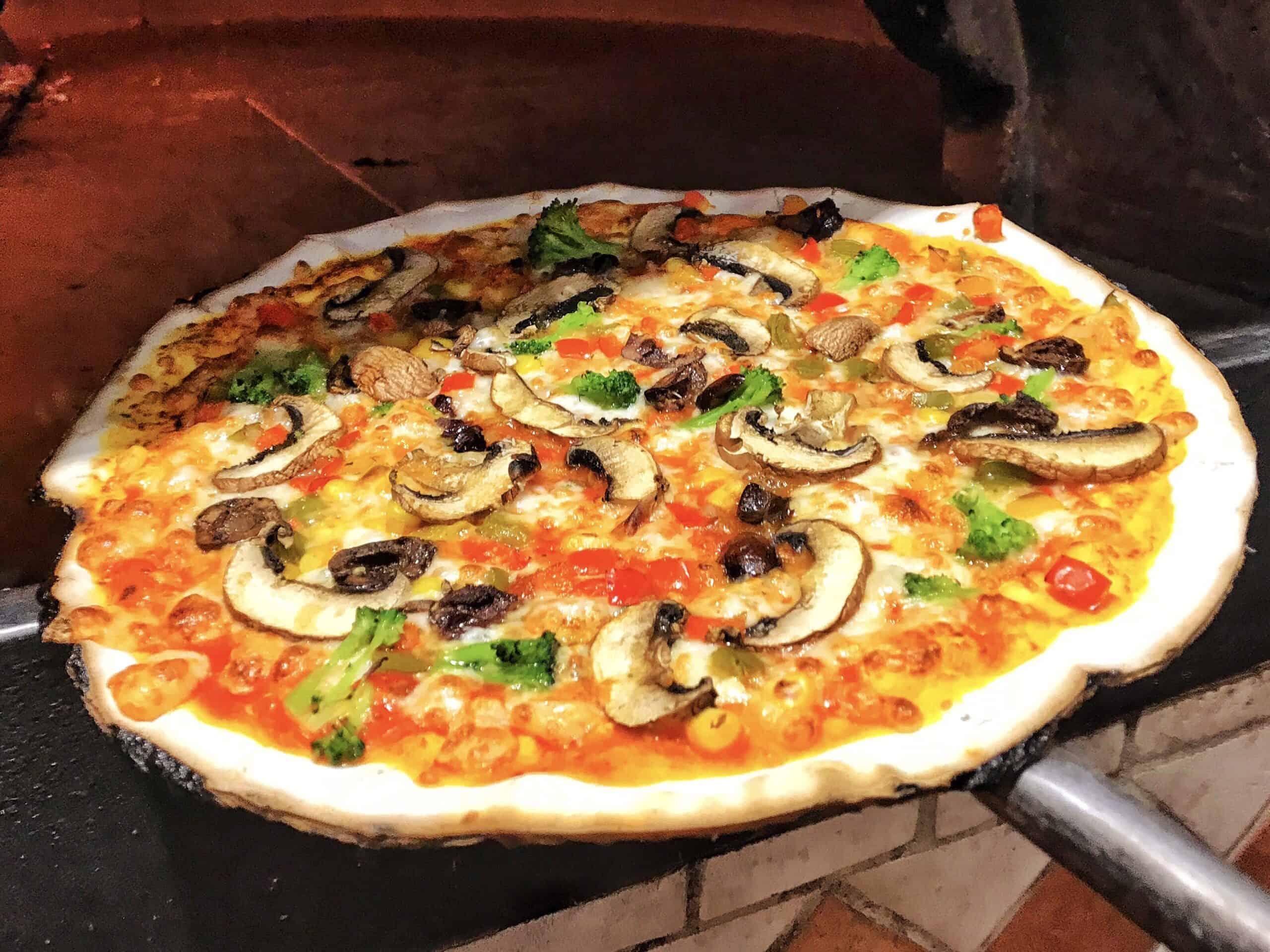 Still not sure whether Y-800 is the right choice for you? If you mind some of the following factors, you should probably look for your pizza oven elsewhere:
Needs Constant Gas Supply
Yes, gas-operated pizza ovens can only be used in places equipped with gas supplies. Moreover, the kitchen where you use any type of gas appliances must also be well ventilated. If your place does not comply with some of these conditions, you should probably look for a standard electric pizza oven instead (we'll discuss some of your options shortly in the Alternatives section).
Single-deck Design
If we're talking specifically about the Bakers Pride single-deck Y-800 model, note that it has just one baking chamber, so it won't allow you to prepare large volumes of food at once. Although the compartment is extra-wide and you always have the chance to expand your setup thanks to the stackable design, this has its limits too and it will come at extra costs.
Are There Any Alternatives?
Are you worried that Bakers Pride Y-800 might not be the most suitable pizza oven for you in the end? That's ok since this brand also produces many other types and models of pizza ovens that might probably suit you better. Some come with different designs and larger capacities, and others even use completely different technologies and energy sources. Check out these recommended alternatives:
Bakers Pride DP-2 Countertop Electric Pizza Oven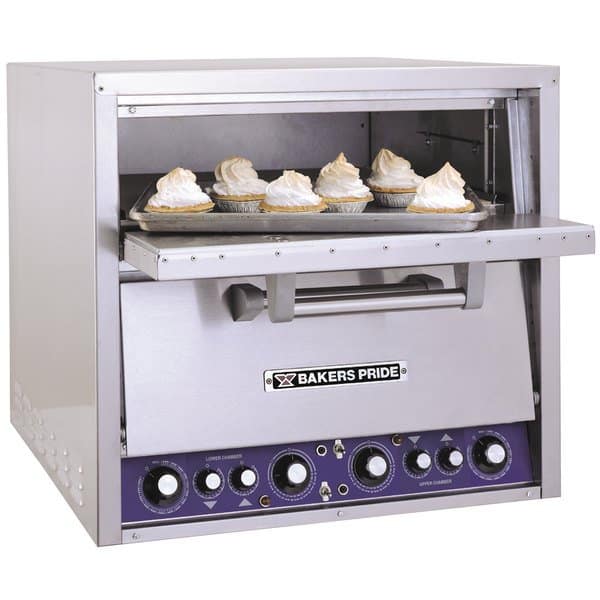 Would you prefer a countertop pizza oven to freestanding machines like Y-800? Bakers Pride DP-2 is a conveniently compact model that can easily fit on most regular countertops and save a lot of space on your kitchen floor. Moreover, this appliance also runs on electricity, making it an ideal solution for places with no gas supply or mobile food stands.
DP-2 oven boasts two separately controlled baking chambers, each fitted with a Cordierite deck and a 5.5″ deck height. The unit offers a 300 to 650 °F temperature range and useful electric timers. You will most likely also appreciate its affordable price – it's definitely cheaper than most of the gas ovens in the Bakers Pride catalog.
Bakers Pride 453 Super Deck Series Gas Pizza Oven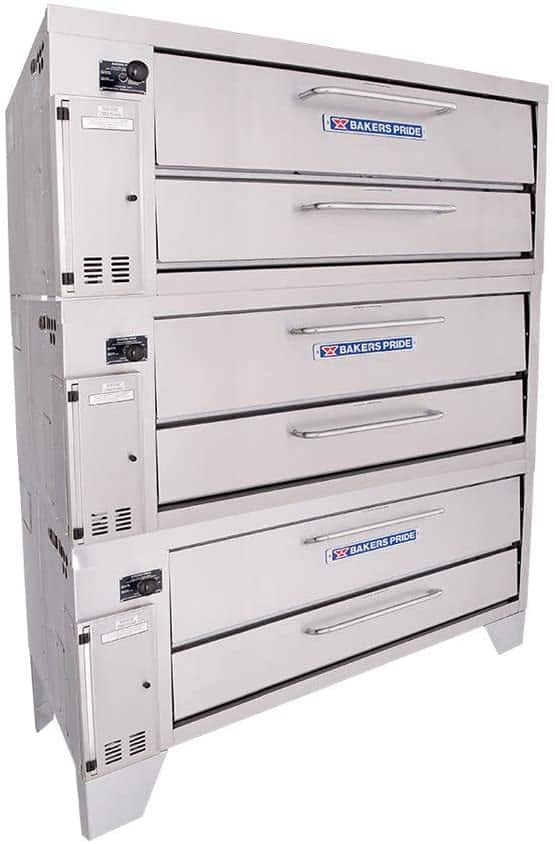 If you'd prefer to stick to the gas-operated pizza ovens, yet you need a much larger capacity to satisfy your crowds of customers, check out the impressive Bakers Pride 453 model. This triple-deck gas oven comes from the same Super Deck series as the smaller Y-800, yet it's perfectly designed for all your high-volume baking needs.
The exterior is made of heavy-duty stainless steel, whereas the interior is fully insulated to ensure cooler surface temperatures and consistent heating on the inside.
The oven boasts three 1.5″ thick Cordierite decks and individually regulated top and bottom heat dampers for perfectly even results. Before you order yours, don't forget that such a large oven costs significantly more, and it also consumes much more energy (about 240,000 BTU in an hour).
Bakers Pride P-24-BL Electric Countertop Bake and Roast Oven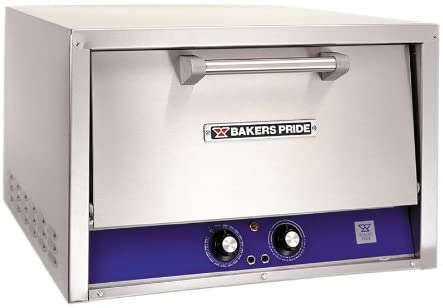 As we've already mentioned throughout this article, pizza ovens can be incredibly versatile and useful for numerous other applications besides pizza baking. This is particularly beneficial if you're dealing with limited space where each of the appliances should ideally serve more than one purpose. Is this exactly your case? Go with something as small and universal as Bakers Pride P-24-BL, and you should be perfectly satisfied.
This compact countertop oven is affordable, small, super-easy to use, and perfectly suitable for any roast-style baking task you might assign to it. It features a brick-lined deck with exceptional insulation and heat-preserving qualities and a convenient 60-minute timer with a continuous-ring alarm.
fAQs
Question: Where are Bakers Pride ovens made?
Answer: Bakers Pride is one of the oldest American manufacturers of commercial pizza ovens. It often claims to be the very first brand to produce commercial pizza ovens in the country. The company was established in Bronx, New York, in 1945, and today, its headquarters is located in Allen, Texas.
Question: What else can you cook in gas-fueled Bakers Pride pizza ovens?
Answer: Gas-operated pizza ovens are, in general, perfectly versatile. Besides standard pizza, you can also use them to prepare delicious roasted vegetables, baked fish, slow-cooked meat meals, jacket potatoes, flamed steaks, stews, pies, smoked or barbecued meats, fresh bread loaves, flatbreads, and so on.
Question: Do Bakers Pride pizza ovens run on LP?
Answer: Yes, Bakers Pride makes many different types of pizza ovens that can operate either on electricity, natural gas, or LP. While each of these types uses different fuels, their constructional qualities, insulations, and many other features are very similar.
Final Thoughts: Should You Invest in Bakers Pride Pizza Oven?
If you're looking for reliable, user-friendly, and versatile commercial-grade appliances, Bakers Pride is a great brand to consider. All you have to do is pick the one that suits you best.
Are you looking for an all-rounder packed with modern technologies and stackable design? Bakers Pride Y-800, with its extra-wide chamber and energetic efficiency, should suit you perfectly. Or if that's too small, then investing in the triple-deck Bakers Pride 453 instead might be better. And if you'd like to stick to electricity instead of gas, you can choose from many affordable countertop models, including Bakers Pride P-24-BL and Bakers Pride DP-2. All in all, Bakers Pride ovens are most likely going to satisfy (almost) every taste and expectation.
Would you still like to explore more options before making the purchase? How about exploring the Turbochef pizza ovens next?