Latest posts by Alice Smith
(see all)
Have you ever wanted to eat fries without the guilt? If so, then an air fryer might be the best cooking option for you. Air frying is a healthy way of cooking your favorite foods because it uses little oil and leaves fewer calories than deep frying.
The best commercial air fryers can be a serious improvement and investment for your restaurant. They use a combination of hot air and circulating oil to cook your food quickly and evenly, meaning you can have your fries in less than half the time that you would with a deep-fat fryer. Not only that, but they're much healthier because food is not submerged in oil and you'll be able to give your customers great taste with much fewer calories.
This blog post will cover everything that you need to know about commercial air fryers in order for you to buy the best one for your needs.
What is an Air Fryer?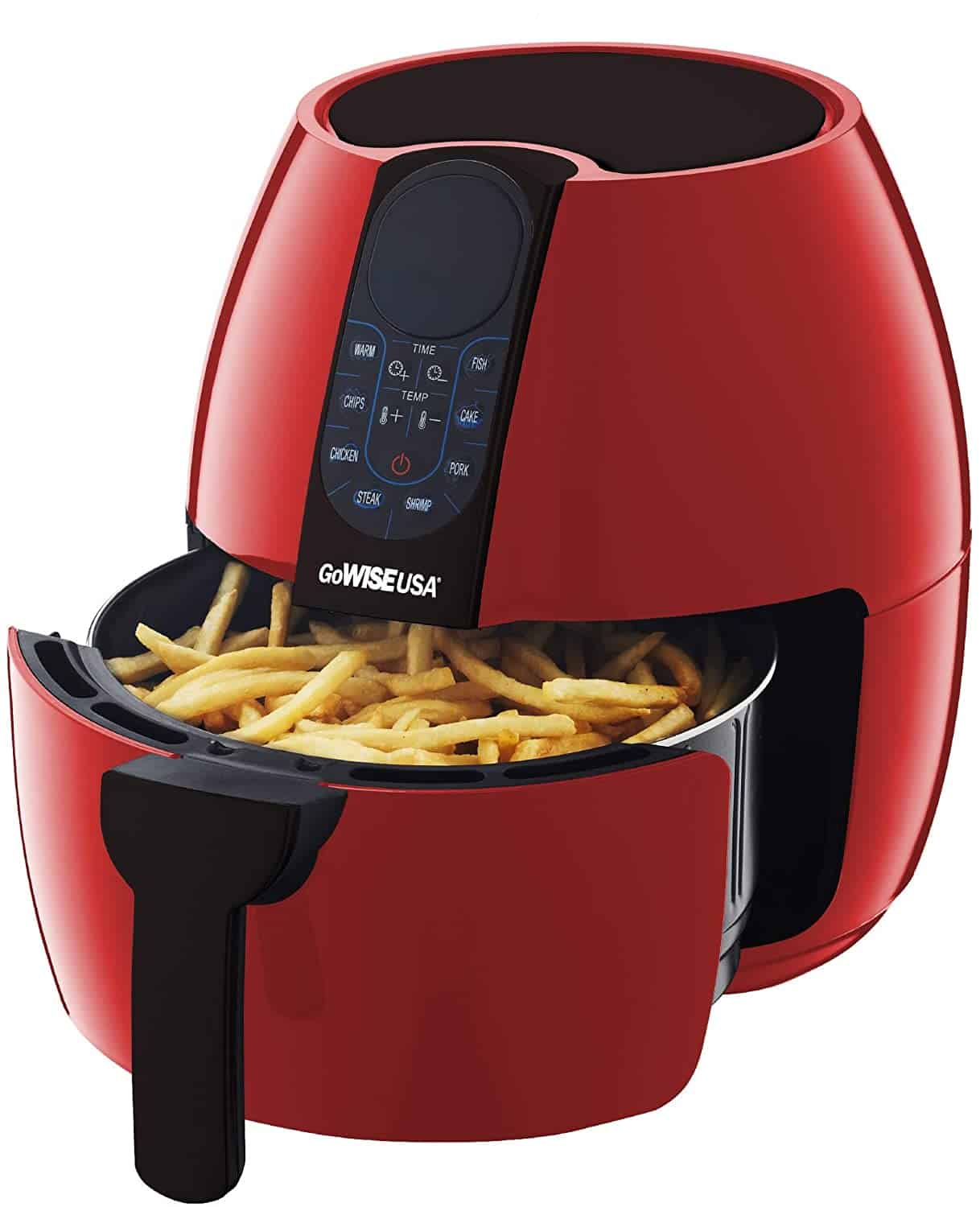 An air fryer is a cooking appliance that combines hot air and circulating oil to cook food quickly and evenly. They have been around since the 1980s, but commercial versions are just now starting to hit the market.
Technically, it's similar to a traditional catering oven in that it's a closed space in which the food is cooked. Except, instead of just heating the air within it, an air fryer heats both the circulating oil and the enclosed environment to cook your food much faster than normal methods like baking or roasting. Its effectively a mini convection oven that creates a hot air flow that cooks your food from all sides, not just the top and bottom.
The best commercial air fryers can cook foods like chicken wings, french fries, onion rings, fish sticks, mozzarella sticks – even donuts!
Why Use A Commercial Air Fryer?
Commercial air fryers are a great way to cook your favorite fried foods without all the guilt and calorie consumption that's usually associated with frying. They use hot air and virtually no oil, which means the food you produce is much healthier. This means you can serve food that tastes just as good but with much fewer calories, fat content, and grease.
Another reason you should buy an air fryer is that it cooks quickly – perfect for hectic nights and busy periods of restaurant service. You can get fries in half the time from using an air fryer instead of baking them in the oven. This is similar to other foods – you can roast a whole chicken in about 1 hour. Cooking times vary depending on what type of food you're cooking, of course. French fries take about 2-4 minutes in an air fryer, while breaded chicken fingers take about 10 minutes.
One thing to keep in mind is that it does still use oil; however, only a very small amount of oil is needed to cook your food, so it's best for those watching their fat intake, and healthy diet menu items. This also means you can save money on oil as deep fat fryers require completely emptying and changing every week whereas air fryers only require wiping over with soap and a damp cloth.
Types of Air Fryer
There are a couple of different types of air fryers that you should be aware of if you're looking to purchase one:
Vertical or horizontal fryer
Vertical fryers provide natural convection air movement that circulates the hot air from top to bottom (or vice versa) to evenly cook the food. The food sits in a basket below the heating element and can be pulled out using a handle.
In contrast, a horizontal fryer features less height and greater width. Using the lid found on the top of this unit, you can insert food. Furthermore, many of these models come with a viewing window, which allows you to monitor cooking.
Digital or manual air fryer
You will have a different selection of options with manual or digital air fryers. The digital fry makes things even more convenient, with a large LED screen that lets you switch between settings quickly. Key features, such as the time, temperature, and setting can be adjusted with a touch of a button, making it a preferable, easy-to-use model.
When it comes to digital and manual air fryers, digital is the automatic model that comprises a panel of buttons, whilst, as you would expect, manual models have knobs that you can turn yourself. However, manual air fryers are less commonly used for commercial purposes because they can be difficult to use.
What to Look For in a Commercial Air Fryer
The best commercial air fryers will be able to cook a wide variety of foods. They'll also have high-quality, durable materials that are easy to clean and work with. You should look for one that has a large cooking capacity as well as an adjustable thermostat so you can control the temperature.
Here are some features that you may want to consider with your air fryer purchase:
Size
How much space do you have in your kitchen for the fryer? It is important to take note of how much room your new piece of kitchen equipment will take up before you make a purchase. It's also best to measure your space to be double sure the fryer will fit.
Features (auto-off, express heat system, acoustic signals)
Many air fryers come with additional features. For example, the auto-off feature is a great addition because you can set the timer, and the appliance automatically shuts off once the time is up, saving both electricity and money. Features like an acoustic warning signal will let you know when the food is ready and an express heat system distributes even heat across the food. This encourages crispier food and proper cooking.
Ease of Cleaning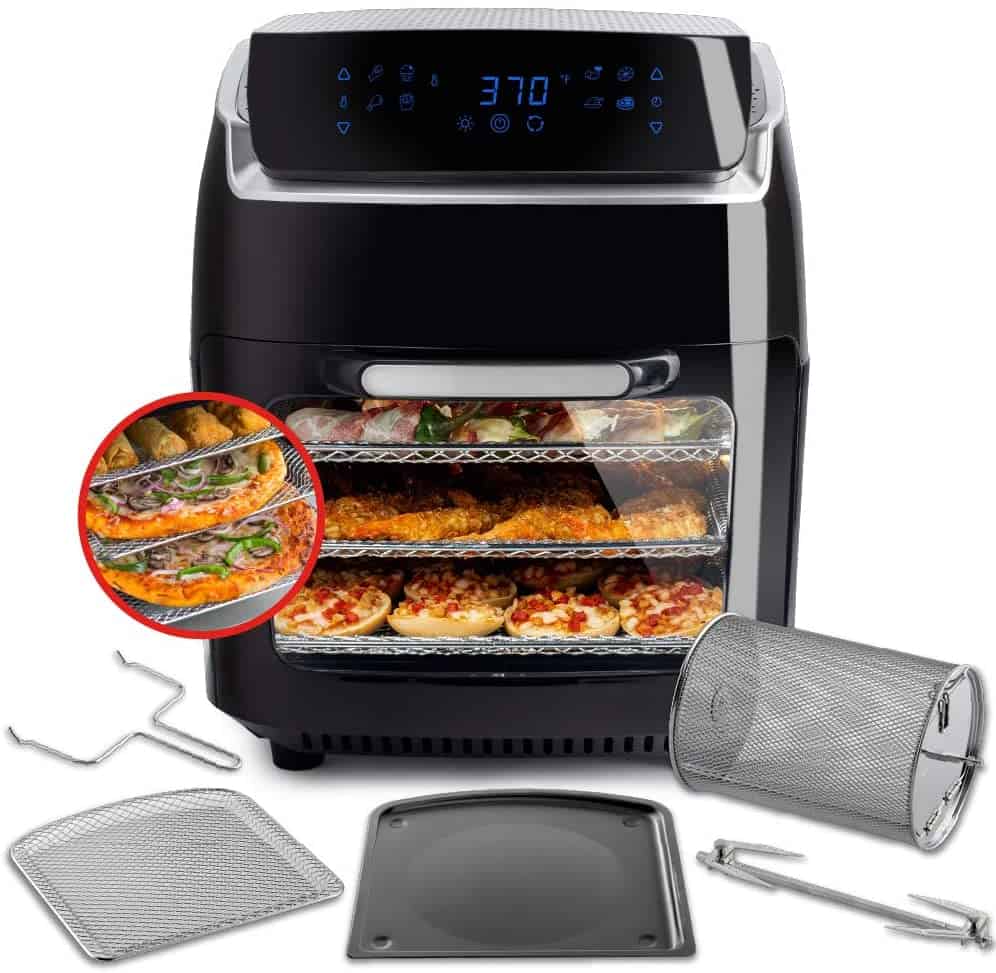 It is best to purchase an air fryer with removable parts that are both dishwasher and oven safe. This way, you can enjoy the best of two methods for cleaning your appliance – from a simple rinse off in the sink to tossing it into the dishwasher. Furthermore, many models have a removable crumb tray for even easier cleaning.
Ease of Use
Of course, you'll want your air fryer to be as easy to use as possible. This will mean less time to set up, less training for staff and less of a chance that the appliance will be damaged. This will also make your cooking time much more enjoyable, as you won't have a hard time with the appliance.
Many models of air fryers come with an auto-calibration function, which sets up your desired cooking temperature automatically. Others have pre-programmed settings for different types of food like fries or chicken – these simplify things even more because you can simply press a button, and activate the correct program.
Capacity
How much food can your air fryer cook? It's best to purchase a fryer with a large cooking capacity so you don't have to make as many batches of food. This will allow for more efficient use of your time and energy, making the appliance easier on you in the long run.
Wattage
The higher the wattage the faster your fryer will heat up and the better food it will cook food, crisping your fries instead of just heating them through. When choosing your air fryer, you should make sure to consider the wattage that the device will need for cooking food. It also affects the bill and how cost-effective your commercial fryer is.
Ultimately, more watts means that more power will be required. The best commercial air fryers are different from electrical equipment because they do not operate particularly efficiently. Appliances with an additional built-in oven can use too much energy and surpass 2000 W of absorption.
Temperature Control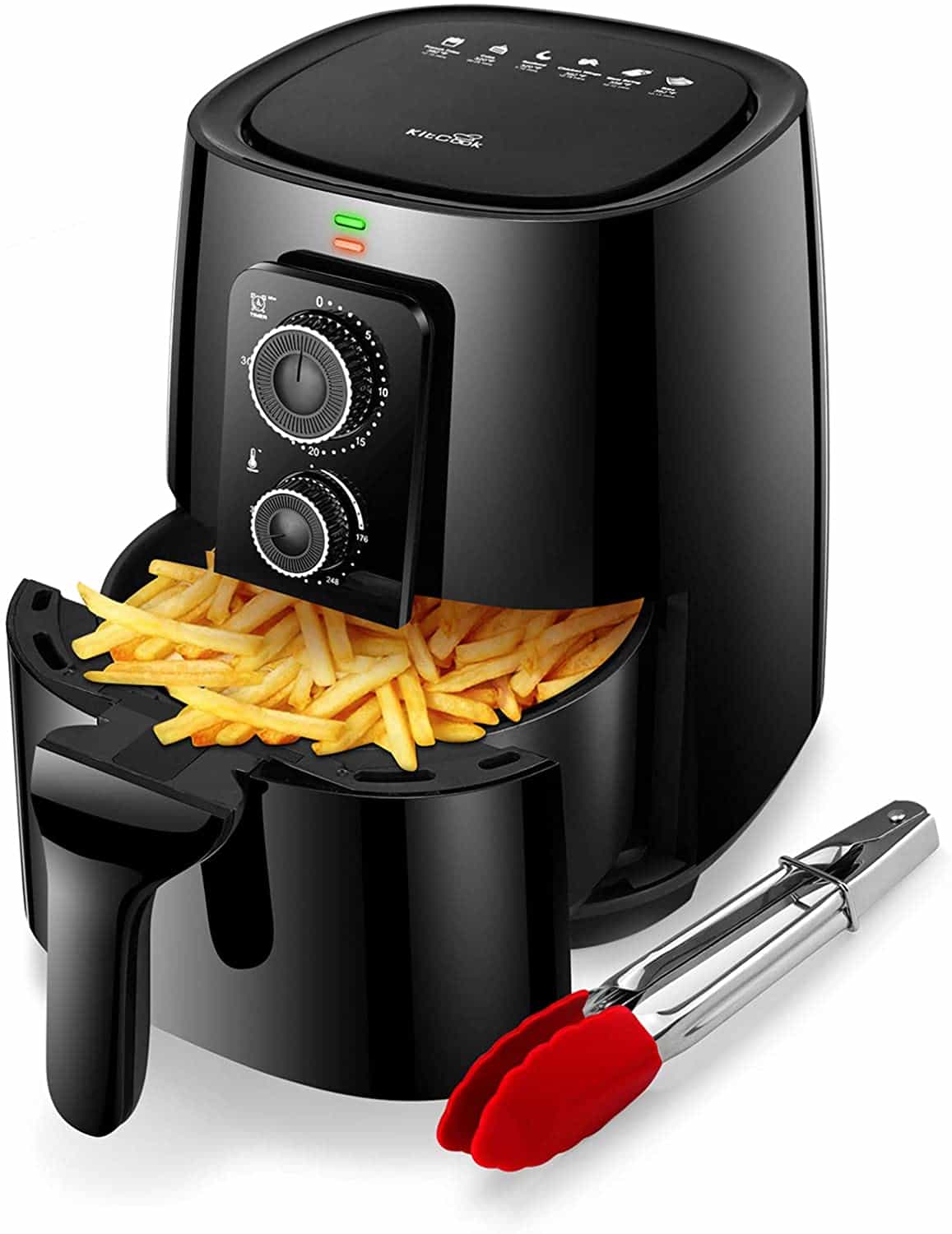 This is essential for cooking a variety of different foods. For example, cooking a potato requires a different temperature than a pizza, and cooking a raw chicken will require a higher temperature than a steak.
Temperature control is used to prevent overcooking or burning and the typical temperature range for a standard fryer is between 140 and 200 degrees Celsius. It's also essential for making sure that high-risk foods – such as raw chicken – are cooked correctly all the way through and are actually safe to eat.
When you're choosing an air fryer, aim to find one with a maximum temperature of 200 degrees Celsius as it is more versatile cooking.
Accessories
Air fryers come with a variety of accessories, designed to best suit your needs. For example, if you're looking for an air fryer that can be detached from the base then look for one with handles on both sides which will make it easier to move around.
For safety reasons as well, some models come with cool-touch handles, which allow you to transfer the cooking basket without touching it. This best suits commercial kitchens with a high volume of staff who are constantly in and out of the kitchen.
Other accessories best suited for commercial use include a timer, an alert system to let you know when food is ready, and adjustable height baskets or pans that will fit any type of food. Some come with baking pans, drip trays, crisper trays, oven racks, rotisserie spits, or even pizza racks. The more the accessories, the more versatile the appliance is, and the better it will be for your commercial kitchen.
A Commercial Air Fryer Can Also Be Used as a…
Toaster
You can also use an air fryer for toasting bread, which means you can easily toast a lot of different types of food at once. The best air fryers are those that have an adjustable height tray and a toaster function with the best settings – this will ensure your bread is evenly cooked on both sides. Plus, the additional toaster feature means you might not need your actual toaster anymore, saving both space and money in your kitchen.
Dehydrator
For those who like dehydrated foods, some air fryers have a built-in dehydrator setting. This will allow you to make unique appetizers, tasty snacks, and fancy dehydrated edible decorations for your guests.
Rotisserie
Rotisserie is split-roasting, and those who love the taste of this style of food usually favor the distinct flavor. An air fryer and rotisserie cooking make it possible to cook many types of delicious meats at once, perfect for meat-lovers.
The Best Commercial Air Fryer Recommendations
Taking everything above into account, these are some of the best commercial air fryers currently on the market.
COSORI 14-in-1 Commercial Grade Air Fryer Oven XL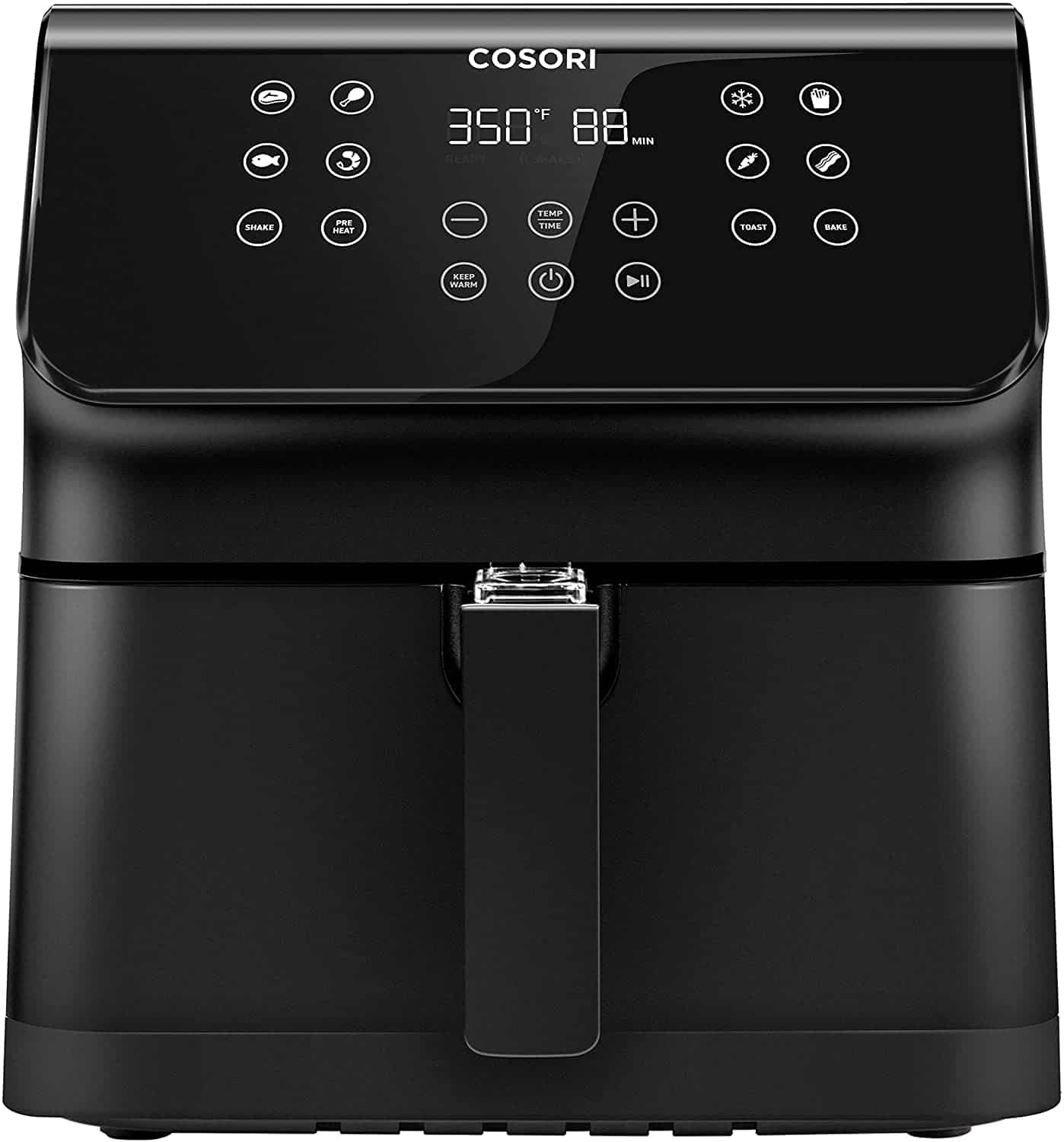 The COSORI Smart Air Fryer has a 7-quart capacity, which can be used to cook for up to 4-6 people at once. This kitchen appliance offers a commercial air frying basket, wire rack, crumb tray, broiler rack, crisper plate, as well as two dehydrating racks.
The air frying compartment can be set to temperatures ranging from 190°F to 450°F. The high-precision LED display allows for easy viewing, it has simple dial settings, and you can even control it remotely with a handy app. You can choose from 1 of 14 customizable cooking functions with handy reminders.
The appliance comes with an attractive high-quality glass door that can be cleaned with a damp cloth, automatic shutdown, and overheat prevention. In addition, the removable crumb tray makes it very easy to clean.
Pros
7-quart capacity
Can reach up to 450°F
Can be controlled remotely
Cons
Takes up quite a bit of surface space
Big Boss Oil-less Air Fryer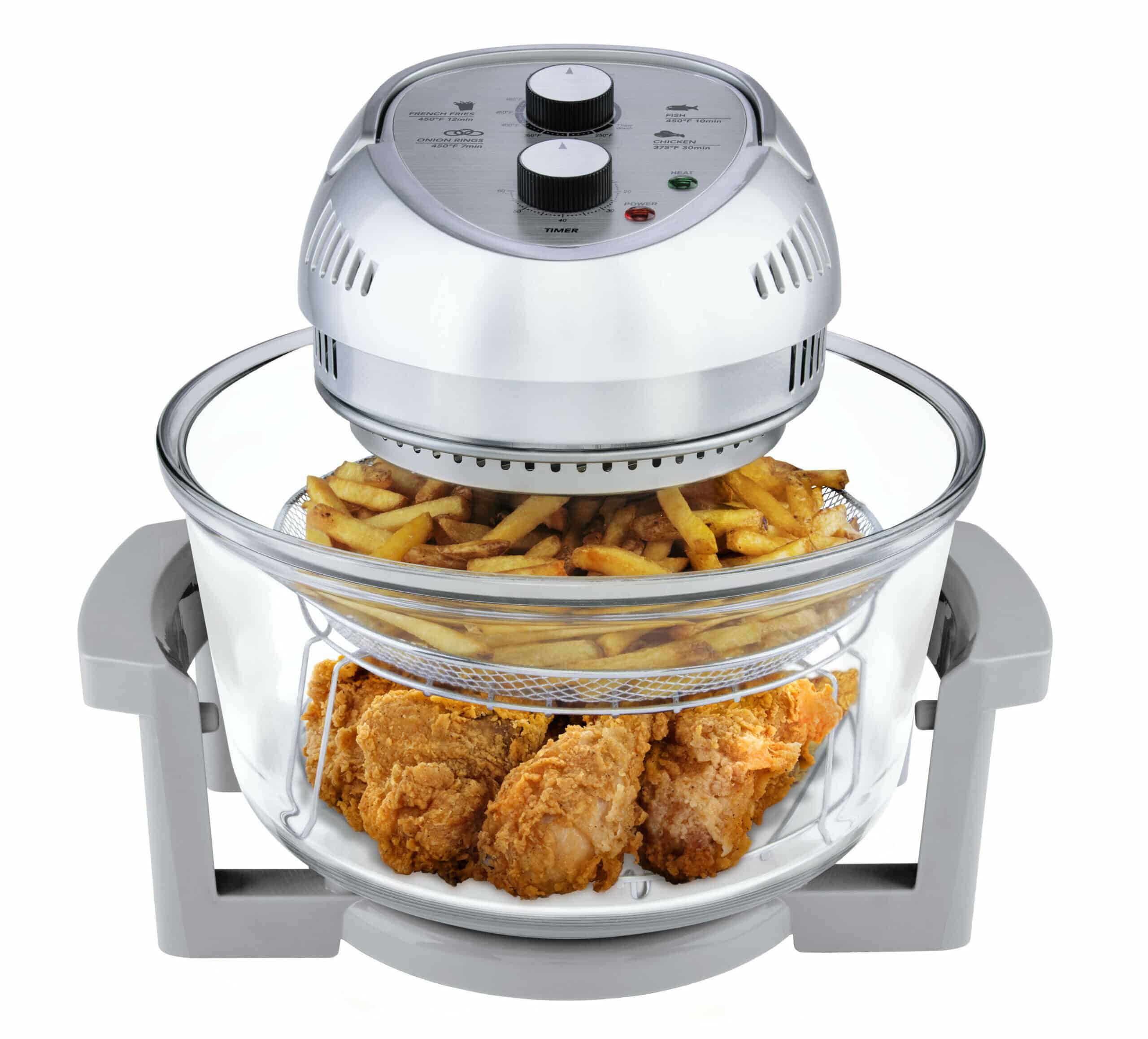 The Big Boss Oil-Less Air Fryer is great for commercial quality cooking. Most air fryers struggle to cook more than a few pieces of chicken or a few orders of fries. But The Big Boss, on the other hand, is a heavy-duty commercial frying machine that you can use to cook lunch for your restaurant or make family meals for a large crowd.
This fryer is equipped with three separate, stainless steel cooking baskets and it is quieter than other models. This air fryer has a 16-quart capacity for cooking small-to-medium batches of food like chicken, fries, or fish. Designed to be easy to use, it's a great addition to a fast-paced kitchen.
Pros
Safe to use in dishwashers
Excellent quality
Affordable
Cons
Might be too small for some kitchens
Cuisinart AFR-25 Commercial Airfryer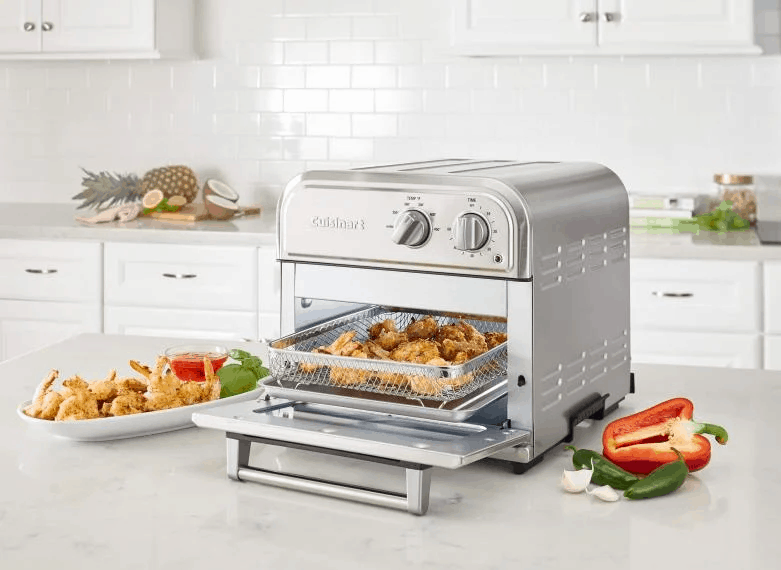 The Cuisinart AFR-25 Commercial Airfryer has a rather unique design. However, it's due to this shape that the unit can fit on most large kitchen countertops.
The machine doesn't require preheating, so you can cook the food immediately and it's straightforward and easy to use. The large internal capacity means you can fit plenty inside and still have lots of room and the result is evenly fried, tasty dishes, with results not dissimilar from deep-frying – although obviously much healthier.
On the downside, the clean-up is a little messy and difficult when frying very greasy foods like onion rings and fried popcorn, particularly as many of the parts aren't dishwasher safe. Nevertheless, if you're on a tight budget but want an excellent fryer, this is the best commercial air fryer out there.
Pros
Doesn't require preheating
Large internal capacity
Affordable
Cons
Might be too bulky for some
Many of the parts require hand washing
hOmeLabs 11.6 Quart XXL 8-in-1 Air Fryer Oven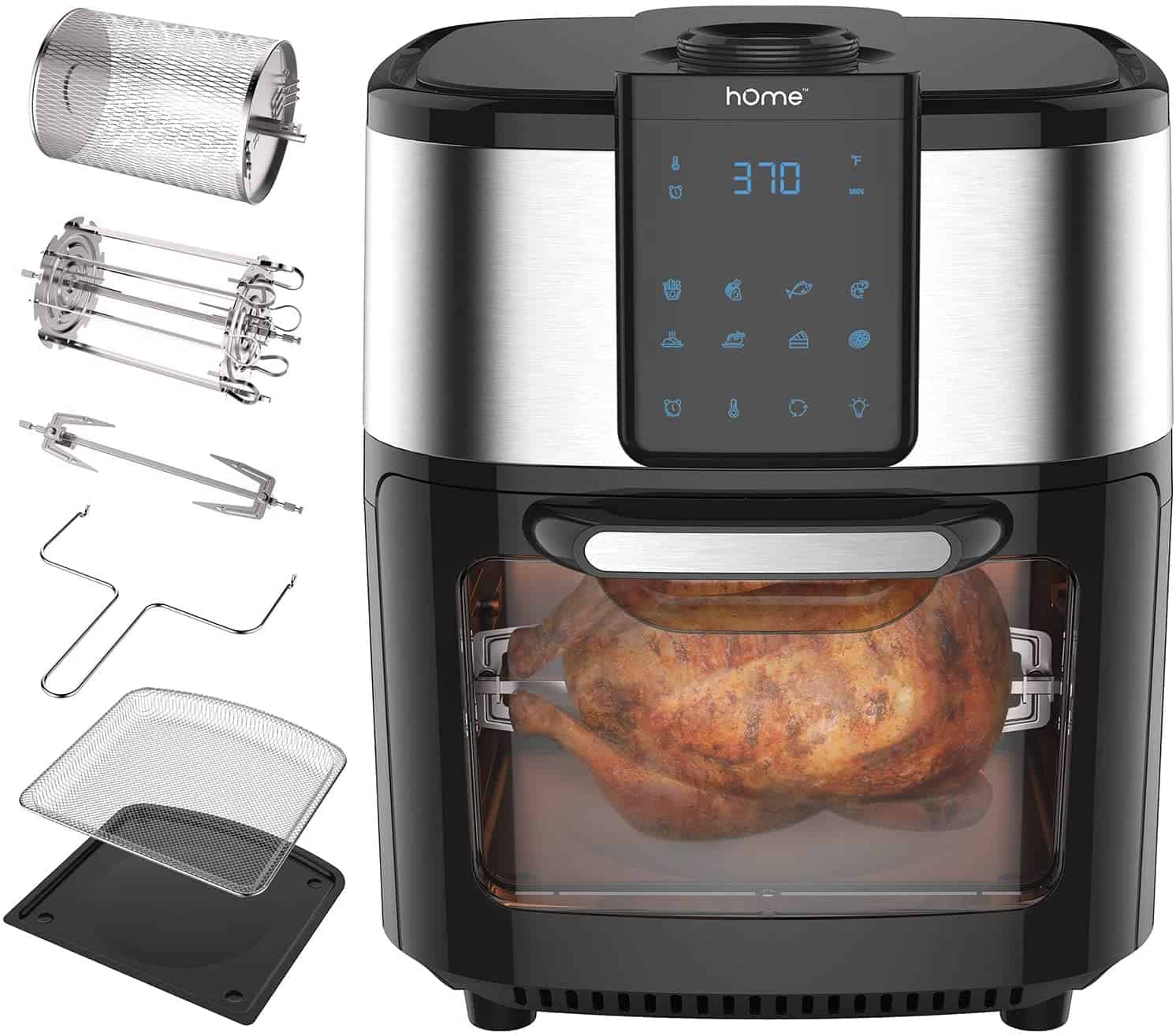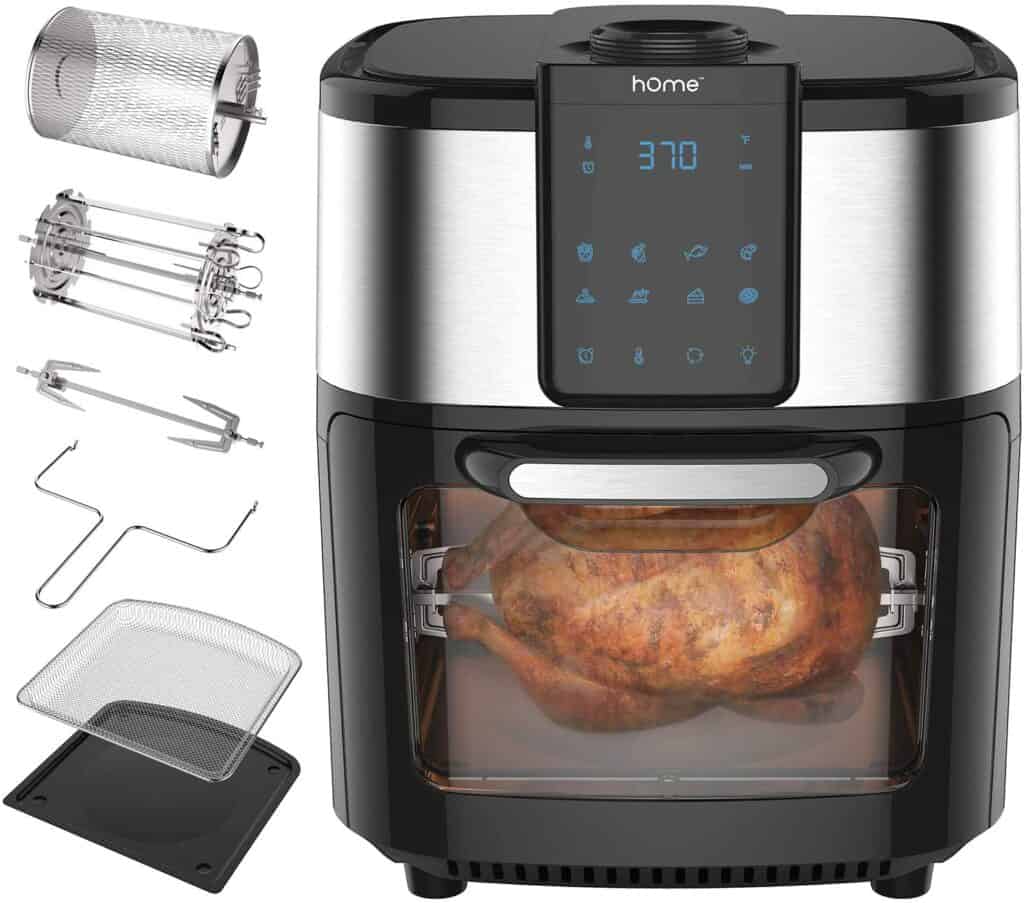 The hOmeLabs 11.6 Quart XXL 8-in-1 Air Fryer Oven has a cooking capacity of 11.6 quarts with the ability to cook up 4 pounds of chicken at once.
It cooks food from the inside and outside, doesn't use oil, and heats up quickly. Plus, unlike other commercial air fryers, this unit features a rotisserie chicken feature that uses 360° super-heated cyclonic air and rotation to roast chicken evenly. This also features a dehydrator function with temperature presets ranging from 90-170°, meaning that you can make nutritious snacks at home.
The cleverly engineered timer, shutoff feature, and auto-eject rack are several features of this commercial air fryer that will save your food fry drying out. It's packed with plenty more features. The LED touchscreen display has 8 cooking settings, the control dial allows you to adjust the fryer's time and the temperature quickly, and the well-built, stainless steel, double-layered glass lid allows you to view the food within.
This commercial air fryer features a spinning and revolving basket, perfect for cooking french fries or other snacks. Cleaning is easy, thanks to the dishwasher-safe design of these accessories.
Pros
11.6-quart capacity
Inclusive rotisserie feature
Dehydrator function
LED touchscreen
Cons
A bit bulky
Loud beeping noise
Breville BOV900BSS Smart Air Fryer Oven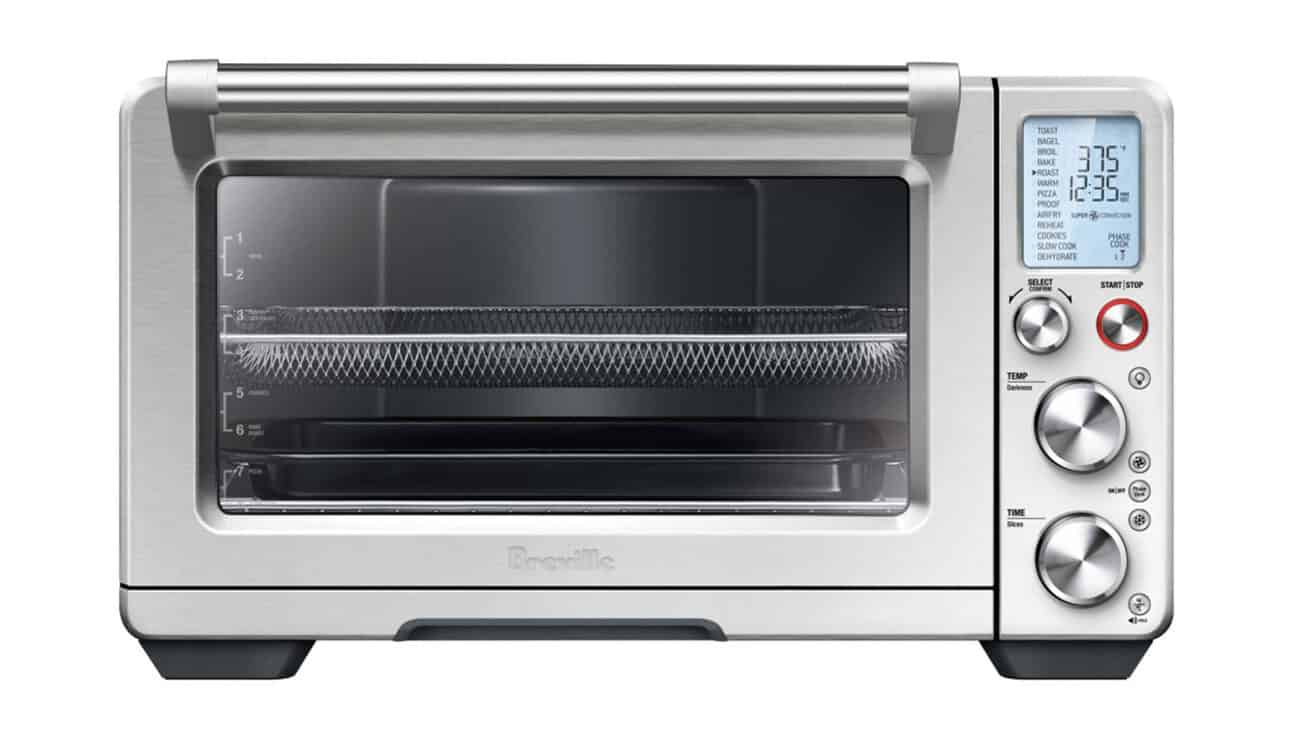 Brewing both convection oven and air fryer functions into a single unit, Breville BOV900BSS succeeded at replacing traditional appliances. The device can cook pretty much whatever you throw at it, although it is a little expensive. This commercial air fryer offers a variety of features to simplify any chef's life.
The spacious model measures 21.4 × 17.2 × 12.8 inches and offers 1 cubic foot of interior space, which is enough for most cooking needs. And although the size is larger, the appliance won't occupy much space on your worktop.
This air fryer requires 1800 watts of power and has 13 cooking functions. The cooking function adds different levels of crispiness, and the non-stick interior is easier than ever to clean. The smart oven not only has the function of a conventional electric oven but also has luxurious features like a dehydrator, air fryer, toaster, and microwave.
Pros
1 cubic foot of interior space
13 inclusive cooking functions
Easy-clean non-stick interior
Cons
Not dishwasher safe
Expensive
The Difference Between an Air Fryer and a Deep-Fat Fryer
There are many differences between an air fryer and a deep-fat fryer. Air frying best utilizes heat and doesn't require adding lots of oil to the food as a deep fat fryer would. This means that it's much healthier than a deep fat fryer in this sense.
An air fryer is also great for cooking frozen or slow-cooked foods – something with high water content so that they don't burn when being cooked under such high temperatures.
A commercial air fryer will cook any type of food without overdoing it, including meats while keeping them juicy on the inside. On top of all these benefits, you will also be able to use your best commercial air fryers for other purposes too; like using them as both a rotisserie oven and dehydrator.
Advantages of an Air Fryer
Cooks food incredibly efficiently – Unlike deep frying that requires more cooking time, air frying generally reduces that cooking time. This is great for busy restaurants and commercial kitchens.
Eliminates the need for oil – Unlike a deep fat fryer, an air fryer utilizes heat and doesn't require adding much oil to the food. This means that it's healthier and great for those who wish to cut back on their consumption of cooking oils.
Restaurants could use an air fryer to introduce a new healthier line to their restaurant menu and primarily target people who are trying to lose weight or eat healthily.
The best commercial air fryers are also great for cooking frozen foods like french fries, which will cook up crispy and delicious in a fraction of the time it would take a deep fat fryer to do so.
Saves you money on oil – You won't have to buy as much oil for cooking with an air fryer, which can save you a lot of money in the long run.
Much easier to clean – Whereas a deep fryer can take much more time to clean because of all the oil, air fryers don't require draining, refilling, or half the greasy scrubbing that a deep fat fryer needs to stay sanitized.
Safe to use – without the risk of oil splashing, air fryers are much safer for use in a commercial kitchen or restaurant. The cooking happens inside the machine, and it's locked which means no more splattering oil.
Simple to use – air fryers are much simpler to use than their deep-fat-fryer counterparts. They have easy-to-understand controls, and normally, you can just plug them in and get going.
Take up less space – best commercial air fryers are best for smaller kitchens looking to save space. They can sit on countertops, and don't have any large oil tanks.
No oil smell – the tell-tale smell of hot oil isn't exactly pleasant, and commercial air fryers are best for those sensitive to this type of smell.
Disadvantages of an Air Fryer
They can hold less food – commercial air fryers are best for cooking smaller amounts of food, which means they might not be suitable for large restaurants, or you may have to buy multiple, which can end up taking up quite a lot of surface space.
Food tastes different – because it's a different cooking method, fries or anything cooked with an air-fryer will have a slightly different taste from what you might expect fried food to taste like. It's not submerged in oil, so it'll be less oily, but also less flavourful. Air-fried food may not be as delicious as traditional deep-frying, but it is a much healthier alternative.
It can burn or dry out food – the average cooking temperature for commercial air fryers is usually between +300 to +400F. One downside of these cooking devices is that food can easily burn or dry out if you're not keeping a close enough eye on it because there are such high temperatures.
It's more expensive – air fryers can be more expensive than deep-fryer counterparts, because of the amount of electricity they use. Be sure to double-check the efficiency rating before you purchase.
Food is less crispy – air fryers tend to have less surface area than a deep-fryer meaning that food is best for people who prefer their fries to be more soft and fluffy. Unlike deep frying, these foods will not be very crunchy.
It forms acrylamide on the food – dry-frying food can create a chemical called acrylamide, which is thought to be a potential carcinogen. The substance is toxic and has the potential to cause cancer if consumed in large quantities. The best way to determine if the meat is safe to eat is to look for blackened areas – if you see any, remove them before you eat the food.
Commercial Air Fryer Use Top Tips
Here are some air fryer top tips for commercial (and household) kitchens:
Add some water to the air fryer's cooking drawer when you are using it for fattier foods. Adding water to the drawer underneath the basket prevents grease from overheating and smoking.
When cooking softer foods, commercial air fryers may require less oil.
Use an oven mitt to remove the food from the air fryer's basket – this will prevent burns and also protect your hands in case there are still hot pieces inside of them.
Don't overcrowd the basket. When cooking with an air fryer, do not over-crowd the basket. Doing so will prevent foods from crisping and browning evenly and would be more time-consuming overall.
Flip food halfway through cooking. Exactly as you would if you were cooking food on a grill or in a frying pan, you should turn the food midway through so that both sides get browned evenly.
When preparing dishes with a lot of different ingredients, shaking the air frying basket every so often can help them all to brown and crisp more evenly.
Spraying oil on your food makes it easier than pouring or brushing and allows you to use less frying oil in total.
Before adding food, make sure the air fryer is fully heated and warm. Turn on the air fryer to your desired temperature, and set the timer for 2-3 minutes. When the timer goes off, the air fryer has been pre-heated and is ready to receive food.
FAQs
Question: How is an air fryer different from a conventional oven?
Answer: An air fryer and a conventional oven are different in many ways. An average cooking temperature for commercial air fryers is usually between +300 to 400F, while the best residential models only go up to 300°F. You will also need less oil when you cook with an air fryer which makes it much healthier, although ovens will come in much larger sizes and can hold much more food than an air fryer.
Question: How long does it take to heat up an air fryer?
Answer: Most commercial air fryers require two minutes of preheating time before adding food which means that they can become heated quickly allowing chefs more control over their workflow. For best results, always make sure your machine has been fully preheated before starting food preparation.
Question: What do I do if my food is not cooking enough?
Answer: You may need more heat. If your air fryer's temperature dial does not get to the desired setting, try turning it up a little higher or decreasing the amount of time you are cooking for – this will help maintain the best results while still preserving energy.
Question: Do air fryers emit radiation?
Answer: No, air fryers do not emit radiation. However, air fryers do produce radiated heat. Radiated heat is energy that is quickly distributed around food. Air frying utilizes an entirely different cooking process from frying food.
Question: Is it worth buying an air fryer?
Answer: Yes. If you are looking for a healthier way to cook, then you should buy an air fryer. Air frying involves little oil and takes much less time than other cooking methods like ovens and deep-fay fryers. Ultimately, air fryers can seriously improve the cooking time and quality of food while simultaneously making it healthier for customers.
Air fryers can be a great addition to any commercial kitchen. They cook food more quickly, are healthier for customers, and take up less space than other types of ovens. With so many options to choose from, we hope this article has helped you narrow down your selection of the best commercial air fryers.
Whether you are trying to introduce a healthy eating menu, or just want to offer multiple ways of frying into your commercial kitchen, an air fryer is a perfect appliance for any catering business. We hope that this list of the best commercial air fryers has given you some ideas about what type of machine might suit your needs and budget. So, enjoy cooking with one of these amazing appliances today!