Latest posts by Alice Smith
(see all)
With summer almost upon us, it's almost time for burgers season! Whether you're hosting an outdoor barbecue or serving a banquet, homemade burgers are almost always better than shopbought. But, for the perfect burger, you need the perfect burger press.
There are many burger presses to choose from. These tools give you a perfect patty every time and are available in a wide range of shapes and sizes. Whether you're looking for something simple or want some special features like an adjustable thickness, we've got what you need.
Below, we have listed fourteen of the top-rated burger presses available to buy today, designed for both home and commercial kitchens.
What To Look For In a Burger Press
So, what are we looking for in the best commercial burger presses? Well, we've outlined a few of the key factors that helped make our decision:
Quality
The best burger presses are made from quality materials that can stand up to high usage. If you don't feel confident in the durability of your chosen press, it may not be best for commercial use. It's important to consider how well-made a product is before purchasing and how long it will last – if you buy a cheap, poor quality product, it may need replacing every 6 months.
Efficiency
A burger press dramatically reduces the labor that is involved in patty pressing. With some models, you can create more than one burger at once, and others are designed for fast, efficient use.
Cost-Effectiveness
The best burger presses are also the best value. If you're running a grill restaurant or a food joint where burgers are a popular choice, you're going to want a press that pulls its weight. When you purchase a high-quality press, it can be used for many years and reduce your need to purchase new products on an annual basis.
Durability
A long-term investment in quality materials is best when considering the durability of any kitchen product – with a commercial grill press, this is just as important. A quality press will be made of heavy-duty materials that can resist wear down from everyday use.
Easy Clean
Pressing patties can be messy work. It's best to invest in a press that is easy to clean. Stainless steel, non-stick presses are best for this because they can be quickly wiped down with soap and water – no need for harsh chemicals or scrubbing!
Uniformity
In the catering world, people eat with their eyes first. And they're likely to want their burger to look, well, like a burger! For this, uniformity is key. Invest in a press that is capable of creating the best patty possible – with a consistent, round shape and depth – so customers will be as satisfied as possible with their meal.
Patty Size
Whether you offer a 6oz or an 8oz burger, the best burger press will be able to accommodate whichever patty size you choose. Also, you might want to invest in multiple press sizes if you have various choices on your menu.
Our Best Hamburger Press Reviews
When choosing a burger press you should first consider all of the above. But there are also two main types: one has two metal or plastic components that push together to form the patty. The other is a grill press: it uses a metal plate to press the meat once it hits the grill. This type can expand the meat keeping it all together and give your burger a nice sear.
We've compiled the top 14 commercial burger presses onto this handy list, including both types listed above and combining the best of our required features, so you can select the best one for your restaurant.
Best burger presses for smaller commercial kitchens
If you run a food truck or a small cafe, where burgers are on the menu but don't necessarily fly out the door, then these presses will be perfect. They would also be ideal for grill connoisseurs who want to make their weekend home BBQ a little more interesting.
Cuisinart Stuffed Burger Press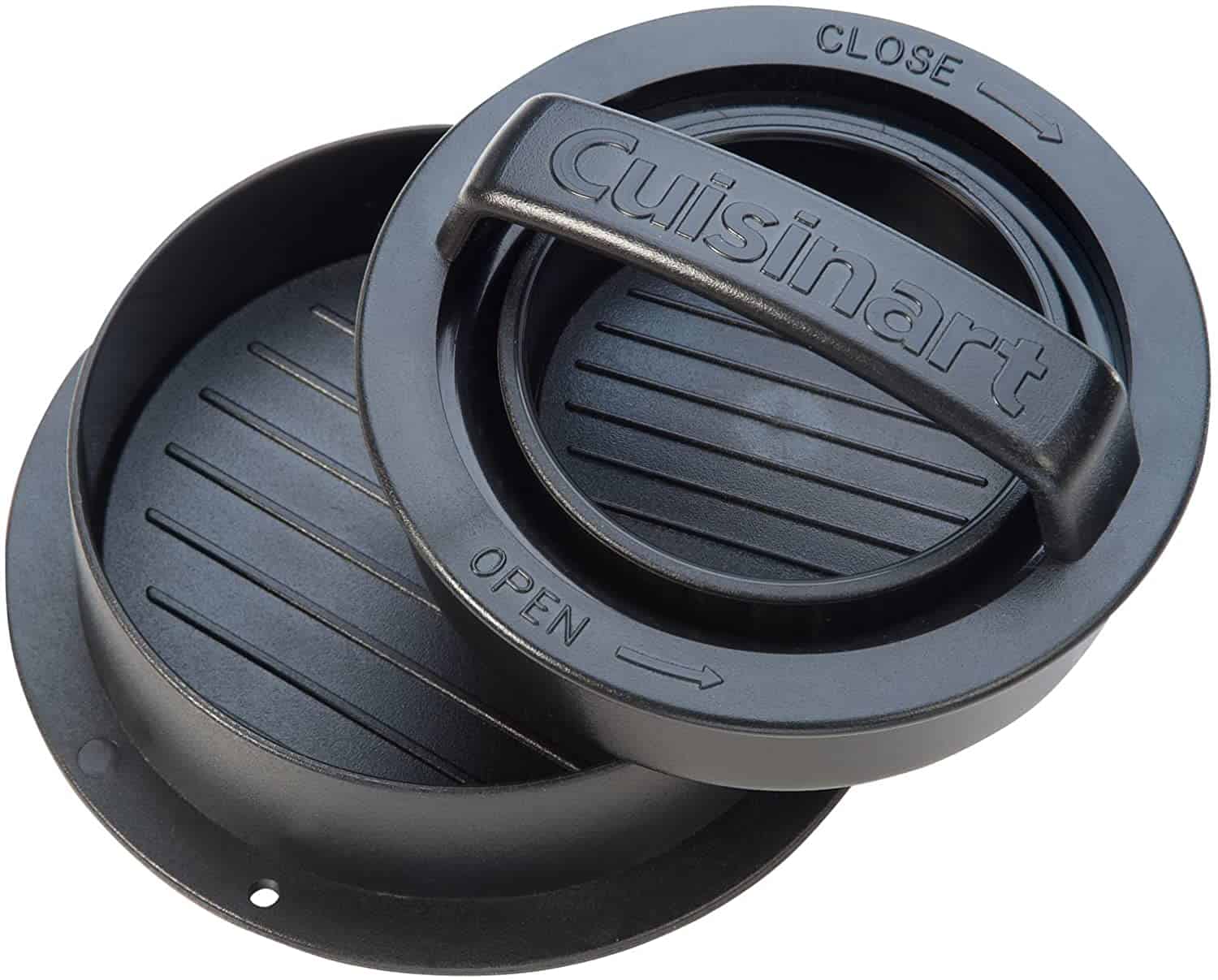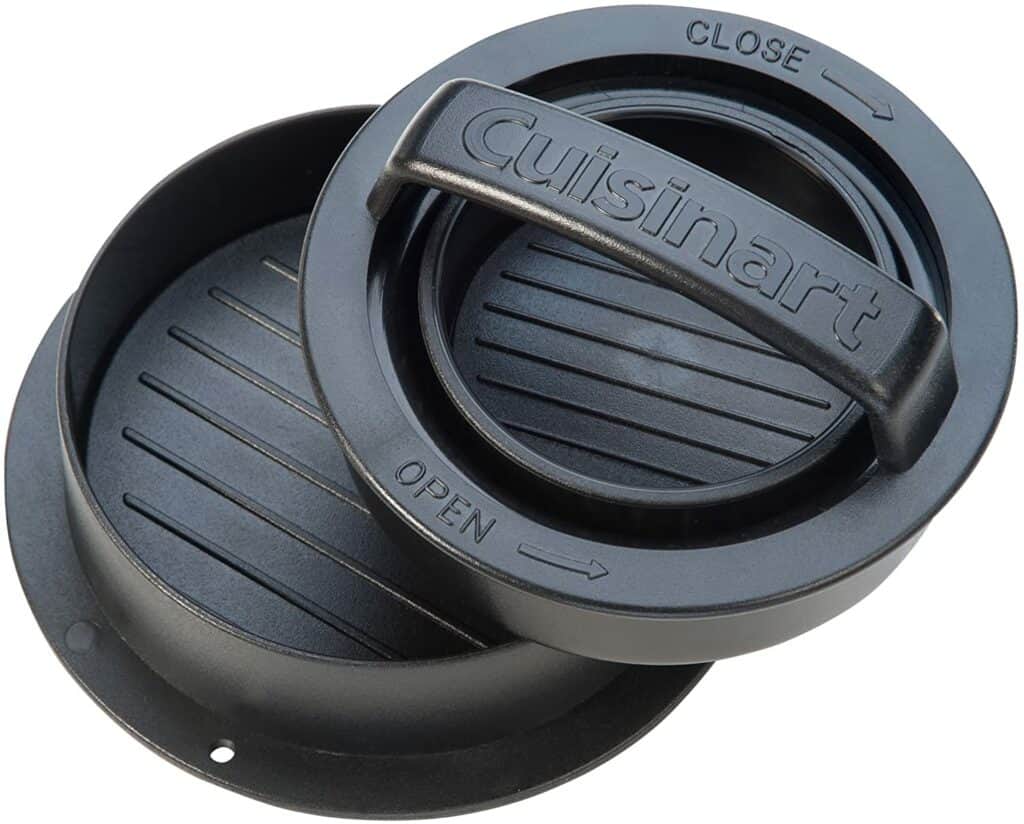 This press is perfect for those who like to experiment with a range of different recipes. Thanks to its handy 3 in 1 design, you can make all sorts of burgers, from traditional 1/4 up to 3/4 patties, to elaborate stuffed burgers in a mouth-watering range of flavors. You can even create sliders too, which gives it another bonus on alternative presses.
The tool allows you to create burgers both faster and tidier than pressing by hand. Its dishwasher safe, durable, and non-stick surface gives the user added convenience and ease of use. Plus, it's super affordable and won't break the bank.
Pros
3 in 1 uses, from standard patties to stuffed burgers, to sliders.
Non-stick coating for easy cleaning
Dishwasher safe
Fast and efficient burger pressing capabilities
Affordable
Cons
Only capable of making one burger at a time
GWHOLE Non-Stick Burger Press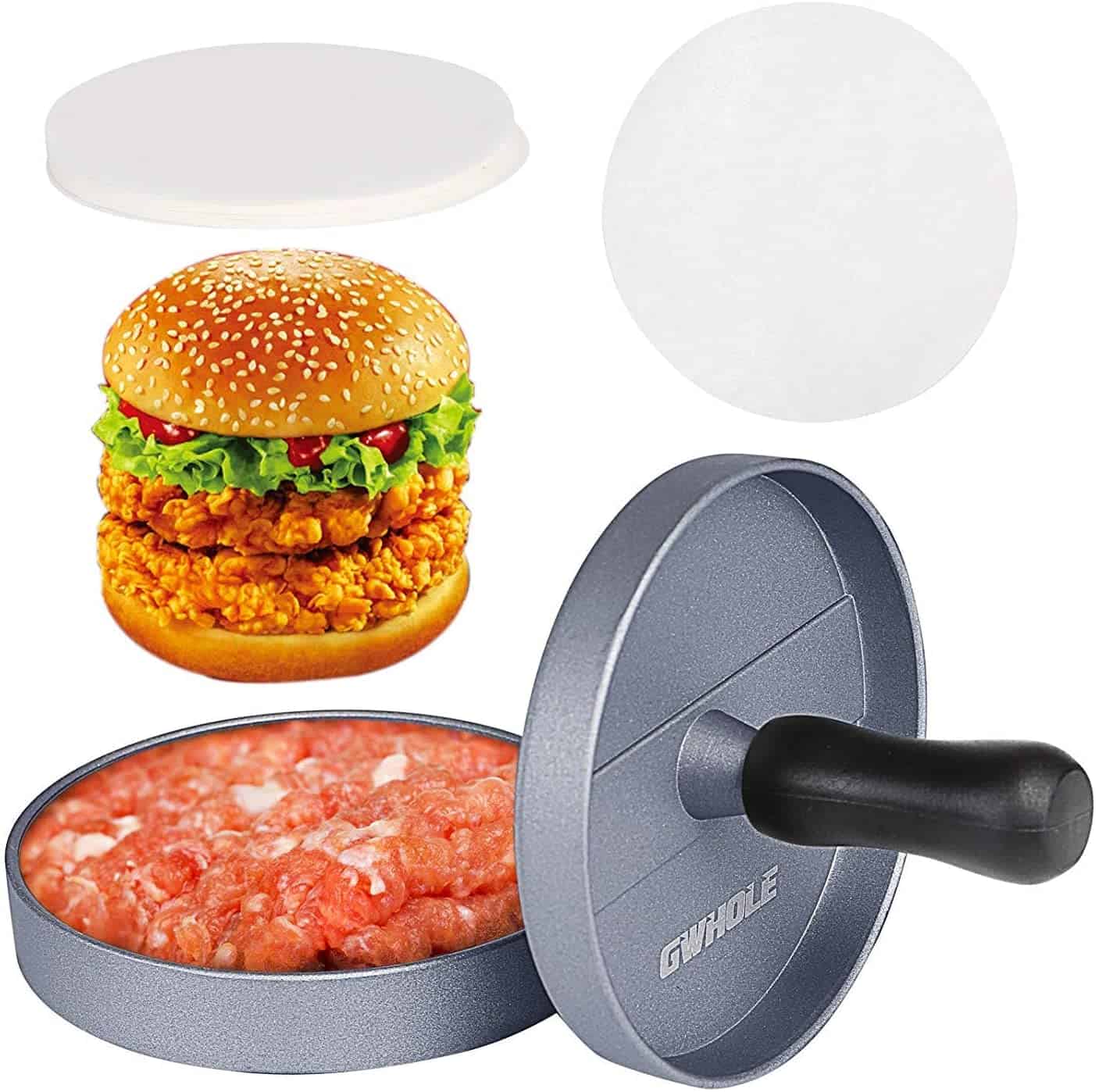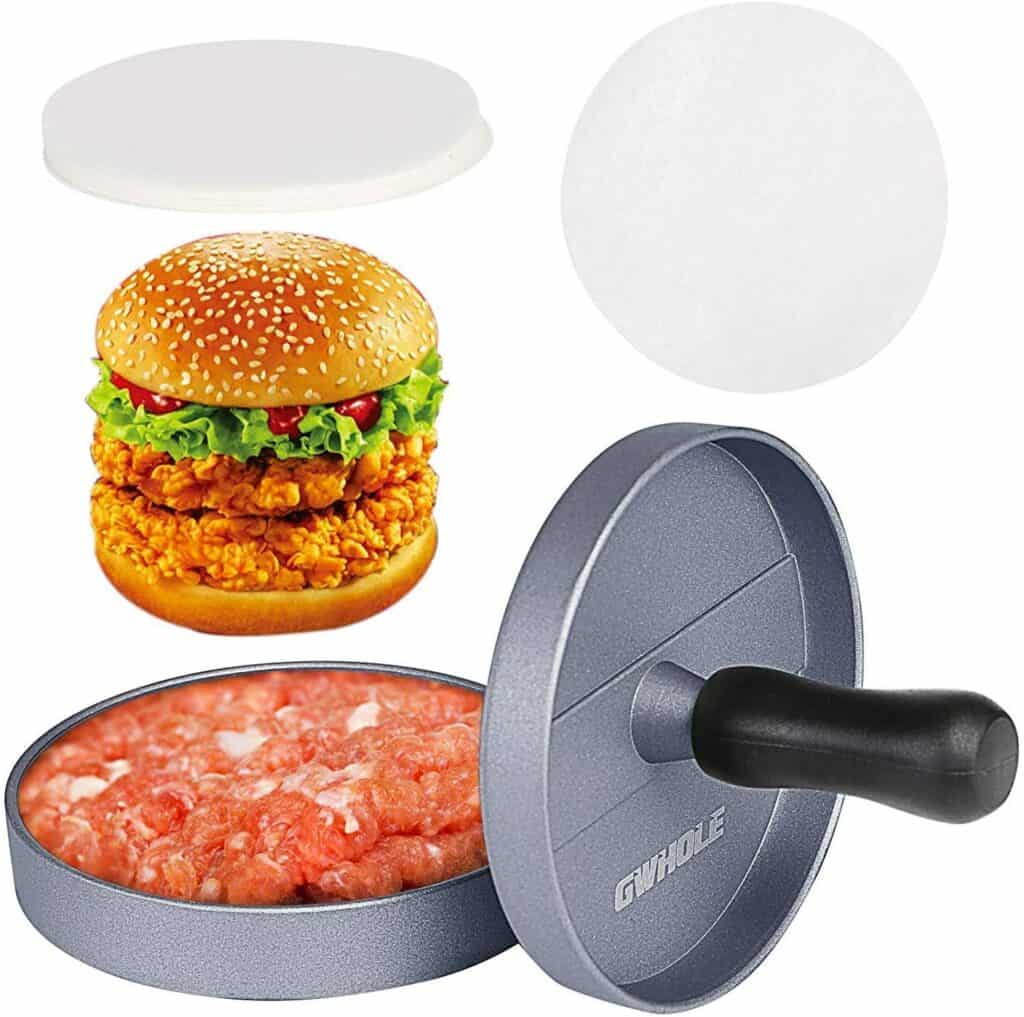 This beginner-friendly, reliable burger press is ideal for any commercial kitchen. It's incredibly easy and fun to use, allowing you to try out a variety of homemade recipes or get a little creative too. Creating the perfect burger is as simple as loading the press with ingredients and pressing down. It's easy as pie (or patty!).
It comes with a 100% non-stick coating, which leaves your press clean and your patties intact. Plus, this press comes with two bonuses: it will act as a roast plate, so you can cook your patties directly on an open flame, and it comes with bonus parchment papers, meaning you can easily transfer your meaty creations to a freezer.
Pros
Removable plastic handle – great for picnics, BBQs, etc
Reliable, fourth-grade aluminum construction
Includes extra parchment paper
Can act as a roast plate
Cons
Can only make one burger at once
Limited on patty size
Pure Grill Burger Press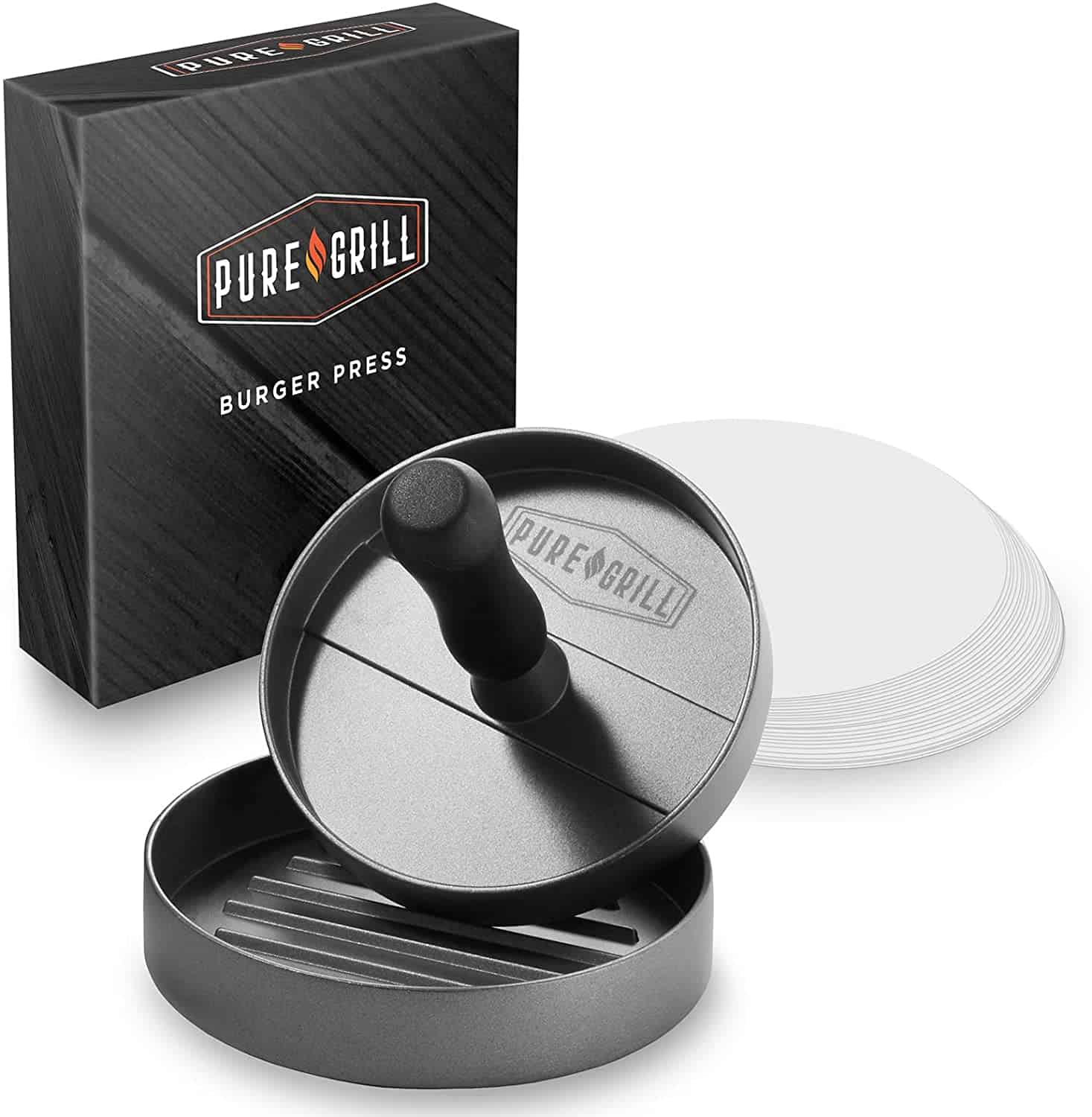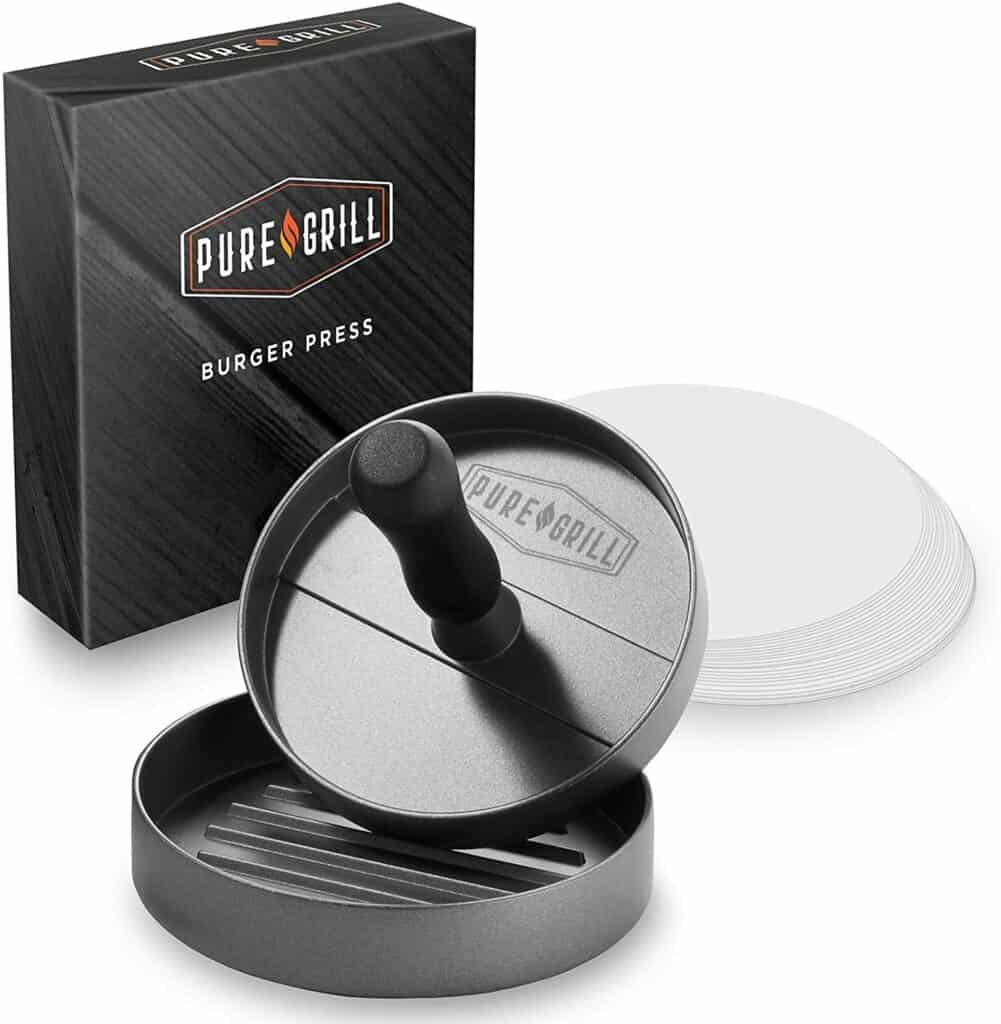 Simple and affordable, this burger grill press from Pure Grill is great for any burger lover. It's another 3 in 1 burger making tool and has 6 detachable pieces. This allows you to make every type of burger imaginable from sliders to stuffed patties.
The carefully crafted, heavy-duty, plastic is easy to clean and dishwasher safe. It also has a removable bottom plate to unveil your patty without destroying it and for even more easy cleaning. It includes 100 sheets of parchment in the package.
Pros
3 in 1 design
Removable bottom plate
Affordable
Includes 100 sheets of parchment
Dishwasher safe
Cons
Plastic is less long-lasting than other materials
Can only make one burger at once
Grillaholics Stuffed Burger Press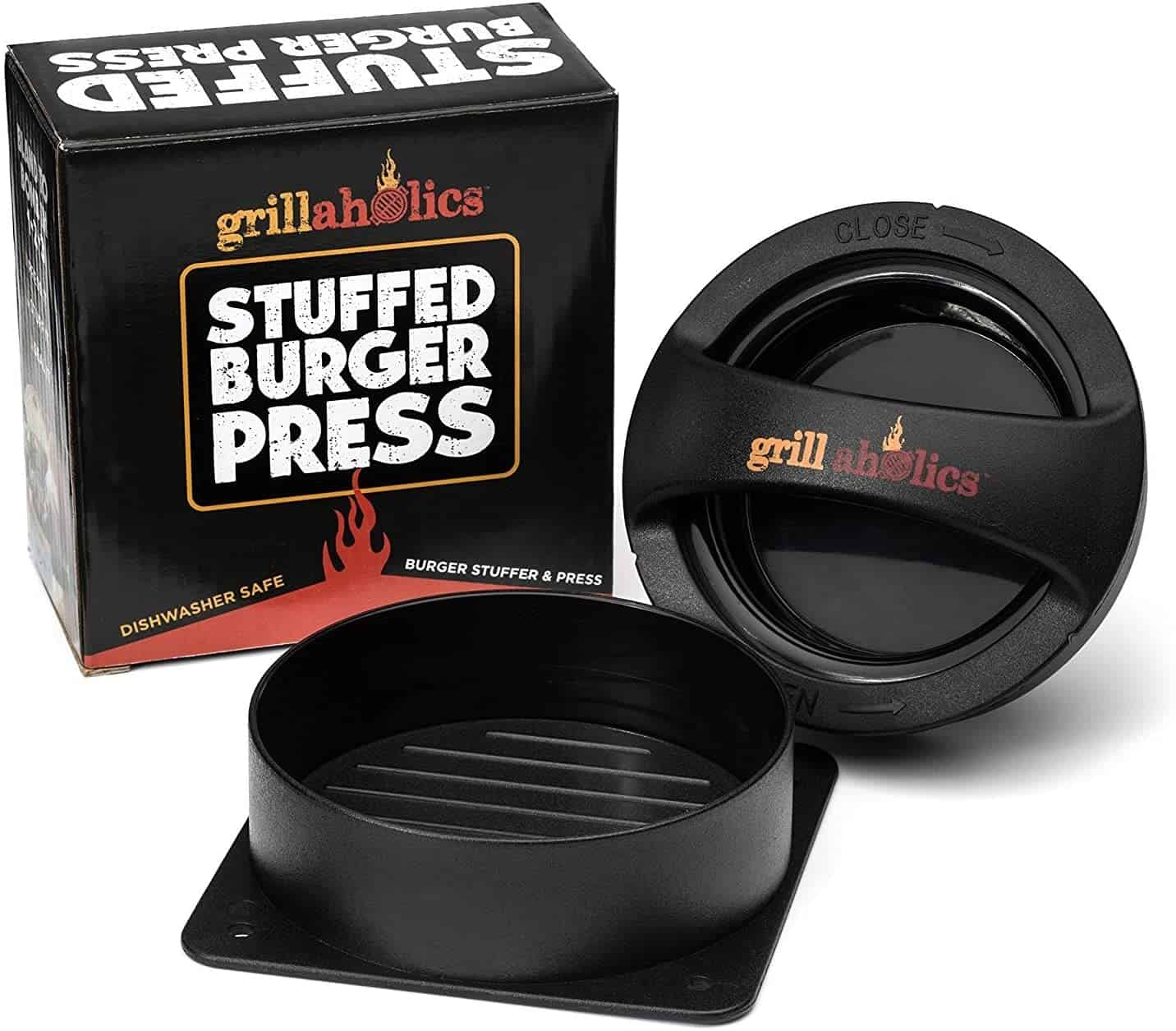 This user-friendly, reliable press is great for any kitchen, home, or commercial. It will let you make stuffed burgers with absolute ease, either indoors on the hob, or outdoors on the grill. It's optimized for ease of use, so it's perfect for beginner pressers. It also features a non-stick design, the durable, heavy-duty BPA-free plastic has been crafted to last, and it's 100% non-stick.
Clean-up is simple, both due to the non-stick material, and the fact that the press breaks down into 3 pieces with no small crevices for meat to slip into. Plus it's dishwasher safe too. Lastly, for grillaholics who want to spend some time experimenting with new recipes, this burger press comes with a handy recipe e-book included in all orders.
Pros
User-friendly and reliable for easy pressing
Can be used outdoors or indoors
Breaks down for easy cleaning
Dishwasher safe
Recipe e-book included
Cons
Only capable of one burger at once
Can only create one type and size of a burger
Plastic is less durable than other materials
Meykers Burger Press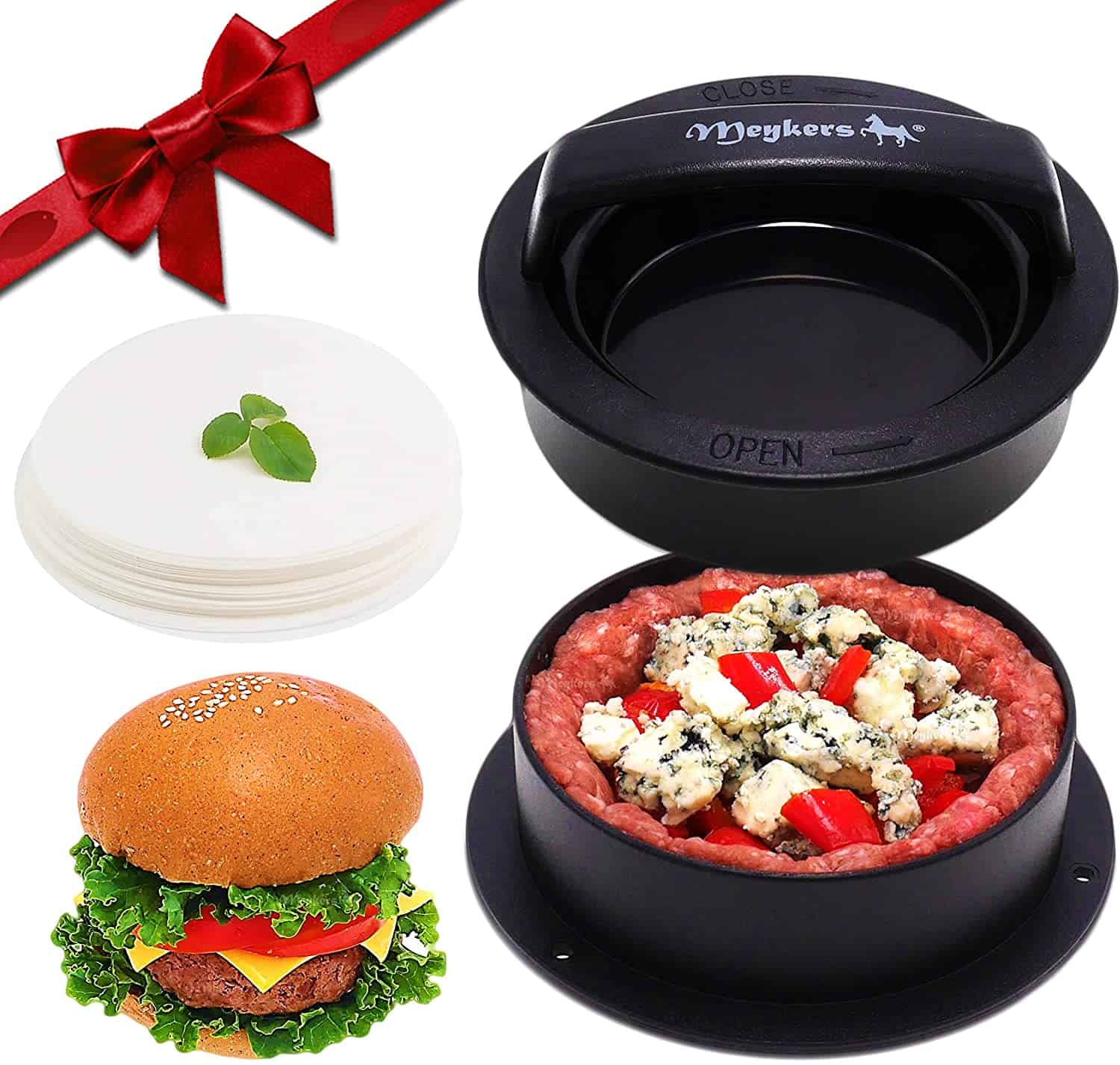 If you're looking to present your customers with professional results that will wow them, this commercial burger press by Meykers is one of the best.
Made of food-grade, non-stick aluminum, this press is completely dishwasher safe, and just as easy to clean by hand. The heavy-duty material won't fall to pieces under frequent use and is designed to last. The hand is also durable, scratchproof, and detachable.
But the best thing about this press? It creates professional-looking grooves on either side of your patties, providing evenly cooked, slotted burgers. It will give you uniform, perfect quarter pounders every time. Lastly, it comes with 100 free parchment papers.
Pros
Gives you professional-grade grooves on either side of your burgers
Completely non-stick
Dishwasher safe and easy cleaning
Heavy duty
Cons
Can produce one burger at a time
No variation in burger size or depth
Best burger presses for medium-sized commercial kitchens
If burgers are popular in your restaurant but you're not churning out hundreds and hundreds per week, these presses might be more up your street.
Weston Burger Express Hamburger Press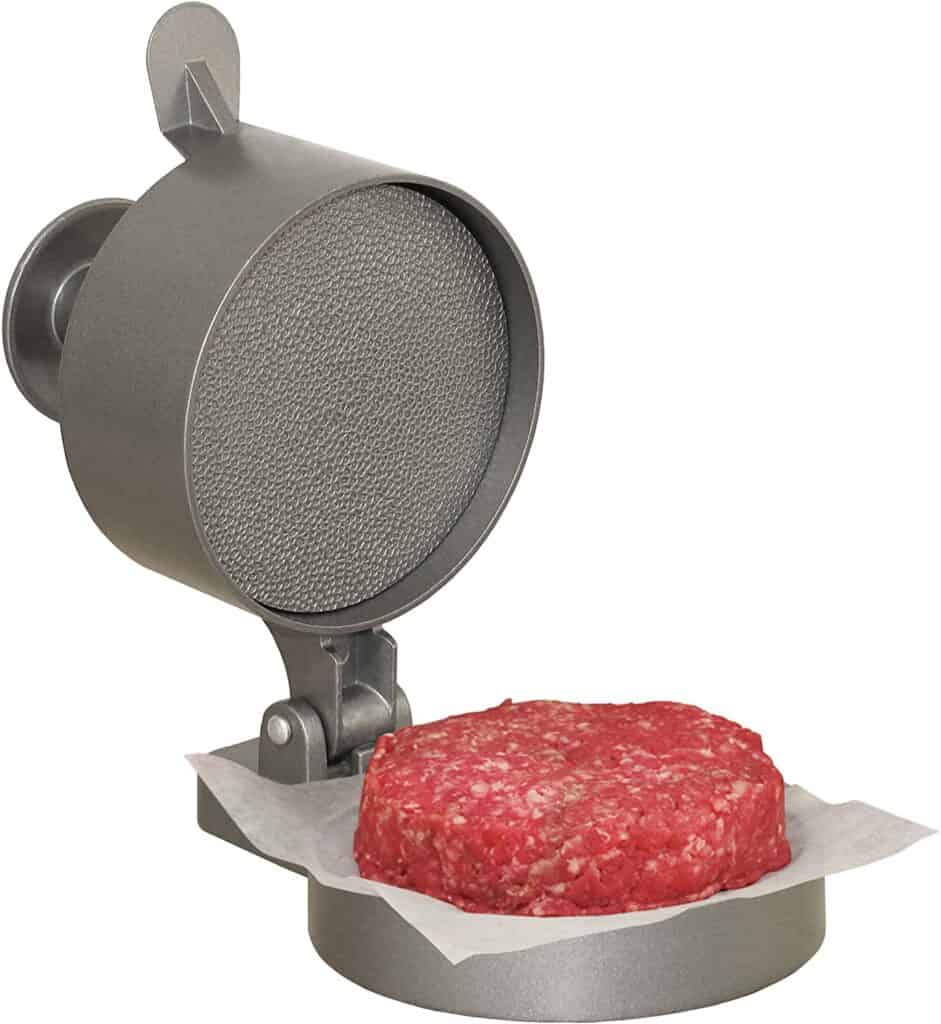 Created from heavy-duty aluminum, Weston's burger press has got you covered. It features a rotating dial that allows you to set your specific thickness for identical patties every time. You can choose anything from a 1/4 inch patty up to a 1 1/4 inch beast!
It also allows you to press up to two burgers at once and comes with an exclusive spring plunger to remove a patty from the press with ease. Its non-stick cast aluminum coating makes for easy cleaning, and is also hard-wearing so will last for years to come.
Pros
Patty ejector spring
Non-stick coating
Can create up to 2 patties at once
Adjustable patty weight
Cons
Heavier than other presses
Quite pricey
Not safe for dishwasher use
Garde HP1416 High-Output 1/4 lb. and 1/6 lb. Hamburger Patty Molding Press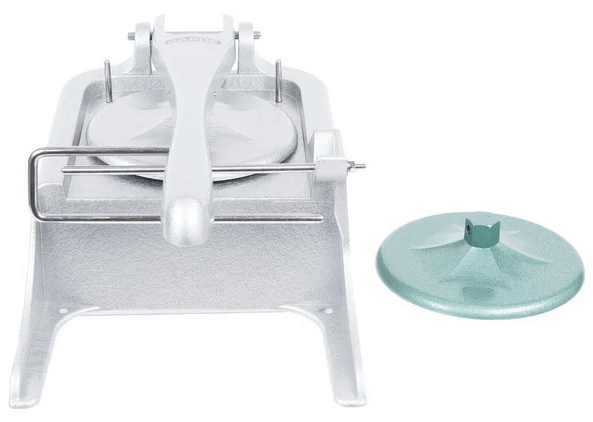 You can't go wrong with this press from Garde and it's easily one of the best commercial burger presses on the market. Great for creating uniform, juicy patties with just the press of a lever, it's ideal for a fast-paced kitchen.
Each press or this mold produces a perfect 5-inch patty and you can choose between 1/4 lb or 1/6 lb of meat. It's perfect for portion control. It also comes with 2 different color-coded molds to easily differentiate between the different sizes.
The heavy-duty construction of this burger press means it's built to last, even through frequent, high-volume usage. Yet it's compact enough for space-saving storage on kitchen worktops.
Pros
Durable, heavy-duty construction
Fast and easy operation
Choose between two different patty sizes
Compact for easy storage
Cons
Can only make one burger at once
Kitchen RMore Double Burger Press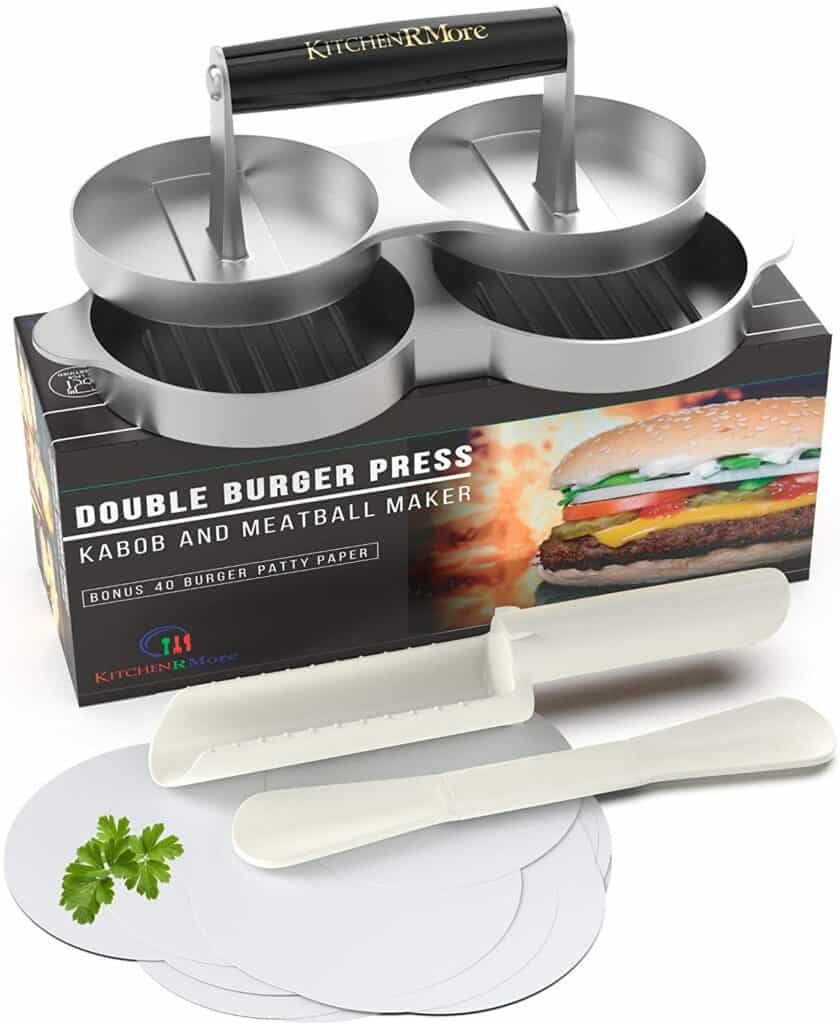 Durability is everything when it comes to a burger press, and this double press by RMore will last you a lifetime. Made from sturdy aluminum, it has two slots to make double the amount of juicy patties quickly and easily. Its horizontal handle makes for easy pressing, and the grill lines across the bottom make for a pleasant presentation.
Clean-up is fast and easy – the press has a non-stick coating which you can simply wipe over with a cloth. It also comes with 40 sheets of patty paper, a handy recipe ebook, and a kabob and meatball maker too – perfect for all your meaty cravings.
But vegetarians don't be put off. This handy press can also manage veggie burgers, salmon patties, and every type of burger imaginable.
Pros
The double press can make two burgers at once
Durable and long-lasting craftsmanship
Non-stick design
Papers and ebook included
Comes with a kabob and meatball maker too
Cons
Limited to one patty size
Not dishwasher safe
Cabinahome Burger Press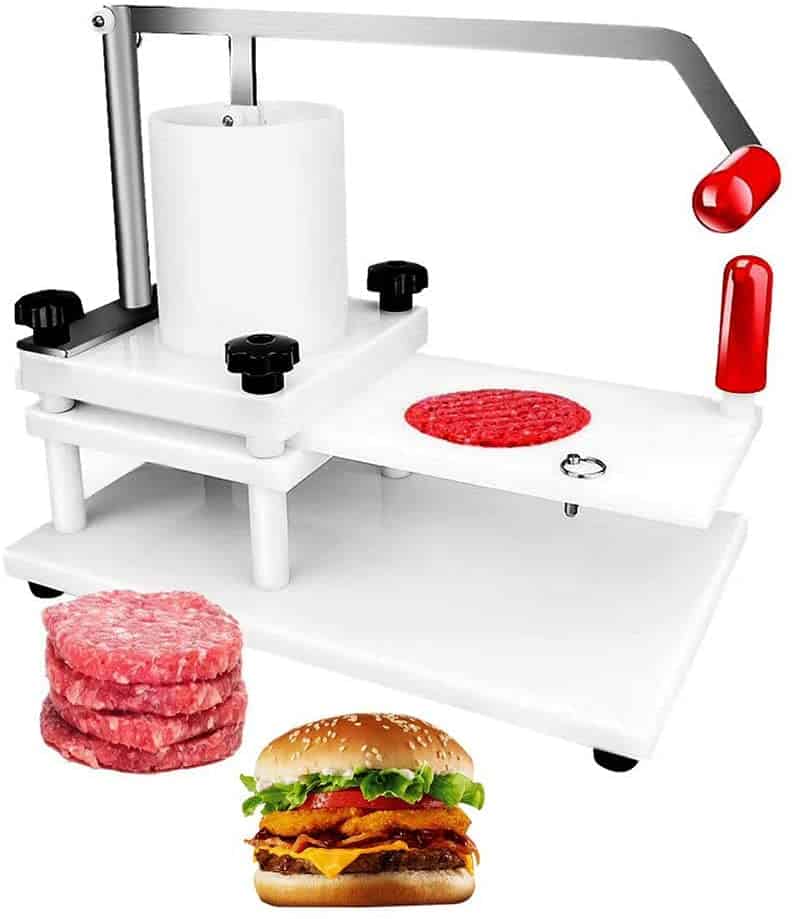 Perfect for patty perfectionists, we can assure you that this burger press will be a great choice. It's yet another top-of-the-line press that delivers perfectly shaped burgers every time. Although it's a little more complicated than the other presses on this list, the intricately created mechanism oozes style and sophistication and is ideal for restaurant-quality pressing.
The parts are designed to be both easy to clean and easy to use. It also features non-slip feet to keep it steady and still on your kitchen work surface. Admittedly, it's a bit of a splurge, but well worth it for meat-lovers.
Pros
Creates restaurant-quality patties
Easy clean design
Made from long-lasting durable materials
Features non-slip feet to hold firmly in place
Cons
Bulkier than other designs
Expensive
Norpro Mini Burger Press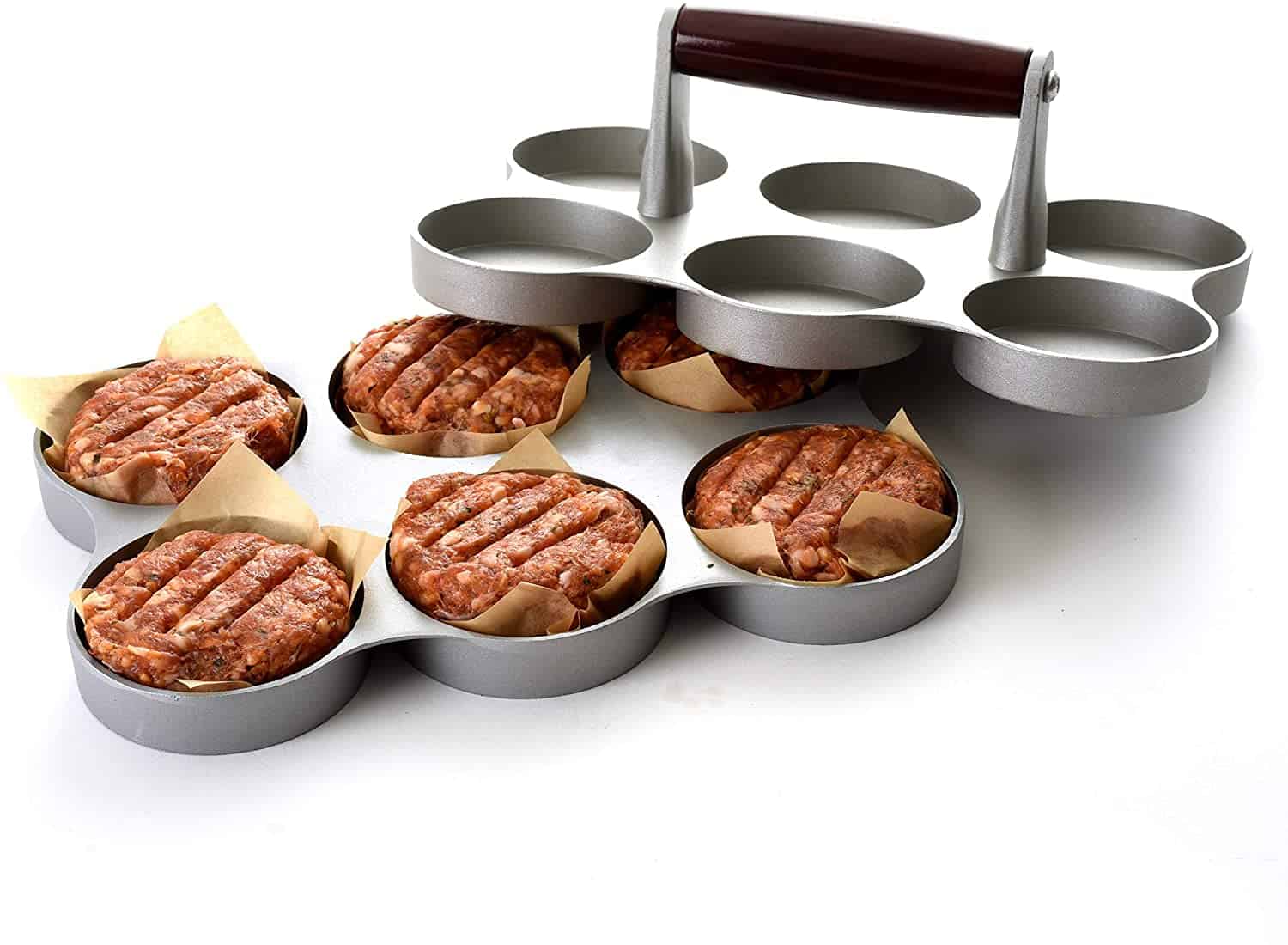 If you serve a lot of sliders, this press produces professional results that will awe your customers. For tasty appetizers or tapas, these bite-size burgers will go down a treat. The Norpro Mini Burger Press allows you to make 6 juicy 2oz sliders at once.
Similar to the RMore, it has a horizontal handle for applying even pressure across the patties. It's also made of non-stick aluminum, is sturdy, durable, and built to last. As well as meat, it can be used to easily form mini crab cakes, veggies burgers, and more.
Pros
Can create 6 mini patties at once
Made from durable, long-lasting material
Non-stick coating
Cons
Design means it may be difficult to clean
Not dishwasher safe
Best burger presses for busy commercial kitchens
If you're churning out burgers like there's no tomorrow, then check out the bad boys below. Built or high-volume cooking, they are perfect for large, busy, commercial kitchens.
Buffalo Manual Hamburger Machine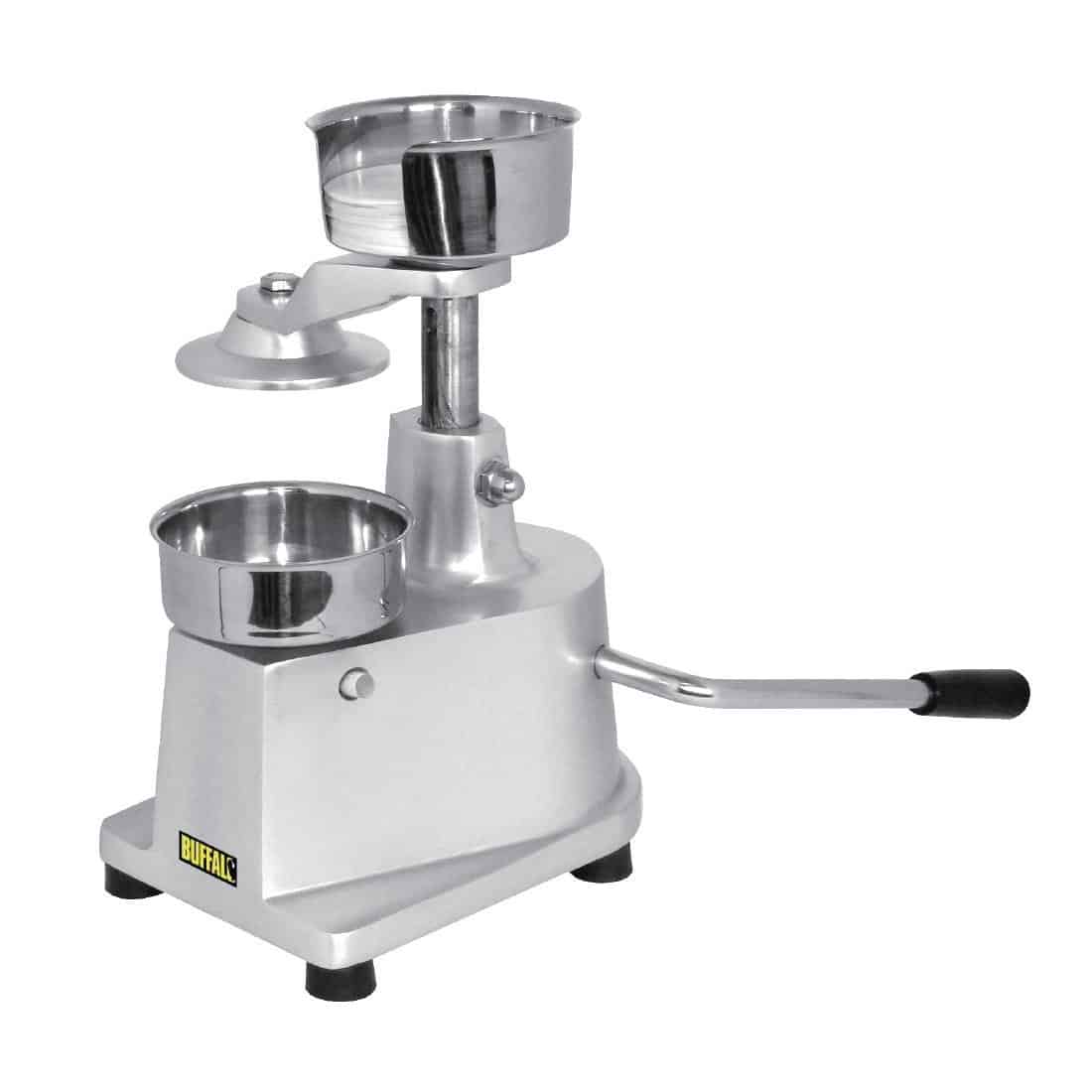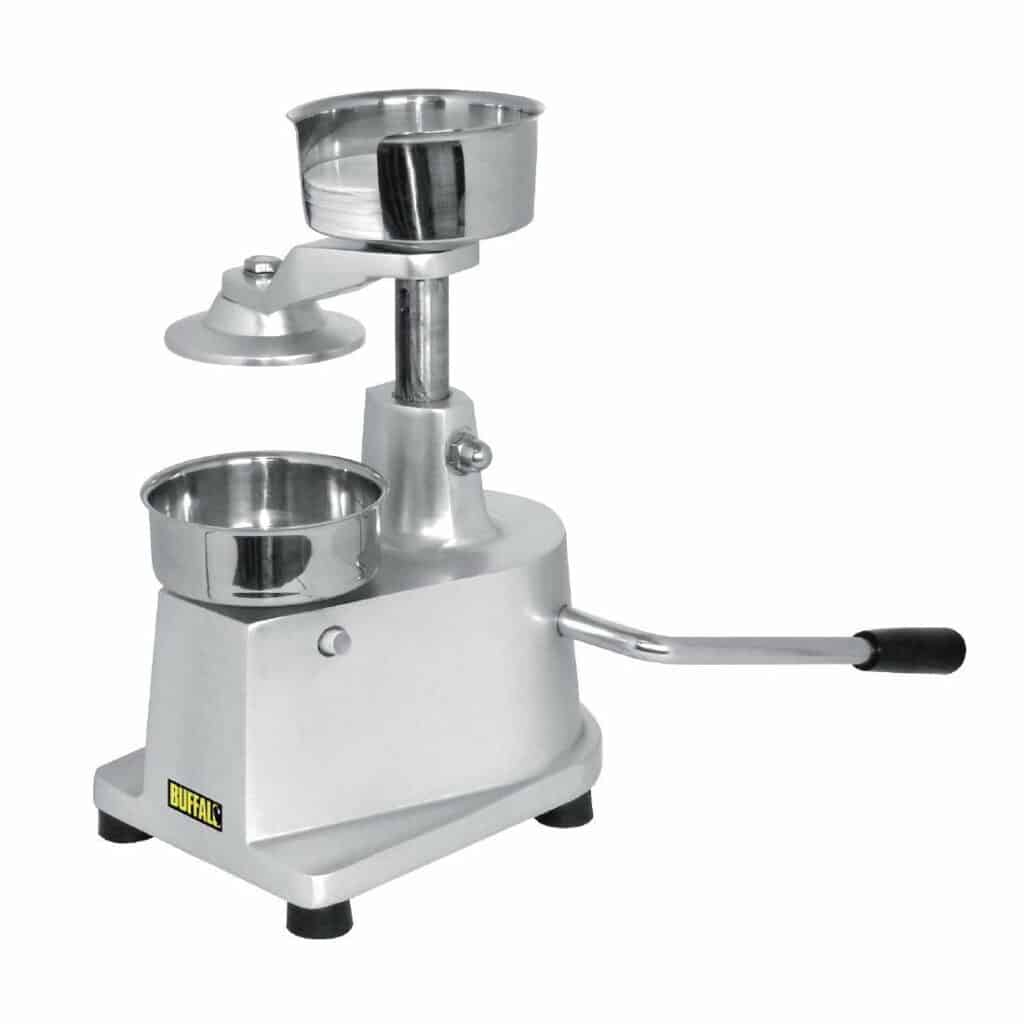 Well known as a leader of commercial kitchen equipment, it comes as no surprise that Buffalo has one of the best commercial burgers presses on the market. This manual hamburger machine creates 100mm patties every time – perfect for providing customers with than uniform, polished finish.
Made from anodized aluminum, the burger press is durable and heavy-duty. It's built to last, yet is lightweight for easy transportation and it's easy to clean. It also has a built-in burger separator, which helps keep production smooth and prevents patties from sticking together.
It's reliable and affordable, making it the perfect press for large commercial kitchens, or other businesses like farm shops or butchers.
Pros
Strong commercial construction makes it durable and long-lasting
Portable and lightweight
Easy to clean
Built-in burger separator
Cons
Limited to one size patty
Hand operated may be too manual for some kitchens
Edlund EBP-700 1 lb. 7″ Multi-purpose Hamburger Patty Press
If you are tired of hand-pattying your burgers due to the mess it makes and the time it takes, this burger press will change that. It ensures each patty is a perfect size, shape, and weight; it doesn't limit your sizes either. With this press, you can create patties that are 4oz or patties that are 8oz!
You can also buy various attachments to create a range of different burgers from 5-inch diameter patties to mini sliders – although these are sold separately.
The stainless steel construction is built to last and it easy to clean. The cylinder is removable for effective cleaning, perfect for busy kitchen life. It also has a built-in patty paper holder which makes separating burgers a whole lot easier.
Lastly, its convenient shape makes for space-saving countertop storage.
Pros
Built-in patty paper holder
Doesn't limit patty size or shape
Detachable bowl for easy cleaning
Extra attachments for added burger options
Cons
Pricier than other models
Attachments sold separately
Garde HDHP12 Heavy-Duty 1/2 lb. 5″ Hamburger Patty Molding Press with Handle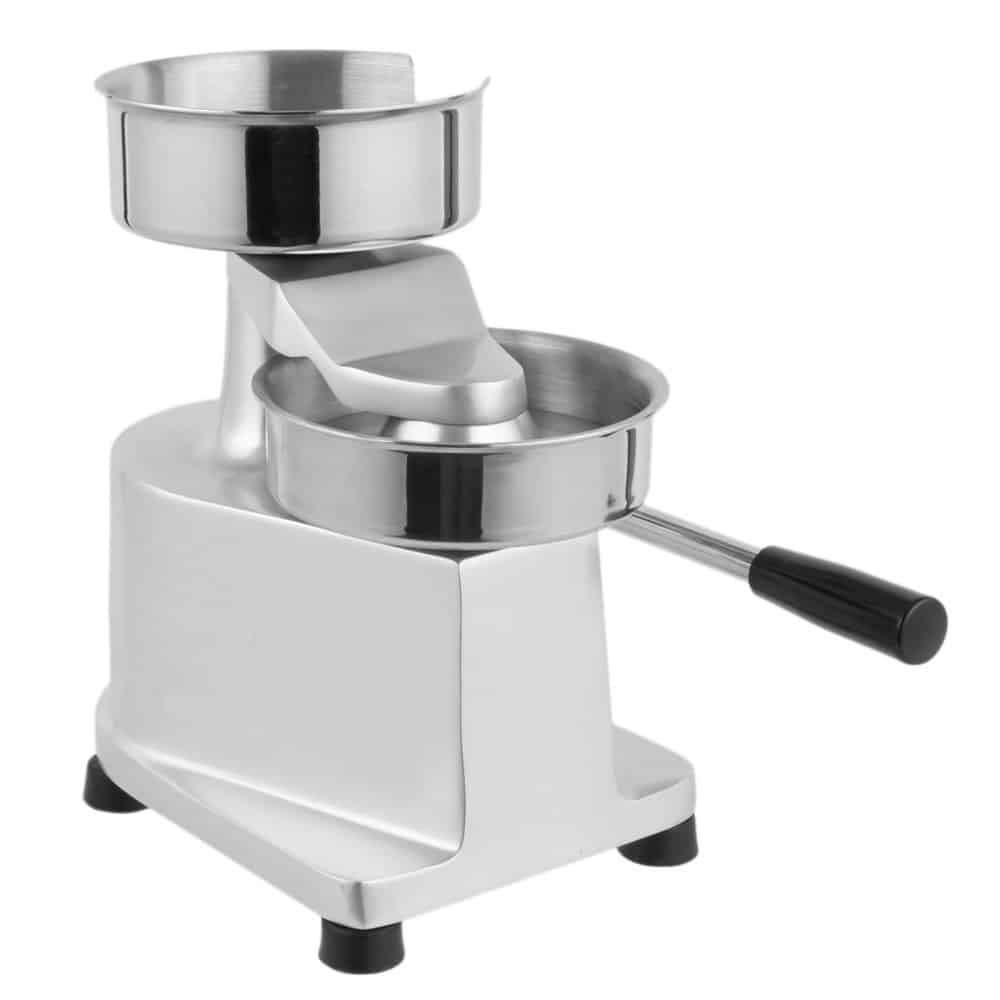 For identical 5-inch patties, this press by Garde will be sure to satisfy your burger pressing desires. The compact design makes for easy storage and it's also lightweight for easy transportation.
The easy-to-use lever-style handle will streamline your burger-making processes whilst boosting your capabilities. The stainless-steel bowls are easy to clean, and the aluminum base is designed for high-volume use. It also has non-slip feet to keep it glued to your worktop.
Each uniform patty it creates is carefully portion-controlled, using exactly 1/2 lb of meat to save you money and increase the volume of patties you can produce. It also has a detachable paper holder for added convenience.
Pros
Uniform portion control saves time and money
Non-stick stainless steel bowls
Easy clean design
Lightweight for easy transportation
Cons
Only creates one size patty
Kayla-lan Commercial Hamburger Press Patty Maker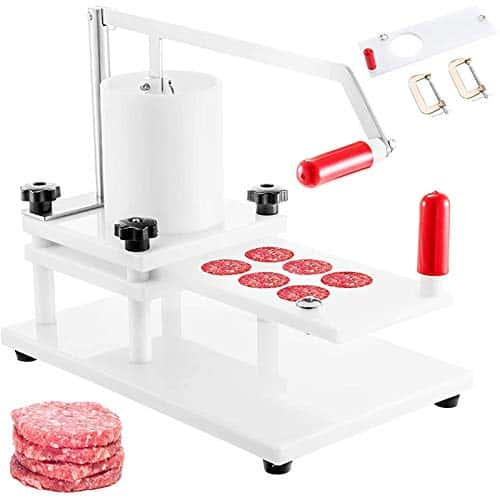 For an easy-to-use commercial grade burger maker, this press by Kayla-Ian is ideal. The press can create identical burgers in just 3 simple steps – it's easy to use and will save you a lot of time and effort.
The machine is made from durable stainless steel, which is both easy to clean and long-lasting. The 5-inch bowl can be quickly dismantled for easy cleaning.
Its four anti-slip feet provide a firm, secure, and stable surface, and its compact design is easy to store. However, it's a little more expensive than other models, but its interchangeable plates mean you can make any burger you like quickly and efficiently.
Pros
Interchangeable plates for different types of patty
Made from easy-clean material
Anti-slip feet ensure it's stable on your worktop
Cons
Expensive
A little bulkier than other models
Sheerline Burger Machine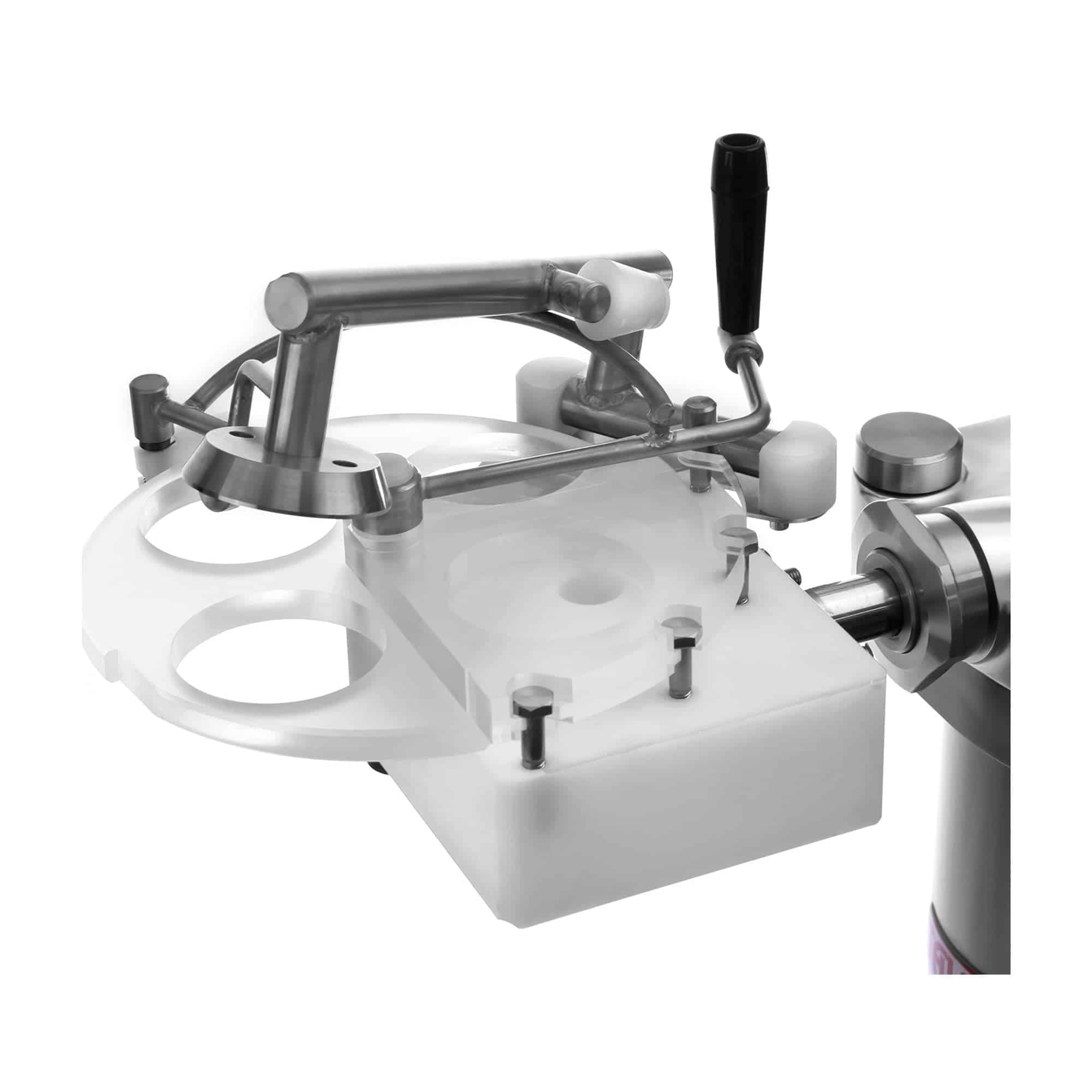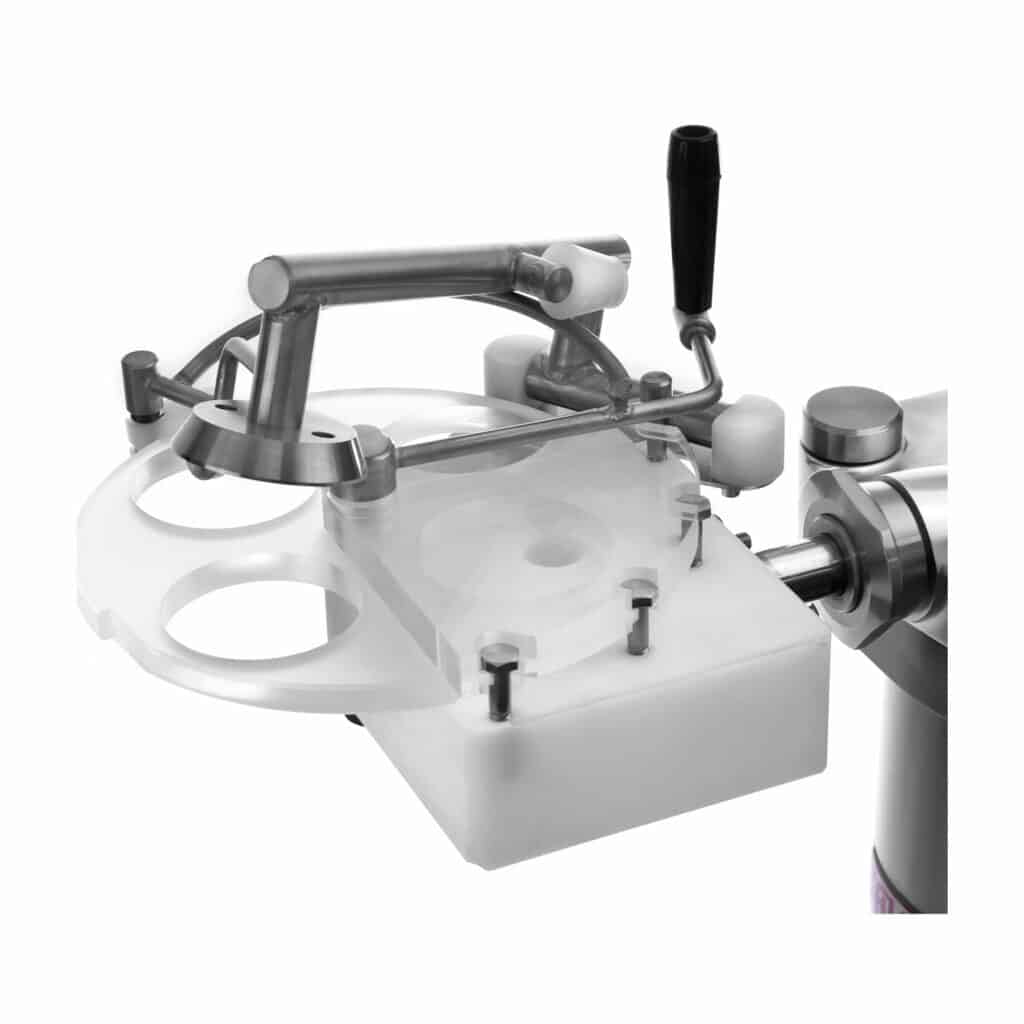 For seriously rapid burger creation, Sherline's burger press really is a machine. The electric burger maker is capable of making up to 1500 burgers per hour. It gives you the option of either 4-inch burgers or 5-inch patties. These patties can either weigh 2oz or 4oz for the 4 inch, or 4oz or 6oz for the 5 inches.
The machine can also be altered to fit almost any sausage filler and creates traditional-looking burgers perfect to serve. It works by pushing meat into the chamber; from there the meat is molded to the perfect size and shape, and the burger pops out the bottom of the machine.
Similar to other designers, it's created with heavy-duty stainless steel. This makes it much easier to clean. It's not fully automatic and would need someone to manage the burger production, but it's more affordable (even though it is still quite pricey), the fully automatic models.
Ideal for fast food chains, dedicated burger joints, or wholesalers, Sheerline's burger machine is a must-have for rapid production burger making.
Pros
Can make up to 1500 burgers per hour
Various levels of patty size and thickness
Durable stainless steel
Cons
The large appliance needs more space
Needs to be connected to a sausage maker
Expensive
FAQs
Question: What is a burger press?
Answer: A burger press is a kitchen tool that packs hamburger patties and makes them uniform in size with one quick press of the handle. This ensures that all the burgers will look the same, and are the same size, shape, and weight.
Question: What are some things to consider when looking for a burger press?
Answer:
Size: Make sure you buy a burger press based on how big your batches typically are – do you make small batches or large ones?
Material: Stainless steel is best because it won't react negatively with food like an aluminum can. You also want to avoid certain plastics (especially those that contain BPA) as much as possible due to health risks from chemicals.
Ease of use: Consider ease of cleaning if this is important for your needs, as well as whether detachable parts create any risk for cross-contamination.
Question: Are burger presses worth it?
Answer: Definitely! Whether you want to create the perfect burger from home or you run a busy restaurant, burger presses are great for adding that professional touch to your patties. They are also much quicker, more efficient, and tidier than using your hands. They also allow you to create consistent burgers, with an identical thickness which means they'll cook evenly.
Question: How thick should a burger be?
Answer: One of the great things about a burger press is that it allows your burgers to be as thick or as thin as you'd like them to be. But, the most common thickness of a burger patty is about one inch in thickness.
Question: How do you make the perfect hamburger patty from home?
Answer: To make the perfect hamburger from home, you'll need the best burger pressing tool. Then, form a ball of ground beef in the palm of your hand, add seasoning, herbs, and spices before pressing it down using the press. You can also add other flavors like cheese, jalapenos, onions, or garlic to the meat at this point.
Once the meat is in the press, use the top to apply even pressure to the meat. This will ensure the patty is flat and will cook at the same rate throughout.
When it comes to cooking your burgers, if you want a medium-rare burger, then cook your patties until they develop some color on both sides. Depending on thickness, this should be around 6 to 7 minutes total. For a well-done burger, stop cooking once the outside is crispy – this should be 9 to 10 minutes total. But, be careful not to overcook it since this will dry out your burger and make it tough.
Final Verdict
Overall, when it comes to the best commercial burger press, a lot will depend on the size and scale of your business. For small kitchens, the Cuisinart Stuffed Burger Press is our favorite; for medium kitchens, Weston Burger Express Hamburger Press takes the top spot, and for larger organizations, Buffalo Manual Hamburger Machine is the winner.
But be sure to take into consideration the volume that you'll be cooking for, as well as the durability, quality, and cost-effectiveness of the press that you're buying. Once you've found the right press for you, you can start making delicious burgers exactly how you like them.