Latest posts by Jodie Chiffey
(see all)
Looking for professional, reliable, and sleek-looking steak knives? Laguiole knives are a popular choice for both gastronomy professionals and enthusiastic amateur gourmets. But are they really worth the higher price tag? Check all the details in this Laguiole Steak Knives review before deciding.
When you ask a professional chef what the most important part of their kitchen gear is, they will probably mention their knife. Knives can, after all, easily replace many of the modern kitchen gadgets we use to simplify and speed up our workflow. But is there any reasonable replacement for a good knife..?
Today in this Laquiole Steak Knives Review, we'll try to find out if Laguiole steak knives might be the best choice for you. But, first, let's start with a quick summary of their technical specifications.
Key specifications of Laguiole Steak Knives
| | |
| --- | --- |
| Type | Set of steak knives |
| Material (blade/handle) | Stainless steel/stainless steel OR wood OR horn |
| Pieces in set | 6 |
| Blade length | 4.5" |
| Blade edge | Serrated |
| Dimensions/weight | 4.8 x 10.11 x 0.14 inches/0.053 ounces |
| Latest price | Click here for the latest price |
Core features of Laguiole Steak Knives
Original Laguiole knives are not just any generic knives from your local chain store. The traditional French brand boasts 200+ years of history, experience, and innovation, which makes these knives some of the most sought-after products in this field.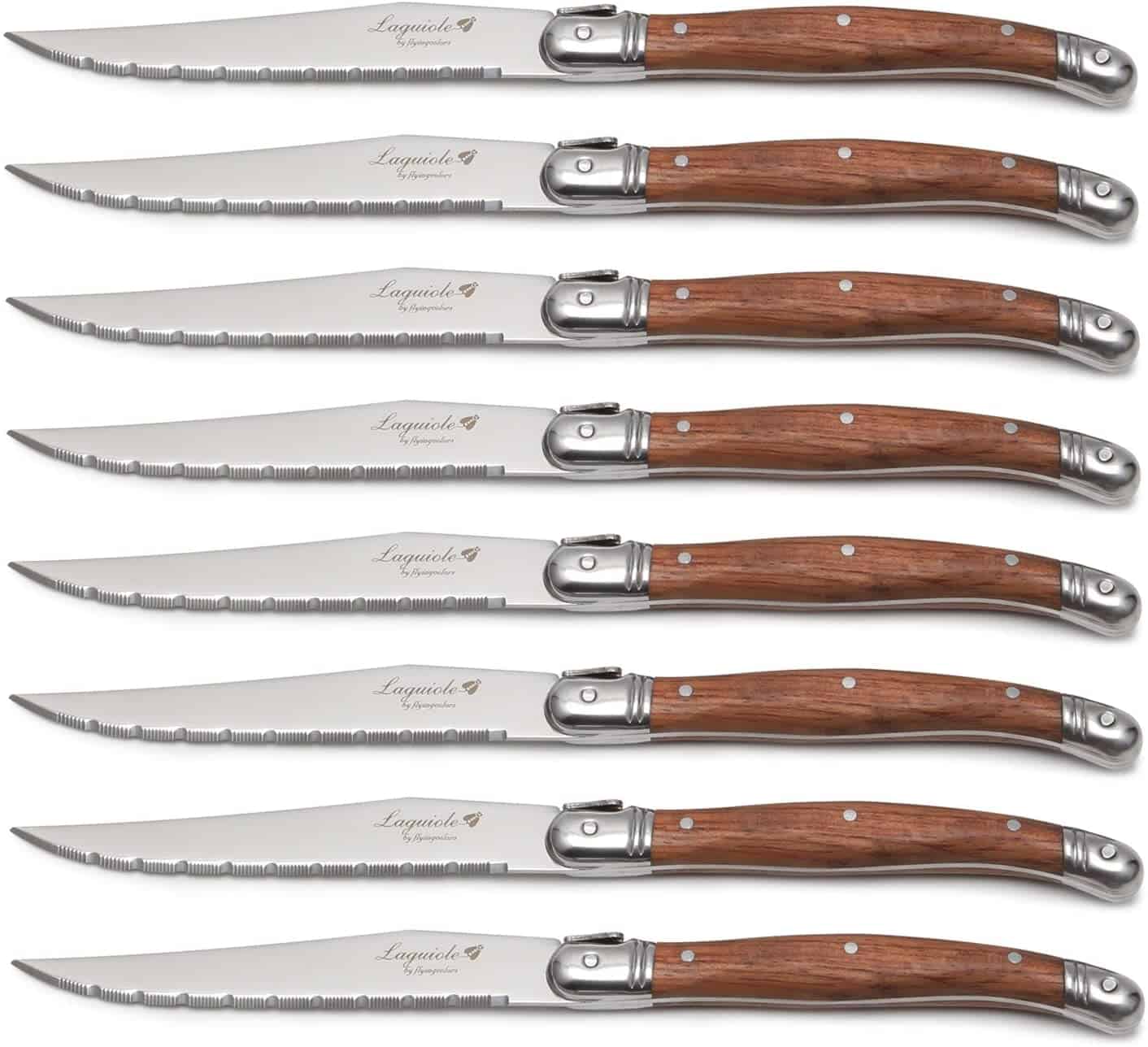 Nevertheless, since the original brand's name has never been officially protected by law, almost anyone can now legally produce a Laguiole knife. Based on this, Laguiole is now used more as a vague name of a certain type and geographical origin of a knife than a concrete product, which can lead to some confusion and disappointment.
After all, when it comes to knives, we all have our individual expectations and needs, so even the 100% original Laguiole knives don't necessarily suit everyone. Considering buying these knives for your restaurant? First, let's explore Laguiole steak knives' qualities and possible drawbacks one by one.
Construction and Design
With most kitchen tools, you cannot really tell much about their quality based on their design and appearance alone. But when it comes to knives, construction, shape, size, and some other external parameters can actually reveal quite a lot about both their functionality and durability.
Regarding Laguiole steak knives, this will also depend on your own choices and preferences since the knives come in a large variety of styles that can all look and perform a bit differently. What they have in common, though, is their 4.5-inches long stainless steel blade with a saw-like (serrated) edge that is particularly designed for cutting through the thick chunks of beef.
The length of this blade is quite convenient – not too big and not too small, just perfect for the common types and forms of steaks. Moreover, these blades are forged, meaning they are made of a single piece of steel. Therefore, they should be much more durable and precise than their stamped counterparts, which are literally just cut out of a large steel plate.
Laguiole steak knives offer a nice ergonomic grip thanks to their smooth rounded curves and thoughtful shape when it comes to handles. I can imagine, though, that they might be a bit too thin for people with larger hands. Nevertheless, the final feel and overall presence of the handles will mostly depend on the style of your choice.
These knives come in 26 different colors and four materials: wood, horn, stainless steel, and acrylic. Some of them are even decorated with silver intrusions, which is a great choice, particularly if you're buying the knives as a present (e.g., for newlyweds).
Your options are extensive here – from sleek-looking rosewood or ebony to professional shiny/brushed steel to joyful shades of pink, green, or blue. There's even a rainbow edition with assorted colors for those who can't decide.
Nevertheless, keep in mind that these handles come with some practical differences too. For example, knives with handles made of natural materials (wood, horn) shouldn't be washed in a dishwasher, whereas acrylic and steel handles are excellent with machine washing. Acrylic handles can also be more fragile and prone to scratches or fading of color.
Last, I should also mention that Laguiole steak knives are traditionally delivered in beautiful wooden boxes that further improve their presentation's overall style and beauty. However, if you plan to use these knives as table cutlery in your restaurant, you probably won't store them in the box anyway.
Performance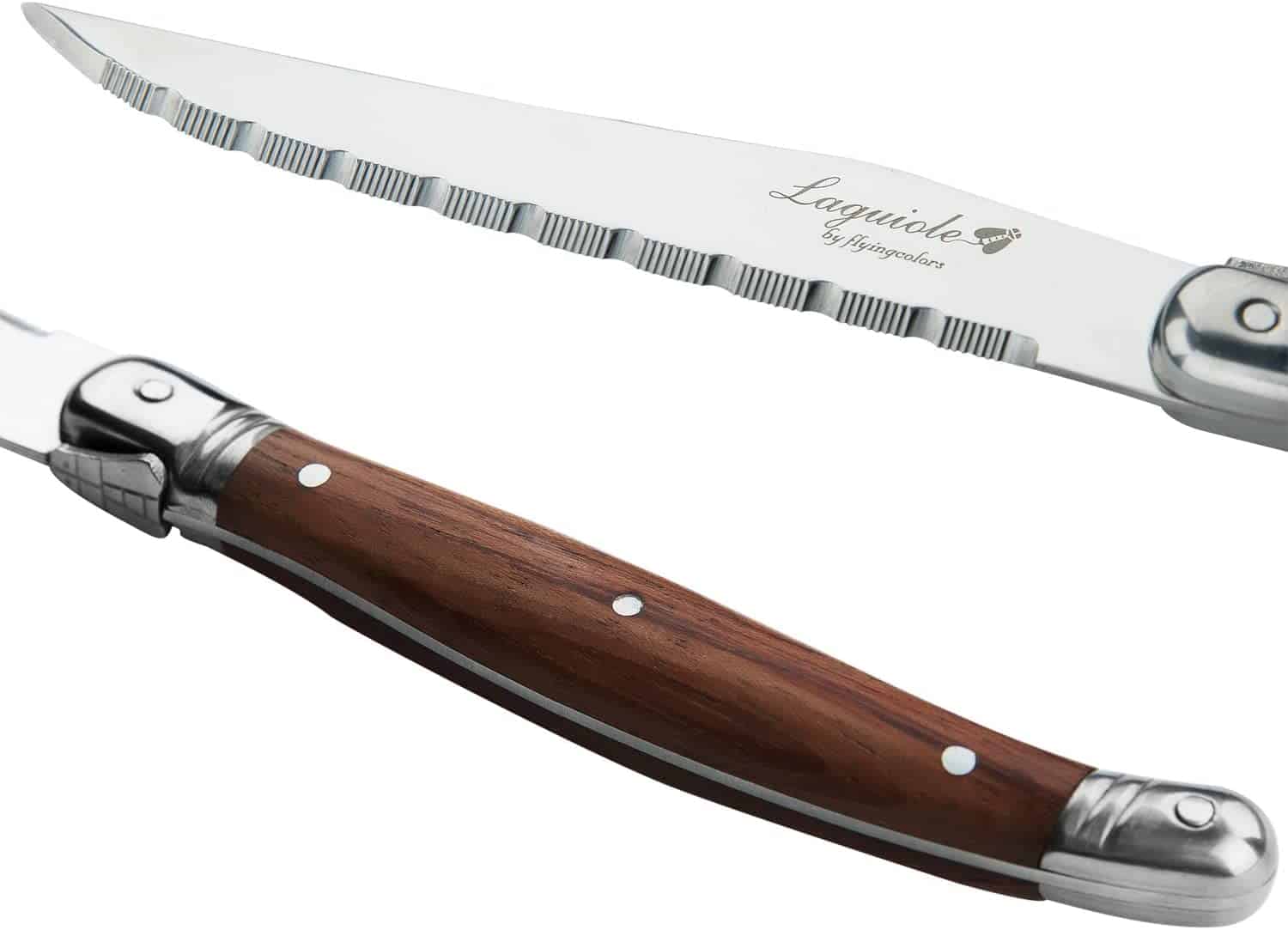 Laguiole steak knives are famous for their exceptional sharpness, which is something any steak-lover can surely appreciate. A good Laguiole knife doesn't need to be sharpened every other day (in case of serrated steak knives, of course, sharpening is almost out of option), and it should come perfectly sharp right out of the box.
Moreover, experienced users of these knives claim that they remain perfectly sharp even despite regular dishwashing, further adding to their practical qualities.
As I have already mentioned above, the knives feel a bit delicate with a blade thickness of just 2.5 mm and relatively thin handles. Although I don't personally mind my knives being this thin, I can imagine that some users might struggle with getting used to the specific feeling.
Other than that, it is tough to complain about any aspect of the performance of these knives. They do what they should, and they do it pretty well.
Safety and Reliability
If you buy authentic French Laguiole steak knives (preferably with a genuine certificate of their origin), you can rest assured that your knives are made of premium quality materials and comply with the strict policies and standards for production within the European Union. This should also include a warranty, which can come in handy if your products turn out to be faulty.
However, the durability and safety of your knives will also depend on your care and maintenance routine. For example, the producer recommends not to use long or very hot (over 122°F) cleaning cycles when cleaning your knives in a dishwasher. You should also take the knives from the machine immediately when it completes the cycle and wipe them dry with a soft cloth.
Of course, proper storing of your knives can also contribute to their longer lifespan and sharpness. Make sure to get a good and compatible storage block – some Laguiole knives are even sold in a set with a block.
When it comes to safety, practicing common sense and careful manipulation with knives should be all you really need to do to avoid any accidents and injuries. If you are buying these knives for your restaurant, ensure that your employees know how to handle them with care and understand how sharp they really are.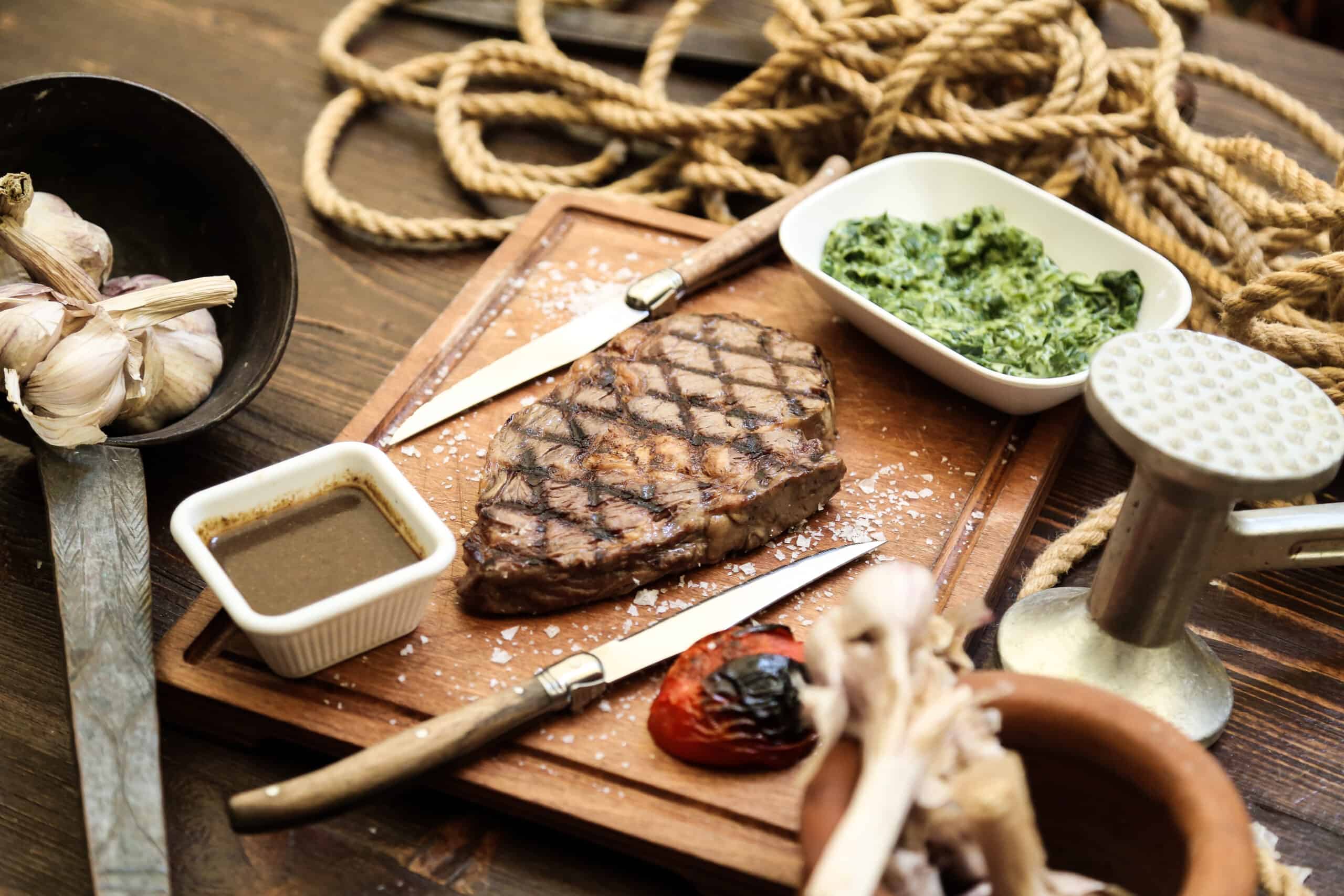 Price
Good quality knives can be quite expensive. Nevertheless, since these knives usually significantly outlive the cheaper alternatives, this investment is really worth it. Moreover, if you have the luck to find Laguiole knives with some discounts or deals, they can actually be quite affordable.
For their latest price, click here.
Pros of the Laguiole Steak Knives
Still not sure if these are your dream steak knives? Let's summarize their greatest assets to make the decision making a bit easier:
Lovely Design
If you like your kitchen tools or table cutlery sleek and stylish, Laguiole steak knives will surely please you with their charming design and many styles to choose from.
Tradition and History
Laguiole boasts more than two centuries of history. It is a great example of traditional French craftsmanship, and it's recognized worldwide for its quality and durability. Moreover, these knives are also traditionally hand-made.
Durability
Unlike many other steak knives on the market, Laguiole knives are forged instead of stamped, dramatically improving their durability.
Sharpness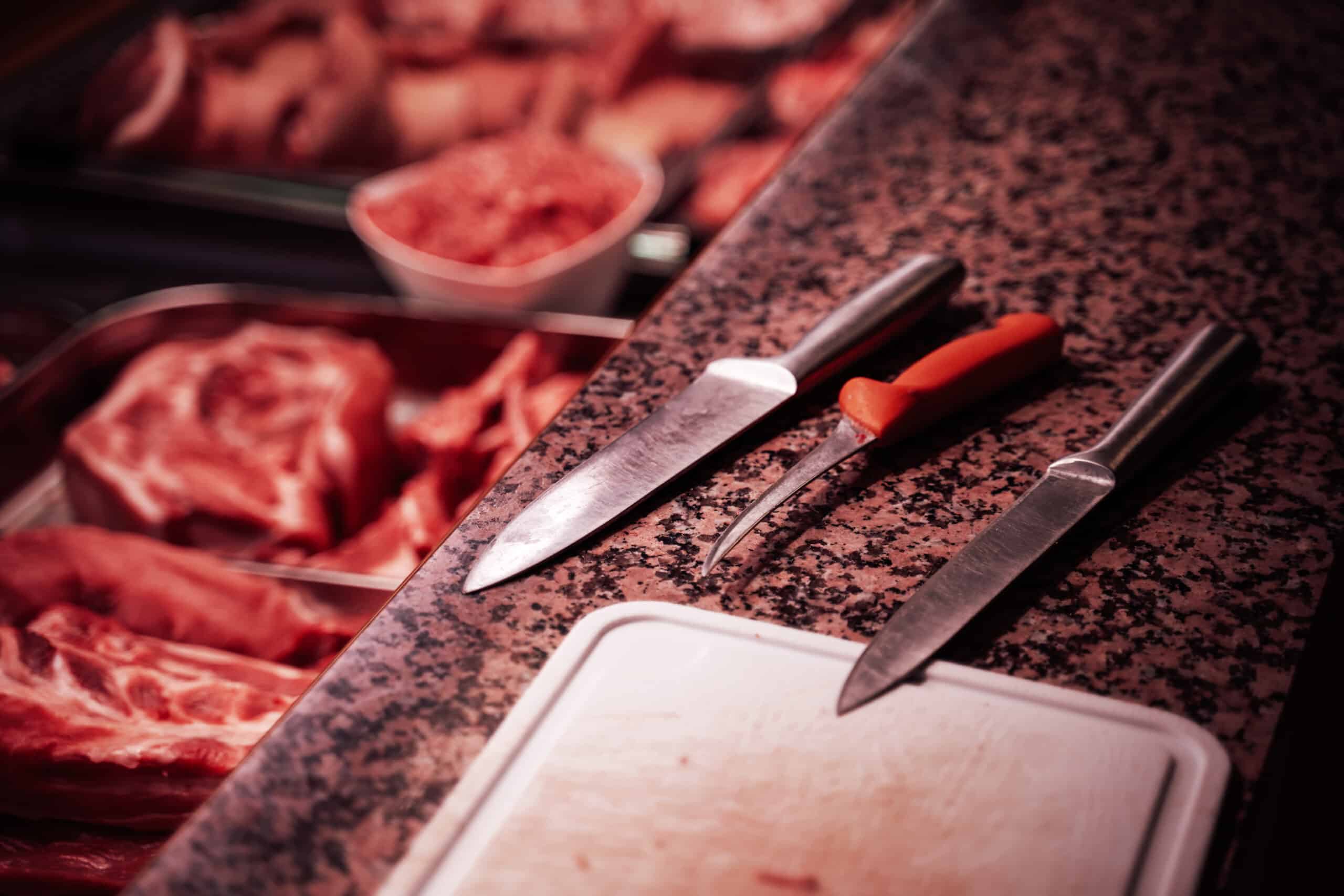 Knives should be, above all, sharp, especially if they are intended for use with beef, which can occasionally be quite difficult to cut. Laguiole steak knives are some of the sharpest knives you can currently find on the market, and they remain sharp as new for a very long time from purchase.
Dishwasher-safe
Manual dishwashing in restaurants? That's not only inconvenient, but it's also not very hygienic. Laguiole steak knives are, fortunately, dishwasher-safe, which will save you a lot of time and effort. Just make sure that you're buying the right model – knives with handles made of wood or horn cannot be washed in a machine.
Cons of the Laguiole Steak Knives
Laguiole steak knives are great, but they have some drawbacks too. Here are some things to consider before ordering your set:
Different Manufacturers, Varying Quality
Since the Laguiole mark is not a geographically protected brand, it can be used by different manufacturers from different locations – and with varying approaches to quality control. This can easily confuse you and make you buy a less quality product than you were hoping for.
A Little Too Thin
If you're used to sturdy and thick steak knives, you might be surprised how thin and delicate the Laguiole knives feel in hand. Though it's probably just something to get used to for most, this might be really uncomfortable if you have huge hands.
Higher Price
As I have already mentioned several times throughout this text, Laguiole knives can be produced in various locations by numerous different manufacturers, and their prices vary accordingly. Nevertheless, the genuine French knives of this name are, in general, more expensive than some other alternatives on the market. If you're on a budget, this might easily discourage you.
Are There Any Alternatives?
Not sure about Laguiole steak knives? Here are some other quality alternatives you might find interesting:
Henckels Steak Knives, Set of 4/8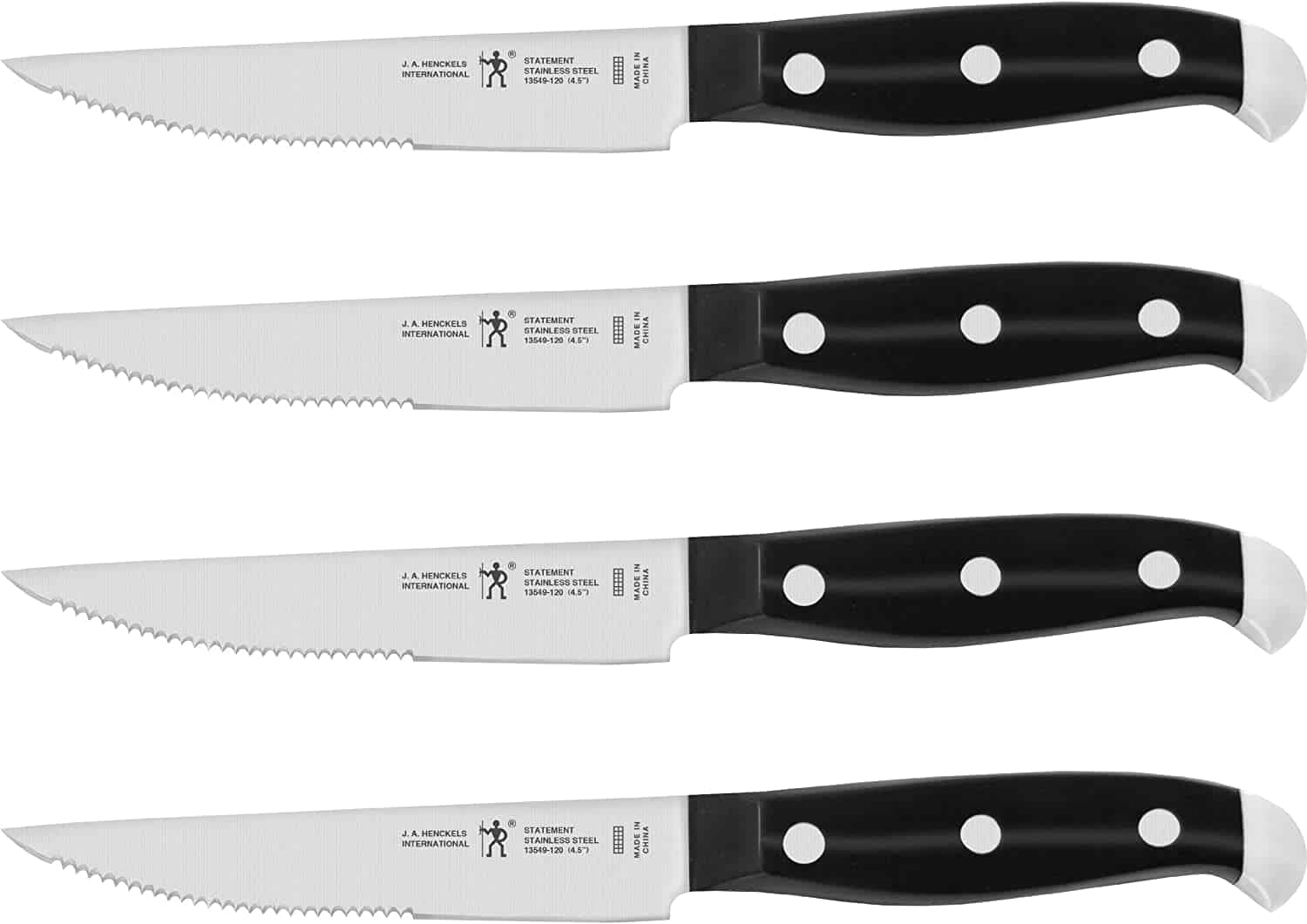 Check out the sleek and perfectly affordable Henckels steak knives if you're looking for a decent budget-friendly alternative to Laguiole. These steak knives are sold in sets of 4 or 8 pieces. Just like Laguiole, they have 4.5″ steel blades, but their edges are half-serrated, which should contribute to their long-lasting sharpness and durability. In addition, the handles are made of injection-molded and riveted polypropylene, which makes the knives suitable for dishwashers.
On the other hand, quite similarly to Laguiole, Henckels is not a protected mark, so you must be careful whether you're really ordering the German original.
Wusthof Gourmet Steak Knives, Set of 6 With Storage Block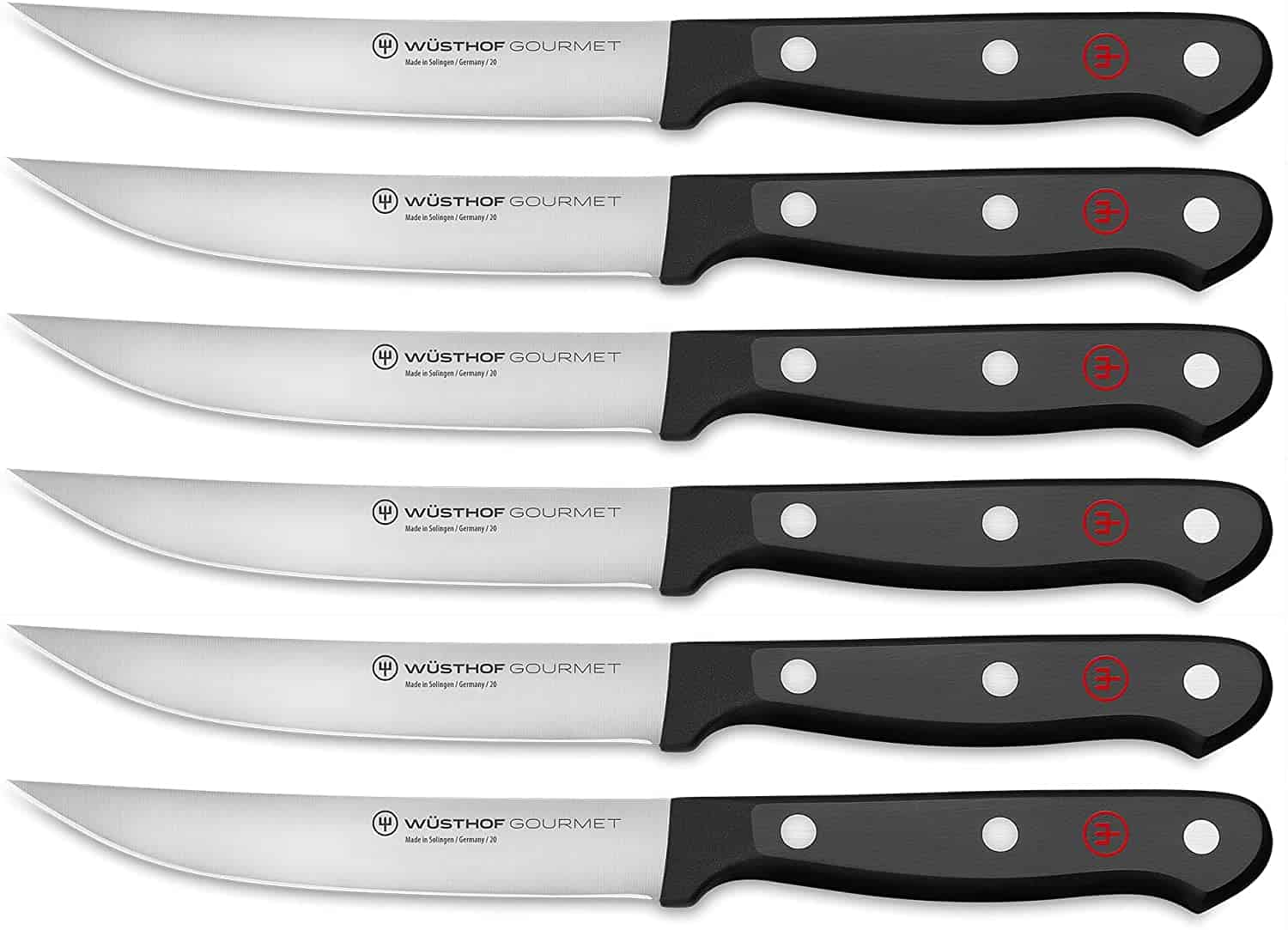 Wusthof Gourmet is a 6-piece set of quality steak knives with a convenient and stylish-looking storage block. Wusthof is a German manufacturer with a great reputation and tons of experience. The high carbon stainless steel blades on these knives are truly razor-sharp. The ergonomic handles are made of durable and sleek-looking synthetics. The brand is also recognized for its positive approach towards sustainability.
Nevertheless, these knives will cost you even more than the Laguiole steak knives we have reviewed in this article, so if budget is your only motivation for checking out some alternatives, this is not your best choice. For more information on Wusthof knives, see our complete Wusthof Steak Knives Review And Guide.
FAQs
Question: Where are Laguiole steak knives made?
Answer: Original Laguiole steak knives are traditionally hand-made in southern France, more precisely in the cutlery hotspot of Thiers and the nearby village of Laguiole. Nevertheless, the knives sold under this name, which is not protected by law, can be officially produced worldwide so that you might come across so-called Laguiole knives made in different countries too. If you are not sure about the origins of some particular set of knives, ask the reseller before placing your order.
Question: How do I know original Laguiole steak knives from the fake ones?
Answer: Just like many other iconic branded products, Laguiole steak knives attract many producers of counterfeits. These fake products are straightforward to spot due to their cheap appearance and lame packaging, but others may look good enough to confuse even experienced users.
Moreover, numerous manufacturers officially produce Laguiole knives that can alternate some characteristic details of the knives, making spotting a fake even harder. Your best option is probably going with a product that comes with a certificate of authenticity.
Question: Can you sharpen Laguiole steak knives?
Answer: Sharpening a knife with a serrated blade is, in general, not a good idea. According to the official instructions by the Laguiole knives producer, you should not even attempt to do it unless you want to ruin the knife's blade completely or eat tiny metal chips along with your steak. Nevertheless, some methods could be helpful. They usually involve a sharpening rod inserted between the individual teeth of the blade and a lot of patience.
Final thoughts: So, should you invest in Laguiole steak knives?
If you're looking for a quality set of knives, Laguiole steak knives surely have a lot to offer. This famous brand boasts impressive quality and finesse that comes only with years of experience and innovative craftsmanship. These knives will most likely strike you with their luxurious appearance, and you should be only further impressed with their durability and sharpness.
Nevertheless, there are also some risks and downsides associated with this investment. First and foremost, you should always make sure that you're really buying the top-quality Laguiole knives made in France, as some of the cheaper alternatives from international manufacturers might lack the qualities you're expecting.
Secondly, choose the right model and style, as they might differ in durability and ease of maintenance quite significantly. Also, think twice if you feel comfortable using a thin and relatively delicate steak knife if you have bigger hands.
Finally, you should expect these knives to be more expensive than many alternatives. If you're looking for cheap knives, it will be better to check out some reasonable competition than going with some cheap Laguiole counterfeit. We've provided two interesting options in the alternatives section: Wusthof Gourmet or Henckels steak knives.
Need more tips on how to find the best steak knives for your kitchen? Check our complete guide to finding the best restaurant steak knives.