Latest posts by Alice Smith
(see all)
Do you want a product that is not only beautiful but durable and efficient as well? If so, then an Imperial Range would be a great choice. The company has been around since it was founded in LA in 1957 and continues to produce high-quality ranges today.
We will be discussing all of the qualities that make up a great Imperial range and what makes them different from other ranges on the market. The first thing to consider when looking at any new appliance purchase is how long it will take for your investment to pay off. This article should help point out which models are worth the investment based on their ROI.
We've compiled the best of the best in Imperial Ranges to take your cooking experience to the next level. Whether you are looking for something basic or something high-end, we'll discuss some of our favorites. It might be hard to choose just one, but that's what makes it fun!
What Is An Imperial Range?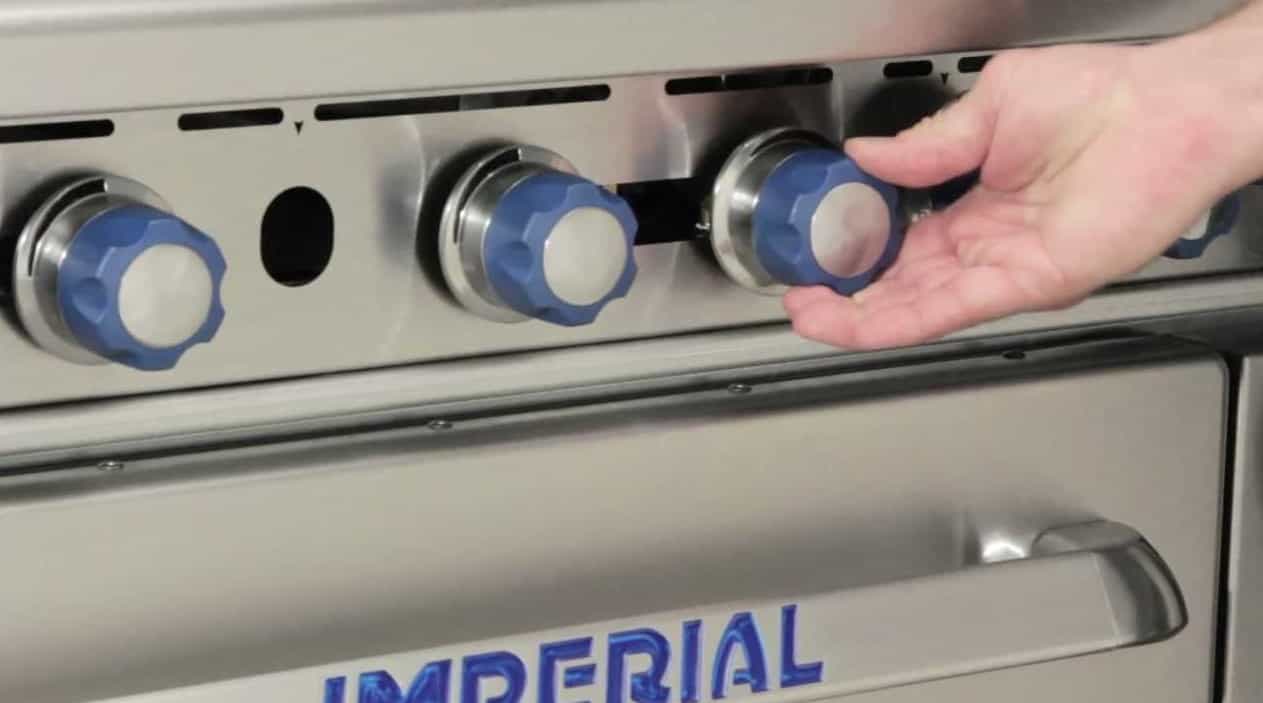 Imperial ranges are gas ranges that are made in the United States by the company Imperial Range. They're known for their superior quality and durability and are very popular in commercial kitchens. They're well worth every penny.
A range, in general, is a cooking appliance that is used to cook food. They come in many different varieties and can typically be found above a stovetop.
The History of Imperial
Imperial Ranges was founded in Los Angeles back in 1957 by Peter Spenuzza, the company's goal was to become the preferred supplier worldwide for commercial kitchen equipment.
They began producing all kinds of commercial kitchen equipment including ranges, stoves, refrigerators, water heaters, and dishwashers. Their designs were so impressive that they caught the attention of countless kitchens and restaurants which allowed them to grow to the global giant they are today.
Since they founded the company, Imperial has maintained high standards of excellence and quality. They are known for their durability, beautiful design, and superior performance which is why they continue to be one of the top brands on the market today. However, they are also still a family-owned business at the core and still believe in top-quality, affordable equipment.
What makes an Imperial range good?
So, what makes Imperial Ranges better than any other commercial range available on the market today?
Foundation
The most important aspect of any stove or oven is how well it's built because if this breaks down then nothing will work right. It should have a solid foundation with sturdy legs that support its weight evenly so you can rest easy knowing that your purchase won't tip over easily while cooking at full capacity.
Construction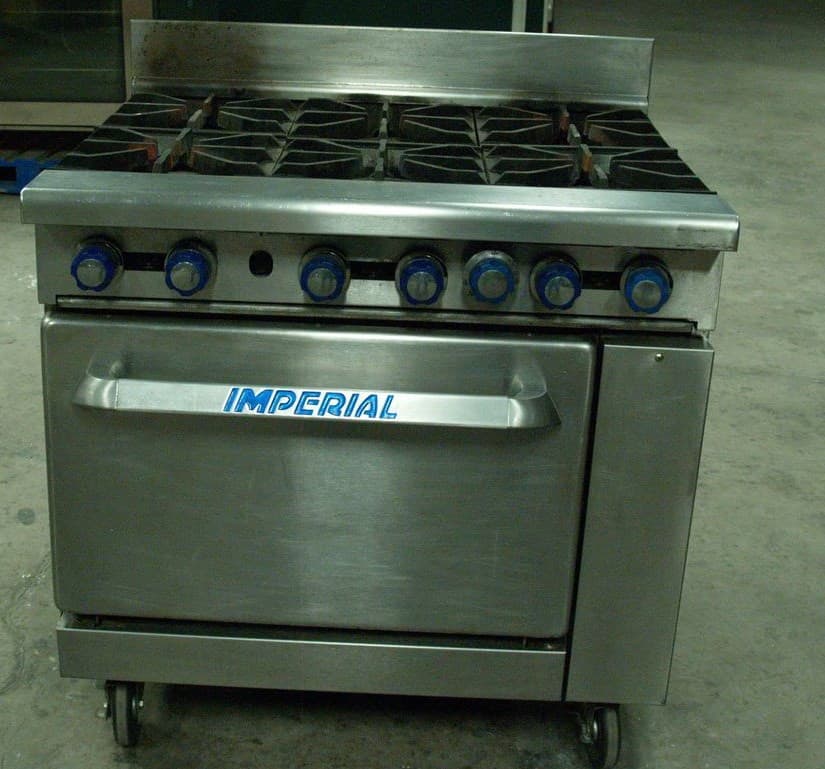 Speaking about construction materials, it's important to remember that you're cooking at high temperatures so they are bound to become very hot.
This is why Imperial uses high-quality materials such as cast iron or 304-grade stainless steel to make their equipment. If you can find an oven with porcelain enamel, even better because this alternative also contains great resistance against intense heat as well as corrosion, chipping, wear & tear, scratches. Choose wisely.
Size
The size of your stovetop matters – bigger isn't always better but if you often cook for large groups then it might be worth looking into something larger than what your current range offers right now.
Make sure that small burners don't end up being a problem for you either since your range needs to have the right amount of BTUs so that you can heat up water quickly or simmer low & slow. Imperial Ranges come in a variety of different sizes, so you should be able to find something to suit your needs.
Installation
You also don't want to forget about installation which should be done by professionals if possible so they know what they're doing. It might cost more money but it will save time and frustration in the long run. You'll never go wrong with this option because you'll get exactly what was promised instead of having something faulty sit around for months on end before being fixed.
Be sure not to compromise when install comes into play- safety is important which means functionality, durability, and performance are just as critical. Imperial will actually come out and fit your ranges for you if you purchase from them.
Features/Accessories
Do you want a storage drawer beneath the oven? A convection fan for even cooking with less heat input? How about an electronic ignition system that lets you ignite your burners without matches or lighters?
There are tons of features, bells & whistles to consider when looking into purchasing Imperial Ranges so be certain not to overlook anything. For instance, some models have larger grates which means they're easier on your back – this is perfect if you only deal with minor pain at first but need something heavy-duty later down the line.
Other Imperial Ranges can come outfitted with more than one power burner; these look like rings and sit evenly across the top of each stove grill instead of having just one large ring in the center like most gas stoves.
Imperial is great because there's such a wide variety of high-quality ranges to choose from as well including electric/convection, gas, and even infrared types. Decide what's best for you because while some models have the luxury of being able to switch between different fuel sources depending on your needs.
What Should You Look For In An Imperial Range?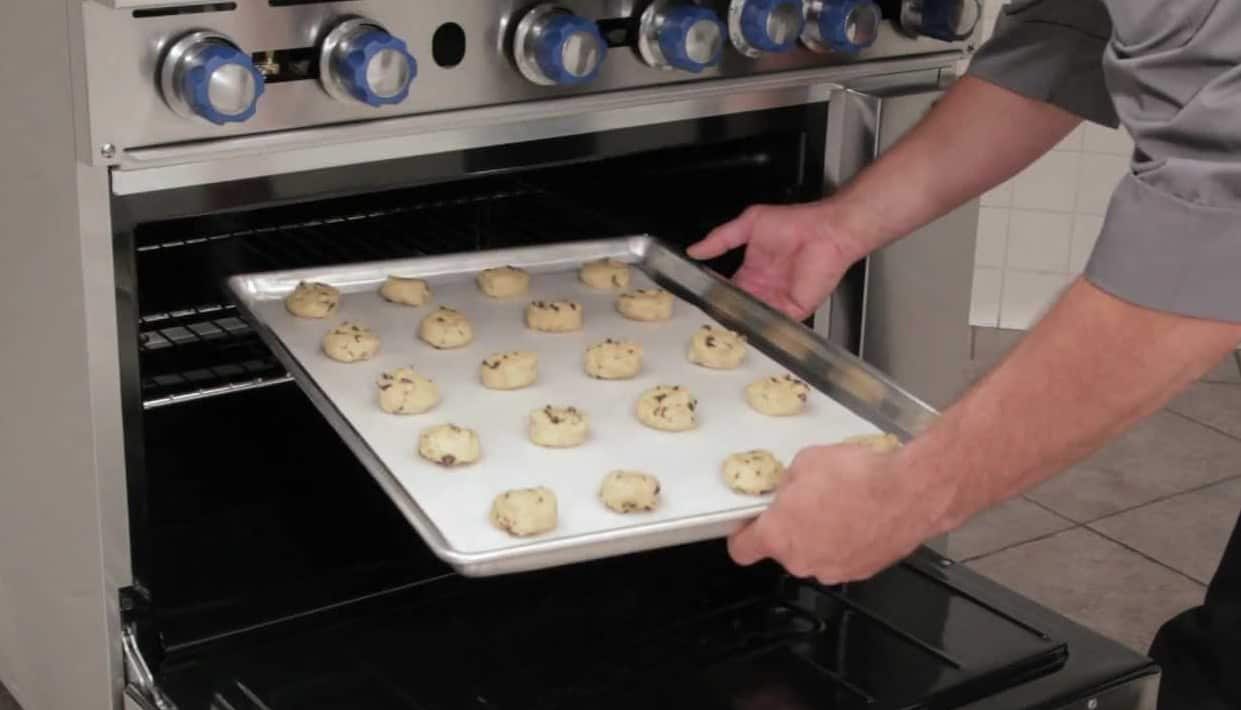 So, now you know what makes Imperial such a great company, what should you be considering when looking to purchase one of their products? Well, as with any major purchase for a commercial kitchen, there are many things you'll need to think about beforehand. These include things like the material the oven is made from, how many BTUs it has, and any features/accessories that are included with your purchase.
Here are some things you should consider before purchasing an imperial range:
Size
Imperial Ranges come in a variety of different sizes. And size matters. Particularly if you run a professional kitchen. You can purchase single burner stock pot ranges, small 4 ring ranges, or larger 10 ring ranges depending on your kitchen size.
If there are large grates on the range, this will make things easier when it comes time to lift heavy pots onto its surface which might not be as easy with smaller ones originally included.
Capacity
As well as the size of the unit, you'll also need to consider how much room there is in your range. Is there an included oven? How many burners are there and how many pans can you fit on those burners (this will also depend on the size of your pans).
How about the depth of the oven? If you cook with anything larger than a standard toaster, make sure that there is sufficient space inside for what you're cooking.
Safety
You'll never go wrong with this option because it means functionality, durability, and performance are just as critical in order for your stovetop to operate safely at all times. Imperial ranges are constructed with a range of safety features, but some are built with additional ones that you may want to add.
Price
Next, price. How much can you afford to spend on an Imperial Range? Are there models that fit within your price range? It's always worth considering your budget before you start looking at different models because this way you'll know whether or not there's a budget in mind that needs to be met.
Style & design
Style and design are other things to think about before making your purchase. This doesn't just apply for the front of the range either; check out what it looks like behind the scenes as well.
This is particularly important if you work in an open kitchen and your customers will also be able to see what you are cooking with. Although Imperial Ranges are made to look appealing as well as for high functionality, you should be able to find something that works for your organization.
Efficiency
Another important factor is the range's efficiency. This could potentially have a dramatic increase in how much your range costs to run so it's important to take this into consideration when making your purchase. Energy ratings can be found online and on the unit itself which will tell you how much energy it uses; compare this to other models (if they're available) to see if there's a cheaper option for you.
Power
Power and BTU are other things to look into. If you're buying an Imperial range, it's important that the power matches up closely with whatever is needed by your kitchen so there aren't any issues in this department down the line.
Amount of burners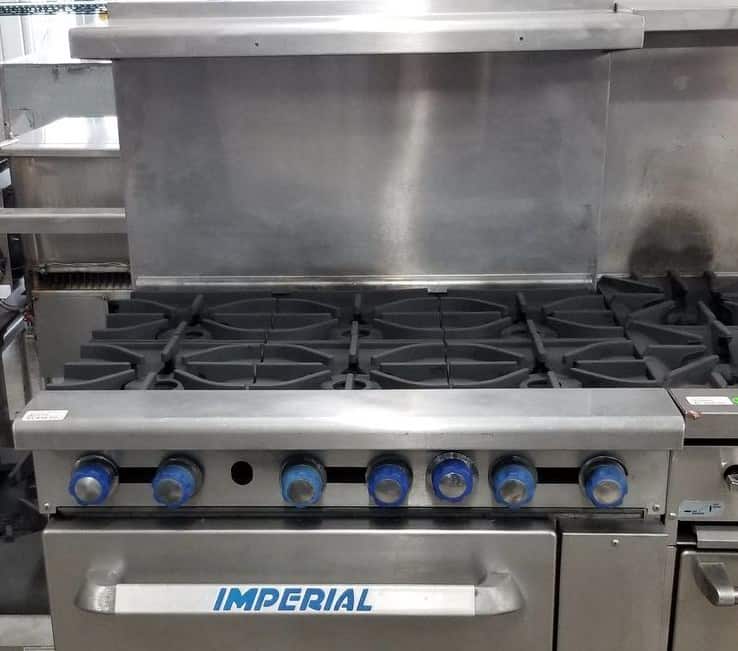 In some kitchens, the more burners the better, but in others, too many can be an unnecessary expense. Make sure that you're getting what you need and that it will be enough before you make your purchase decision, but not too many so that there will be lots of empty hobs during every service. Extra burners cost a lot of money, and will dramatically increase the size of the unit, so this is something you'll want to get right.
Also, take a look at the different types of burners and what they're made of – for example, induction or electric coils. This can help you determine which type is best suited to your kitchen needs because each one has its own benefits and drawbacks.
Features
Do you need or want all of the bells and whistles that come with an Imperial Range, or would you rather just go for something simple? Consider what you actually need before looking at any extra 'nice-to-haves', and maybe pay for some extra features if you really can't resist! If not, look for something that's more adaptable to your needs so you don't have any regrets down the line.
Warranty
Lastly, take a look at the warranty. This is important because it will tell you how long your unit should last and what kind of repairs/replacements are covered within that time frame. The typical warranty supplied with an Imperial Range is one year, for parts and labor, however, who knows, maybe there's even an option to extend this coverage if needed!
What Are The Different Types of Imperial Range?
Imperial has many different types of range available to purchase. They come in both gas and electric models.
Imperial is known for its front convection ovens that also double as a cooktop range. Their grand series of gourmet ranges are great for custom kitchens because they give you the option to choose many different features like panel colors (black or stainless steel), hood styles (ventilation hood, downdraft ventilation hood), and color options (black or white).
Here are some of the types of ranges you can buy for your restaurant:
Imperial stock pot range
A stockpot range is a range that has a large, open surface where you can cook your stockpots. It usually has one burner and is typically smaller than other ranges so that chefs don't have to lift big heavy pots onto high-up stoves. This is the perfect stove for any restaurant because it's so versatile and easy to clean.
Imperial gas range
A gas range is a traditional stove that has burners on the top and a large oven below. Since this is a more common type of Imperial Range, there are some pretty cheap options, which means you can obtain one for less money if needed.
Imperial electric range
The electric range is similar to the gas range, but it has electric coils instead of burners. These are very similar to plug-in stoves and work just as well because they're stable and easy to clean too.
Imperial gas and griddle range
This is great for kitchens with limited space or simply for organizations that want to double up on equipment. This stove has a griddle plate as well as the usual range burners and is great for grilling meat or cooking things such as pancakes, eggs, french toast, etc.
Our Top Imperial Range Recommendations
We chose these Imperial ranges based on affordability, availability, and positive customer reviews.
Imperial 8 Burner Gas Oven Range IR8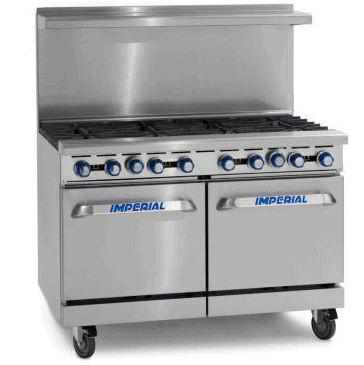 This burner range has a lot of great features that make it a fantastic choice for any organization. It has eight burners which are definitely going to be enough even if your kitchen gets quite busy, and because they're anti-clogging you won't have to worry about them getting dirty too quickly either!
The oven also comes with a heat reflector so that the oven is kept at an even temperature, which means your food will cook evenly too. The oven interior allows for easy cleaning and can fit a Gastronorm tray as well!
The best thing about this particular range however has to be that it's energy-efficient because of the heat reflector. This feature makes sure that no heat escapes from the back so you only use what you need instead of wasting money on unnecessary heating costs! Overall I think this is a great stove choice if you're looking for something with lots of features but doesn't cost much either.
Pros:
Has a heat reflector which makes the oven more energy efficient,
Anti-clog burners are easy to clean and maintain,
Has a U-shaped oven burner for even cooking
Durable stainless steel construction
Has an included splashback
Cons:
Imperial Gas Boiling Table IHPA424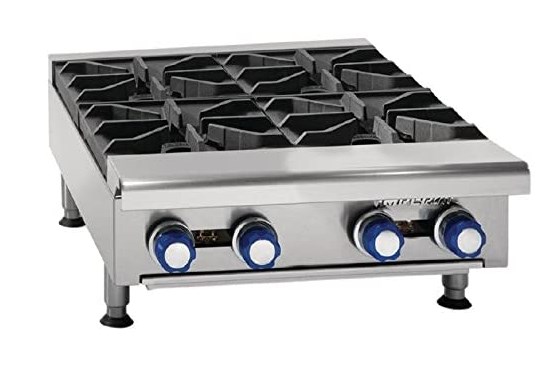 This handy boiling table by Imperial is the perfect addition to any commercial kitchen. The four burners are pilotless, which means they can ignite easily and there's no need for a lighter. This makes it quick and easy to turn the stove on whenever you need it!
The burner heads are also removable so that they're easier to clean if anything spills over them or gets burnt onto them. The stainless steel construction means the gas boiling table will last for a long time and is much more durable than other similar products on the market too!
Pros:
Removable burner heads,
Sleek design,
Durable stainless steel construction
Heavy-duty cast iron pan supports
Cons:
It Will be too small for larger kitchens
Imperial ISPA-18 Stock Pot Range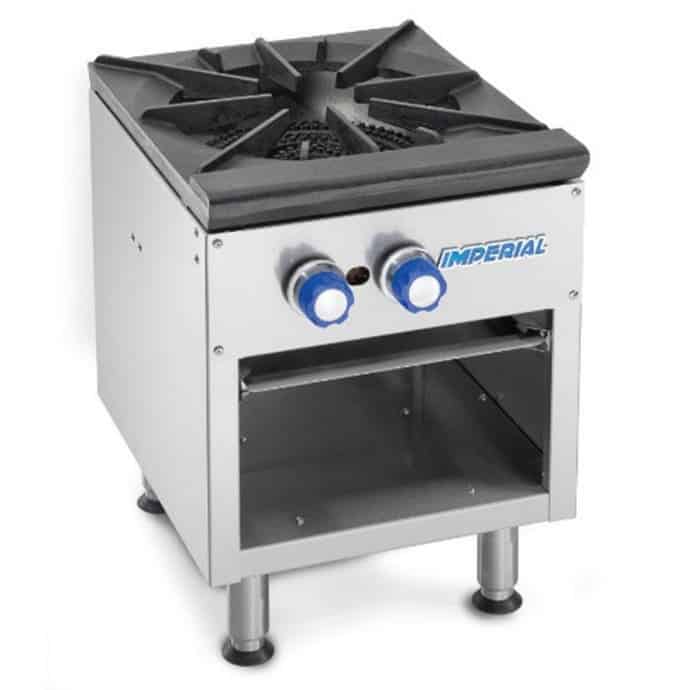 This stockpot range by Imperial is the perfect choice for any commercial kitchen. The heavy-duty construction means it can handle even the heaviest of pots and pans without a problem, making cooking much more efficient!
The high output burners provide enough heat to get your dishes cooked quickly while also having two adjustable gas valves so that you can choose just how hot or not they are in need of being. The continuous pilot light also means that you don't have to worry about having a lighter or matches on hand!
The best thing about this range is the fact it has roll front doors. These are much easier for loading and unloading pots than other ranges because of how gradual they are, which cuts down on spills too.
Pros:
High output burners provide enough heat without wasting energy,
Two adjustable gas valves make cooking versatile and efficient,
Stainless steel construction ensures durability and longevity,
Heavy-duty cast iron pan supports ensure stability during cooking,
Roll front doors make cooking easier and cut down on spills too.
Cons:
Only enough room for one pan at a time
Imperial IR-4 4 Burner Gas Oven Range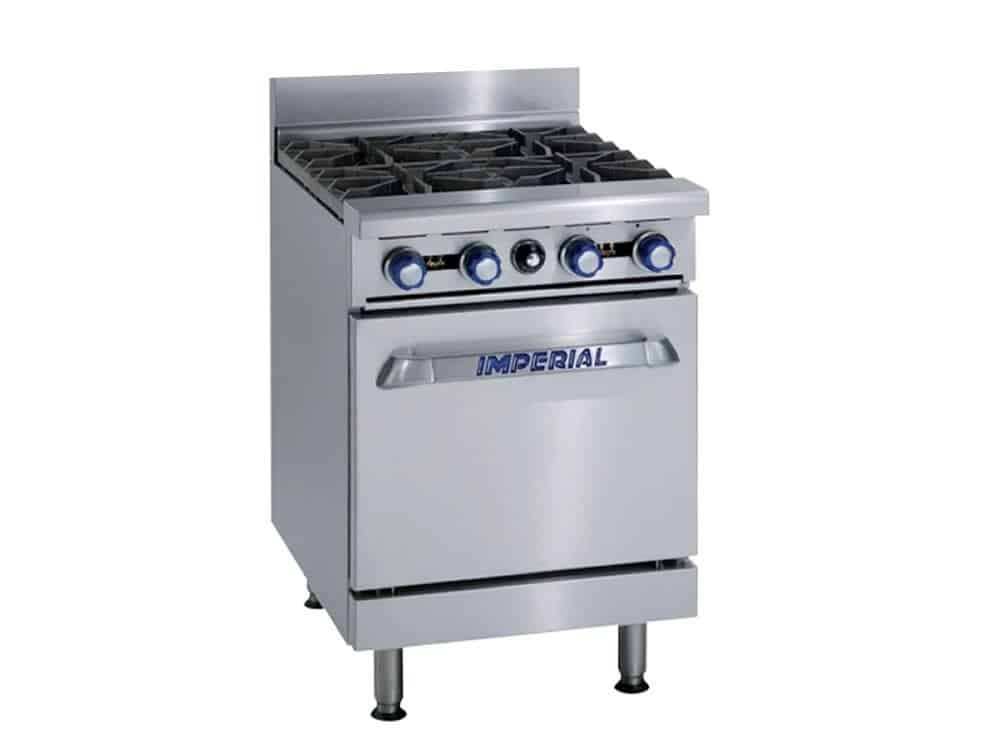 The 4-burner Imperial range is ideal for smaller kitchens. The splashback means that any spills or messes that occur while cooking can be contained and the stainless steel construction makes it durable enough to last for years.
Even though there are only four burners, each one is powerful enough that you'll be able to cook with them at a fast pace. It's definitely the best choice if you're looking for something simple but dependable.
Pros:
Stainless steel construction ensures durability and longevity,
Incredibly powerful open burners
Splashback keeps messes contained while cooking
Affordable and well worth the price
Cons:
It can't accommodate as many pans as other ranges would.
Only has room for two large size gastronorm containers in it at once
Imperial 6 Burner and Griddle Gas Oven Range IR6RG24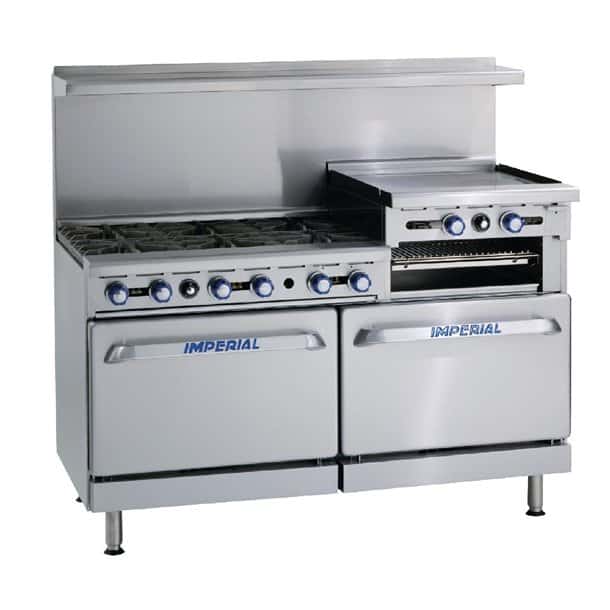 This is another of Imperial's most powerful machines. The ovens provide enough heating for even the most demanding of dishes, and because it has two you won't have to worry about cooking multiple dishes at once. The gas burners are also incredibly powerful so that your food is cooked in record time!
It features two standard ovens, each with its own powerful burners. It also has 6 gas burners rings and a raised griddle with a chargrill. The griddle is perfect for cooking your breakfast or lunch food on and the heat deflectors ensure that it will cook even faster than other ranges.
This general-purpose oven range is powerful and durable, with U-shaped oven burners that distribute heat equally and distinctive burner baffles that distribute heat flow uniformly, ensuring uniform cooking. The oven racks are easy to remove and make cooking safer.
Pros:
Cooks food quickly with the powerful burners,
Two independently controlled ovens provide plenty of space,
Griddle included as part of the range
Heat deflector means more efficient cooking
Cons:
The high power of this range demands some extra care when using
Expensive
What criteria did we use to make these selections?
We used a range of different criteria to make these selections, including the features available on each range as well as customer reviews.
We thought about price points and durability. We also considered user feedback for this topic in order to paint an accurate picture. We also considered the size and capacity of each range, as well as how much power they put out.
The size was another important factor – we wanted to make sure we included a range of sizes since every kitchen is different. We also chose these above ranges based on versatility, efficiency, durability, and overall power.
fAQs
Question: Should I Buy An Imperial Range?
Answer: Yes, if you can afford it. An Imperial Range is a great choice for any commercial kitchen. They're durable, dependable, and provide the necessary power to cook whatever you need in record time. However, some can be a tad pricey.
Question: What's The Difference Between An Open Burner And A Sealed Burner?
Answer: Open burners are ones that have been designed with vents or holes on their sides so that they reach high temperatures quickly. Sealed burners are ones that have been designed with a solid surface to distribute the gas evenly over it, meaning that they will reach high temperatures slower but cook more efficiently at medium or low heats.
Question: What Should I Look For When Buying An Imperial Range?
Answer: You should look out for loads of different features on your new Imperial range! For example, you should look to see what kind of burners it has. Open or sealed? How many do they have and do they suit your needs? You should also consider the safety features such as whether there's a roll front door that can be opened with just one hand for easy access when cooking. And finally, stainless steel construction ensures durability and longevity.
Question: What Is The Price Of An Imperial Range?
Answer: An Imperial range can cost anywhere from $1500 to upwards of $5000. They're often considered the best overall value for your money and it's easy to see why when you consider all that they offer.
Question: What Does A Griddle Range Include?
Answer: A griddle is an option available on some ranges, such as this one, which will provide you with a wide surface on which to cook your food. Great for cooking burgers, alongside frying bacon, and eggs.
Question: What Is An Oven Range?
Answer: An oven range is a type of stove that typically has one or more gas burners as well as a large or small capacity oven underneath to accommodate different dishes. They can be used in several different ways such as for boiling, steaming, and braising.
Question: Are Imperial Ranges Worth It?
Answer: If you can afford one, then yes. Imperial ranges are some of the highest quality on the market today. They provide incredible power and efficiency so that your food is cooked in record time. You might have to shell out a pretty penny for them but they're well worth it if you want good value for money.
Question: Are Imperial Ranges Suitable For Home Kitchens?
Answer: Yes, if you have the space and money for it. They're great options to consider because they provide a lot of power so that your food is cooked quickly without spending too much on your electricity bill.
Question: Do Imperial Ranges Have Additional Features?
Answer: Some Imperial ranges include features such as a griddle or an oven range, which will provide you with more cooking options. Others have additional safety measures put in place for extra peace of mind.
Question: What Is The Life Expectancy Of An Imperial Range?
Answer: An Imperial range's life expectancy will depend on how well it has been looked after and what kind of a kitchen it is being used in. Keeping the range clean, and following any safety precautions provided by the manufacturer can all help to extend its lifespan. However, on average, they can last between 8 and 15 years.
Best Imperial Range Guide: Conclusion…
An Imperial range is a great choice for any commercial kitchen. They're durable, dependable, and provide the necessary power to cook whatever you need. However, they're certainly not what you would consider a cheap range!
Nonetheless, if you know what features are important to you (and your budget), it will make finding an Imperial range that much easier. Whether or not they're worth it should depend on how often you use them and whether or not there's enough space for one at home as well as if they suit your needs.
We hope this article has been helpful and given you a better understanding of the Imperial range. Happy cooking!