Latest posts by Alice Smith
(see all)
If you own a restaurant, then you know that there are many different things to worry about. One of the most common issues is delivery service. These services can be very expensive and time-consuming for restaurants, so it's important to find one that meets your needs and budget.
Did you know that 60% of U.S. consumers order delivery or takeout once a week? That's an astounding number, and it begs the question: how can you find a delivery service for your restaurant that will best suit your needs?
There are a lot of different restaurant delivery services out there, and it can be hard to know what you should be looking for when choosing one. But it's important to find the best way to deliver your food. That's where delivery services come in. Delivery services for restaurants can take care of all of the logistics and make sure that your customers get their meals without any problems.
We want to help you find the best food delivery service for your needs, so we put together this blog post about what to look for in a restaurant delivery service, what they do, and some top recommendations.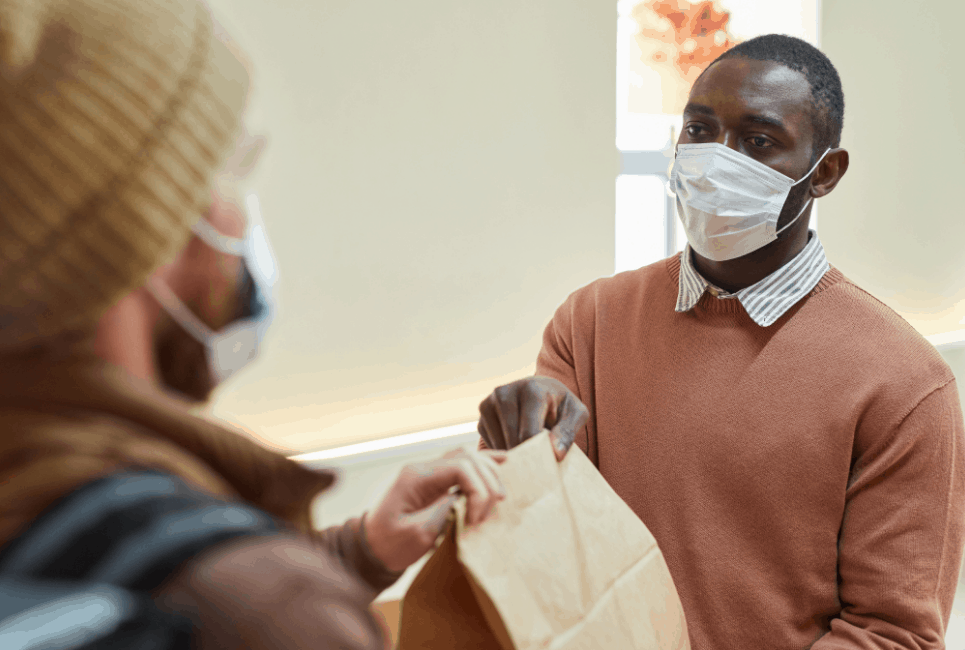 What Is a Food Delivery Service For Restaurants?
A food delivery service is a company that takes orders from customers on behalf of restaurants. They then pick the food up from the restaurant and delivers them to the customers' houses. Customers place an order online or over the phone, then wait for their food to be delivered directly to their door by a delivery person.
How Do Food Delivery Services For Restaurants Work?
Restaurant delivery services typically have two main functions: take orders and deliver food. They can also offer additional benefits like helping with marketing campaigns and offering partnerships if restaurants need it.
Now let's break down each function further so you know what questions to ask when looking into your options.
Taking Orders
How does ordering work? You may want flexibility in how your customers are able to order (for example, you might prefer apps over websites). Delivery services usually allow customers to choose either method of placing their order, whether they prefer to order online, over the phone, or via their desktop PC.
Is the customer service good? Customer service must be good when it comes to taking orders, and this means both on behalf of the customers and the restaurant. Poor service to the restaurant might mean a customer's order isn't delivered properly or an item is missed from their delivery (every consumer's worst nightmare), and poor service from the customer might mean that an order isn't taken down correctly in the first place.
Quality delivery services for restaurants offer great phone or chat support, so it's important to find a company that will help you every step of the way. You should also be able to reach your account manager directly with any questions, and they should provide quick responses when necessary.
Delivering Food
The actual delivery is the next step to this kind of service. It's important to consider how quickly can orders arrive at their destination? Make sure you choose a food delivery service that is dependable enough that customers won't have to wait too long before receiving their meal. This may also depend on the location of the delivery company, and the delivery staff.
Also, consider whether the order gets delivered in an environmentally friendly way (like using electric cars)? If this is something you feel strongly about, make sure your restaurant delivery service does as well. Remember: the more eco-friendly the restaurant delivery service is, the better it will be for your business.
What Are The Different Types of Food Delivery Services For Restaurants?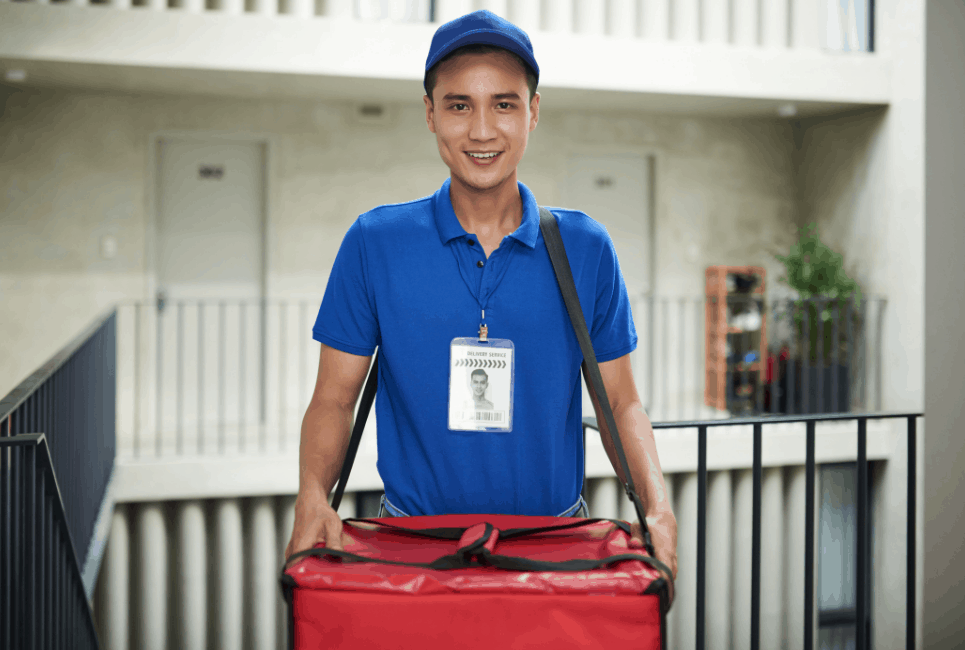 There are a couple of different types of food delivery services. Some examples include a third-party service that uses your current drivers, a dedicated team for your restaurant only, or an entirely new fleet.
Here are some examples of how these services would work:
Delivery to customers
Delivery to customers is what we've covered so far in this article. It involves a third-party service that manages the process of placing orders and delivering food. Customers can order food via an app, computer, or phone and have their meals delivered to their door.
Delivery to restaurants
This type of restaurant delivery service involves food being delivered to the restaurant and is usually provided by some kind of food supplier. This is often a next-day delivery as opposed to an instant (or within a few hours) deliveries and can be done by a range of suppliers from coffee beans to fresh fish.
Delivery to other businesses
This is similar to the above but can work from one restaurant to another. If you have a bakery, for example, or if your restaurant supplies food and products to various retail locations like convenience stores, hospitals, colleges, and other organizations, then this type of delivery service is the way to go. You'll get deliveries directly from these companies instead of having them order through another source.
What Should You Look For In a Food Delivery Service?
There are several things you should consider when looking into various food delivery services for your restaurant. We've outlined some of the most important below:
Delivery Method
There are two main ways to handle deliveries: either with a dedicated fleet or using third-party drivers from another company. Delivery method will depend on factors like how many orders you get per month and what kind of customer experience you hope to achieve. Also, consider the environmental impact of the delivery. Some delivery drivers use push bikes to deliver which is the most environmentally friendly, but can be location restrictive.
Account Managers
Make sure you can get in touch with your account manager directly if necessary. They should be able to quickly address any questions or concerns that come up regarding your service, and their communication throughout the process is important as well.
Price
The cost of using restaurant delivery services may vary depending on how many deliveries per month you do and whether there are additional fees for peak hours. But overall, these types of services tend to charge a fee to be placed on their books, and then a type of commission for every order delivered in order to pay their drivers. Keep this in mind when looking at the type of food delivery service though, it ultimately comes down to quality rather than price alone.
Quality of Service
You should always look for a food delivery service that can provide quality service, whether it's through their account managers or dedicated fleets. This is one of the most important factors to consider when looking into different restaurant delivery services out there.
Include phone support and chat features so you're able to contact your team easily if necessary. Make sure they are quick responders as well. Lastly, make sure that they are good and quick at resolving issues that might arise with orders (such as things being left off a customer's request) because if these things are handled poorly, it can dramatically affect your business's reputation.
Efficiency
Aside from having a dedicated fleet or using third-party drivers, you should also consider how quickly the restaurant delivery service can get food to customers. Some customers may be willing to wait longer for their orders while others will not – make sure your team is aware of this and works within those time constraints accordingly.
Ease of use
You should look for a food delivery service that is easy to use. Make sure the website and app are simple and straightforward so your team and customers can easily place orders in a timely manner without too much hassle. The service should also be easy to use for both your kitchen staff and your customers on the other end of the line.
Speed of delivery
Also, look at the speed of delivery when looking into different restaurant delivery services. How long will it take for food to get from your kitchen to customers? What is the average time like in comparison with other similar delivery services around town?
Customer service
Make sure the restaurant delivery service has excellent customer service. They should be able to answer any questions you have about your food deliveries and how it all works in addition to ensuring that customers are happy with their services overall.
Stock
If you're looking for a business-to-business delivery or a restaurant-to-supplier delivery, then it's important to consider what stock they have available. Can they provide a wide range of items in the kitchen to your restaurant? What is their inventory like in general and how quickly can it be replenished if necessary?
Security
Lastly, consider the security of your deliveries. This is especially important for restaurant-to-customer orders where there are more opportunities for things to go wrong on their end. Look into what safety measures they have in place along with how quickly they can respond if necessary.
These are some of the most important factors when looking at different restaurant delivery services out there! We've also provided some of our top recommendations to consider as well!
My Top Food Delivery Service To Customers Recommendations:
Uber Eats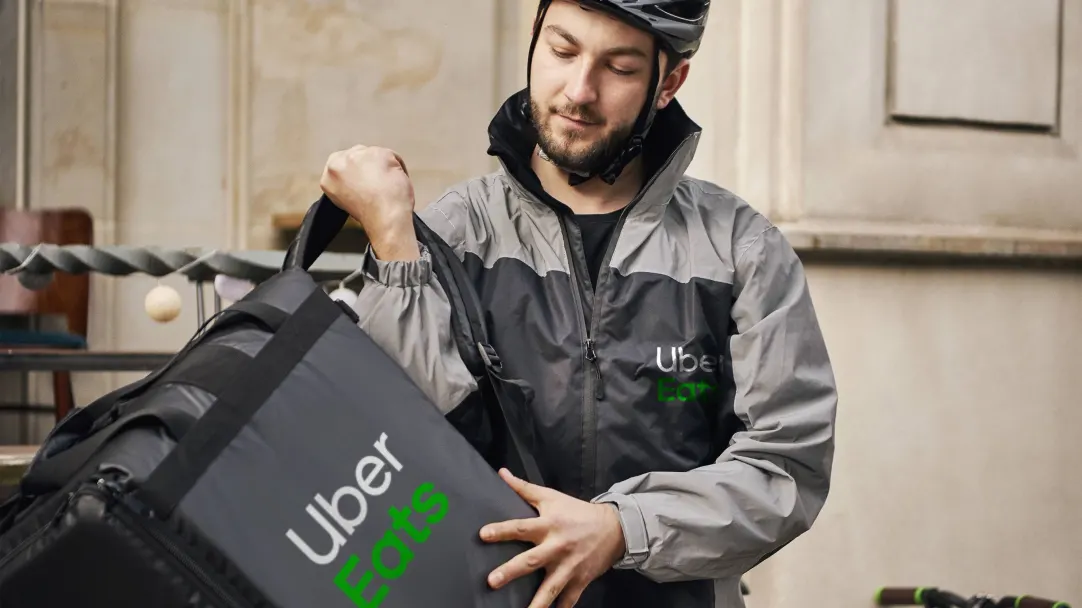 Uber Eats is one of the best restaurant delivery services out there because they offer quick service, dedicated fleets for your orders, and an easy-to-use app. The ride-sharing app introduced food delivery as a natural extension of its service. Users can simply search for their favorite restaurant or discover new places to eat nearby.
Users with a smartphone may place an order and track it in real-time, just as they would when using Uber rides. You have the option of paying through a credit card or by transferring Uber credits to your account. You may also offer your server a gratuity or leave instructions for contact-free food delivery.
This is an excellent choice for those looking to get their food delivered as quickly and easily as possible, with the added bonus of excellent customer service and plenty of options for users to choose from.
Their global reach is another plus, giving you good odds of being able to order food on demand across major cities worldwide. The $9.99-per-month Eats Pass lets you enjoy free delivery, with an additional 5% discount on orders over $15.
Pros
Wide range of restaurants available
Efficient and quick service
Use of dedicated fleets for your orders
It's easy to use the app
Available in 500-plus cities and 24 countries around the world
Real-time delivery tracking
Cons
Grub Hub

Grubhub is one of the leading restaurant delivery services in the world. From local restaurants and national chains to your neighborhood mom-and-pop diner, Grubhub offers a wide variety that can satisfy just about every food craving you could have.
GrubHub is free for individual users but has a subscription option that allows for unlimited orders from any participating restaurant within a month. Like UberEats, this is $9.99 a month and includes free delivery and special deals only available through the app.
Grubhub has an extensive reach that allows you to order food at local restaurants as well as national chains directly through your mobile device. They also support multiple payment methods. The service is offered on-demand within just minutes of placing your order through an app that offers deals and special instructions for your delivery person.
Grubhub is available in over 4000 cities across the United States as well as London, UK. They don't offer a restaurant minimum order but do have some fees at certain restaurants such as service charges or cancellation fees.
Pros
Extensive reach
Useful subscription service
Supports a range of payment methods
Great variety of restaurants to choose from including local favorites and nationally recognized chains.
Cons
Some restaurants charge delivery costs as part of their service.
Deliveroo
Deliveroo is another high-quality restaurant delivery service that has gained popularity over the years for its excellent food and quick service. They work with local restaurants to offer customers a wide variety of choices when it comes to cuisine, all while maintaining quality standards on every dish ordered through Deliveroo's website or mobile app.
Deliveroo charges around £2.50 for delivery and offers a variety of other options for customers, including restaurant minimum orders.
Deliveroo is available in 40 cities across the UK and has an app that offers all-time access to your account where you can place orders with ease. The user interface makes it simple to order takeout or delivery without any hassle at all!
They offer a range of quality restaurants – not just junk food delivery as many of these other restaurant delivery apps will provide. They also provide a very accurate estimated delivery time and it's rare that customers will have to wait longer than expected.
Pros
Good choice of restaurants to order from
Possibility for minimum orders
Clear estimated delivery time offered.
Cons
Customer service can be bad
Only available in the UK
DoorDash

DoorDash is another great delivery service app for restaurants. It offers a wide range of cuisines with an easy ordering process. It has a local restaurant reach and it includes additional services like food quality scores, alcohol delivery, and other features that make it stand out from the crowd.
The app itself is easy to use, with an easy ordering process. It has a wide range of cuisines available, making it great for people who are looking to order food from different types of restaurants.
Available across the world in North America, Australia, and Canada it has a very extensive reach. Delivery fees vary by the restaurant so you'll need to check that out before ordering your food with DoorDash. For contact-free delivery, you may also designate where you'd want your food delivered.
Doordash is another service that offers a subscription – for $9.99 per month, their Dashpass will allow you to order as much as you'd like, delivery charge free!
Pros
It's easy to use the app with an easy ordering process
Serves local restaurants as well a chains
Great app for discovering new restaurants
Cons
Other services may have a further reach
Seamless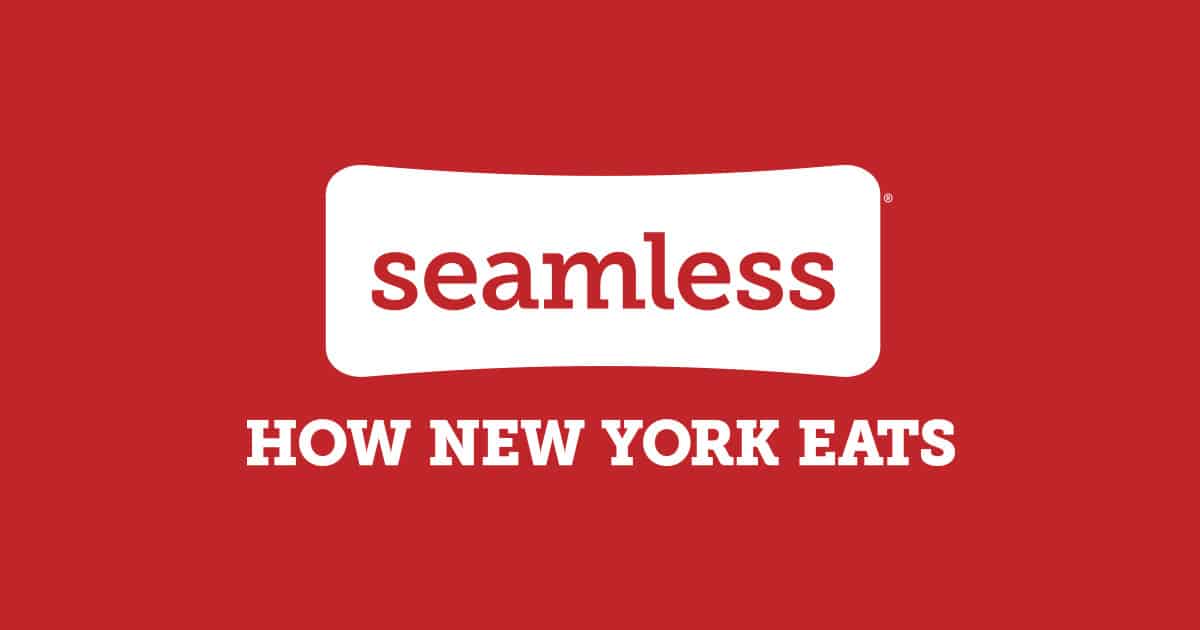 For those looking for a seamless (see what we did there) food delivery, this is the app to turn to! Seamless is one of the best food delivery services out there, with very convenient ordering options for your door or to pick up yourself. Be sure not to miss this handy app!
They deliver a range of different cuisines and have a wide variety of food, plus they partner with multiple restaurants for you to choose from. They also offer different options such as free delivery or pickup depending on what is convenient for the user.
Seamless has an extensive reach in the US and UK and they provide excellent coverage in New York City. There's also a $9.99-per-month membership that provides savings on delivery expenses.
They also offer contact-free delivery options. Customers may search by cuisine or location and have their food delivered at the office or at home; they can also request that their meals be ready for collection when they are finished.
Pros
They deliver from both local restaurants and national chains
Offers multiple payment methods
Provides contactless delivery options
Cons
Will sometimes charge a delivery fee
Caviar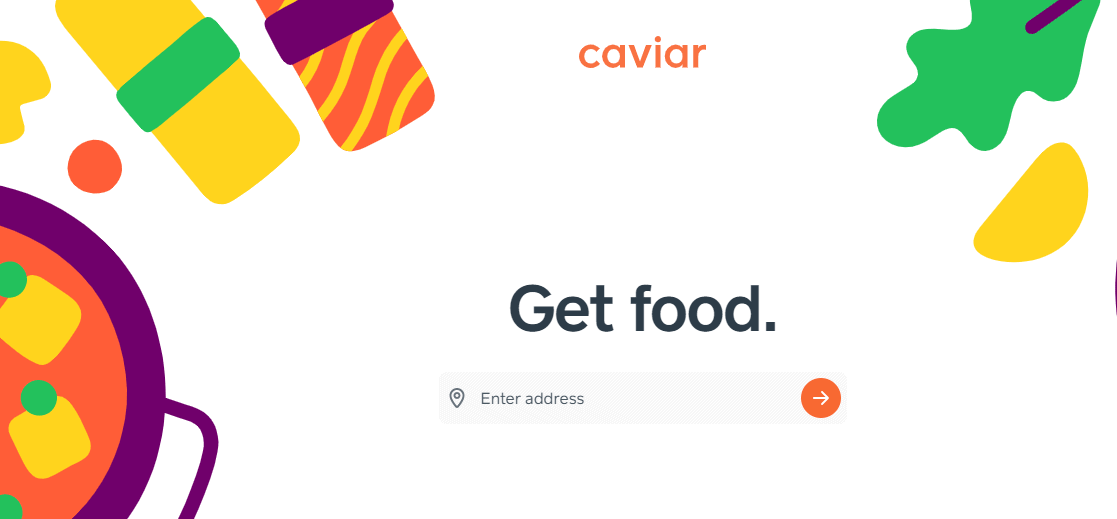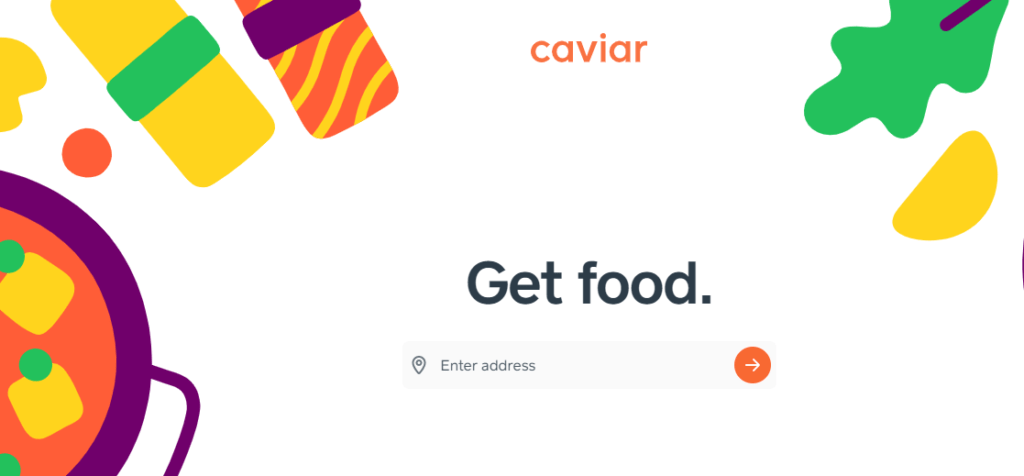 Caviar is the best restaurant delivery service for people who want to order from local restaurants. It's available in 28 cities and regions across the US, so it isn't as extensive as some other apps on this list but still has more availability than many others.
It's fabulous for those who want to order a variety of food and not just junk food such as pizzas and burgers. They can deliver everything from pasta dishes to sushi, as well as the standard pizza and takeaway Chinese.
It also has real-time GPS tracking and an option to pick up your food instead of having it delivered. You'll also find exclusive deals through the app, and it lets you leave "no contact" instructions when you checkout for your order.
If you don't fancy cooking but also don't fancy your typical fast food, Caviar is the best restaurant delivery service for you.
Pros
Focuses less on fast food and more on local restaurants
Real-time GPS tracking for deliveries and pick up option
Cons
Other services have a wider reach.
Postmates

Postmate is perfect for those late-night cravings when nothing else will satisfy but a greasy pizza or fast food burger! It's available across the U.S. in over 4000 cities, the restaurant delivery service offers a straightforward process for ordering and an easy-to-use app.
You can sign up to avoid surge pricing during busy hours by paying an extra monthly fee of $9.99. Unfortunately, unlike Grubhub and other services, this only makes the delivery free on orders over $15.
Postmates also lets you track the status of your delivery, from order to arrival, and it can even set a time window for when you want your food delivered. The company estimates that deliveries will take an average of 35 minutes with most coming in under 20 minutes.
Postmates offers a wide variety of restaurants that are open late or around the clock so you'll have no trouble filling your cravings at all hours of the day or night. You can even track where your delivery driver is on their way to your location with Live Tracking. And if takeaway food isn't your thing, you can use Postmates to order groceries and household items from Target or Walgreens.
Pros
24/hr delivery
Easy to use app and website
Extensive reach
Can delivery more than just fast food
Cons
The subscription will only provide free delivery on orders over $15
Expensive surge pricing
Chownow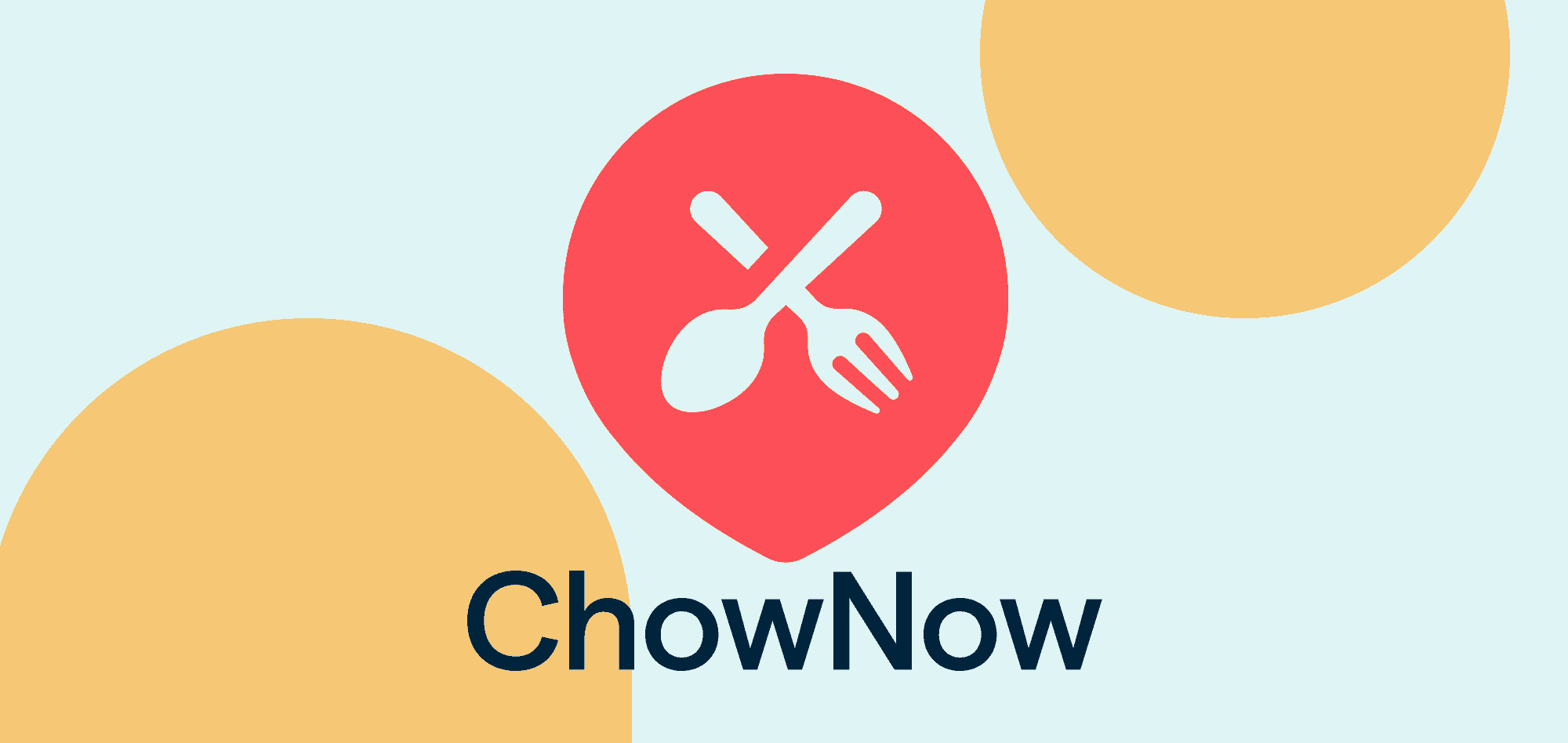 A slightly different take on a food delivery service for restaurants, Chownow lets you place orders that can be picked up at local eateries. Chownow is best for food discovery since it doesn't always deliver meals directly to your door — and there's no subscription option available. Delivery is available, but it's limited and only in certain cities.
But there's still plenty to love here, including the fact that orders are commission-free and you're supporting local businesses instead of chains. It's only available in 18 US cities however, if delivery is available in your area though, it's definitely worth checking out whether you enjoy eating from local restaurants or not.
Pros
Commission-free ordering
Supports local restaurants
Cons
Delivery limited to select cities
Only available in 18 US cities
FAQs
Question: What delivery app is best for restaurants?
Answer: While there's no one-size-fits-all food delivery app for restaurants, we recommend ChowNow, Uber Eats, and GrubHub as some of the best.
Question: Which delivery service is best for restaurants in the UK?
Answer: Deliveroo and UberEats are good options if you're in the UK. But, if you're looking for another alternative, consider Just Eat too.
Question: What do restaurants pay for Uber eats?
Answer: Restaurants, for their part, pay a 30% commission on orders. This can vary depending on which Uber Eats promotion they have in place.
Question: Do restaurants lose money on DoorDash?
Answer: Restaurants can benefit from using DoorDash, but there are large costs too. For many restaurants, DoorDash's commissions, which can be as high as 30% of an order, are simply too much.
Question: Do restaurants lose money with Grubhub?
Answer: Restaurants could end up losing money with Grubhub. The restaurant delivery services take a 20% cut of every order placed through their app. Additionally, they charge a credit card processing fee, ordering and processing fees, and a delivery commission of 10%.
Question: How does Grubhub make money?
Answer: GrubHub makes money through its commission on every order placed via the app. They also charge restaurants a monthly fee to be listed in the directory of local eateries and a 20% commission on every order. But this is still cheaper than some other food delivery services.
Question: Which is the most ethical delivery service?
Answer: While we can't speak for all delivery services, we do recommend ChowNow and Uber Eats as two of the best due to their support of local restaurants.
Question: Is Amazon Prime a food delivery service?
Answer: Amazon recently launched its own restaurant food delivery service in select cities called Amazon Restaurants. The way it works is that you place your food order on the Amazon website or through its app, and then choose a delivery time that works for you. You can either pay with an existing Prime Now account, or use your credit card to create one. Amazon Fresh will also allow you to order groceries through the website.
Question: Are delivery services good for restaurants?
Answer: Yes! Delivery services can bring in new customers and increase business — plus, they're a perfect way to reach busy people who don't have time to cook at home.
Best Food Delivery for Restaurants: Conclusion
If you're looking to order food from your favorite restaurants, but don't want the hassle of driving there yourself. Consider ChowNow, Uber Eats, or GrubHub as some of our top picks for delivery services. These apps will help make ordering easier and save you time which can be better spent elsewhere.
Whether it's a medium-sized chain or an independent restaurant, there are many options for getting great-tasting meals delivered right to your home. We hope we've helped you narrow down which option is best for you and given some ideas on how to navigate through these services as a hungry customer! Happy munching!