Latest posts by Sarah Caldwell
(see all)
For those of us who own and operate bakeries, we know how important just the right display case is. They help customers make their purchases because they enticingly display items and they allow people to grab what they want on their own.
No matter what type of food establishment you run, you can benefit from display cases that organize your shop and make it look clean. It's important to showcase your items in a way that meets your space, budget, and individual needs.
The criteria used to determine which products were included on this list are detailed below. However, I chose these products based on the available features, cost, aesthetics, and functionality.
Display Case Buying Guide
There are several factors to consider when purchasing new display cases for your shop. Not only does it need to fit in your space and your budget, but there are plenty of different designs and functions available.
Refrigeration type
There are two basic types of refrigeration, and what you choose will depend on what you want to display. Forced air is a system that uses a fan to circulate cold air through the case to keep the contents cold. They're used mostly for bakery and deli items as well as prepackaged products.
However, items displayed in a case with a forced-air cooling system will dry out quickly if they're not covered or they're left for too long.
Gravity coil refrigeration systems have a coil at the top that drops cool air on top of the food. These work well for raw meat, seafood, deli products, and salads. It doesn't have the same drying effect as forced air and they are less expensive.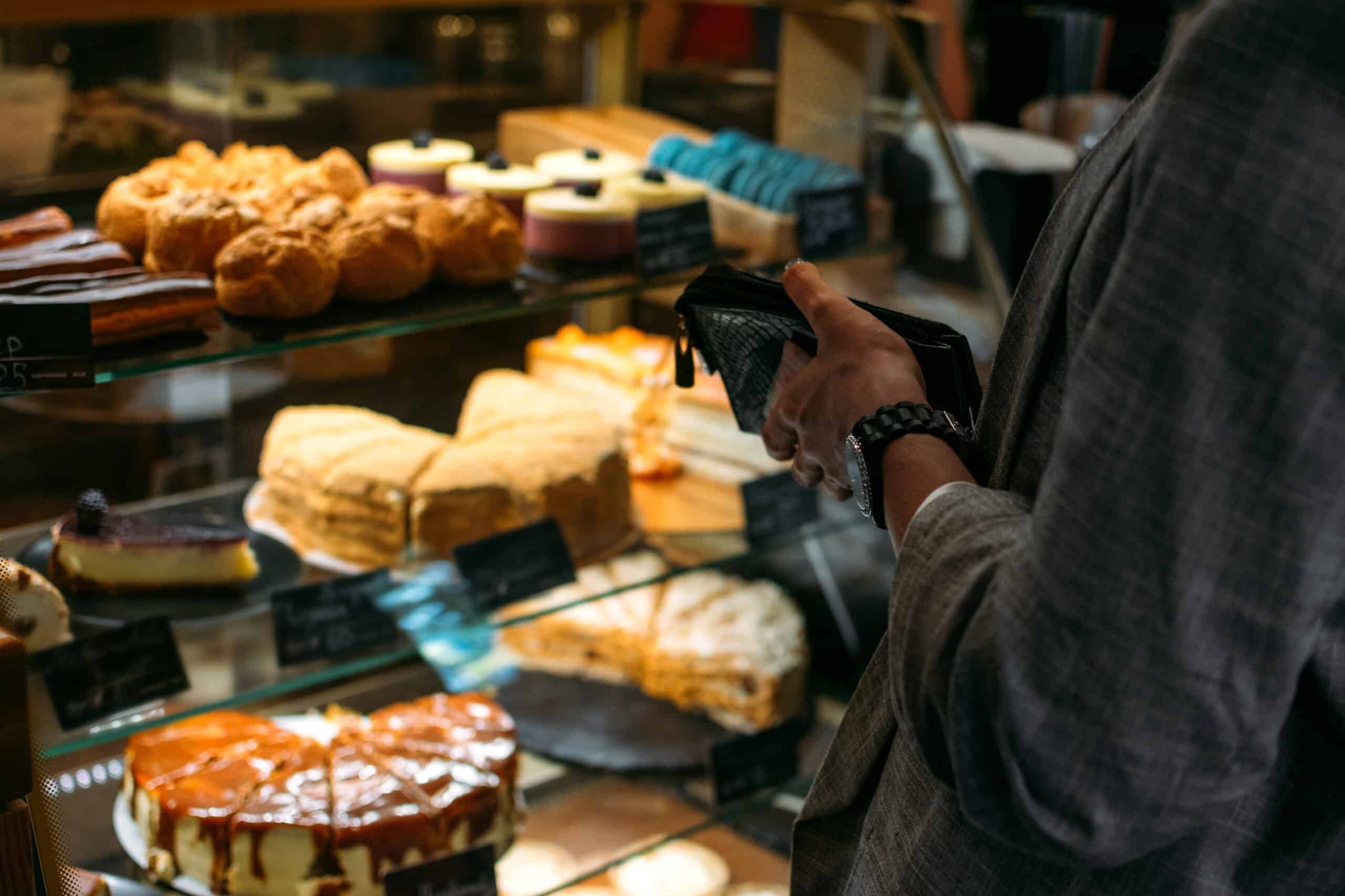 There are also non-refrigerated cases for displaying items in a covered environment even if they don't need refrigeration. Dual-zone models allow you to display a combination of items with one cooled side and one dry side.
Temperature
If you have a refrigerated case, you can choose one that allows you to set the temperature. It helps to know where you are putting it and what will be displayed around it so you can choose the appropriate temperature range.
A bakery in a warm climate will need more control over its temperature settings than one in a cold climate. If you have temperature-sensitive items, you'll also want to make sure you can control the temperature based on what's in the case.
Humidity
Some items can handle humidity and others can't. If you need to be able to control the humidity in your case, look for options that allow you to do so. Both refrigerated and non-refrigerated cases have this option. It also gives you greater flexibility for what to display because you can change it based on what you put in it.
Size
Size is more than just the amount of floor space you have to put the case. Even if you have a lot of space for a large case, if the items you want to put in it have a short shelf life, you want to reduce waste by using a smaller case. This will also save you energy, which saves you money.
If you have less space, you may want to consider a low-profile case that has all the same features and benefits as a large case in a smaller package. This is ideal for smaller shops where space is the primary concern. You also need to consider the intake and exhaust requirements to make sure you have enough space for the case to vent. Many of these cases can't be pushed all the way back against the wall, so measure carefully.
Height
Display cases come in varying heights. Similar to size, you should choose the height that's right for your space and the items you want to display. Smaller items should be displayed lower so people can see them while larger items can go up high.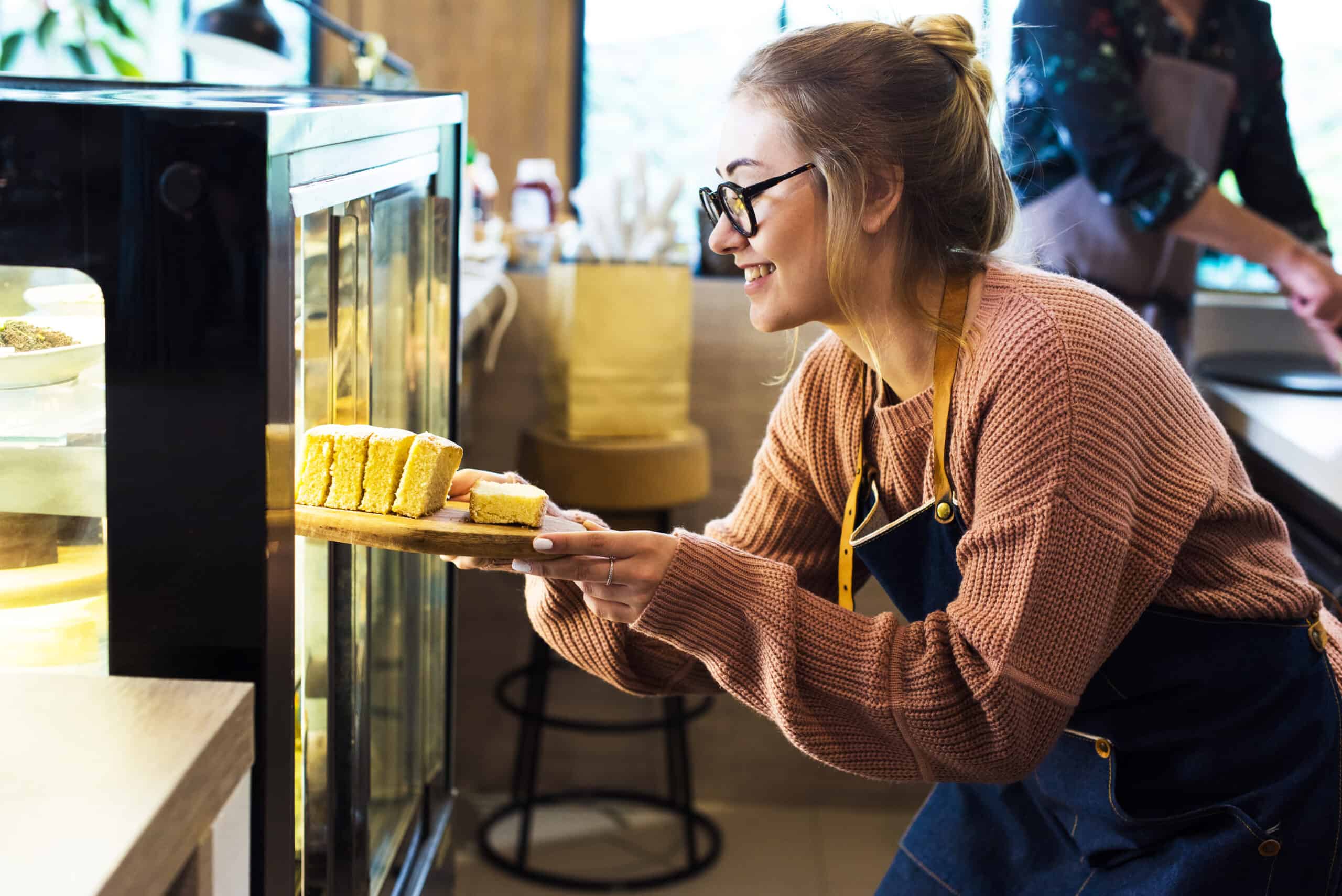 You should also consider whether you want people to be able to see the top of the item or not. Decorative cakes and cupcakes should be displayed on angled shelving or down low enough for people to see.
Tall shelves are more effective with tiered shelving to help you maximize the display while short units may only have a few shelves. Countertop display cases may not have any shelving at all. They may simply be covered to show off a few additional items at the register.
Shelving
Some cases have tiered shelves, which helps you maximize visibility and display more variety. No matter what shelf the items are on, they are visible because these types of shelves put products close to the front. Glass shelves are great for allowing more light into the display to highlight your products and they also give you more flexibility than wire shelves. Your food will look clean and organized like it's floating.
Style
You can get a straight glass or curved glass on the front of your case. This decision is highly personal and will depend on the look you're going for. If you want something that looks sleek and modern, choose curved glass.
You can also choose cases that slide, lift, or won't open in the front at all. Choose the right product for your store. If you're concerned about people selecting items themselves, make sure they have to ask you for help. If you'd like them to self-serve, choose the most convenient type of opening for what you have displayed inside.
You may also look into cases that don't have doors on the front at all, which are ideal for prepacked food and beverages.
Lighting
A lighted interior will cost more money and require a bit of maintenance, but it will ensure your products look their best. Some cases have fluorescent bulbs that will highlight certain colors like pastries.
You may also choose from specialized options or additional lighting varieties, depending on the manufacturer. Some models will have lighting on the shelves while others will have it only at the top of the case.
End panels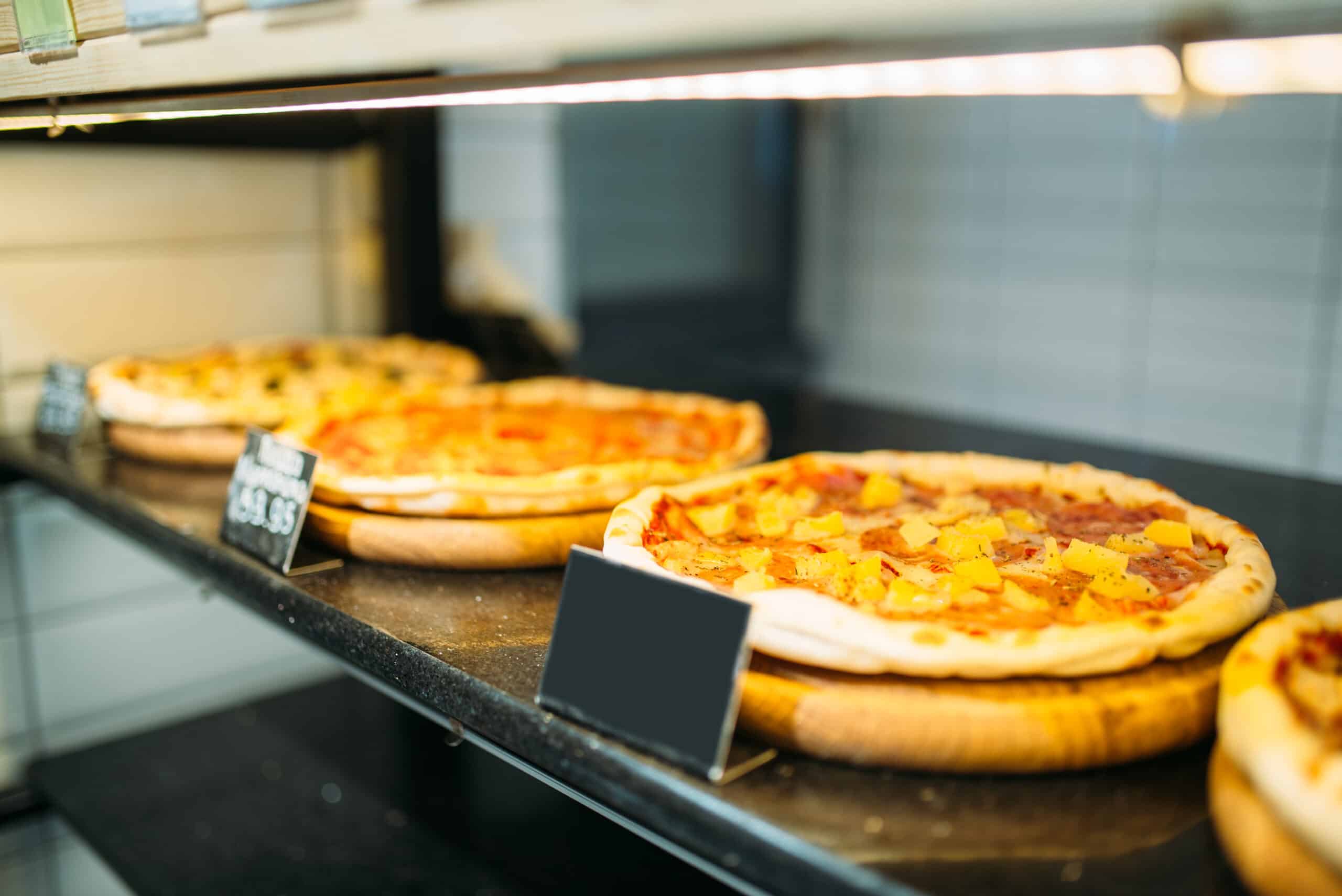 You need to choose what type of end panels you want on your cases. Mirrored interiors enhance your product and make small cases look bigger. It gives the appearance of freshness in a full display and keeps it looking full even as you sell down.
Reflective glass rear doors will also serve to hide anything that's behind them, if there are things behind the counter you don't care for people to see.
Colors
By choosing a black interior, you can make colorful products pop and hide hardware in the case. However, your local health inspector may require you to have a white interior for sanitation reasons, so make sure you know what's required of you first.
Why Use a Display Case?
If you have other shelving options, you may wonder why you even need display cases at all. There are plenty of reasons that are beneficial to both the customer and you as the business owner.
Keep things fresh
You have a short window of opportunity to sell your goods before they go bad. You want your customers to choose from the freshest, most delicious items you have. A display case can keep your items refrigerated and clean for longer.
This increases your selling window so you can keep the same items in the display rather than having to turn them over quickly. While in some cases, refrigerated cases keep things fresh longer, in other cases, you may not want a cooling system. Either way, make sure your display is the kind you need for keeping your items fresh.
Attract customers
Your display should also make your products look more beautiful. It can show your customers all of their options and make your business stand out. A gorgeous display can also influence impulse buys while standing in line.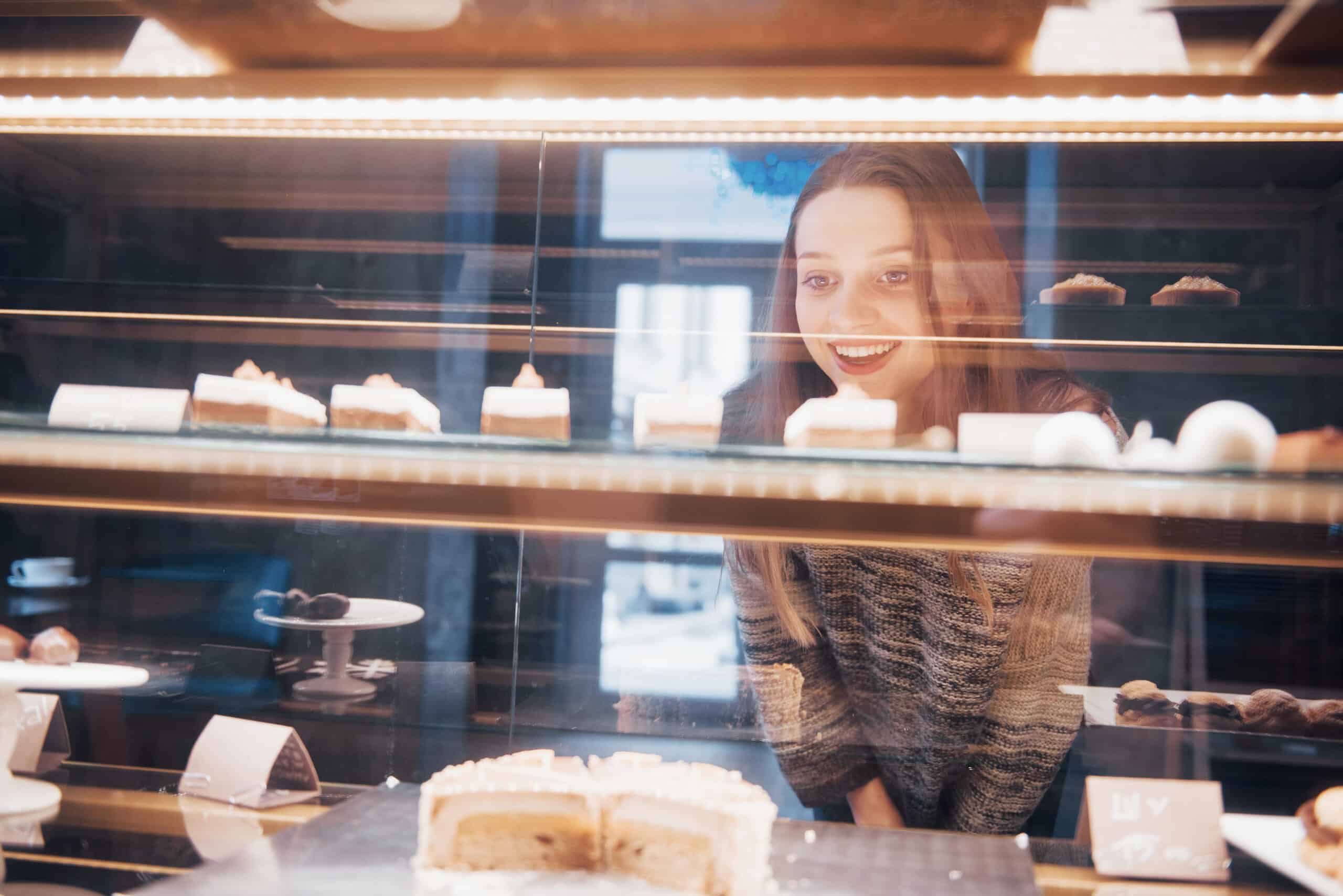 Here are some of the best ways to use your display case:
Refer to the case frequently as people check out. Point out specials or any specific items you need to sell. Recommend additional purchases that go along with what they're already buying.
Display sale items to highlight good deals.
Use cases that require the employee to select the item. It forces customers to talk to you and increases your interaction with them. It also allows you to make recommendations.
Increase purchases
If you have prepackaged foods or premade items that people can grab themselves, display cases influence increased purchases by making it easy to select what they want without bothering anyone else.
If displayed right, it's also a tempting way to show off what you have so you can make recommendations and increase last-minute purchases. If you give people the right impression, you can present your best items and encourage more people to buy them.
Best Bakery Display Cases
Here's a list of some of the best bakery display cases you can get. Each has its own set of unique benefits, so only you can decide what's best for you.
KoolMore DC-2C 22-inch commercial countertop bakery display case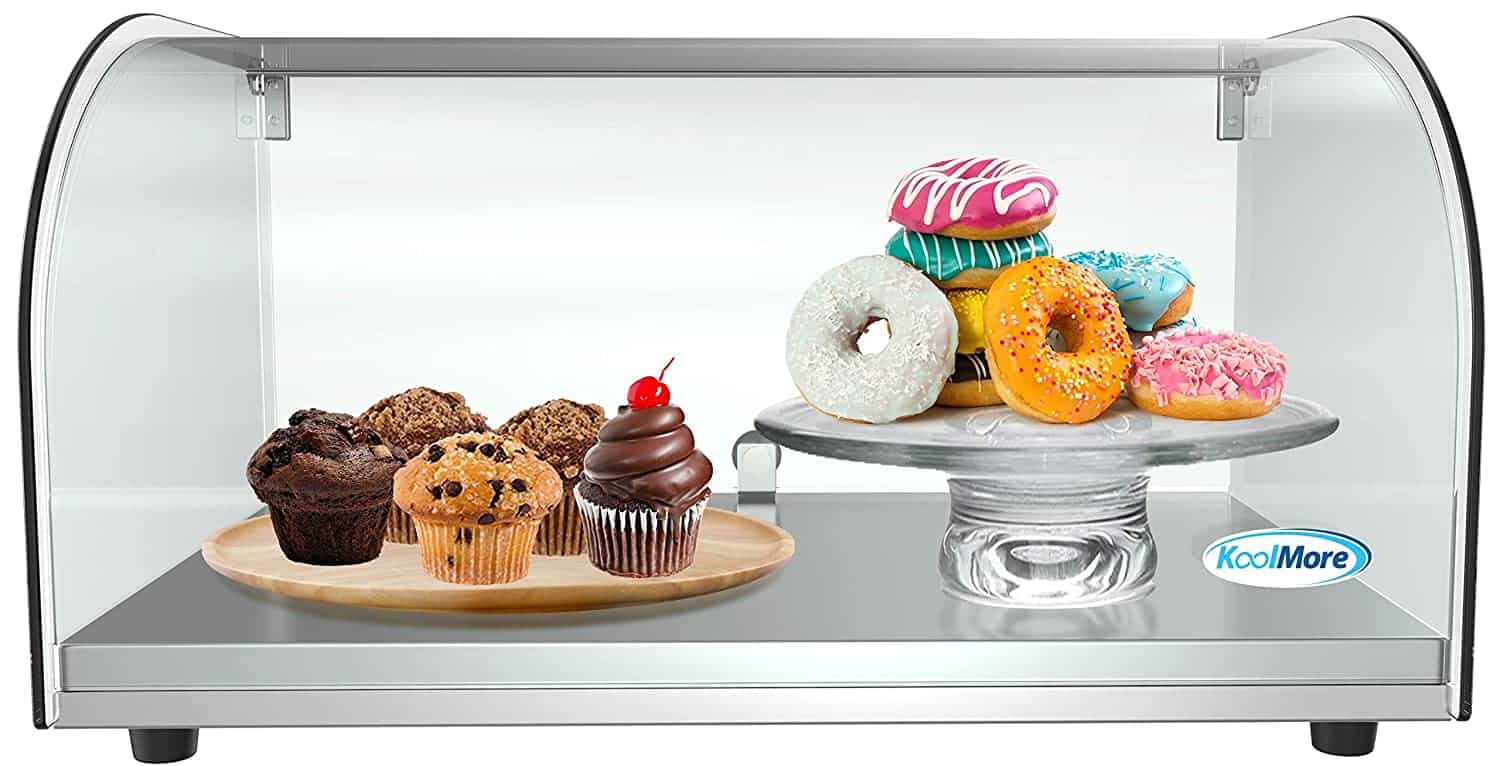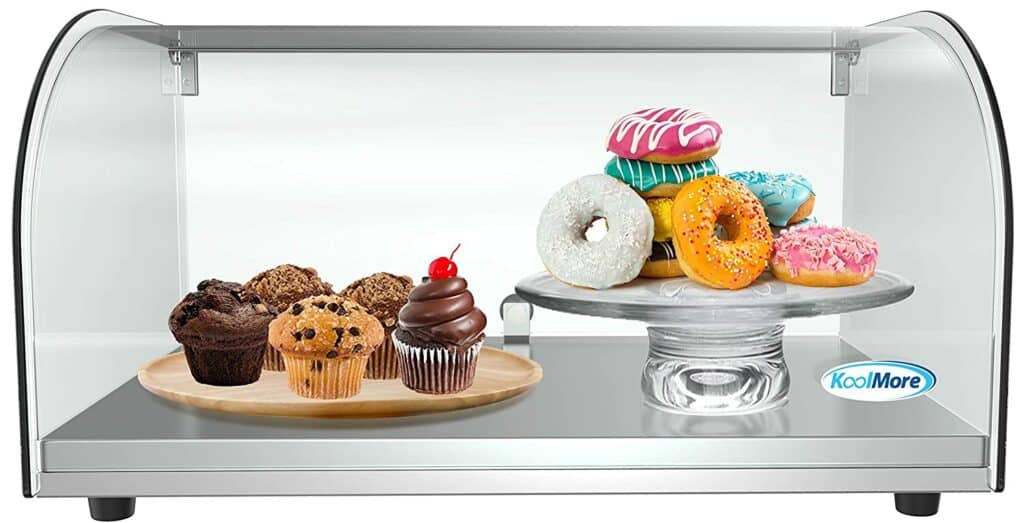 Increase impulse buys at the counter with this elegant glass display case. It will beautifully display cupcakes, cookies, donuts, muffins, pastries, and more. It features stylish curved glass on a stainless steel base, so you can enhance your overall decor. The rear door makes it easy for you to access the things your customers ask for.
You can also maximize your space with this small option that is perfect for shops with limited counter space. You can set it on the counter or top of another display case.
The double-pane tempered glass ensures that you get a quality, durable unit that will last. It's easy to clean and the rubber feet prevent it from sliding.
Pros:
Elegant design
Double pane tempered glass
Rubber feet
Sliding rear door
Affordable
Cons:
Marchia MDC160 36″ refrigerated countertop display case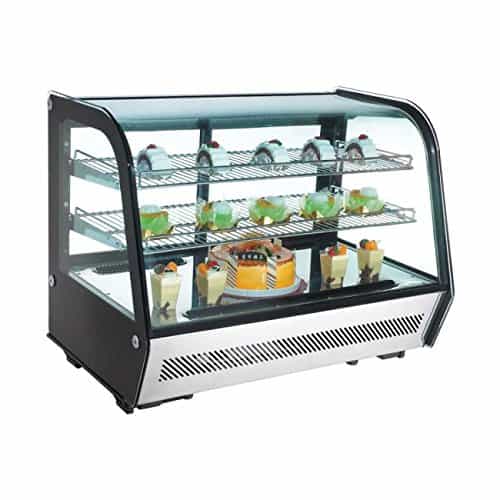 If you need refrigeration and a bit more room in your countertop display, this 36-inch display case is a great option. It features an internal LED light to increase visibility and highlight last-minute purchases.
The adjustable temperature features give you full control over the longevity of the items in the case. You can keep the temperature right where you need it all the time and adjust it as needed for the ambient temperature of the room.
Adjustable shelving makes this unit much more dynamic. You can change it as frequently as you like to keep your display fresh and up to date. The double-insulated curved glass front makes it more elegant while giving you access via a sliding door in the back. The best part about it is the maintenance-free condenser that makes it easy for you to keep clean.
Pros:
Internal LED light
Adjustable temperature control
Adjustable shelving
Maintenance-free condenser
Cons:
Marchia MB48 48″ refrigerated bakery display case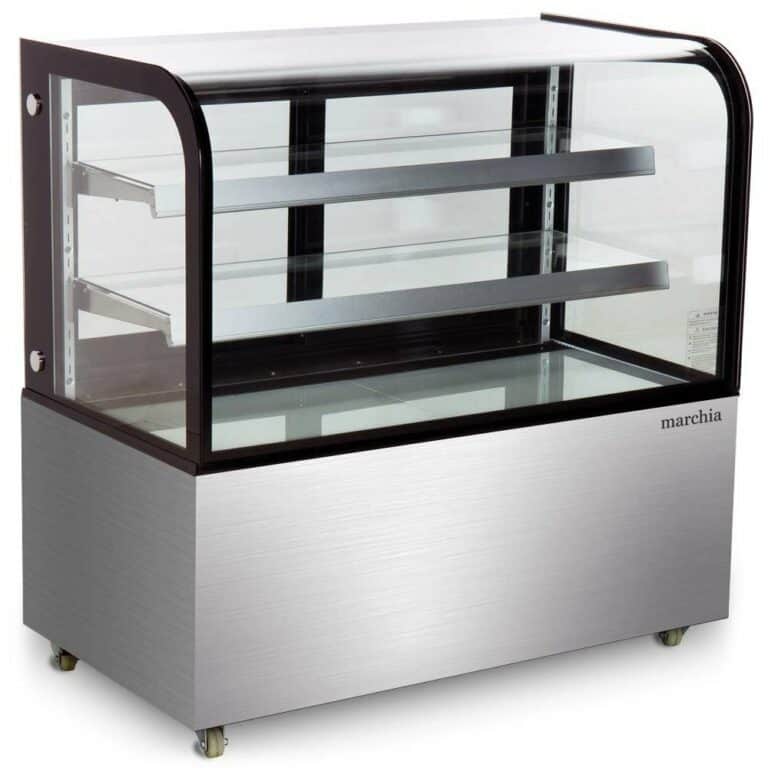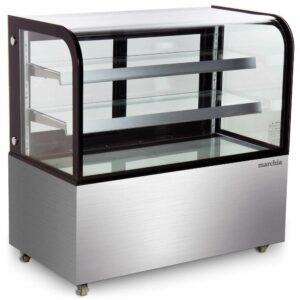 If you need to upgrade your countertop display, Marchia offers this 48-inch option that's a bit more stylish than the 36-inch variety, and it has a few more features, too. The internal LED lighting appears under every shelf to highlight the things below, which increases visibility. The curved glass front also makes it easy for customers to see things from all angles.
The adjustable temperature control gives you more power over the freshness of your items and offers versatility in the contents. Adjustable shelving increases that versatility by allowing you to move things around more frequently.
The automatic defrosts limit maintenance and ensures your unit continues to run without a lot of work on your part.
Pros:
Internal LED lights under each shelf
Adjustable temperature control
Adjustable shelves
Automatic defrost
Cons:
Final Thoughts
When displaying your bakery items, it's important to do it in the most aesthetically pleasing way possible, in the right location, and at the right temperature. However, your needs will vary from the other bakery down the street, so make sure you consider what you're selling and how you want to interact with the customer while doing so.
My personal favorite is the KoolMore display case, because no matter whether you run a large shop or a small one, you can always use some extra shelving by the checkout counter. It's stylish and offers increased visibility to add-ons that you can upsell.
There are plenty of display case options when it comes to size, color, temperature, humidity, and everything else you need to keep your items fresh and beautiful.