Latest posts by Jodie Chiffey
(see all)
If you frequently handle any quantity of meat, you know the importance of a meat slicer. Good slicers give you a consistent shape and size of meat, making your cuts look professional. If you run a small restaurant or deli, or if you want to make professional-level meat meals at home, then a slicer is a good investment.
Hobart is an established name in the food business. The company is known for its quality equipment, and Hobart's meat slicers are not any different. Follow along as we take a look at some of the Hobart meat slicer models and determine which is best suited to your needs.
At A Glance: 8 Best Hobart Meat Slicers
| | | | | |
| --- | --- | --- | --- | --- |
| Name | Dimensions | Best for | Weight | More Info |
| Hobart EDGE13-11 Meat Slicer | 23.13" x 26.31" x 21.88" | medium-duty slicing | 88lbs | Find out more |
| Hobart EDGE12-11 Food Slicer | 23.13" x 26.31" x 21.88" | home use | 68lbs | Find out more |
| Hobart EDGE12-1 Slicer | 32″ x 26″ x 28″ | ergonomic loading | 83lbs | Find out more |
| Hobart HS9N-1 Meat Slicer | 30.31" x 24.63" x 27.25" | smaller, heavy-duty jobs | 142lbs | Find out more |
| Hobart HS8N-1 Slicer | 30.31" x 24.63" x 25.5" | large-scale slicing | 132lbs | Find out more |
| Hobart HS6N-1 Meat Slicer | 24.63" x 30.31" x 25.5" | easy cleaning | 126lbs | Find out more |
| Hobart HS9-1 Electric Slicer | 30.31" x 24.63" x 27.25" | fast slicing | 142lbs | Find out more |
| Hobart HS7-1 Meat Slicer | 30.31" x 24.63" x 27.25" | heavy-duty use | 140lbs | Find out more |
Hobart Meat Slicers Selection Criteria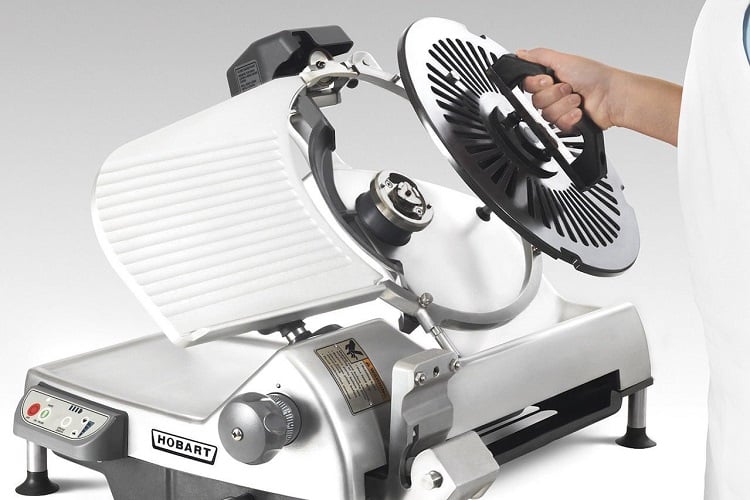 Choosing a meat slicer for your home or business is an important decision. Hobart slicers all deliver quality cuts, but they all have different functionalities and uses. We established the following criteria in deciding which Hobart meat slicers made it onto our list:
Blade Quality
The effectiveness of a meat slicer is determined by the quality and size of its blade. We have selected Hobart slicers that feature blades made from a quality, virtually unbreakable materials. The slicers in our selection also have large blades to make professional operation faster.
Safety Features
It is important that a meat slicer can be safely operated. All the slicers on our list have multiple safeguards, including automatic interlock systems, for more secure use.
Maintenance Level
Meat slicers are an investment that can be a few thousand dollars worth. A good slicer needs very minimal maintenance before it needs repairs or replacements. We have ensured that all the slicers listed meet these criteria.
Reasons to Buy Hobart Meat Slicers
Quality Construction
Each Hobart meat slicer is designed to go beyond the minimum in quality construction. Hobart uses materials like anodized aluminum, carbon steel, and Stellite alloy to construct the parts of its slicers. These are materials that guarantee you long-term use without needing replacement.
Slicing Range
Hobart meat slicers are powerful equipment, but they are capable of handling a variety of cuts to suit any type of meat. The powerful blades can cut a thick ham into thin slices for your charcuterie board. They can make quick work of a ribeye and are great for cutting up large chunks of cheese into more manageable sizes.
Ease of Use
Hobart meat slicers are easy to use, whether they are manual or automatic. Both types come with an easy feed system that gives you a gravity assist so you can properly load the product tray. They also have ergonomic handles so you can comfortably feed the meat through the blade. Hobart slicers are also easy to clean and maintain, making them some of the best purchases you can make for your business.
Tips for Using Hobart Meat Slicers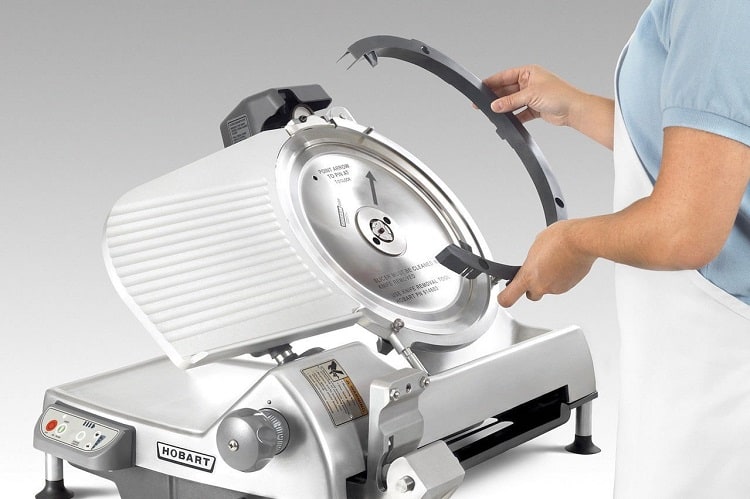 Determine Your Needs
Hobart makes medium-duty and heavy-duty slicers. A heavy-duty slicer is more expensive and better suited for larger operations, like in a restaurant or a busy butcher shop. Examine your needs, including how long the slicer will likely be in use each day, before making an investment in a Hobart slicer.
Follow Safety Instructions
Meat slicers can be very dangerous to operate, especially the manual type. To prevent any bloody accidents, read the instruction manual and follow the safety instructions listed. This includes placing the slicer on a stable counter to reduce the chances of it wobbling or falling as you use it. If your ring guard is removable, ensure it is intact before turning on the blade.
Clean After Each Use
Whether you are using the slicer at home or in your business, ensure that it is washed and dried after each use. This prevents any bacteria present in meat from festering and contaminating any new slabs placed on the carriage tray.
8 Best Hobart Meat Slicers – In Detail
Hobart EDGE13-11 Meat Slicer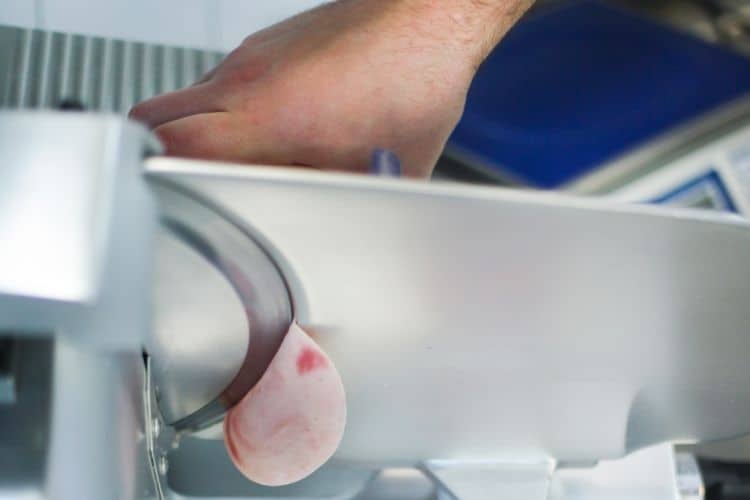 The Hobart EDE13-11 is designed to handle all your medium-duty slicing needs. This is a manual slicer made from anodized aluminum, which is a strong and durable material capable of handling all manner of operations without breaking.
You can comfortably use the EDGE13-11 at home or for commercial purposes, whether it is a restaurant or butcher. Anodized aluminum is food-safe and smooth, and it is molded in one piece so that meat does not get stuck in ridges and grooves. In addition, this makes it easy to clean.
This slicer packs a 13-inch knife made from chrome-plated carbon steel. This reinforcement makes it easy to slice through the meat of different thicknesses. The slicer can handle meats and cheeses that are up to 9/16 inches thick.
It has a ½ HP motor to move the knife more efficiently through the meat. A V-belt drive slowly and quietly moves slabs of meat placed on the product tray for optimal slicing. The motor can give you up to 4 hours of slicing a day. Operational safety is fully catered for in the EDGE13-11. A no-volt release immediately turns off the motor when there is a power outage to protect the slicer from damage.
The carbon steel knife has a ring guard around it and a thumb guard to protect your hands when the slicer is in operation. A top-mounted stone sharpener gives you a fully sharpened knife within 5 seconds so you can get back to work.
Pros
It is made from durable anodized aluminum.
Features a heavy-duty 13-inch blade.
Can cut up to 9/16 inches thick of meat.
It can handle 4-hours of continuous operation a day.
The slicer is easy to clean.
Cons
Its price is on the higher end for a medium-duty slicer.
Hobart EDGE12-11 Manual Meat Slicer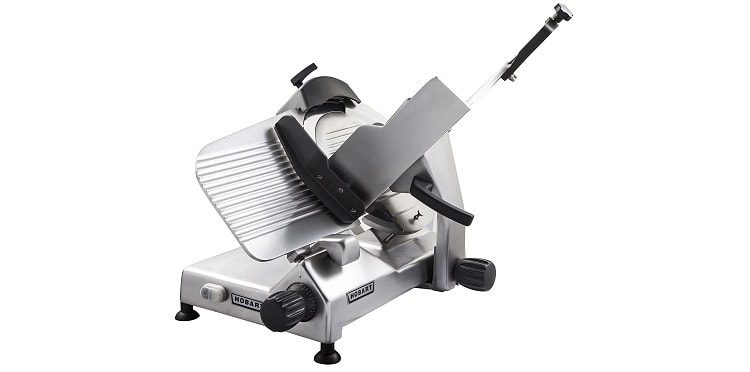 The EDGE12-11 is perhaps the lightest of all Hobart Meat Slicers, but it is no less powerful. It packs all the features we love and expect from Hobart into a more portable package than other Hobart models.
Hobart EDGE12-11 is a manually operated food slicer. It has a 10-inch wide product tray and a loading system inclined at a 45-degree angle. This makes it easy to feed heavy slabs of meat so they can be sliced. There is also a slide rod that you can use to quickly push through large meatloaves.
This slicer comes with a 12-inch chrome-coated carbon steel knife. This is a highly precise knife that works at a speed of 370 revolutions per second to give you very clean cuts. It can cut through cheese and meats that are up to 9/16 inches thick.
A mounted sharpening stone gives you a knife that cuts like new within seconds. With a 0.5HP motor and a V-belt system, you can operate this slicer swiftly while being in complete control.
The EDGE12-11 is made from anodized aluminum. The result is a smooth, highly-polished meat slicer that is a joy to clean. Its one-piece molding means you will not have to pry any meat pieces from any crevices or bolt holes. A mounted ring and thumb guard keeps your fingers safe from harm.
The gauge plate interlock and carriage interlock systems enhance the stability of the slicer and protect it from accidents while it is in operation.
Pros
Light enough for portability.
Features smooth surfaces for easy cleaning.
It comes with a thumb guard and ring guard to enhance safety.
Fast blade revolution slices quickly.
The 12-inch blade can be easily sharpened.
Cons
Hobart EDGE12-1 Slicer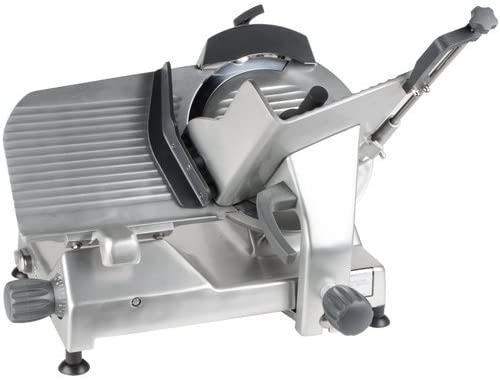 The Hobart EDGE12-1 delivers the excellence you expect from Hobart food slicers. It is a medium-duty slicer that will take its rightful place on any home or restaurant counter.
The EDGE12-1 is made from anodized aluminum, a strong material designed to take all the punches of extended use. The one-piece base made from the same material will hold sturdy as you use the slicer. It also lacks any grooves and ridges where meat fragments could stick and make the slicer hard to clean.
This slicer features a loading system that is inclined to 35 degrees. This angle makes use of gravity to make feeding meat or cheese onto the carriage easier. The carriage can hold slabs that are up to 10 inches wide and 7.5 inches high.
A knife that is 12 inches in diameter and made from chrome-coated carbon steel makes quick work of meats and cheeses that are up to 9/16 inches thick. You can keep the knife sharpened using the borazine sharpener mounted on top of the slicer.
While this is a manually operated meat slicer, it comes with a ⅓ HP motor. A V-belt system moves the knife swiftly through the meat for faster action. You can turn on the slicer using the simple start/stop button.
There is a permanently mounted knife guard that keeps your digits protected from accidents. The slicer also has rubber legs so that the anodized aluminum does not scratch your counters. A fifth leg at the bottom lets you lift the heavy slicer so you can adequately clean underneath it.
Pros
The tilted tray angle makes loading meat easier.
The blade can cut up to 9/16 inch thick meats.
The V-belt system provides silent operation.
Non-removable blade enhances safe operation.
Features a fifth leg for easier cleaning.
Cons
The knife is difficult to remove when it needs to be cleaned or exchanged.
Hobart HS9N-1 Meat Slicer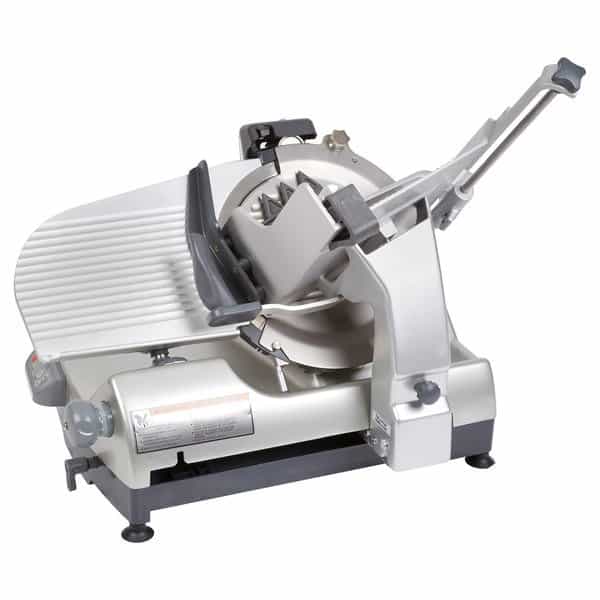 The Hobart HS9N-1 is the first heavy-duty slicer on our list. It boasts a 13-inch knife made from Stellite alloy. This is a material that is up to 3 times more resistant to dulling compared to carbon steel knives. With such a blade, you can swiftly cut through any type of meat, whether it is beef, turkey, or ham. A removable cover protects your hands from getting cut in case they slip when you operate the slicer.
This is an automatic meat slicer that boats a 0.5HP motor with 120V of power. You get four-stroke speeds and three-stroke lengths for operating the knife. A borazon stone is mounted at the top so you can quickly get the knife back in shape to continue working.
The carriage can hold meats that are up to 12 inches wide, and the knife can cut through slabs that are up to an inch thick. This makes it an ideal slicer for large, thick slabs for a bigger restaurant or deli.
There are multiple safety features on the HS9N-1 slicer. There is a home start interlocking system that holds off the motor from starting before the carriage system is properly in place. While working, an interlock system for the carriage keeps it in place. And if the slicer is left idle for 30 seconds, an automatic shutoff stops the knife from moving until you turn it back on.
Pros
The 13-inch knife can handle up to 1-inch meat thickness.
Wide enough to accommodate 12 inch wide slabs.
Its automatic features make it easy to slice a lot of meat fast.
It gives full control of slicing speed to the user.
Packed with multiple interlock systems to enhance safety.
Cons
It is an expensive slicer.
Hobart HS8N-1 Slicer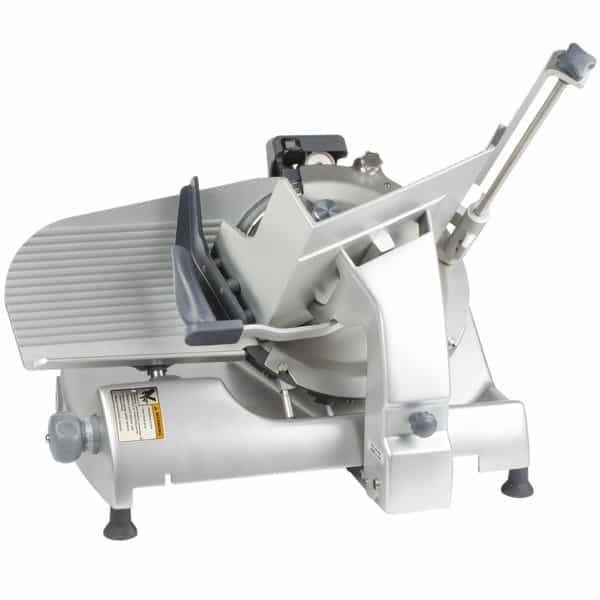 The Hobart HS8N-1 is another heavy-duty slicer designed to meet the high demand of a large restaurant or supermarket deli. The body is made from anodized aluminum, a tough material that can withstand heavy use. The carriage tray is designed uniformly such that there are no grooves or screw holes through which meat fragments can fall through and decay.
The 132-pound slicer is held up by strong legs covered with tough rubber. These keep the slicer steady when it is in use and prevent damage to your counters from the anodized aluminum legs.
This slicer comes with a 13 CleanCut knife made from Stellite alloy. The knife is non-removable and is strong enough to cut meat slabs that are up to 1 inch thick. The slicer is powered by a 0.5 HP motor driven by a V-belt system.
With a carriage tray that is 12.5 inches wide, you can comfortably slice through large meats and cheeses. When the knife is not sharp enough, you can spring it back to shape within 5 seconds by using the top-mounted Borazon stone.
The EDGE HS8N-1 comes with multiple safety features. Its non-removable knife is permanently protected with a guard. It has a no-volt release feature that automatically shuts down operations in case of a power failure.
The home start interlocking feature ensures the carriage is at the right angle before the knife starts moving. You can adjust the tray to suit the meat's thickness using an index knob, which also acts to turn off the slicer through the stop interlock system that allows you to turn off the slicer using the same index knob. If you leave the slicer idle for 30 seconds, it automatically shuts off to reduce the chances of an accident.
Pros
Stellite alloy knife is resistant to regular wear and tear.
Easy to operate and control using the index knob.
It has a wide carriage tray to hold large meat slabs.
Rubber-covered legs enhance stability when in use.
Multiple interlock systems keep users safe when operating the slicer.
Cons
The non-removable knife can be inconvenient to exchange if it breaks.
Hobart HS6N-1 Meat Slicer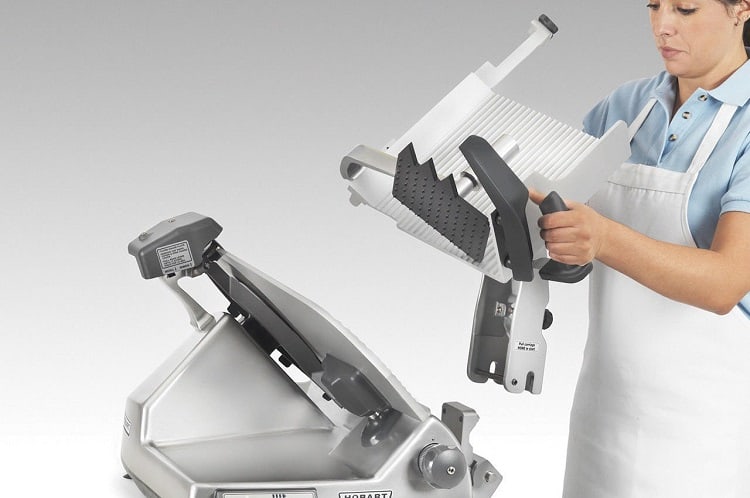 The Hobart HS6N-1 is a heavy-duty slicer optimized for maximum functionality and durability. It is a manual slicer that comes fitted with a 0.5HP motor and a V-belt system. You can propel meat slabs through the tilting 12.5-inch carriage tray using the ergonomically designed handle. This makes it easy to continuously slice meat, cheese, and even vegetables for hours on end.
A 13-inch knife made from Stellite alloy makes it easy to cut through cheeses and meats up to 1 inch thick. The knife is non-removable and protected with a removable ring guard, so your hands are protected from harm when the slicer is in operation. If the knife becomes dull, you can sharpen it in under 5 seconds using the top-mounted Borazon stone.
This slicer is very easy to keep clean. The one-piece construction of the base means you will not have to pry out meat remains from grooves and creases.
The arm, carriage, and ring guard are removable so that you can clean them after each use. In addition to the four rubberized legs, there is a spring kickstand in the middle that lifts the slicer so you can clean underneath. The blade is easy to wash so that you do not transfer germs from one meat slab to the next.
Pros
An ergonomic handle enhances the ease of loading meat onto the product tray.
The 0.5HP motor makes slicing faster.
Features a large blade made from durable Stellite alloy.
The blade can be sharpened within seconds using mounted stone.
Spring kickstand enhances ease of cleaning.
Cons
Replacing the non-removable blade is not an easy task.
Hobart HS9-1 Electric Slicer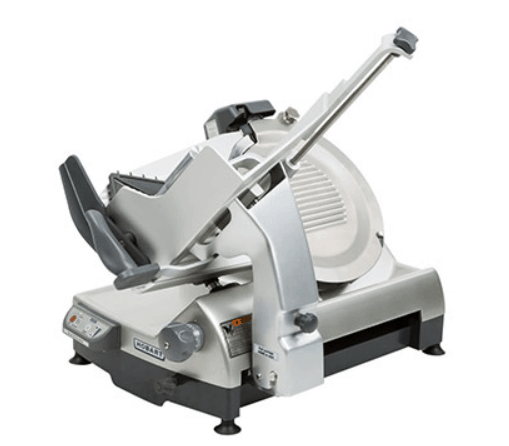 The Hobart HS9-1 is one of the heaviest meat slicers on our list, but it makes up for its relative immobility with its top-notch features. It is an electric slicer that is operated by a 0.5HP motor. The carriage tray is fully automatic and can move at three different speeds.
Three stroke lengths cater to different types of cuts. This slicer makes cuts using a 13-inch knife made from Stellite alloy.
The knife can cut through foods that are up to 1 inch thick. It is also removable, making it easy to clean and exchange once it wears out. However, Stellite alloy is so strong you will have no need to exchange the blade for a long time.
An inbuilt Borazon stone helps you keep the blade in top shape. Since the knife is fast-acting, you are protected from accidental injury by the removable ring guard. You can continuously keep the slicer running because it can handle the heavy-duty operation of a deli or restaurant.
Pros
Slicer is made from durable, sturdy material.
Automatic slicing makes it convenient for multitasking while slicing meat.
Unique interlock system stops the blade within 30 seconds of unuse.
The 13-inch blade can cut the thickness by up to 1 inch.
The removable blade is easy to clean and replace.
Cons
This is an expensive slicer.
Hobart HS7-1 Automatic Meat Slicer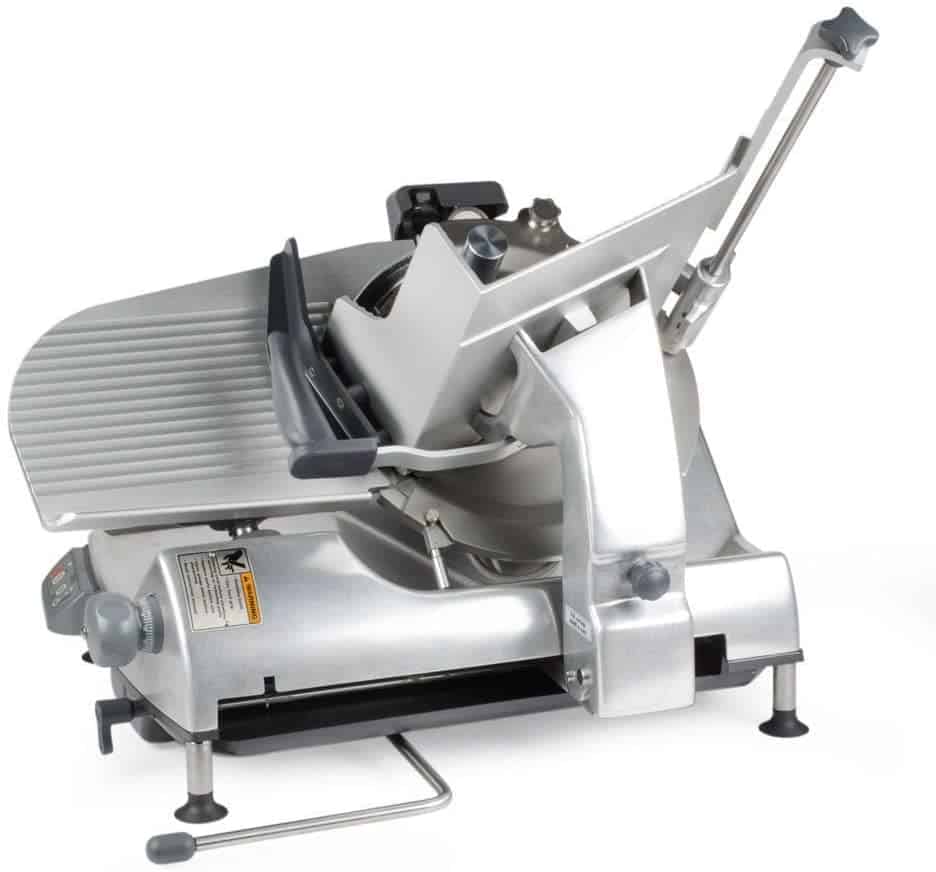 Last on our list is the Hobart HS7-1 Meat Slicer. It is designed for heavy-duty use, featuring a 13-inch removable CleanCut knife. This knife can cut through food that is up to 1 inch thick. In addition, the carriage tray can fit slabs that are up to 12 inches wide, making this the ideal slicer for restaurants and delis.
The slicer is powered by a 0.5HP motor that has three different speeds. The product tray is tilted to take advantage of gravity for loading meat onto it. You can swiftly push through meat through the blade by holding onto the ergonomic grip. Your fingers and hand are protected from the blade by a removable ring guard.
This is a sturdy slicer, held in position by four rubber-covered legs. You can remove the blade, the grip, and the ring guard to properly clean after each use. There is also a lever that can raise and lower the slicer to the desired level for operation.
Pros
3-speed automatic slicing makes for swift operations.
Large and durable to handle heavy-duty professional use.
It comes with an ergonomic grip that enhances loading.
Features multiple safety systems like a ring guard around the knife.
Easy to clean due to one-piece molding design.
Cons
Repairing costs can run relatively high if any parts need replacing.
FAQs
Question: Are Hobart Meat Slicers Good Quality?
Answer: Hobart slicers are made from high-quality materials and have been reinforced with strengthening techniques like chrome-coating. If you follow the user instructions, including those on maintenance, you should be able to utilize your Hobart slicer for a number of years.
Question: Where Are Hobart Slicers Manufactured?
Answer: Hobart is a company that was started in Troy, Ohio. The company has branches all across North America, but manufacturing occurs right within US borders. This guarantees you consistent, high-quality slicers. It also makes getting spare parts easy so you can get back to work within a few days.
Question: What Precautions Should I Take When Using My Hobart Meat Slicer?
Answer: To ensure the safety and longevity of the slicer, do not use the blade to cut through frozen meat or meat with bones. Use a meat grinder for such operations. You should also consider the thickness limit of the blade and adhere to it to prevent accidents.
Which is the Best Hobart Meat Slicer?
The Hobart HS9N-1 Meat Slicer is the best overall slicer, in our opinion.
It combines the heavy-duty properties of larger slicers while having a 12-inch tray suited for smaller establishments. It is also an automatic slicer that works swiftly and independently.