Latest posts by Jodie Chiffey
(see all)
When it comes to commercial food production, a fridge is a must-have appliance. A good refrigerator does more than keep your food fresh and elongate its shelf-life. It is a staple in your establishment, whether you've started a restaurant, run a catering business, or a food truck. Therefore, selecting the right refrigerator is key to your business' success.
Frigidaire is known in the food-production industry for its quality kitchen appliances. The company's refrigerators are renowned for their quality of service and durability. There are several models made for commercial use, and picking the right one for your business can be quite the task. To make the process easier, we have selected and reviewed 7 of the best Frigidaire commercial refrigerators.
Read on to see which one fits the bill for your business.
At a Glance: 7 Best Frigidaire Commercial Refrigerators
| | | | | |
| --- | --- | --- | --- | --- |
| Name | Dimensions | Best for | Weight | More Info |
| Frigidaire FCGM201RFB Commercial Refrigerator | 32″ x 29.5″ x 27″ | Displaying food items | 311lbs | Find out more |
| Frigidaire FFFU16F2VV Upright Freezer | 27.75" x 29.13" x 67.75" | Mid-sized freezing | 159lbs | Find out more |
| Frigidaire FFFU20F1UW Upright Freezer | 32.8" x 28.9" x 76.81" | Large-scale freezing | 220lbs | Find out more |
| Frigidaire FFFU06M1TW Freestanding Freezer | 23″ x 22″ x 57″ | Small-scale freezing | 92lbs | Find out more |
| Frigidaire EFRF696-AMZ Upright Freezer | 23″ x 23″ x 57″ | Easy cleaning | 93.8lbs | Find out more |
| Frigidaire FFPS3133UM Compact Fridge | 33.13" x 20.5" x 18.88" | Undercounter food storage | 53.9lbs | Find out more |
| Frigidaire FPRU19F8RF Professional Refrigerator | 32.88" x 26.63" x 72.5" | Split-level freezing and refrigeration | 230lbs | Find out more |
Selection Criteria
A commercial refrigerator is an investment, whether you are using it in the professional kitchen of a restaurant or simply using it to temporarily store packed food orders before delivery. To ensure you get the right one for your needs, we used the following criteria to make our choice of the seven best Frigidaire commercial refrigerators:
Spacious: the fridge you buy should have enough room to suit all your food storage needs. All the fridges in our selection, even the small ones, have clever storage features that maximize the space you get for your food items.
Temperature Control: the whole point of a fridge is to maintain food at the proper temperatures to reduce the chances of spoilage. We have selected refrigerators that give you complete control over the temperature. This way, you can decide which level to set based on the food you are handling.
Energy Savings: a refrigerator is not supposed to be the main consumer of your electricity budget. Frigidaire makes commercial fridges with good energy ratings, ensuring that you get the best cooling systems with minimum energy use. All the refrigerators on this list were picked with this factor in mind.
Reasons to Buy a Frigidaire Commercial Refrigerator
Trademarked Technologies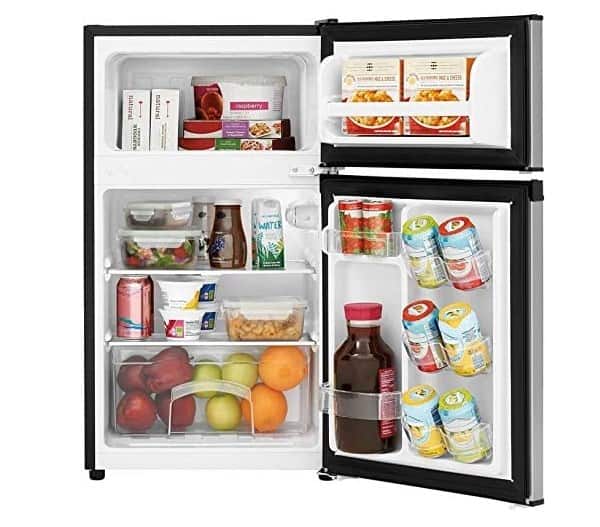 Frigidaire commercial refrigerators feature a lot of signature systems that you will not find in any other brands. The EvenTempTM Cooling System is one such feature that ensures internal temperatures remain balanced. This preserves your food and helps it last longer. Other patented technologies help maximize space, enhance air circulation, and keep fresh produce crisp for longer.
Wide Variety
You get a wide range of options when you decide to get a Frigidaire commercial refrigerator. There are compact options designed to fit under the front counter and bigger varieties designed for a commercial kitchen. Fridges with both a refrigerator and freezer section offer you multipurpose use, and full-body freezers can be an excellent replacement for cold rooms.
Trusted Brand
Frigidaire has been a household name in the US for decades. The company is known primarily for its different types of refrigerators, with its lines including home refrigerators and commercial refrigerators. When you buy a Frigidaire refrigerator, you are assured of a unit that has undergone a lot of research that has the full quality backing by the company.
Tips for Using a Frigidaire Commercial Refrigerator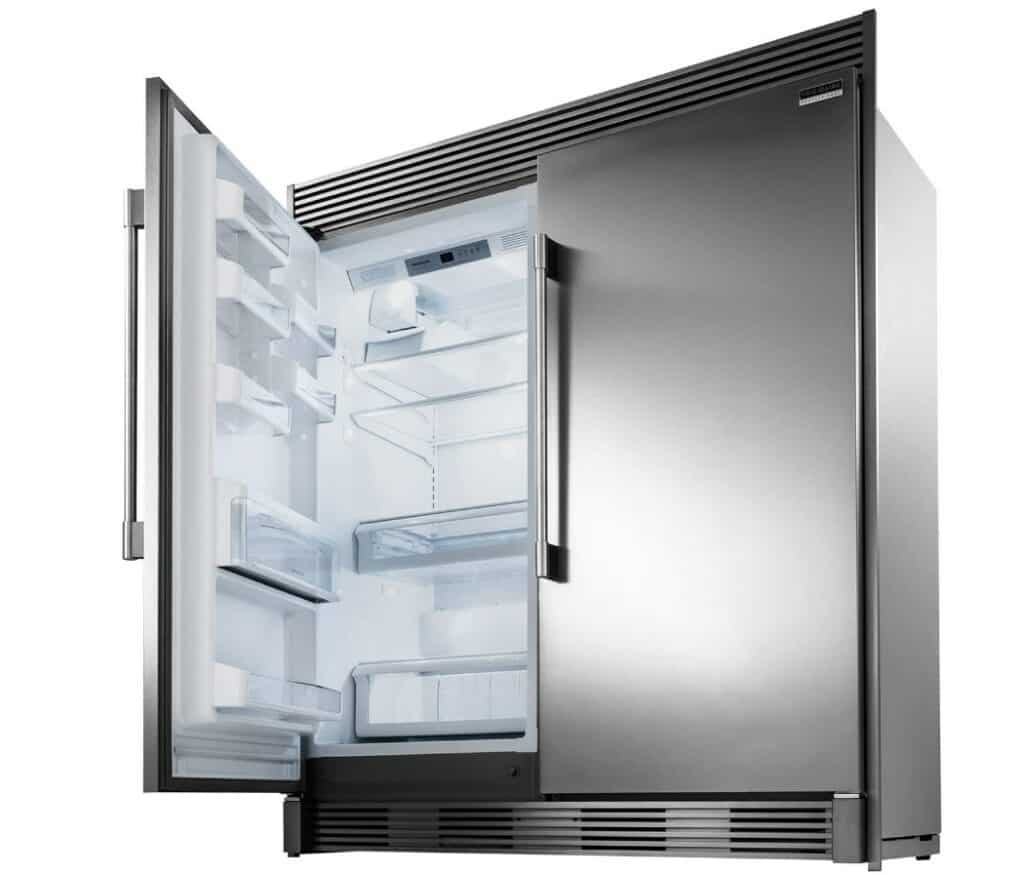 Do Your Research
Commercial refrigerators are not one-size-fits-all. There are different types made for other uses. A single-door fridge with a refrigerator and freezer section is excellent in the kitchen, where you can store ingredients for meals you plan to use the same day.
Under-the-counter freezers are better suited for areas where food is prepped and are ideal to use food trucks or catering events. Larger, walk-in refrigerators are great for storing food items in bulk near the food prep area. Doing your research will help you get the right fridge based on how you want to use it.
Get Professional Care
Fridges are highly sensitive appliances, and incorrect installation can reduce their effectiveness. The team you buy your fridge from should be able to help with this.
If you notice a problem with your fridge, do not attempt to fix it yourself. Call a licensed fridge repair person to avoid further damaging the unit. Take advantage of the warranty to get expert help and avoid throwing money down the drain.
Clean Consistently
Maintaining your refrigerator's hygiene is key to maintaining food hygiene. Clean the inside of the fridge at least once a week, removing all items so you can reach all the corners. This helps you get ahead of any spills or food remains that would otherwise become stale and bring a bad odor to your fresh food.
Whether you have a stainless steel fridge or a glass one, make sure the exterior is properly wiped down each day. This helps reduce stickiness from greasy fingers and eliminates unsightly fingerprints.
7 Best Frigidaire Commercial Refrigerators
1. Frigidaire FCGM201RFB Commercial Refrigerator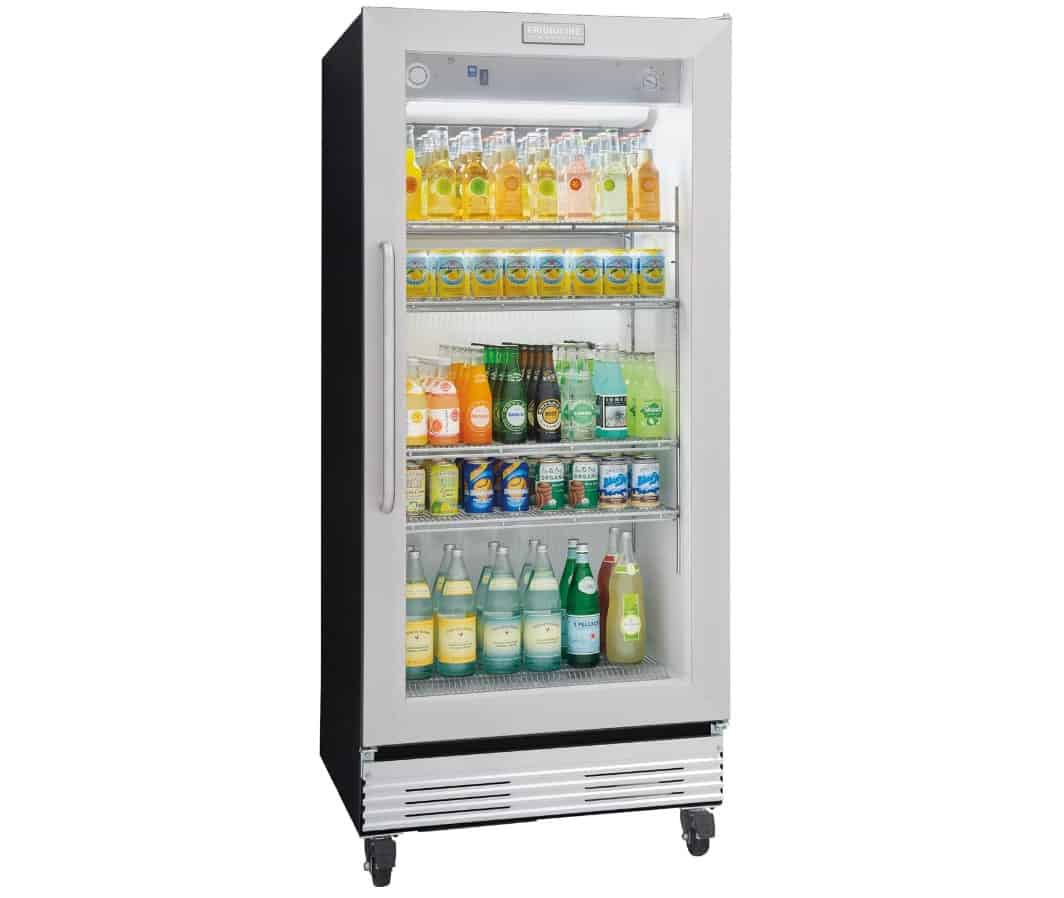 Let's kick off our list with the NSF-certified Frigidaire FCGM201RFB Commercial Refrigerator. The most visible feature of this refrigerator is the top to bottom dual pane of glass. This makes it a good fridge to display different foods and drinks at your establishment. The argon gas infused into the glass saves on energy since you do not need to open the door for the contents of the fridge to be visible. There is fluorescent lighting inside that you can turn on to enhance visibility if needed.
It is a large fridge, with a capacity of 19.53ft3. This makes it ideal for displaying a large amount of food or drinks so your customers can choose what they want. The rest of this refrigerator's body is made from stainless steel. This includes the four-wire shelves, making them able to hold their own underneath the weight of the food placed inside.
Since the FCGM201RFB is a freestanding refrigerator, powerful legs are needed. This is exactly what the lockable heavy-duty casters on each corner accomplish, providing support, so the fridge does not tilt or tip over. In addition, an adjustable temperature cover lets you control cooling levels so that food or drinks are ready to consume once outside.
Pros
Dual glass display helps maintain internal temperatures by reducing door opening.
Stainless steel construction provides proper support and durability.
Features a condenser that ensures proper cooling even when outside temperatures are high.
Fitted with internal fluorescent lighting to aid invisibility.
Lockable caster legs enhance its stability.
Cons
It does not have a freezer section.
2. Frigidaire FFFU16F2VV Upright Freezer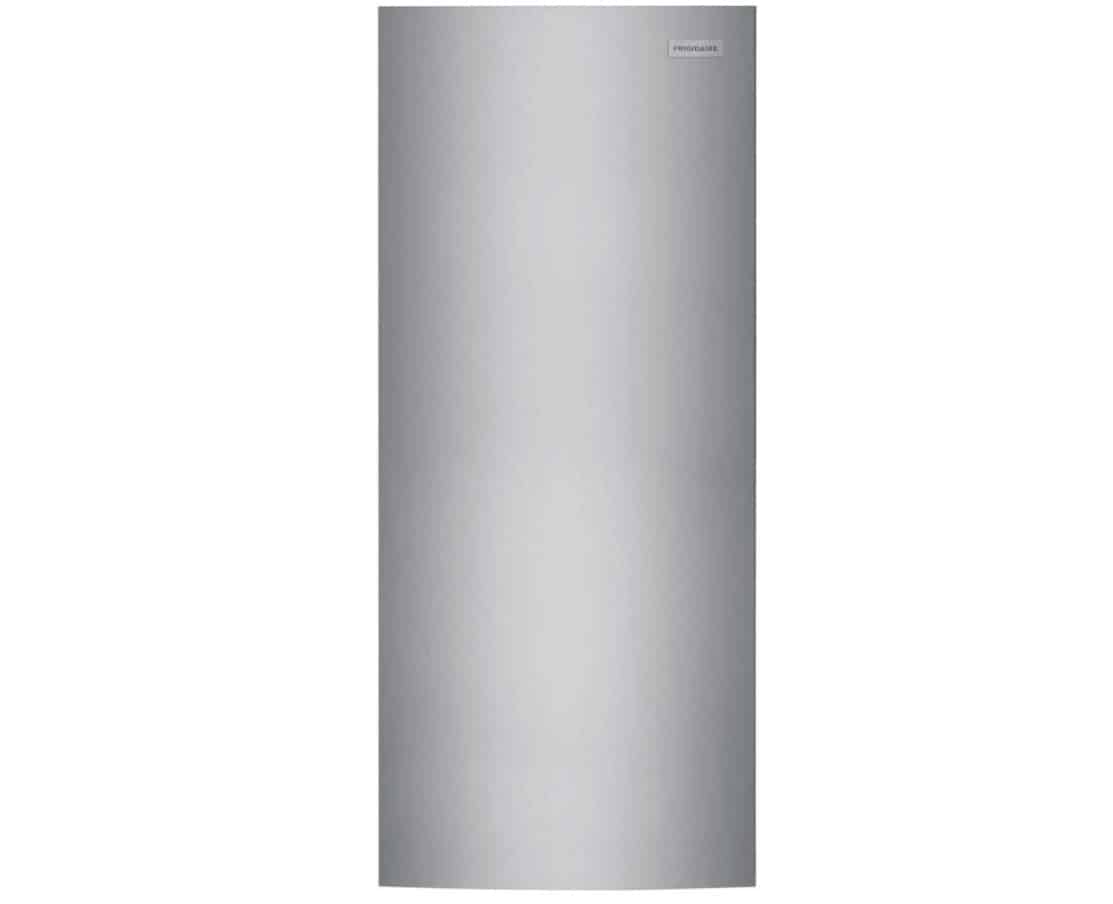 Frigidaire's FFFU16F2VV Freezer is specially designed so you can fit a lot of food inside it with no problems. It has a 15.5ft3 capacity, with four adjustable wire racks and a basket at the bottom. It also has five-door racks, ideal for holding foods that are in smaller packets or jars. You can place this freezer in an easily accessible area to store ready-to-eat sausages, ice creams, and other frozen snacks for your customers.
This freezer features Frigidaire's patented EvenTemp cooling system. This is a technology that senses temperature differences around the freezer, circulating cold air when there is an imbalance. This allows your food to remain at the correct temperature and consistency throughout. It also helps you make savings on the electricity bill.
In case there is a power outage, the freezer's sealing maintains food in its frozen state for 48 hours. An alarm goes off once temperatures rise or if the door stays open for too long. Additionally, it uses frost-free technology, which means food from the freezer comes out free of any icicles. This makes the ideal freezer to have for commercial purposes.
Pros
Adjustable racks enhance the freezer's carrying capacity.
Uses enhanced technology to maintain temperatures and save energy.
It has an alarm that signals when the door is left open for too long.
Features a 48-hour freezing guarantee in case of power failure.
A bottom exterior light indicates whether or not the freezer is on.
Cons
Shelves may be too short for wider items.
3. Frigidaire FFFU20F1UW Upright Freezer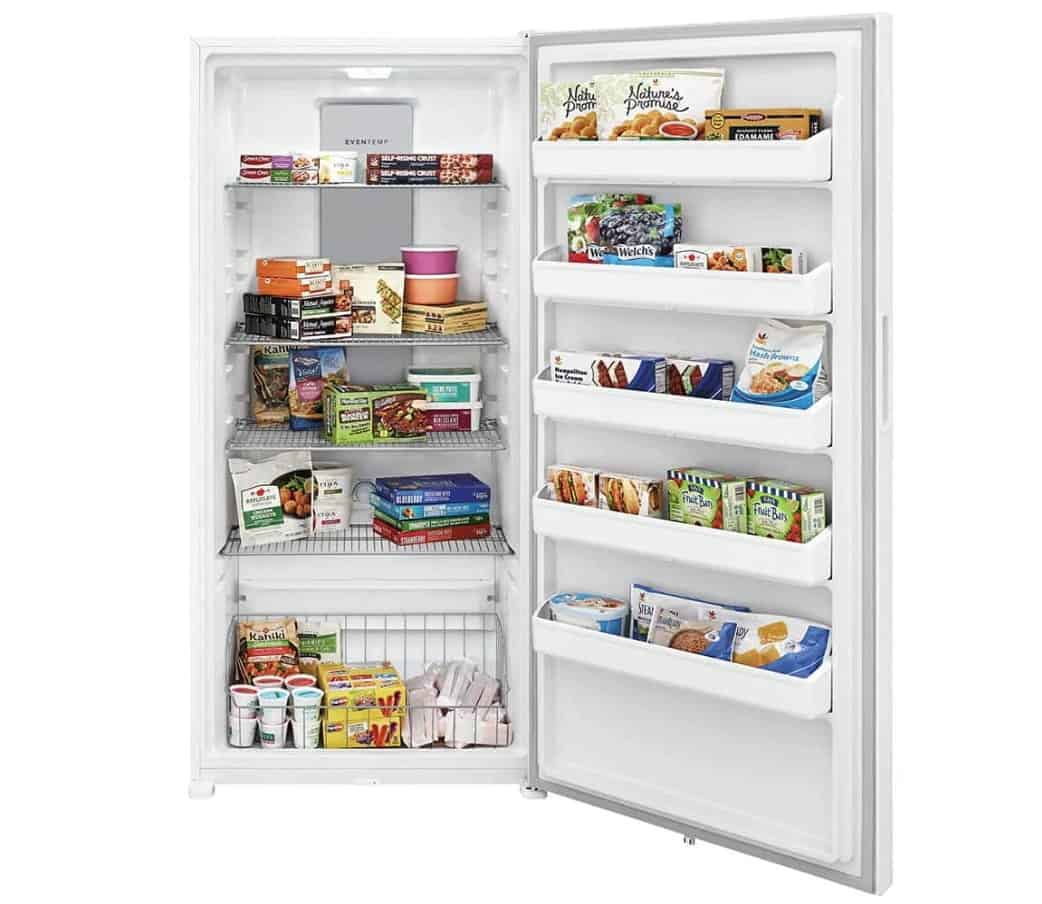 The Frigidaire FFFU20F1UW is another upright freezer designed to meet all your heavy-duty freezing needs. At 20.2ft3, this freezer has enough capacity to hold food items like seasonal fish, ice creams, and other foods that need long-term freezing.
It has four full racks in which full boxes and cans of food can fit. There is also a large, deep basket at the bottom that can hold ice cream cups for easy retrieval. The five-door racks provide you with the space to store things like packets of condiments.
This freezer features Frigidaire's trademarked EvenTemp Cooling System. This feature uses a compressor with smart sensing technology that maintains balanced temperatures throughout the freezer. The system releases cold air whenever there is an imbalance, maintaining the right ambiance for your food. In addition, in case of a power outage, food will remain frozen for two days, giving you enough time to use it up before it spoils.
This is a no-frost freezer, which means your food will not form icing or icicles when frozen for long. An auto-close feature tightly shuts the doors to prevent heat loss and maximize efficiency in energy use. If you leave the door open for too long, an alarm will notify you before inside temperatures rise.
The Frigidaire FFFU20F1UW is a good freezer and will be right at home in a heavy-traffic area, whether it is a restaurant or an office kitchen.
Pros
Has four adjustable wire racks and five-door racks.
EvenTemp Cooling System ensures temperature balance throughout the freezer.
Features protection against thawing for 48 hours in case of a power outage.
An auto-close feature shuts the doors to prevent heat loss.
It comes with an alarm to alert you if the door is left open.
Cons
Improper installation can destroy the back seal of the freezer.
4. Frigidaire FFFU06M1TW Freestanding Freezer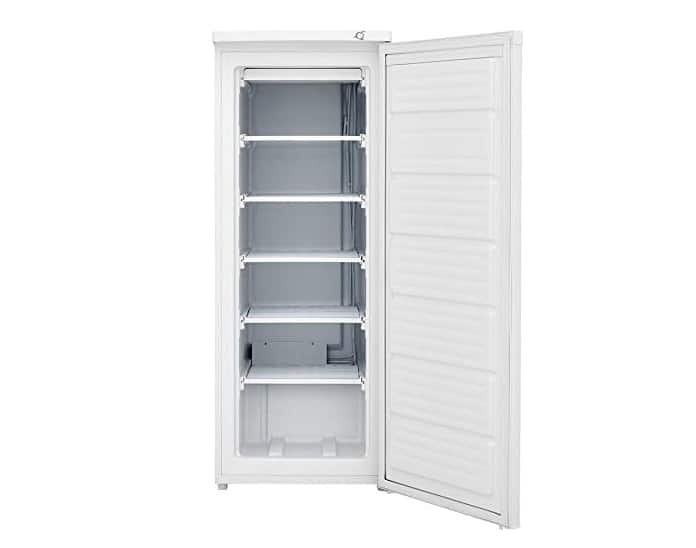 The 6ft3 Frigidaire FFU06M1TW is the ideal freezer to have close by in your restaurant, so you can easily retrieve items like ice cream, cheesecake, and brownies. Its dimensions make it ideal for placing underneath a counter at the front of a shop or fast-food restaurant.
Despite its size, this freezer is quite spacious. It has five full wire shelves that give you leeway to store jars, Tupperware containers, and other food packages. A basket at the bottom provides more space for larger bottles and standing food packaging. The Frigidaire FFU06M1TW is ideal for commercial use where a lot of food needs to be within easy access.
This freezer has a simple temperature control dial with three temperature settings: Normal, Minimum, and Maximum. This dial is located at the top so you can switch up the internal temperatures without letting in warm air from outside. You can also manually defrost the freezer, so your food is ready to cook or consume once you take it out.
Pros
It is fitted with five racks and a basket for maximum storage space.
Small enough to fit into tight spaces.
The outer dial gives you maximum control over internal temperatures.
Operates quietly and non-intrusively.
Features a sleek design, so it blends into any modern commercial kitchen.
Cons
It is not frost-free, and thus food may have frost buildup.
5. Frigidaire EFRF696-AMZ Upright Freezer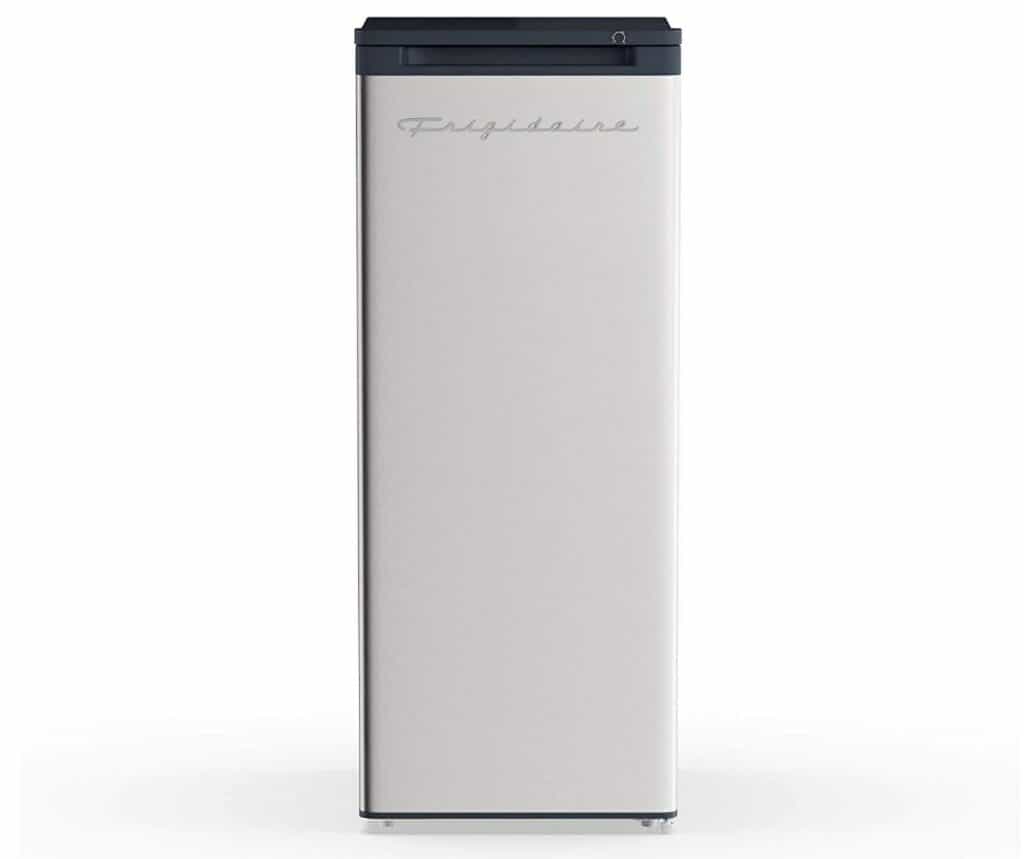 The Frigidaire EFRF696-AMZ is another compact freezer ideal for small spaces. It has a capacity of 6.5ft3 and a height of 57 inches. This freezer will easily fit under a counter or a tight space in a commercial kitchen. Inside are six wire shelves that will hold anything from slabs of meat to cups of frozen fruit.
This freezer is constructed from strong stainless steel. This means it can properly withstand the weight of the food placed inside and can last you a long time. It also has a reversible door that you can adjust depending on the needs of your kitchen. Its front legs can be leveled so that the freezer does not tilt to one side, even if the floor is uneven.
A temperature of 0.4F to -11.2F makes this freezer ideal for keeping different types of food in good condition for a long time. You can control the internal temperatures using a dial placed on the outside. When you need to clean the freezer, a manual defrost system makes this possible.
Pros
It is small and compact, fit for small spaces.
Reversible door makes it easy to adapt to different kitchen layouts.
It is fitted with six wire shelves for spacious storage of food items.
External temperature dial makes it easy to control internal temperatures.
Features a sleek stainless steel finish, making it suitable for modern kitchens.
Cons
The shelves are not adjustable, which may reduce their utility.
6. Frigidaire FFPS3133UM Compact Refrigerator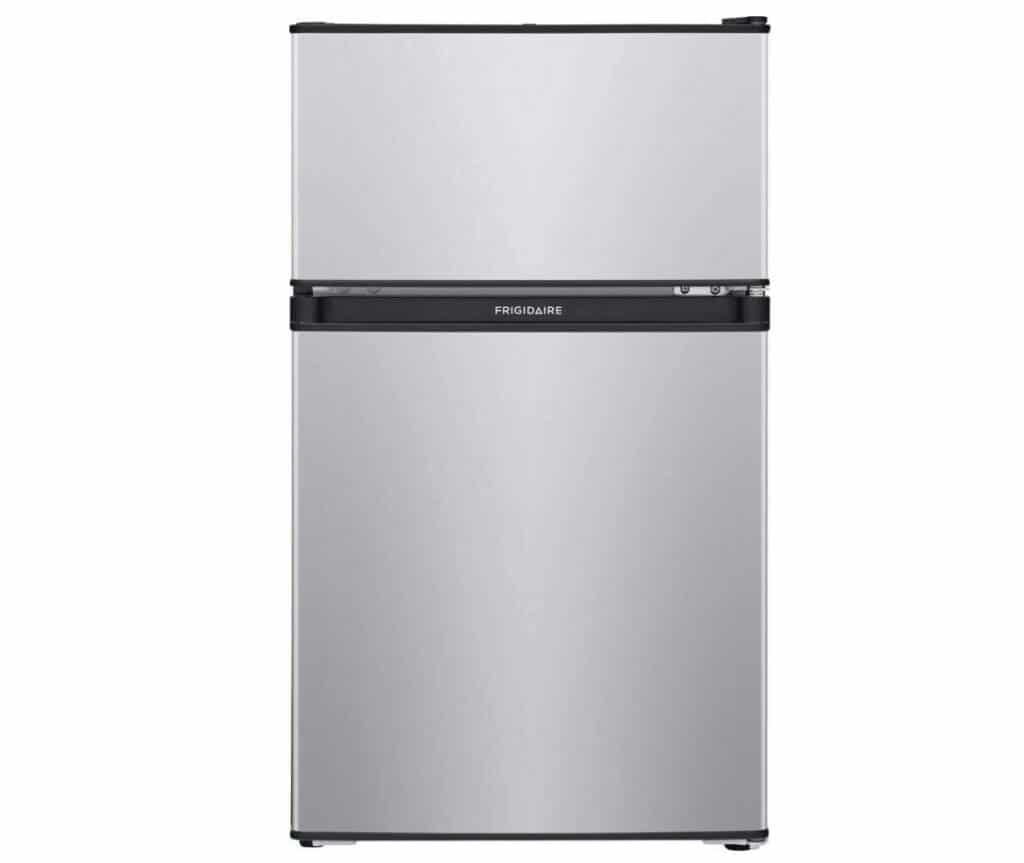 The Frigidaire FFPS3133UM refrigerator is designed to be your go-to during rush hour. At 3.1ft3 capacity and 19 inches in height, it is small and compact. It is also a freestanding fridge with supporting legs to keep it steady. A reversible door makes it possible to adjust to your kitchen's layout.
This refrigerator has both a freezer and fridge section. Its two full-width glass racks can hold full food containers and jars. A crisper basket makes it easy to keep fruit salads and vegetables fresh for longer. It also has four-door compartments that can hold cans of yogurt, soda, and larger bottles. The freezer section also has a door rack to increase storage space.
It might be small, but the Frigidaire FFPS3133UM features quality construction. It is made from quality, sturdy materials that will make it last a long time. The refrigerator also has a sleek, matte finish that will fit right in in a modern kitchen.
Pros
It has both a fridge and freezer section.
Features 2 full fridge racks and a crisper area for fresh produce.
Glass shelves are strong enough to hold food packages.
Reversible door design makes it easy to fit into different kitchen layouts.
Features a quality matte finish.
Cons
Fridge door bottle-design compartments reduce their utility.
7. Frigidaire FCRS181RQB Commercial Fridge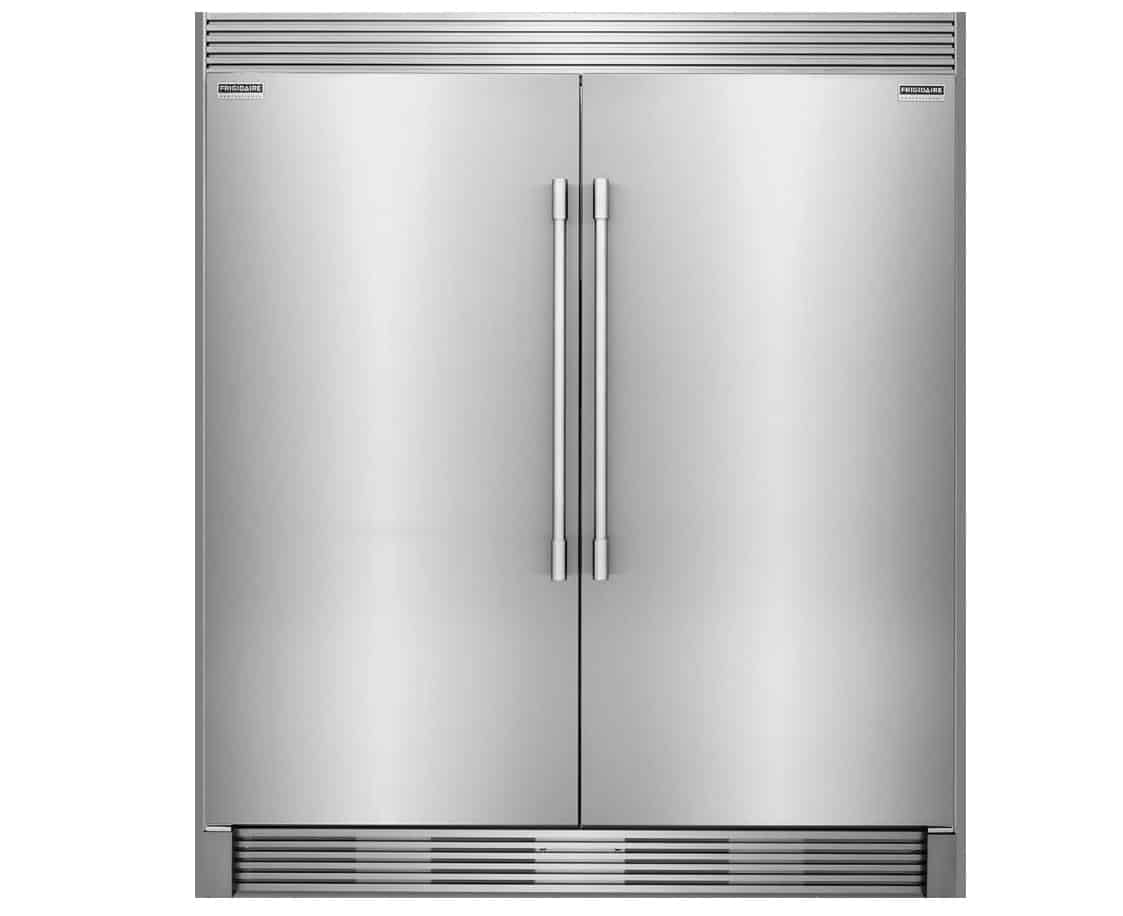 We close off this list with the Frigidaire FCRS191RQB, the fridge for any modern commercial kitchen. This is a big double-door fridge, with a carrying capacity of 19ft3. The freezer compartment is on the left, while the refrigerator function is on the right.
This fridge gives you four full metallic-edged shelves in each compartment, a large, tinted crisp basket for your fruits and vegetables, and a pull-out shelf. The seven racks on each door use the SpaceWise organization system to maximize utility.
The Frigidaire FCRS181RQB is designed to fit into your professional kitchen. It is made from stainless steel, which is quality material and sleek and aesthetically pleasing. With proper installation, this fridge will look built-in and match with other kitchen appliances. Packaging includes a trim kit so you can separate the refrigerator and freezer side to better suit the layout of your kitchen.
In addition to its good looks, this fridge is packed with energy-saving cooling features. It uses Frigidaire's trademarked EvenTemp Cooling System that continuously balances internal temperatures so that they remain at the level you set.
The crisp basket uses CrispSeal technology that removes excess moisture from your produce and absorbs the ethylene gas they emit so that they remain fresh for longer.
Pros
It is a big and strong fridge, made to last.
It has a full refrigerator and freezer section.
The fridge has numerous shelves to maximize storage opportunities.
Features EvenTemp Cooling that offers temperature balance.
It can be split into two, so it can be used even in smaller kitchens.
Cons
Some units have a compressor problem.
FAQs
Question: What is the difference between direct cool and frost-free refrigerators?
Answer: Many commercial refrigerators use direct cooling, i.e., convection processes, to circulate cold air around the unit. This is an energy-efficient process that is widely preferred for heavy-duty industrial refrigerators.
However, products kept in direct cool refrigerators come out with a layer of icing and even icicles and need longer to be defrosted. Frost-free cooling, on the other hand, eliminates the formation of icing, maintaining food at the proper temperatures. This keeps food fresh for longer and makes it easier to handle once out of the fridge.
Question: What is the Energy Star rating for refrigerators?
Answer: Energy Star rating is a system established by the EPA to grade the energy efficiency of different appliances. The system outlines the criteria products must meet to qualify, and a fridge with the rating is around 9% more energy efficient compared to those that are not. The Frigidaire fridges on our list are Energy Star rated, so you can rest assured that you will make a lot of savings on the energy bill.
Question: Which are better: Wire shelves or Glass shelves?
Answer: Glass shelves have grown in popularity in most home fridges, and a lot of commercial refrigerators are using them too. Glass shelves are often made from durable tempered glass that can hold a lot of weight without cracking. Glass shelves are also easy to clean and look nice when properly arranged.
However, glass shelves can crack and even break. Wire shelves made from good materials like stainless steel are more enduring. They do not chip nor bend under pressure, and the spaces between the rungs allow for more cooling. Either option is good, depending on your needs.
Which is the Best Frigidaire Commercial Refrigerator?
In our opinion, the Frigidaire FCRS181RQB Commercial Fridge is the best option for commercial refrigeration. Its split design gives you a full fridge and a full-sized freezer. Coupled with its innovative storage design, this is a great refrigerator for any commercial kitchen.