Latest posts by Jodie Chiffey
(see all)
Commercial-grade grills are the central pieces of many restaurants. But if you choose the wrong brand or model, it can also easily become a major headache. So today, we'll discuss one particularly acclaimed and popular range of professional grills in our Char-Broil Commercial Series review and guide.
The brand's Commercial Series addresses the specific needs and expectations of professional kitchens. They are robust, durable, and ready to prepare large volumes of food daily, making them a preferred choice for many chefs and entrepreneurs.
In our review, we'll mainly focus on the Commercial Series TRU‑INFRARED 4-Burner Gas Grill, one of the largest and most popular products in this range. Nevertheless, we'll also discuss some alternative options later on.
Let's start with a brief overview of the grill's key specifications:
Key specifications of Char-Broil Commercial Series 4-Burner Grill
| | |
| --- | --- |
| Type of fryer | Commercial 4-burner gas grill |
| Primary cooking area | 525 sq. in. |
| Materials | Premium stainless steel housing, porcelain-coated cast-iron grates |
| Ignition type | SureFire® electronic ignition |
| Total input | 45,000 Btu/hr. |
| Dimensions (when assembled) | 22.5 x 47.2 x 58.8 inches |
| Latest price | Click here for the latest price |

Core features of Char-Broil Commercial Series Grill
If you want to make sure that your new grill will be fully compatible with your expectations and needs, you should take your time and evaluate it to the smallest detail. But since we are fully aware of how precious and limited your time is, we've pulled together a condensed description of Char-Broil's most important features and characteristics divided into several sections. Let's start with the design.
Construction And Design
Char-Broil Commercial Series grills are heavy-duty devices designed particularly for the demanding conditions of gastronomic venues. So whether you're running a grilled goods-oriented restaurant, fast food with burgers on the menu, or a catering agency organizing outdoor events with barbecue, these machines were created especially for people like you.
The whole construction of these grills consists of premium stainless steel, which should be perfectly immune to corrosion and very durable. Moreover, thanks to the intuitive design equipped with keyhole slots, you can easily assemble any of these machines on your own with just a small set of general tools (a screwdriver, an adjustable wrench, etc.). It's fast and convenient.
If we focus just on the TRU‑INFRARED 4-Burner Gas Grill, it is one of the larger grills you can currently find on the market. When fully assembled, it measures 22.5 x 47.2 x 58.8 inches and boasts a generous 525-square-inches of primary cooking space, which can accommodate as many as 29 regular burgers at once.
There are primary and side burner areas on this grill, so you can divide your foods into two separate areas or use just one of them at a time.
These grills will also certainly catch your eye with their sleek and stylish design. Shiny silver steel looks great on its own, but it's even better when combined with rounded curves of handles and lid on his device. If you plan to keep your grill somewhere where your customers can see it, you will surely appreciate this aspect.
Although this grill is primarily designed for use with liquid propane, you can easily transform it to natural gas compatibility with the Dual Fuel™conversion kit (note that it is sold separately). This makes the unit perfectly suitable for both outdoor and indoor use.
Nevertheless, once you convert the grill to a stationary natural gas device, you will probably find its two caster wheels a bit obsolete. Unfortunately, there are no pedestals to replace them.
One relatively common complaint about Char-Broil grills concerns its grates which are reportedly very easy to clog and frustratingly hard to clean. The manufacturer tried to address this issue by equipping the Commercial Series units with porcelain-coated cast-iron grates that should be less prone to clogging and easier to clean. Nevertheless, it still isn't perfect.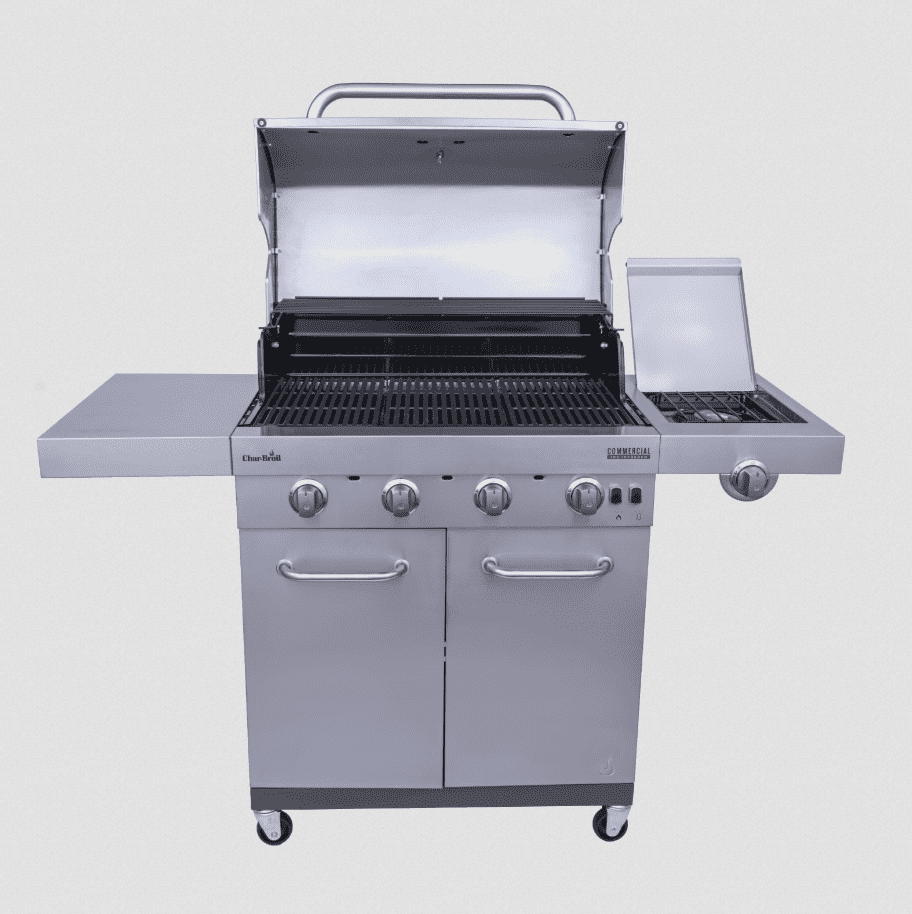 Functions and Controls
Char-Broil Commercial Series grills might be intended for master chefs, but their ease of use will surely suit even complete beginners. It all starts with the ultra-convenient SureFire® electronic ignition that requires just a single press of the button. This modern burner system alone can save you lots of precious time and energy and allows you to focus on the food preparation right from the start.
Another innovative technology that makes this grill special is called TRU‑Infrared™. This intelligent cooking technology involving a patented emitter plate prevents flare-ups, provides even and perfectly accurate heating all over the grate, and results in perfectly balanced juiciness and crispiness of your food.
Thanks to this technology, the manufacturer even claims the meat is 50% juicier, but that is truly hard to verify. In any case, it seems to work pretty well. Besides the Commercial series, Char-Broil also integrated this technology in some of its Signature and Performance grills.
Besides the initial buying price of the grill, you should always check your new equipment's fuel efficiency and energy consumption. These factors have a great impact on the operational costs of your grill, so they shouldn't be underestimated.
In this regard, Char-Broil Commercial grills perform very well. Even the largest 4-burner (model no. 463257520) consumes just about 45,000 BTUs per hour in total. You can even optimize the consumption by opting for just the main (32,000 BTU) or the side burner (13,000 BTU). To help you stay on track with the fuel, the grill also has an integrated tank gauge.
Safety
Char-Broil grills are, in general, very safe and secure. However, you should always make sure that your staff knows how to handle these types of appliances with all the necessary care and precautions.
The metal surfaces and components of the grill can get pretty hot when it's working, and there's also a potential hazard of gas leakage. You should also know that, in general, combustion byproducts and some other chemicals and substances contained in these grills (e.g., lead) can be potentially harmful. Cleaning your hands thoroughly after each grill use will help you get rid of the toxic residues.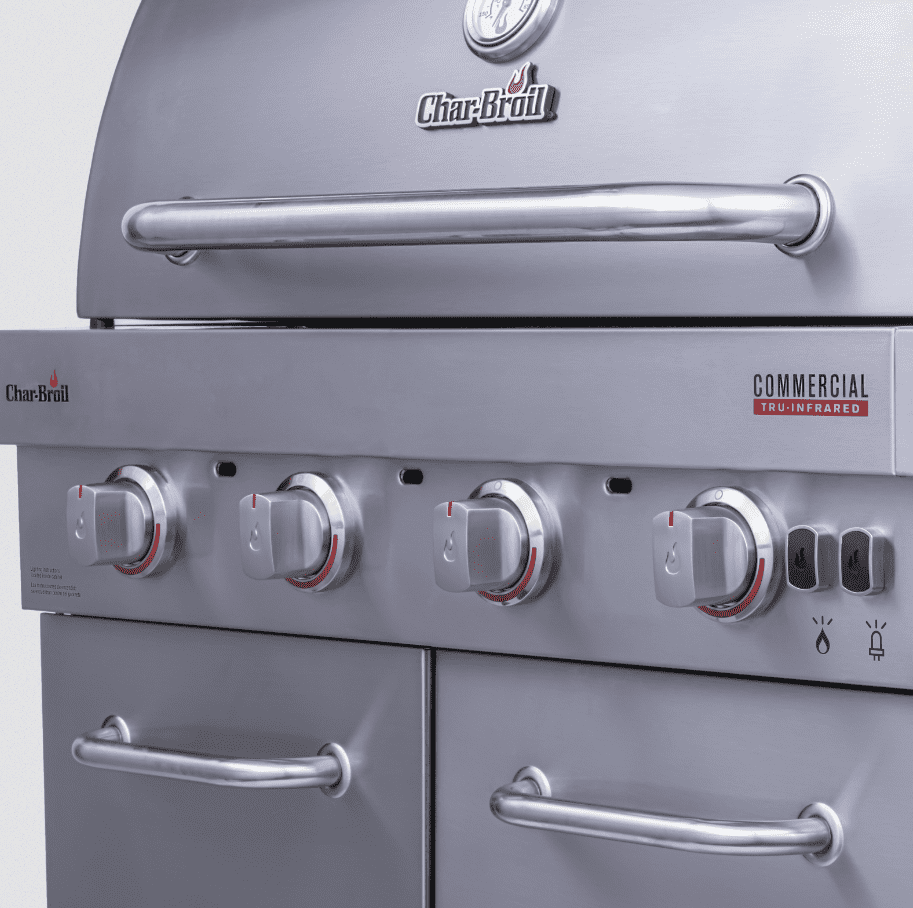 Reliability
Char-Broil grills are usually praised for their excellent quality and reliability. Nevertheless, we all know that the demanding environment of commercial, gastronomic venues can sometimes leave its marks even on the most demanding appliances.
However, approaching your unit with proper care and following the manufacturer's instructions on maintenance should help you avoid any accidental damage.
Another potential point of concern is related to the factory faults and hidden defects on material and components. Although these issues seem to be quite rare with Char-Broil, they are not completely impossible. Users, for example, sometimes complain about the not-so-durable thermostats, imperfect constructional details, and even faulty igniters on these grills.
Experienced users who already owned some older models of Char-Broil grills sometimes claim that their quality used to be better. One possible explanation for this is that the company recently outsourced the production of its appliances to factories in third countries, so they are no longer made in the US.
Nevertheless, rest assured that Char-Broil covers you with its comprehensive warranty scheme in case of any such malfunction. This includes a 10-year warranty on the burner, a 3-year warranty on grates and firebox, and a 1-year warranty on all the remaining parts and components.
Price
In comparison with many other types of commercial kitchen gear, grills are usually relatively affordable. This applies to Char-Broil grills from the professional-grade Commercial Series too. If you add the reasonable buying price to the fuel-efficient operation, the Char-Broil grill seems to be a very reasonable choice. For the latest price of a 4-burner TRU-INFRARED unit, click here.
Pros of the Char-Broil Commercial Series Grills
Let's round up all the most important benefits and strengths of these grills once more:
Sleek Yet Heavy-duty Design
Commercial Series grills by Char-Broil are made of exceptionally durable materials, which certainly prolong their lifespan and minimizes the potential risk of their damage. Moreover, these grills also look very sleek and trendy, which is particularly important if your guests and customers can see them during their visit.
Ease of Use
These grills are very easy to use, from the initial setup through one-button ignition to the cooking itself, saving you lots of time and energy. Even if you're new to this type of equipment, mastering your skills on any of these machines should be very easy for you.
Good Warranty
Even though these heavy-duty machines don't seem to be prone to malfunctions and defects, it's always good to be protected by a warranty – especially if your whole business relies on the functionality of your kitchen gear. Some of the components of Char-Broil CS grills are even covered by a warranty for as long as ten years after the purchase.
Great Performance
Tru-Infrared technology integrated into these grills provides even and thorough cooking that will leave your food perfectly juicy yet crispy and excellently cooked. If we should judge this grill just based on its performance, it is remarkably great.
Large Capacity
If grilled goods play a significant role on your menu, you need a grill with an adequately large capacity that will allow you to satisfy as many customers at once as possible. Char-Broil's 4-burner Commercial Series grill boasts 525-square-inches of cooking space that can accommodate up to 29 burgers at once.
Dual-fuel Compatibility
If you're willing to invest in an optional conversion kit, you can use your Char-Broil CS grill with both liquid propane and standard natural gas. This gives you even more options and opportunities to use your grill efficiently and cost-consciously at all times.
Fuel Efficient
Talking about fuel and consumption, Commercial Series grills from Char-Broil don't waste any more energy than necessary. You can even optimize their input further by opting for only main or only side burners when you don't need to use the whole cooking area at once.
Affordability
Although Char-Broil Commercial Series grills boast professional-grade features and great quality, their price remains relatively affordable even for those on a limited budget.
Cons of the Char-Broil Commercial Series grills
And now let's summarize some of the drawbacks that might potentially discourage you from the purchase:
Hard to Clean
If you buy one of these machines, be prepared that their thorough cleaning might take considerably more time and energy than you were probably used to with some other grills. If the grate with super-slim openings gets clogged in the middle of the shift, you might even need to clean the grill more than once per day.
Occasional Faults and Malfunctions
Although the vast majority of those who bought some of the Char-Broil Commercial Series grills seem to be perfectly satisfied with their quality and reliability, some users also report receiving faulty or malfunctioning products. Although such incidents are covered by warranty, it's certainly not something you would like to experience on your own.
They Are Not Made In the US Anymore
Char-Broil is a traditional American brand with 70+ years of history. However, the manufacturer has recently stopped all the production in the US and delegated these responsibilities to his Asian contractors. Whether this does or doesn't affect the overall quality of Char-Broil products, some users might probably consider this fact a dealbreaker and look for their grill elsewhere instead.
Caster Wheels Cannot Be Replaced
Grills are usually equipped with caster wheels. Nevertheless, once you turn Char-Broil into a stationary grill by converting it to natural gas operation, you would probably appreciate it if the wheels could be replaced with standard stable pedestals. Unfortunately, that is not possible here.
Are There Any Alternatives?
Besides the 4-burner TRU-INFRARED model we have discussed so far, Char-Broil's Commercial Series offers several other (mostly smaller) models too. Nevertheless, this popular brand also has other product ranges and series worth mentioning. Check out these alternative products and see if some of them won't suit your needs even better:
Char-Broil Performance Series TRU-INFRARED 2-Burner Grill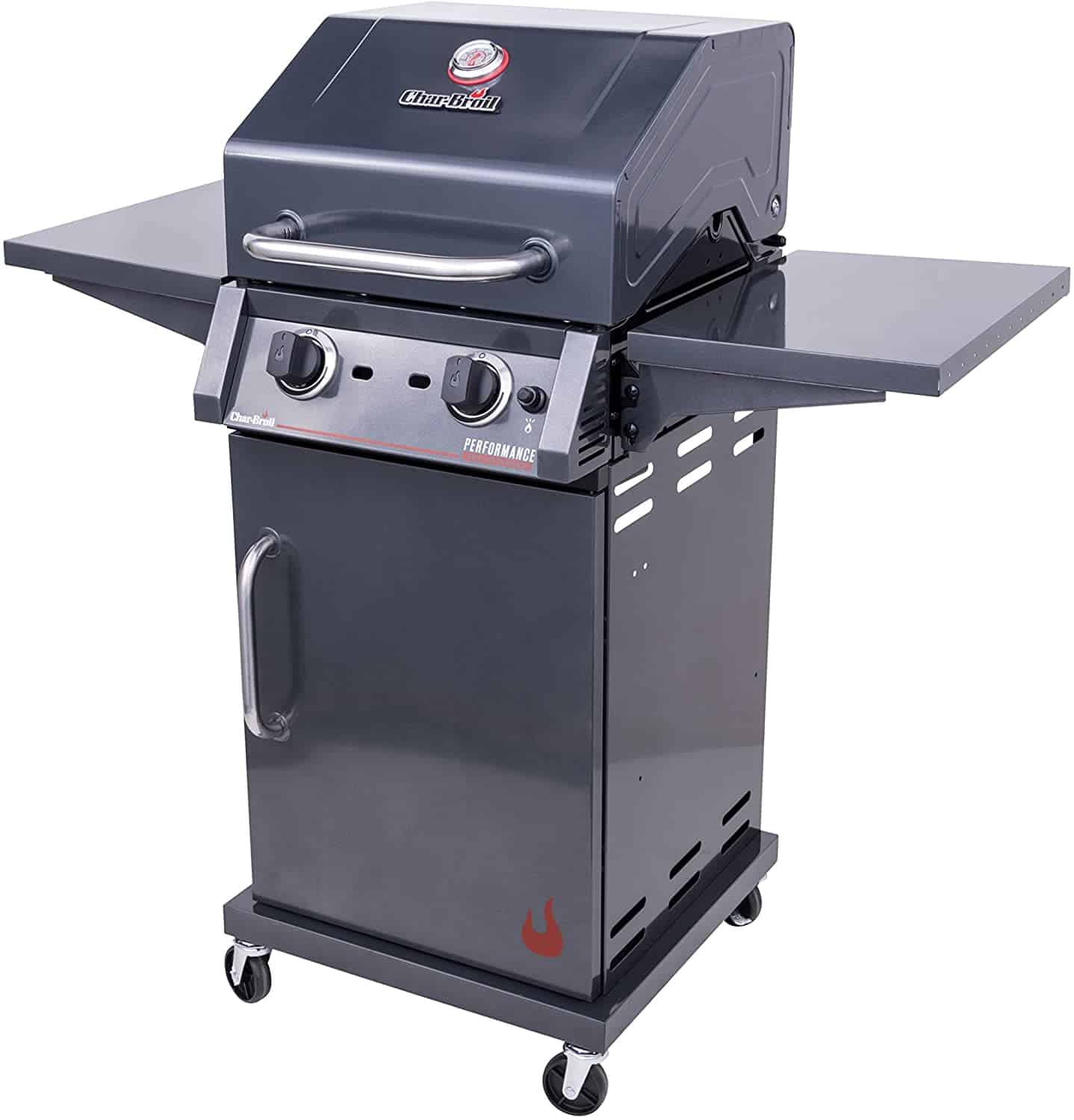 As its full name above suggests, Char-Broil's model 463655621 is another grill equipped with tremendous Tru-Infrared cooking technology. Nevertheless, this particular model is much smaller. It has just two burners and provides you with 310 square inches of primary cooking space plus a 95 square inch warming rack that is ideal for buns or vegetables.
This model belongs to the Char-Broil's Performance series. Instead of traditionally looking silvery steel, it comes in a modern metallic grey finish. This product is also equipped with electric ignition, a one-door cabinet, and two folding side shelves. This grill can also attract you due to its fair price.
Char-Broil Grill2Go X200 Portable TRU-Infrared Grill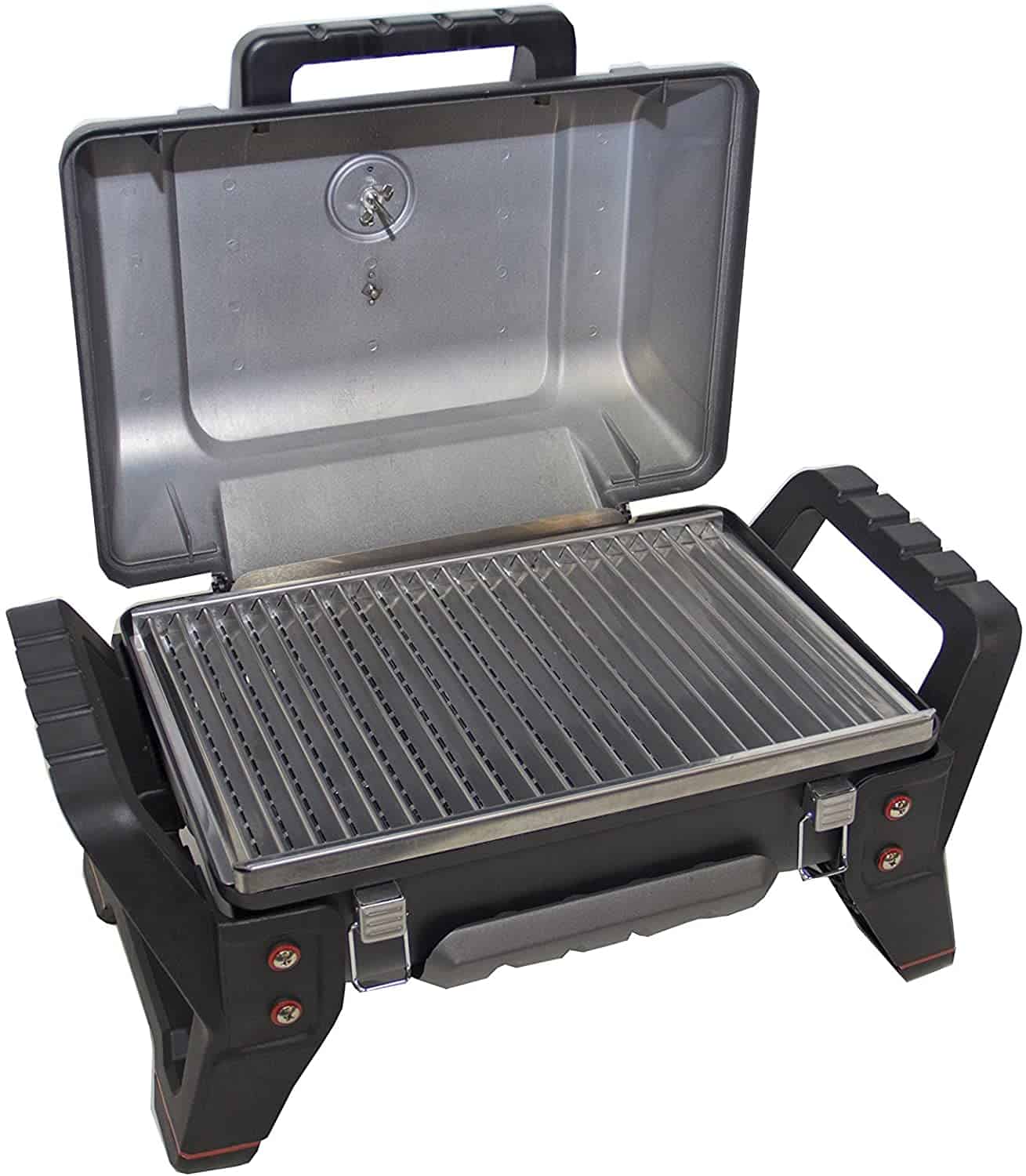 Are you running a catering agency? Or are you organizing a barbecue event for a limited number of guests? Char-Broil Grill2Go X200 is a convenient portable liquid propane gas grill equipped with the patented TRU-Infrared technology that can fulfill all your expectations without occupying too much space or costing too much money.
The unit measures 23.7 x 15 x 13.6 inches and weighs just about 20 pounds, yet it's perfectly roadworthy and very durable. It comes with a 200 square inch stainless steel grilling grate that can accommodate up to 8 good-sized burgers at once.
Char-Broil Signature Series TRU‑INFRARED 2-Burner Gas Grill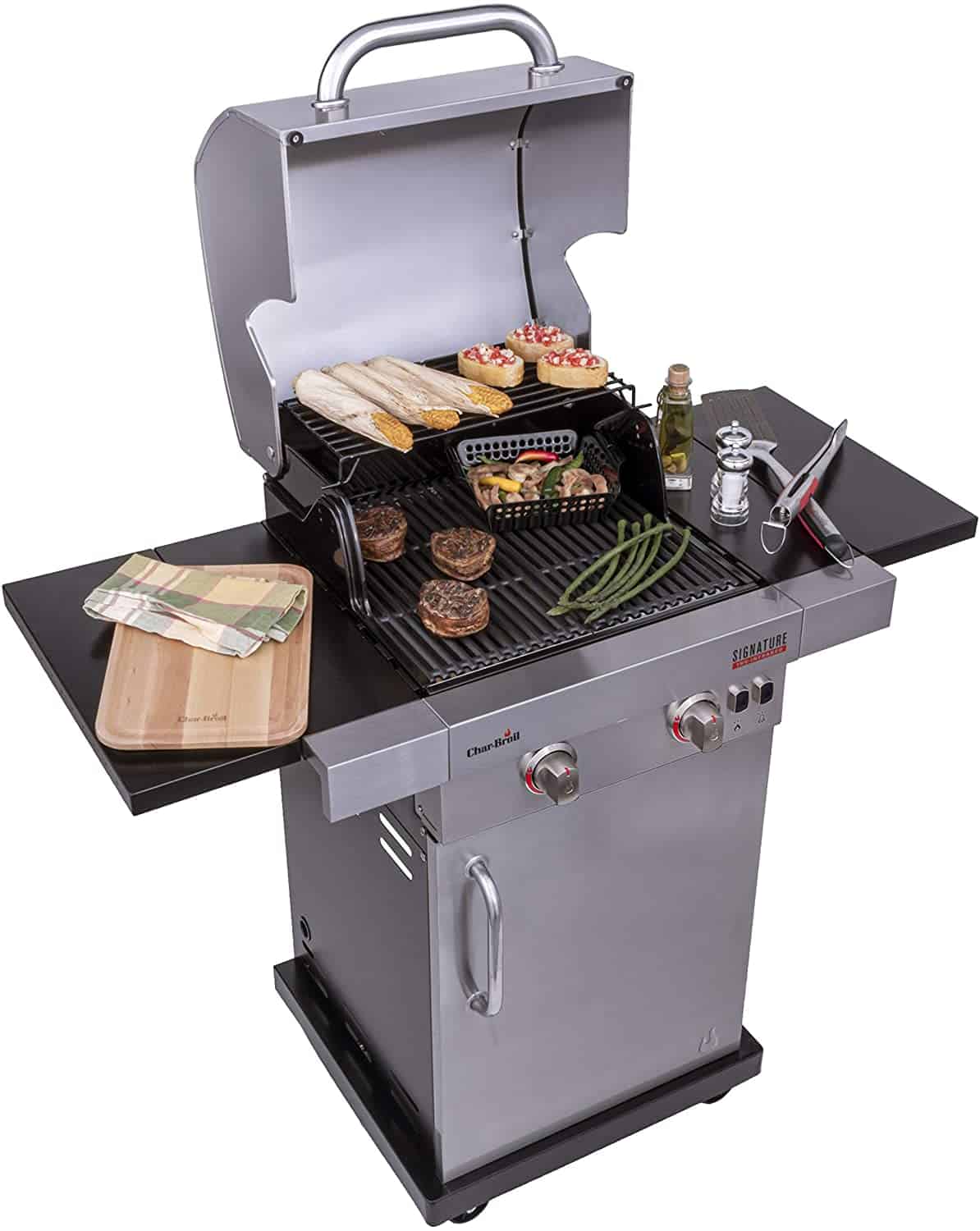 Another range of attractive (and probably even somewhat luxurious) Char-Broil grills suitable for commercial use is called Signature. These units boast sleek design and all the innovative technologies you can find in the Commercial Series range, including the Tru-Infrared heating or SureFire ignition.
The two-burner gas model sold under product no. 463632520 is a versatile cabinet-style unit that will suit both at-home and commercial applications. It provides even results, easy operation, and super-fast installation. Just beware that its price is a bit higher in comparison with the same-sized Performance series grill we've mentioned above.
Char Broil Commercial Series Review: Final Thoughts
Char-Broil Commercial Series grills are, in general, an excellent choice for anyone who wants to treat his customers with juicy, evenly cooked grilled goods. If you opt for the big 4-burner model with the TRU-INFRARED technology, you can even take advantage of its huge capacity and prepare large volumes of food at once. These grills also look very neat, so they are a safe pick for venues with the grill area on display.
If you need to cut your expenses, you can also check some of the models from Char-Broil's Signature and Performance series. Although the manufacturer does not openly promote them as commercial-grade products, they use the very same technologies as their counterparts from the Commercial series while being a bit more affordable.
Nevertheless, even the best models in Char-Broil's catalog have some weaknesses. Customers, for example, often complain that these grills are difficult to clean, and since their production was moved from the US to China, the construction quality also seems to go down a bit. In any case, given the comprehensive warranty, fuel-efficient operation, and affordable pricing of these grills, I believe they are still very much worth trying.
Still not sure if any of the aforementioned grills is right for you? Check out our comprehensive Commercial Grill Buying Guide for more information on this subject.