Latest posts by Sarah Caldwell
(see all)
So you fired up the grill and you seared your favorite steaks to perfection. Now you're ready to eat them, and you reach for the steak knives in the drawer. Rather than slicing through the steak like butter, it tears a messy path to the surface of the plate.
You come to the realization that you need new steak knives, and this time, you intend to buy something high-quality. J.A. Henckels steak knives have a strong reputation for offering quality steak knives at an affordable price. However, there are a lot of options out there, so it's important to understand what your options are.
In this Henckels Steak Knives Review, I'll talk about the components of a J.A. Henckels steak knife, I'll suggest a few specific products, and then I'll compare them to the competition so you'll be able to make an informed decision about what might be right for you.
About J.A. Henckels
Zwilling J.A. Henckels started in Germany, using knife-making expertise that was developed over the course of several centuries. They began creating exceptional knives using innovative technology.
Their steak knives have stylish designs and are made to last. Rather than being distracted by all of the new features and components of knife manufacturing, J.A. Henckels prefers to stick with the basic construction that has worked for hundreds of years.
This helps keep their knives functional, reliable, and affordable. While some people believe you may sacrifice quality for affordability, that's something that J.A. Henckels has worked hard to avoid.
High-Quality Steak Knife Characteristics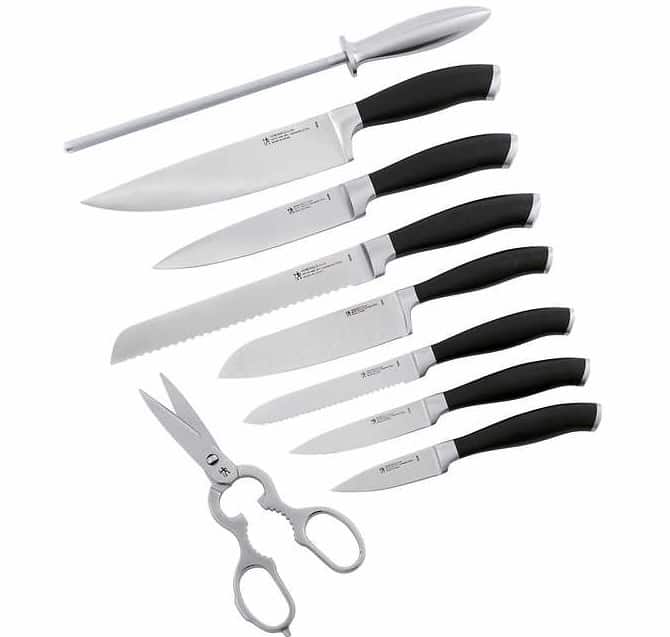 There are two types of edges common to steak knives, and many people debate which is better. While serrated knives don't require as much maintenance and will stay sharp for longer, straight edges require less effort to cut and produce a clean cut.
Most of the time, it comes down to personal preference. But there are some characteristics common to high-quality steak knives that you should consider before making a purchase.
Aesthetics
It's important that you enjoy the way your steak knives look. Much like a sparkling crystal glass or fine china would grace your dining room table, your steak knives will elevate your style when having a romantic dinner for two or a cocktail party with friends.
Having well-designed steak knives will add a special touch and make it look like you put extra thought into setting the table. However, beautiful design is a bit subjective. What you like will differ from what someone else likes.
Durability
Great steak knives should last for years, or perhaps even generations, despite using them constantly. Choose something that's made from durable materials that will cut through different types of food and withstand sharpening.
You can check for quality construction by feeling the weight of the knife. Don't trust anything that feels flimsy. On the other hand, you don't want to choose one that's too bulky or weighty either.
Versatility
A good steak knife can be used for more than just steak. For many people, steak knives become more of a general utility knife. They can tackle pizzas, vegetables, and bread while being gentle enough to butter toast.
Your steak knives should be versatile enough to do all of these things but also durable enough to handle constant use. Many people choose an everyday steak knife and reserve their very high-quality steak knife set for special occasions.
Cleaning and Maintenance
Your steak knives should be easy to clean and maintain, especially if you use them all the time. You want them to be made of a material that cleans easily and doesn't retain the scent of food like blades made from cheap materials do.
You also want them to stay sharp with easy maintenance, so you're not constantly having to sharpen them after using them.
Warranty
Most of the best steak knives come with lifetime warranties. Brands will offer very clear instructions on how to care for your steak knives. Not following these instructions will void the warranty. Most manufacturers trust the quality of their knives, but only if you take care of them the way you should.
Loving Henckels Steak Knives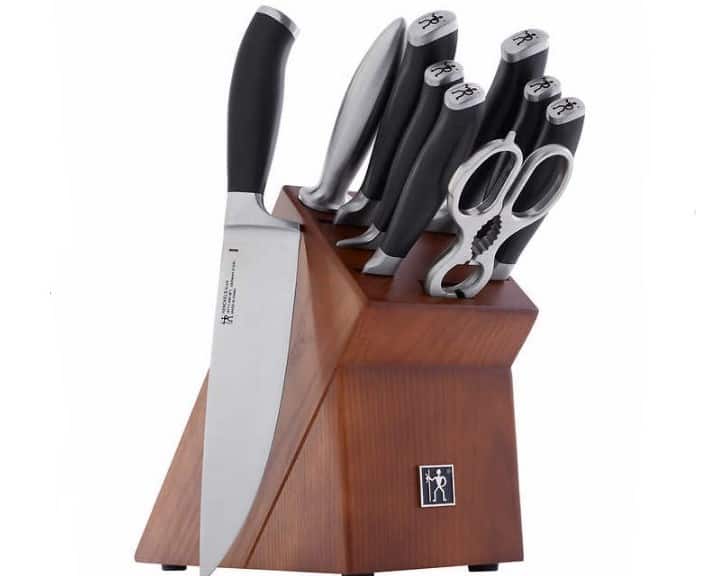 Most people love J.A. Henckels steak knives because they're made from high-quality materials and feature beautiful designs that will match the sophistication of your crystal and fine china. You can expect your J.A. Henckels steak knives to have a Rockwell hardness of 55-58, which ensures that the blade will hold its sharp edge with minimal maintenance. They're also very durable and sturdy.
Forged knives are made from a single piece of steel and are much more durable than stamped knives. However, even J.A. Henckels stamped knives are triple-riveted to offer balance and durability. All handles offer a comfortable, ergonomic grip.
And, true to the best quality steak knives, J.A. Henckels offers a lifetime warranty, so you'll be able to replace your defective items as long as you take care of them correctly.
Price
J.A. Henckels has a reputation for excellent quality. You can find affordable steak knives for around $30. However, there are also knives that may cost as much as $200, depending on the materials, construction, and the number of knives in the set.
Key features:
Extreme durability – J.A. Henckels produces knives that have extreme durability and will last a lifetime if properly cared for.

Lifetime warranty – All J.A. Henckels knives come with a lifetime warranty because they are confident that with proper maintenance, your knives will never have to be replaced.

Low maintenance –  J.A. Henckels knives are incredibly easy to maintain. They require very little honing and sharpening.

Easy to clean – Many J.A. Henckels knives are dishwasher safe. However, they do recommend that you wash them by hand to keep them performing like new for longer.

Affordable –  One of the most exceptional things about J.A. Henckels knives is that they offer superior quality at an affordable price when compared to the alternatives.
Pros:
Easy to clean and maintain

Affordable

Lifetime warranty

Plenty of styles to choose from
Cons:
Straight edges may need more frequent sharpening

Improper care voids the warranty
J.A. Henckels Products
These knives were selected because of their design, aesthetics, durability, and performance. All J.A. Henckels knives are made with quality craftsmanship, but these options are some of the best.
4-piece Stainless Serrated Set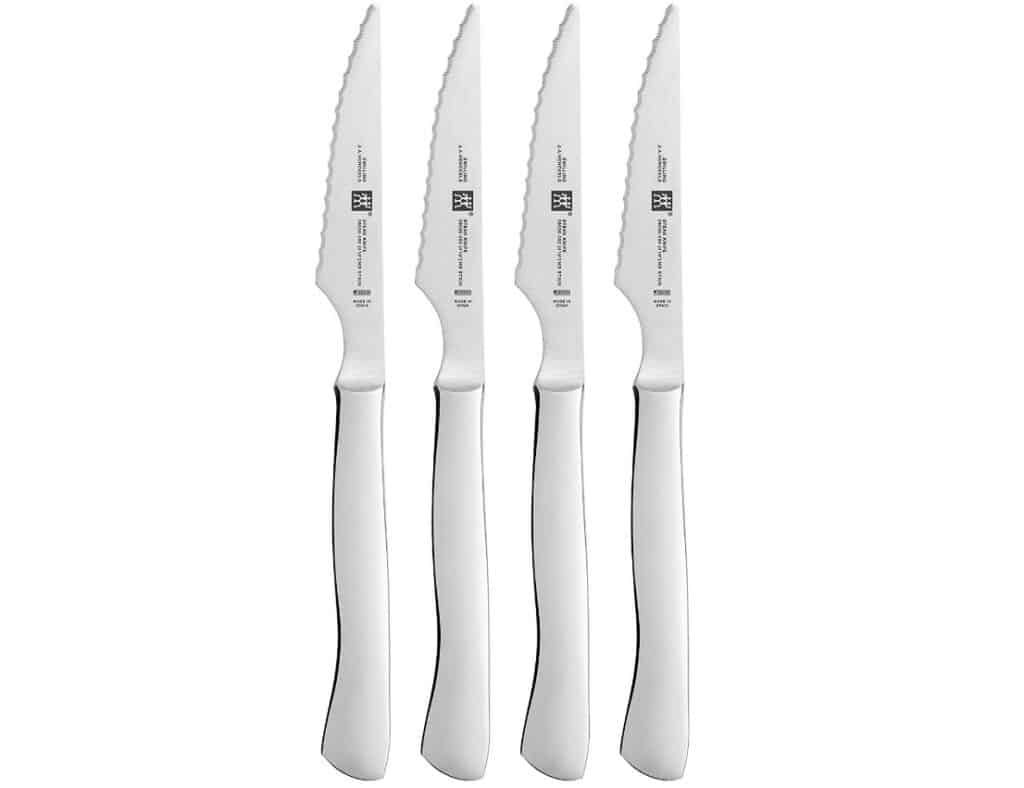 The inverted serrated edge on these knives is designed to cut through steak rather than tear it as other serrated knives will do. They are presented in a wooden box that makes them a great gift. The wooden box opens by sliding the cover to the side, and it's fitted with small magnets that will keep the knives in place, even if you turn it on its side.
These steak knives are stamped with handles made of wood and triple-riveted to offer superior balance and durability. There are four knives in the set, each with a 4-inch blade and a total length of 8.5 inches.
Every knife comes with a tip protector and full-tang blades to increase strength and durability. The Rockwell hardness of 57 ensures they'll stay sharp for years with appropriate cleaning and maintenance. Simply oil the handles with coconut or olive oil regularly.
International 8-Piece knife Set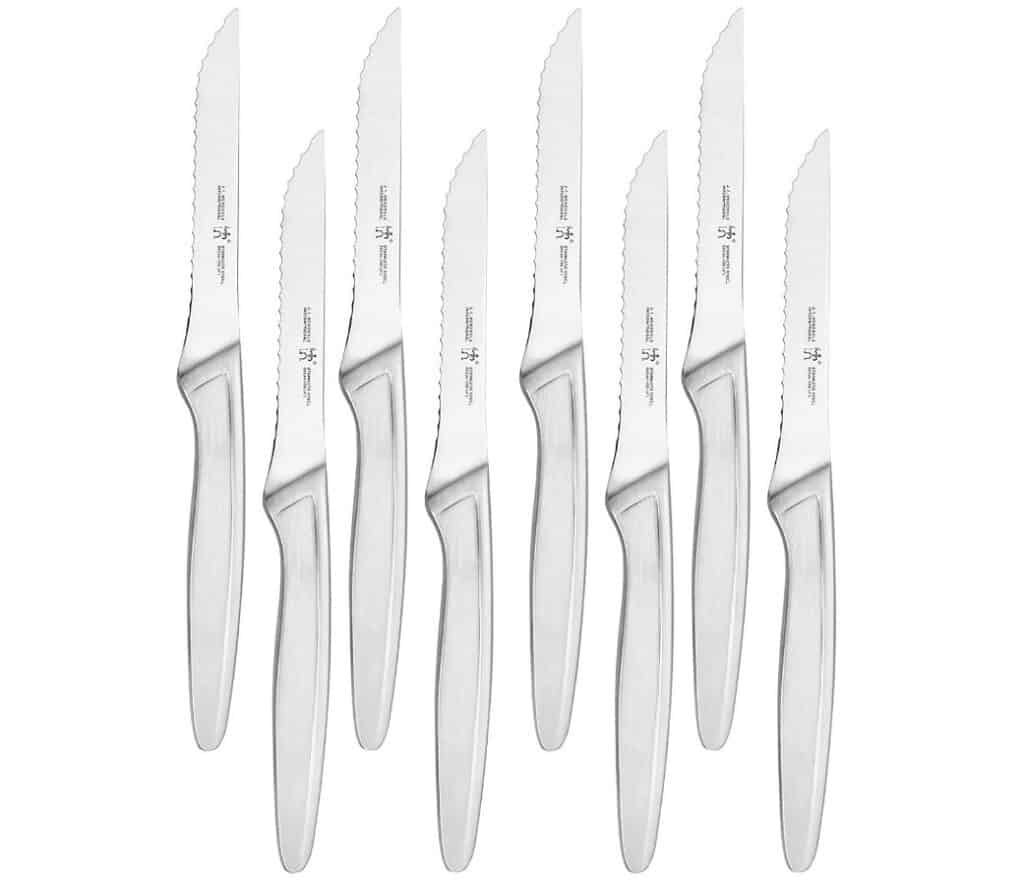 The J.A. Henckels International series is recognized for its stainless steel blades and black riveted handle. These stamped knives have serrated edges with micro serrations to increase precision, and the handles have the signature J.A. Henckels triple-riveting design for extra durability.
A Rockwell hardness of 57 and full-tang construction ensure that they will stay strong for years with proper maintenance. Surprisingly, they are dishwasher safe, but the company still recommends you hand wash them to keep them sharp for longer.
These knives are surprisingly lightweight thanks to excellent balance, and they're versatile enough to be used as an everyday steak knife. They can tackle kitchen prep work like cutting raw vegetables and still function beautifully at the table.
This set of eight features knives that only weigh 0.8 pounds each. The blade is still 4 inches with a total knife length of 8.75 inches.
8-piece Stainless Steak Knife Set In a Wood Gift Box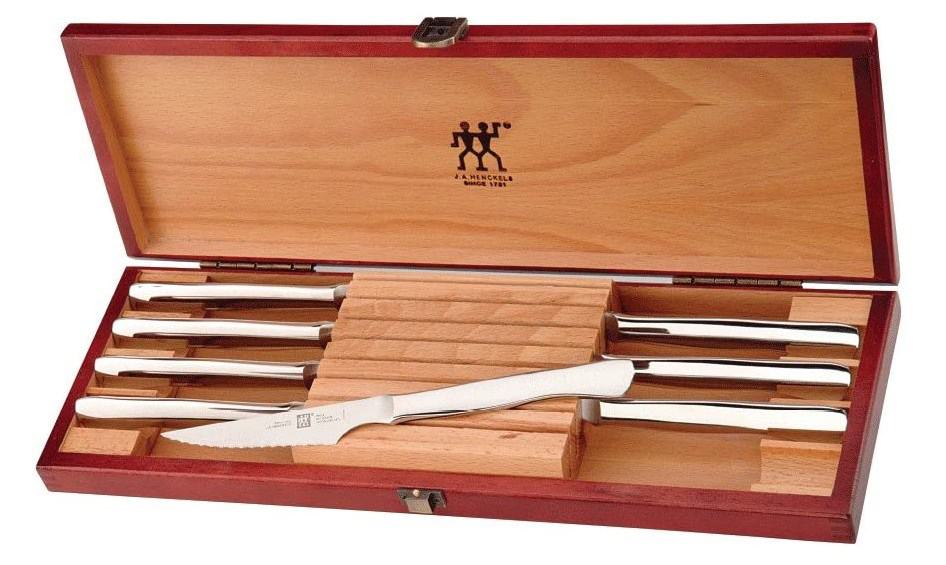 This large set is some of the highest quality you'll see from J.A. Henckels. They feature high carbon stainless steel with stainless steel handles, all forged from a single piece. These knives tear sharply at meat rather than slicing and clean up beautifully. Plus, they're dishwasher safe.
If you're used to wooden handles, these stainless steel handles may feel a tad small, but they come with an ergonomic design that makes them surprisingly easy to use. They also come with a polished finish that adds a sleek look to your table.
The box has a mahogany finish with an auburn color that makes the stainless steel knives sparkle and pop when you first open them up. Eash serrated blade is 4 inches long with a total knife length of 8.5 inches.
Alternatives
It's important to compare J.A. Henckels to the competition, just to see what your options are and if J.A. Henckels really is the right choice for you. These competitors have their own advantages, lending to their usefulness.
Messermeister Avanta 4-piece set with Pakkawood handles
This knife set looks very similar to the J.A. Henckels International set. They feature black handles with a triple-riveted design to keep them balanced and durable. However, these knives also have a bolster to keep your hand safe during use, and the handle is made of a wood and plastic composite material called Pakkawood.
The full-tang blades are made of high-carbon stainless steel. They feature a straight edge that can get dull quickly, so regular honing is necessary for this set. When honed properly, they are very sharp. The 5-inch blade is an inch longer than the J.A. Henckels International set, and it curves upward beautifully at the end. However, some may feel that this makes the knife heftier, although it's still easy to use.
Wusthof Classic Ikon 4-piece set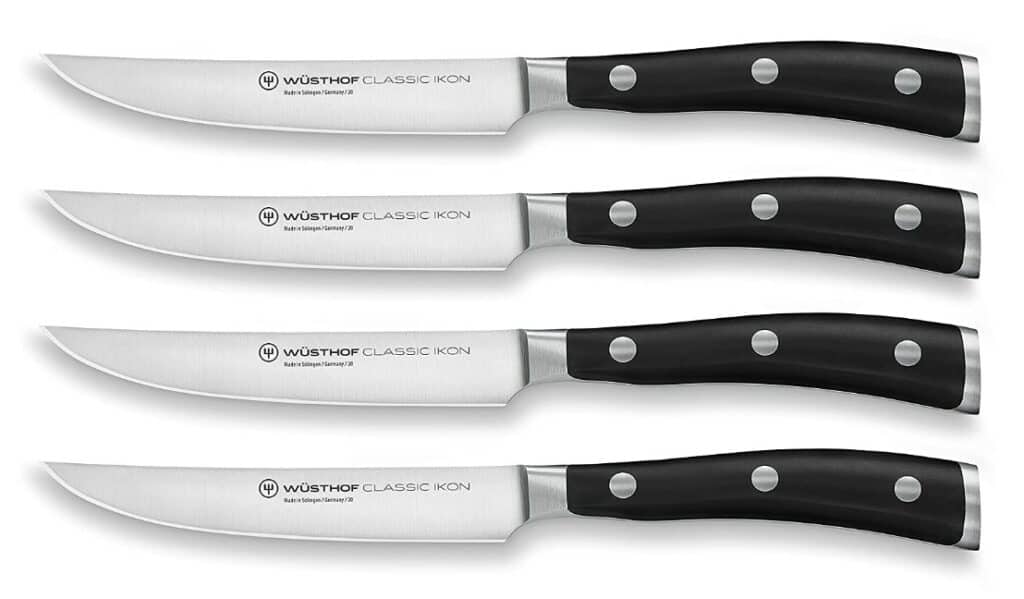 Wusthof is another German company that makes some of the best knives you'll ever use. This set features some of the most beautiful aesthetics you'll ever find. These forged knives are made from a single piece of high carbon stainless steel that's honed by hand for incredible sharpness.
The black handles are triple-riveted and offer a comfortable, ergonomic grip as well as superior durability. The forged bolster adds to its balance, durability, and safety.
These full tang straight edges will need frequent sharpening, but performance is superior to that of the J.A. Henckels knives. It's up to you whether this slight improvement in cutting performance is worth the huge jump in price.
Chicago Cutlery Walnut Tradition 4-piece set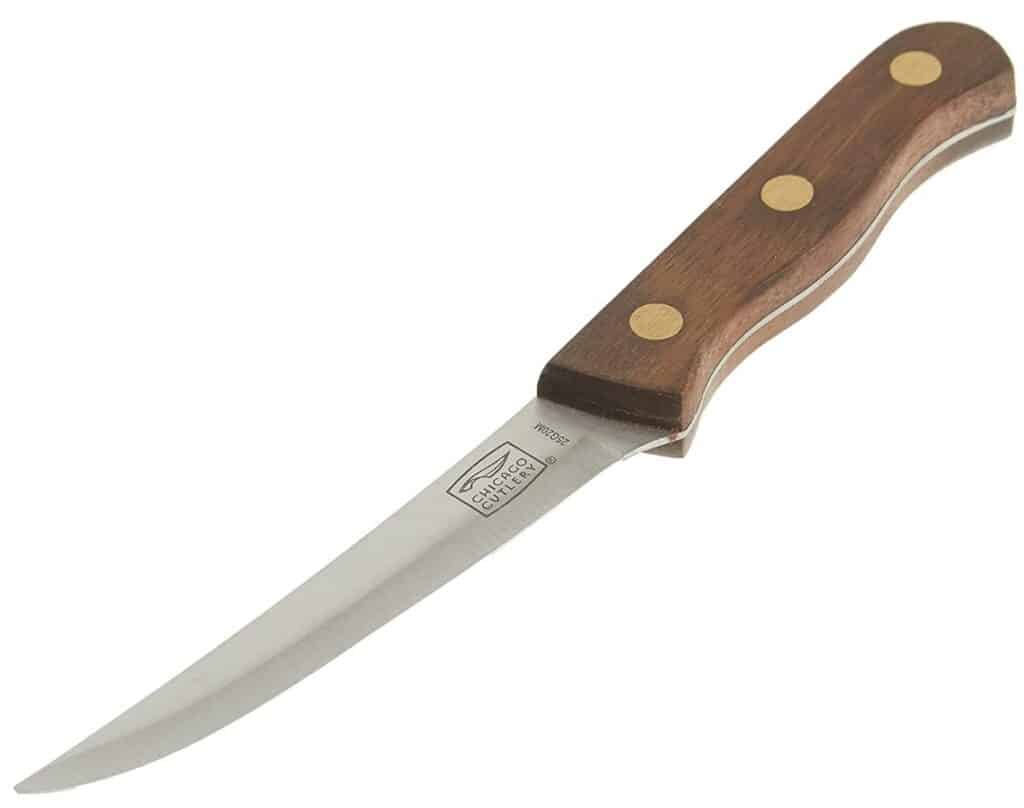 This set appeals to a more classic aesthetic, with true wood grain handles and an upward tilt at the tip of the blade. Each blade is full tang with triple-riveted handles that offer an ergonomic grip.
The straight edges are made from high carbon stainless steel and will need regular sharpening, but with Taper Grind Edge technology, they will stay sharper for longer than the MesserMeister, although not as long as the J.A. Henckels.
Because these knives have walnut handles, they must be hand-washed, but they come with a lifetime warranty that ensures you'll get a replacement if you need it.
FAQs
Question: What are the best quality steak knives?
Answer: Wusthoff is by far one of the best steak knives you'll ever own. However, the price definitely reflects their quality, so they're not the best options for people on a budget. J.A. Henckels is the perfect brand for those who want superior quality at a much lower price.
However, there are other great brands out there, too, like DALSTRONG, Chicago Cutlery, and Messermeister. Each features its own unique design elements, and they come in at various price points.
Question: How much should I spend on a steak knife?
Answer: For a good quality, hand-crafted steak knife, you'll fork over some cash. But you don't have to splurge on the most expensive brands to get quality that will last. Many brands, like J.A. Henckels, have options that offer great quality at an affordable price.
You can spend as much as you like, but for the average household, $30-50 per knife is a good range to aim for if you're purchasing an everyday steak knife. For a set of quality steak knives that you only want to use on special occasions, you could spend as much as $200-500 or more, depending upon the quality and how many knives are in the set.
Question: Are steak knives necessary?
Answer: For most people, steak knives are an essential part of your kitchen, even if you're not a meat-eater. In fact, a quality steak knife can be used for so much more than just steak. It's a functional utility item for food prep and many other tasks in the kitchen.
Henckels Steak Knives Review: Final Thoughts
My personal J.A. Henckels favorite is the 8-piece set in the wooden gift box. It's guaranteed for a lifetime and is forged from a single piece of stainless steel for years of quality and performance. It offers beautiful aesthetics at an affordable price.
However, you can't go wrong with any J.A. Henckels set. They're all made with quality craftsmanship that you can enjoy for a long time. They require little to no maintenance, they're easy to clean, and they can do so much more than cut steak.