Latest posts by Sarah Caldwell
(see all)
Having a meat grinder allows you to control the quality of your meat from home, rather than trusting the store to offer the quality they say they will. You can purchase quality cuts of steak, roast, or brisket and grind them into hamburgers, always knowing what you're getting.
For people who want to know exactly what's in their food or who want to experience some creativity in the kitchen, the Waring Pro MG855 is a great option. It comes with plenty of accessories to get started, but you can always purchase more.
It's lightweight enough to move and compact enough to store when you're not using it, giving you a versatile tool for more control over what you eat.
In this Waring Pro Meat Grinder review, I'll give you more details about the Waring Pro MG855 and whether I think it's the best value for your money. I'll also review some alternatives so you can make a better decision about which meat grinder is the best one for you.
Meat Grinder Buying Guide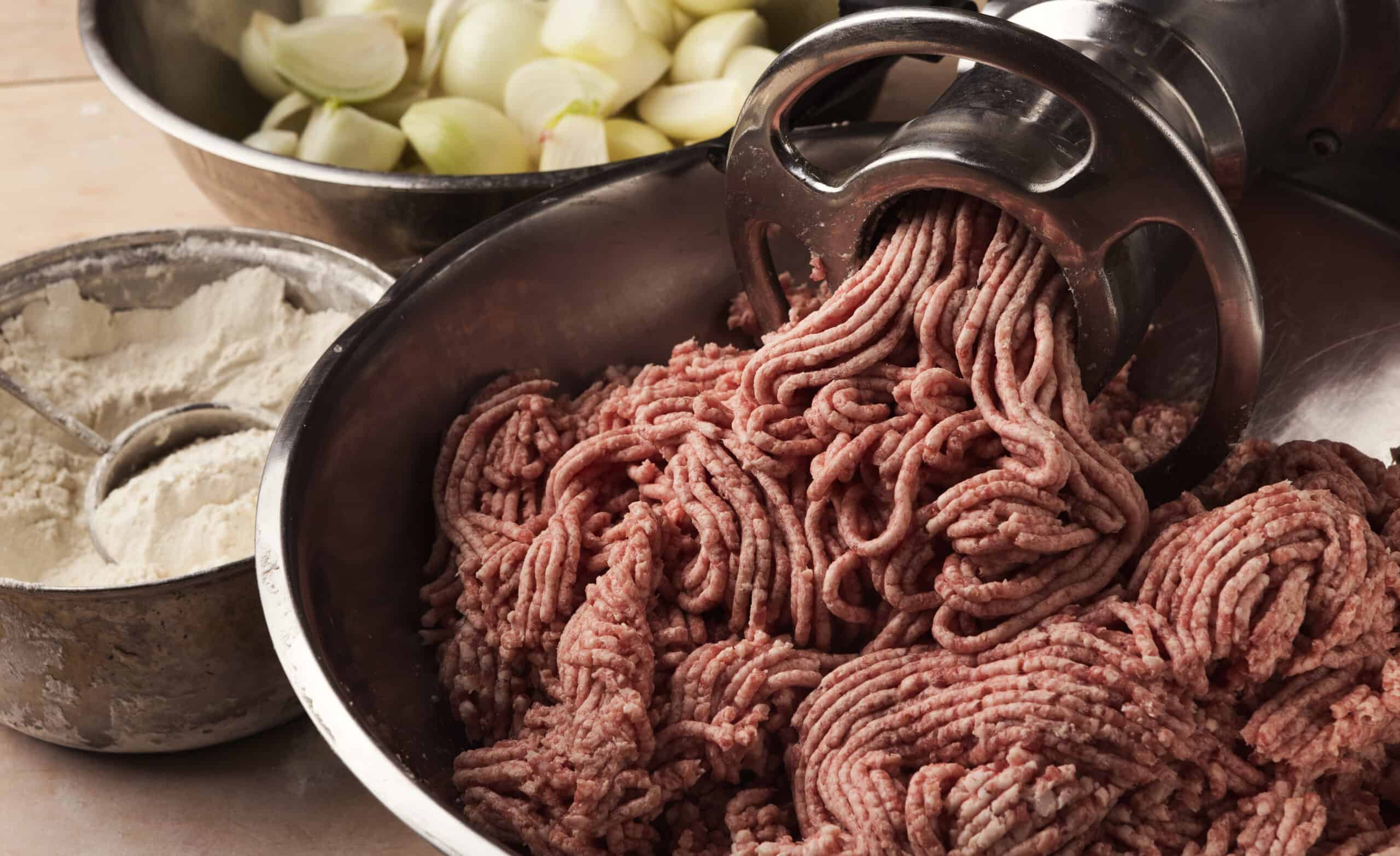 If you're looking for a meat grinder, there are a few things to keep in mind.
Power source
Manual meat grinders require you to crank them by hand to grind the meat. It takes a lot of elbow grease and won't produce a lot of volumes, but they are very affordable. Electric meat grinders have powerful motors that can handle a variety of volumes, but they're more expensive and only worth the price if you grind a lot of meat.
What you choose will depend on whether you want to save money or energy. Manual grinders take up a lot less space than an electric grinder, but there are still plenty of compact electric grinder options.
Durability
Choosing a model that will last is always the goal, but your volume will determine how durable it needs to be. Plastic bodies and gears are less expensive but don't offer as much durability as stainless steel or aluminum.
Cutting blade material
You'll get the best cutting performance out of stainless steel. If you need to grind through bones for your own broth or dog food, stainless steel will get the job done. You'll also get the most reliability and rust resistance out of stainless steel.
Other materials won't offer the same strength as stainless steel, but if you don't need to grind through bones or heavy gristle, you may be able to get by with something else. Keep in mind that stainless steel also maintains its sharpness better than other materials as well.
Ease of use
This is based on your own personal comfort level rather than your grinder's performance, but choosing a grinder that works for you is key to getting a lot of use out of it. Volume, output, speed, and power all contribute to how easy a grinder is to use.
Cleaning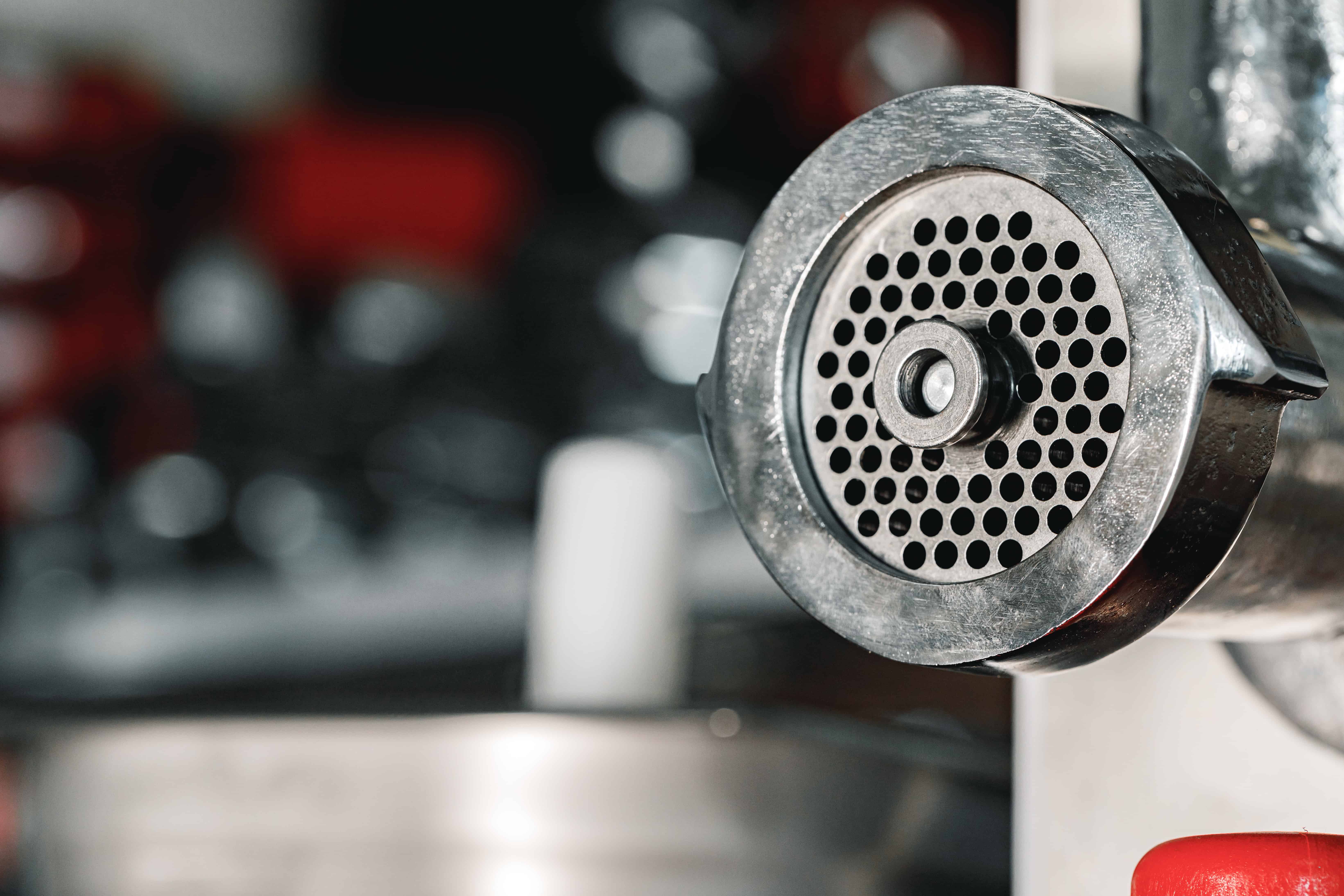 Another thing that contributes to ease of use is cleaning. While some models are dishwasher safe, most are not. It's highly important that you clean and sanitizes your unit properly to avoid the growth of harmful bacteria. If your unit isn't dishwasher safe, it should at least be easy to disassemble and clean before oiling and putting it away.
Accessories
Most meat grinders come with accessories, but you need to choose a grinder that comes with the accessories you'll use. If you don't want to make sausage, sausage attachments won't be useful to you. However, if you're grinding a large variety of meats, different cutting blade sizes, and several different pushers will be critical.
You may also want to check the availability of accessories that you can purchase later, just in case you change your mind or find that you need something different.
Size
Evaluate the space you have in your kitchen to make sure you purchase a grinder that you can use. If you don't have enough counter space for a large unit, consider something more compact.
Style
If you're going to use it frequently, you may want to store it where it's visible. That means you also want it to look good, rather than it being an eyesore. However, if you plan to clean it and put it away after every occasional use, it may not matter to you what it looks like.
Waring Pro MG855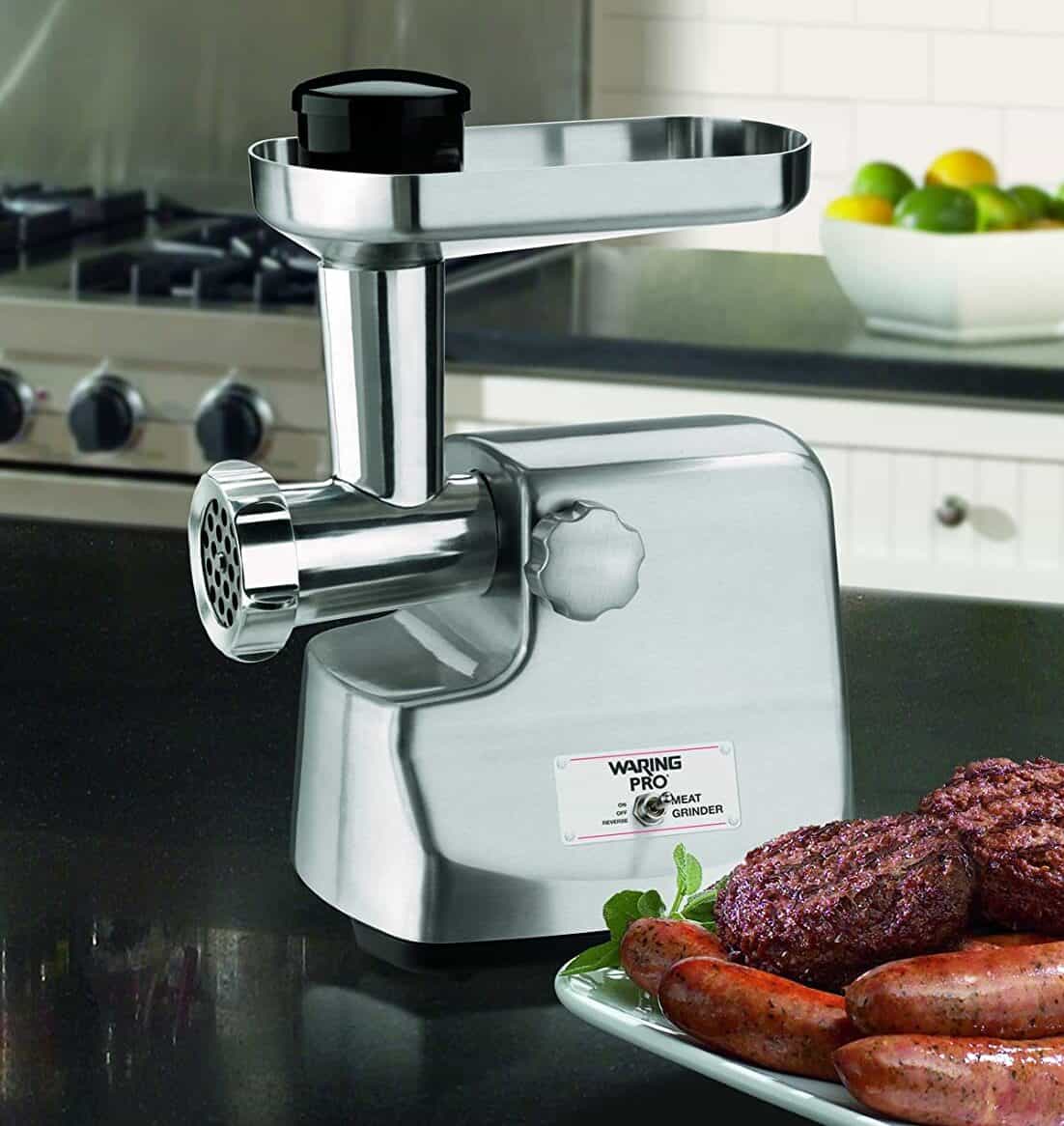 Now that you have a better idea of what to look for, you can read through the specifications of the Waring Pro MG855 to see if it meets your criteria. It's a quality machine from a highly reputable brand and it comes with a lot of accessories.
Power and capacity
There are some conflicting reviews on sites like Amazon as to how many watts of power this particular meat grinder has, but after further research, I can verify that it contains 350 watts. The unit itself displays this wattage, as does the product description on the manufacturer's website. It has a peak output of 1000 watts.
At 350 watts, this is more than enough power to take care of most tasks at home. You can make meatballs, burgers, sausages, and more with ease. It is recommended that you cut up small pieces of fat and run them through the grinder first to give it some lubrication. While this meat grinder can tackle most meats, it cannot grind bones.
With this professional quality meat grinder, you can grind 4 pounds per minute, which allows you to make enough burgers for a large backyard grilling session in just 10-15 minutes. However, you can grind a lot more than meat. It will tackle vegetables for veggie burgers so you can accommodate all of your friends, no matter their diet.
This meat grinder is compact but strong, although it does tend to wobble a bit while grinding. It requires a bit of extra caution to ensure your meat grinder doesn't fall off the counter while you're using it.
Grinder plates and cutting blade
Included in the Waring Pro MG855 are 3 cutting plates and 1 cutting blade. Each plate measures 2.5 inches in diameter to fit in the size #8 grinder. There are fine, medium, and coarse grinder plates, and each has a specific purpose.
The fine plate is great for hamburgers, baby food, pates, and spreads. The medium plate can be used to grind meat for sausages or soup. The coarse plate will grind vegetables or meat for chili.
However, these are just the manufacturer's recommendations. If you find that you like a different texture for your meat, you can always switch out the plate. Experiment with different sizes to find what you like the best.
Construction
Brushed stainless steel comprises the body of the grinder, but this is the only part of the grinder that's made from this material. The auger, feeding tube, and meat hopper are made of aluminum, which makes them lightweight and easy to clean. Aluminum is also resistant to corrosion, which means the parts that need to be cleaned the most often are likely the most durable.
The cutting blades, grinder plates, and sausage-making rings are made from carbon steel, ensuring they remain sharp enough to grind any meat. All internal gears as well as the sausage stuffers and meat pushers are made of plastic.
Controls
There's a simple switch that allows you to turn the meat grinder on or off, and there's also a reverse function that will help you get rid of anything that might have jammed the mechanism. Simply flip the switch to reverse and release it quickly 3 times. These controls are simple and easy to use.
Cleaning and maintenance
This particular grinder is easy to take apart and clean. Simply wash your steel or aluminum parts in warm soapy water and dry them immediately. If you don't ensure they're completely dry, they are more prone to discoloration and rust.
Unfortunately, these parts are not dishwasher safe. If you want a dishwasher-safe meat grinder, you'll pay a lot more for something that's completely stainless steel.
If you find that you have residual meat build-up in your grinder, you can run some stale bread through it to remove the meat. Oil your parts and accessories after each cleaning, before you put them in storage.
Sausage attachments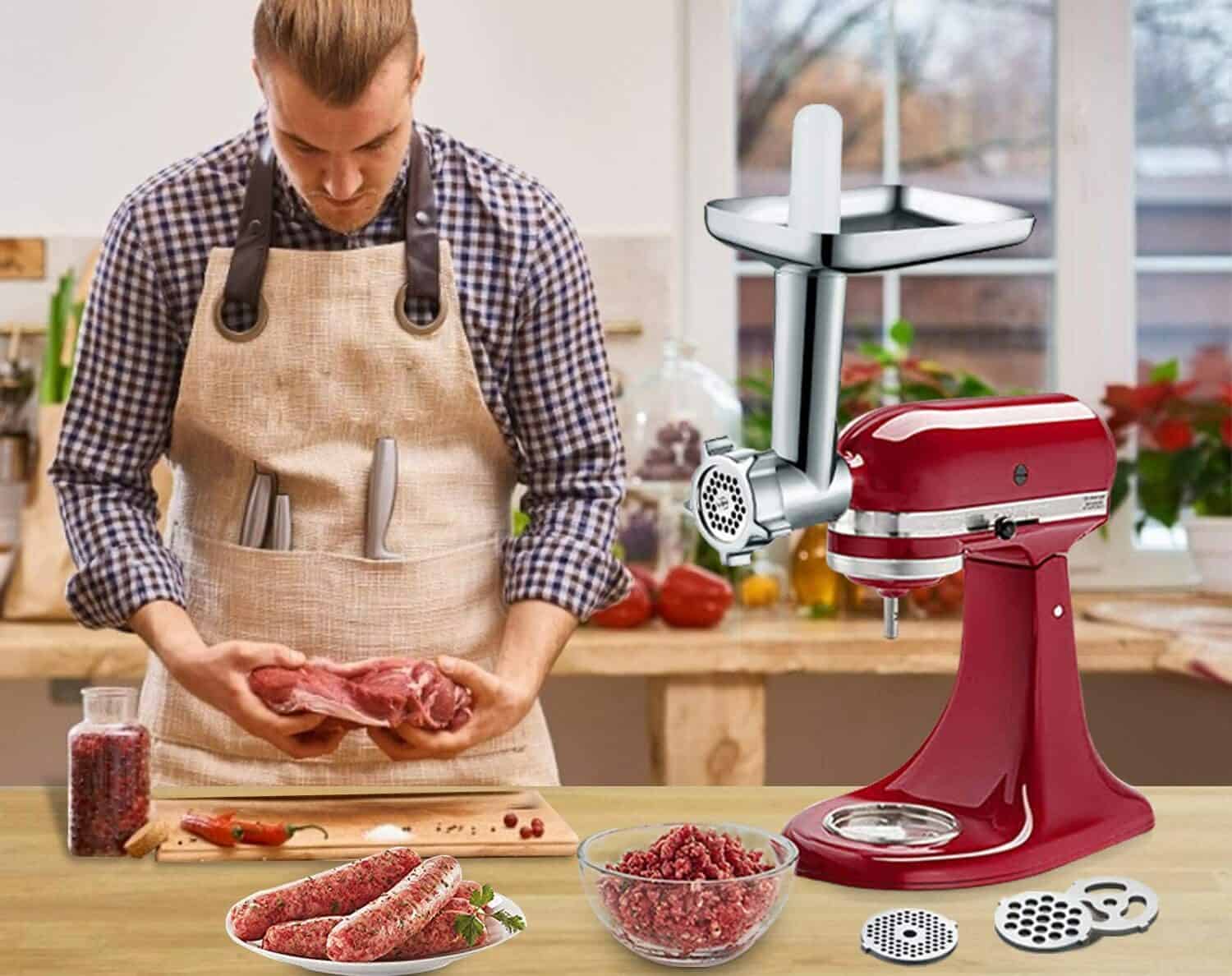 Two sausage stuffing tubes and a sausage ring make it easy to form your own sausages. If you're making sausage, grind it using your preferred cutting blade first, then remove the cutting blade and use the sausage ring and stuffers. This ensures that you only grind the meat once and you stuff it more effectively.
Features
There are plenty of useful features included in the Waring Pro MG855 that may be useful to you. The extra-large hopper gives you a meat tray that will hold plenty of food, so you can spend more time grinding without having to worry about cleaning off the tray to accommodate a lot of volumes.
The Waring Pro MG855 comes with a meat pusher, but the meat pusher doubles as a container to store the cutting plates and sausage attachments. This is a really convenient way to make sure you keep everything in one place. It helps you avoid searching high and low for a missing piece.
The downside to having a pusher that doubles as storage are that the top can pop off easily when you're using it as a pusher.
Accessories
The accessories that come with the Waring Pro MG855 include:
3 cutting plates

1 cutting blade

1 meat pusher

2 sausage stuffing tubes (small and large)

1 sausage ring or stuffing plate

1 extra-large hopper

1 spanner
You can purchase replacement parts as well as additional accessories from Waring Pro or on Amazon.
Price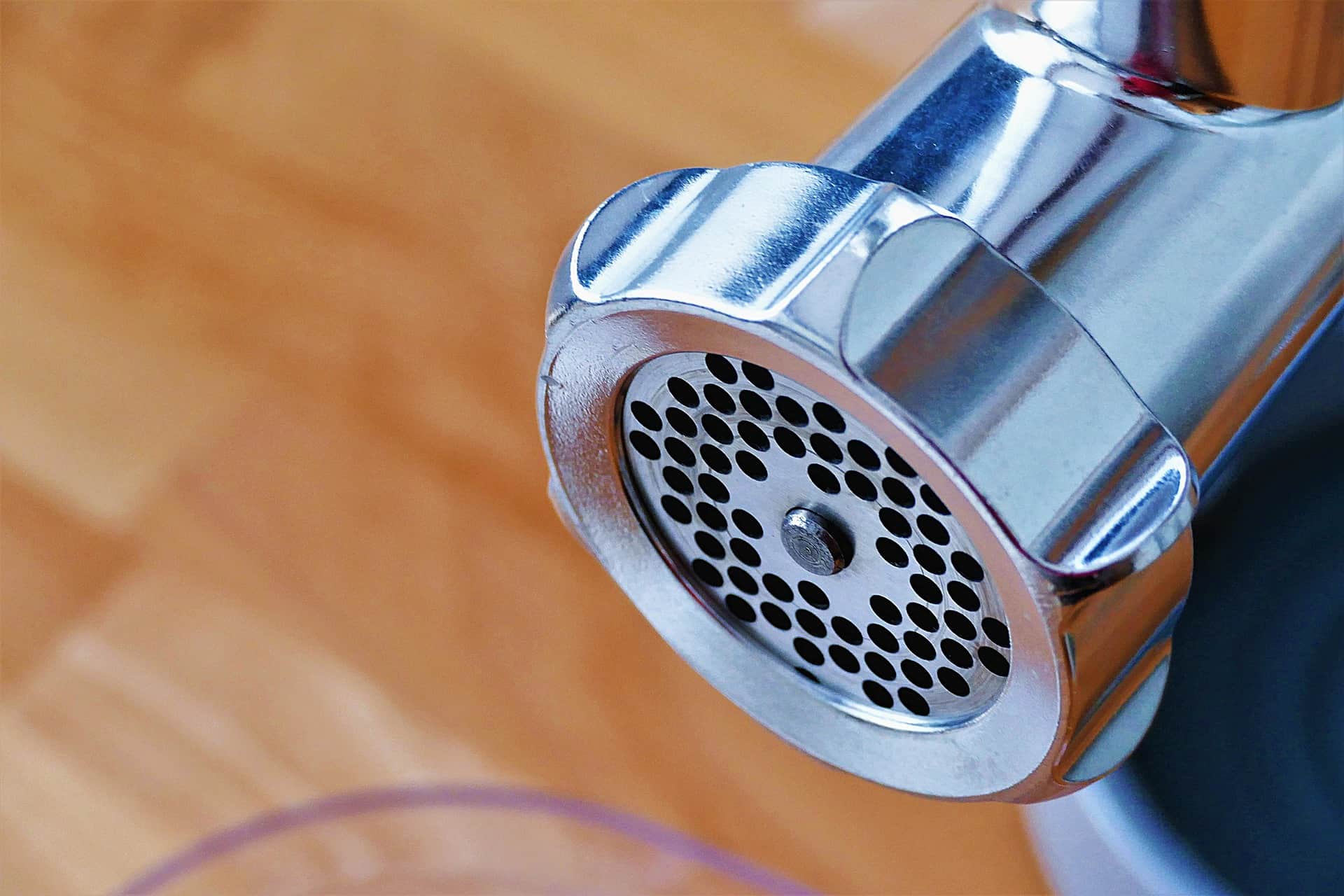 While the Waring Pro MG855 isn't cheap enough to be considered a budget grinder, it's not as expensive as professional quality meat grinders either. It's from a well-known and reputable brand, which is worth more money for some people.
While you can get more powerful meat grinders for cheaper, they're likely not from brands you've ever heard of. It's also likely that you'll sacrifice style for something more efficient, because these high-volume grinders are marketed toward hunters who need to process a lot of meat, rather than home chefs.
Pros:
Grinds quickly and efficiently

Compact and lightweight

Stylish

3 grinder plate sizes

Extra storage in pusher

Easy to assemble
Cons:
Not 100% stainless steel

Noisy

Gears are plastic

Cap can come off of pusher
Key features:
Can grind 240 pounds per hour

350-watt motor

Hand wash only

5-year motor warranty

Includes 3 cutting plates and 1 cutting blade, 1 pusher, 2 sausage attachments, and 1 spanner
Alternatives
While the Waring Pro MG855 is a great appliance that may be right for many people, there's a lot of competition on the market. Here are some of the top alternatives that offer similar features and capabilities.
Sunmile SM-G50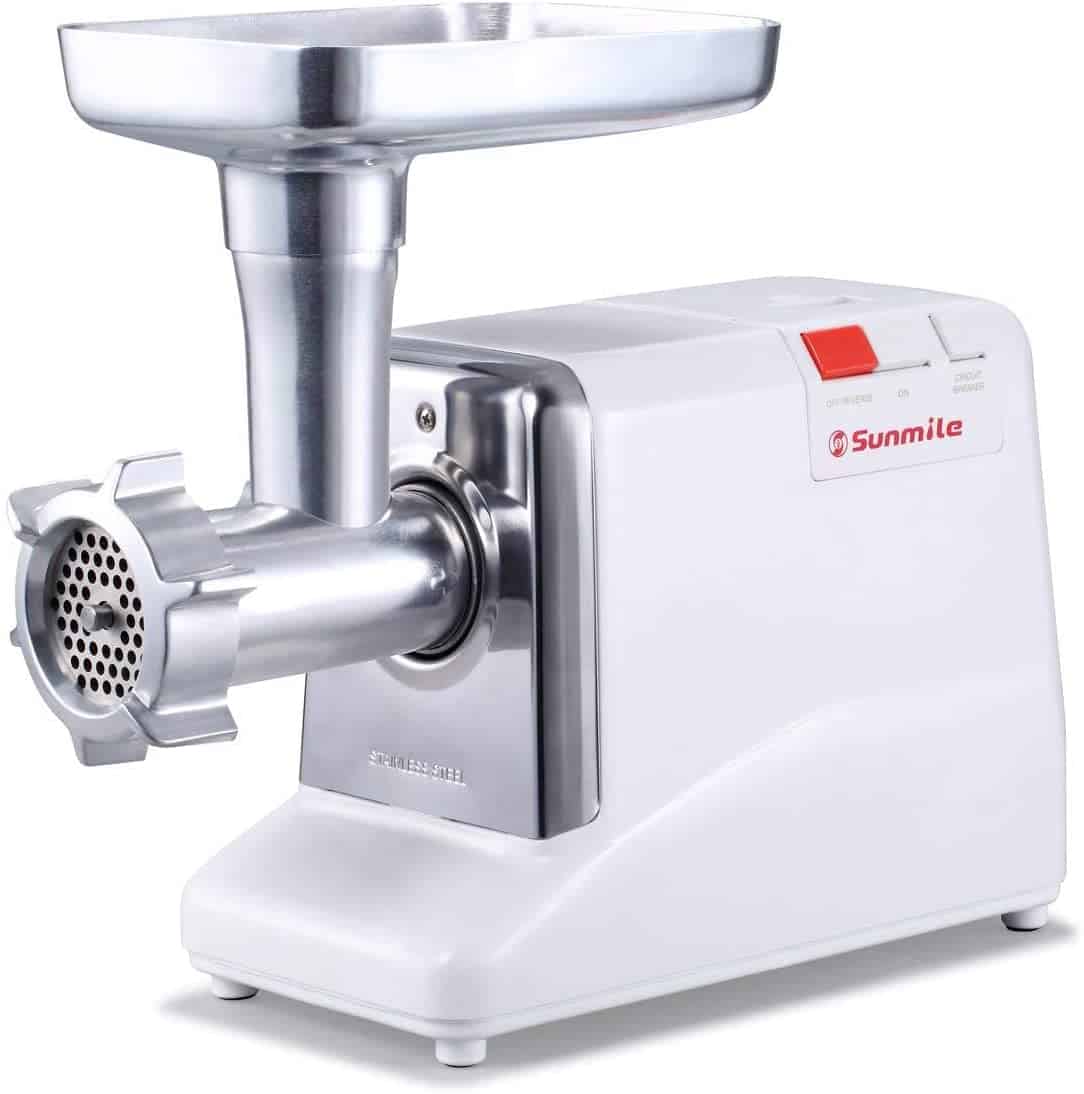 This particular unit has a 4-way switch to accommodate on, off, reverse, and reset. The interior cord storage makes it easy to pack away when you're not using it. It has a 350-watt motor, just like the Waring Pro, but the accessories included differ.
The Sunmile comes with a stainless steel blade, 3 plates, 3 sausage accessories, and a food stuffer. Because the stainless steel blade is slightly more durable than what comes with the Waring Pro, likely, you'll also be able to grind through bone. If you grind your own pet food, this unit is ideal.
Inside the unit is a dedicated circuit breaker to protect your motor from getting burnt out on tough jobs. While this is an improvement over the Waring Pro, it only comes with a 1-year warranty. This one isn't dishwasher safe either, but it's easy to take apart and clean. You'll also benefit from heavy-duty steel gears, making this grinder worth the price. Oil everything before storing it to prevent rust.
STX Turboforce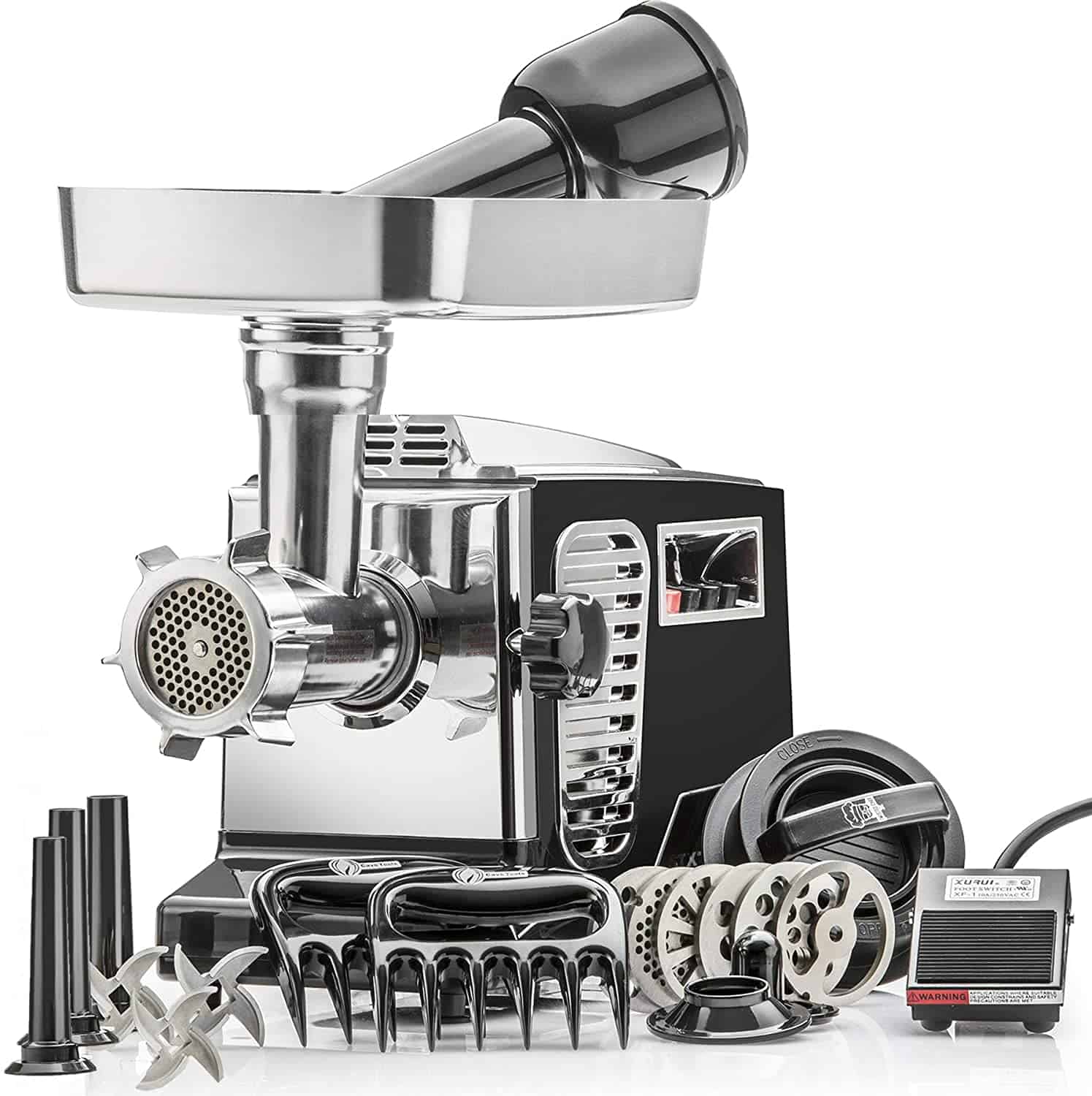 This is a pricey option, but features high, low, and reverse speeds as well as a whopping 2000 watts of power. Because the motor is so powerful, it comes with its own built-in cooling system and a 3-year warranty. It includes 5 different grinding plates, 3 stainless steel blades, 3 stuffing tubes and a sausage plate, and 1 pusher. It's strong enough to grind bones, which makes it an ideal option for those who make their own dog food or stock.
STX is known for its stylish design and excellent quality. Much like the Waring Pro, it can make excellent sausage, but the tools on the STX are much easier to use. The STX also isn't dishwasher safe, but it's easy to clean. Unfortunately, the cooling feature can cause extra meat to get stuck to the blades, and it's quite noisy because of its high velocity.
Safstar 1300-watt electric grinder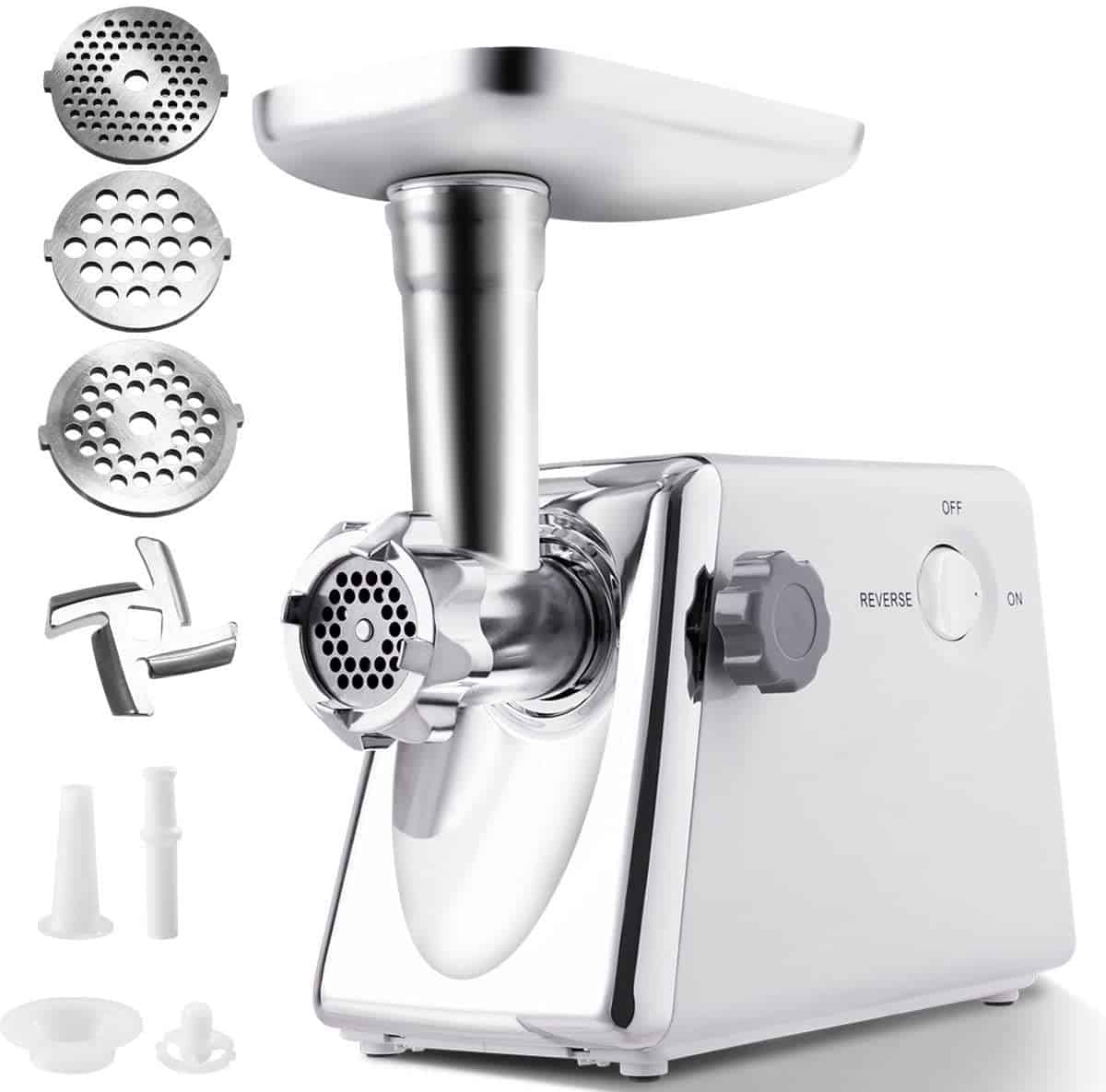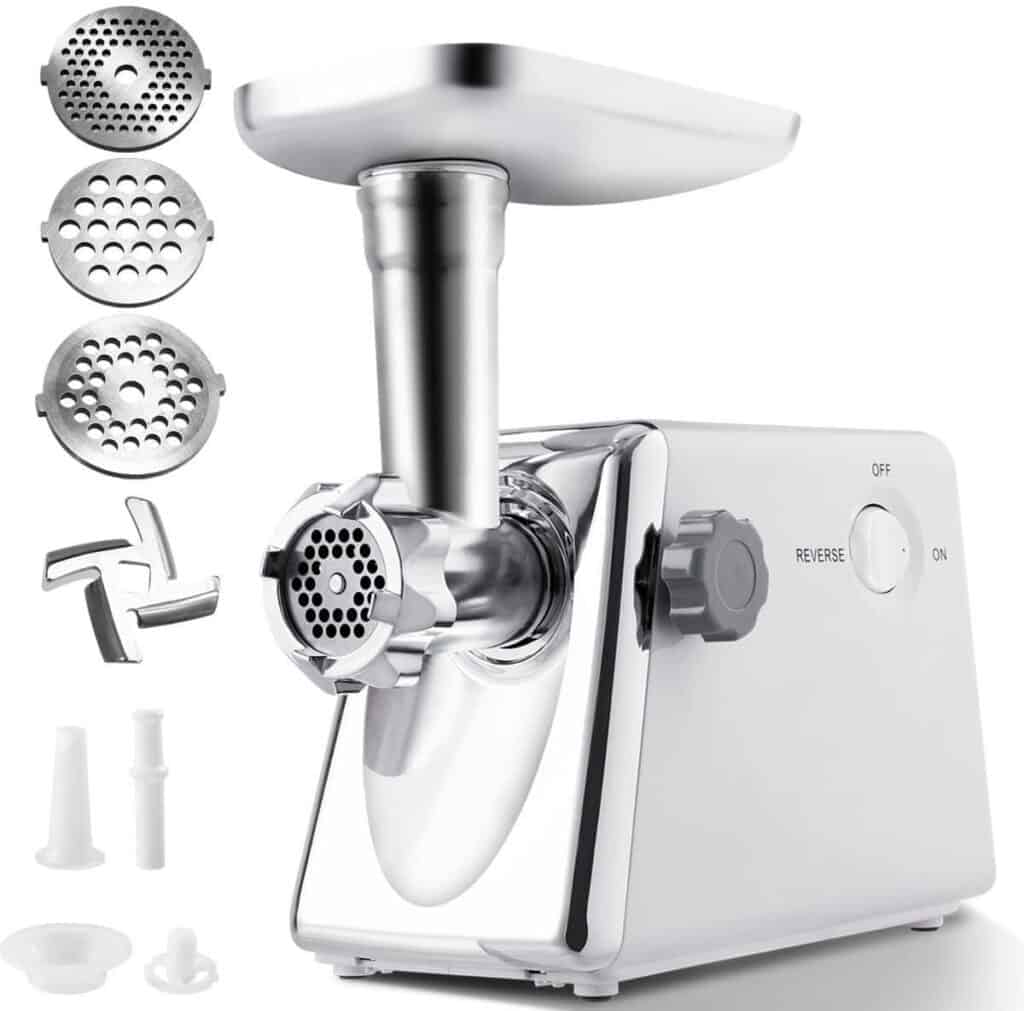 This is an incredibly affordable meat grinder, making it the best budget option for those who don't want to spend a lot. It comes with fine, medium, and coarse grinding plates plus 1300 watts of power that can handle 3-4 pounds per minute.
It lacks the fancy features you'll find in a more expensive model, but it gives you the power you need to grind through a lot of volumes. It doesn't come with sausage accessories, but the power is there to make sausage patties. This machine is ideal for those who want to make their own meatloaves, meatballs, or hamburgers. It's smaller in stature than the Waring Pro, so it's easier to store and has a much quieter motor.
Unfortunately, this unit isn't as heavy-duty or durable as the Waring Pro and it doesn't have a reverse switch. It's known to grind a lot of meat quickly without clogging, but the reverse option is nice to have for most people.
VonShef Digital Electric Grinder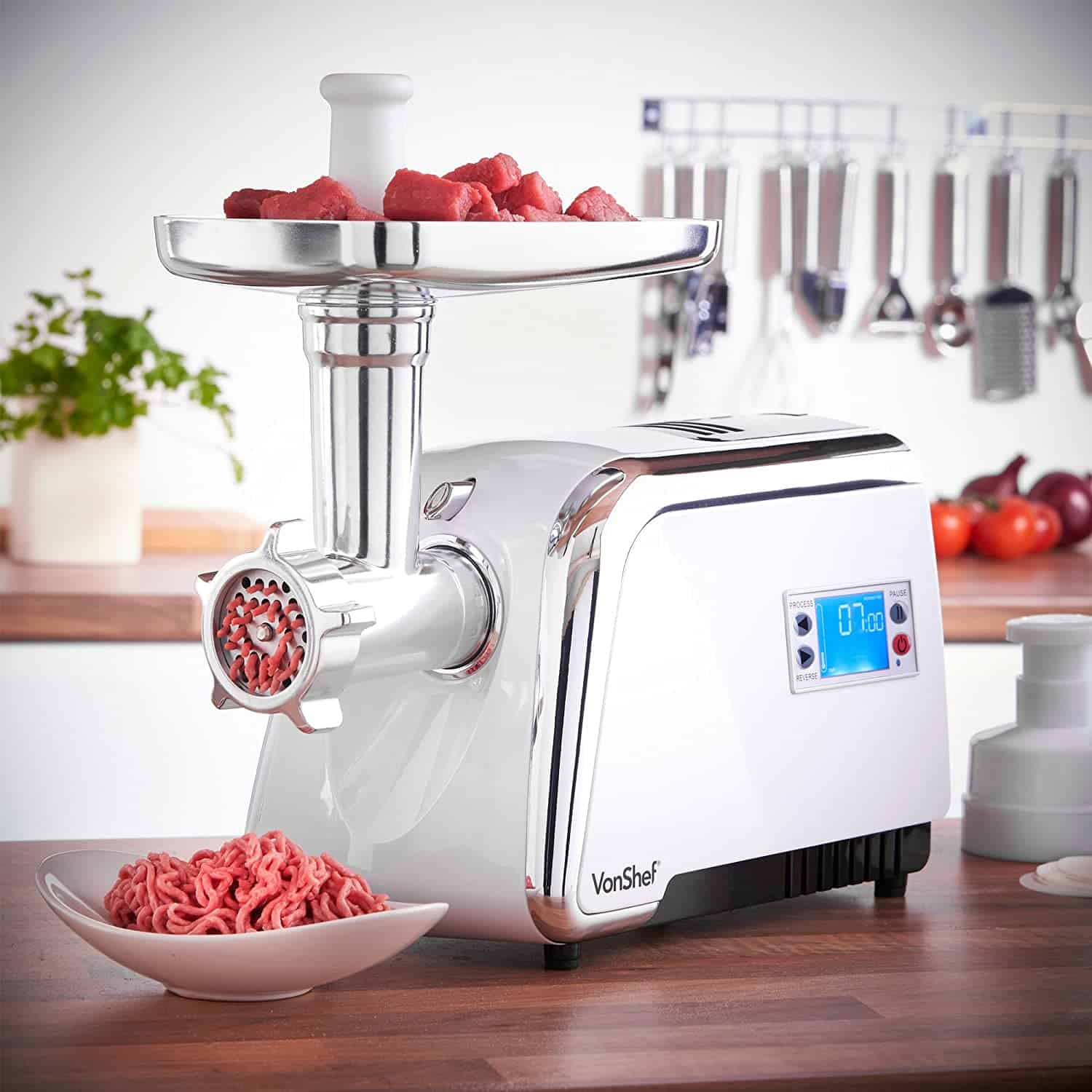 Here's another budget option offering a 500-watt motor and stainless steel housing. It includes 3 different cutting plates, sausage attachments, a food pusher, kubbe tool, and a built-in digital scale, so you always know how much volume you have.
The machine will count as you grind and has an interior storage compartment for all of its accessories. It takes up limited counter space, so it's also easy to store when you're not using it. It can tackle about 5 pounds of meat in one session, so while it's not up to the volume of these other options, it is a good budget option for those who don't need a lot of volumes and who need precise weights.
It won't tackle bones and it doesn't have a reverse switch, so it is imperative that you carefully trim your meat beforehand to make it easier to grind. It also needs thorough cleaning by hand to clear out the small compartments that collect the meat.
This unit is well-loved because it's so easy to clean and the digital scale offers a feature you don't find on a lot of cheaper units.
FAQs
Question: What is the best home meat grinder?

Answer: If you're looking for a meat grinder you can use at home for a moderate volume, there are several great brands. Look into Waring Pro, KitchenAid, STX, Sunmile, LEM, or Cuisinart. These are all high-quality machines that come in varying capabilities.
Question: Who makes the best commercial meat grinder?
Answer: If you plan to grind a lot of volumes, a commercial meat grinder may be a better option for you. These units will be much larger and more expensive than home use options, but check out KWS or Weston.
Question: Is it worth buying a meat grinder?
Answer: For big-game hunters and people who want much more control over what goes into their hamburger or sausage patties, a meat grinder may be worth it. It can really help out during deer season and be a good investment for large families who consume a lot of meat or host a lot of backyard picnics.
Final Thoughts
The Waring Pro may not be the cheapest unit on the market, but it provides a nice balance of quality, performance, accessories, and style. It's a reliable meat grinder from a reputable manufacturer and will grind anything from vegetables to beef, with sausage and chicken in between
If you're looking for a good home meat grinder, the Waring Pro is one of the best options. It can't handle bones and it's not dishwasher safe, but it's easy to take apart and clean when you're done. You'll be pleased with the performance of the Waring Pro if you need to grind meat frequently or grind a lot of meat in one sitting.