Latest posts by Sarah Caldwell
(see all)
Dough presses are convenient tools for businesses because they can streamline your process, making you more efficient. It can help increase your volume, make the process fast and easy, and allow you to be more consistent. Most are easy to clean and have plenty of features, so you'll be a pro in no time.
I've included some of the best commercial dough press options and evaluated them based on a number of criteria, including versatility, quality, capacity, ease of use and cleaning, and stability. These are all excellent options when used as instructed by the manufacturer.
What to Look For in a Dough Press
While a dough press is a fairly simple machine, not knowing what to look for can make the decision overwhelming and a bit complicated. Consider these key features when trying to find the right dough press for you.
Build quality
A durable machine will not only function better but last longer. These machines are made from hard plastic, wood, iron, aluminum, or steel. Plastic and wood won't last as long, but they're more affordable. You can't use them constantly, but they're good options for occasional use.
For the most durable option, look for heavy-duty stainless steel for the best quality machine that won't rust. You can also consider aluminum because it's almost as strong, but much lighter weight.
Ensure whatever material you choose is food grade so you don't contaminate your dough with chemicals. A good warranty will also ensure that you can rely on your machine or get it repaired if something breaks.
Variable speed
The speed you need depends on what kind of dough you intend to roll. In the beginning, you may need high speeds while you'll want to decrease speed as the dough gets thinner. Variable speed machines allow you to adjust the speed based on the condition of your dough, so you don't rip or break it.
However, there are two different types of speed. You can either adjust the speed of the belt or the speed of the roller. For people on a budget, you can do without variable speeds, but it is nice to have if you're going to use it a lot.
Stability
Having a sturdy dough press is critical, because your hands are going to be busy feeding the dough through the machine and receiving it at the other end. You need to make sure your dough press remains stable throughout the entire process. It should be well-balanced and include clips or a vice to secure it for a wobble-free experience.
Ease of use
Models that are easy to use are the most desirable because you can accomplish more with less effort. But there are a lot of aspects that go into making a dough press easy to use.
Electric units are a lot easier to use than manual options. Look for units that use electric power if you want something that doesn't take much elbow grease. Models with switches and buttons are also easier to control than using manual levers.
Higher end models may have LCD panels that allow you to calibrate the machine and see adjustments in the speed and controls a lot more quickly.
Power usage
If you're looking for a commercial dough press, it's likely that you run a business that relies on the performance of the dough press. If it's going to be running or hours at a time, power usage will be high, so your machine specs will have a big impact on how energy efficient it is.
Make sure you understand the machine's power requirements before purchasing. The power input will likely be 110v or 220v, which is 50 or 60 Hz. The higher the horsepower, the more energy it will use.
The greater the input, the higher the output, so while a 1 horsepower machine will help you be more productive, it will also draw more power.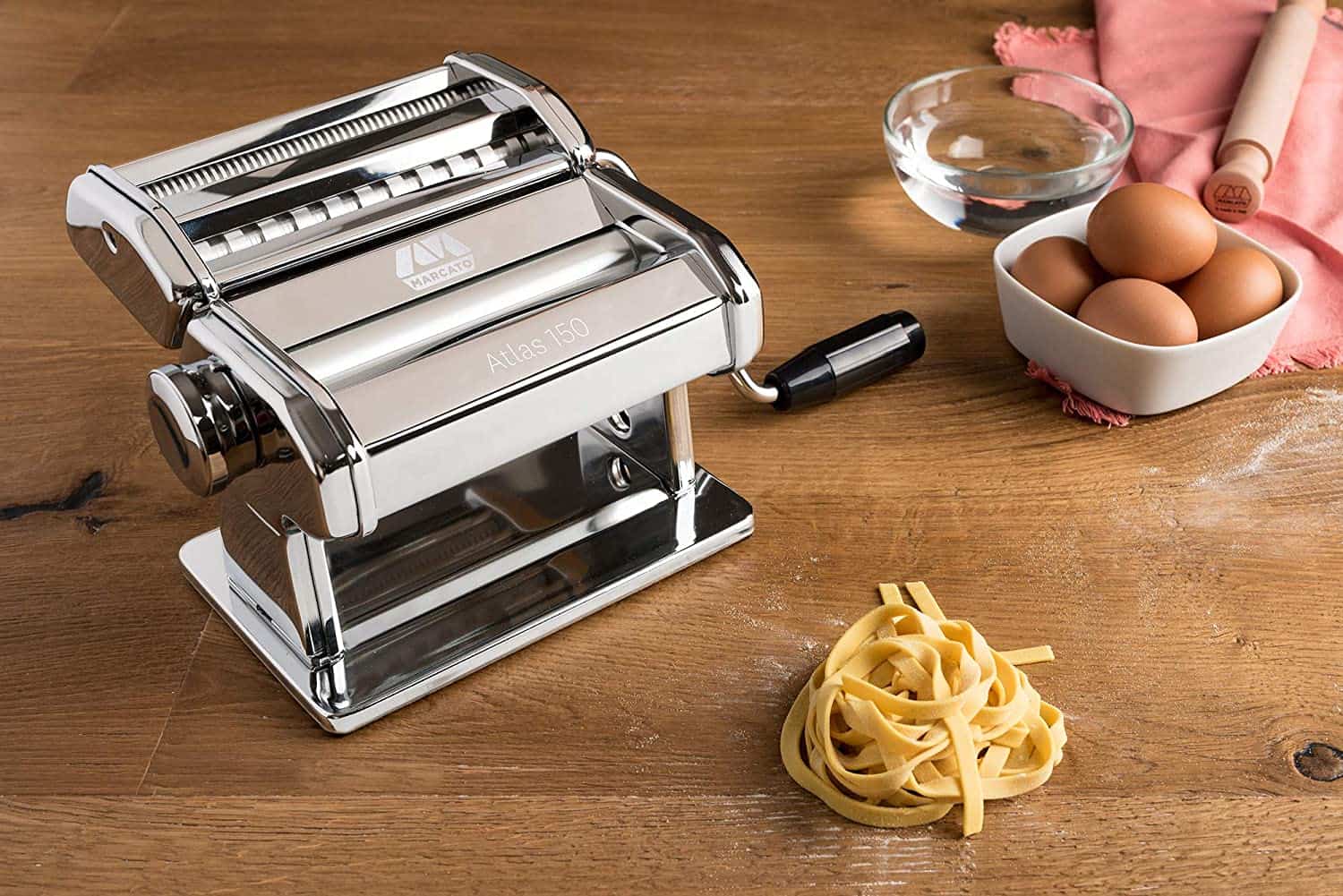 Capacity
An important consideration is how much dough the press can process at a time. A few pounds might be great for home use but for commercial use, you may need more. Look for units that can handle the amount of dough you need so you can process it more efficiently.
The width of the press will also help you accommodate larger amounts of dough. With wider rollers, you can move more dough through at a time, but you also need to make sure you have a table or belt big enough to receive the dough when it's done.
Size and weight
Make sure the size and design of the dough press you want will fit in the space you have available. able top dough rollers are smaller, have less capacity, and take up less space. They're great for home use, but standalone units can handle more dough. They take up more room but are good commercial options.
The weight is also crucial for portability. If you need to be able to move your dough press, you can find smaller options that weigh about 60 pounds. However, there are also heavy-duty options that weigh 500 pounds or more.
Ergonomics
Dough presses with longer handles make pressing the dough a lot easier on you and your muscles. A non-slip grip also makes it easier on you and will make the entire process safer. It should be seamless and easy to put your dough through the machine and pull it out, with openings that are easily accessible.
Ease of cleaning
Even the smallest dough press won't fit in the dishwasher, so you need to make sure it's easy to clean. A durable, non-stick surface will make cleaning a lot easier. You can simply wipe it down and dry it in minutes.
Removing the rollers to clean them is also something to think about, because you'll occasionally need to do that. Consider how easy it is to take apart and reassemble.
Best Commercial Dough Presses
There are quite a few awesome options on the market if you're looking for commercial dough presses. These are some favorites.
Pastaline Maxy Sfogly NSF Electric Dough Sheeter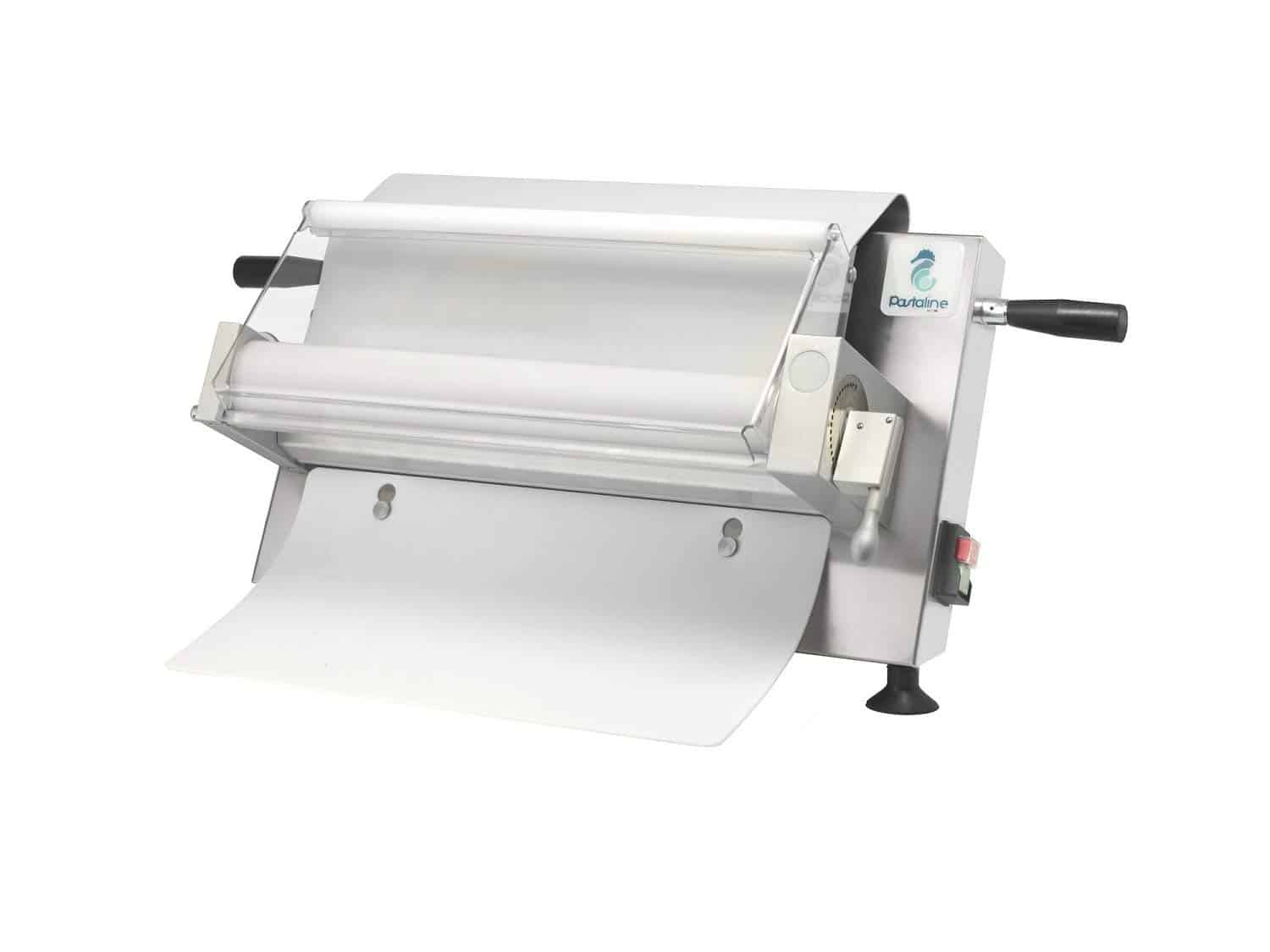 This machine excels at making consistently thin sheets of dough as small as 0.5mm. Passing it through a few times will result in the perfect consistency for pastries, biscuits, or cupcakes. The double rollers go a long way to maximizing efficiency and performance. They're 18 inches long and 2.4 inches in diameter.
The ½ horsepower motor offers enough power without drawing a lot of power, and the compact design makes it great for home and commercial use. It will fit on the countertop and has retractable boosts that make it easier to handle.
It only weighs 60 pounds, which means you can move it if you need to. Luckily, the construction is also high quality so you'll get durability and flawless operation. There are rubber feet to keep it sturdy and upright.
Pros
High-quality enamel coating

Compact design

Two rollers to enhance results

Flattens dough to 0.5mm
Cons
May be too small for heavy commercial use
Chef Prosentials 16-inch Electric Dough Sheeter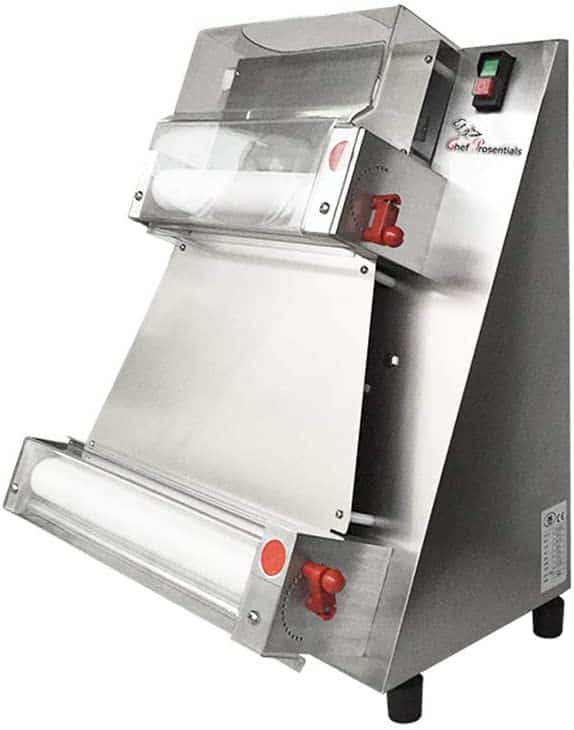 This 16-inch dough press is great for commercial use and can be used for bakery buns, pasta, dumplings, and pizza. It's restricted to a flour to water ratio of 2:1, but it provides enough versatility for several different uses.
You can use this with a horizontal or vertical entrance and with a double or single roller. There are other models of 18, 15, and 12 inches so you can choose the size you need. You can also set your preferred thickness by just adjusting the handball.
It's made from heavy-duty food-grade stainless steel, so it's rust resistant and strength. It will resist moisture and it's easy to clean. It has a 370-watt motor that will offer efficient performance and reliability.
Pros
Great for commercial use

Powerful 370-watt motor

Overload protection

3 pizza sizes

Adjustable dough thickness between 0.5-5.5mm

Horizontal, vertical, or single roller entrance

Durable
Cons
Omcan 42154 Commercial Pizza Dough Roller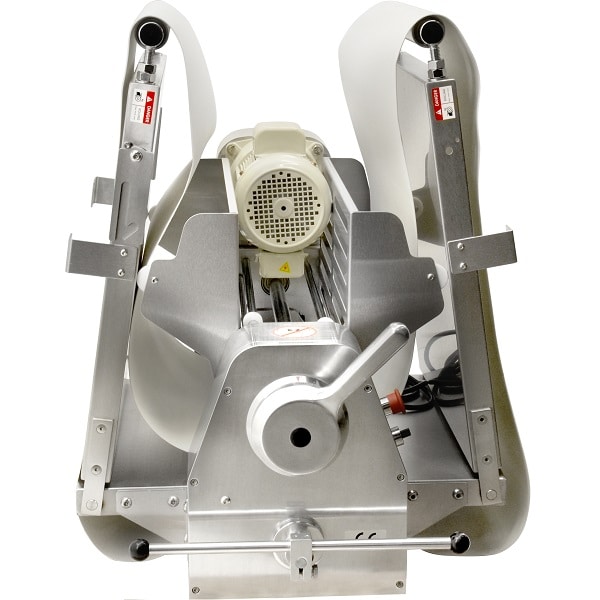 This unit is made of stainless steel and is a good choice for a restaurant or hotel. The manufacturer has faith in their products and provides a 1-year warranty. The long conveyer belt helps roll the dough through the machine, so all you have to do is place it on the belt.
The belt's speed is 18 meters per minute, so while you can't adjust the speed, you can change the belt's tightness to impact the result. There's a lever to control the direction of the belt so you can run dough back and forth through the machine before removing it.
This electric machine has a ½ horsepower motor, so it's powerful without drawing too much power, and can still deliver 124 rolls per minute. Its width of 20.5 inches ensures that you can make wide sheets for large pizzas.
The adjustable dough thickness is huge, at 1-35mm, giving you the versatility to prepare a wide variety of things like cookies, crackers, tortillas, and pizza.
Pros
Versatile

Large adjustable dough thickness

Reversible belt

20.5 dough width

Overload protection

Emergency stop button
Cons
Doughxpress Manual Dough Press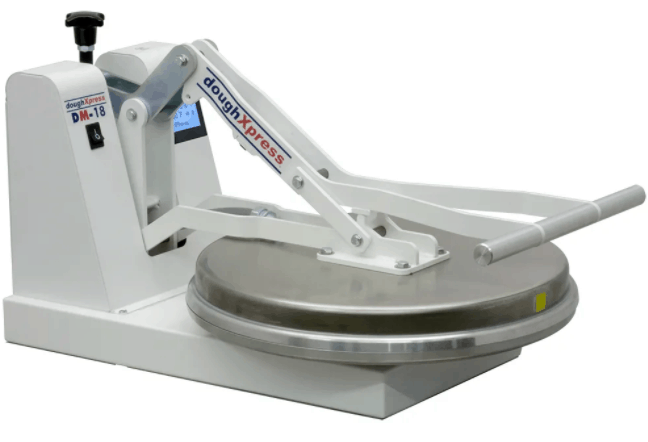 This is a great way to make pizza crust, pie crust, and other pastries with ease. It's a manual dough press, but it's easy to operate with little effort. The design allows for smooth operation and is made with high quality products.
While this dough press won't press out air like a roller or a sheeter will, it mimics a hand-tossed pizza crust with ease. It allows you to adjust the thickness of the dough from thin as paper to 8 inches. It's a great way to make pizzas up to 12 inches in diameter.
This machine is great for home use but is still strong enough for business use because it's made from stainless steel.
Pros
Great for home and commercial use

Easy to use and well-built

Large adjustable thickness
Cons
Dshot Automatic Pizza Dough Roller
One of the best uses of a dough press is to make pizza. Everyone loves this Italian favorite and this dough roller will make the perfect crust. It's made of food-grade stainless steel and has a waterproof switch. It has an anti-corrosion coating with leak protection.
Not only will it make a crust for pizza, but the thickness is adjustable from 0.5-5mm to accommodate other types of flat bread like pie crusts, tortillas, and pitas. Plus, it's versatile enough to use commercially or at home.
The transparent safety covering over the top and bottom rollers will protect your hands while still allowing you to see the progress of the dough. It rolls quickly enough to process up to 250 pieces every hour.
Pros
Durable food-grade stainless steel

Great for commercial or home use

Adjustable thickness of 0.5-5mm

Quick and efficient
Cons
Rollers are difficult to clean
ZXMOTO Stainless Steel Electric Pasta Maker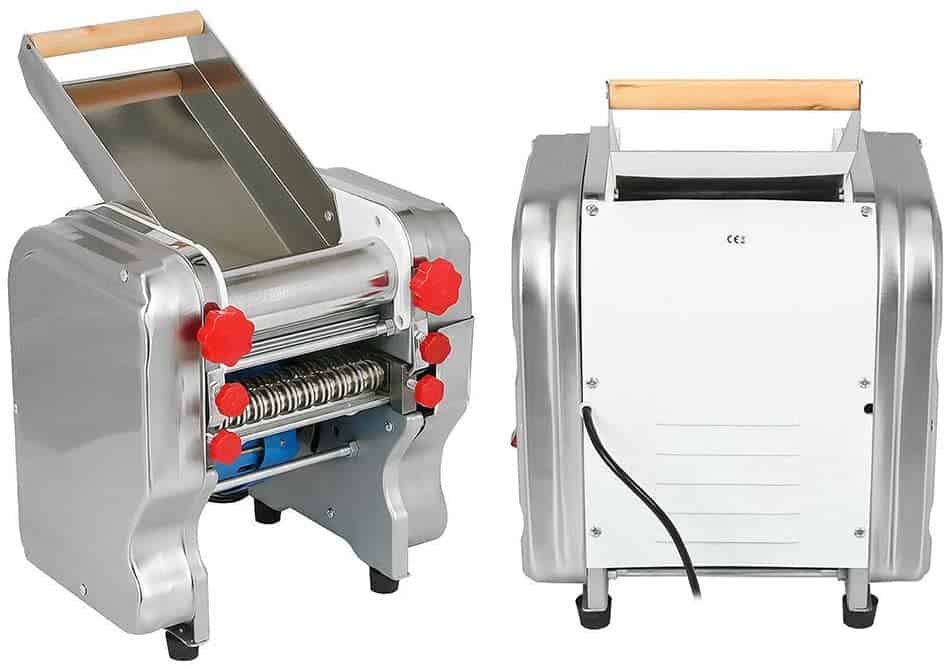 Making dough isn't all about making bread or pizza. This pasta machine makes 2 different noodle sizes. Whether your requirements are large or small, you can choose from 3mm or 9mm cuttings. However, if you do need to press dough, the machine is also capable of pressing buns, bread flour, or dumpling skins. You can adjust the thickness of the dough from 0.1-20mm, making it perfect for just about anything.
A protective shield prevents flour splashing to keep your work area clean while a high-powered motor reduces your work time and makes the process more efficient. This is a great commercial unit for schools, restaurants, or coffee shops.
The machine is made with food-grade stainless steel so it's durable and easy to keep clean. However, some dough presses do a great job of crossing over from commercial to home use, and this one is a bit too large for that.
Pros
Protective shield

Adjustable thickness 0.1-20mm

Two noodle sizes

Durable food-grade stainless steel
Cons
FAQs
Question: What is a Pizza Dough Press?
Answer: A pizza dough press is a machine that applies even pressure to the entire surface of your dough to flatten it in preparation for adding sauce and toppings. However, you can shape and flatten pizza dough with a sheeter or a roller as well. You don't have to have a dedicated pizza dough press. In fact, sheeters and rollers are more versatile because they can flatten more than just dough for pizzas.
Question: Can I Choose the Preferred Thickness with a Dough Press?
Answer: Many dough presses have adjustable thicknesses that allows you to change it depending on what you're making. They're not all the same, though. Some are adjustable from paper thin to very thick while others don't range quite as much.
Question: What are the Advantages of Using a Dough Press?
Answer: Using a dough press will save you a lot of time, which is critical when you're running a business. However, it will also allow you to get uniform thickness every time you use it, which offers more consistency in the products you sell.
It also helps you flatten your dough for pie crusts, pizza, and other pastries without tearing it, which saves you time having to start over from the beginning.