Latest posts by Jodie Chiffey
(see all)
Ice is a vital part of any restaurant, particularly if drinks will be a major part of your service. Since the traditional ways of making ice will not cut it in a commercial environment, a good nugget ice maker is a necessary piece of equipment to have. In addition, a nugget ice maker simplifies the process, so you can focus solely on perfecting the cocktails and desserts that you intend to serve.
But with so many options on the market, it can be difficult to find the best nugget ice maker, one that perfectly matches your requirement. Based on several criteria, we have narrowed down the huge list of ice makers to a few that we consider ideal for any sized restaurant. The one you choose will come down to your personal preferences and how you will be using it.
How to Choose the Best Nugget Ice Maker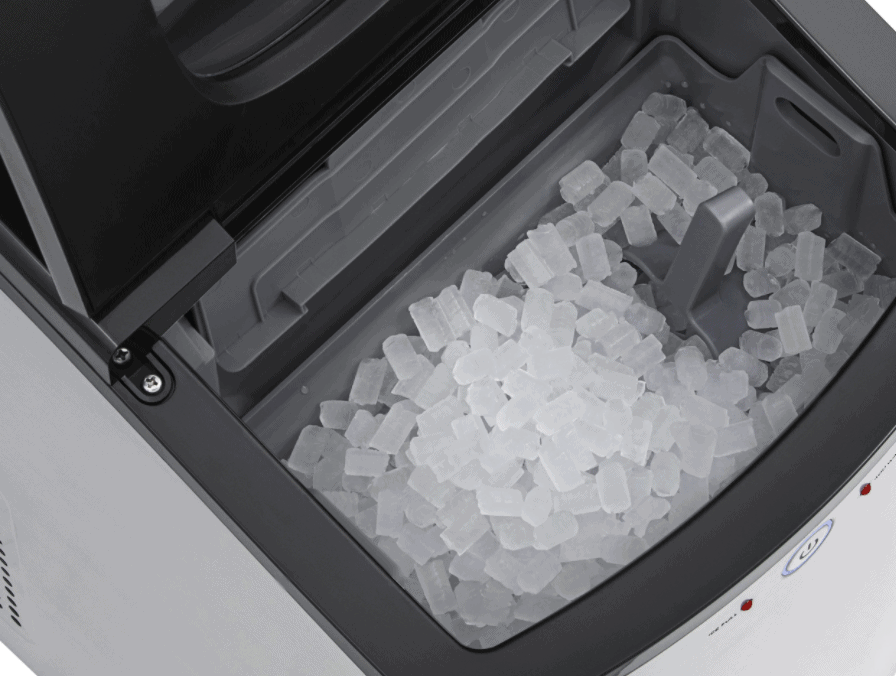 Before we start our review of some of the best nugget Ice Makers in the business, we thought we'd share with you the criteria we used to make the selection. This is a good place to start if you are unsure of the kind of ice maker to purchase, one that will fit your cooking style, your kitchen, and your budget.
Ice Production and Storage Capacity 
The kind of ice maker you purchase will depend on how much ice you need. If you need a large volume of ice, you may benefit from a model that creates chewable ice and has a lot of storage capacity. This will allow you to make a lot of ice in advance, ready for use when you need it.
Production Speed 
It can take about 6-20 minutes for the average ice maker to complete a single batch of ice. But some models can take up to 30 minutes. This can be an important factor in a busy restaurant that can run out of ice relatively quickly.
Ease of Use 
The ice makers on the market vary by efficiency as well. Some are much easier to use than others. There are even some machines that come with all the bells and whistles, including Bluetooth and Wi-Fi connectivity and self-cleaning technology.
Cost 
You will also want to consider how much you are willing to spend on an ice maker. Generally, ice makers will cost anywhere from $200 to $5000 on the high end. The most expensive machines are often of the best quality. But you may want to consider other factors such as storage capacity as well as the cost to ensure you are selecting a machine that will serve you and your kitchen for a long time.
Because they can be so expensive, you also want to be on the lookout for warranties. Read the warranty policy on the machine you intend to buy before spending thousands on it. Be sure that you are protected in case of damage.
Size 
The size of the ice maker you choose to buy will also come into play when choosing a good ice maker. It should be able to fit into your kitchen without compromising on more necessary kitchen equipment. In addition, it should be large enough to hold the ice you need and small enough to require little or no storage space.
This storage space will, of course, be relative to the size of your kitchen and how much space is dedicated to storage.
7 Best Nugget Ice Makers to Choose From 
Now that you have all the factors to consider when choosing an ice maker for your kitchen, the following are the best ice makers to choose from;
New Air AI-215SS Portable Ice Maker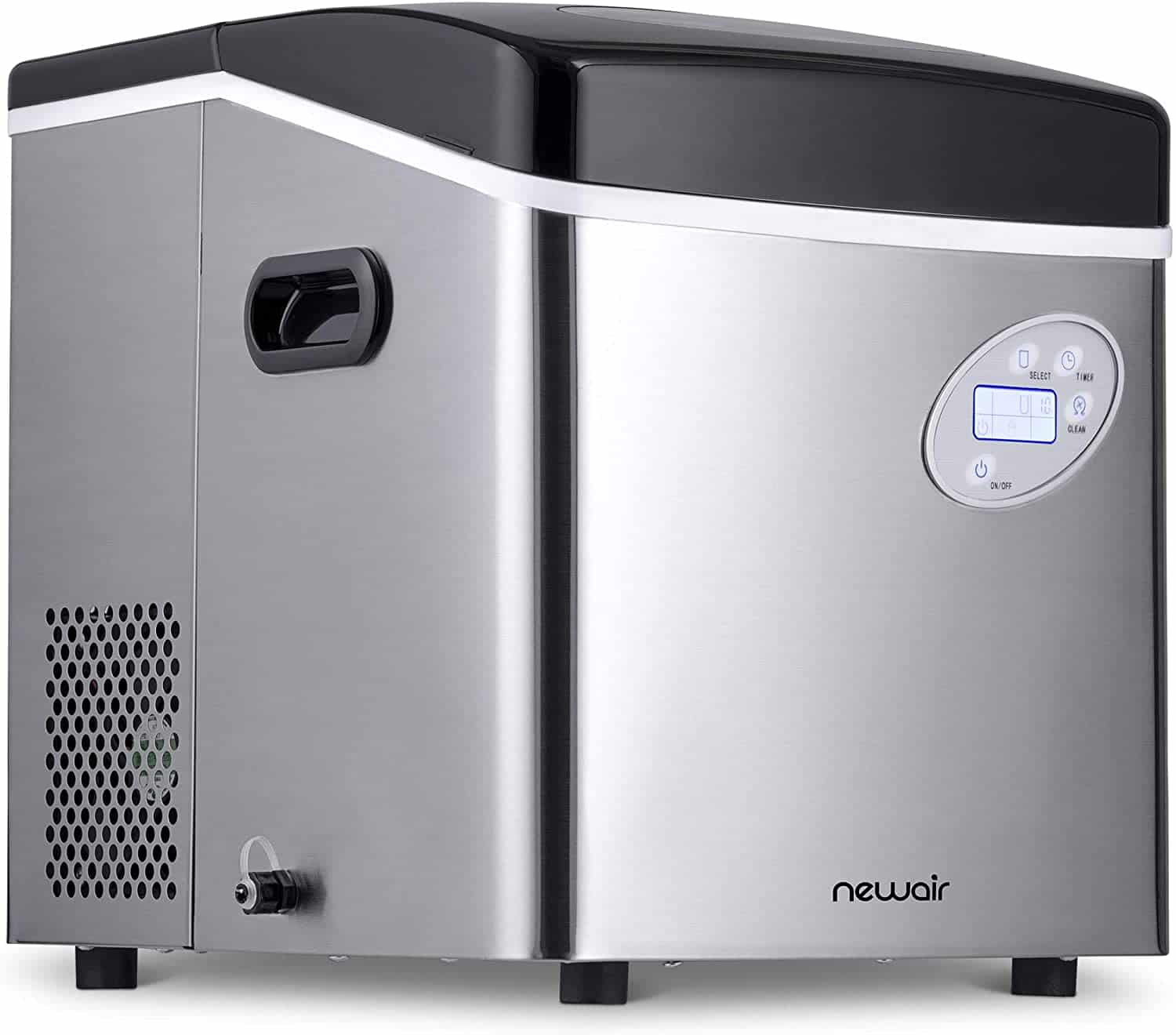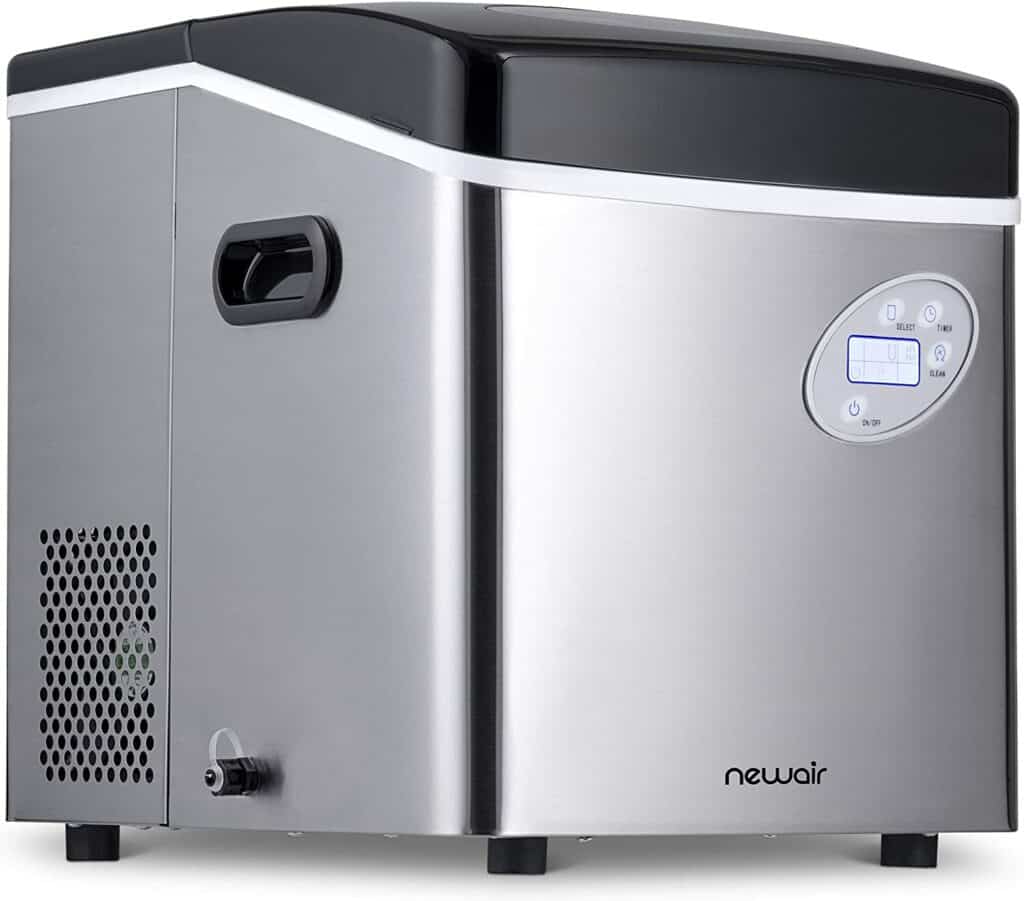 The New Air AI-215SS Portable Maker is a countertop ice maker capable of producing up to 50lbs of ice every day; that is an average of 12 blocks of ice every 13 minutes. It is, therefore, a good solution when you need an ice maker that is small enough without compromising on output speed and quality.
With this ice maker, you will also not need to worry about cleaning. This is because it comes with a self-cleaning mechanism designed to reach all parts of the machine. It is also elegantly designed, appealing to look at, meaning that you don't have to hide it in the back of the kitchen; it can be right on the bar, in plain view of your guests. This ice maker can also make three different types of nugget ice that can be varied in terms of size and shape.
Pros
An elegant design ideal for service
It has large capacity storage that can hold up to 2lbs of ice
It is self-cleaning
It has a timer that you can use to schedule production according to your needs.
The production process is relatively quiet
It comes with a free ice scoop
Cons
It is heavy as compared to other countertop models
It doesn't have a built-in refrigerator, meaning that you will need to transfer the ice to a freezer 
GE Profile Opal Nugget Ice Maker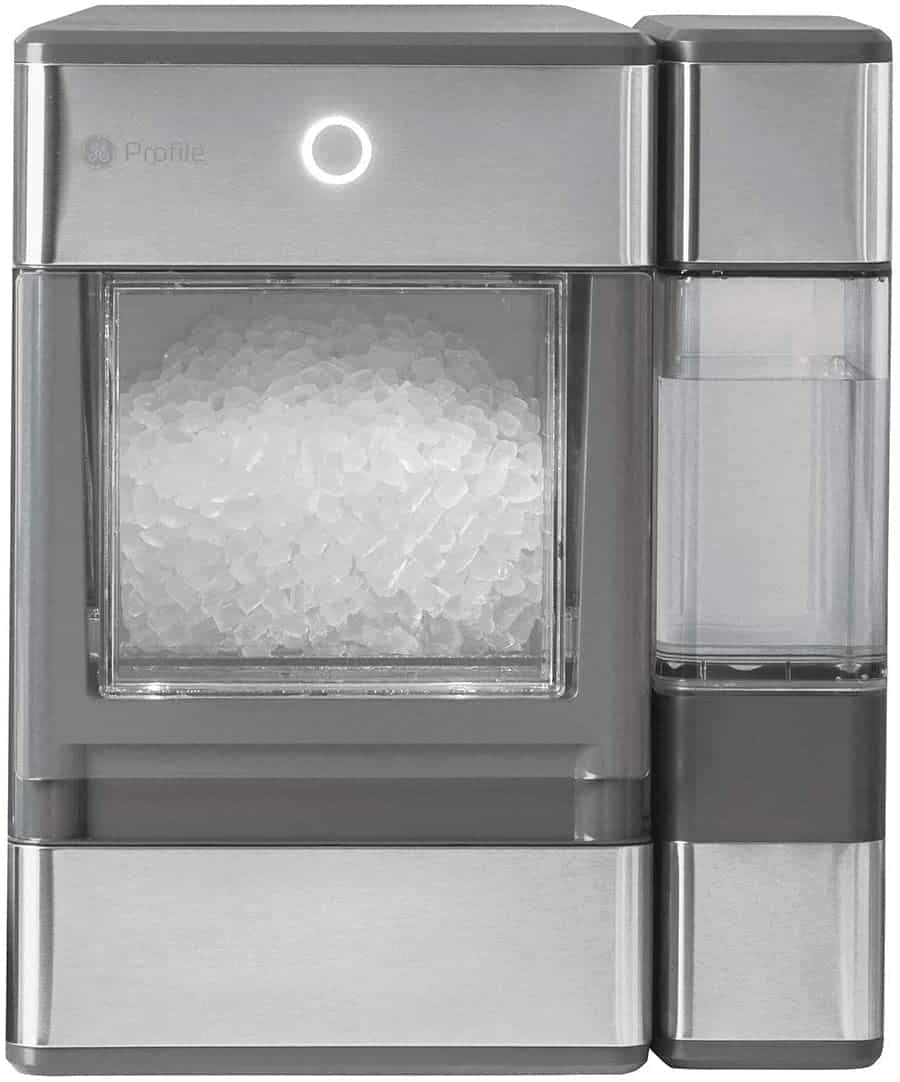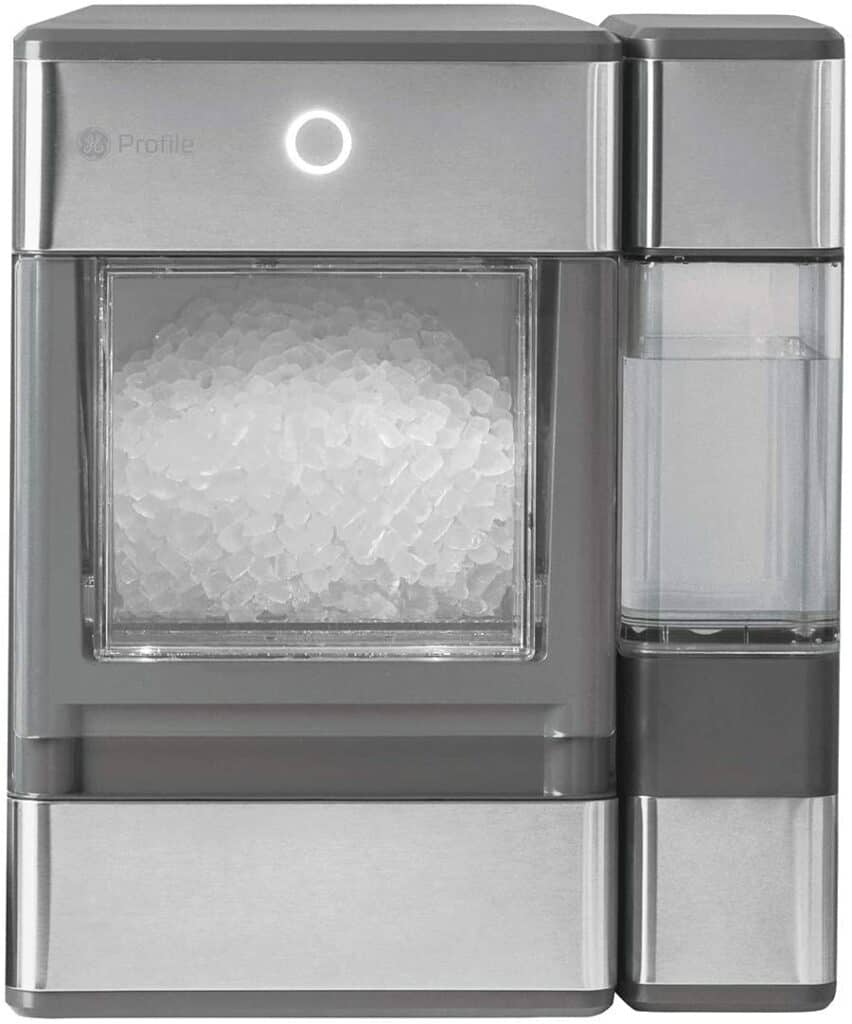 The GE Profile Opal Model Ice Maker is one of the most popular ice machines on the market. At a total of 44lbs, it is on the average size in terms of weight, and it has a single button on the side to make operating it that much easier. However, most people are impressed by the metallic, black finish that makes it an aesthetically appealing choice, a deciding factor when choosing a countertop model.
It is also quite efficient, producing up to one pound of ice per hour and storing up to 3 pounds of ice. If you also consider that it doesn't consume a lot of electricity, this model clearly favors efficiency. In addition, it supports Bluetooth connectivity, allowing you to schedule production using your smartphone.
Pros
It can produce up to 24 pounds of ice in a day
Elegantly designed
A single button makes it very easy to use
It supports Bluetooth connectivity
Cons
The storage capacity is small compared to similar-sized models
The production process can be quite noisy
Manitowoc CNF-0201A-L Nugget Ice Maker and Water Dispenser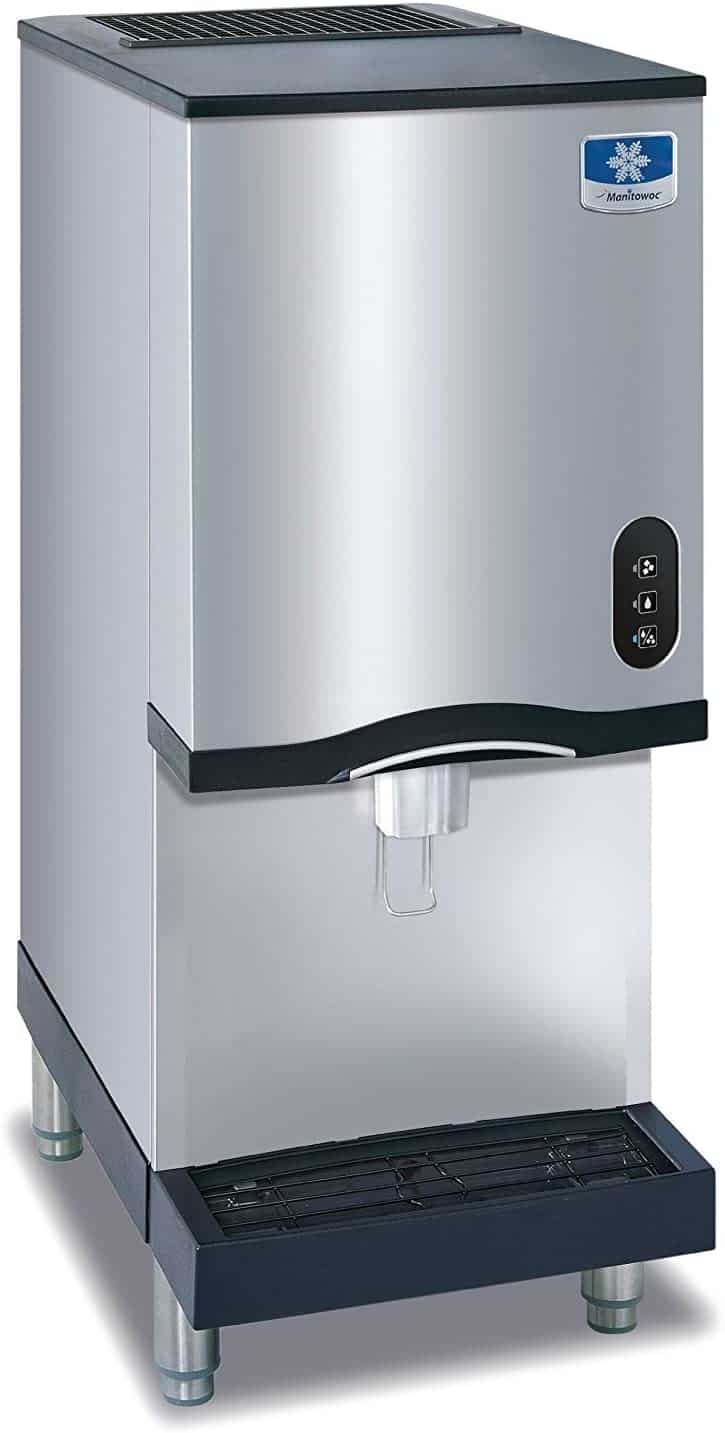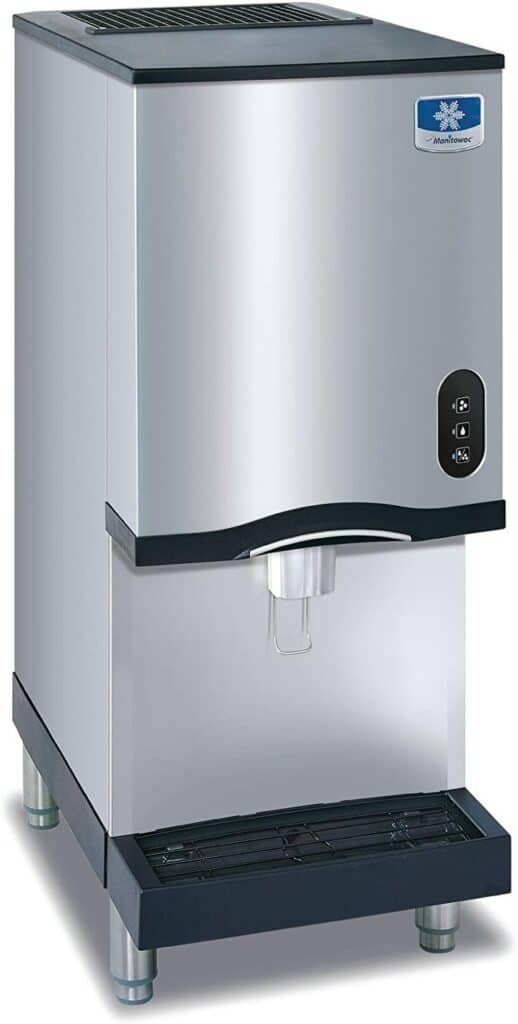 The Manitowoc CNF-0201A is an ice maker suitable for larger commercial enterprises such as a bar or restaurant. While other countertop solutions may serve a restaurant with fewer diners, this is a good choice for busy restaurants. This is because it can produce up to 315 pounds of ice every 24 hours, but it has a relatively smaller storage capacity of just 10 pounds.
This ice maker can also serve as a water dispenser, although the water will not be cold. It is easy to use; you just need to push a single button to start the production process. The water dispenser has an in-built sensor and doesn't require any buttons. It also has a self-cleaning mechanism that is easy to initiate and more hygienic than figuring out how to clean the large machine manually.
Pros
It can dispense both ice and water.
A single button makes the production process easy to initiate.
It has a very high production capacity of 315 pounds of ice a day
The production of ice is very fast
It has a self-cleaning mechanism
Cons
At 260.1 pounds, it is a very bulky machine
It is quite expensive
FRIGIDAIRE EFIC235- AMZ Nugget Ice Maker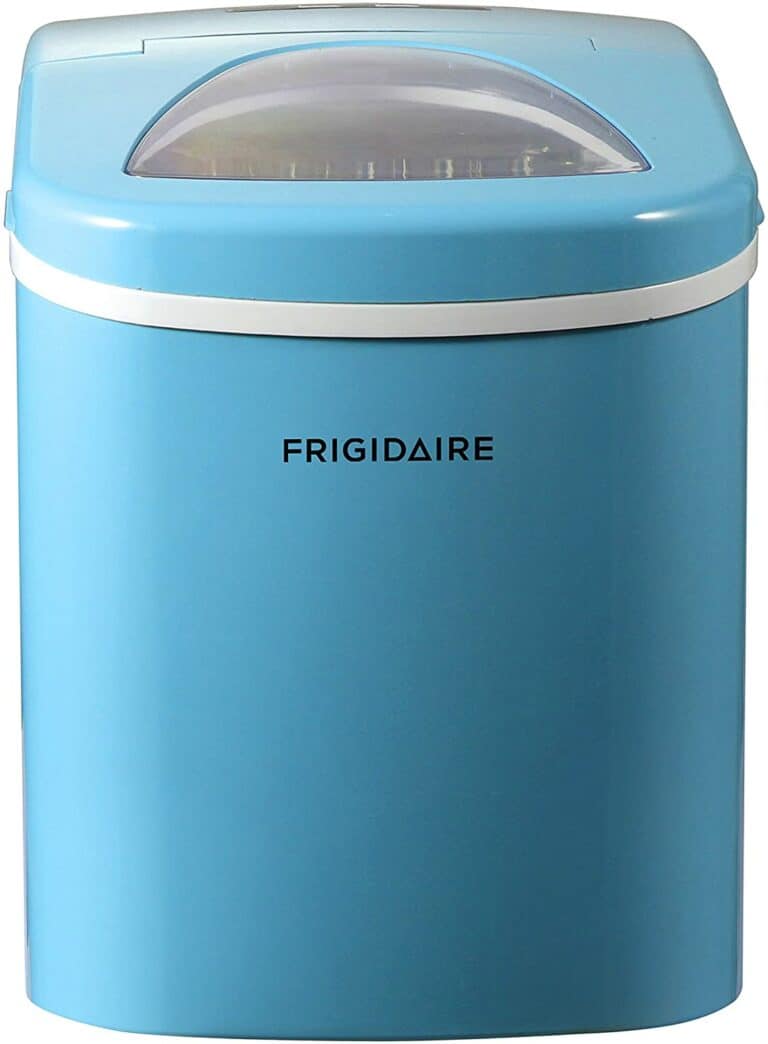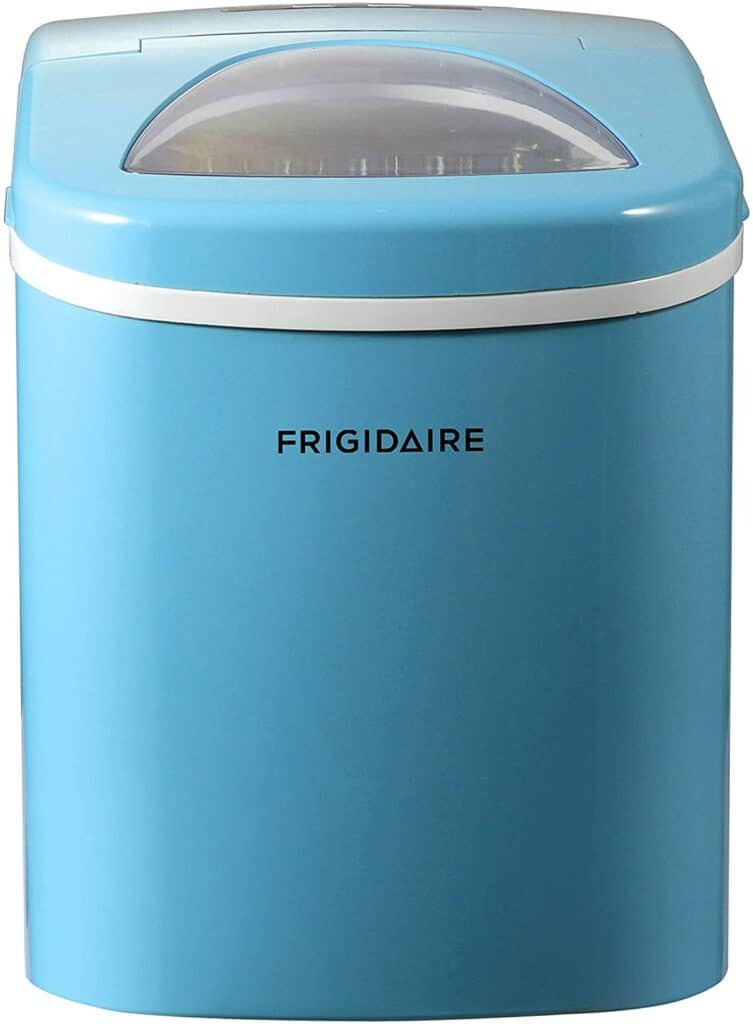 The FRIGIDAIRE EFIC325 is an ice maker that is sleek, efficient, and elegant. It is straightforward to use with 4 buttons to control the ice, a cleaning mechanism, UV and light, and 4 indicator lights to let you know when to add water, UV indicator, Power indicator, and let you know you have ice.
The UV light on this ice maker is a feature that you may not find on many other machines. It is primarily used to ensure the self-cleaning mechanism can eliminate all the viruses and bacteria that may find their way into it.
It is also on the lighter side at only 19 pounds, the perfect countertop size. And, it has an elegant black finish for aesthetic appeal. But it is a little low on capacity and production efficiency; only able to produce 44 pounds of ice a day and store only 3 pounds at a time.
Pros
Its small size and light weight make it an ideal portable machine
The digital controls make it easy to use
The UV light cleaning feature makes it a very safe option
The production process is very quiet
It has an auto-shutoff feature
It comes with a free ice shovel
Cons
The storage capacity is very low
The ice is not refrigerated
The ice nuggets it produces are thick and not as soft as you would expect nugget ice to be
KBice Countertop Ice Maker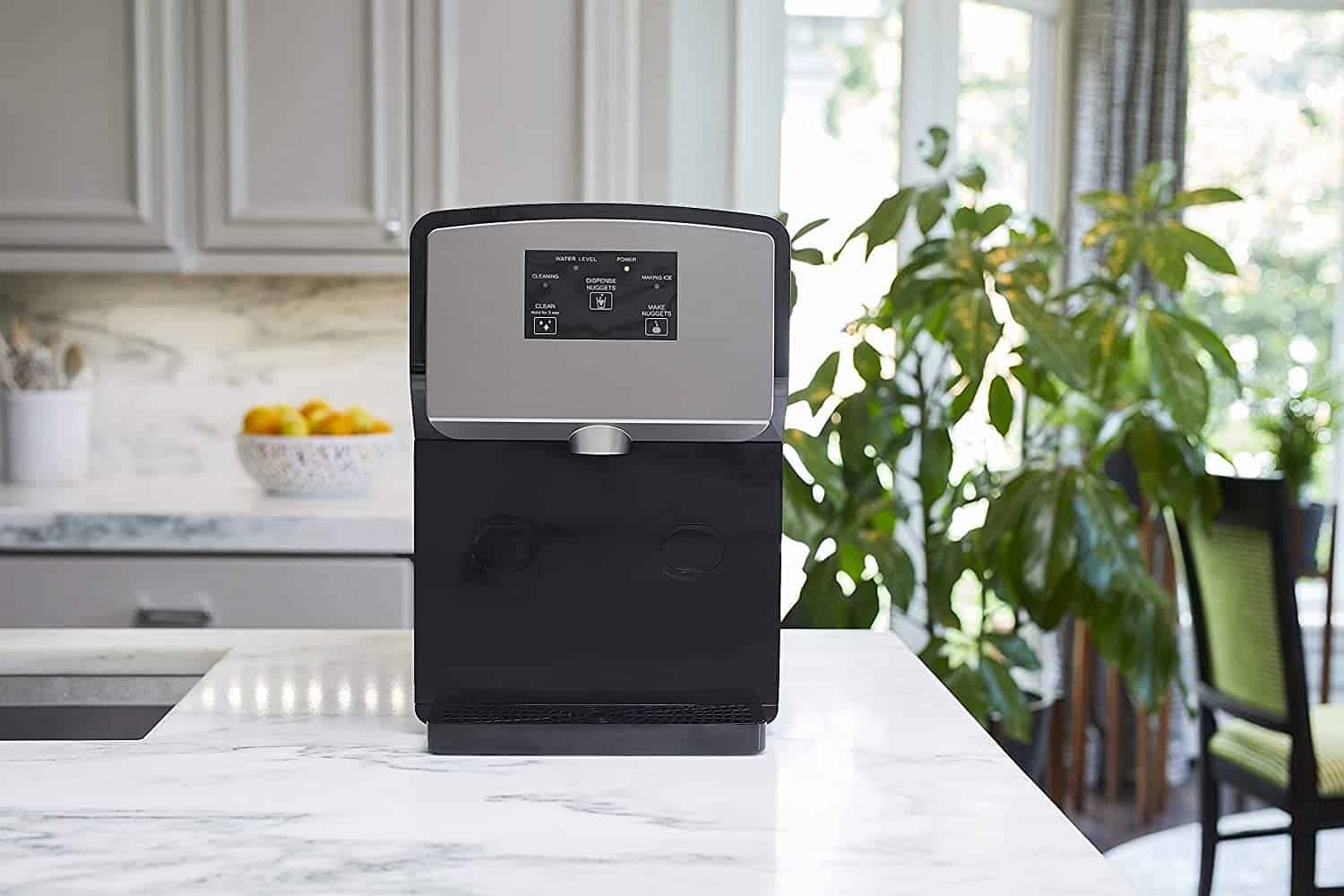 One of the best features of the KBice Countertop Model is self-dispensing. You don't need any ice scoops; just press a button, and the machine dispenses the ice. It is also very easy to use; just pour some water into the reservoir, push the button, and begin ice production.
It is also a very hygienic option, with two drains in the back and a self-cleaning mechanism. All parts of its body are made from BPA-free, and the self-cleaning mechanism means that you don't have to worry about hard water build-up; just push a button, and the ice maker cleans itself.
This ice maker is also very easy to operate. There are three buttons; Make Nuggets, Dispense Nuggets, and Clean. However, it may be a little low in the efficiency department, only able to produce 24 pounds of ice in a day.
Pros
It is a light machine that is easy to move.
Easy to operate; with three self-explanatory buttons
It dispenses the ice automatically
It is BPA-free and has a self-cleaning mechanism
An alarm will notify you when the reservoir is full
Cons
It is very slow; taking up to 30 minutes to make a batch of nuggets
The storage capacity is only 1 pound of ice
The production process is very noisy
Ice-O-Matic GEMU090 Ice Maker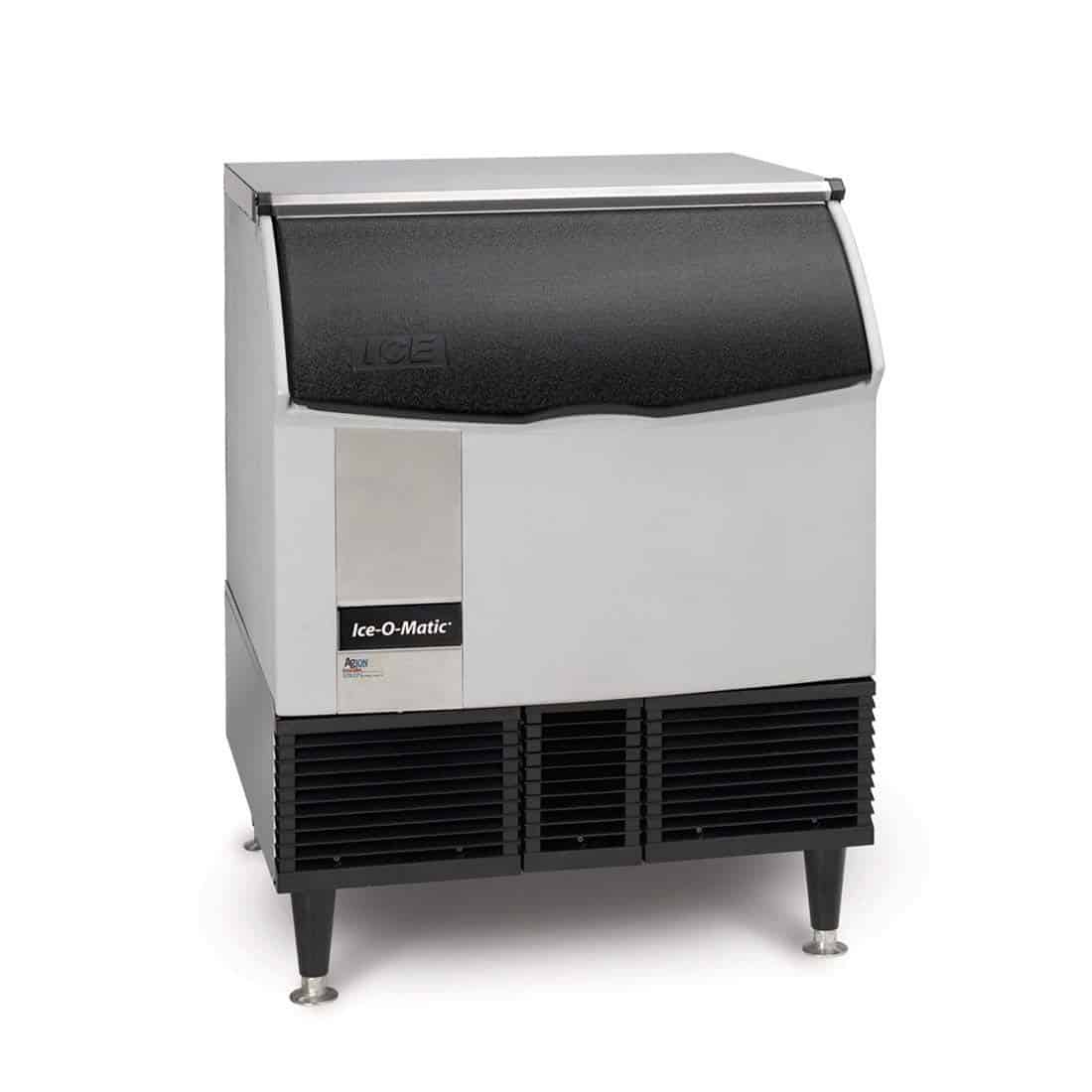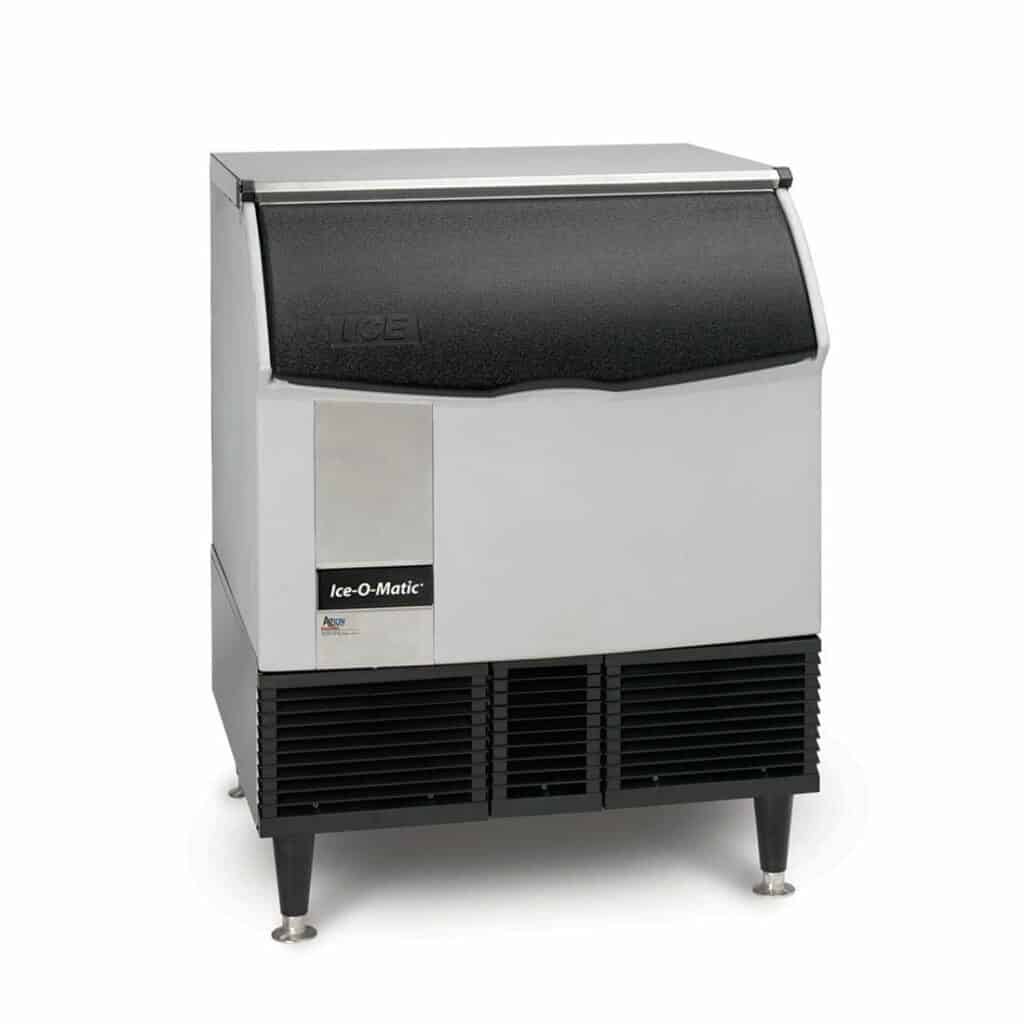 If you don't want a countertop model, this Ice-O-Matic model is good under counter choice. At 133 pounds, it is a little heavier than most of the models we have already seen here. But what it lacks in portability, it makes up for in efficiency. It has a production capacity of 85 pounds of ice a day, and you can store 22 pounds of it in the ice maker's storage compartment.
Even though it can be heavy, it is designed to be useful both outdoors and indoors. Operation is easy; you just need to push a button to start the production. It is also much quieter than most other tools in the market.
Pros 
This under the counter model is easier to store than most countertop options
It is fast, producing 85 pounds of ice per day
It has sound mufflers, making it a very quiet machine
It is very easy to operate
Cons
It is quite expensive
It can be quite complicated to install
The parts and repair costs are also quite high if it is ever damaged
Magic Chef 27lb Portable Ice Maker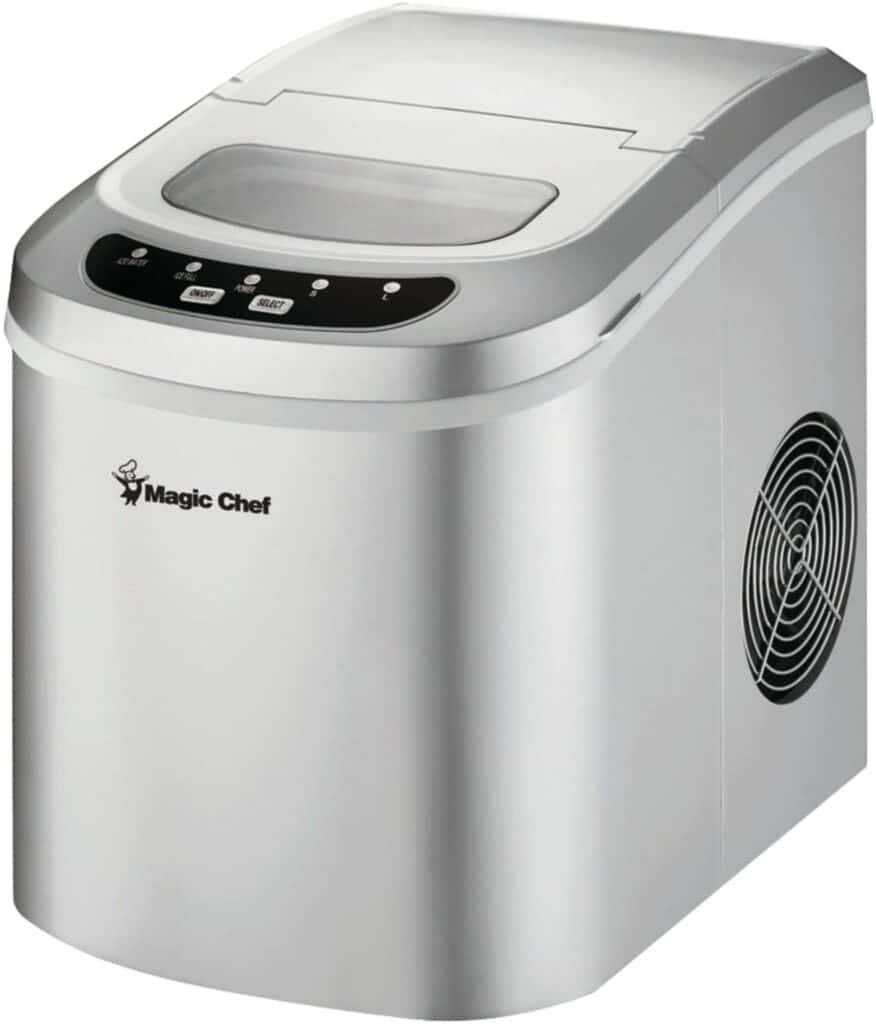 This is the right model for you if you don't need a lot of ice, or you will only be serving drinks and cocktails a few times. The Magic Chef Portable Ice Maker is small, but that doesn't take anything away from its effectiveness. It can produce two different sizes of ice at a relatively fast rate of 27 pounds a day. In addition, the ice nuggets you get from this ice maker are soft, ideal for most cocktails.
It is very easy to use with relatively straightforward controls and recycles melted water to make more ice. The removable basket makes it easy for you to collect the ice pellets once production is complete.
Pros
The compact design saves you a lot of storage space
It looks great with an ergonomic design that has a silver plastic exterior
Makes two different sizes of ice pellets
It comes with a removable basket and a scoop to make collecting the ice easy.
It is inexpensive
Cons
It is not refrigerated; you have to put the ice in a freezer
The production process is noisy
It has a very small storage capacity
FAQs
Question: Can I Make Colored or Sweet Ice Nuggets Using an Ice Maker?
Answer: It may sound possible, even a good idea, but most manufacturers warn against this practice. Sugar and some colors tend to be sticky and may damage some components of the ice maker. Sugar and color can also crystallize inside the machine, making it harder to clean and obstructing the auger, thereby interfering with the production process.
Question: What Should I Do if My Ice Maker Gets Hot?
Answer: This is a common occurrence and not something you should be too worried about. During production, some heat that the machine generates can find its way to the exterior, which is not a problem. But if the machine remains hot to the touch even when it is not working, unplug it and contact the manufacturer for options on what to do. Most of the time, this problem is caused by an electric issue, but you want to rule out any damage to the machine itself. Do not attempt to repair the device as you may cause more damage or even void the warranty.
Question: Can a Nugget Ice Maker Work Overnight?
Answer: Yes, but only if the machine you are using has a safety switch, meaning that it will only produce ice until the tray is full. Some models also have time to schedule operation, making them ideal for ice production overnight. But you must also consider how fast the ice maker works and the storage capacity. Letting the machine work overnight may not be productive if the machine is not refrigerated.
Best Nugget Ice Maker Guide: Final Thoughts 
Nugget ice makers can be a fast and efficient way to get ice very quickly. As evidenced by the options we have reviewed above, these ice makers can vary in terms of efficiency, size, production, and other factors. Your choice, therefore, will be determined by how much ice you would like to produce and how fast you need to produce it.
For high-capacity production, ideal for busy restaurant settings, the Manitowoc CNF-0201A is a good solution. But keep in mind that this one is a relatively heavier machine and may take up a lot of storage space in your kitchen.
In sharp contrast, the much lighter Magic Chef Portable Ice Maker is a machine that you can easily pull out of storage when you need to make ice and keep it in storage otherwise. Because it is fast, it is an ideal option for occasional use, but its limited storage capacity suggests that it may not be a good choice for a fast, busy environment.