Latest posts by Maddy Chiffey
(see all)
Fat from meat products is a major chef secret. It is a crucial ingredient to have in stock whether it is used for frying pancakes or to make gravy, sauces, and soups. Bacon grease, in particular, adds so much flavor to a dish, it can almost transform it. But, how do you store it correctly?
In this guide, I will feature my chosen six best bacon grease containers, as well as a handy buying guide, which should help you to choose the suitable container for your commercial kitchen. There are many different types of bacon grease containers out there, across a range of price points, so this guide will be incredibly diverse to ensure every chef gets something out of it.
Few bacon grease containers are equal. Some have handles and spouts; others may include a strainer. What matters to one chef may not do so to another. The best bacon grease container will be durable, large, and airtight – to keep any contaminants out. But, for small kitchens, a small container could be more appropriate.
My guide features some of the higher-priced products, as well as a couple of great budget buys – and everything else in between. Here's my chosen six at a glance:
At a Glance: 6 Best Bacon Grease Containers
Buying The Best Bacon Grease Container for Your Kitchen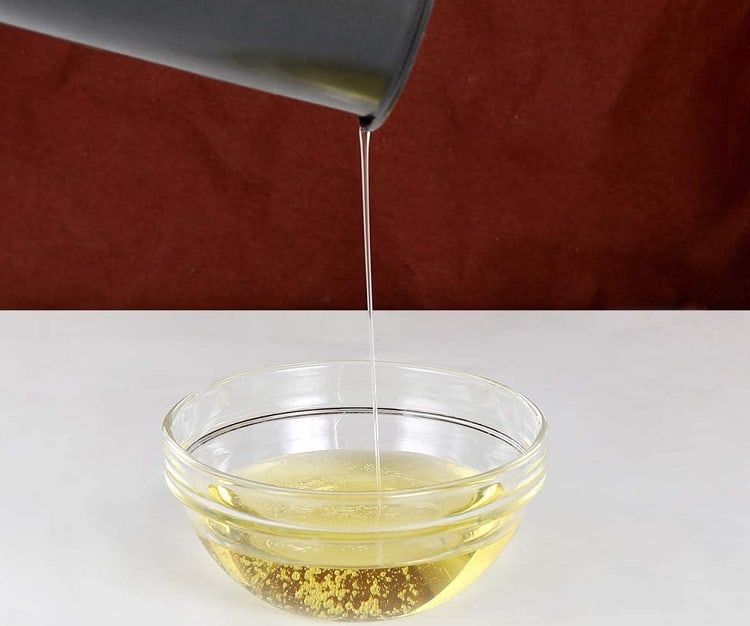 So, a bacon grease container doesn't require as much thought or financial investment as other kitchen equipment, but it does require some. Gone are the days when a commercial kitchen could get away with storing food items in a haphazard way, where contamination was likely, and customer illness a probability.
Today's commercial chefs know better, and the importance of storing ingredients safely is not only of high priority, but it could also be the difference between a happy or a very unhappy kitchen inspector.
The FDA has lots of advice and guidelines for food safety in a commercial kitchen, which you can't afford to ignore. According to the CDC, nearly one in six people get sick from foodborne illness due to inadequate food safety – 128,00 end up in the hospital, and 3,000 will die annually.
Storing food properly is a very basic and very important way to prevent food poisoning and associated sickness coming from your commercial kitchen. When looking to buy a bacon grease container, there are several things to consider, and these are as follows.
Size of the Container
Generally, the larger the bacon grease container, the better. However, some are so affordable that there is the option of buying two or more to gain extra storage. However, grease containers that have very small openings are difficult to operate; and can result in a lot of mess on the worktop and grease wastage.
Larger containers contain a larger amount of grease. They tend to have larger openings, making pouring in and out of the container much more effortless.
Spout, Does it Matter?
On the surface, a spout looks like a great feature, and idealistically, it would make the job of pouring grease a breeze. However, when grease and fat are left at room temperature, they become solid, so they would not pass through the spout.
You could, of course, heat the grease while in the container, but this is taking away the time that you were hoping the spout would save.
In my experience, it is much simpler to scoop out the required amount of fat from the container and plop it directly into the pan. Of course, a container with a spout does no harm and can look attractive, but it's pretty pointless as regards functionality.
Containers with a Strainer
A sure-fire way for grease to go bad quickly is if it has bits left in it. By bits, I mean meat which will attract bacteria, eventually resulting in mold. A strainer catches the meat bits before they get into the container, thus preserving the grease for more extended periods and improving its safety.
Any meat that makes its way into the container with the grease will have already been cooked, and so cooking it again will result in bits of burnt, unsafe meat. Burnt meat will tarnish the taste of the dish and could lead to illness in customers if it has been sitting for some time.
Material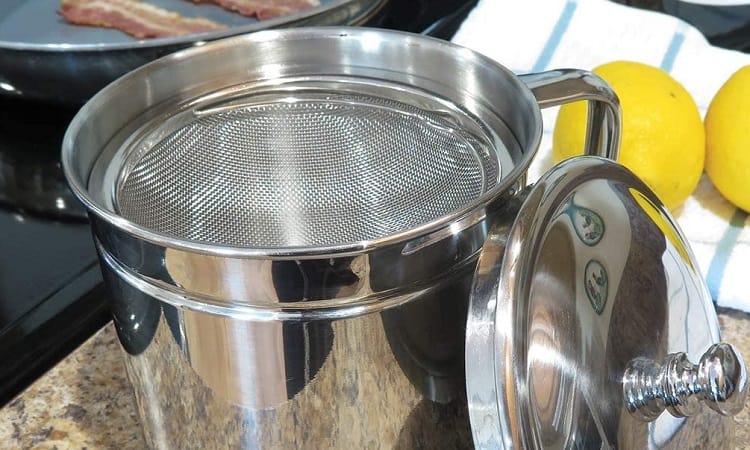 The material of the bacon grease container is essential. Whether you opt for ceramic, rubber, or stainless steel, the material should be rust and corrosion-free. Cheaper metals can be used, such as low-quality steel, which will rust over time. For the sake of an extra couple of bucks, it is worth investing in higher-quality construction.
Lid Types
Most lids will be tightly fitted to reduce the risk of contamination and increase the longevity of the grease. However, not all of them are easy-open. It is best to look for a bacon grease container with an easy-to-open lid, ideally a one-hand flip release, to leave your other hand free to steady the pan.
Handles
A handle isn't an essential feature, providing that the container is lightweight and therefore easy to lift. I often find that handles get in the way and reduce the space-saving option I was looking for, but they can look more attractive than containers without one.
Six Best Bacon Grease Containers
KEOUKE Bacon Grease Container with Strainer – Our #1 Top Pick!

Iron Pot
Non-slip Coaster Tray
3 Color Options

Find Here

Evelots Bacon Grease Keeper – Our #1 Budget Buy!

Easy-grip Handle
Stainless Steel
Dishwasher Safe

Find Here

Ayesha Curry Enamel on Steel Bacon Grease Can

Durable, Heavy-gauge Steel
Stylish, Colorful Exteriors
Good Storage Volume

Find Here

LOIVFET Bacon Grease Container with Strainer

Food Grade Silicone Material
Cute Pig Design
Detachable Filter

Find Here

D&D Mazestic Design Grease Container

High-quality 304 Stainless Steel
V-shaped Pouring Spout
Comfortable Handle

Find Here

Oggi Cooking Grease Container

Tight-fitting Clamp-on Lid
Stainless Steel Body
Strainer Insert

Find Here
KEOUKE Bacon Grease Container with Strainer – Our #1 Top Pick!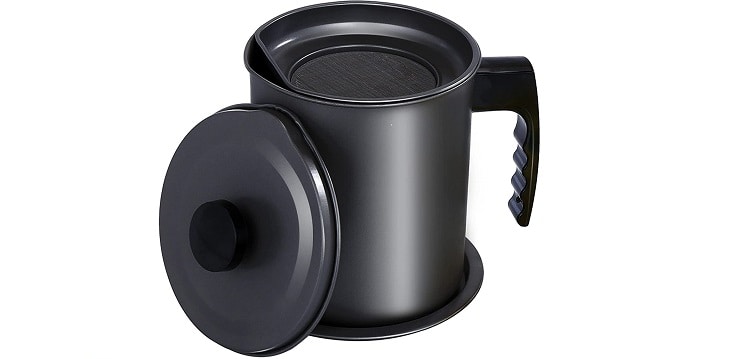 Coming in two different size options, 1.3L and 1.6L, and three color options, black, gray, and green, the KEOUKE Bacon Grease Container with Strainer is a great choice that offers lots of flexibility when buying. It is made of iron, a heavy-duty and highly durable material that should stand the test of time. The strainer is more delicate and made from thin stainless steel mesh.
Inside the container is a non-stick coating, and outside there is a non-slip coaster tray which helps to keep the container in place and prevents grease from dripping onto other surfaces. There is also a small pouring spout. It is easy to maintain this container, and cleaning requires little more than a simple wipe-over with a soft fiber sponge.
Although I don't specifically search for containers with handles personally, the handle on this one is very comfortable to hold due to the four soft grooves. The handle is made of metal, the same as the lid handle. Overall, the iron and stainless steel give this container a look of class while also providing longevity and good hygiene.
The return policy is a generous 90-days, and the customer service is fantastic for after-sales.
Pros
Good Materials Throughout
Generous Return Policy
Flexible Buying Options
Cons
Very Plain for Those Wanting a Container with Character
Handle is Quite Long
Mesh Strainer Prone to Rusting if Left Wet (Do not soak!)
Evelots Bacon Grease Keeper – #1 Budget Buy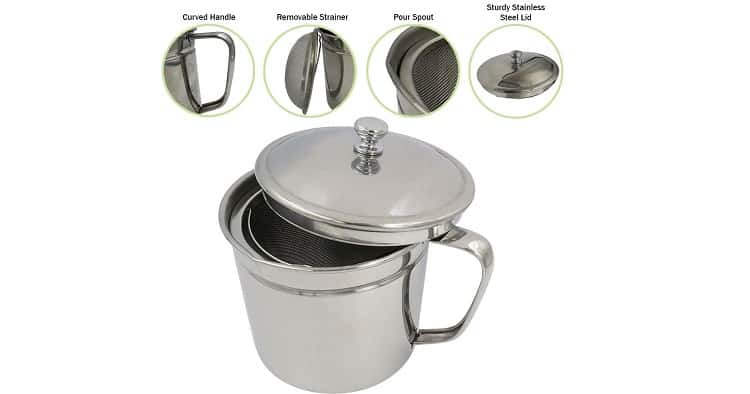 At just over $10, the Evelots Bacon Grease Keeper is an incredible buy. This container offers a remarkable 40 fl oz of grease storage, which is more than double the amount provided by most grease containers. There is an easy-grip handle that is smooth and feels comfortable to hold. The container is made from stainless steel and so dishwasher safe – although the removable mesh strainer would be best to be rinsed by hand.
The item arrives nicely presented in a thickened cardboard box, and the shine of the container hits you as soon as you open the package. It looks great sitting on a commercial kitchen shelf, although it is susceptible to showcasing finger marks.
Evelots is a trusted, long-established seller who is offering a 30-day easy return policy on this bacon grease container.
Pros
Highly Affordable
Large Capacity
Mesh Strainer is Efficient
Cons
Lid Can Stick
Many Consumers Cite Arrived With Parts Missing
Fingermarks Can be an Issue
Ayesha Curry Enamel on Steel Bacon Grease Can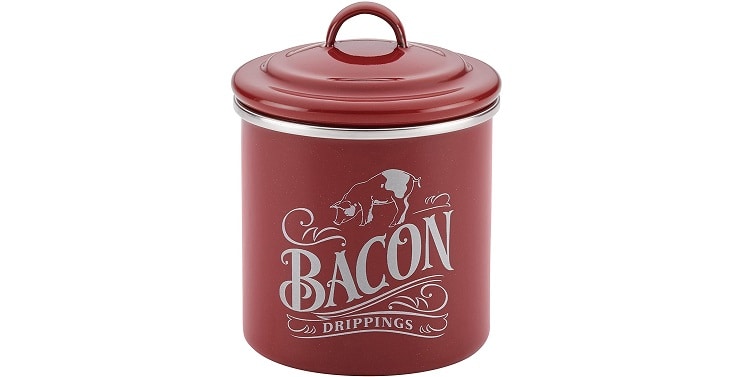 With five different stylish exterior colors, the Ayesha Curry Enamel on Steel Bacon Grease Can could make for a beautiful accessory in any style of kitchen. From 'French Vanilla White' and 'Twilight Teal Blue,' to 'Sienna Red,' 'Basil Green,' and 'Brown Sugar,' there is sure to be a color to complement any kind of kitchen interior.
Moving on from color, this is an excellent choice for those needing a high-performance, heavy-duty container. Or for those who wish to add to canisters and storage jars from the Ayesha Curry collection.
The grease can measures 4-in x 4-in, so it offers ample storage, and the enameled lid secures the grease inside while keeping dust and dirt out.
The construction is sturdy, feeling reasonably heavy in the hand, which is where the sturdy handle comes in to help with lifting and moving. This container is made from heavy-gauge steel with an easy-clean enamel coating that resists warping and is strong enough to handle bacon grease directly from the pan; at a high temperature.
It is worth noting that Ayesha Curry Kitchenware helps to support the No Kid Hungry campaign, which provides up to 500,000 meals to hungry children. 
Pros
Beautiful Aesthetics
Heavy-duty, Built to Last
Charity Endorsing Brand
Cons
Isn't the Largest Container Out There
No Strainer Included
Enamel Coating Can Chip
LOIVFET Bacon Grease Container with Strainer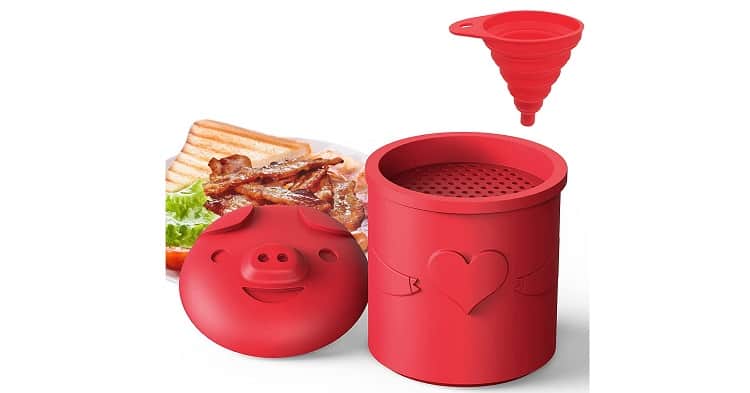 The LOIVFET Bacon Grease Container with Strainer is another great bargain buy, retailing at just over $10. For those wanting something a little comical and tongue-in-cheek, what better way to store pig fat than inside a pig? – A silicone pig, that is.
The unique pig shape is actually pretty functional, too, and works well, preventing dust and debris from entering the container.
There is a detachable filter, also made of silicone, and a silicone funnel that can be a handy little gadget to use when pouring from a much larger pan. Silicone is an excellent material choice, as it is non-toxic, heat resistant, lightweight, and reliable.
It is also non-slip, which is very much a good thing if operating with greasy hands. With the silicone lid, there is good sealing performance too.
This isn't the largest container out there at 4-in high and 3.1-in, but there are many benefits for choosing this product for a commercial kitchen. The thickened can body is heat resistant, the lid airtight, and overall, it is a durable little container that should last a long time. Plus, it's a great conversation piece!
Pros
Unique, Commercial Design
Unique Silicone Material
Highly Affordable
Cons
Doesn't Hold a Lot – Around 250ml
Holds Grease Safely For Days, Not Weeks or Longer
Some Uncertainty Over Color – Is it Red or Pink? Opinions Seem to Vary
D&D Mazestic Design Grease Container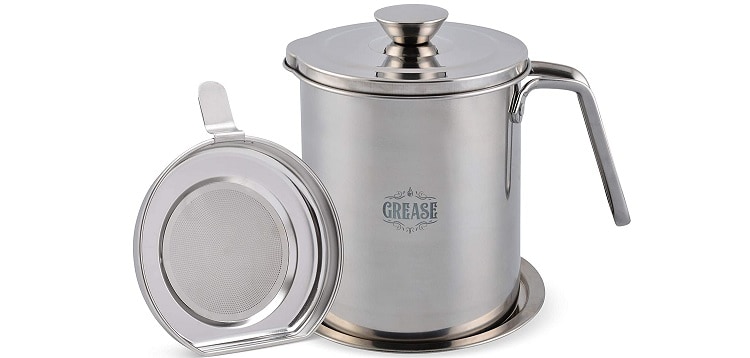 The D&D Mazestic Design Grease Container is made from high-grade 304 stainless steel, contributing to its slightly higher retail price.
It looks like an iconic, vintage kitchen piece, with the retro writing being the only thing to be displayed on the otherwise classic, plain metal finish. It offers a substantial capacity, holding 40 fl oz, and comes with a tough metal, hidden strainer.
This bacon grease container sits on a stainless steel coaster, which looks good but is functional too. It is easy to grip and hold and has a handle to make this more comfortable for some. There is a small spout that ideally would be bigger but does work. I like how the strainer sits perfectly on top of the container to catch any bits, allowing pure grease to filter through.
The brand offers a 30-day money-back guarantee and shines with its lifetime replacement warranty. This product has been well received by many people, with little criticism and no doubt over the longevity of this container.
Pros
High-grade Stainless Steel
Good Quality Strainer
Lifetime Replacement
Cons
Spout is Small
Easily Marked by Fingers
If Knocked the Spout Would Allow Leakage
Oggi Cooking Grease Container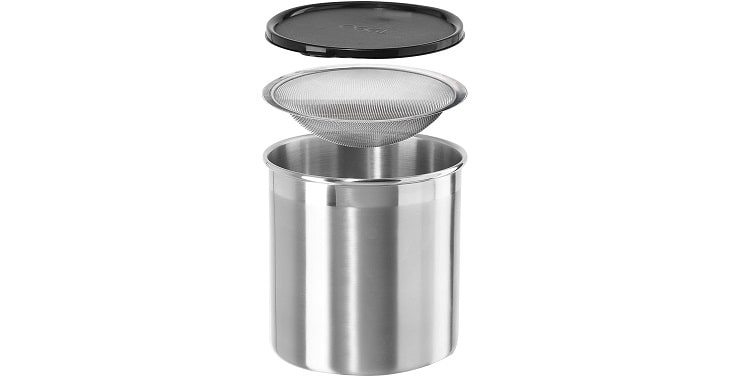 The Oggi Cooking Grease Container is a large capacity container of 3.75L and the most expensive on the list at just over $40. There is a smaller, 0.95L buying option for those who don't need such a large size. However, for a commercial kitchen, this container is probably one of the best out there.
The lid is a clamp-on; made of plastic; it is tight-fitting to secure the bacon grease and keep the oil clean and fresh. It is surprisingly easy to pull off but does require both hands. The strainer insert is of excellent quality and won't easily bend or warp. Both the container and the strainer are made from robust stainless steel.
The aesthetics are sleek and stylish; this container will blend in with any commercial kitchen interior and do a fine job preserving a large volume of grease or fat. There isn't a handle or spout, but these are not essential features.
The necessary components of a suitable bacon grease container are; good quality materials, an airtight lid, and large capacity – this product ticks all the boxes.
Pros
Clamp on, Airtight Lid
Large Volume Capacity
Quality Stainless Steel
Cons
No Handle or Spout
No Signage/Indication on Container
Very Plain Design
FAQs
Question: How Long Can Bacon Grease Be Stored For?
Answer: If you have memories of Grandma's kitchen, then you may remember the bacon grease that sat on the counter for what seemed like a lifetime; however, we no longer deem this acceptable – or, we shouldn't.
It is safe to store bacon grease in an airtight container on a countertop for up to three months, much longer in a refrigerator, and indefinitely in a freezer.
Question: Do I Have to Buy a Designated Bacon Grease Container?
Answer: You can use an ordinary mason jar, Tupperware container, or other storage canisters to store bacon fat. However, designated bacon grease containers have the right materials to preserve the grease, often come with conveniently fitting strainers, and have airtight clamp-on lids which other storage containers may not have.
Question: What Other Grease Would I Store in a Bacon Grease Container?
Answer: Any fat, oil, or grease can be preserved in a bacon grease container. Whether it is chicken fat, olive oil, or beef dripping, it can all be safely stored in a bacon grease container.
However, it is essential to pick one oil and stick with that rather than adding to an existing substance as this can have a detrimental effect on the flavor of the dishes cooked in this liquid.
Best Bacon Grease Container – My Verdict
Fundamentally, every bacon grease container does the same job, but some perform better than others. Our top pick is the KEOUKE Bacon Grease Container with Strainer, but it was a tough call between this and the Oggi Cooking Grease Container. Both are excellent choices for a commercial kitchen, but I prefer the look and feel of the KEOUKE container.
The 'bargain buy' container, Evelots Bacon Grease Keeper, is efficient, perfectly adequate, and has a large volume capacity. However, fingermarks are an issue, and the lid isn't the easiest to take off. There are also many comments regarding missing parts by previous consumers.
The D&D Mazestic Design Grease Container is a fantastic choice, ticking every box but with a higher price than most, which is its only pitfall.
The look of the Ayesha Curry Enamel on Steel Bacon Grease Can is a major selling point and like nothing else out there. It looks beautiful vintage, and with many color options, there is a lot of choice, pretty much guaranteeing there will be one to compliment your kitchen.
This container also matches the rest of the Ayesha Curry Kitchenware collection, which means you can complete your entire kitchenware with beautiful symmetry.
A unique, possible novelty buy is the LOIVFET Bacon Grease Container with Strainer. Made entirely of food-grade silicone, this is also a durable, safe, and efficient grease container that will make a great talking point in the kitchen. Whether it is crass or comical is down to personal preference!