Latest posts by Jodie Chiffey
(see all)
Steam cooking is one of the healthiest ways to cook. Most recipes require no fat and don't take that long to make, resulting in intense flavor while retaining the nutrients of the ingredients. This Asian way of cooking has been used for thousands of years, and as the name suggests, usually involves cooking the ingredients in steam.
The best commercial bamboo steamers will actually enhance the flavors of the ingredients you are working with.
In this guide, we'll be looking at some of the best commercial bamboo steamers available on the market, including their pros and cons, and answering some frequently asked questions. But before we go into detail on each steamer, consider the following buying guide to help you choose the best one for you.
Things to Consider Before Buying a Commercial Bamboo Steamer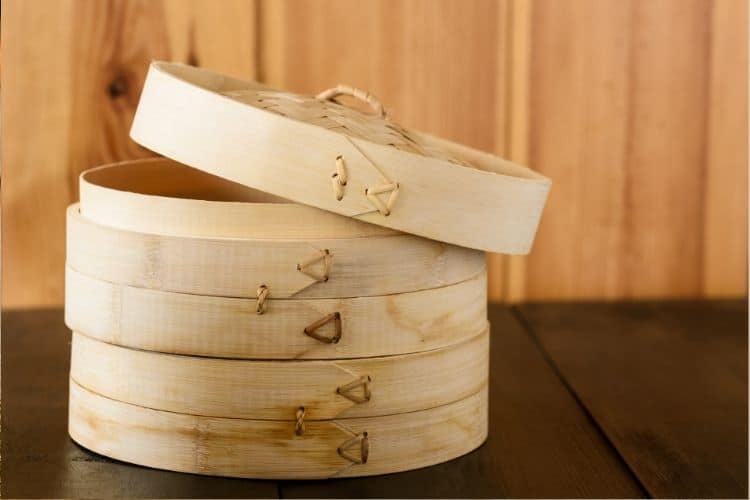 Bamboo steamers are a big part of the kitchen equipment in any restaurant. And like all your other equipment, quality is the most important factor when buying a steamer. But there are so many different brands in the market that it can be difficult to choose one that matches your style. And as you will see with the steamers featured in this article, they vary in durability and functionality.
Yet, there are a few things you should consider as you go through this guide, looking for your next best steamer. The most important of these factors include the following;
Safety
The only bamboo steamer should be considered using is made of 100% bamboo. This type of steamer is completely free of BPAs and is therefore safe for cooking food. Steamers that contain any amount of BPA should be avoided as they are likely to cause serious health problems.
Quality
Even as you choose a steamer made entirely of bamboo, it is also important to check the quality of the bamboo used to make it. This will ensure that whatever steamer you choose will remain an integral part of your kitchen for the foreseeable future.
A good indicator for the durability of a product is the warranty period that the manufacturer provides. The longer the warranty, the more durable the steamer.
Size
This one goes without saying, but we thought it was worth mentioning. The size of the steamer you purchase will be determined by the amount of food you intend to prepare. Keep in mind though, that there are several steamers with two tiers. These tiered steamers can save you a lot of time in a busy kitchen.
The Steamer's Lid
The lid is a very important part of any steamer as it is what keeps the steam from escaping. Without a proper lid, cooking food using a bamboo steamer would be very difficult. A good lid should be perfectly fitted onto the body to maximize the effect of the steam. But it should also be easy to remove once cooking is done.
Cleaning
Most bamboo steamers are actually very easy to clean. You only need to replace the paper inside the steamer. But for maximum hygiene, it is a good idea to make sure you choose a steamer that is dishwasher safe.
7 Best Commercial Bamboo Steamers to Choose From
Now that you know what to look for in a good commercial bamboo steamer, the following are the top-of-the-line options that we think you should consider. Each one of the options reviewed here meets the criteria outlined above.
Your choice will therefore be one based on preference, affordability, and the tool that fits into your kitchen's overall appeal.
Hcooker 3-Tier Bamboo Steamer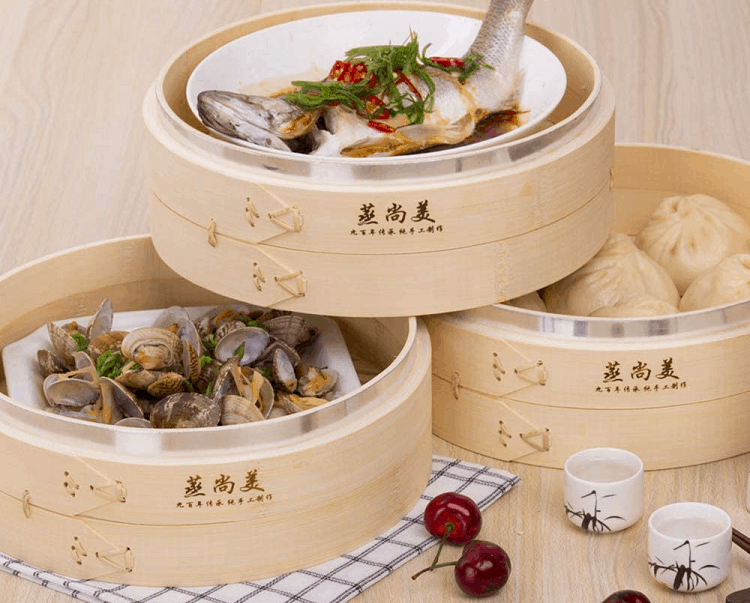 The Hcooker 3-Tier Bamboo Steamer is a good-looking steamer with a triple-decker for added functionality. The stainless-steel bands that give the steamer its aesthetic appeal also serve the important function of sealing the tip and bottom rims to prevent them from scorching or splitting. They also offer much-needed support so that the fragile bamboo material doesn't crumble, even when subjected to a lot of heat.
While most users prefer a steamer without the metal reinforcement, some restaurants prefer the stability that the bands can provide and never worry too much that they will infuse the ingredients with a metallic taste.
The Hcooker 3-Tier is certainly a good option when the durability of your kitchen equipment is at the forefront of your mind, but you still don't want to compromise on quality and functionality.
Pros
3-tiers mean more cooking space

The steamer is made of natural and durable bamboo

The stainless-steel bands increase durability

It is water-resistant

Very easy to clean
Cons
It may take up a lot of storage space

The metal bands may affect the flavor of some ingredients
Flexzion Basket Set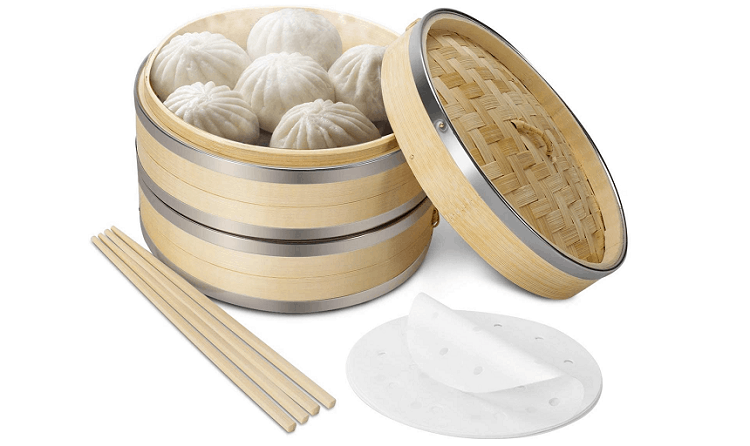 Made of natural bamboo, the Flexzion Basket Set comes with up to 50 steamer liners, making it the ideal choice if you don't want to purchase liners separately. There are also the additional two pairs of chopsticks to complete the set.
This steamer is also double-tiered and therefore an ideal solution when you have a lot of food to steam. And, the domed lid will make sure that none of the moisture escapes, ideal for perfect cooking. This steamer is also one of the most durable pieces of kitchen equipment that you could purchase.
The main material used to make it traditional, strong, and sturdy bamboo. But the fact that it is water-resistant further increases its viability as an ideal tool for a busy kitchen. You can use it to steam a wide range of foods for a long time without worrying about damaging the basket.
Pros
This steamer is one of the sturdiest that we have seen

The lid and stainless-steel rim help retain moisture needed for steaming

You get a free pair of chopsticks

It has two tiers to maximize the amount of food you can cook
Cons
The steamer lines that you get may stick to some types of food
Annie's Kitchen Premium 10-inch Handmade Steamer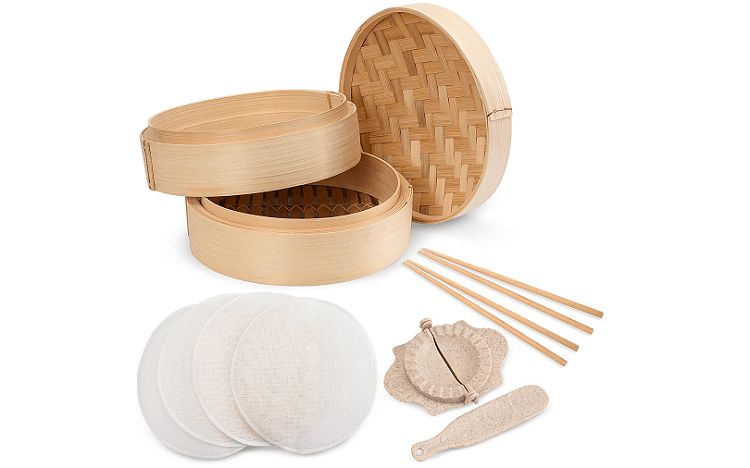 Not only is the Annie's Kitchen Premium 10-inch steamer made of sustainable bamboo, but it is also hand-made and open-weave. It is one of the most environmentally-friendly kitchen equipment, made from traditional bamboo that the manufacturer is ethically sourced.
The liners you get are also un-bleached, and the bamboo press is made of wheat straw. This is therefore, the best steamer to choose if you are environmentally conscious and you want to make sure the food in your kitchen is as free of any toxins as possible.
The 10-inch large size also makes it an ideal solution for steaming large amounts of food. It also retains moisture pretty well to ensure that all ingredients cook evenly and it is durable. You also get two pairs of chopsticks to add to your utensil collection with every purchase of this unique steamer.
Pros
The whole kit is environmentally sustainable.

It is large enough to support cooking large amounts of food

It retains heat perfectly for an even cook

Everything is BPA-free

You get two pairs of chopsticks with every purchase
Cons
You may have a hard time cleaning it

It comes with very few liners, and over time you may find that you need to purchase more.
Joyce Chen Bamboo Steamer Set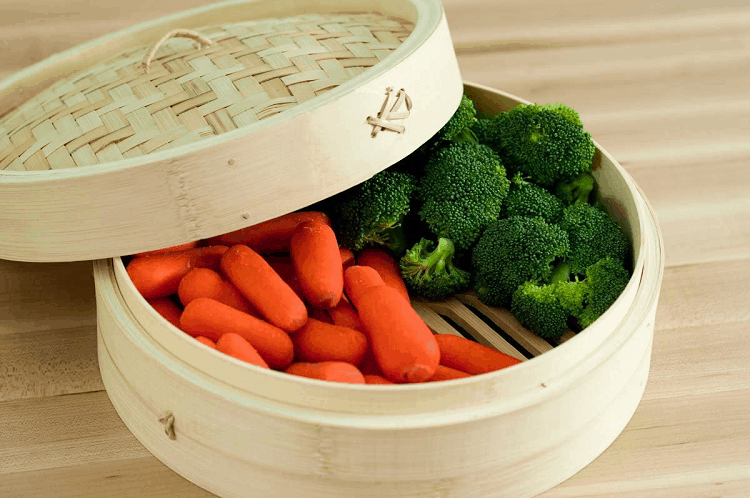 The Joyce Chen Bamboo Steamer Set is another large 10-inch design, ideal for the commercial kitchen. These deep baskets also have the additional advantage of increasing moisture retention, which increases the flavor of the food you are steaming. The domed lids further trap the steam to make cooking faster and more efficient; again, ideal for the busy commercial kitchen.
But while this steamer will steam savory dishes, it is not exactly a durable solution. The bottom of the steamer has been known to fall out with constant use, and you may find that you need to replace the streamer sooner than you thought.
Pros
It is very easy to use and clean

Deep enough for a wok to fit in

Two tiers increase the amount of food you can steam

It is designed to trap as much moisture as possible for that even cook
Cons
The bottom of the steamer can fall out

The design is not as sturdy as other steamers
Mister Kitchenware 10-inch Bamboo Steamer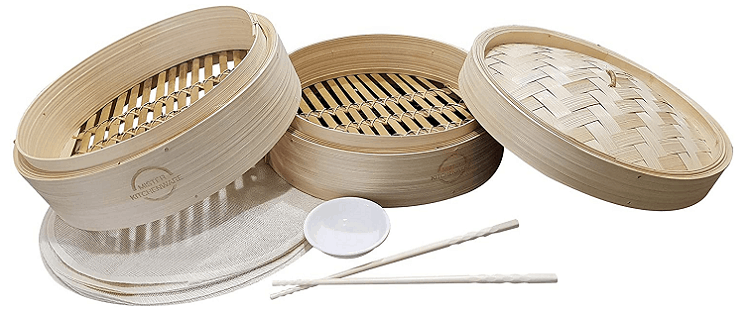 If you are looking for a steamer that will be useful for a stovetop or microwave steaming, Mister Kitchenware 10-inch Bamboo Steamer is the ideal choice.
The steamer is handmade, using traditional techniques to get you as close enough to the real thing as possible. The result is a steamer that will hold in a lot of moisture, with a tight weave and cross dome reinforced seals on the top and hand-tied slats on the base, allowing more steam to pass through the food you're cooking.
This steamer is also free of any metal components, which is why it is a great choice for microwave use. It is also much deeper than other models to allow you to cook a large amount of food at once on the stovetop or microwave. With every purchase, you get two pairs of chopsticks, 10 liners, and a sauce dish.
Pros
It has wide slats held together with bamboo thread, making it very durable

Designed to hold in as much moisture as possible for efficient cooking

Deeper than most models, to hold more food

Microwave friendly

It comes with 10 liners and free chopsticks
Cons
The liners don't last too long

You may find it a bit harder to clean
Juvale Bamboo Steamer Basket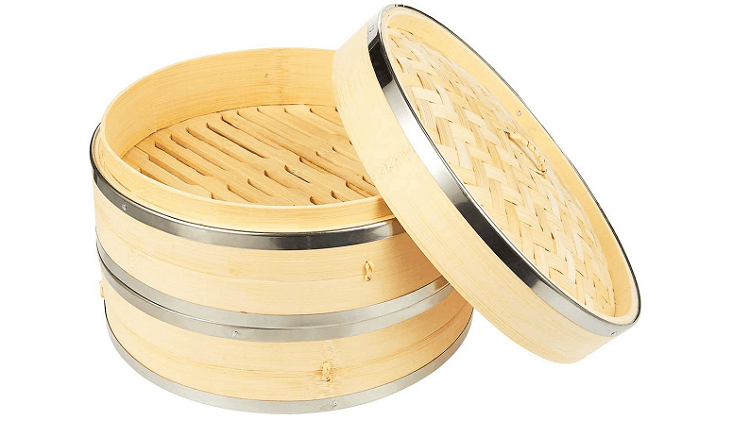 This elegantly designed bamboo steamer is an ideal kitchen tool for quick steam. The Juvale Bamboo Steamer Basket has two tiers and a woven design to retain enough moisture for efficient and fast steaming. The woven design also makes this model one of the sturdiest we have come across, and the fact that it has stackable trays means that you can cook a large amount of food at once.
But there are some long-time users of this steamer who warn against cooking a lot of food on it, as the heat tends to dissipate fast, which can leave the food cold. This doesn't seem to be a turn-off for many, as the Juvale Bamboo Steamer can also be very useful for reheating food.
Pros
It is made of 100% natural woven bamboo, reducing the chances of toxicity

The two-tier construction increases its capacity

Stainless steel rings increase moisture retention for efficient cooking

A sturdy, durable design means that you can use it for a long time
Cons
Food may get cold, especially when cooking a lot of food

Extra care is needed when cleaning as food may get caught on the slats
Helen's Asian Kitchen 97009 Food Steamer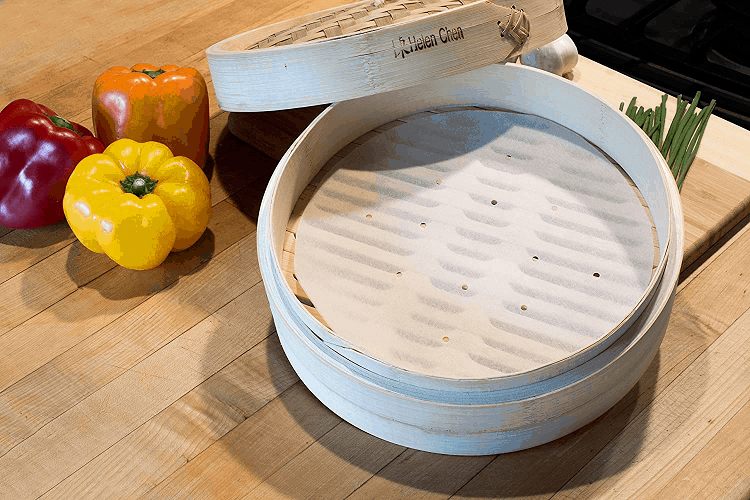 In terms of a bamboo steamer that is most suitable for commercial use in a restaurant setting , we've saved the best for last. Helen's Asian Kitchen 97009 Food Steamer is the best choice for steaming large amounts of food.
More than any other type of steamer on this list, this model is large enough to support large amounts of food without compromising efficiency. In other words, it is the best choice when you want to cook a lot of fast food. It is also elegantly designed enough to make it a great serving dish.
The design leans heavily on maximizing retention to ensure that food is cooked fast and evenly. The sturdiness of the woven bamboo also means that you don't have to eat the food right away; you can make a lot of food in advance, and it will remain hot until you are ready to serve.
It is also completely rust and toxin-proof because it doesn't have any metal rings. The lack of metal also means that it is easy to clean and dishwasher friendly.
Pros
The design retains a lot of moisture for the even cook

It is sturdy and durable

It is easy to clean

The lack of metal components makes it rustproof

It is elegant enough to serve as a serving dish
Cons
The rings may fall out with constant use
fAQs
Question: Are there Commercial Steamers that Are Completely Non-Toxic?
Most Bamboo steamers will come with a label indicating that they are made of 100% natural materials. Bamboo is a food-grade material, so these should be non-toxic. But you can increase the likelihood that they are toxin-free by choosing to use liners that are non-stick or non-toxic. Non-stick liners can also help retain the nutrients of the food being prepared.
Question: What Makes a Commercial Bamboo Steamer Ideal for Cooking?
Answer: Unlike electric or metal steamers, a bamboo steamer will absorb water naturally. This water will either escape through the lid or be absorbed by the basket. This means that the food cooked in a bamboo steamer will not have any condensation droplets on the surface.
Question: How Do I Clean My Bamboo Steamer?
Answer: Most bamboo steamers are very easy to clean. After cooking, you can use a sponge or a gentle brush to remove any food residue that may be on the steamer. A good way to maintain the cleanliness of any steamer is to use non-stick liners that you can remove after cooking.
Question: Is it Safe to Put a Commercial Bamboo Steamer in the Dishwasher?
Answer: While some models may claim to be dishwasher safe, it is not a good idea to clean a bamboo steamer in the dishwasher. The heat and the water can damage the bamboo over time.
Final Verdict
Even after 5,000 years of use, Bamboo steamers are still proving to be the best way to steam a variety of foods, including the delicate dim sum. Most of them are non-toxic, so the one you choose will come down to the size and efficiency of the steamer.
For cooking large amounts of food, Helen's Asian Kitchen 97009 Food Steamer is an ideal solution. It will also not compromise on efficiency, with a design that retains a lot of moisture to keep your food hot for as long as you need it to.
The Hooker 3-Tier Bamboo Steamer is a durable choice. The stainless-steel band keeps this steamer sturdy and effective for a long time. But some foods may absorb the metal, which can manifest as a slight metallic taste in the food.
If you are going for a steamer that is made of 100% natural, non-toxic bamboo and that is also eco-friendly, then the handmade Annie's Kitchen Premium 10-inch steamer is a good choice. This steamer may not be able to hold a lot of food, but you can always guarantee that the quality of food you serve will be above board.
Above all, go for models that offer non-stick liners. And if you have to buy additional liners, as you might well have to, make sure that they are also non-stick and made from non-toxic materials. This will make cleaning the steamer that much easier.