Latest posts by Jodie Chiffey
(see all)
Nemco Food Warmer is a full-size countertop food warming unit found in hundreds of establishments all over the country. Restaurant owners and chefs often highlight its reliability, versatility of use, and affordable price, along with the ease of use and undemanding maintenance. But is this really the right solution for you too? Our Nemco food warmer review will provide you with all the details you need to make an informed decision.
Whether you're running a restaurant offering ready-made meals or you're providing catering for large parties, a good food warmer should definitely be one of the key elements in your kitchen setup.
Should you order one right away? The truth is that the Nemco food warmer has many advantages but also some drawbacks. First, check this quick summary of Nemco food warmer technical specifications and the most important features.
Key specifications of Nemco Food Warmer
Type
Wet Full-Size Countertop Food Warmer
Material
Stainless steel
Power
1200 watts

(also available as cooker/warmer 1500W)

Capacity
12″x20″ full size pan (or fractional sizes)
Temperature range
120-212 degrees F
Dimensions/weight
9″ (H), 14. 63″ (W), 23. 88″ (D) /22 pounds
Latest price
Click here for the latest price
Core features of Nemco Food Warmer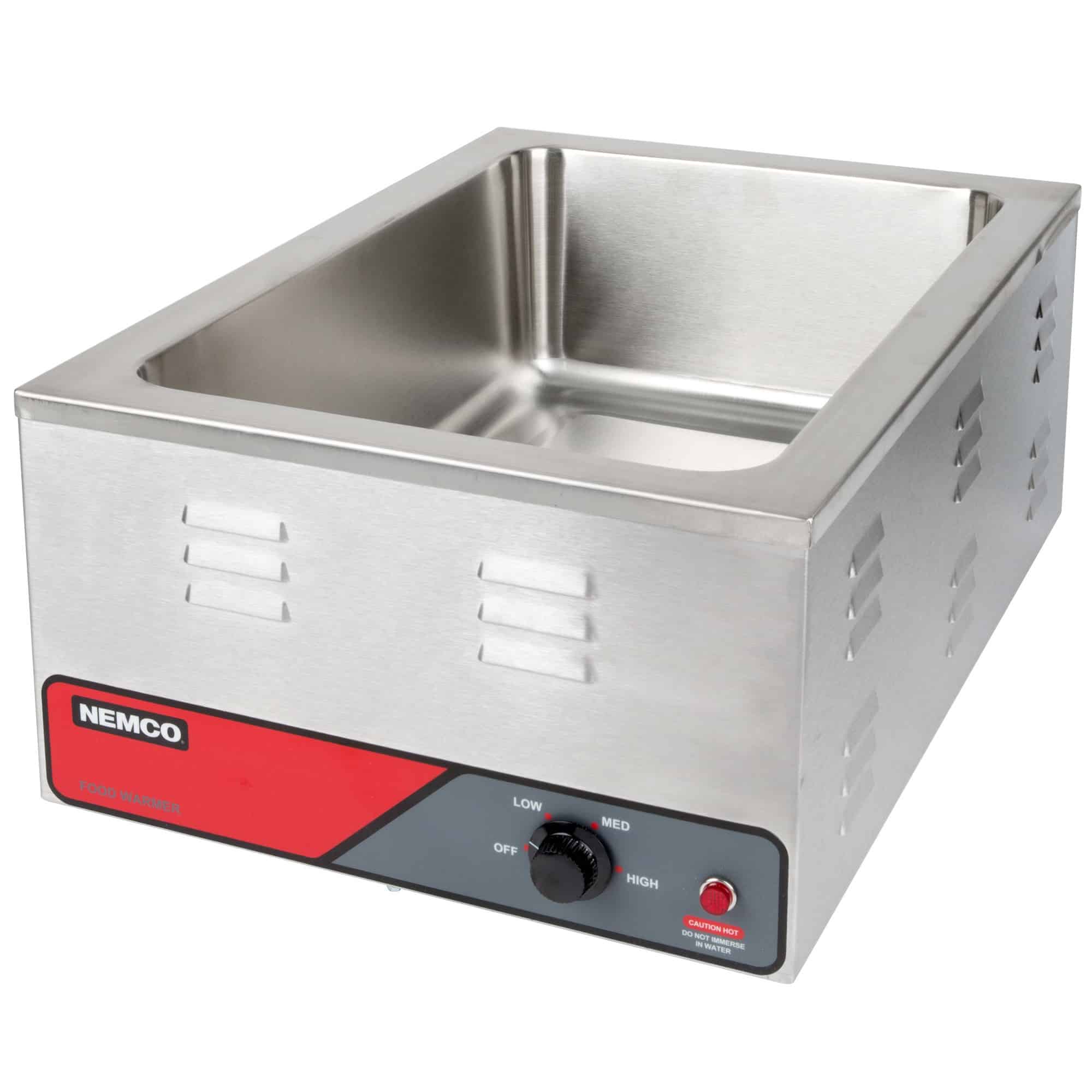 Are you considering buying this specific type of equipment for the very first time? Maybe you are in doubt whether you really need to make this investment at all.
However, the truth is that a good countertop food warmer can easily become one of your most favorite kitchen gear. These handy machines are here to ensure that your customers will always have their meal warm and fresh, which is something customers truly appreciate. On the other hand, a food warmer also allows your chefs to prepare their orders in advance, which reduces the overall stress and rush in the kitchen.
Of course, these advantages only come with a reliable, fully functional warmer that can really keep up with the demands of a busy restaurant. So is Nemco food warmer this kind of equipment? Let's check its qualities in detail and see if it's worth your money.
Construction And Design
Nemco food warmer has a simplistic yet perfectly functional design. The case is shiny, silver, and thick, and with the black-and-red control panel on the front side looks very sleek in a minimalistic way. Although appearance might not be the most important quality of a food warmer, it is certainly nice to have gear that looks neat.
Nemco is a full-size countertop-style warmer measuring 23.88 x 14.63 x 9 inches and weighing 22 pounds. Its capacity (12″x 20″) allows you to put a full-size pan inside (or fractional sizes, e.g., three 1/3rd pans, or two 1/2 pans, or one full pan up to 4″ deep). Although this is probably not the biggest food warmer on the market, its capacity and size should suit most small-to-middle establishments very well.
The whole construction of this food warmer is made of stainless steel, making it highly durable, sturdy, and conveniently easy to clean. Also, you don't have to worry about this all-metal unit getting too hot to be touched – the outer surface stays comfortably cool throughout the operation, as its temperature never exceeds 134°F.
Functions And Controls
If you have never used a food warmer before, you might probably wonder how this machine even works. In fact, food warmers can differ one from the other quite greatly since they can use various completely different heating technologies. Nemco food warmer is what we call a "wet" warmer, so, as its name suggests, it uses water to heat the food products and meals.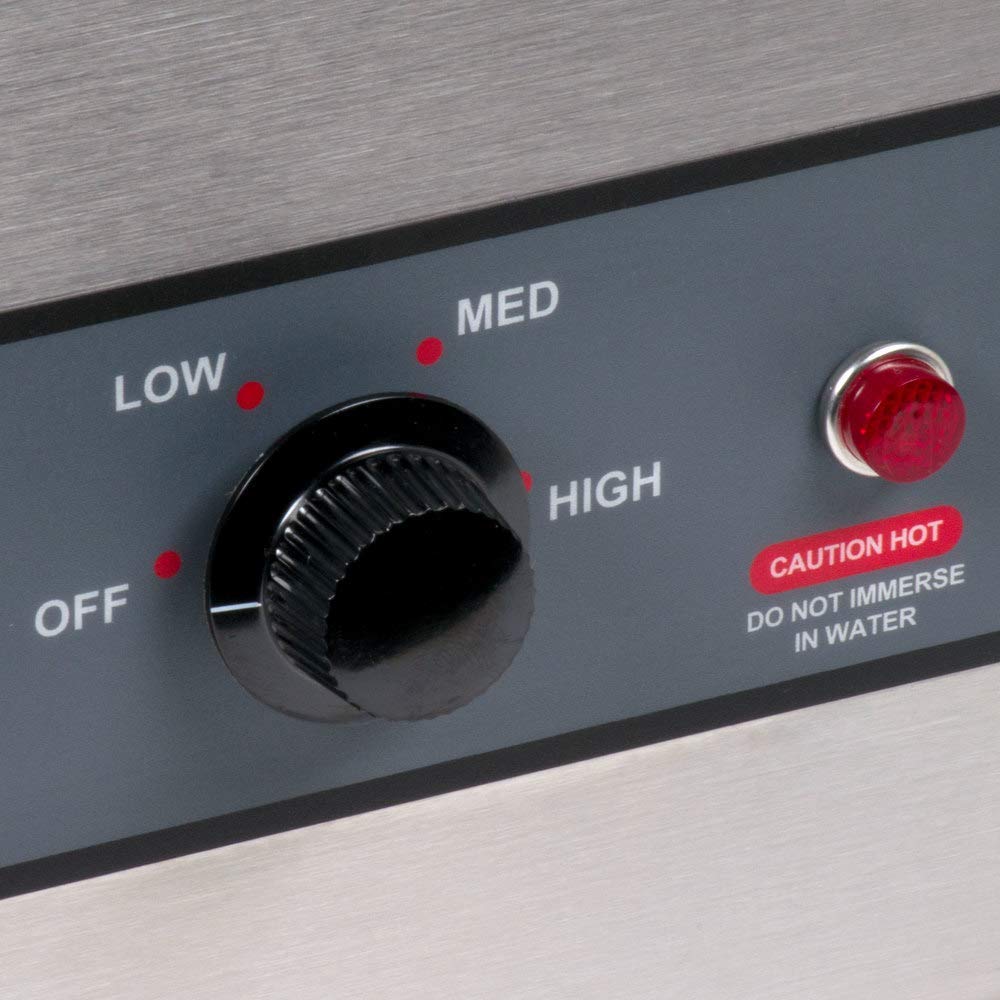 In practice, the warmer first heats the water in its sink, and then the heated water, in turn, warms the meal. Thanks to the aluminum plate that distributes the heat throughout the warmer compartment, the meal is heated up evenly without any noticeable cold spots or hotspots.
It works efficiently and smoothly. However, I must note that the whole operation would be much more convenient if the machine had a proper drainer to release the water once you're done with the heating. Since this feature is missing, it requires some effort and extra care to get the warm water out of the sink.
The practical adjustable thermostat integrated into this warmer provides you with a range of 120 to 212 degrees Fahrenheit, so you should be able to adapt heating to your actual needs. However, again, I believe it is fair to say that the knob should be a bit more accurate.
Sometimes it's tough to set the temperature precisely, and a millimeter here and there can easily make a difference between scalding and lukewarm food. Also, keep in mind that this is not a microwave where you heat the whole meal in a couple of seconds. In practice, it takes Nemco food warmer about 15 minutes to reach its highest temperature, so it requires some planning to use this machine effectively.
When it comes to its energy consumption and performance, this warmer boasts 1200W of power. Although we are focusing solely on Nemco's food warmer today, note that there is also an alternative combined appliance on the market (Nemco food warmer+cooker) offering 1500W of power.
Safety
In comparison with many other commercial-grade kitchen appliances (such as meat slicers, gas fryers, or commercial-grade ovens), food warmers do not apparently present many imminent hazards or threats. Nevertheless, it is still an electric appliance that can potentially cause some harm, whether it is due to overheating, circuit shortage, or unwary manipulation.
Nemco tries to eliminate (or at least dramatically minimize) some of these risks by applying various safety measures. First of all, as I've already mentioned above, the thoughtful construction of the warmer isolates the heat in its internal compartments, making sure that the outer surfaces of the device stay cool and safe to touch. The device should also be mechanically protected against the short circuit and overheating.
Nemco warmers are also NSF-certified (NSF stands for the National Sanitation Foundation), which means that the producer has only used the officially FDA-approved raw materials when making these devices. Moreover, the warmer also boasts The Environmental Technology Verification (ETV), which confirms that the producer's claims on its environmental policy are verified and true in practice.
Despite all these safety precautions and certificates, you should still ensure that your employees are fully trained on the Nemco's warmer use and maintenance to stay perfectly safe.
Reliability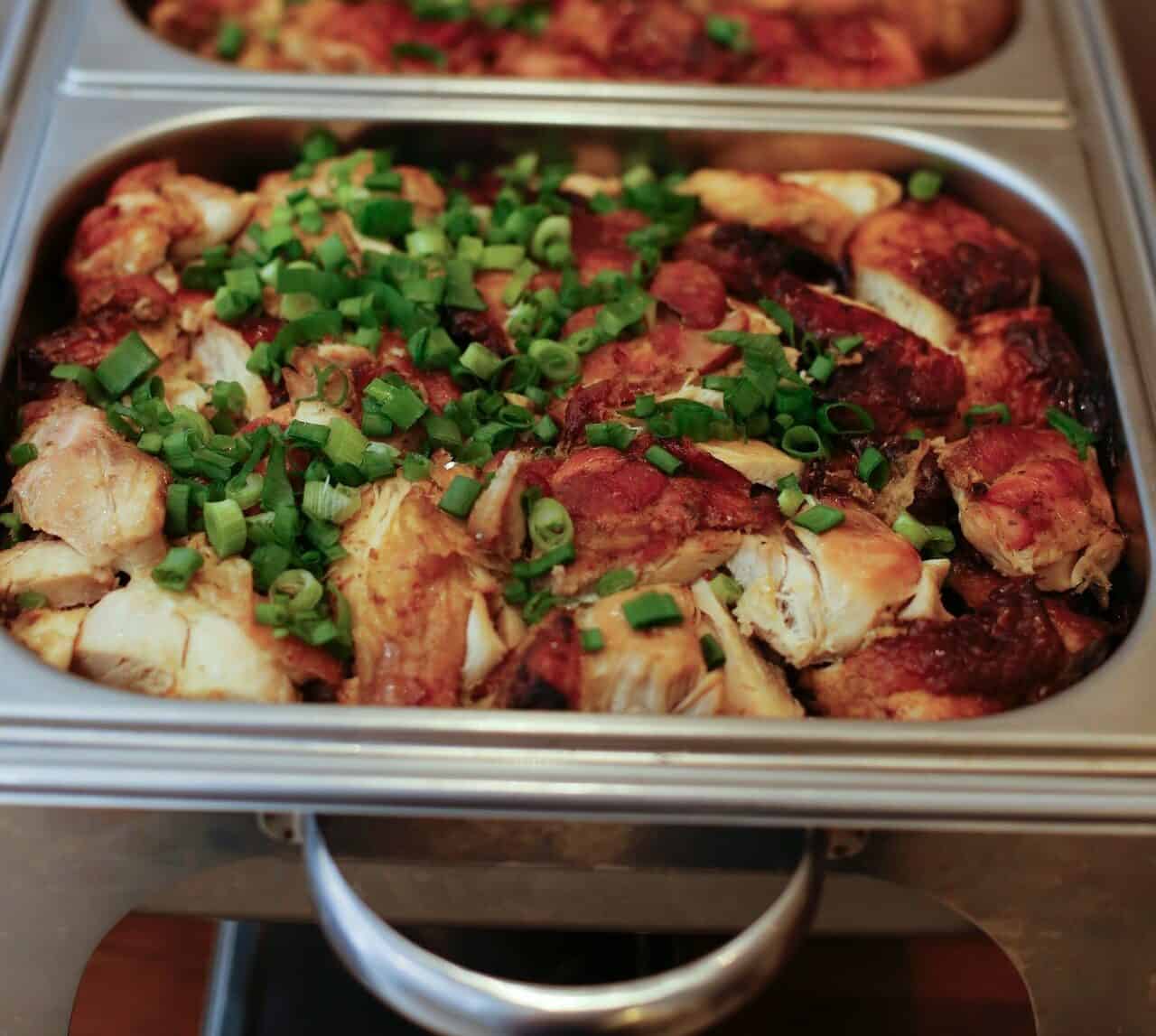 Many professionals in gastronomy prefer Nemco warmers due to their reliability and durability. The machine is really sturdy (including its control knobs and other movable parts), so it would require quite an extensive effort to damage it mechanically. According to dozens of user reviews, these machines are also not prone to serious operational faults or malfunctions.
In any case, Nemco covers its customers with a 1-year warranty, so you should be able to get a refund, replacement, or free repairs in case your warmer becomes faulty. Specific conditions and rules of Nemco's warranty scheme can be downloaded from the company's official website.
Price
In comparison with some other commercial kitchen appliances, food warmers are, in general, relatively cheap. Still, the differences between the prices of particular warmers can be quite significant. Nemco, as a reputable and well-established American brand, makes a bit pricier warmers, so if you really need to stay on a budget, you might be tempted to look somewhere else.
For the latest price of Nemco Food Warmer, click here.
Pros of the Nemco Food Warmer
Still not sure if Nemco's commercial food warmer is your best option? Let's summarize some of the smart reasons to consider its purchase:
Sturdy And Durable Construction
Whether running a restaurant or a catering service, you should always look for heavy-duty equipment that can keep up with the hardship of hectic commercial kitchens. In this regard, the Nemco food warmer seems to be just what you need. It is made of high-grade stainless steel, and all of its components feel sturdy, durable, and reliable.
Simple Operation
Nemco Food Warmer can be easily and safely operated even by a total beginner. If you're looking for a device that will simplify your kitchen duties instead of complicating them, this is a good choice.
Safety And Certifications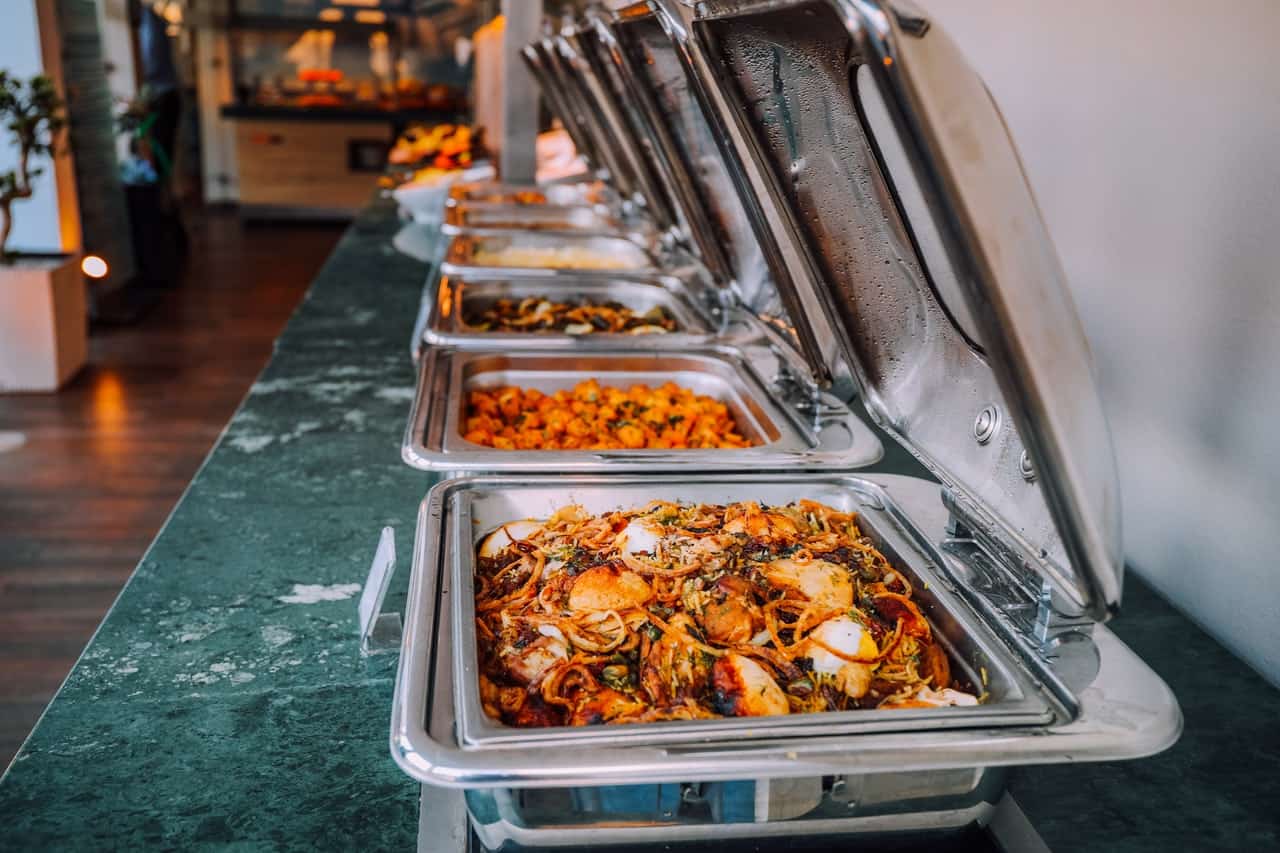 If you ever feel tempted to buy cheap brandless kitchen equipment, ask yourself what guarantees and safety measures the product provides. In the case of Nemco, you might need to pay a bit more for the unit itself, but keep in mind that you're also paying for the product's compliance with international safety standards and environmentally conscious production.
Reliability
Nemco food warmers are, in general, considered to be reliable and durable. Moreover, as a customer, you will be protected by Nemco's 1-year warranty, so it shouldn't be too difficult to get a refund or replacement if your unit prematurely fails.
Efficiency
Wet-operated food warmers are highly efficient since the heat is accumulated and maintained in standard tap water. This technology helps you save some of the operational costs, but it also ensures evenly distributed heating.
Decent capacity
Although Nemco food warmer is not the largest device of its type on the market, it should suit the needs of most small-to-middle gastronomy venues very well. The dimensions of this warmer are also conveniently compatible with several different sizes and shapes of pans, which further broadens its versatility.
Cons of the Nemco Food Warmer
Nemco Food Warmer has some weaker points too. Consider these downsides before ordering yours: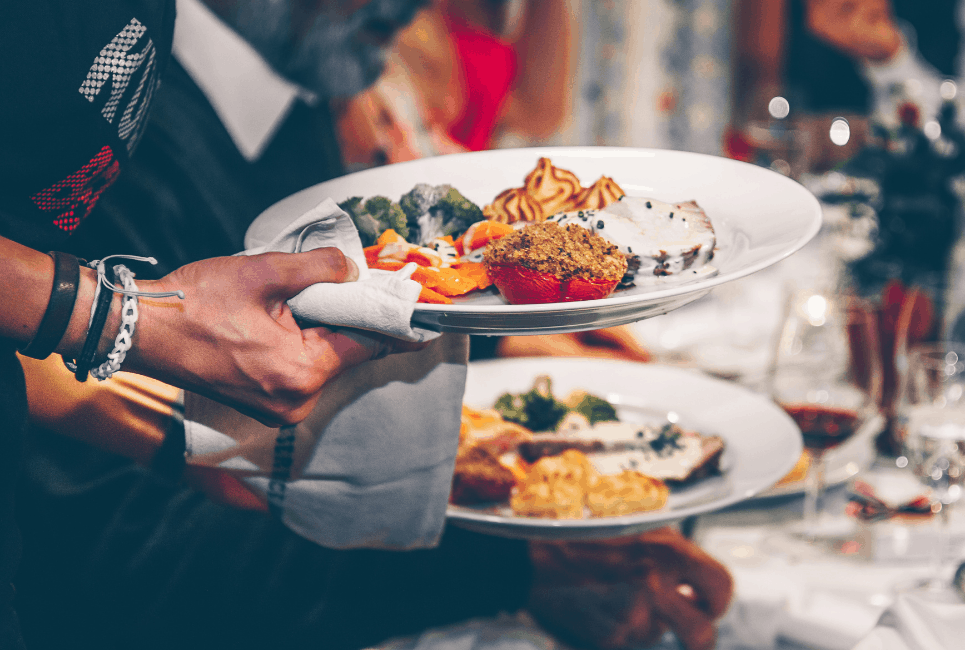 Wet-operated Machine With No Drainer
Although the wet-operated food warmers are very convenient, reliable, and advantageous, I found it rather strange and inconvenient that this machine lacks a proper draining feature. Removing hot water from the warmer's sink is therefore rather complicated and potentially dangerous too.
Temperature Adjustment Is Not Precise
Setting the thermostat adjustment knob precisely to the desired temperature can be quite a headache with this machine. It takes a lot of practice to avoid unintentional overheating (or underheating) of your food just because you've pushed the knob a millimeter further than you should.
More Expensive Than Other Warmers
Nemco is a well-established brand, and its products are, on average, a bit pricier than comparable products from other manufacturers. Although food warmers are, in general, not the most expensive pieces of equipment in commercial kitchens, if you really need to cut your costs, you would surely be able to find a cheaper alternative.
Are There Any Alternatives?
Not entirely sure about this product? Don't worry; Nemcomco food warmer is certainly not your only option. Here are some other interesting food warmers that might work in your kitchen just as well:
Oster Buffet Server Warming Tray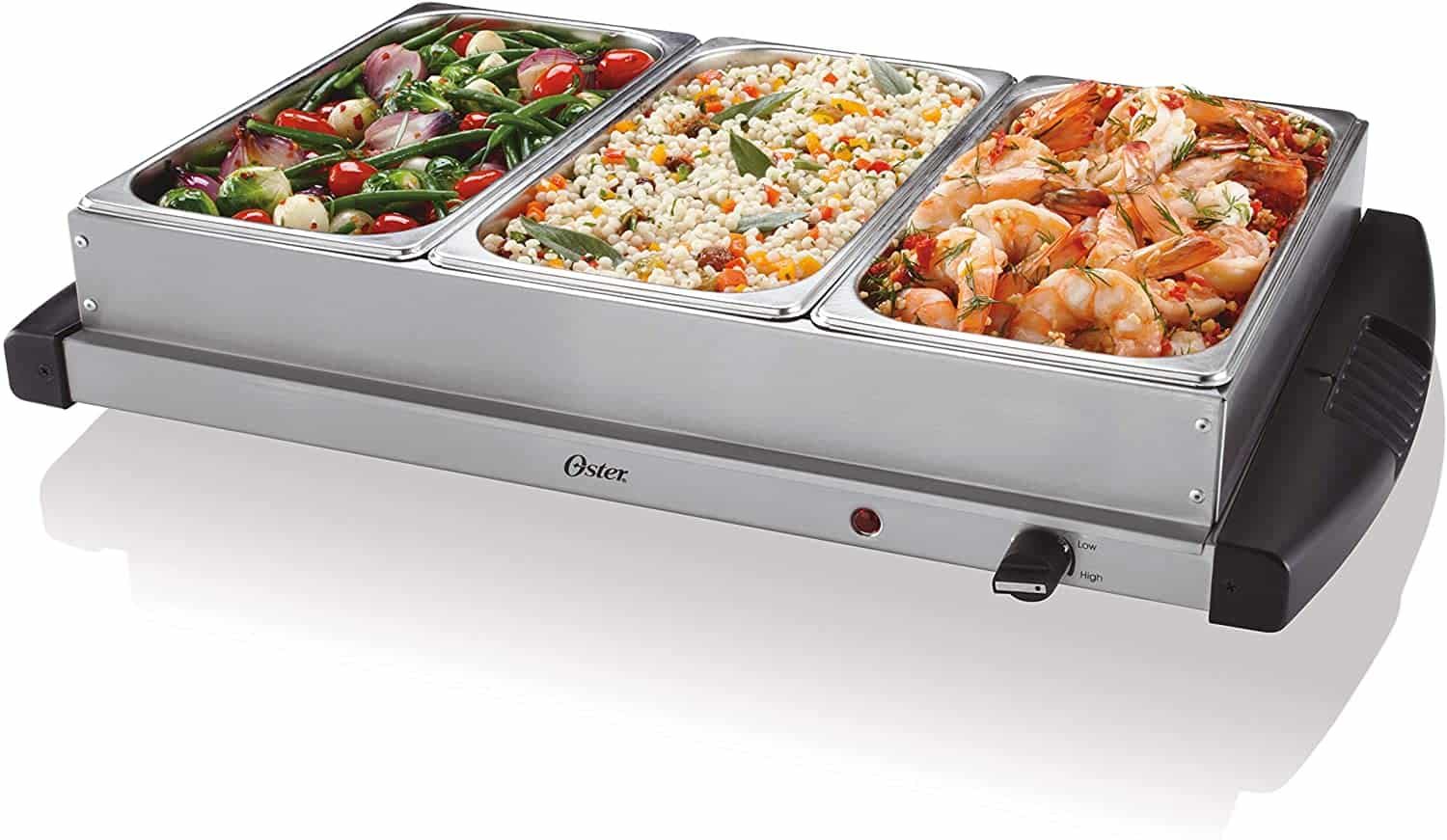 Do you want to warm more meals at once? Need to stay on budget? Not entirely thrilled about the wet-style warming technology? In that case, Oster Buffet Server Warming Tray should tick all your boxes.
This triple tray consists of three 2.5-quart warming trays that should keep your hot meals at the ideal temperature. It is made of stainless steel, it weighs just about 10 pounds, and you will surely be happy about its perfectly affordable price. On the other hand, note that this device is imported from China (although it complies with US and Canadian standards).
Parry GM749 Electric Food Warmer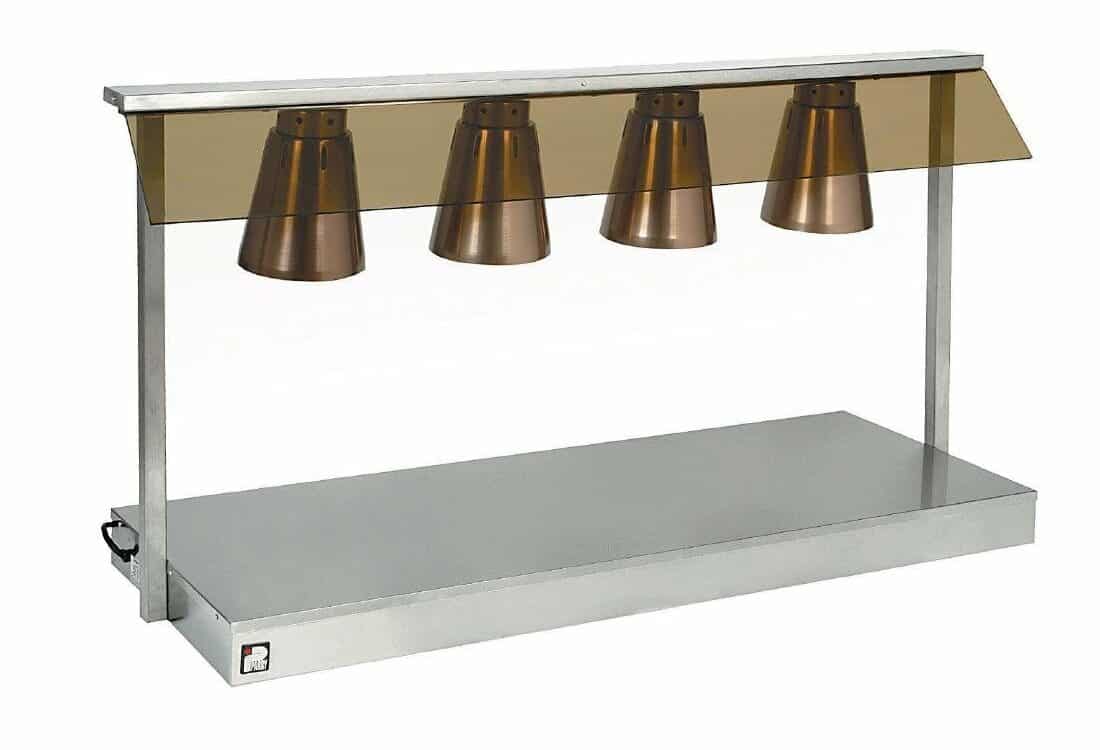 Parry GM749 is an electric 4-lamp unit providing efficient heating thanks to the infra-red light bulbs. Its stainless steel housing with a brushed aluminum finish makes this device a great stylish addition to any venue where a food warmer needs to be on display.
This unit also boasts a wide surface area that can easily accommodate many food pans simultaneously, as well as an adjustable thermostat and timer for accurate temperature control. Besides keeping the meals warm and looking great, this warmer also makes buffet-style food serving hygienic thanks to the added sneeze guard.
FAQs
Question: Do you put water in a Nemco food warmer?
Answer: Yes, Nemco food warmer is what we call a wet food warmer. It has a sink that needs to be filled with water, which is subsequently heated up and later transfers the heat to the food. According to the user's manual, this warmer should only be used with water.
Question: What to do when my Nemco food warmer won't heat?
Answer: If your Nemco food warmer doesn't heat up as it should, it can be caused by several issues. First, of course, check whether the machine is properly plugged, installed, and turned on. Then check that the unit's thermostat is turned to the required heat setting. Finally, check whether the warmer's sink has enough water in it.
If none of these suggestions work, contact a certified service member or the Nemco company directly. Remember not to try repairing the issue on your own. It can be dangerous, and it also nulls your 1-year warranty.
Question: Does Nemco food warmer come with a 110 or 220V plug?
Answer: This food warmer comes with a standard 110V plug.
Nemco Food Warmer Review: Final Thoughts
Nemco Food Warmer Is Good, But Not Perfect. If you're looking for a solid yet simple commercial-grade food warmer, Nemco will surely draw your attention. Many users praise this brand for its products' reliability, durability, and versatility, and in many regards, Nemco food warmer does really deserve this reputation. It is sturdy, looks sleek, and, most importantly, performs evenly and reliably each and every time.
Nevertheless, this warmer is not perfect. It has a touchy control knob that makes adjustment of the temperature quite problematic. It also has no drainer, which further complicates its use.
Moreover, the warmer is also relatively expensive in comparison with most of the other similar devices. If you find any of these downsides too important to ignore, maybe you should check out our other suggestions instead – the budget-friendly Oster Buffet Server Warming Tray and the stylish infra-red Parry GM749.
For more useful information on finding the best food warmer, check our full Commercial Food Warmers and Holding Equipment Guide.