Latest posts by Sarah Caldwell
(see all)
Having perfectly spherical fruit isn't at the top of everyone's list, but it does make your experience a bit more colorful and artistic. If you're aiming for around fruit that will spice up the fruit trays at your parties, you've come to the right place.
I happen to have a soft spot for melon ballers, and it's mostly because they're so fun to use. There's something so fantastically satisfying about carving that fruit into the most adorable little circles. It's like scooping up a dish of ice cream; only it's healthy!
That's why I created this list of the best melon ballers on the market. Because, to be totally honest, there are some real stinkers out there. I looked at product materials like stainless steel instead of plastic for durability, comfort for less hand fatigue, and scoop size for the perfect melon balls.
Buying Guide
If you're looking for a melon baller, there are a few things you need to consider before purchasing one. Some features are more important than others.
Scoop size
The essence of the melon baller is the scoop. It wouldn't be a melon baller if it couldn't turn melons into little balls. However, the size and the depth of the scoop will vary, and each creates a different type of ball.
Some melon ballers even have two different-sized scoops. Melon ballers with 20-25mm diameters will create smaller balls, but if you look for melon ballers with a 50mm diameter, they can pull double duty as cookie dough or ice cream scoop.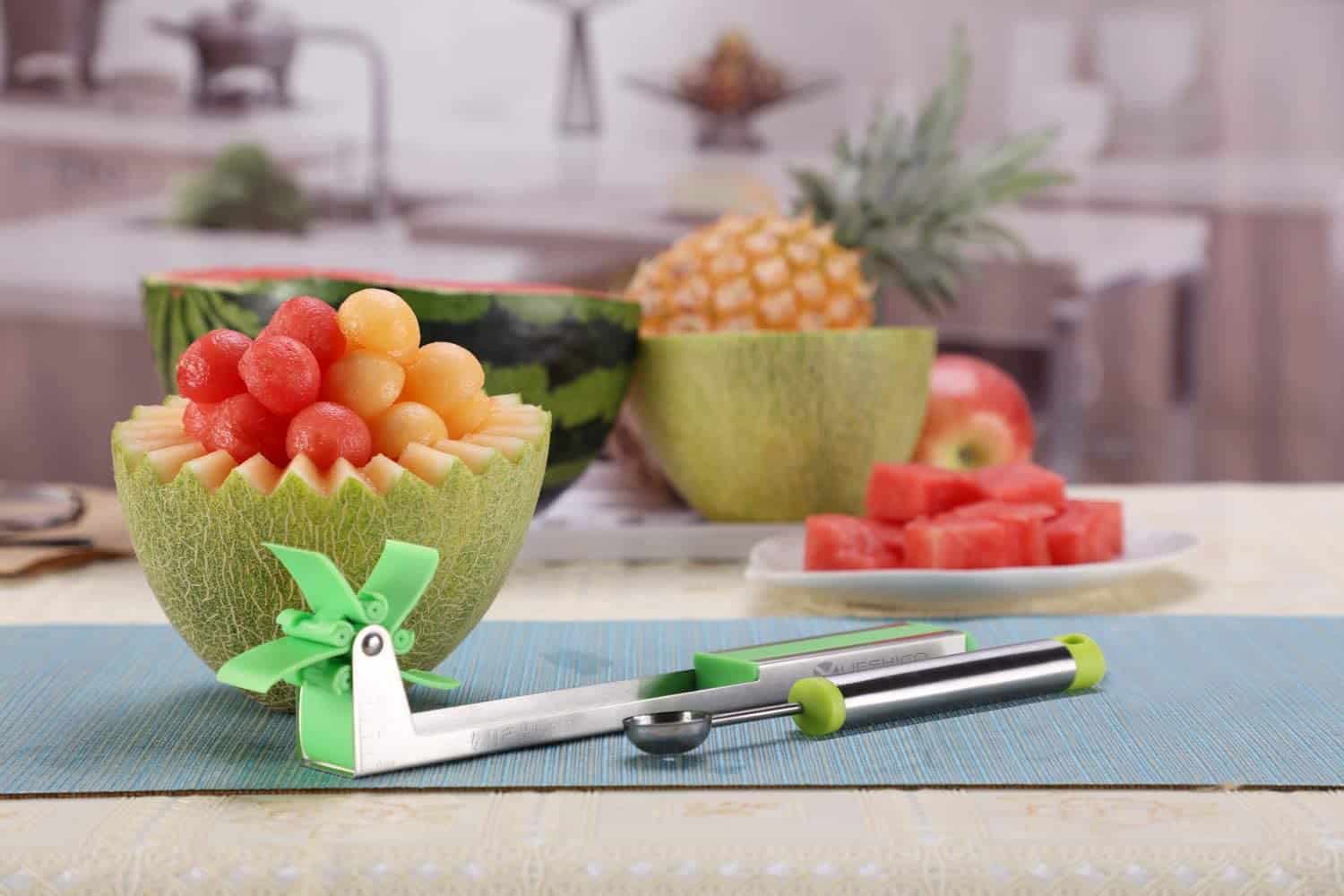 Material
The most durable melon ballers will be made from stainless steel. It's more versatile than plastic or wood because it's strong enough to carve through firm fruits, but it's still gentle on soft mixtures.
Stainless steel won't absorb smells like wood will, and it's easy to clean in the dishwasher. If you choose something that's made from 18/8 stainless, you'll get a less corrosive metal that's less likely to rust.
The material in the handle is also very important because it will determine how comfortable the scoop is to hold. High-quality plastic handles are more comfortable than steel, but some also have ergonomic non-slip grips.
Price
For many people, price is a factor. This little kitchen extra isn't something that everyone needs, so if you're aiming for a fully-equipped kitchen without spending a lot of money, you may want to look for brands that offer cheaper options.
On the other hand, if you throw a lot of parties, make a business out of selling fruit trays, or enjoy balling melons more than the next guy, maybe you want to splurge on something really nice. It's up to you.
The Best Melon Baller Options
These are some of my favorite melon baller options, but each has its own advantages.
OXO Good Grips Double-Sided Melon Baller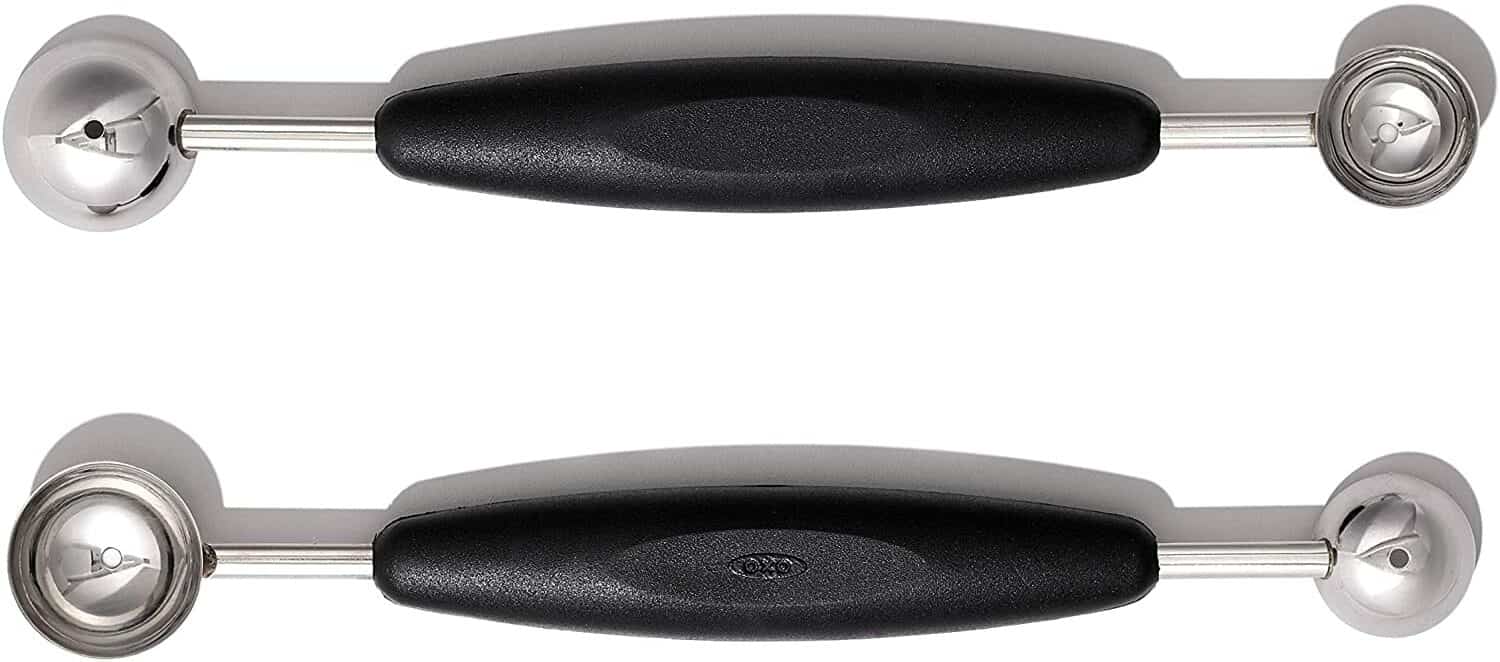 This is my top pick for several different reasons. I love it because it has two scoop sizes. You can use it for so many different purposes. Its sharp edges will carve through fruit with ease, but you can also use the small side to remove seeds easily without cutting away a lot of fruit.
The small side is 25.4mm in diameter and is great for smaller fruits like pears, tomatoes, and strawberries. The large size has a 31.7mm diameter and can tackle melons, ice cream, or drop cookies.
Good Grips is named so for a reason. Their tools feature soft non-slip grips to keep your hands secure, even if they're wet. The edges are sharp enough for precise cuts, but they won't cut your hand if you touch them.
Pros:
Dishwasher safe

Double-sided

Sharp, safe edges
Cons:
The handle could be too big for some
Solula 18/8 Large Melon Baller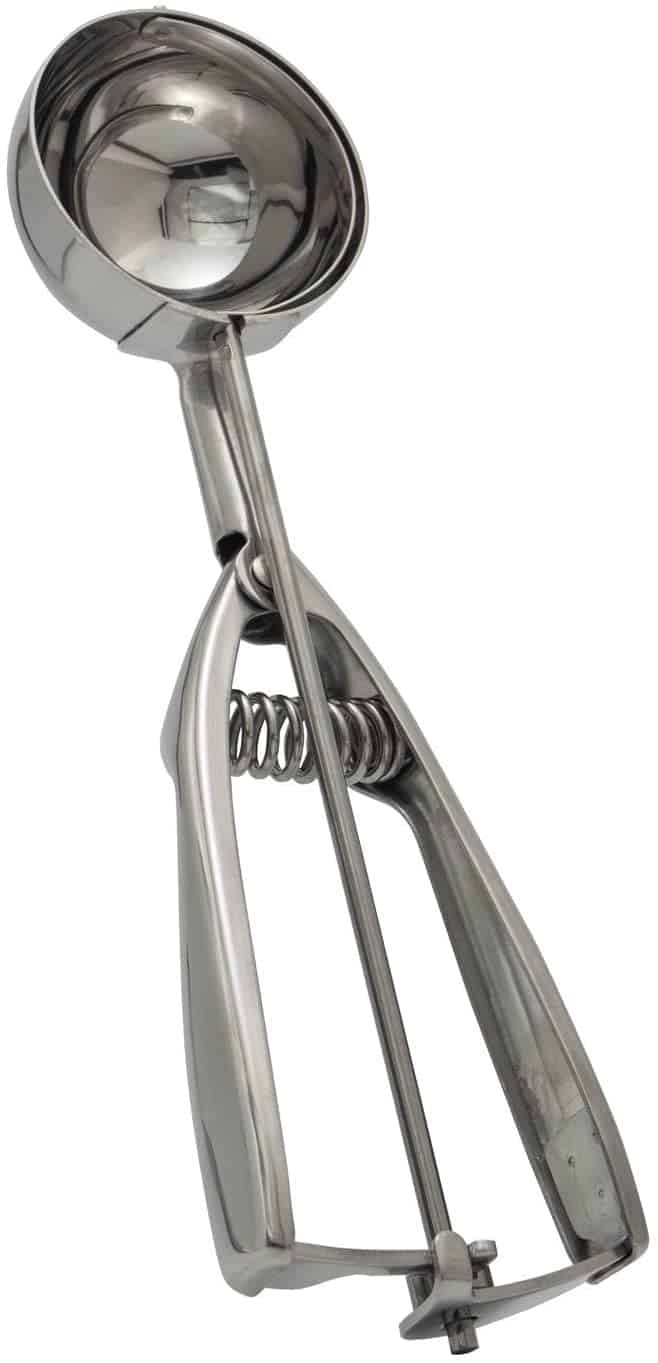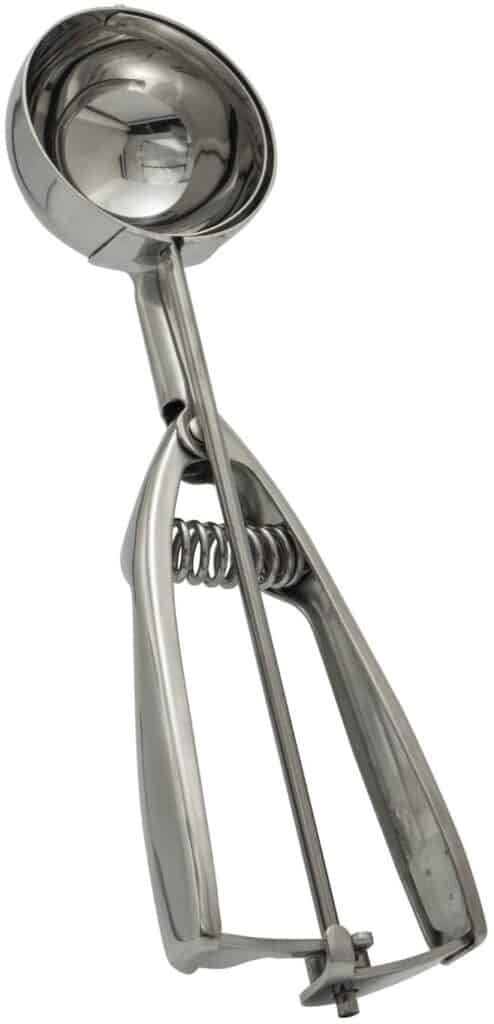 The thing I like best about this melon baller is the heavy-duty spring in the handle. When you squeeze the handle, a band slides back across the scoop, releasing the contents. It's great for both right and left-handed users and is a great solution for those who feel like they're constantly digging things out of their melon baller scoop.
At 59mm in diameter, it's almost twice the size of the large side on the OXO melon baller. This 18/8 stainless steel scoop holds nearly 4 tablespoons. The large capacity makes it ideal for drop cookies and ice cream.
The entire tool is made from stainless steel, but it's surprisingly comfortable to hold, making the squeezing action effortless and smooth.
Pros:
Large capacity

Heavy-duty spring for releasing contents

Rust-resistant
Cons:
Jenaluca Melon Baller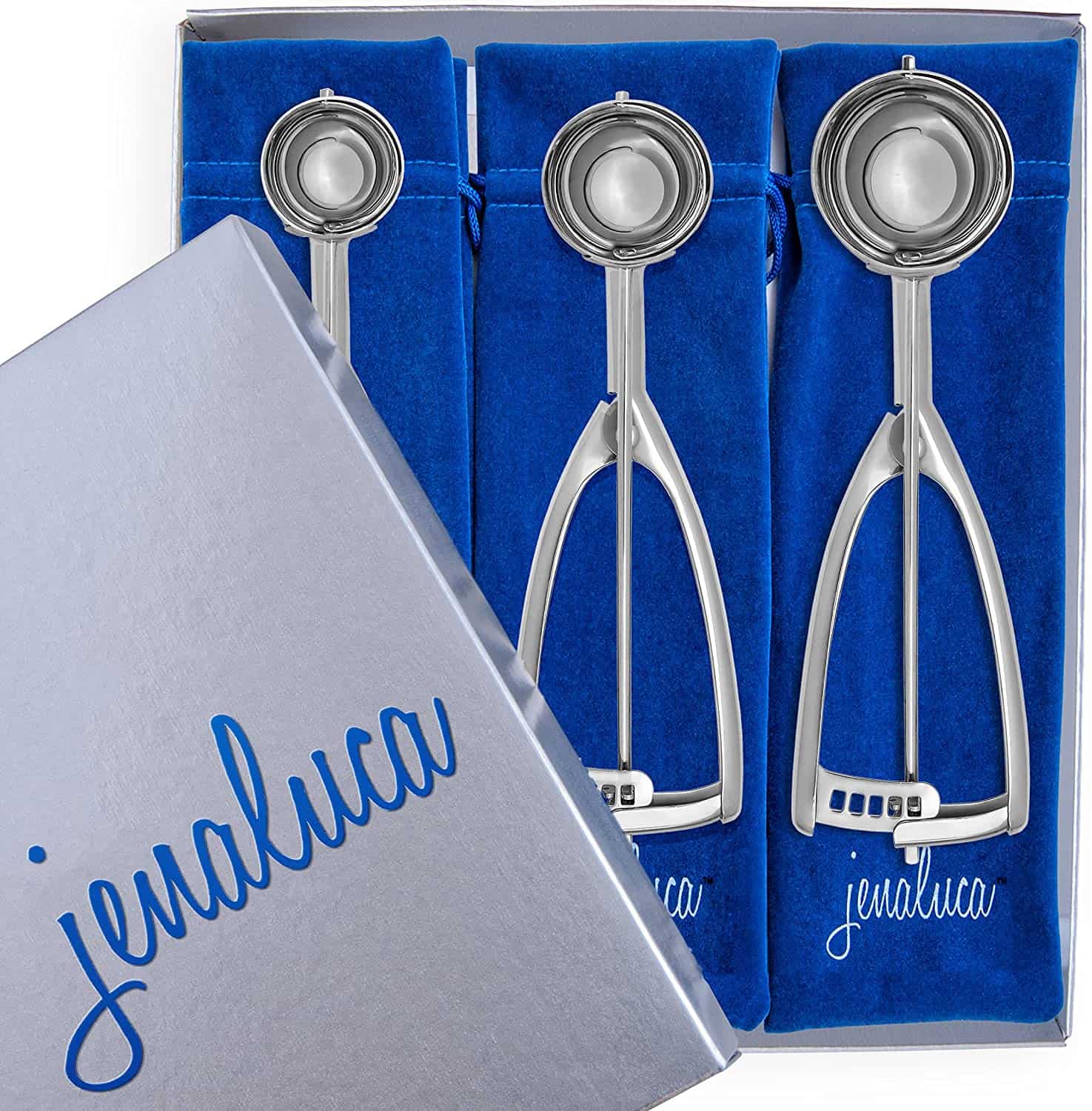 This is another melon baller made of 18/8 stainless steel, but what's really cool is that the packaging and the product itself are both 100% recyclable. The design is similar to the Solula melon baller with a sliding band that releases the fruit. However, this one is dishwasher safe.
This one only holds 2 teaspoons, but it's the perfect size for melon balls and small cookies. It comes with a velvet pouch that you can use for protecting it while you store it, and everything is made from eco-friendly materials. It's also mirror-polished, so it won't rust or corrode as easily as other products.
Pros:
Comes with a velvet pouch

100% recyclable

Rust-resistant

Comfortable and functional design
Cons:
Yueshico Stainless Steel Watermelon Slicer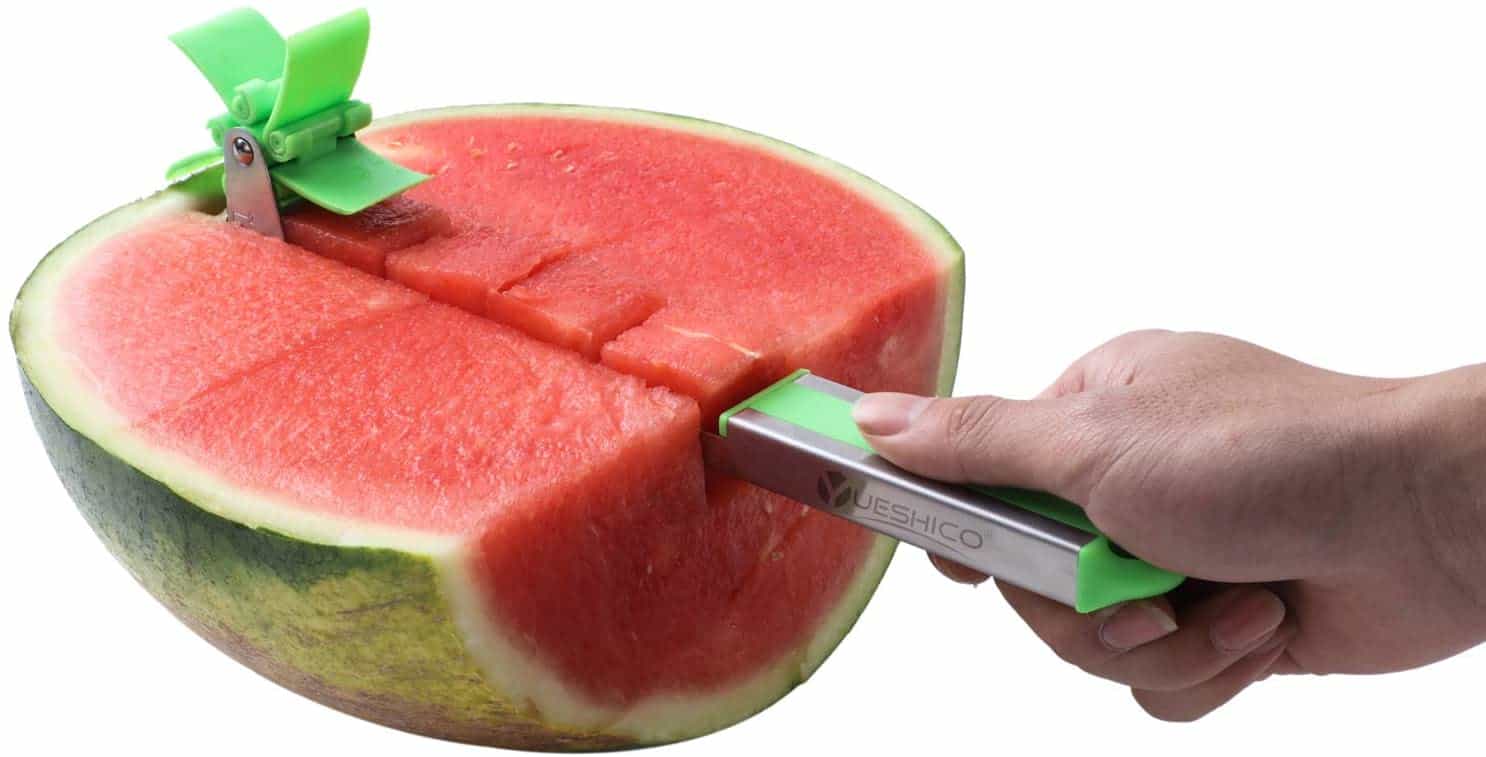 This product is a bit different because, in addition to a melon baller, it comes with a slicer that makes cubes. The slicer has a stainless steel handle with a cylindrical shape that increases comfort while cutting fruit.
The melon baller is 24mm in diameter and weighs only 8 ounces, so it's lightweight and easy to use. It's made of 18/8 stainless, so it's durable and rust-resistant. It has sharp edges that can carve through even the toughest fruit, but it won't cut your hand.
The cube cutter has a ruler on the side so you can effectively measure the sizes of your cubes while you cut. It's also made from 18/8 stainless. All you have to do is push it into the melon, and perfect cubes come out.
Pros:
Cube slicer includes a ruler

Lightweight

Sharp, safe edges
Cons:
KitchenAid Double-Sided Melon Baller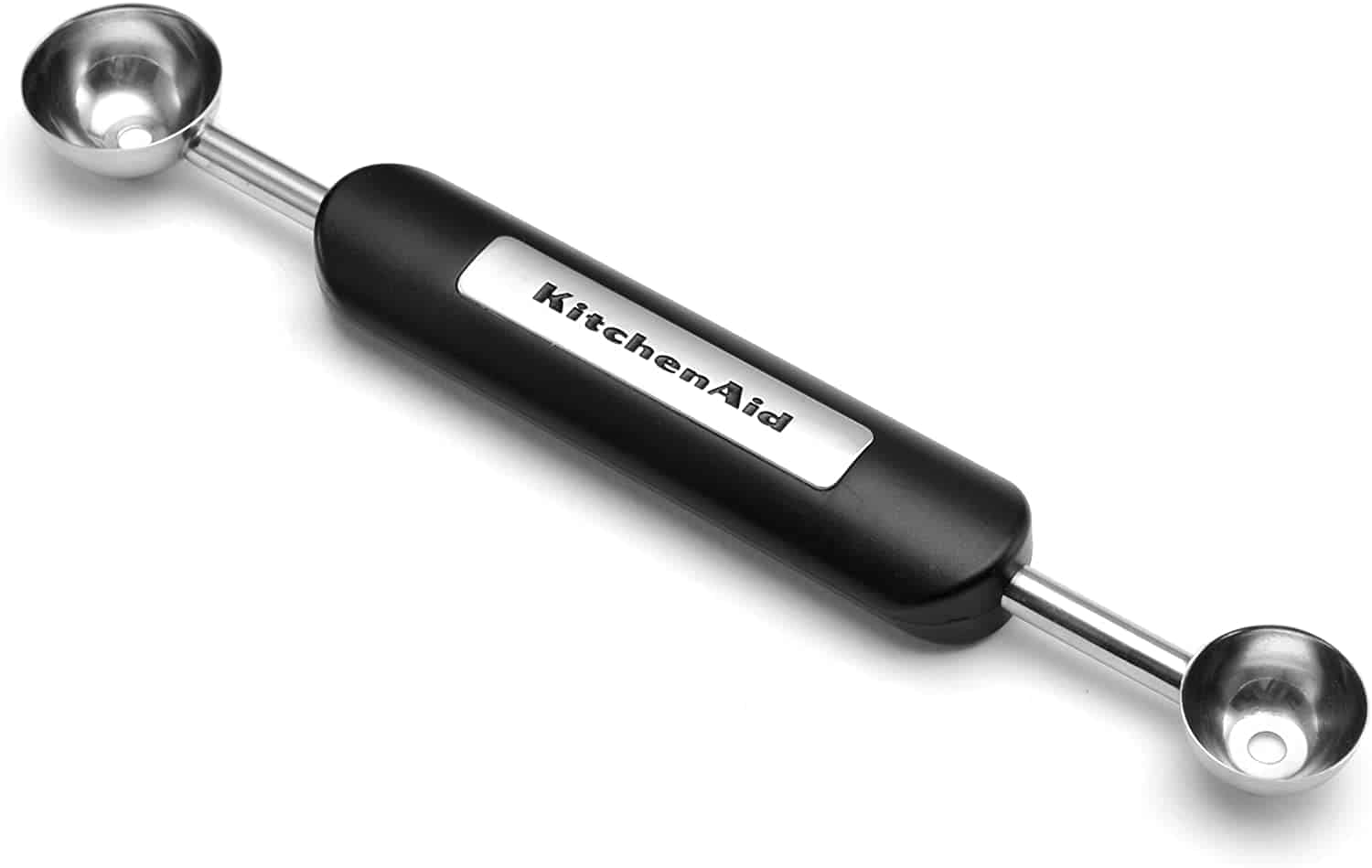 One of my favorite things about this melon baller is that the scoops are deep and seated on longer stems, so you can penetrate the fruit more effectively for perfect balls. It makes thick, well-rounded cuts, and the smaller end can also remove seeds.
It's made of rust-resistant stainless steel, and it's dishwasher safe for easy cleanup. The handle is made of heavy-duty plastic, so you have a comfortable grip. Clocking in at just 3.5 ounces, this scoop is one of the lightest on the list.
Pros:
Lightweight

Double-sided

Soft handle

Dishwasher safe
Cons:
Fruit can get stuck in the scoop easily
Norpro Grip-EZ Melon Baller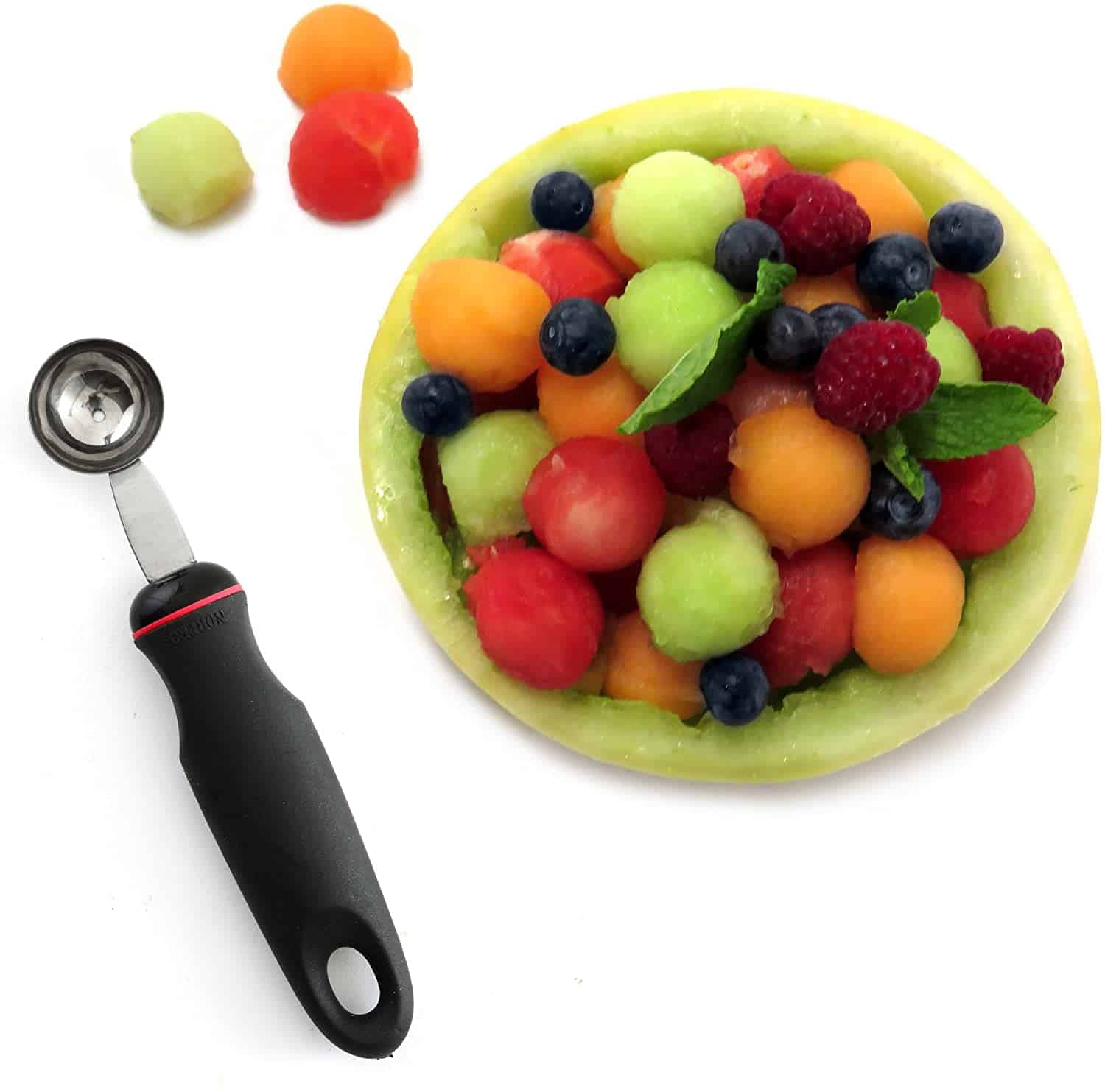 This affordable melon baller features an ergonomic handle that makes it easy to hold in either hand. The grooves for your fingers improve your grip and reduce fatigue when cutting up a lot of fruit at a time. This product is dishwasher safe, and the scoop has a diameter of 1.25 inches, holding a single tablespoon. It's the perfect size for hulling strawberries, coring an apple, or making tea cookies.
The handle is made from a high-quality thermoplastic rubber called Santoprene, making it comfortable, dishwasher safe, and 100% recyclable.
Pros:
Comfortable, ergonomic handle

Dishwasher safe

Affordable
Cons:
WMF Profi Plus Melon Baller

This sleek and stylish melon baller weighs just 0.8 ounces, so it's the lightest option you're likely to find anywhere. In addition, the unique hole at the bottom of the scoop ensures that balls drop easily out once you carve them.
It's made of stainless steel and has a loop at the end of the handle for easy hanging storage. It's a durable tool that's both tarnish-resistant and dishwasher-safe. The scoop is 24mm in diameter, making it an average size for melon balls or small cookies.
Pros:
Stylish satin finish

Dishwasher safe

Lightweight
Cons:
Steel end needs a bit of extra care when handling
FAQs
Question: How do I use a melon baller?
Answer: Using a melon baller is pretty straightforward. It doesn't require much practice. Position the melon baller at an angle and use the side of the scoop to pierce the fruit. Rotate the melon baller until the ball detaches from the fruit. Drop the ball onto a plate or into a bowl.
Question: What else can melon ballers be used for?
Answer: There are a lot of things you can use a melon baller for besides cutting fruit. In fact, it's a useful tool for plenty of activities in the kitchen, depending on the size. Here are some examples:
• Hollow food
• Scoop cookie dough onto a baking sheet
• Core an apple
• Hull strawberries
• Scoop ice cream
• Shape chocolate truffles
Question: Should I use a melon baller or an ice cream scoop?
Answer: Ice cream scoops are designed to penetrate frozen surfaces with sharp edges. Most ice cream scoops are about 1.5 cups in size, so they're a lot larger than melon ballers and not ideal for balling fruit.
However, melon ballers are ideally suited for slicing through the fruit. Small sizes can remove seeds and hull strawberries, while larger scoops can tackle bigger fruits. If the melon baller is large enough, it's also ideal for scooping cookie dough or ice cream.
Question: What can I use instead of a melon baller?
Answer: If you don't have a melon baller, there are some things you could use instead. Measuring spoons are great substitutes, as long as the edges are sharp enough. You can also use a small cookie scoop if you have one.
Question: Can you use a cookie scoop as a melon baller?
Answer: If you have a cookie scoop that's roughly the same size and shape as a melon baller, you can use it to scrape seeds out of a melon or ball fruits for drinks and salads. The edges must be sharp enough, and the stainless steel must be strong enough to tackle it.
Question: Can you freeze melon balls?
Answer: Yes, you can freeze your melon balls for use later. Simply ball your fruit, place them in a freezer-safe container, and put them in the freezer for a few hours. Once you remove them, you can use them to infuse water and adorn your cocktails, adding flavor and a chill.
Final Thoughts
Melon ballers are versatile and useful tools for every kitchen. If you don't already have one, these are some of the best. My favorite is the OXO Good Grips double-sided melon baller because it has two different sizes and it's easy to use. In addition, OXO Good Grips makes durable tools that last a long time, so they're worth the investment.
However, if you're looking for something more affordable, the Norpro Grip-EZ is the best solution for you. My favorite large-capacity melon baller is the Solula melon baller. No matter what you choose, if you do your research and pick the one that's right for you, it will be useful.